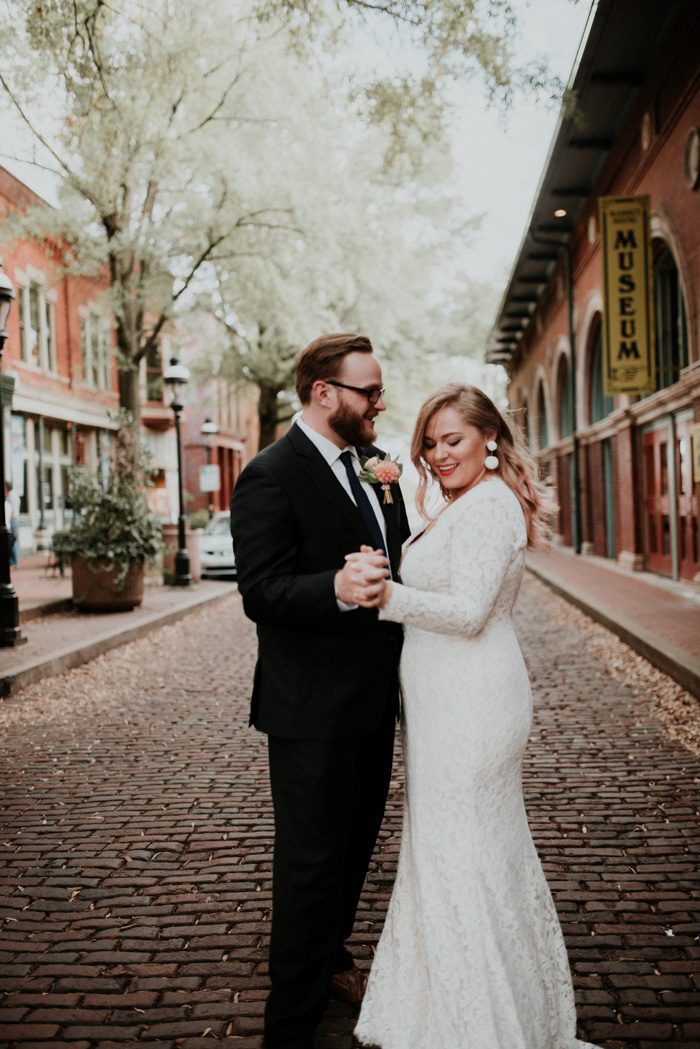 Ashley and Brad's downtown Kentucky wedding at The 1857 Hotel was essentially a master class in mid-century modern wedding design! The bride, who owns Facing the Sunshine Stationery + Design, used bold jewel tones and whimsical pastels in the floral arrangements, stationery design, and custom backdrop artwork to create a self-described "Rifle Paper Co. meets Palm Springs meets Wes Anderson" vibe. Every detail spoke to their artistic spirit and paid homage to their respective childhood hometowns and Nashville, which is where they currently call home. Ashley's bridal style was just as eclectic as the decor she created and featured a stunning lace Tadashi Shoji gown, pom earrings from HumbleChic, blue velvet sandals, and a touch of pink highlight in her hair. Between the brilliant explosion of color and the couple's quirky photo ops with Zach&Rosalie, we simply can't stop smiling about this gorgeous Kentucky wedding!
The Couple:
Ashley and Brad
The Wedding:
The 1857 Hotel, Paducah, Kentucky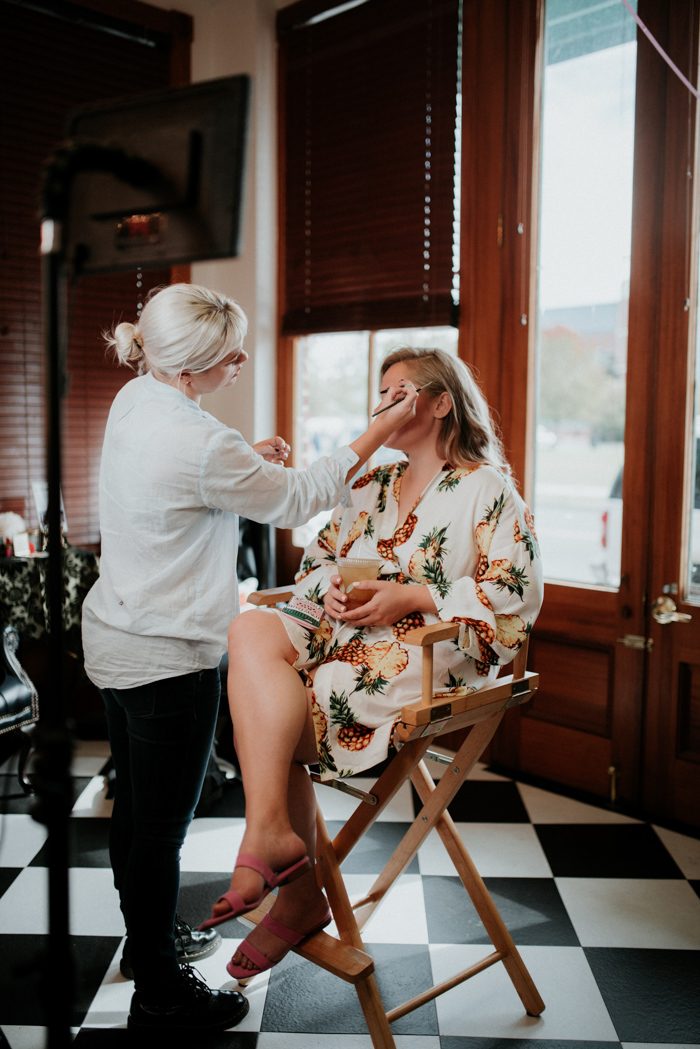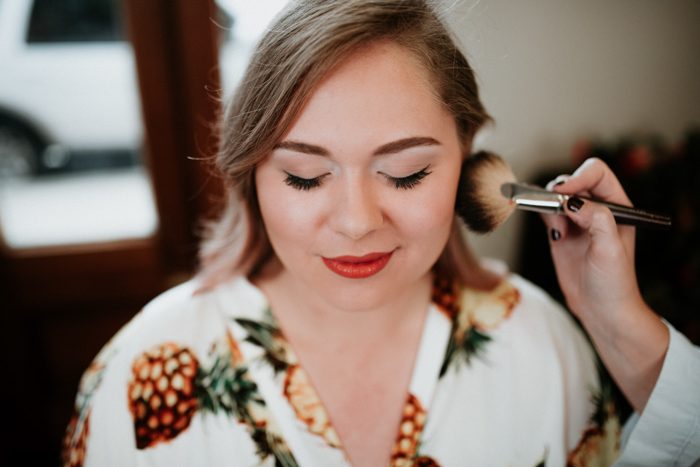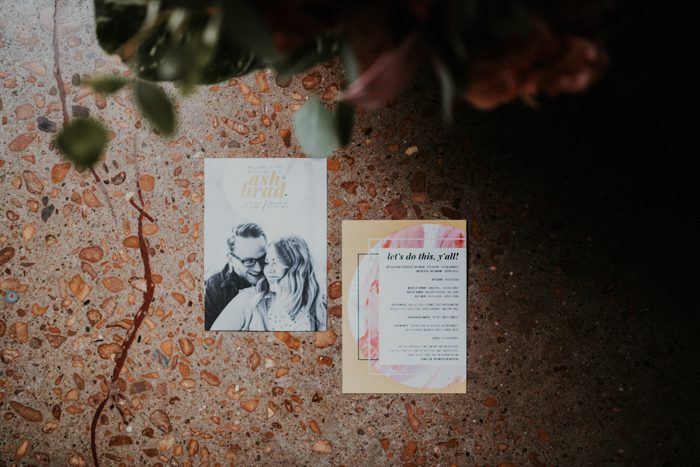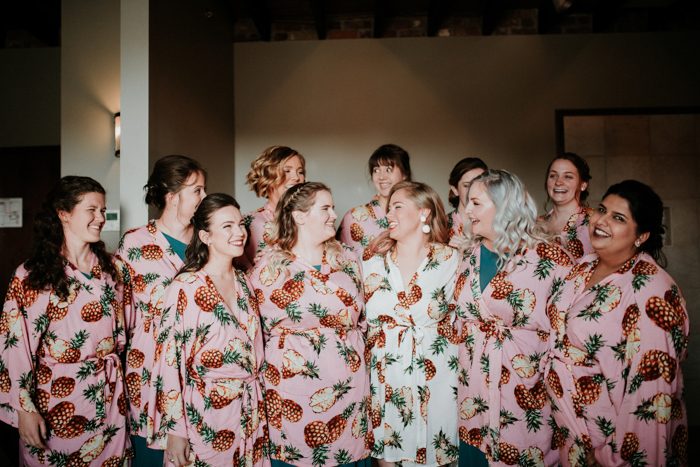 SHOP THIS LOOK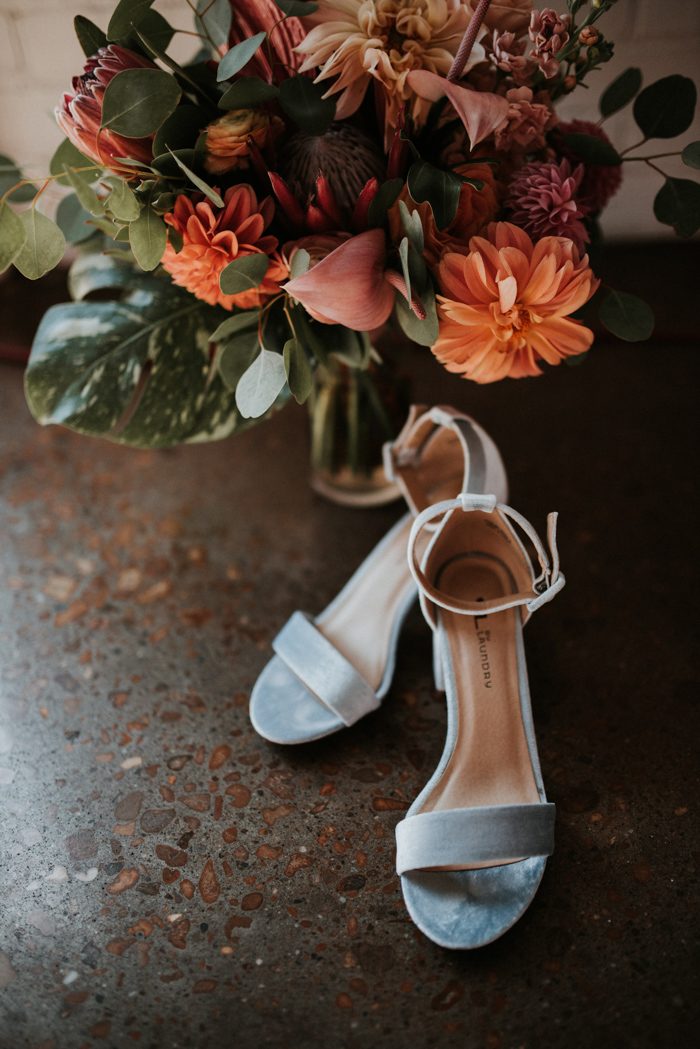 We both really wanted a clean, open space that didn't need much altering or decorating: a beautiful venue that spoke for itself, and only needed a few personal touches to make it feel like our special space. After touring venues in both Kentucky (where we met) and Tennessee (where we currently live), we fell in love with The 1857 Hotel. Located in the heart of Downtown Paducah, The 1857 Hotel serves as equal parts hotel, art gallery, and local gathering spot; the stylish, industrial interior and charming outdoor space were the perfect backdrops for our artful mid-century modern vision! It's the kind of venue small-town Kentucky needs and deserves, and we loved everything about it.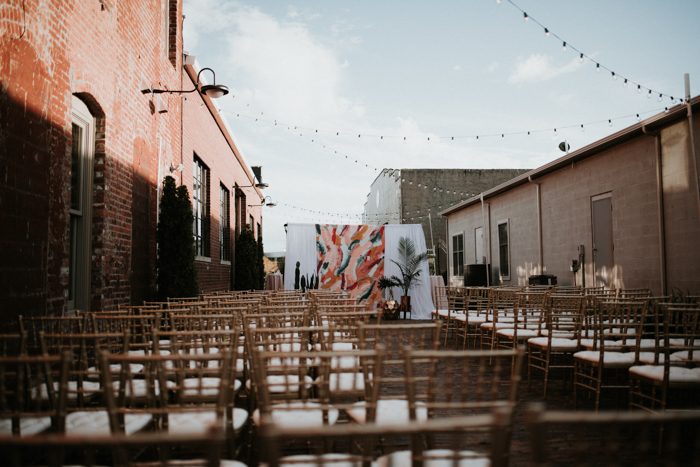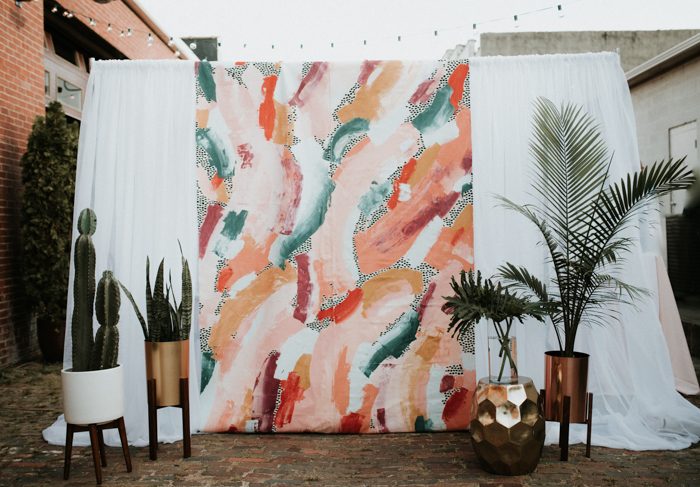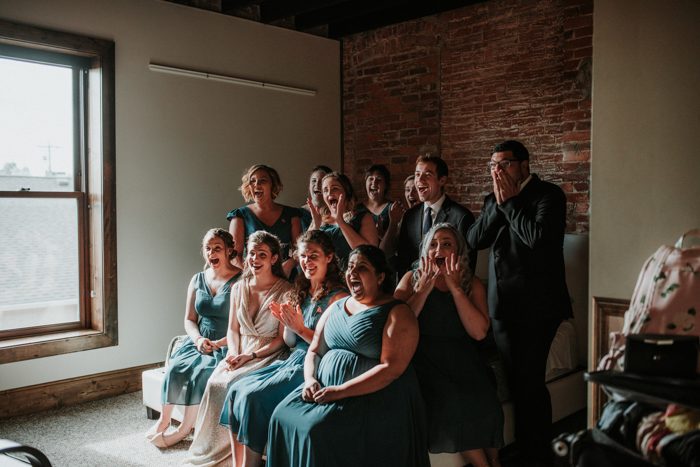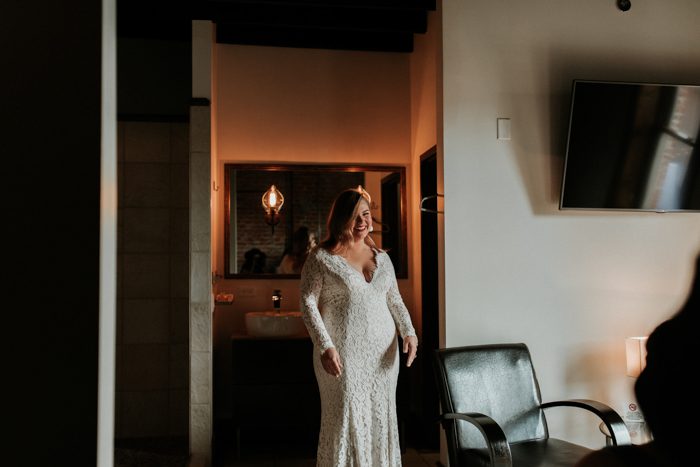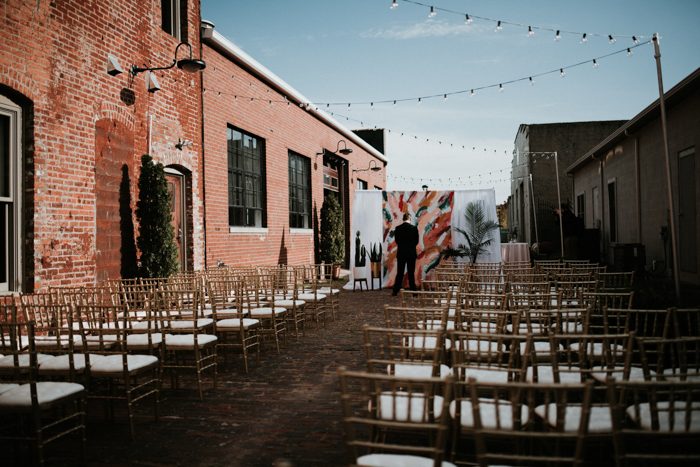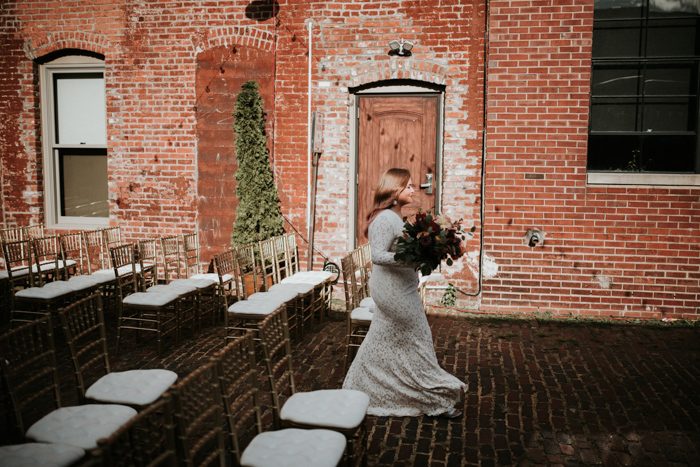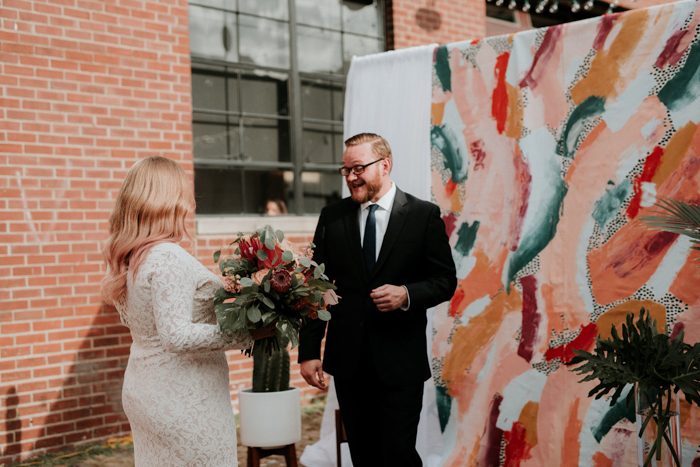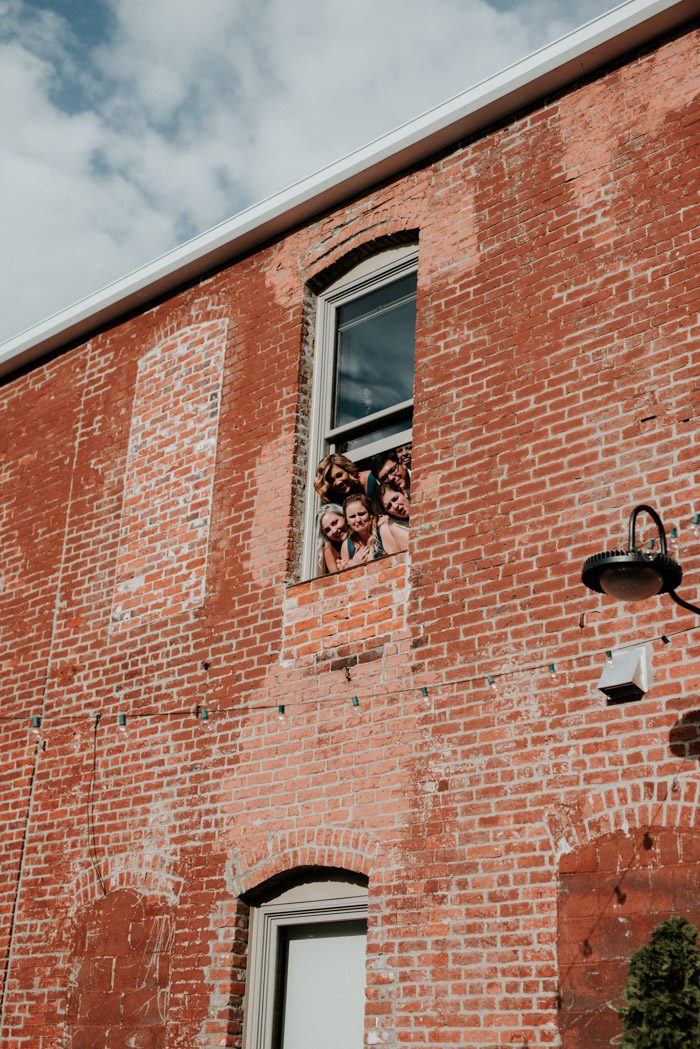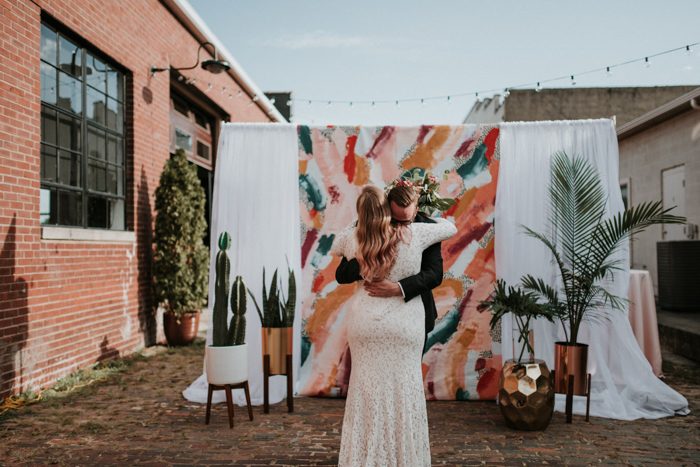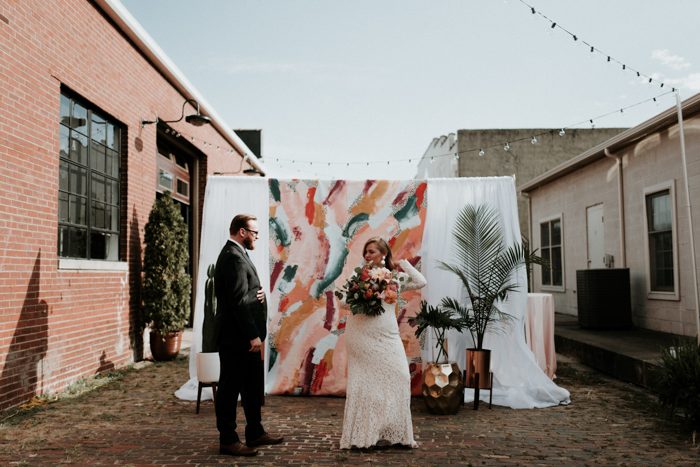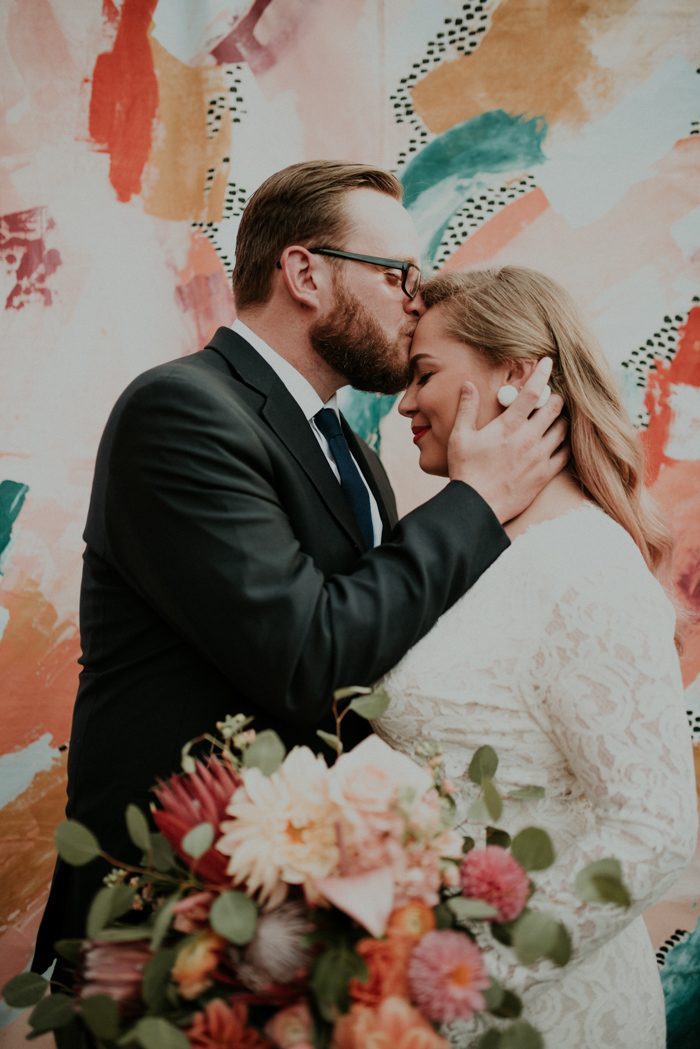 We really wanted to make our ceremony as personal as possible and made sure our day was full of all of our favorite things: handmade details, great music, comfort food, and travel. Since we currently live in Nashville, I was born in Nevada, and Brad was born in Kentuck, we wanted to honor our respective hometowns, the place we met, and where we currently live. We sprinkled large and small destination details throughout our ceremony and reception. The cacti and tropical flowers, mid-century planters, and a warm color palette all paid homage to the West, and the Nashville Hot Chicken and biscuits, bourbon cocktails, and games of corn hole brought a taste of the South.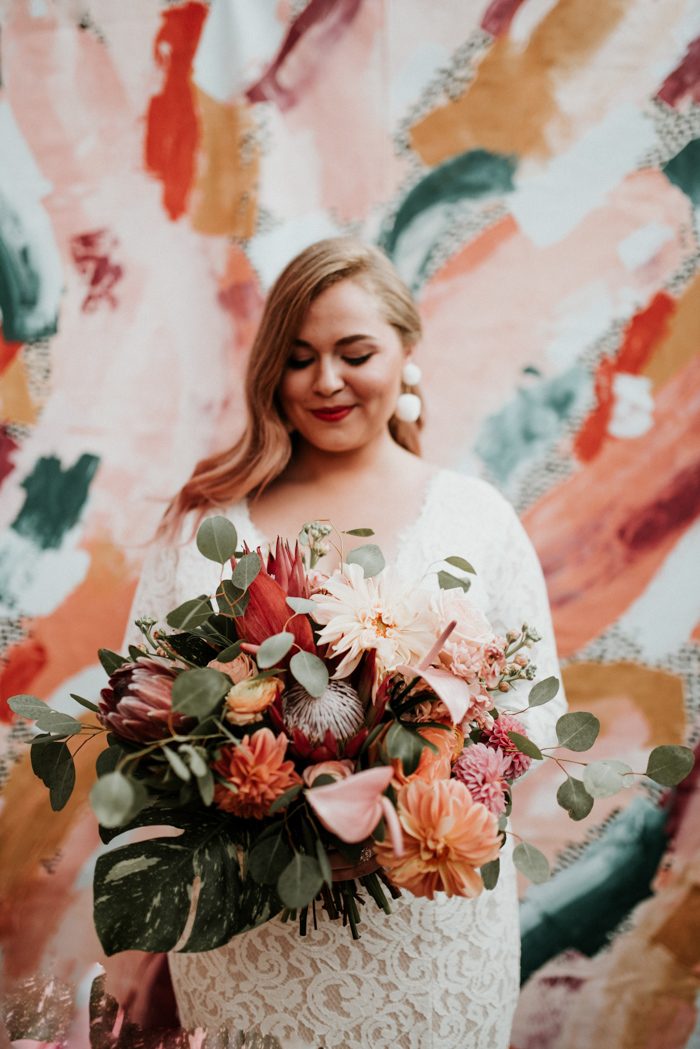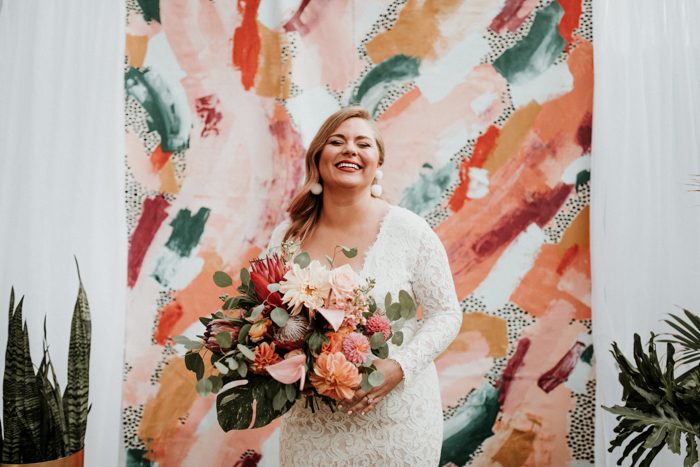 I was 100% set on wearing anything but white or ivory, and over a year before the wedding, got a blush-colored embroidered crop top and skirt combo. It was such a beautiful set and I loved it, but as the day grew closer, I realized it wasn't really what I wanted. Three months before our wedding, I was browsing online and fell in love with what ended up being my dress. To pull the look together, I found these amazing pompom earrings and velvet block heels (both things that I wear pretty frequently) and had my hairstylist add a splash of pink to my hair the day before. Honestly, it felt really good to choose things that I loved instead of feeling pressured to like things that may be considered traditional but not my style. The whole day, I felt like a fancier version of myself!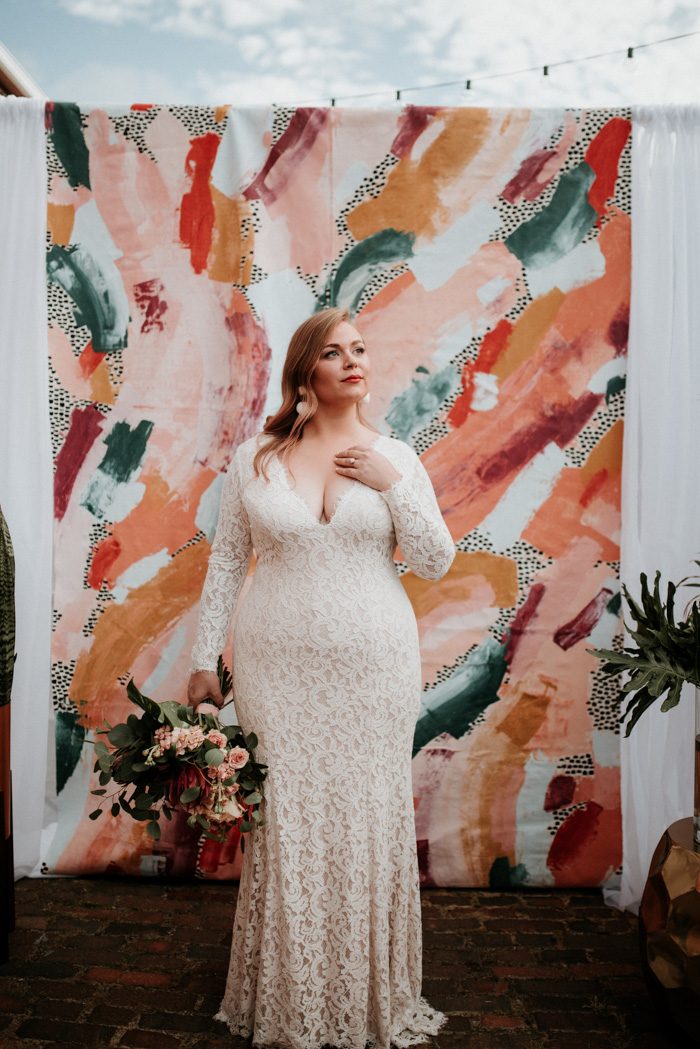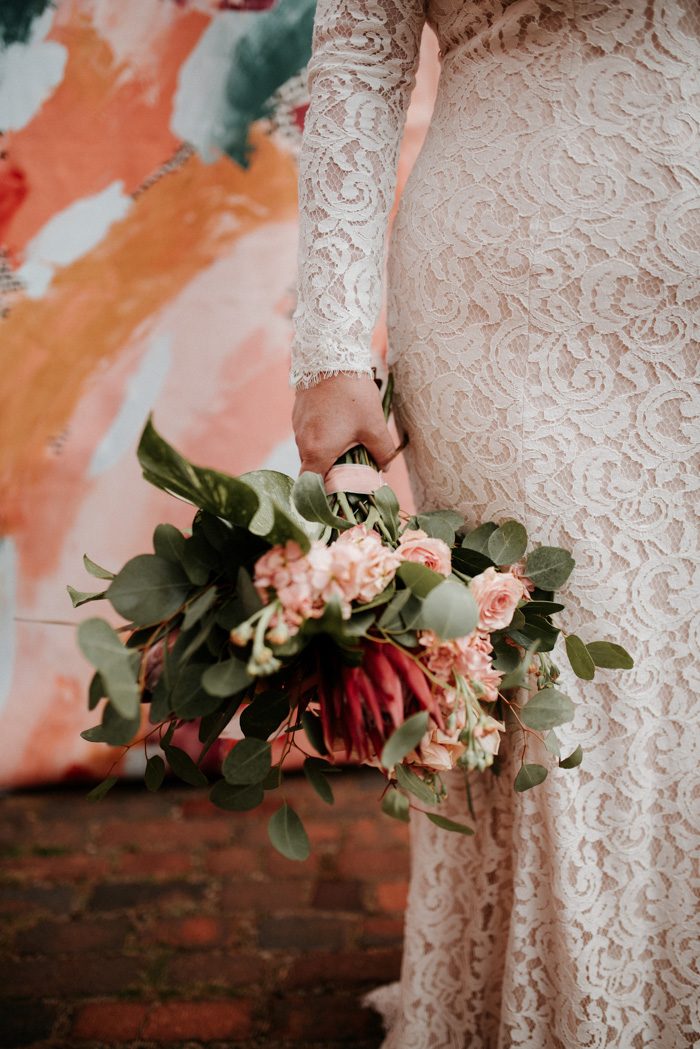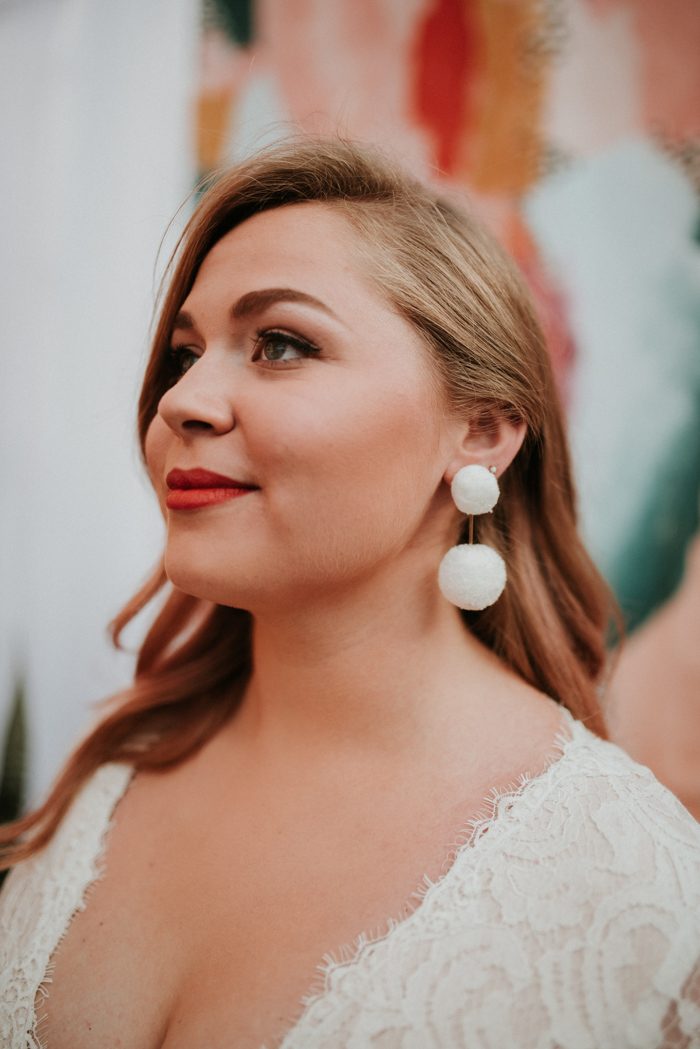 SHOP THIS LOOK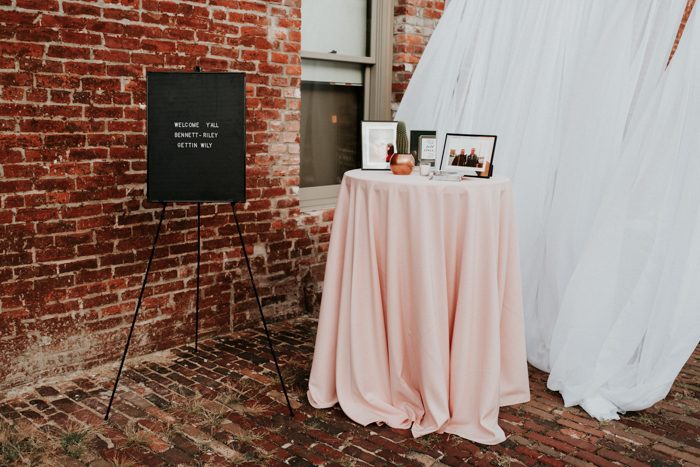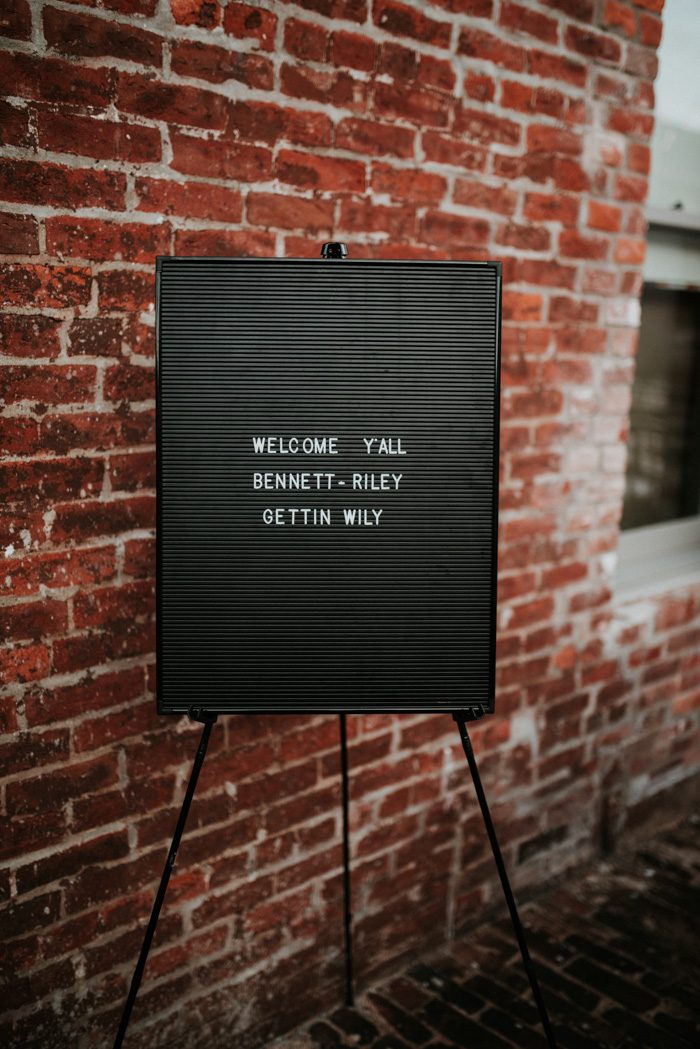 SHOP THIS LOOK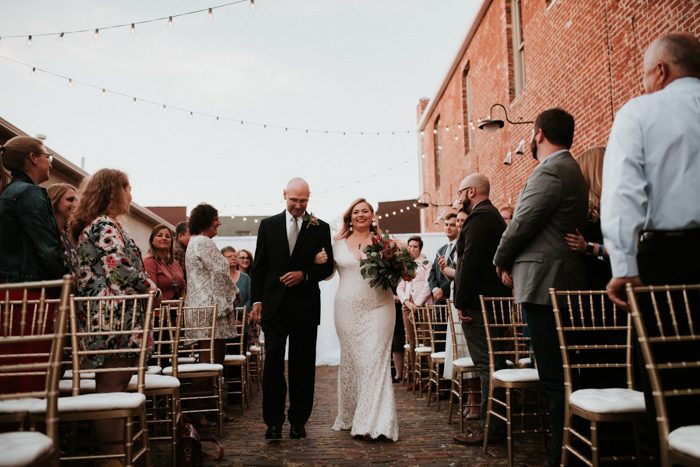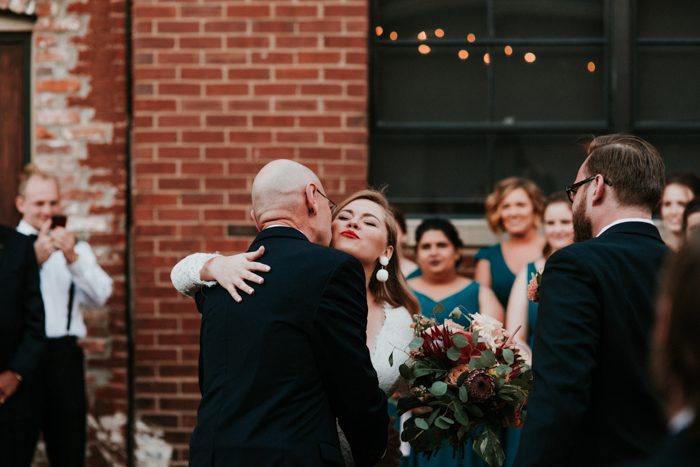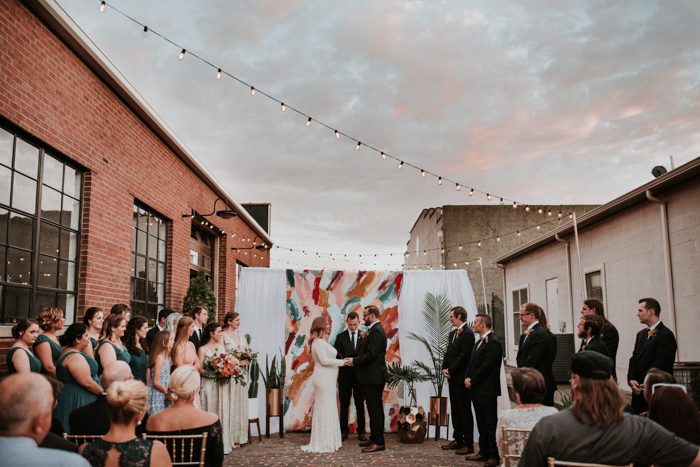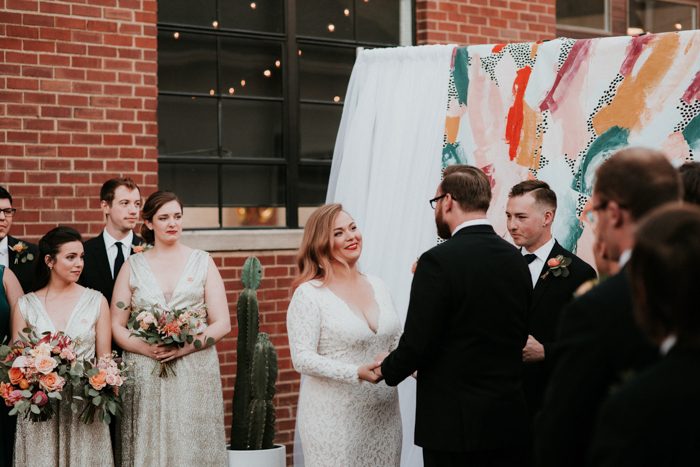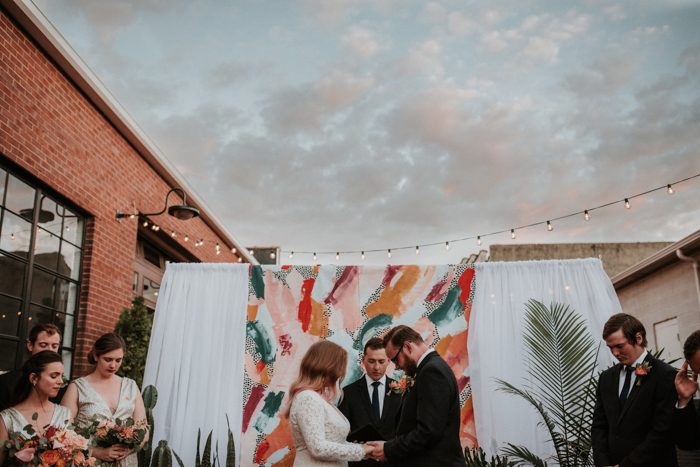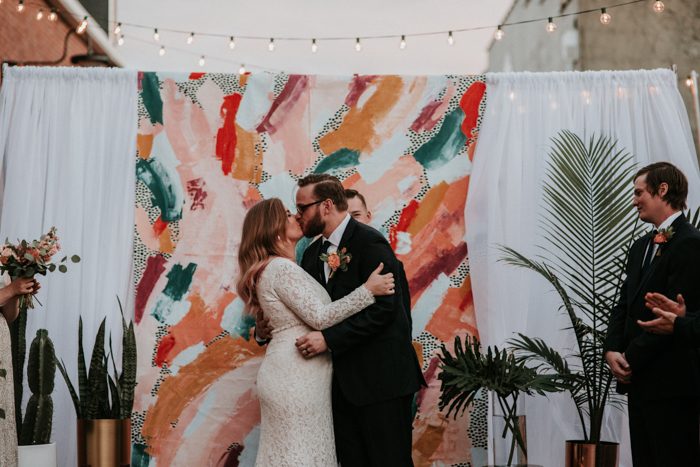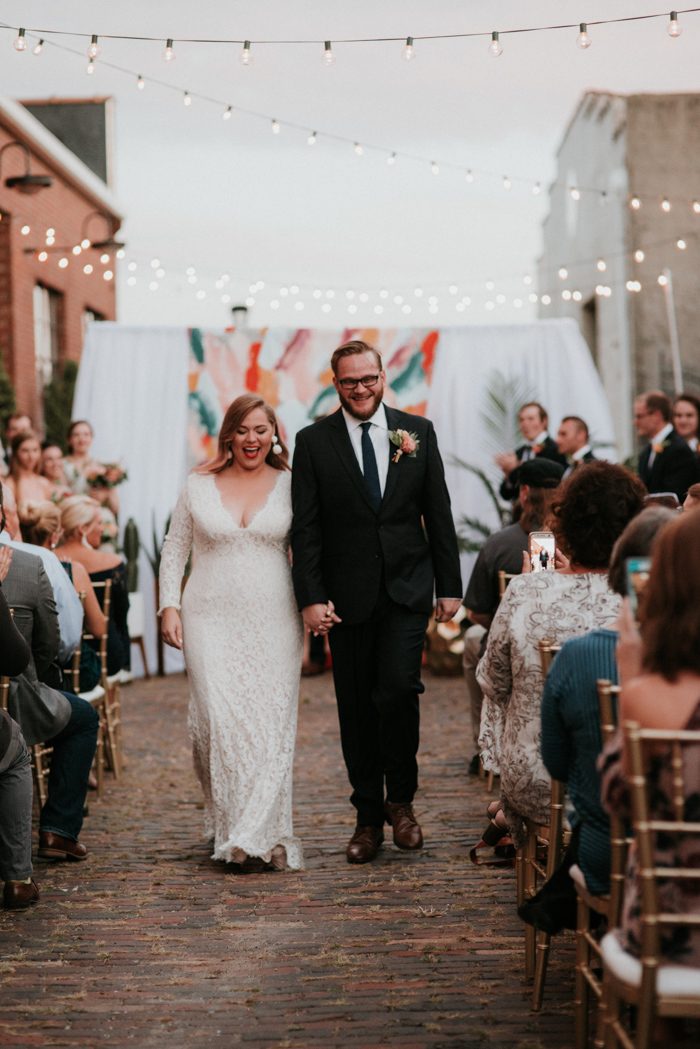 Walking through Oktoberfest, an annual event in Downtown Paducah that just so happened to fall on our special day, posing for pictures in the thick of it all as passersby cheered, congratulated us, and offered high-fives, was so fun and surreal! From now on, we'll always experience those warm, fuzzy feelings every year at Oktoberfest.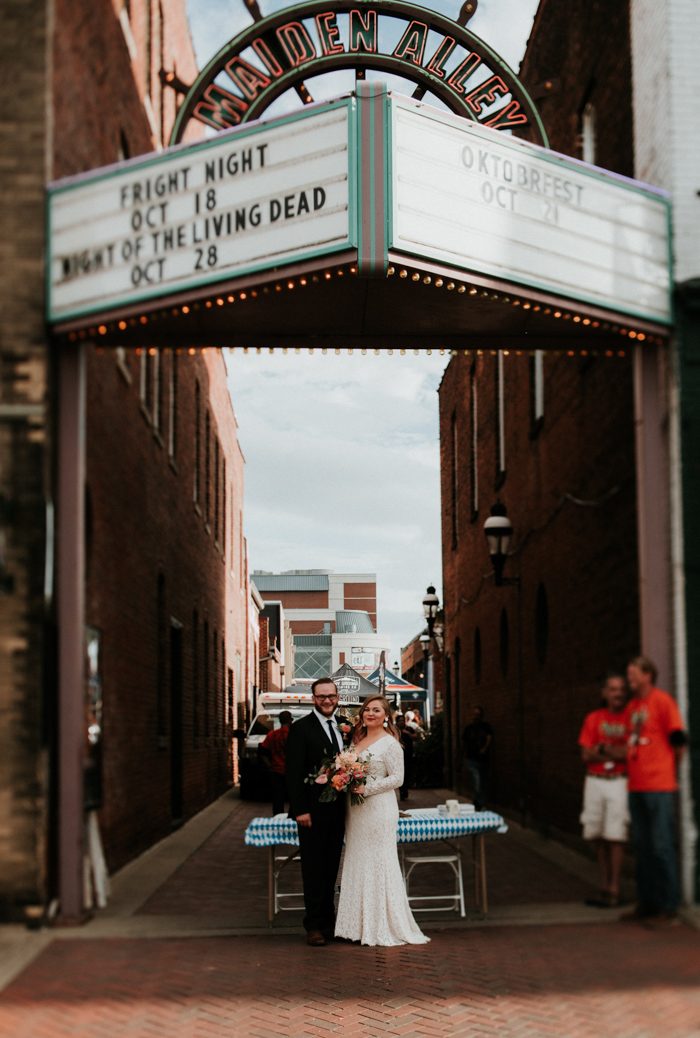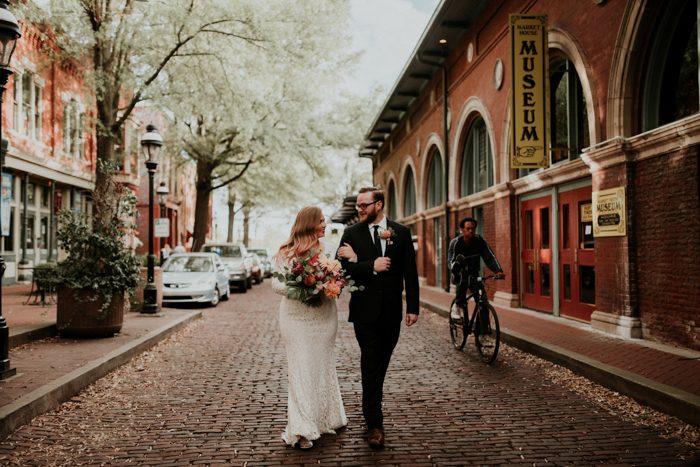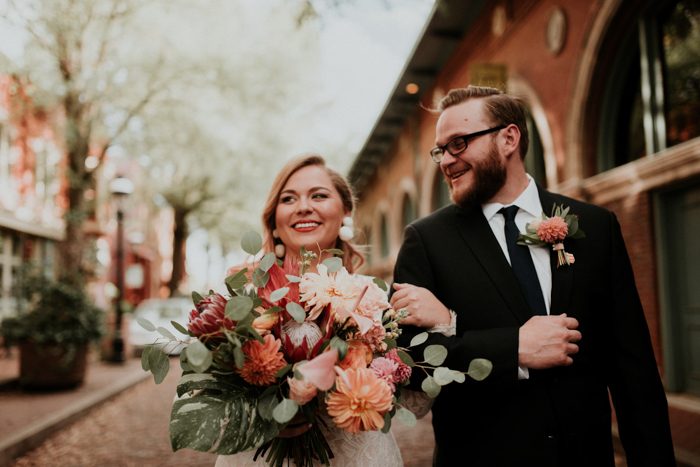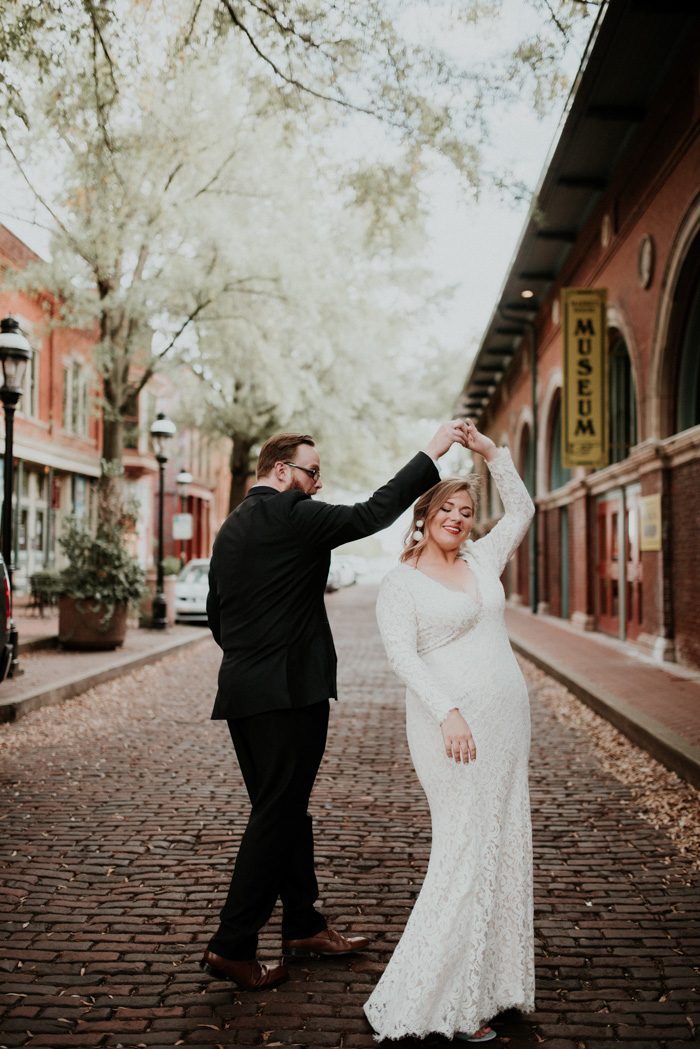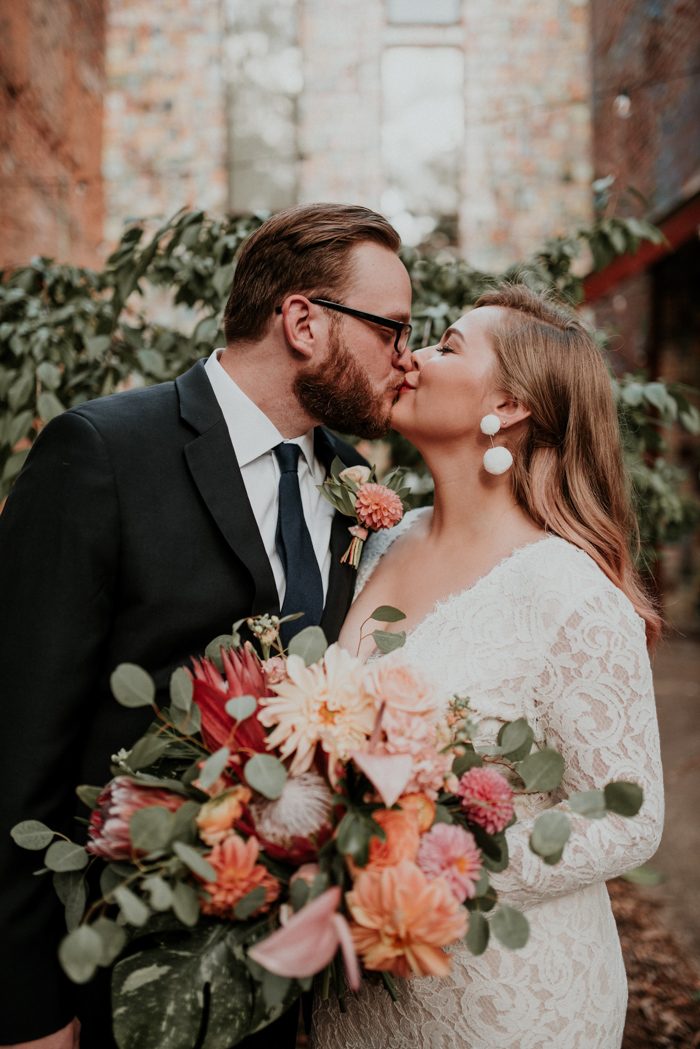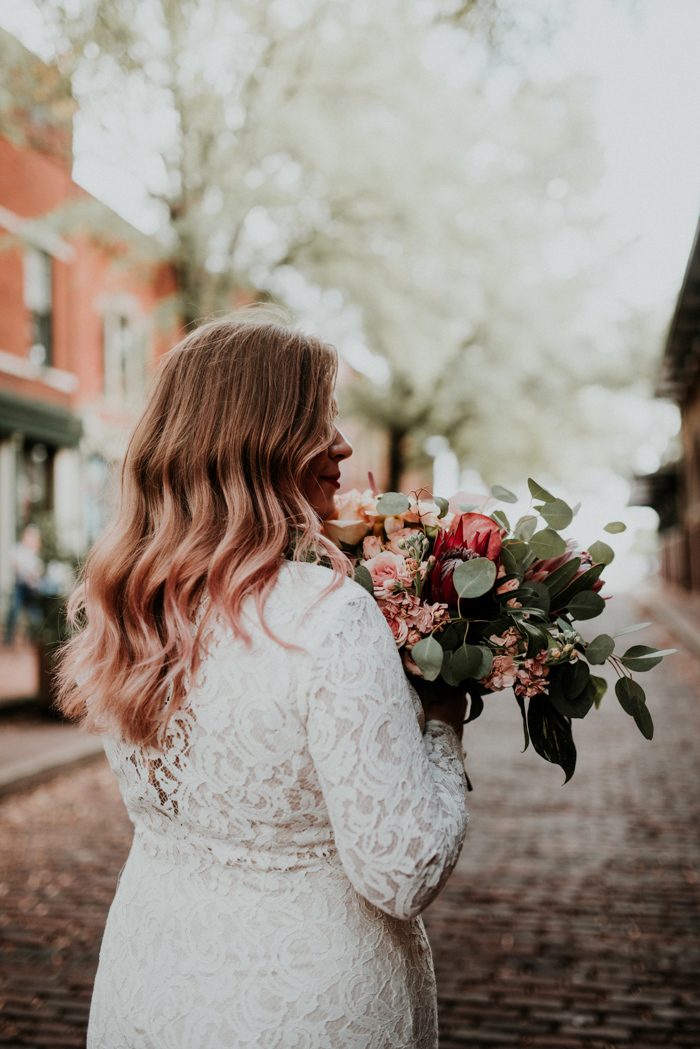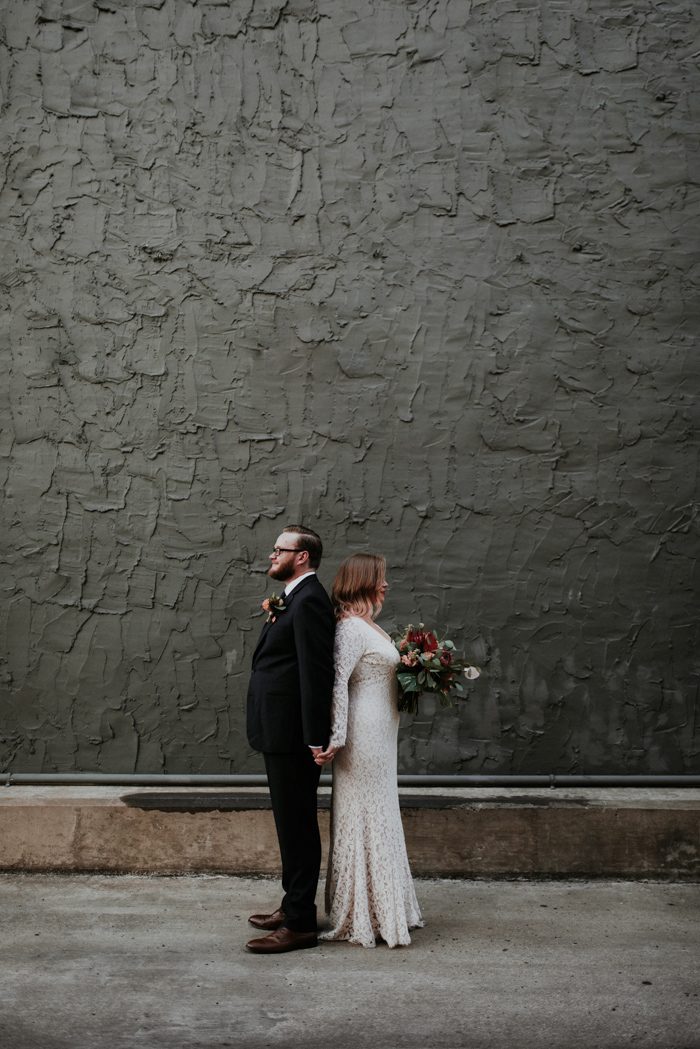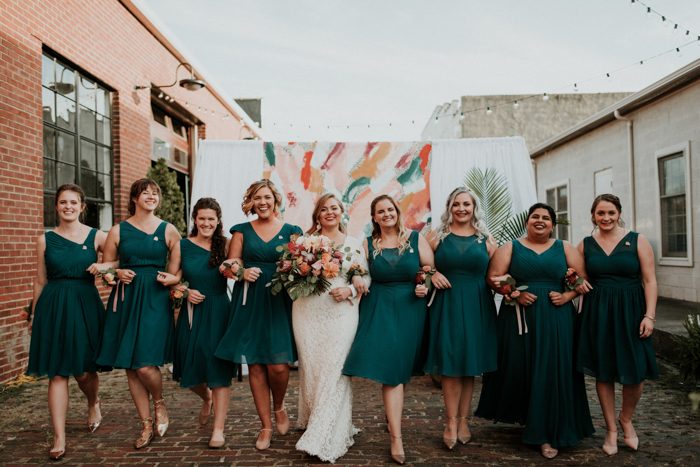 SHOP THIS LOOK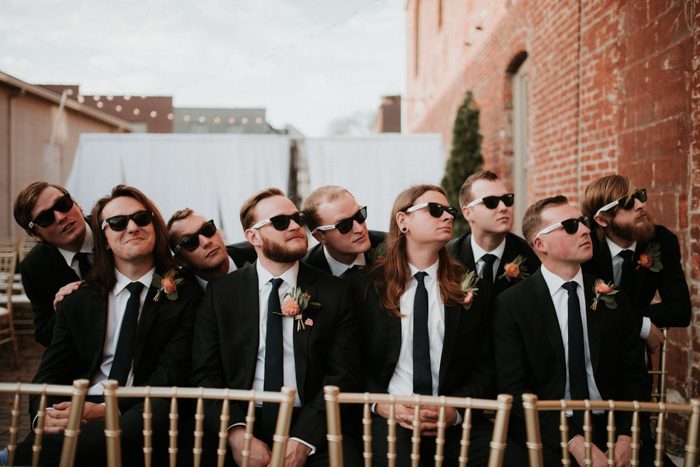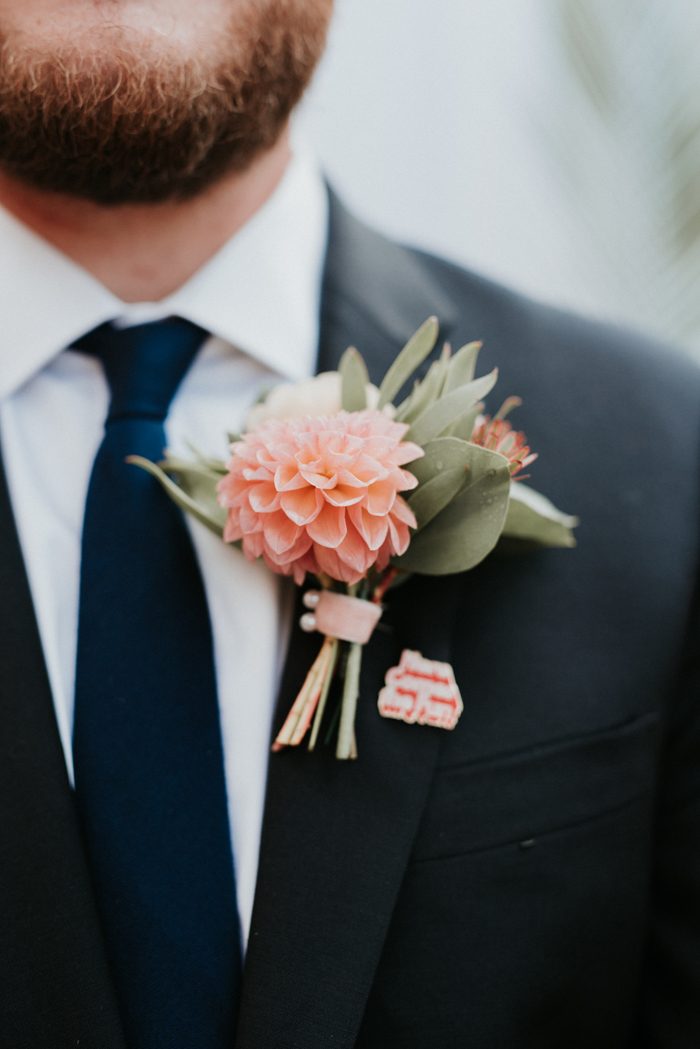 I love art and design and make a lot of funky pieces through my business, Facing the Sunshine Stationery + Design. So the DIY projects were some of the most fun parts of our planning! I created a piece of abstract art with the colors from our palette that served as the guiding design for the entire day and painted it onto a 6×9 foot canvas drop cloth that we used as the ceremony backdrop, as well as the photo backdrop at the reception! This piece, along with a couple other designs, were also printed on our invitations, programs, menus, and table signs! Those details definitely helped pull everything else together.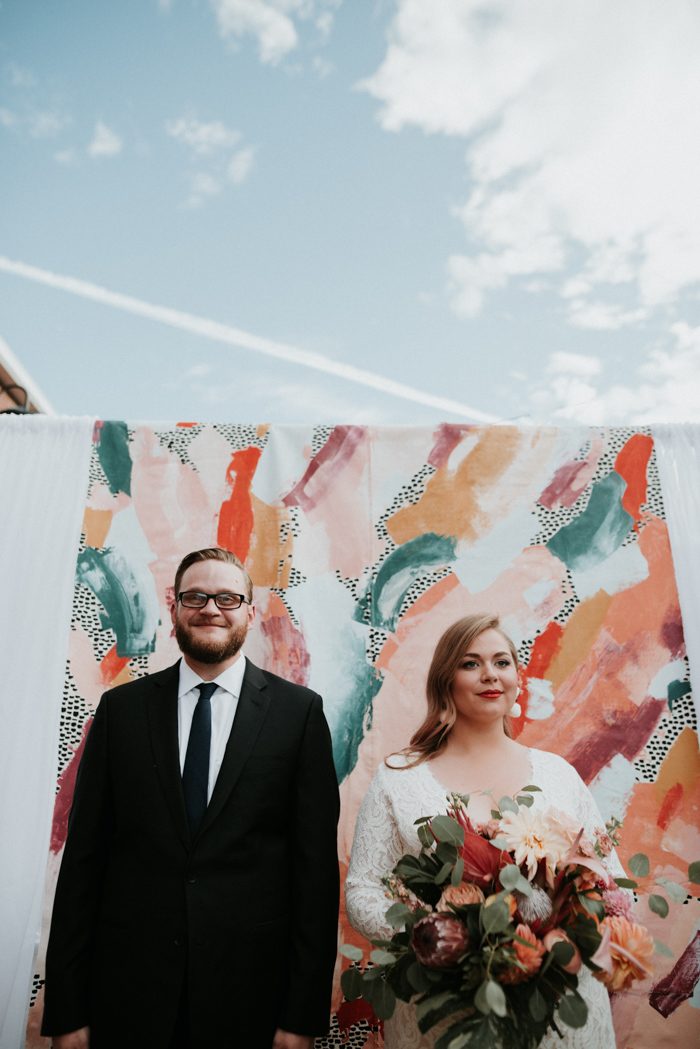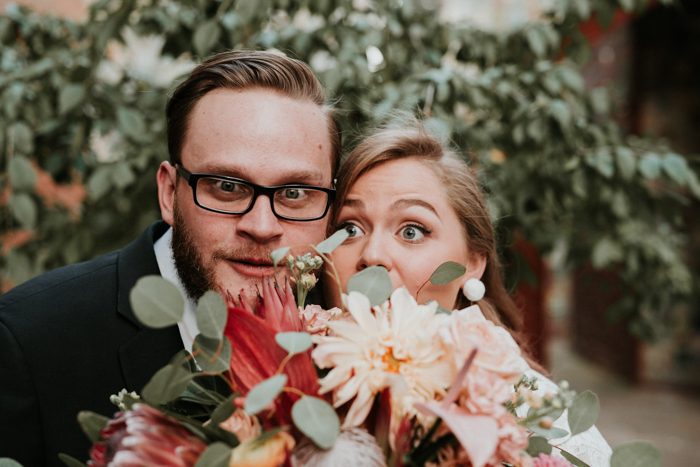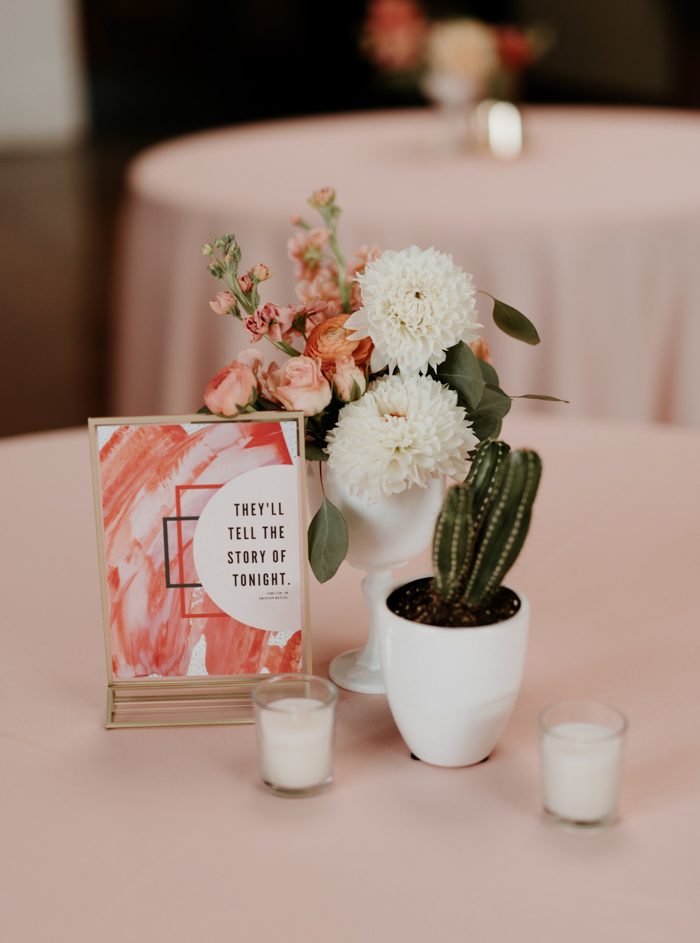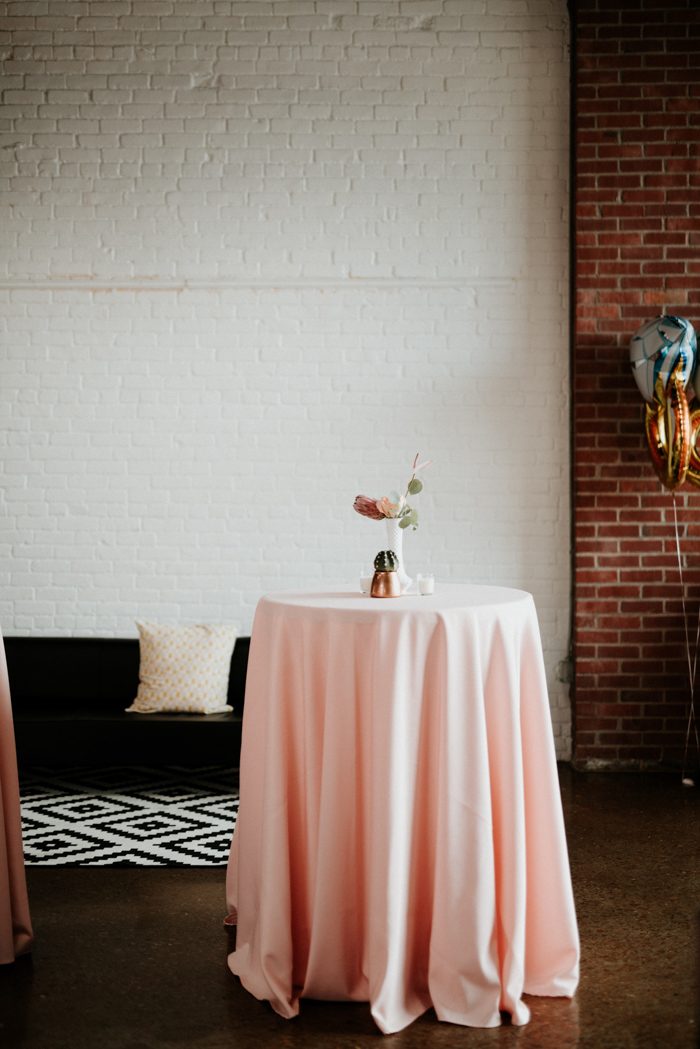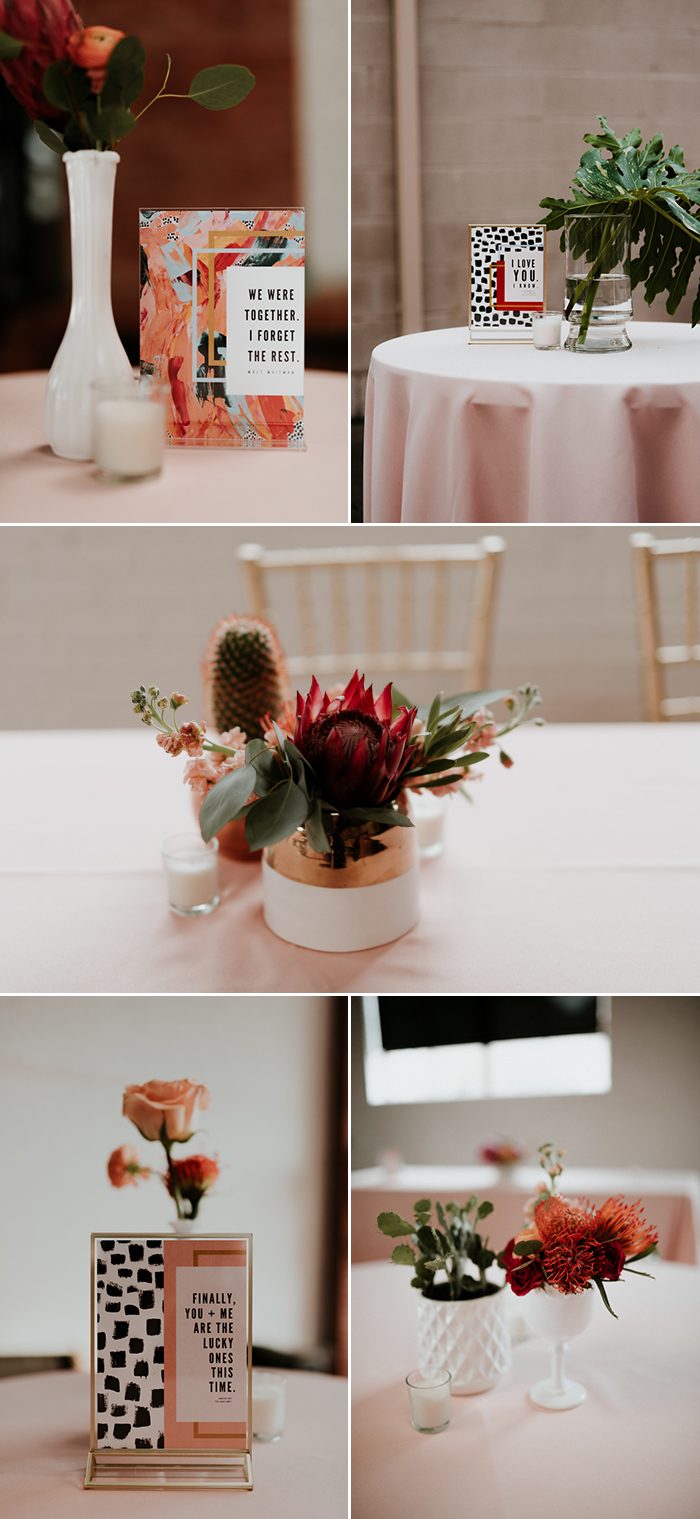 There were so many little moments that made the entire day amazing, but we loved looking around our reception to see everyone we love drinking, dancing, mingling and having a kickass time under the same roof. There was so much love in that room, and it was the most perfect way to start our marriage!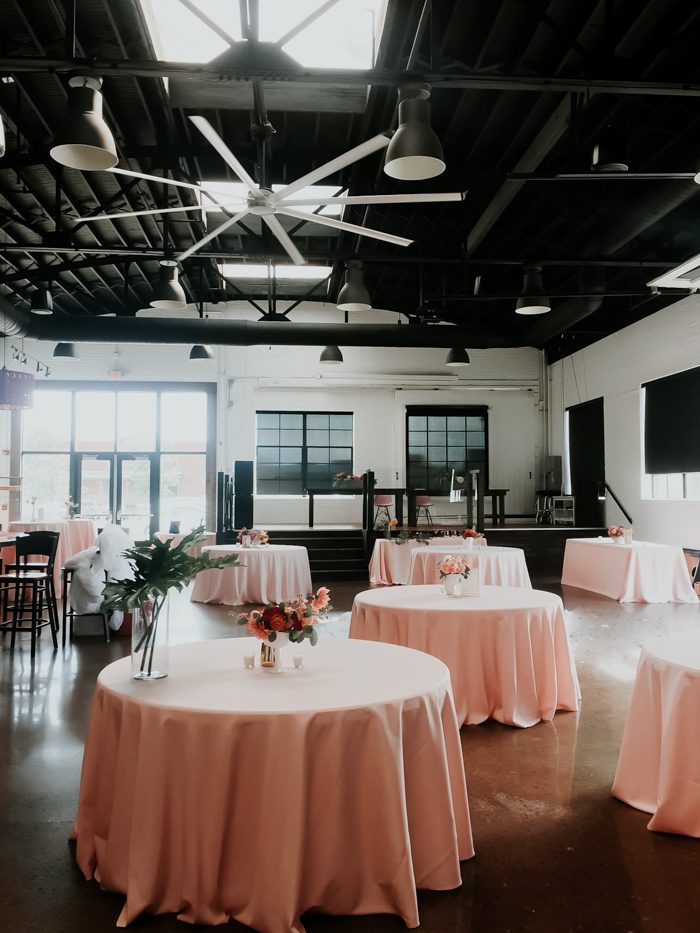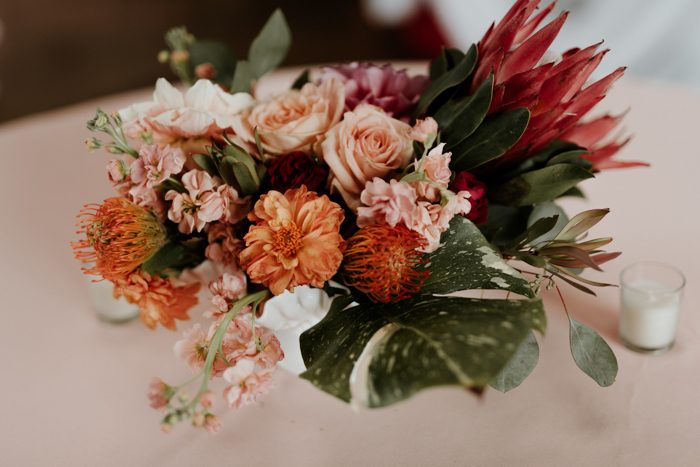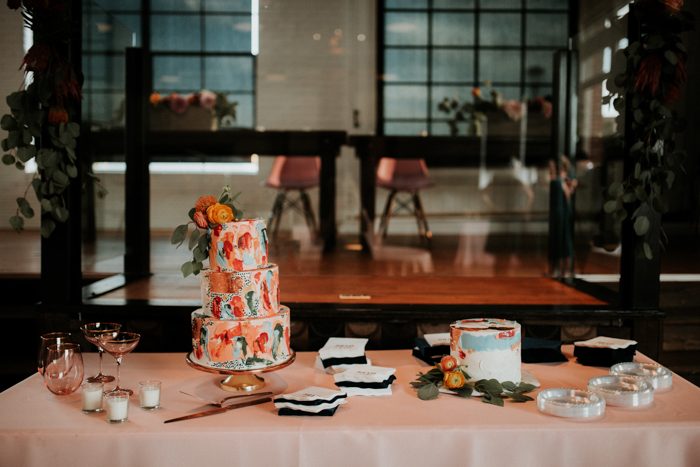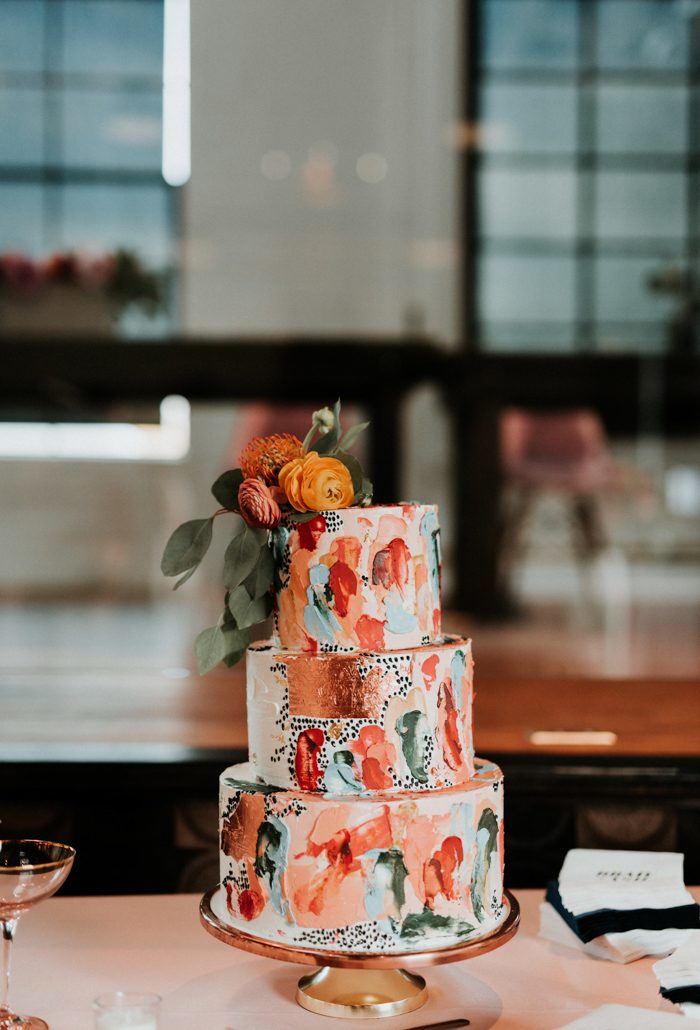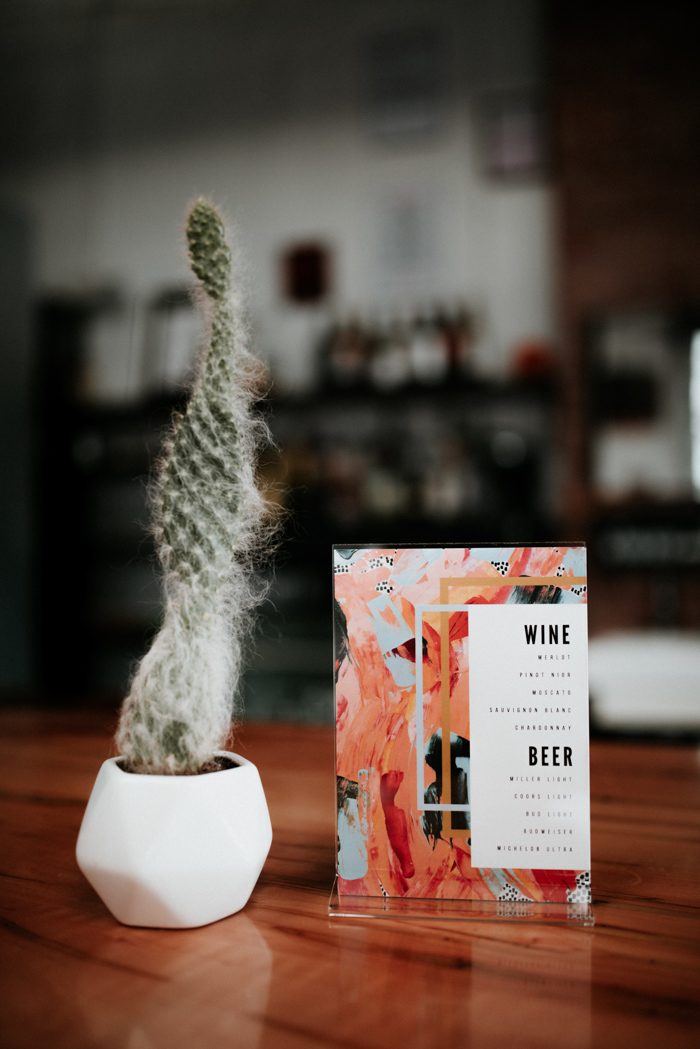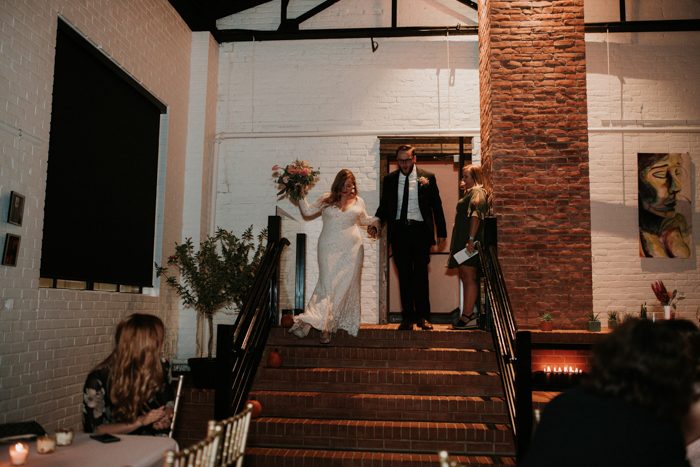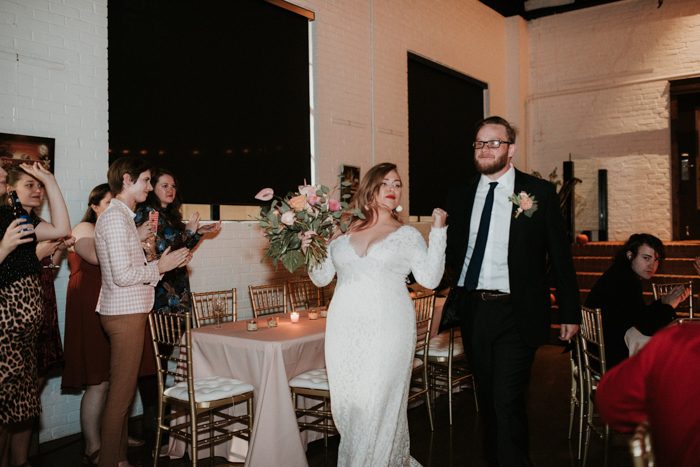 Processional – "Death of a Bachelor" by Panic! at the Disco
Recessional – "The City" by The 1975
First Dance – "Falling For You" by The 1975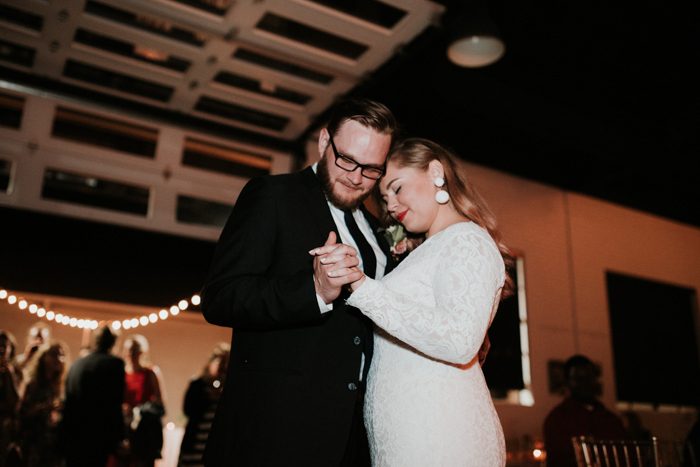 Our biggest congratulations to Ashley and Brad, and a special thanks to Zach&Rosalie for sharing this magnificent wedding at The 1857 Hotel with Junebug! Love the mid-century vibes in this wedding? Then you're going to flip for this colorful Los Angeles wedding at The Fig House, which is filled with mid-century vibes!