If you've been searching for engagement gift ideas for your favorite recently engaged couple, we've got you covered. From personalized gifts for the home to cameras and photo gear that they can use to capture their memories while wedding planning, your loved ones will so appreciate your thoughtful gift–no matter what you choose!
Engagement Gift Ideas
Houseware Engagement Gift Ideas
One of the most exciting parts of being engaged is building a home together. Help your newly-engaged loved ones craft a home that is completely them with engagement gifts like an engraved cutting board, custom welcome mat, monogram coasters, or tea towels with their last name.

1.Queen Size Luxury Sheet Set; 2. Personalized Welcome Door Mat; 3. Customized Cheese Board; 4. Personalized Marble Coasters; 5. Monogram Tea Towel; 6. Engagement Tea Light Holder
Photo Gear Engagement Gift Ideas
An engagement can be such a short chapter in a couple's story, so we highly recommend soaking it up as much as possible and capturing memories while it's happening. Gift your friends the ultimate memory maker with a polaroid camera along with everything they need to document this season of life–cameras, film, and frames.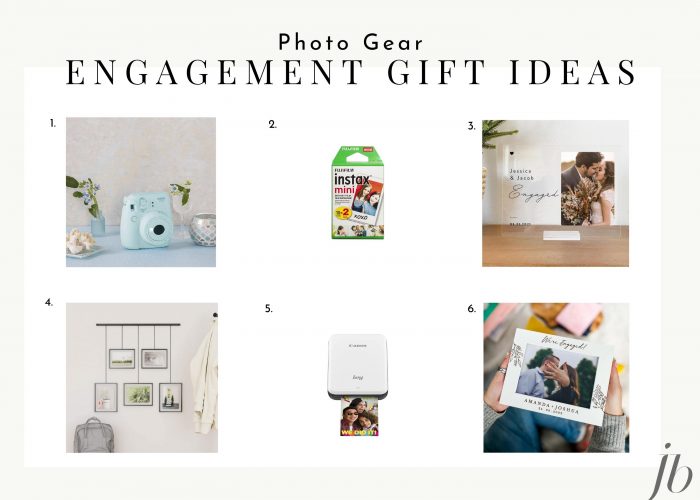 1.Fuji Instax; 2. Fujifilm Instax Mini Film; 3. Clear Acrylic Engagement Frame; 4. Umbra Exhibit Picture Frame Gallery; 5. Canon IVY Mini Photo Printer; 6. Personalized Photo Frame
Custom Address Stamp
Have some seriously practical friends to shop for? Make their wedding planning process a little bit easier with a super thoughtful and useful gift like a custom address stamp. They'll be so grateful that they easily address their wedding invitations and thank you notes (including yours).

1.Custom Return Address Stamp; 2. Custom All Hand Written Calligraphy Stamp; 3. Housewarming Address Stamp; 4. Personalized Vintage French Address Stamp; 5. Nature Address Stamp; 6. Floral Rubber Stamp
Ring Dish Engagement Gift Ideas
A ring dish is a special, practical, and personal way to honor this very specific gifting occasion. After all, they can use it to hold their new engagement ring every night. There are so many pretty options, from monogrammed dishes to unique ceramic or wood holders.

1.Initials Ring Dish; 2. Personalized Trinket Dish; 3. Personalized Engagement Ring Holder; 4. Speckled Minimalist Ring Dish; 5. Wooden Mini Engraved Ring Dish; 6. Imprinted Clay Engagement Ring Holder
Miscellaneous Engagement Gift Ideas
If those other engagement gift ideas just don't seem like the right fit for your couple, consider one of these miscellaneous gifts. From a sweatshirt to a wine label that you can put on their favorite bottle, there's something for everyone.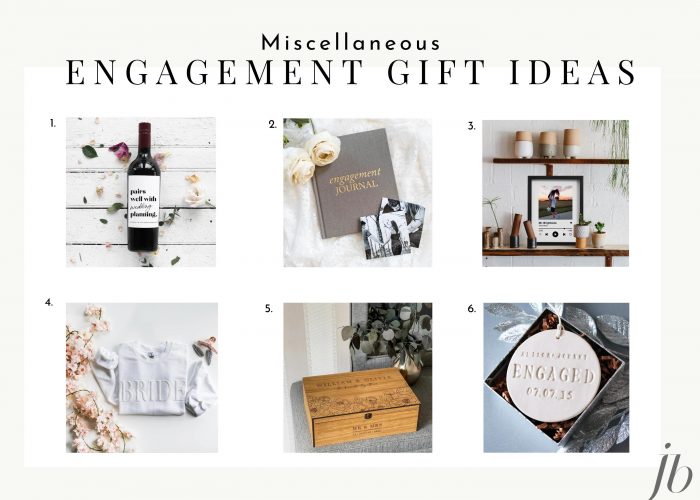 1. Just Engaged Wine Label; 2. Engagement Journal and Memory Book; 3. Spotify Song Print; 4. Embossed Bride Sweatshirt; 5. Personalized Wooden Memory Box; 6. Personalized Engagement Ornament
Looking for even more engagement gift ideas? Check out our roundup of Valentine's gift ideas perfect for newlyweds for more inspiration.