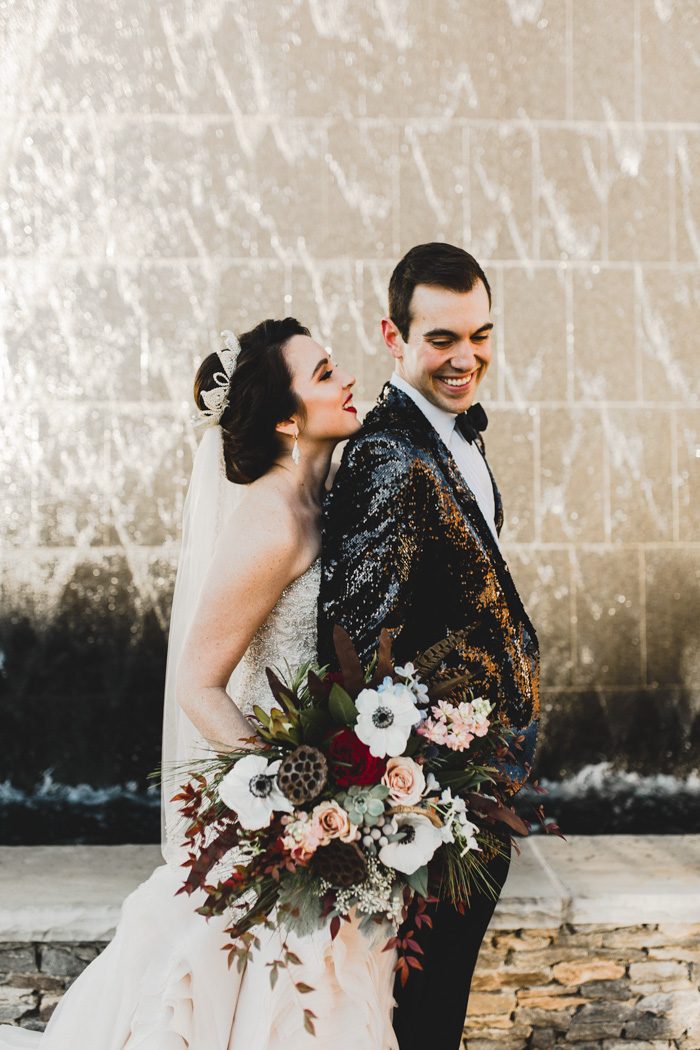 When a wedding is full of as much joy, handmade magic, and killer style as Tyler and Graham's winter celebration at Huguenot Mill and Loft, we can't possibly wait until another minute to share it! Between the bride's glamorous ruffled gown from The Poinsett Bride and hand-me-down pearl crown, the groom's surprise sparkly jacket from ASOS, and the bridesmaids' vintage fur coats they borrowed from their grandmothers, the fashion choices in this winter wedding were as non-traditional as they come — and totally stole the show. Tyler and Graham also incorporated Christmas trees and an heirloom rug into their ceremony decor, asked their friends to bake a variety of cakes for their reception, and surprised everyone with a late-night Taco Bell delivery on the dance floor. To say this South Carolina wedding was epic would be an understatement and Anna Duncan Photography could not have been a more perfect choice to capture this unforgettable celebration!
The Couple:
Tyler and Graham
The Wedding:
Huguenot Mill and Loft, Greenville, South Carolina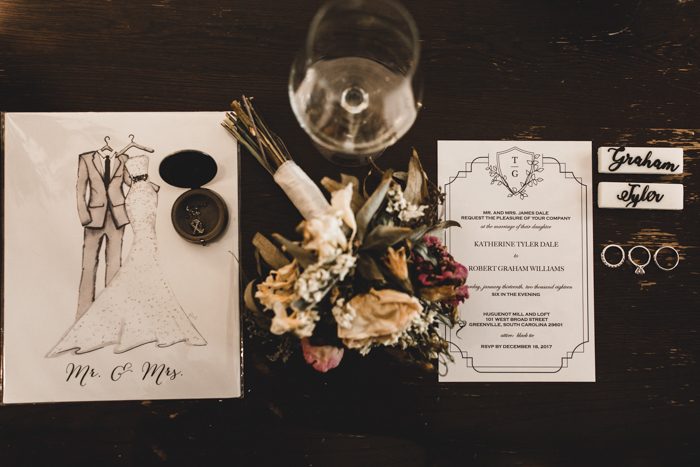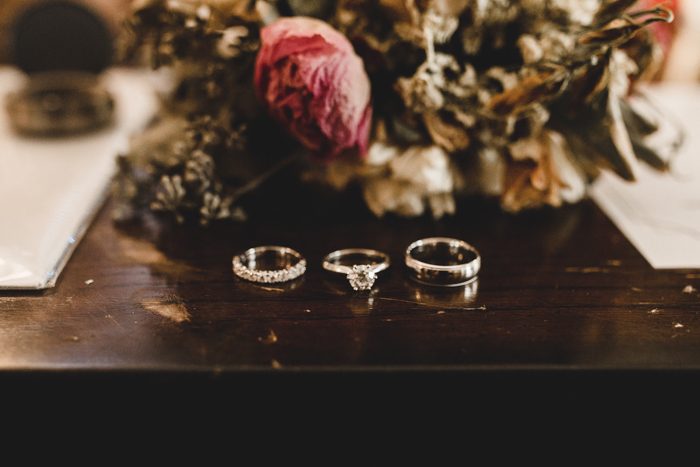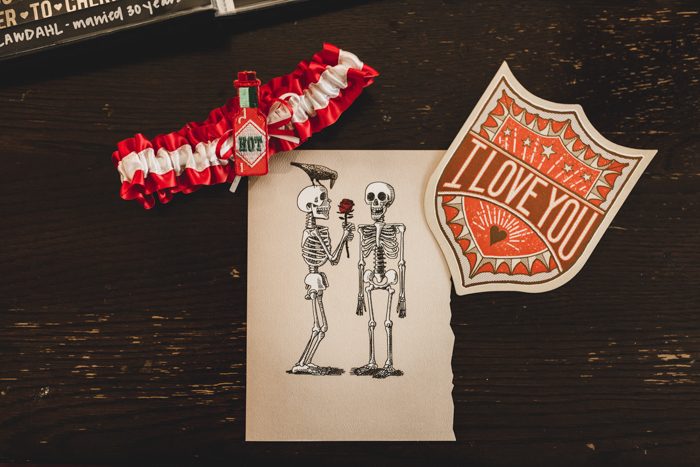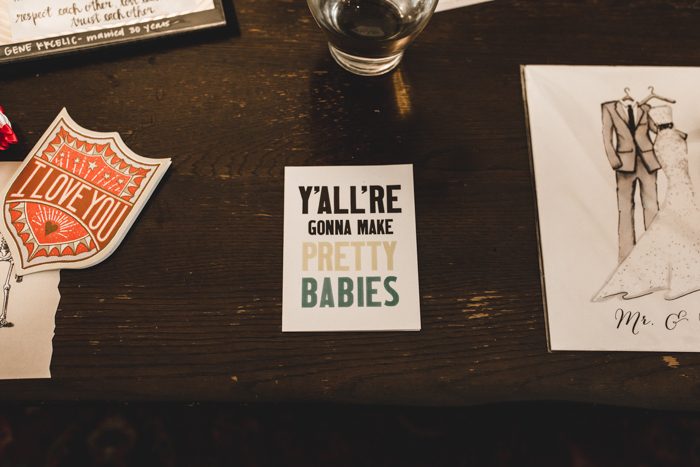 The most important thing in planning our wedding was having everyone together for one day. We wanted to celebrate with the people we knew best, love us hard, and support us always. For years I said I didn't want a big wedding, then I had a close friend pass away. Her family shared how special their memories were from her wedding. It sparked a conversation about how rare it is to be with all the people you love in one place. It seems like that can only happen at a wedding or a funeral. People get busy and don't make time but when a big event like a wedding comes along they stop. It's sad to think about but it made us take a step back during so many moments of madness.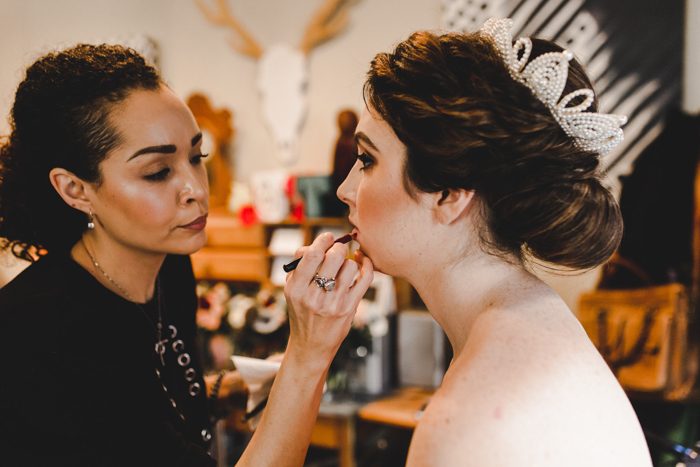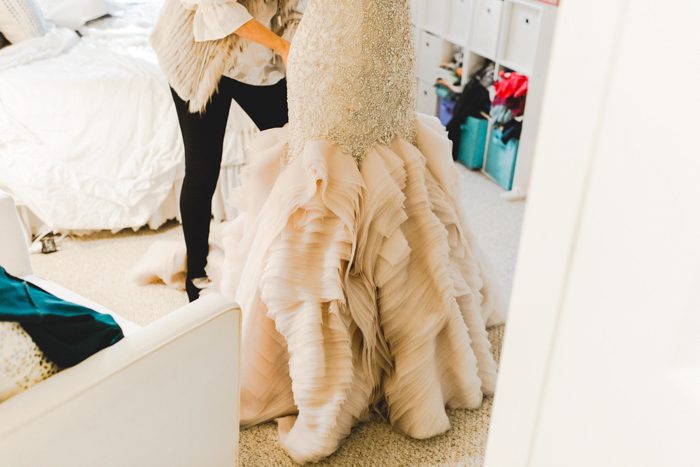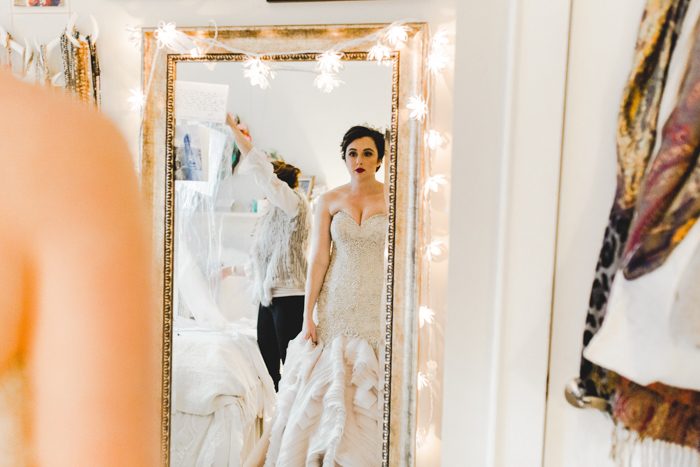 My dress was so different than anyone's I had ever seen. I was so worried that I wasn't going to be in a classic white dress, I almost returned my dress because I was having second thoughts. After spending about an hour in it at the store I knew it was my dress. I owned the fact that it was different. I loved the sparkles and the ruffles and how sassy it was. I had so many people say, "That dress is so Tyler," and it was!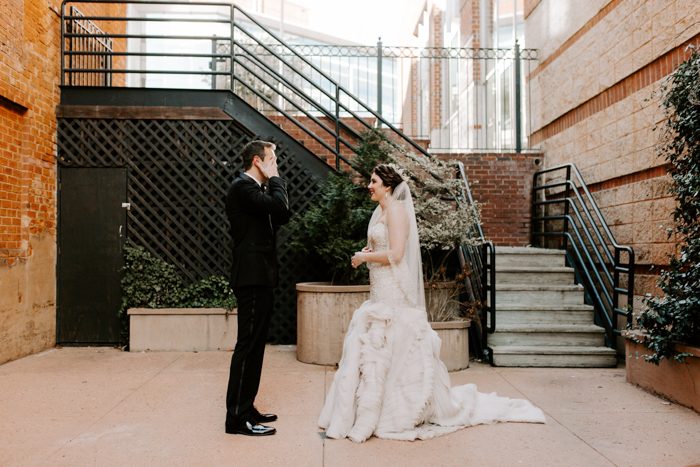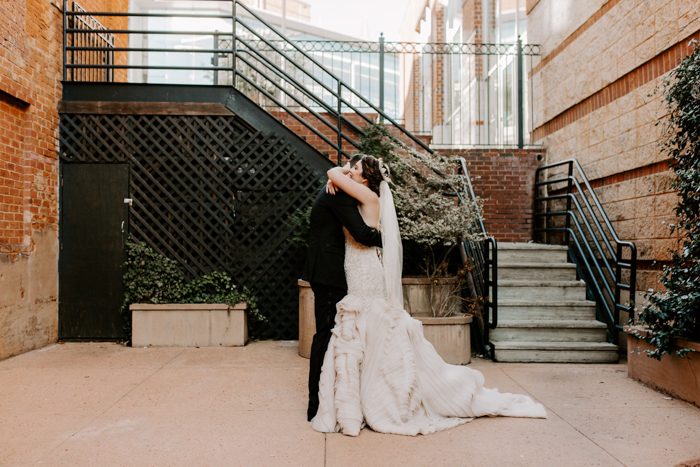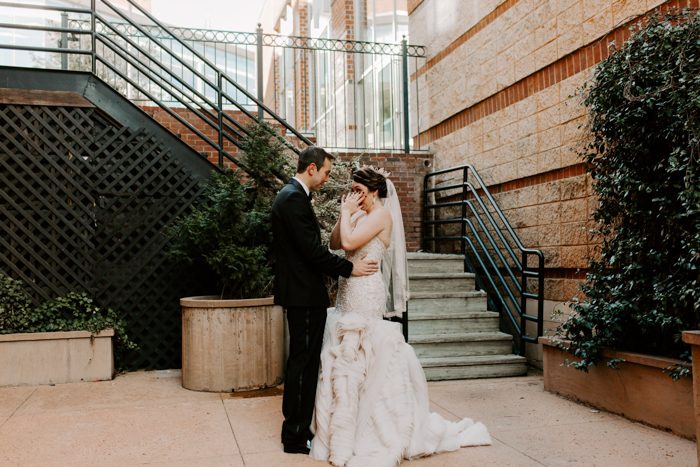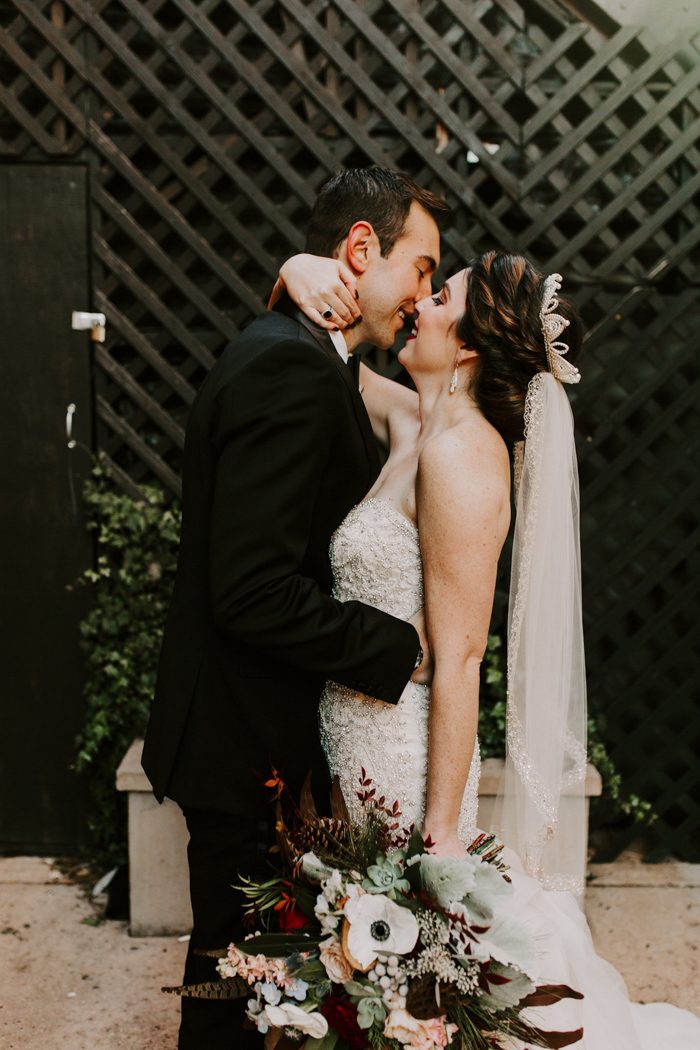 I knew I wanted bold colored lips for my wedding day makeup. I'm a huge lipstick fan and didn't want to have a neutral look like a lot of brides. After purchasing my dress, my grandmother told me she had a handmade pearl crown that I could have if I liked it. After trying it on with my dress, I knew I had to wear it. I also chose to rock some super funky Sam Edelman pattern booties with my dress. You know, it's my day and I decided to wear what I felt confident in and not worry about the norm. I encourage all brides to do the same. Be true to your style and yourself.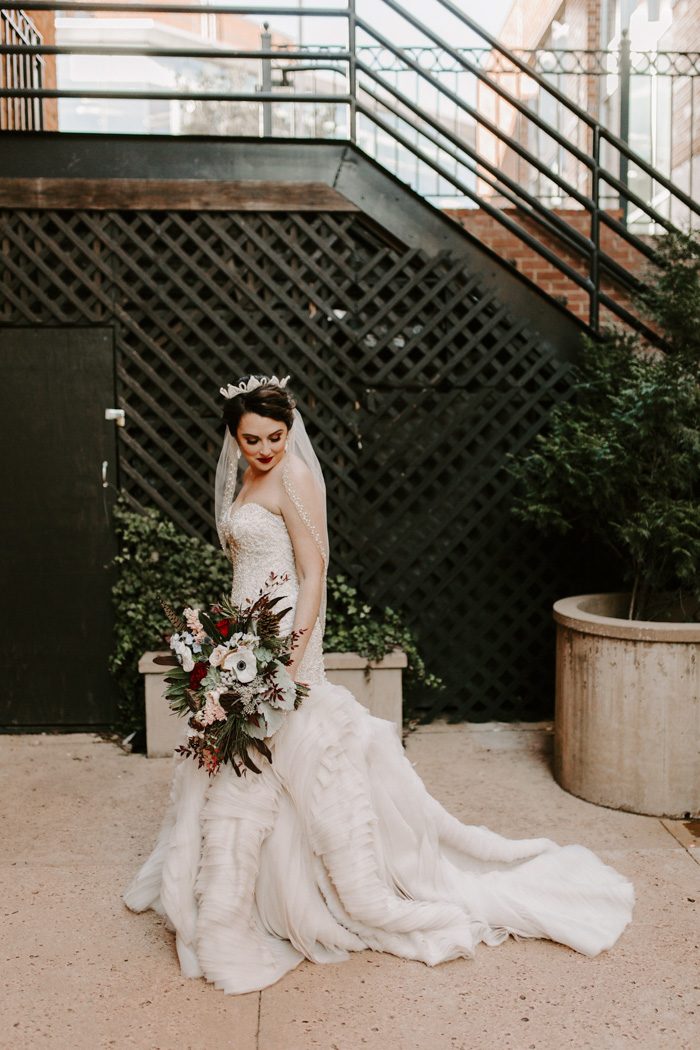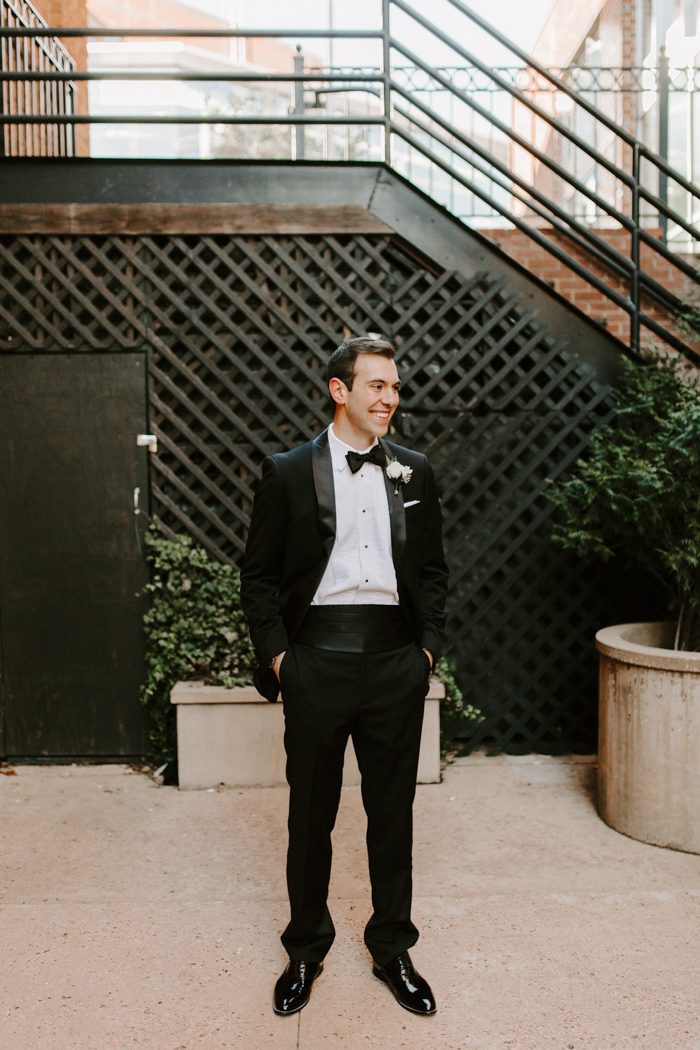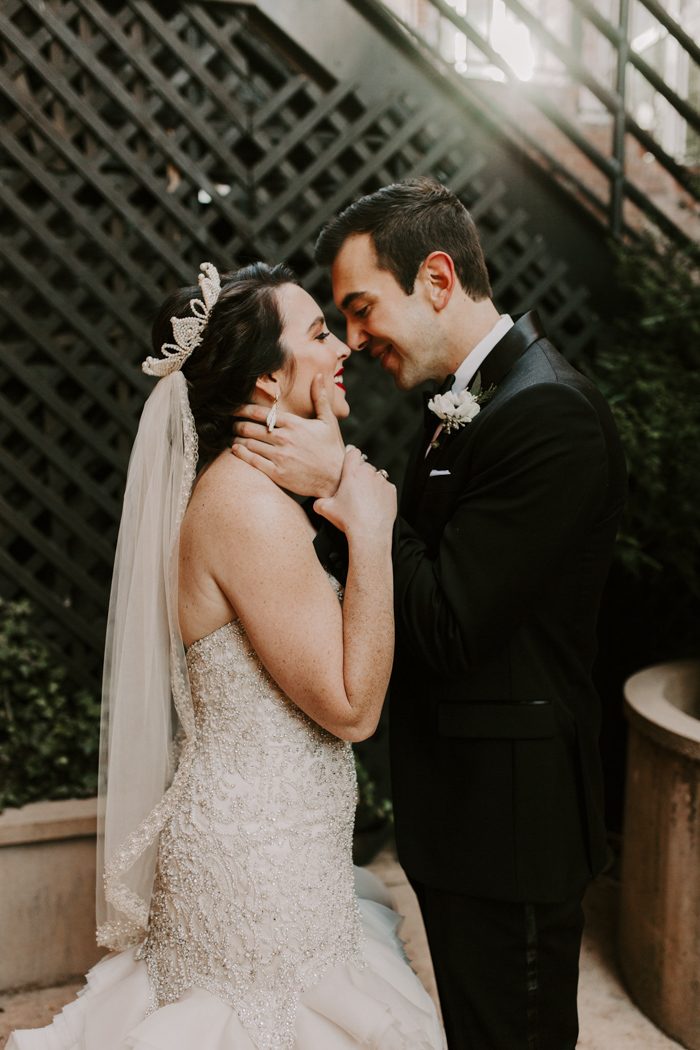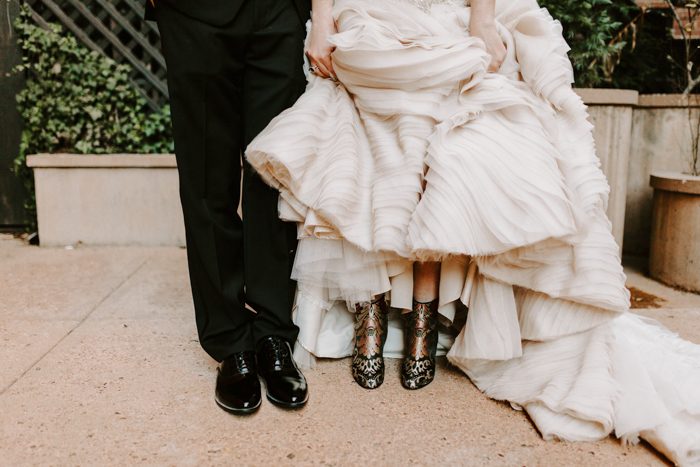 SHOP THIS LOOK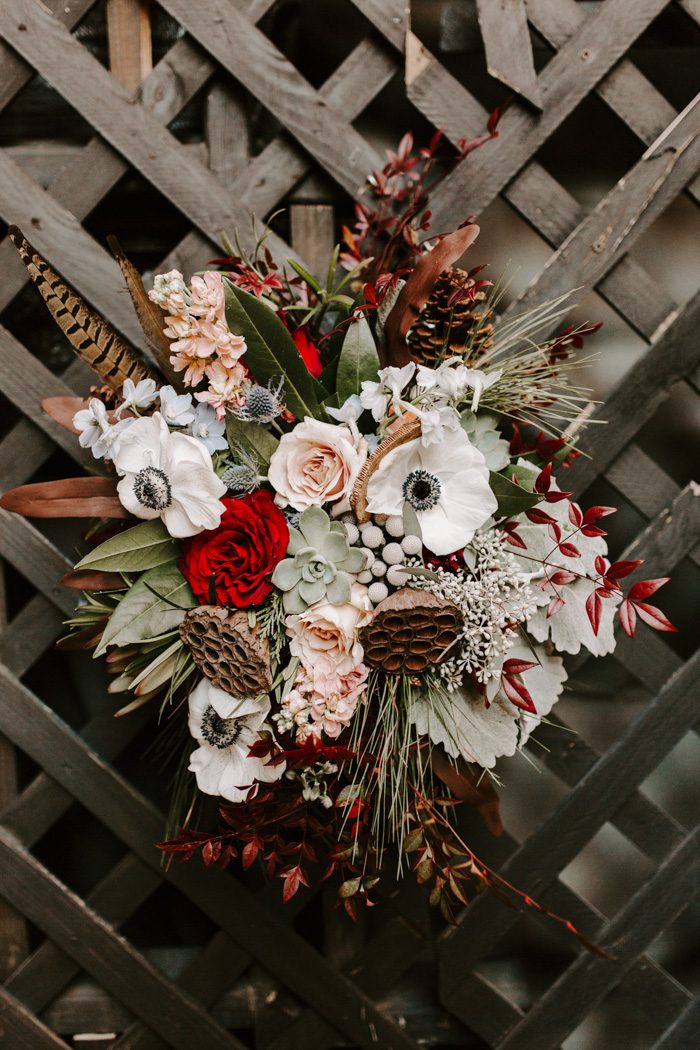 My favorite photo is one of us in front of the Greenville Water wall. It was a miracle the wall was on and running in the middle of January. When the water was running, it looked like the ruffled in my dress. Our photographer had heard about Graham's surprise sequin blazer and was like, "Yes, outfit change please!" He threw on the blazer and she started snapping. Those photos are perfect!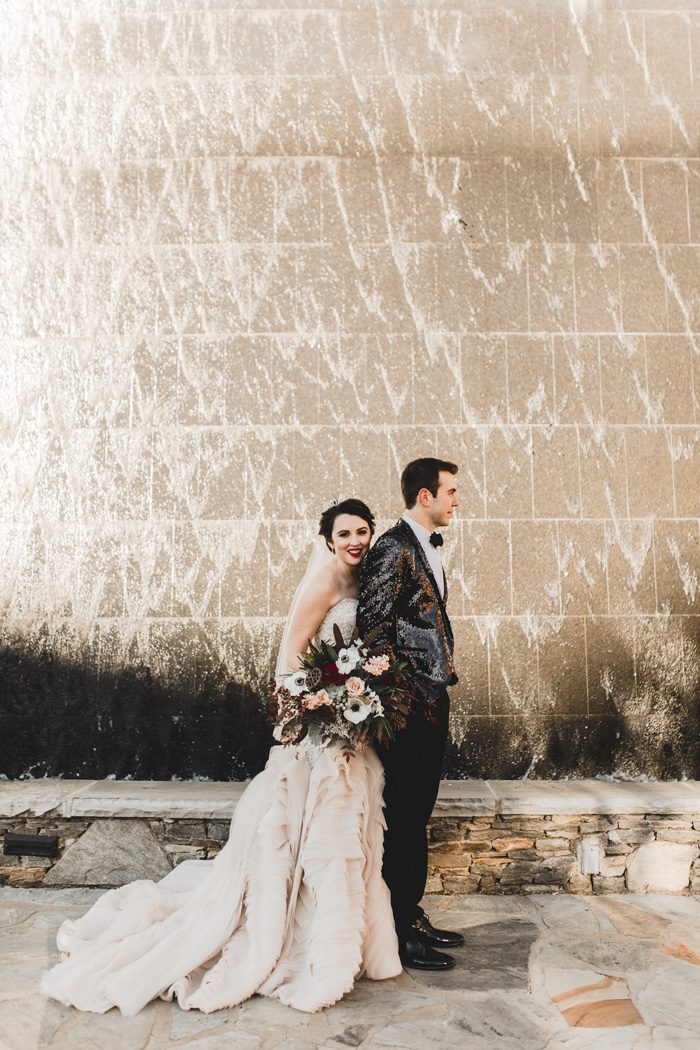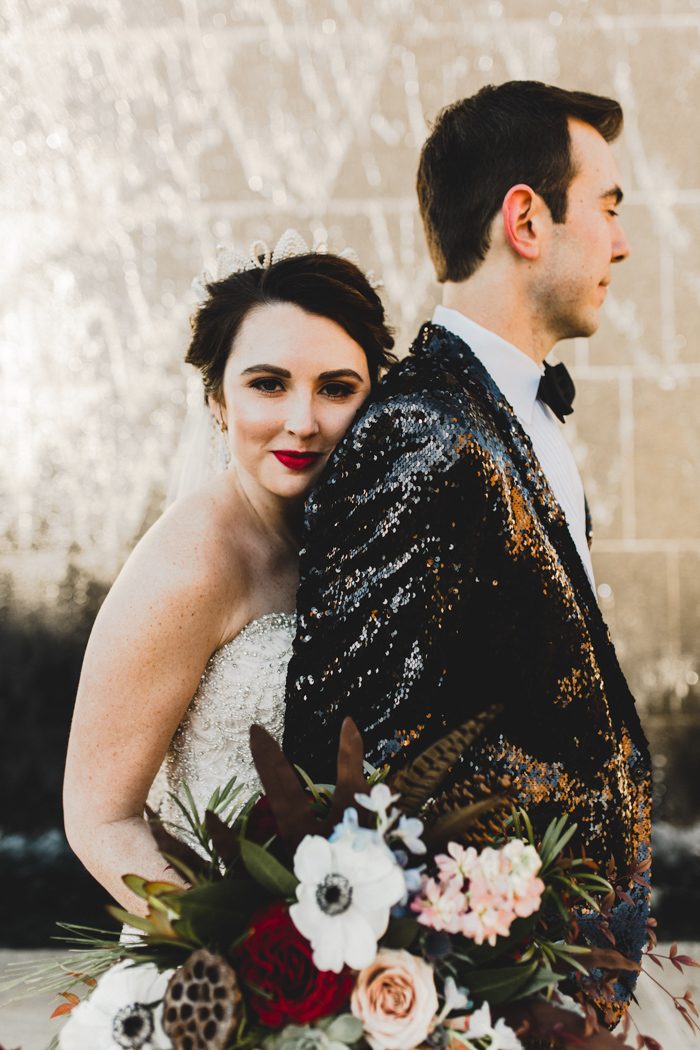 SHOP THIS LOOK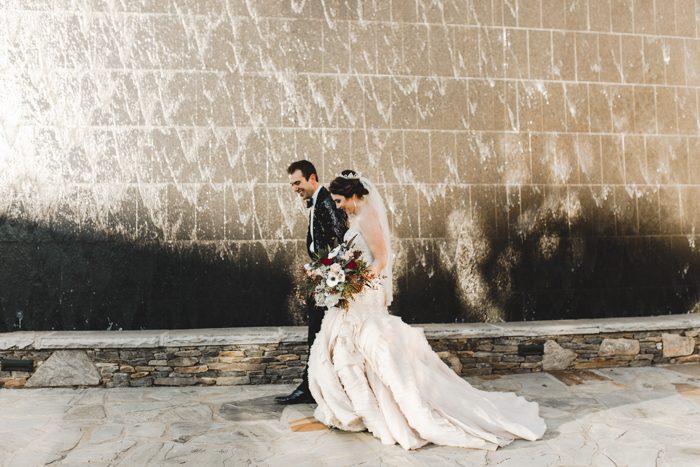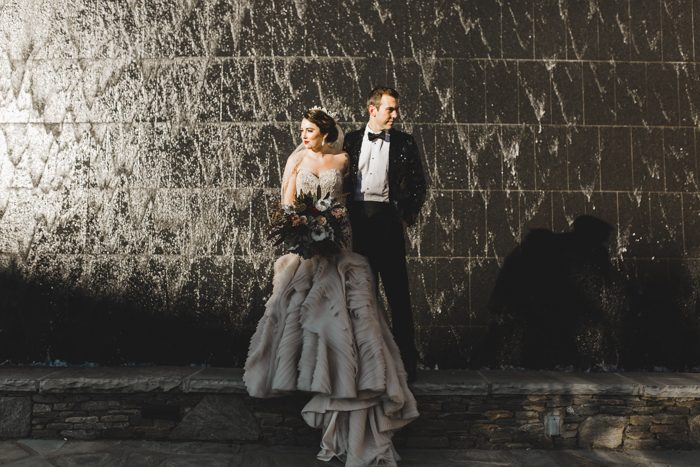 My bridal party all wore different black dresses. They were all from different stores and it was really fun to let them find a style that they felt confident in. One thing I did ask was for them to find a fun fur coat. Everyone borrowed "vintage" furs from grandmothers and great-grandmothers. It was really special to have so much history tied up in our day.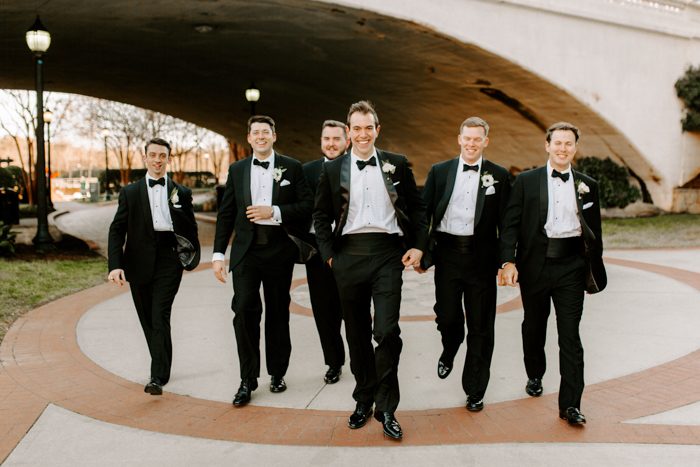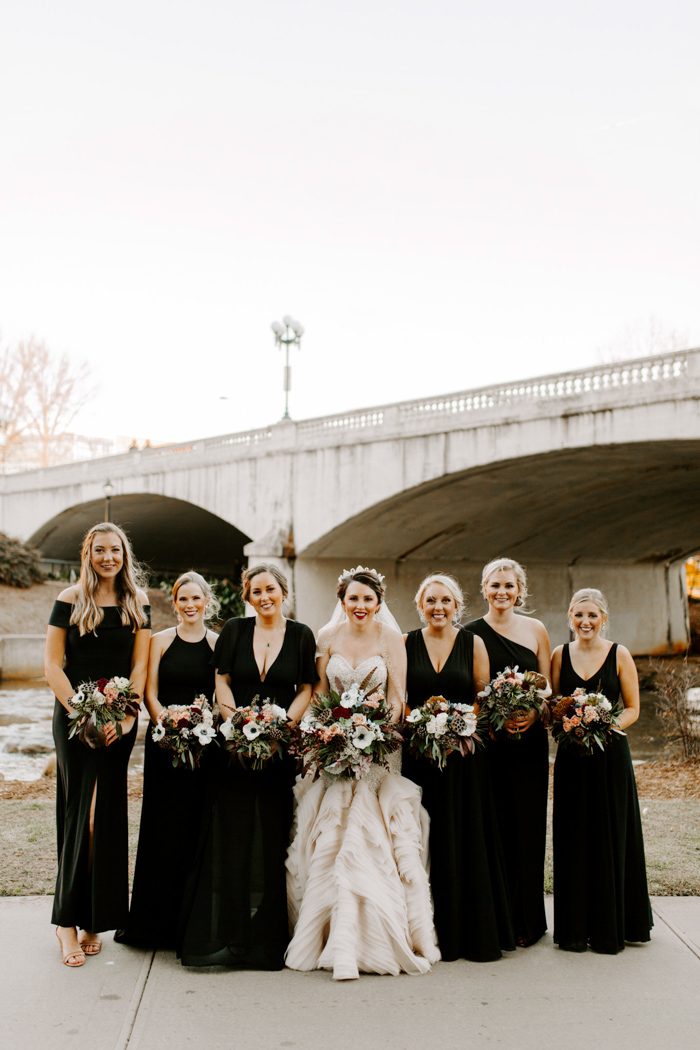 SHOP THIS LOOK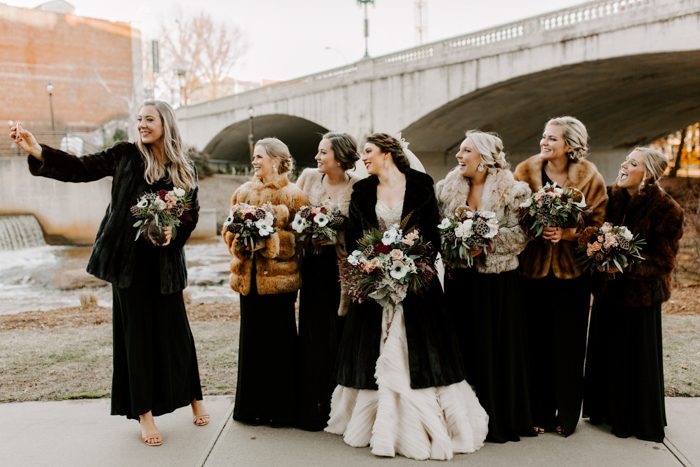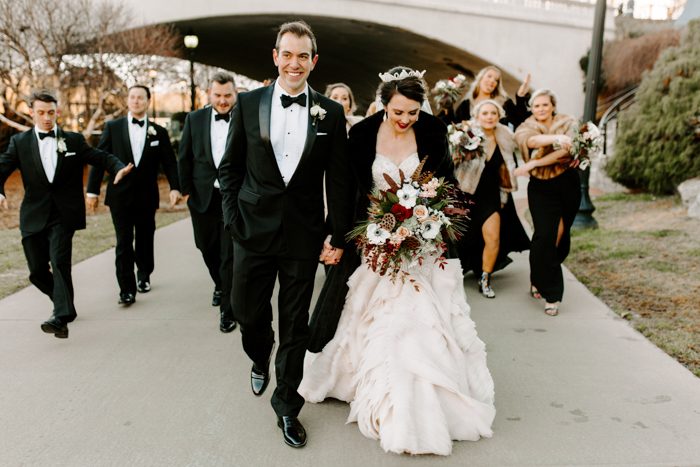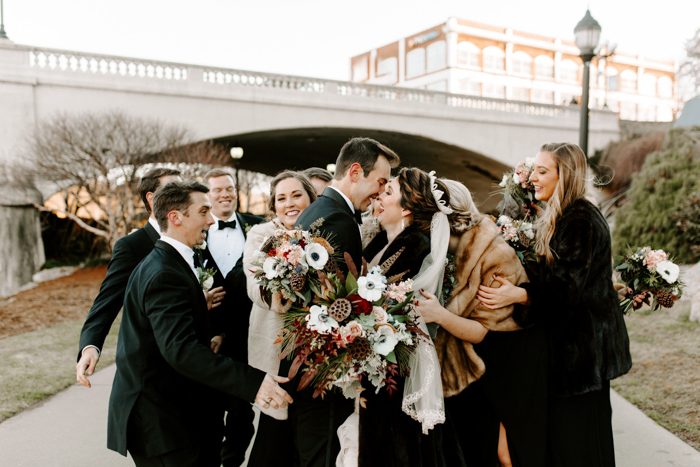 We chose Huguenot Mill and Loft for our venue, and it just so happens that it is on the same street we live on and got engaged on. It was really full circle for us! The venue had lots of dark wood and exposed brick. The views were also a selling point. It has large windows that overlook the Reedy River in downtown Greenville. It also had two larger rooms so we could hold both the ceremony and reception in one location and not worry about moving guest in between.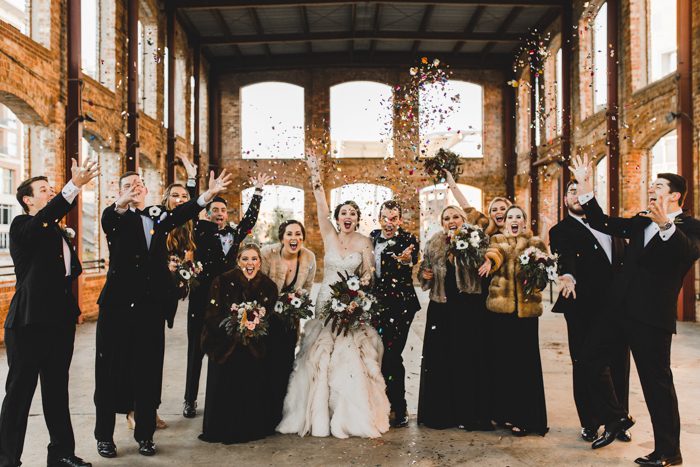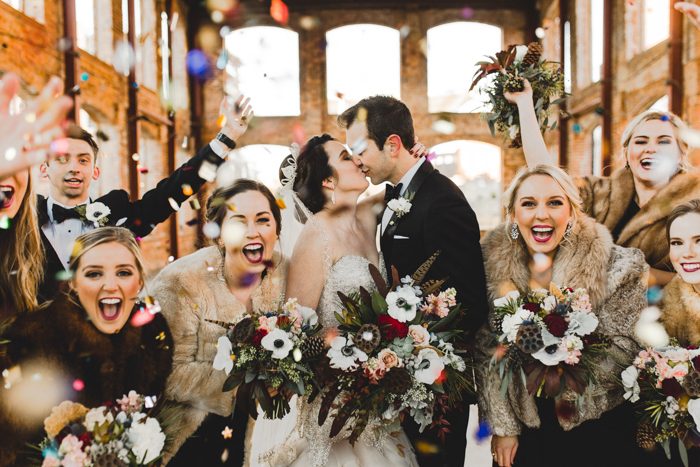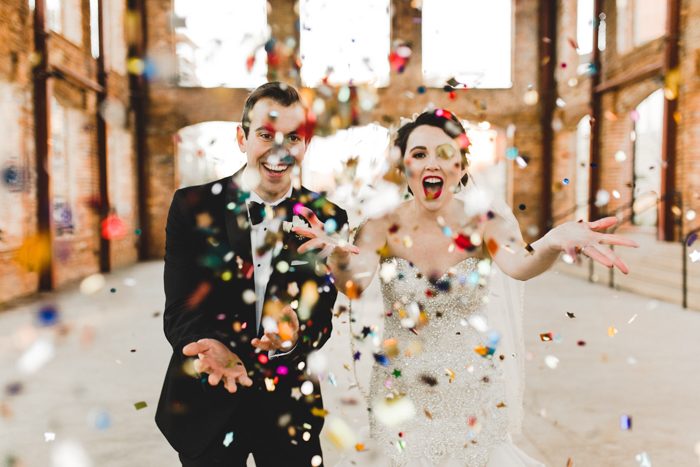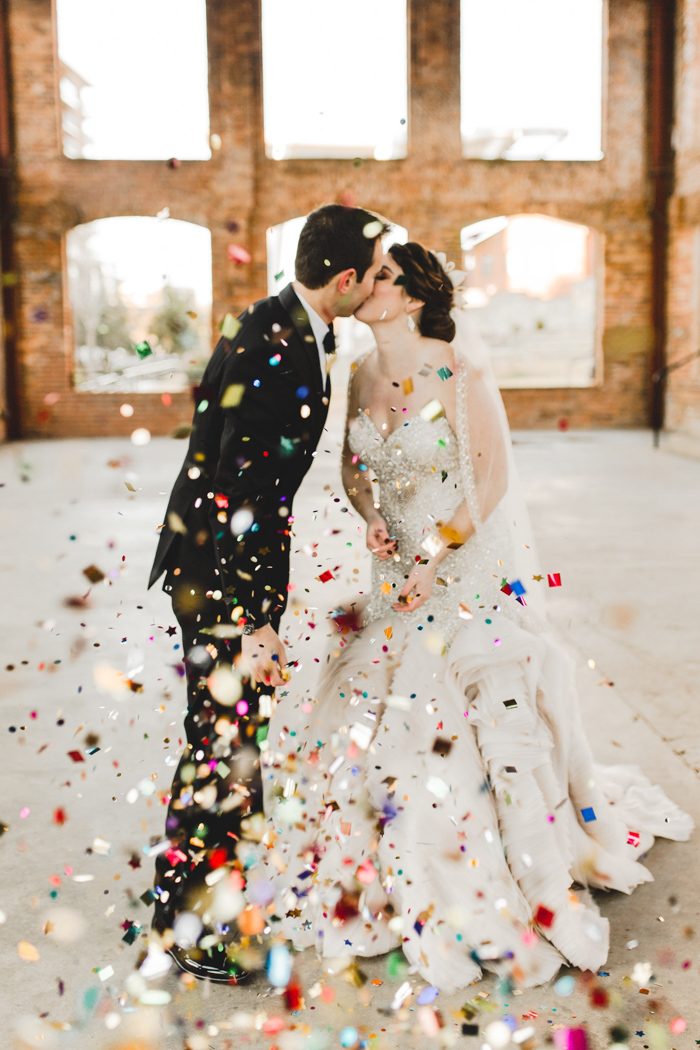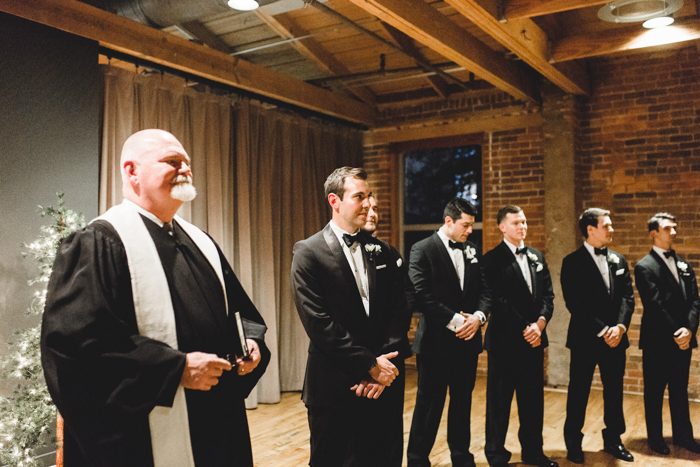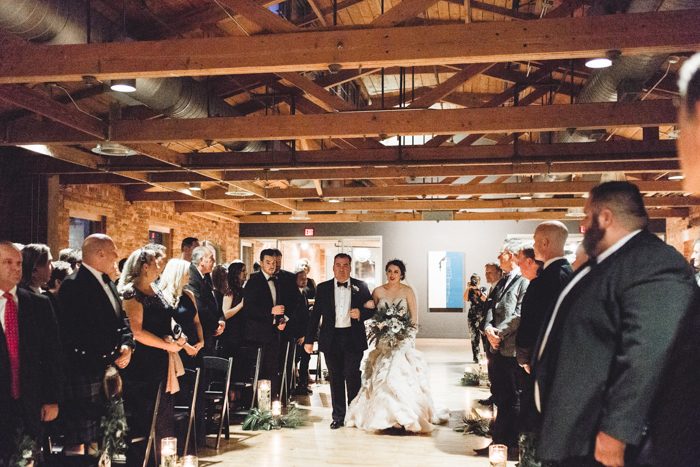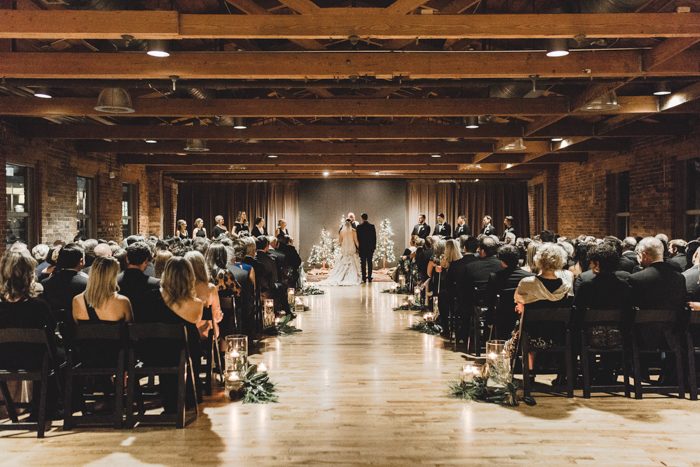 For our ceremony, we chose to write our own vows. This, in my opinion, made the whole ceremony unique to us. My husband's father actually married us and we worked with him to lay out the whole format of the wedding. It was truly custom made for us. We also have an antique family rug in our bedroom that we moved to the venue to get married on. We thought that it was really beautiful to use the rug that we stood upon on our wedding night to say our vows, under our bed each night.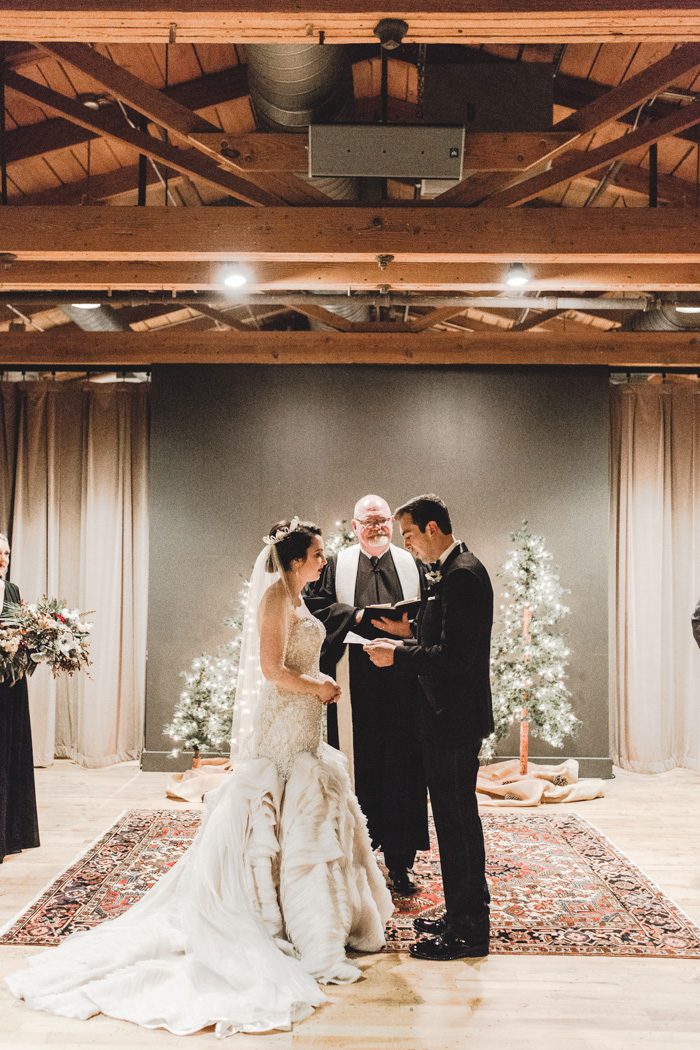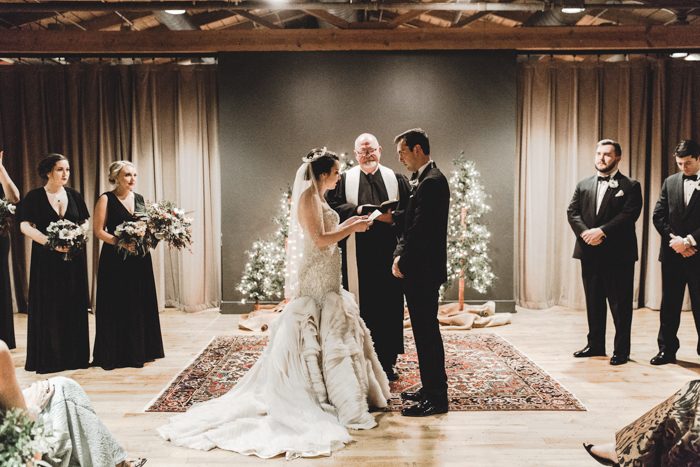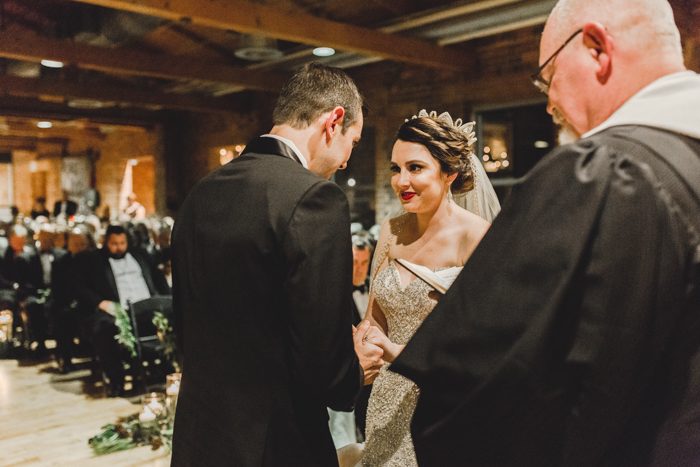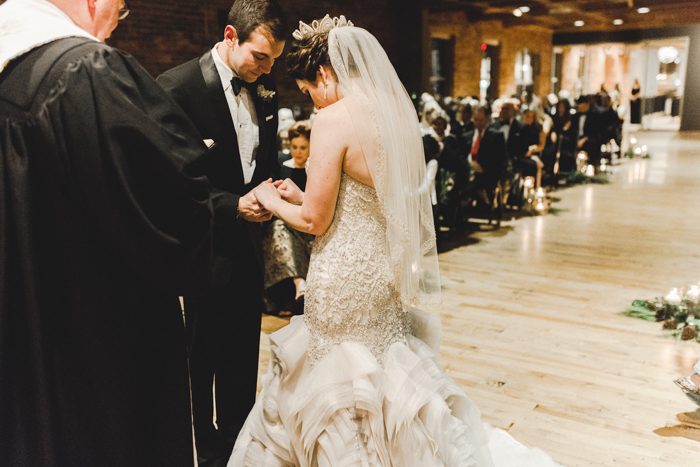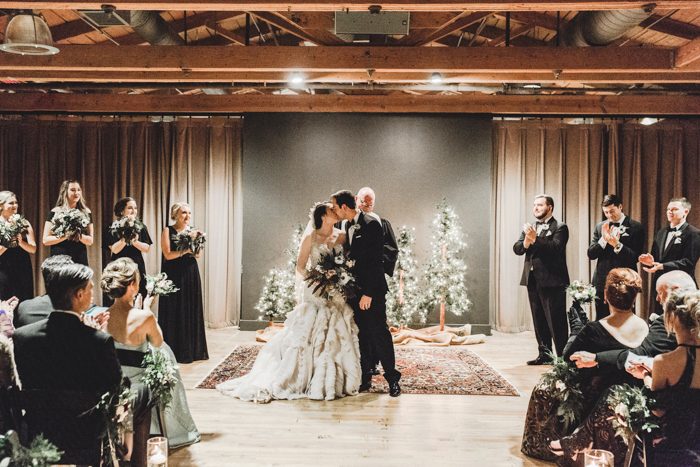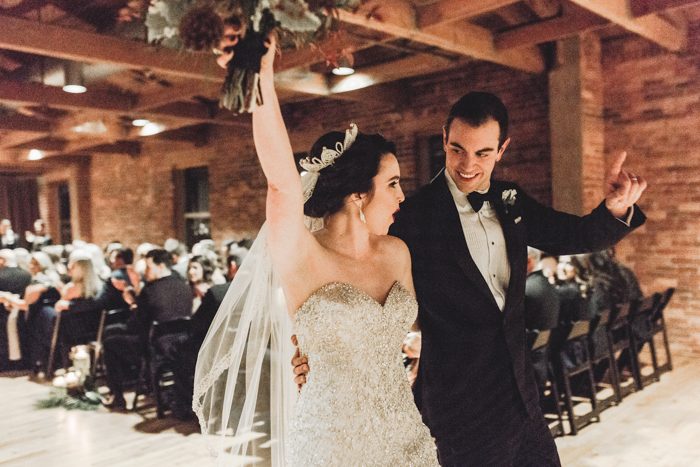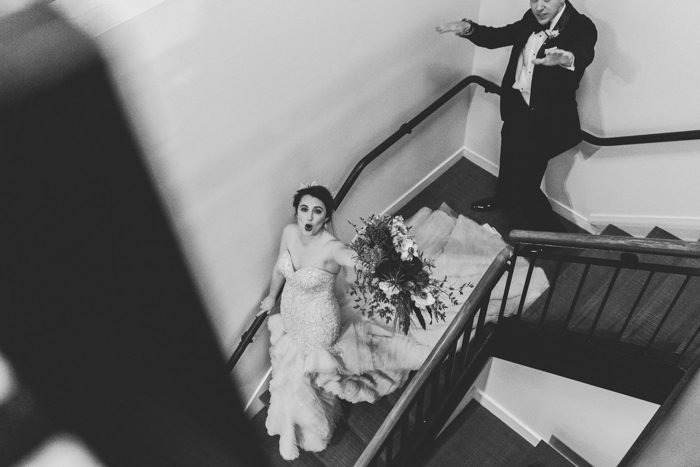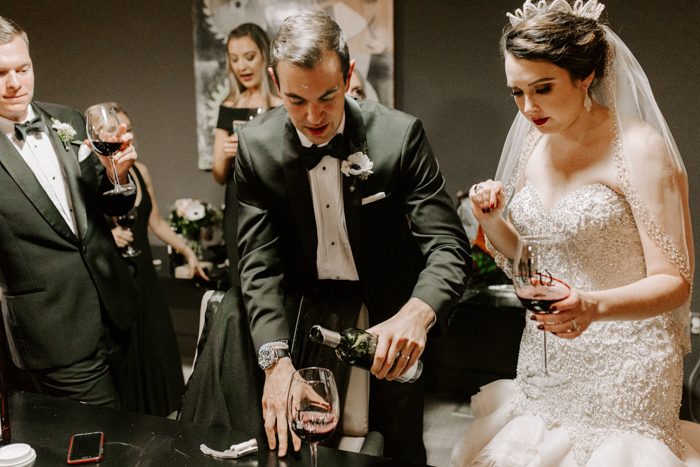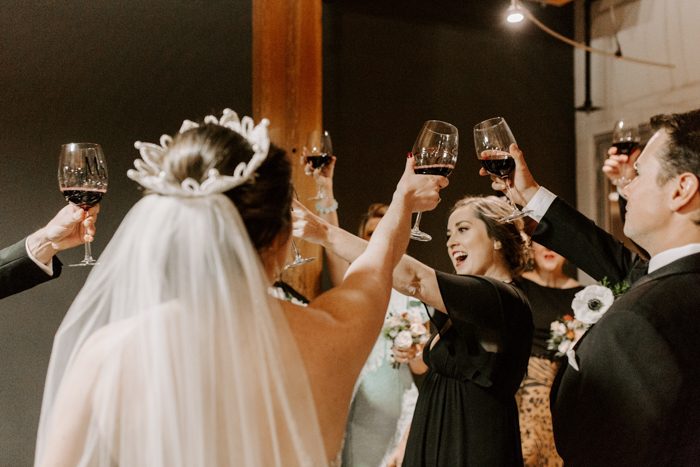 I don't think there is one moment that stands out above the rest. I mean how can you choose? It was the look on my bridesmaid's faces when they finally saw my dress. It was the tears from my grandmother overwhelmed by the beauty of her first grandchild to be married. It was the long hug and happy kisses that came after the first look. It was the confetti bombs thrown by our bridal party. It was the few moments of silence shared with my father before walking down the aisle. It was standing hand in hand with my new husband looking out at all the people who love us. It was the newlywed toast with the wedding party. The hype from the walk-in songs. The countless hugs. The hundreds of kisses. The hours of dancing and of course the Taco Bell tacos!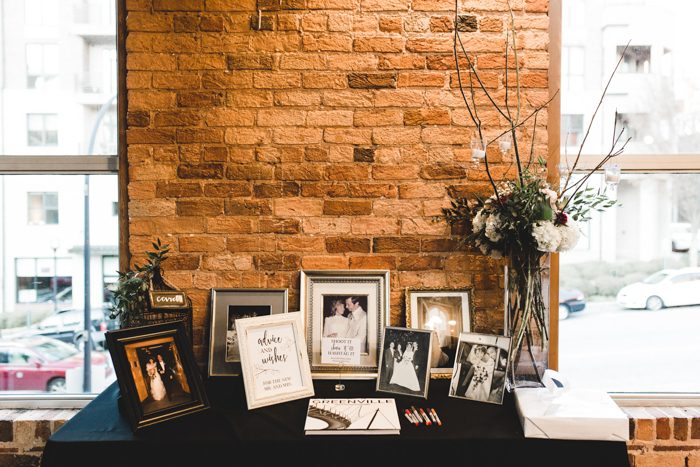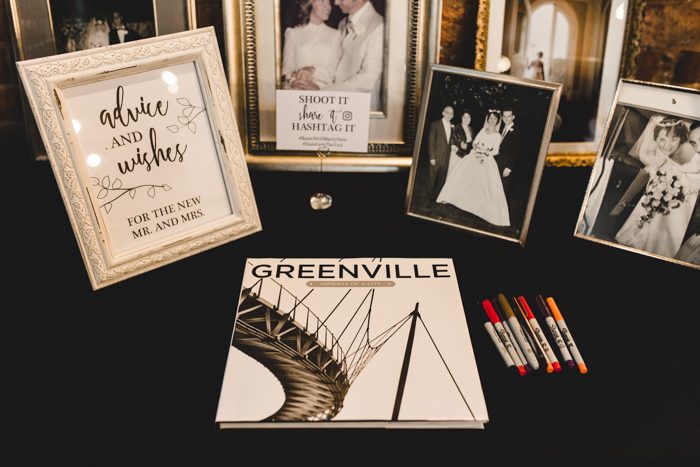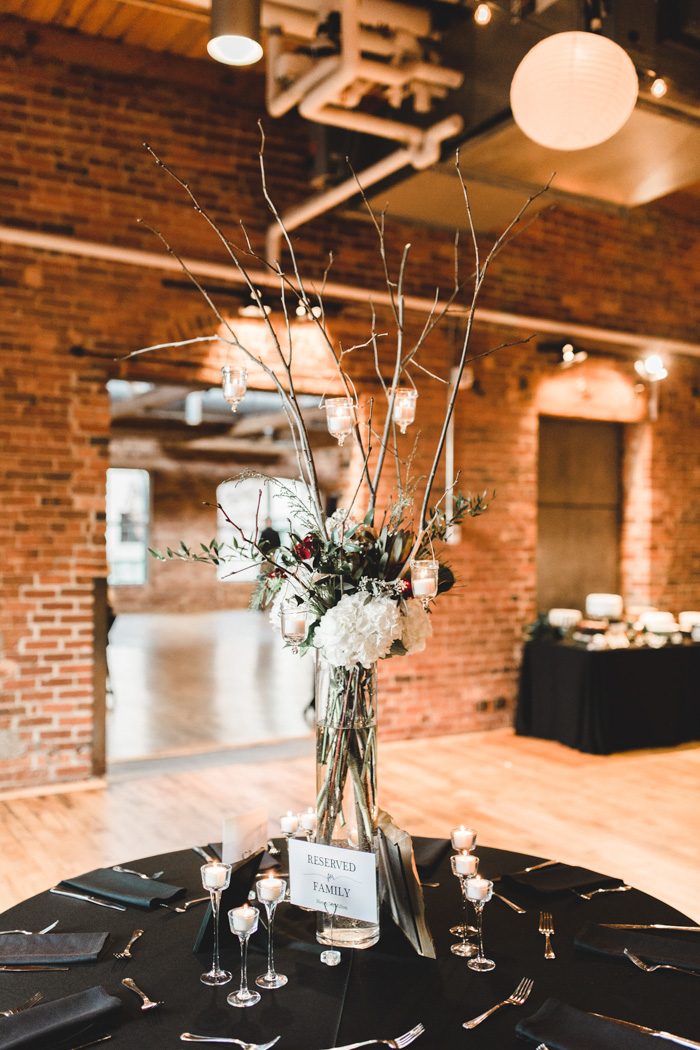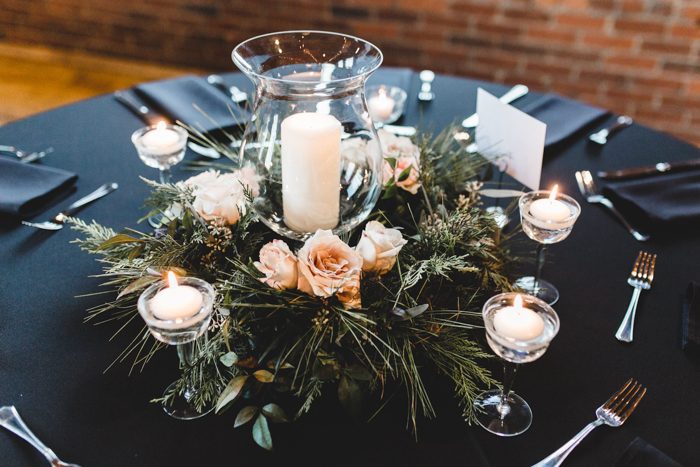 For the reception, we made a DIY photo wall in the venue. I made a handful of the props people used in the pictures. They were all old Halloween costumes or outfits from theme parties I had made myself. It was so funny to see in pictures of the unicorn crown I wore for Halloween on my grandma. We also had family friends make all the wedding cakes. We had seven cakes in total! Just to name a few: Sea Salt Caramel Cake, Red Velvet Pound Cake, Chocolate Kalua Cake and Carrot Cake with Cream Cheese Frosting.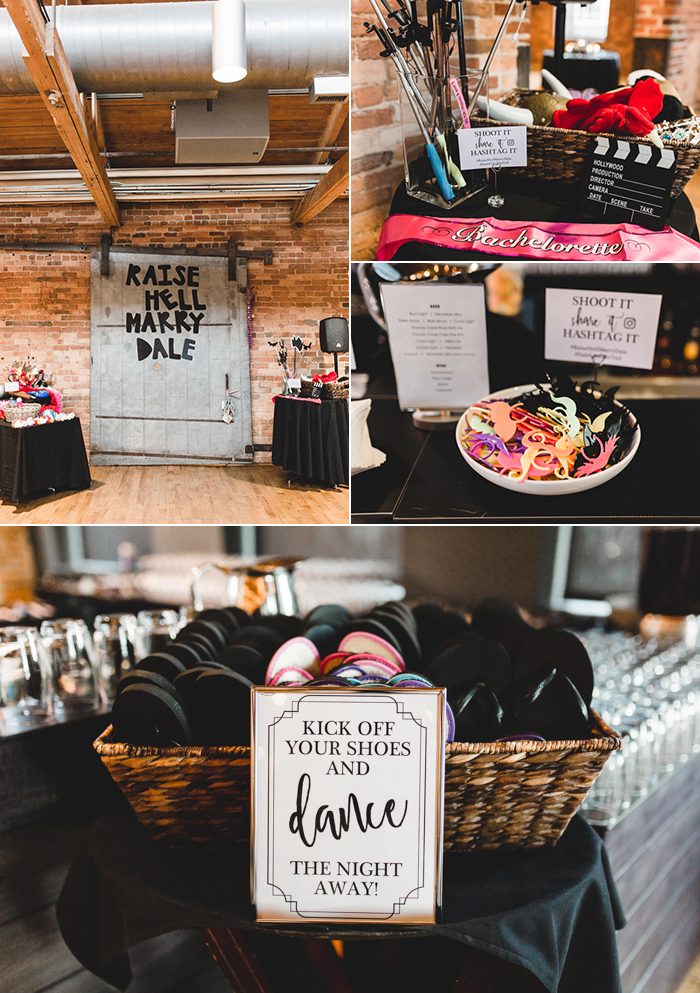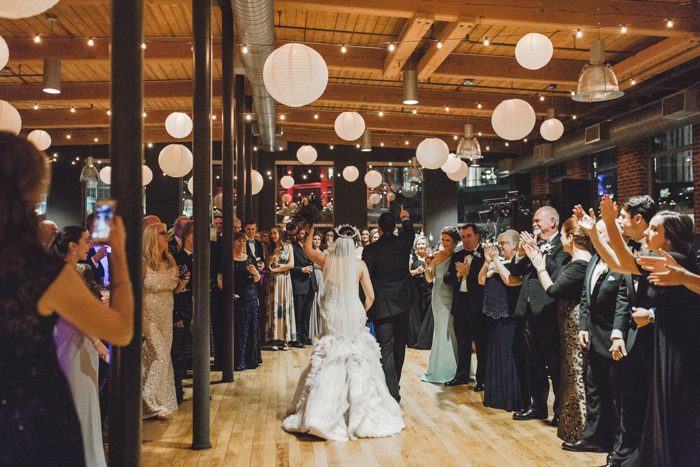 We have a few pieces of advice for couples who are planning their weddings. First things first: lock down that venue! Second, do what's right for you. If that means not wearing white, rocking sneakers instead of heals, or holding puppies instead of flowers (yes, that's a thing I've seen) then do it. Third, pick your top three things that matter most and focus on those. Don't get caught up in the details. If table 8 has some cream flowers mixed in with the white ones, don't worry. Nobody will notice. Let's be honest, people came for the free food, cold drinks, good music, and to celebrate your love. Enjoy every second of it with them!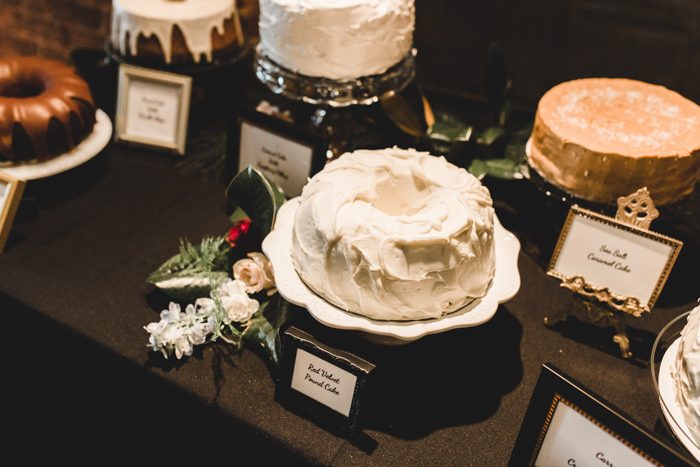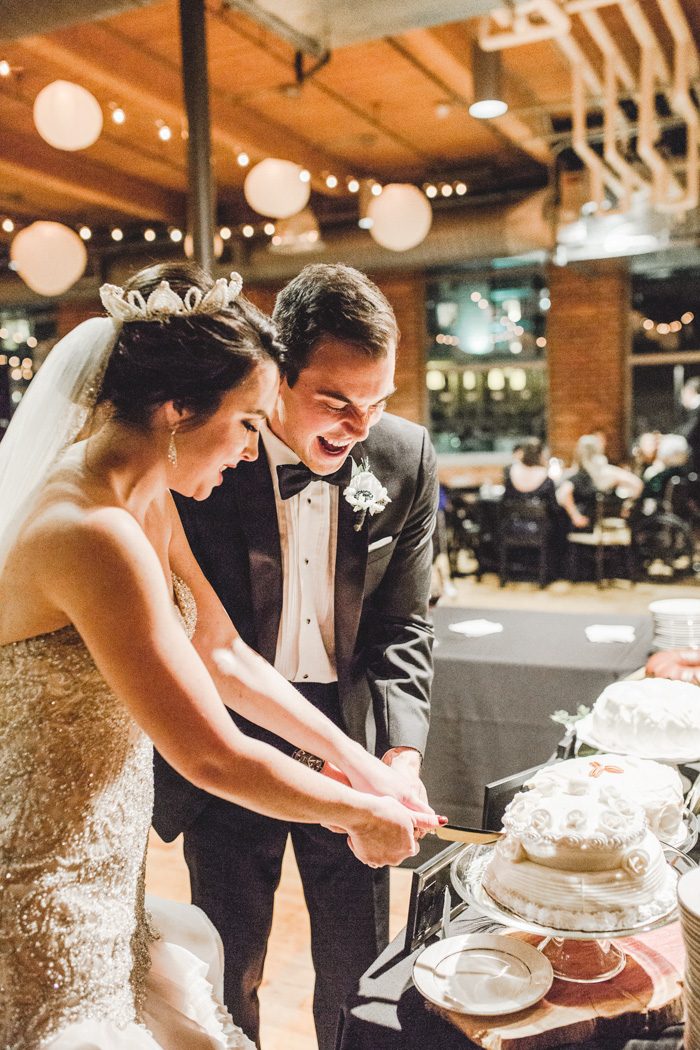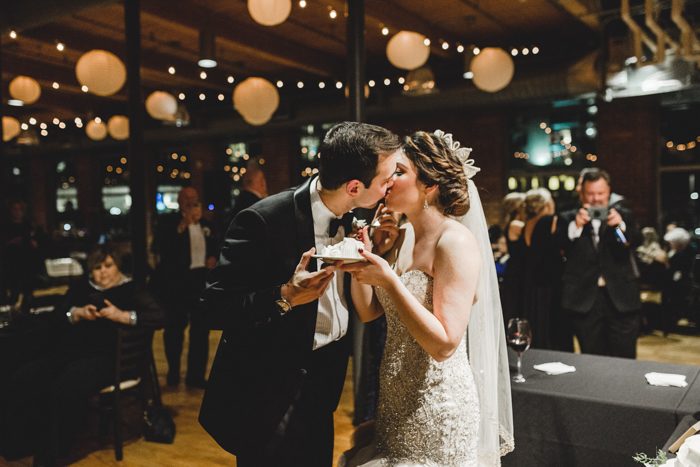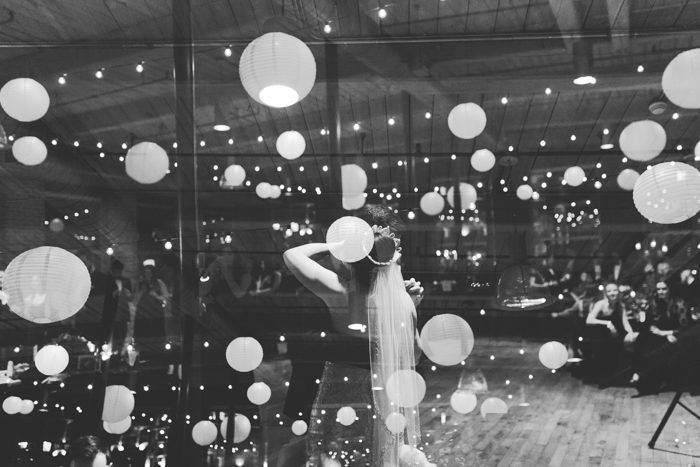 We chose to give our guest late night Taco Bell as the guests' wedding favors. With an open bar, this was the best gift we could have given them!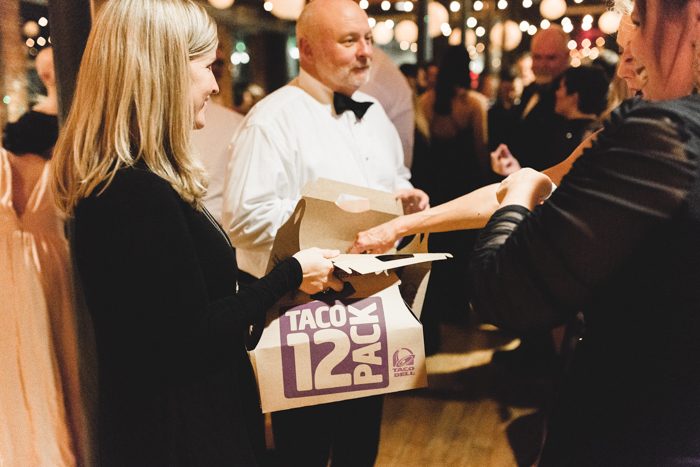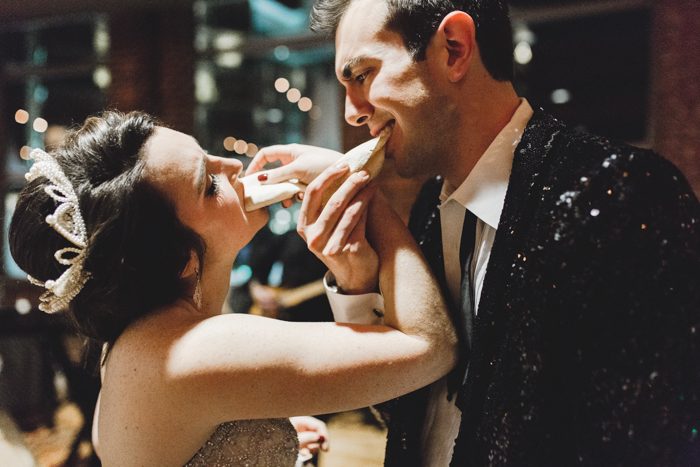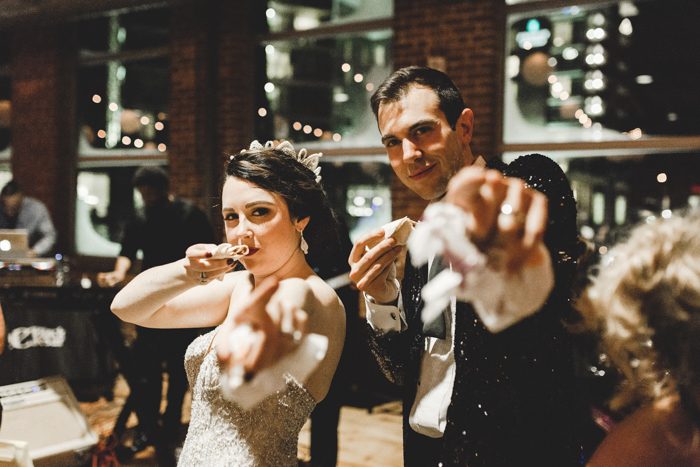 Congratulations to Tyler and Graham, and a special thanks to Anna Duncan Photography for sharing this epic wedding at Huguenot Mill and Loft with Junebug! Planning a winter wedding? Get inspired by these 5 palette ideas for winter wedding colors!