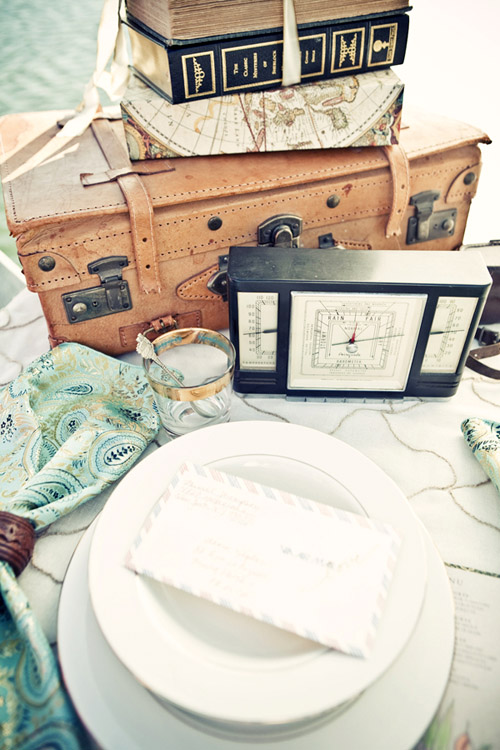 Aleah and Nick Valley and their team at The Good Life Special Events sent over this world traveler style photoshoot they put together with a talented team of wedding pros, and we love the eclectic and vintage collection of details they used in their tablescape! Antique cameras, binoculars, suitcases, books and tropical flowers tell the story of such a romantic time gone by. What fun inspiration for a sunny afternoon wedding reception celebrating a true spirit of adventure!

From Aleah:
"Our vision for this world traveler-inspired wedding celebration was to take our bride and groom back to an era when traveling was truly seen as an incredibly romantic adventure. We wanted to showcase unique ideas for a wedding reception luncheon and also non-traditional wedding reception attire. Using Sail Bay in Mission Beach, San Diego as our backdrop, we utilized some magical old pieces from our grandfathers to create a true worldly feeling. Old binoculars, a great vintage camera, luggage, and a decades-old barometer really helped to emit a classic feeling of flying, cruising, and boating in true old-school fashion.
We kept the florals simple and streamlined and drew from tropical destinations. Using pincushions and breezy palms, we made them look like specimens in simple glass vessels, showcasing their true beauty. Gold rimmed low ball glasses were adorned with eclectic vintage spoons collected from travels; Hawaii, Norway, England, and Alaska. A gauzy overlay was draped atop khaki linens and lovely turquoise Tandoori-style napkins were cinched with wooden napkin rings. Momental Designs created our delicious looking menus and tied in our traveling motif with an old world map. The place cards were personalized from vintage Air Mail envelopes discovered at an antique shop. We tailored them with our bride and grooms favorite locales like Paris, London, Dubai, and Hong Kong.
Our brides vintage-inspired gold brocade dress was from Priscilla of Boston and the groom donned Tommy Bahama pants, shirt, hat, and a luxe leather weekender bag. After their sophisticated luncheon celebration they sailed off into the sunset on a sweet little sailboat to begin their next adventure together!"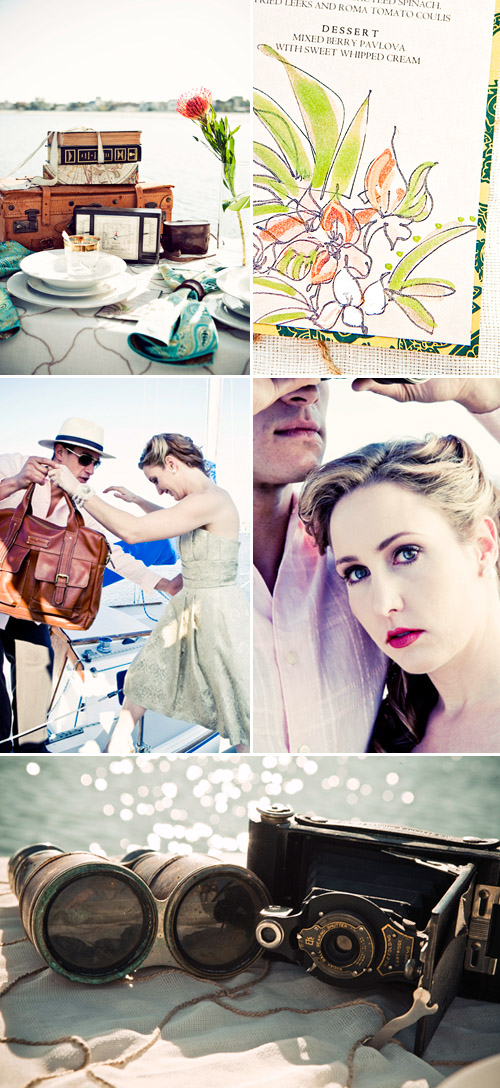 Thanks to all the talented businesses who participated and shared their work!
Shoot design, styling, and floral: Nick and Aleah, The Good Life Special Events and Fine Line Management & Events
Photography: Joseph and Jenny Llanes, Llanes Weddings
Stationery goods: Kristy Rice, Momental Designs
Brides attire: Priscilla of Boston from Bella Bridesmaid in La Jolla
Grooms attire: Tommy Bahama in La Jolla
Hair and Makeup: Char Sanchez
Linens: Wildflower Linen
Location: The Catamaran Hotel & Resort