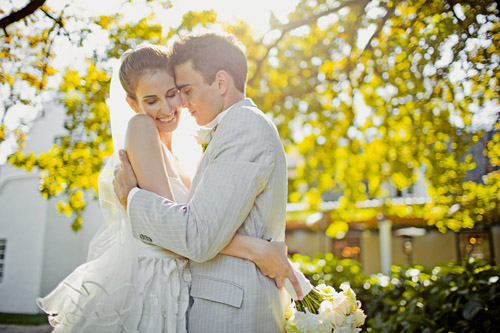 Today's South Africa real wedding is about as pretty as it gets. The vineyard setting is idyllic, the color palette and decor are fresh and romantic, and the couple, Lara and Corne, are so in love and gorgeous they look like they could be models! It makes my eyes happy seeing these wedding photos from photographer Rensche Mari, along with the day-after shoot of Lara and Corne we published yesterday – what a great way to head into the weekend!
The Goals: Since Lara and Corne are wedding photographers themselves, being the ones getting married this time was quite the dream experience! They chose the Palmiet Valley Estate in Paarl, South Africa for their intimate outdoor vineyard ceremony and indoor wine-cave reception, and every thing about the location was simply stunning! Their most important goal was to be surrounded by family and friends that they don't normally get to see while living far away in Australia.

The Design: A bright and clean color palette of white and silver was chosen for its classic look and delicate match to the estate's Cape Dutch architecture and natural surroundings.
Lara made her own gray and white monogrammed wedding invitations, heart-shaped chocolate favors, and a sweet personalized wedding cake topper for the cake made by her grandmother, aunty and mother-in-law. "The cake was a three tier white (of course) fruit cake with flowers between each layer. It was so beautiful! I made the cake toppers, of a monkey and a bear, which are our nicknames for each other."
The Look: Lara wanted a classic bridal look for herself so she went with minimal jewelry and swept back hair in order to let her Scarlett Fashion wedding dress shine. And what a dress! That strapless top and detailed full skirt are a perfect match for Lara's lovely long frame.
The bridesmaids wore silver dresses handmade by Lara's mother, and the groom and groomsmen wore light gray suits from Mr. Suit Hire. So dapper!

The Moments: When asked what the most romantic moment of the day was, Lara responded, "Definitely walking down the aisle, smiling like crazing while my husband was watching me with tears in his eyes. I'll never forget the look on his face." They also loved the toast given to them by loved ones, and being alone on the lawn at sunset having their photos taken.

One of the best decisions they felt they made was hiring Rensche Mari as their photographer. "Our photographer was so wonderful. Not only was she a lovely person who made us feel like she was part of the family, but her photos were incredible." Agreed!
The Pros: To learn about all of the professionals who contributed to this wedding day, be sure to visit Lara and Corne's page in our Real Wedding Library.

Thank you so much for sharing your beautiful wedding with us Lara and Corne!
To plan your own Southern California or Seattle area wedding, check out our Plan Your Wedding Hotlists, and to find a dream wedding photographer for your wedding anywhere in the world, don't miss our World's Best Wedding Photographers Hotlist!