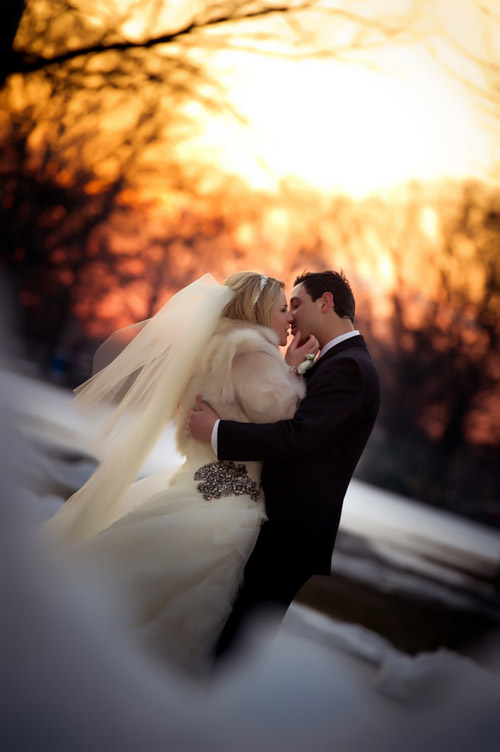 Maureen and Michael's chic Philadelphia wedding was full of romance, emotion and family, and their spectacular photography by Susan Stripling dramatically captures the essence of what this couple is about – love.

The Goals: Both Maureen and Michael were brought up in the Catholic Church, so having a traditional ceremony at St. John's Evangelist Catholic Church honored their beliefs and approach to marriage. After the ceremony they held a whimsical cocktail hour and wedding reception at the playful Please Touch Museum, and their main goal was to share their incredible love story with their guests in a truly personal way. "We wanted it to be a perfect mix of class, elegance, history, romance and playfulness! We wanted our guests to walk away from our wedding and say "wow, not only was that was the best wedding ever, but it was SO Maureen & Mike!"

The Design: Maureen and Michael wanted their guests to begin the wedding experience from the moment they received their save-the-dates, so the couple worked with The Papery of Philadelphia to create invitations and wedding paper designs in heavy bamboo card stock that expressed the warm, and whimsical feeling of the day. To create a romantic atmosphere at the wedding itself, Maureen and Michael used a custom wedding logo and their favorite wedding quote, "Marry me today and every day…" throughout their decor. After the wedding ceremony, the cocktail hour began with rides on an antique carousel from the early 1900s, and moved on to a reception decorated with bright purple, gold, brown, bright green, magenta and burgundy wedding colors. Each table was decorated with brightly colored flowers, large vases of branches and hanging candles, and even the wedding cake coordinated with its decorations of branches, purple flowers and their wedding quote.
The Look: Maureen had dreamed of her wedding look for years and years – it was soft and romantic with a bit of an edge. She chose a gorgeous strapless wedding dress by Vera Wang and accessorized it with a sparkling Amsale dresses and the Michael and his groomsmen wore classic Calvin Klein tuxedos with vests and ties. Following the tradition of something old, new, borrowed and blue, Maureen had her florist wrap the sleeve of her mother's wedding dress around her bridal bouquet, she wore a new Waterford Rosery, borrowed her grandmother's Holy Spirit pin which she pinned inside her dress, and completed the package with a blue bridal garter.

The Moments: Maureen loved the moments of first seeing her father and then her groom, and was filled with emotion during the reading of their personal wedding vows. The newlywed couple had a perfectly romantic first kiss at the altar, and loved looking out after being pronounced husband and wife, and "being surrounded by so much love, loyalty and friendship."
For their first dance the couple chose the Michael Buble song You And I which Maureen and Michael said, "represents finding the person of your dreams, finding strength in each other and feeling like you could conquer the world together!" So romantic!
The Pros: To learn about the whole team of wedding professionals that contributed to this wedding, please see Maureen and Michael's page in our real wedding library.

Thank you Maureen and Michael! We're honored to get to learn about your wedding!
To plan your own Southern California or Seattle area wedding, browse our Plan Your Wedding Hotlists! And to find a dream wedding photographer for your wedding anywhere in the world, be sure to check out Junebug's World's Best Wedding Photographers Hotlist!