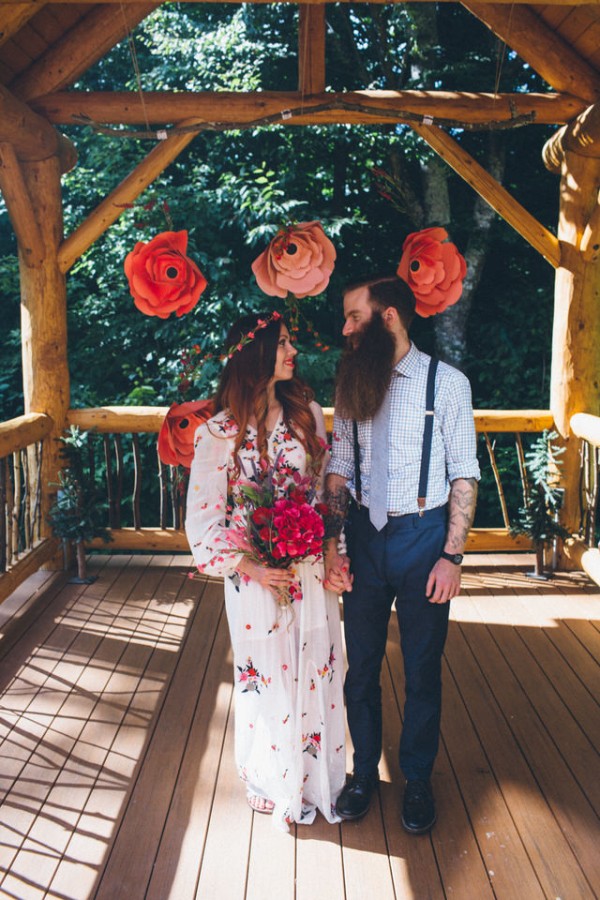 A boho glam wedding dress, tons of eco-friendly DIY projects, and a reception pie table are just a few of the many whimsical details at Ashley and George's Vermont wedding! Once the couple committed to their wedding's woodsy boho theme, they were off to the races to complete as many DIY projects as possible! Ashley and George designed bird house centerpieces, a birch branch seating chart, steel cut oatmeal favors, and the wedding's full floral design in the full year leading up to their special day. We love how Martina Micko Photography captured every gorgeous moment, including the couple's special visitor during their first dance!
The Couple:
Ashley and George
The Wedding:
Private Residence, Londonderry, Vermont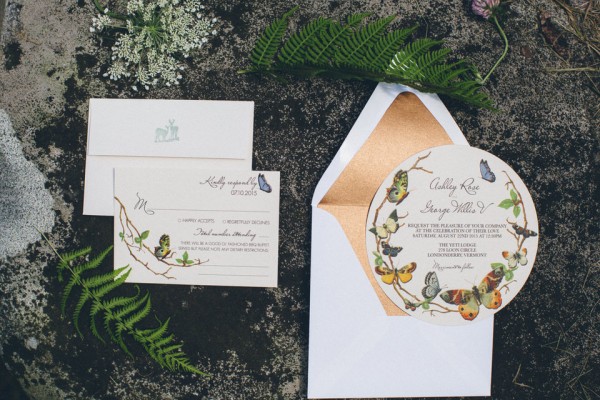 Our happy place has always been Londonderry, Vermont. George and I are New Jersey natives but Vermont is where we fell in love with nature and deeply with one another. It is also where George proposed to me on Lover's Lane with his great grandmother's ring. It seemed only right that we share this magical place with our closest family and friends.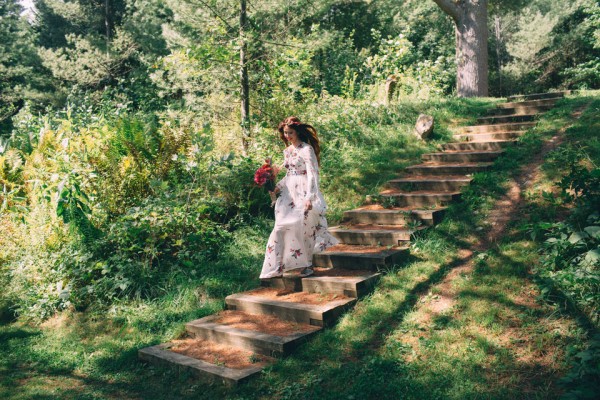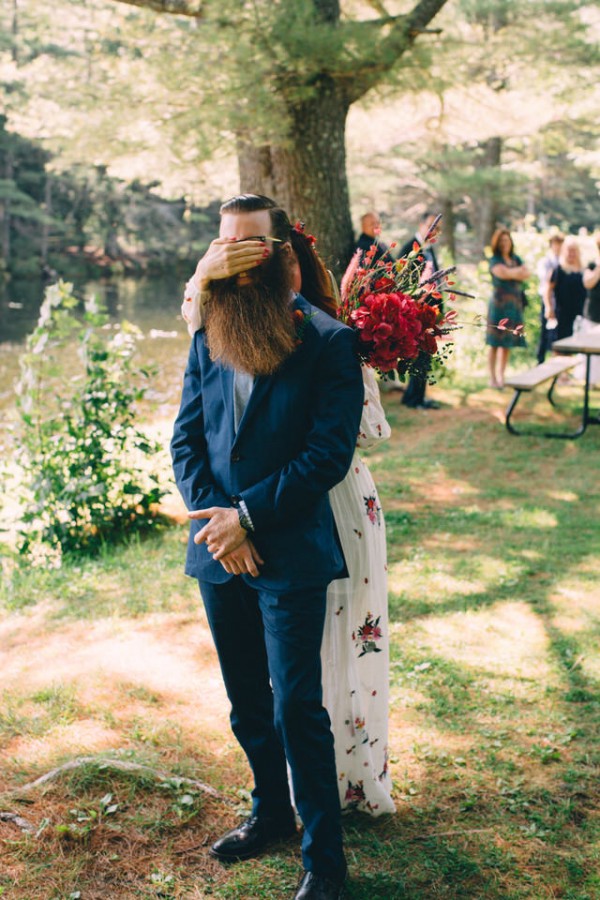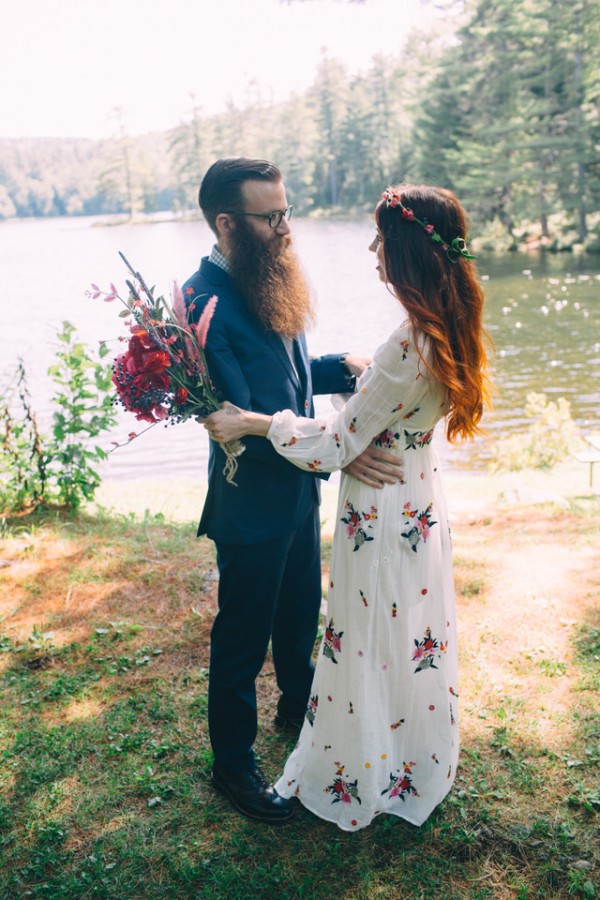 George and I chose to do first looks at Lowell Lake State Park to shake off any pre-wedding jitters. I was afraid of (happy) crying the entire ceremony! It was so renewing being outside by the lake and walking barefoot in the woods with our bridal party…what an amazing beginning to the best day of our lives.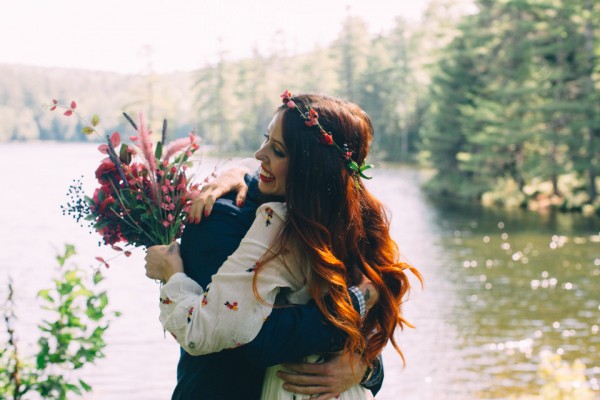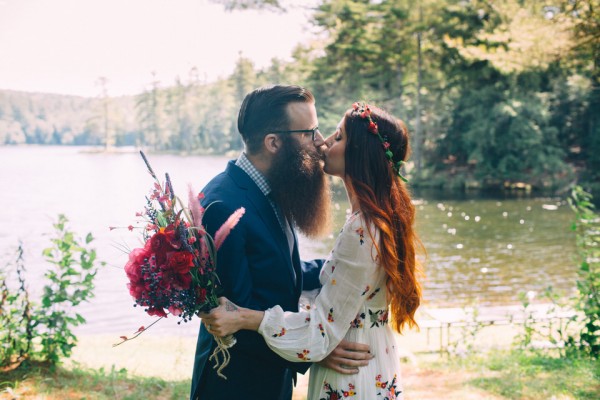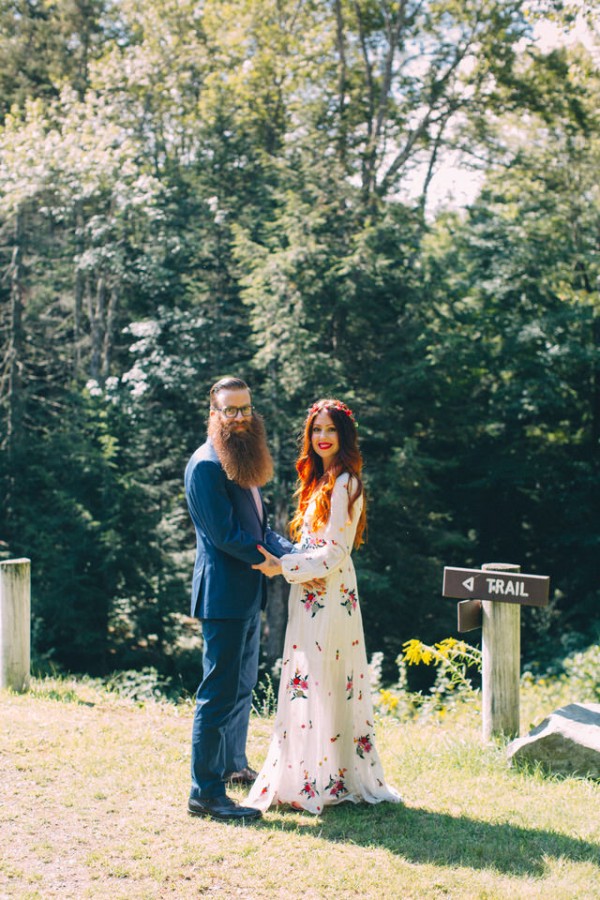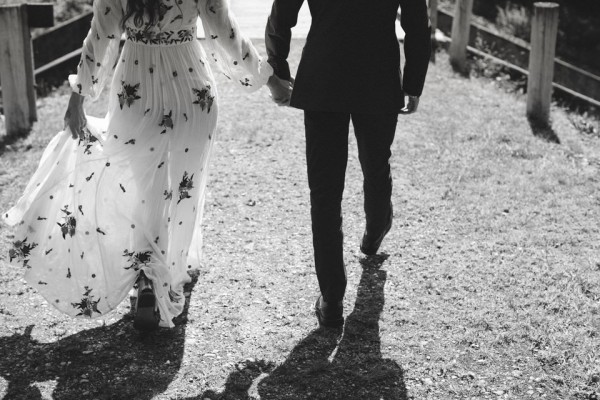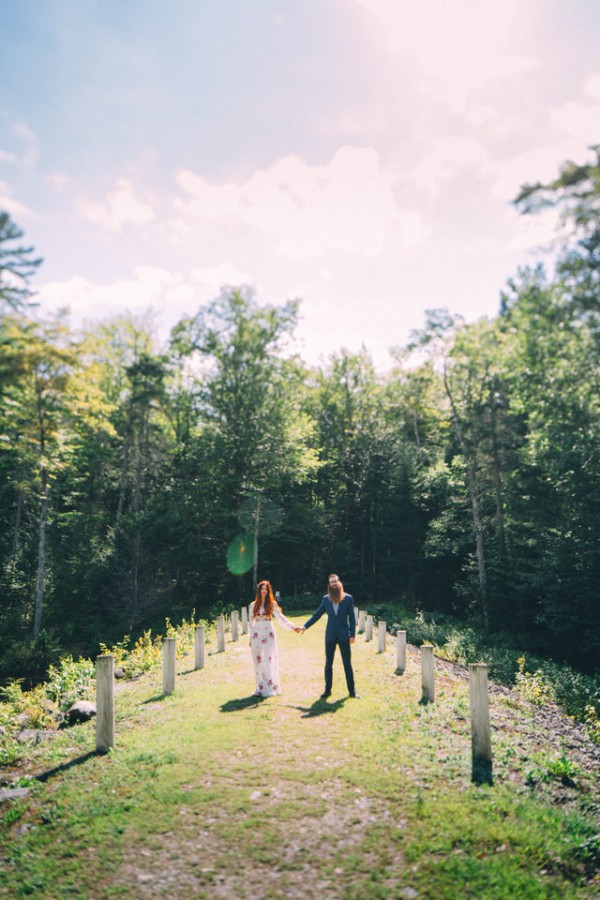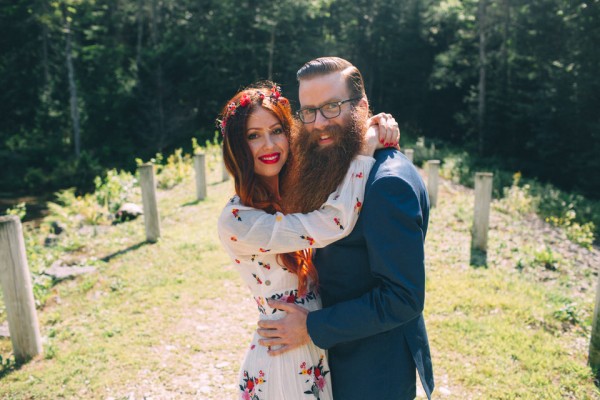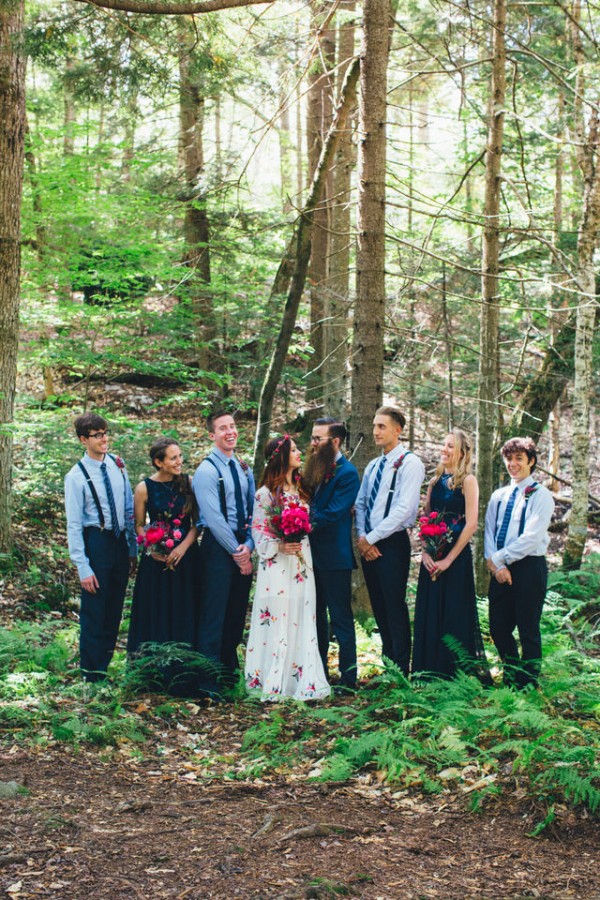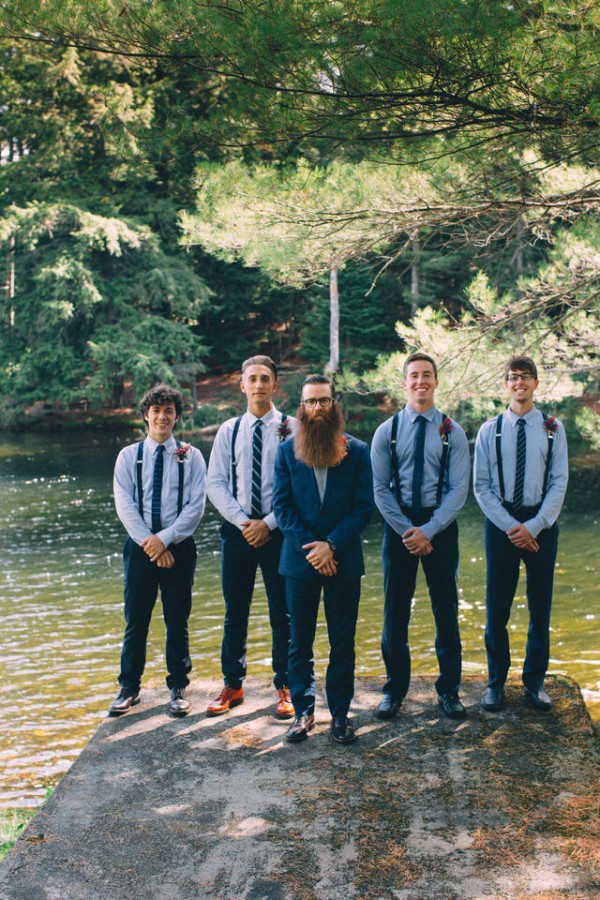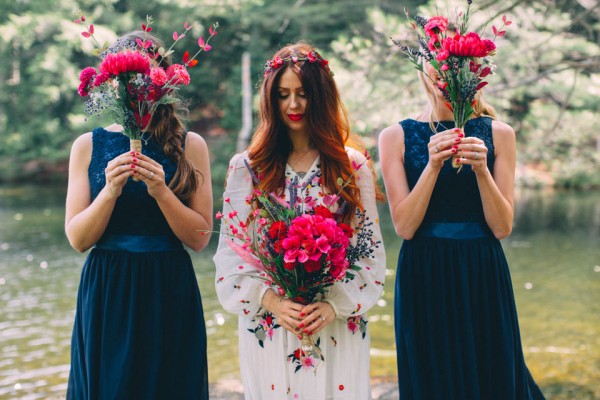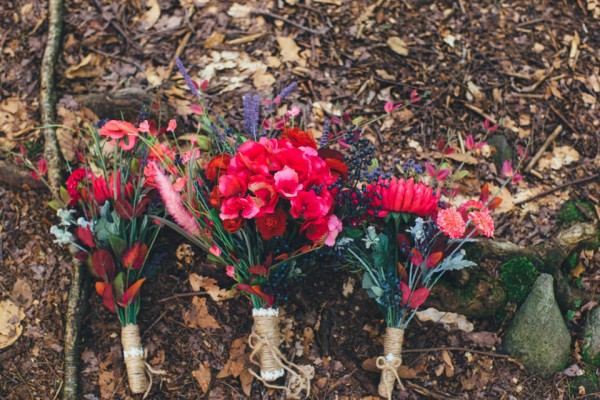 I came across an image of a model wearing an ivory Chanel dress with billowing sleeves and a soft floral print. There were marigolds in her long, wavy hair and I thought to myself, "This bohemian look is what I want to convey on my wedding day." When I found my Free People dress, I knew it would fully articulate my inspiration. However, I took a more glamorous approach. Bright lips, bold bouquet. Boho glam. I wanted those pops of color to whimsy up the mood!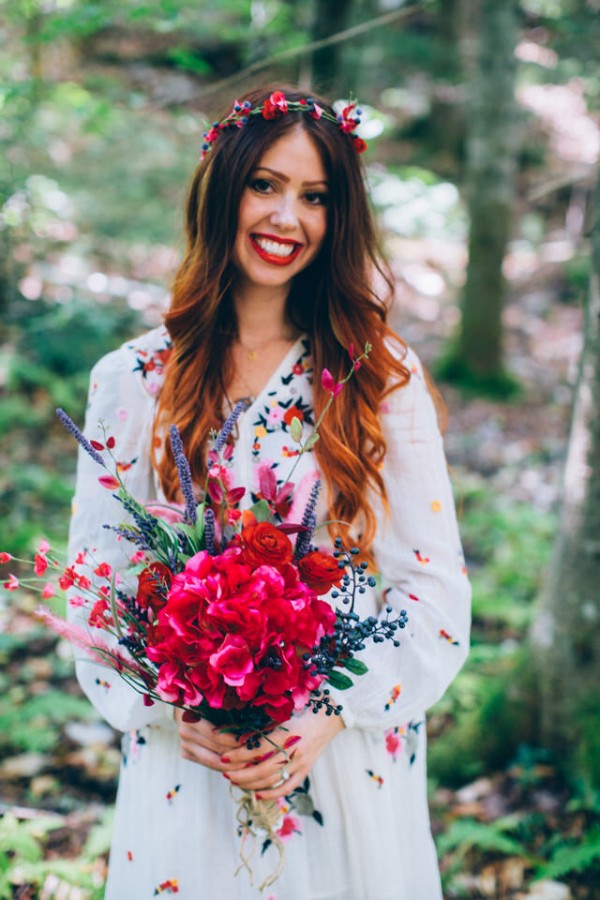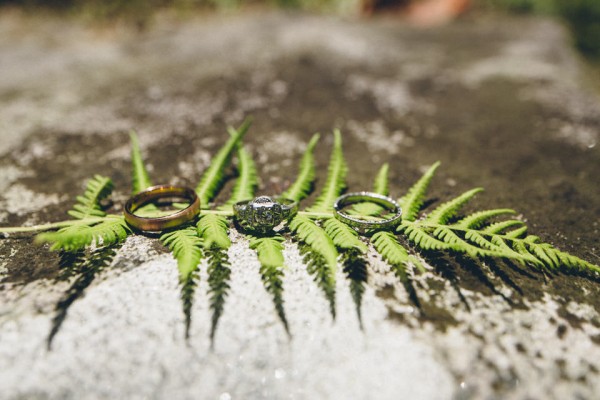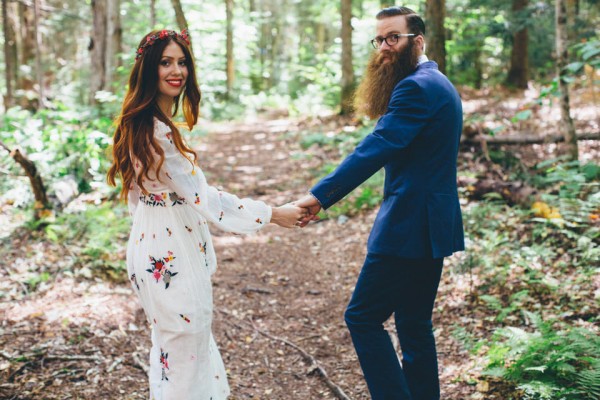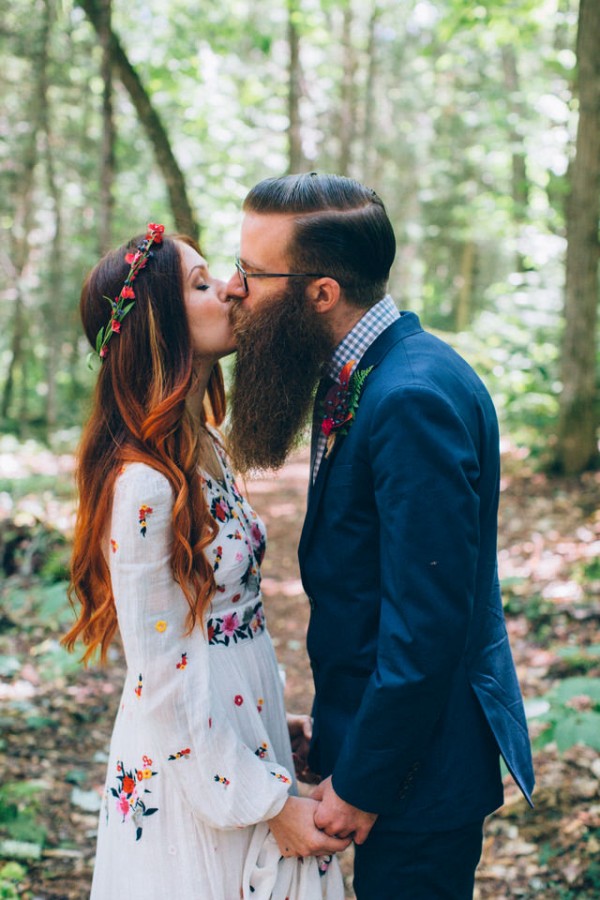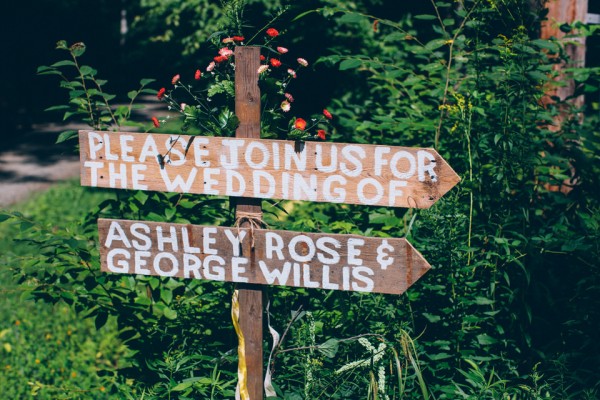 There was an incredible project gifted to us by our officiant. She had some of George's younger cousins paint reclaimed pallet wood signs of all the cities/miles our guests were traveling from. This was assembled in our high pole tent and was an incredibly fun focal point.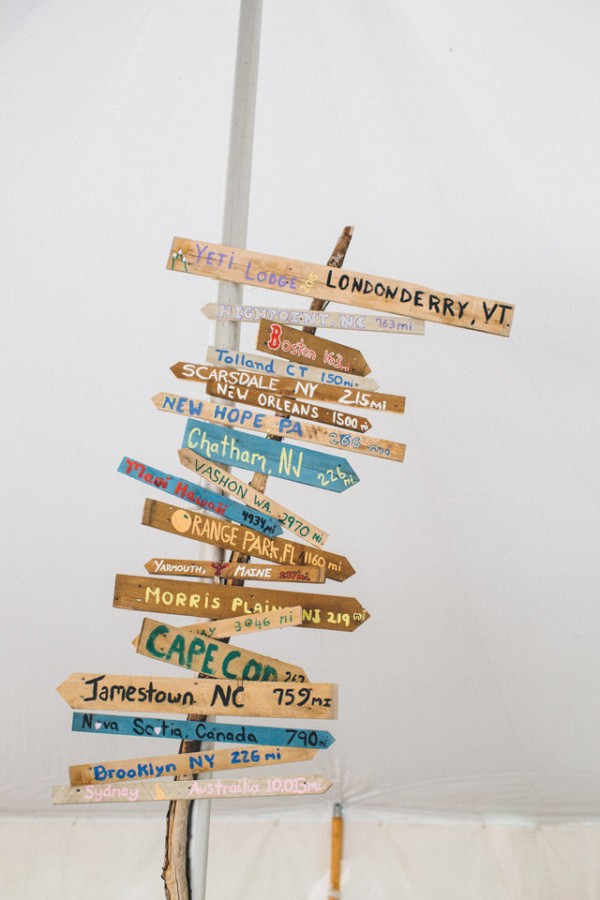 George's most memorable part was when I was walking down the aisle towards him, he said it was a beautiful moment he can't quite put into words.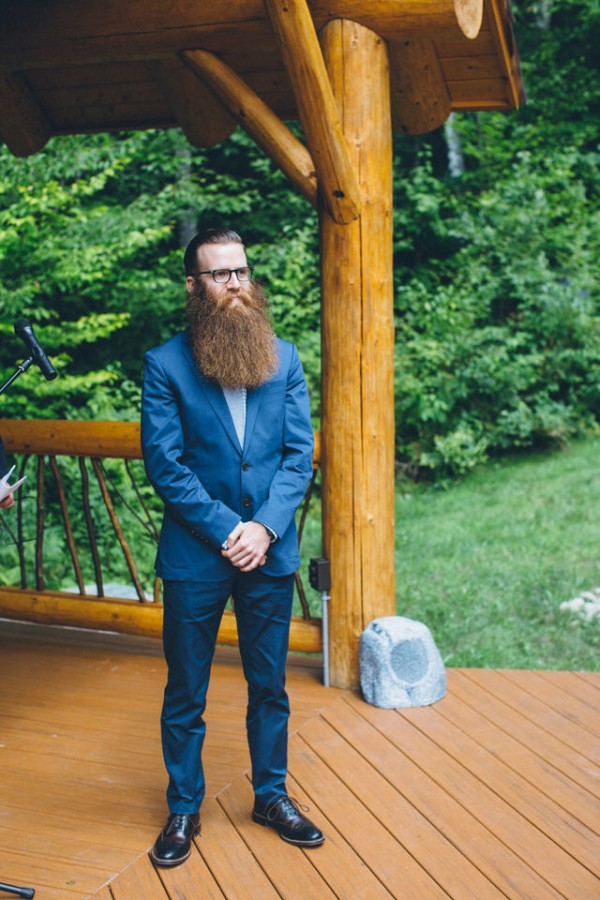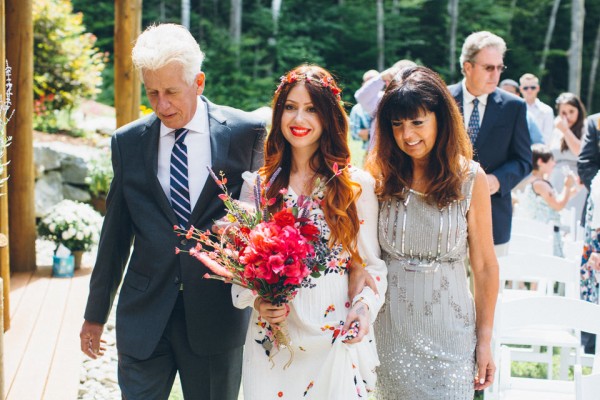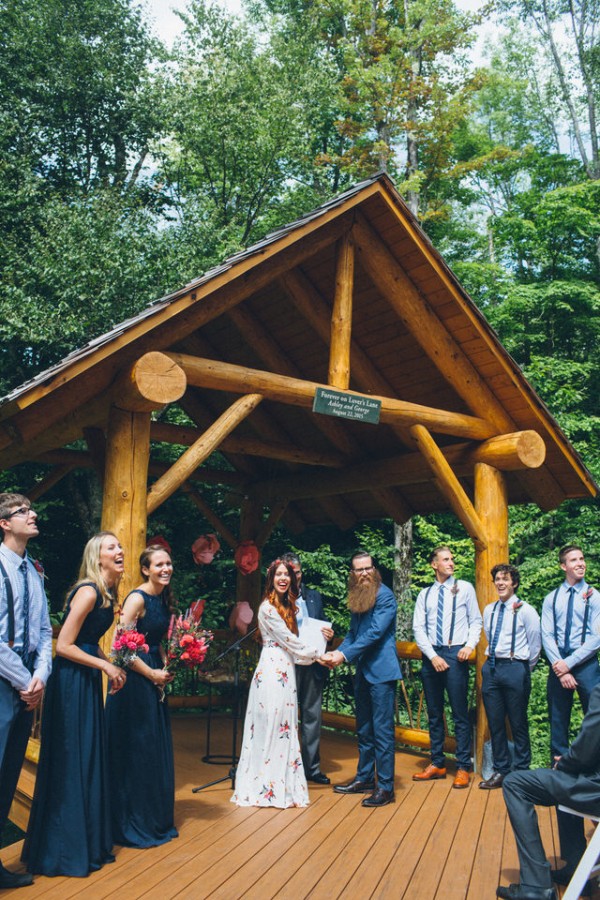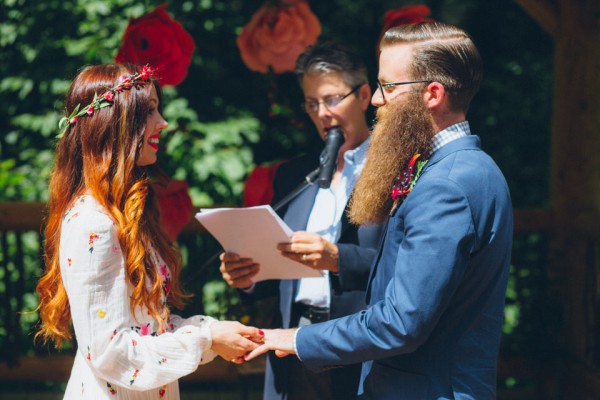 We incorporated many personal elements into our outdoor ceremony. For starters, George and I were wed by his aunt who brought to life the script we wrote. Together, we exchanged hand written vows and included our parents in a Unity Planting Ceremony. Before our wedding, we gathered dirt from our hometowns that we brought to Vermont. With our parents holding the dirt and water, we added them to our plant to symbolize the joining of our lives together and growth of our love.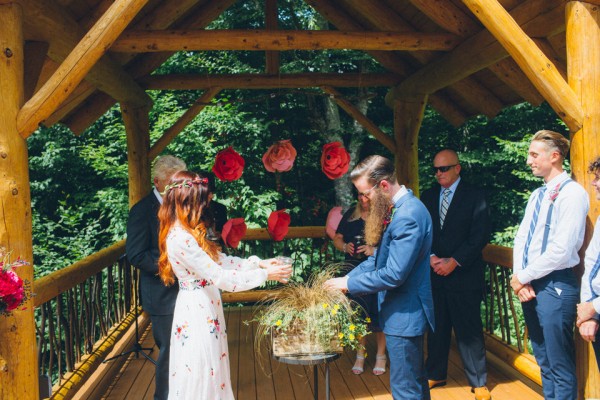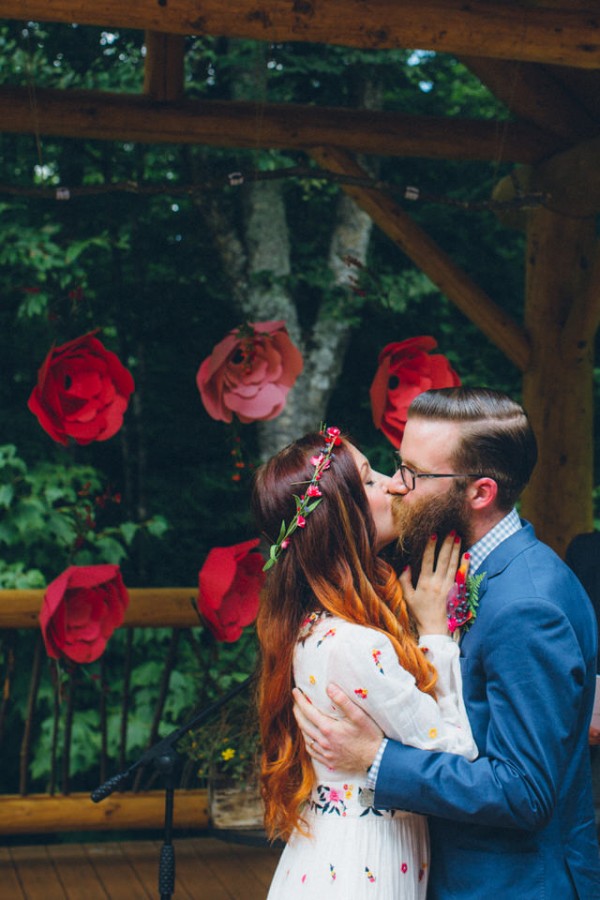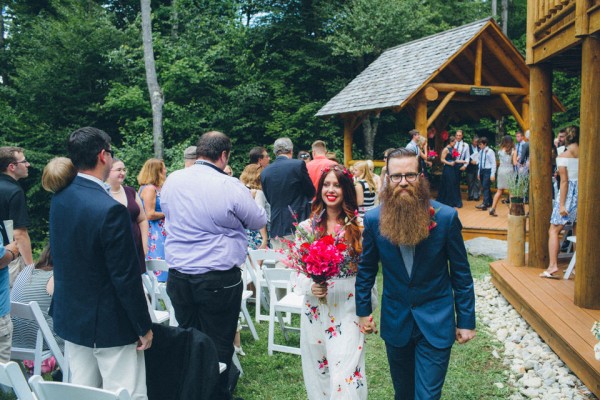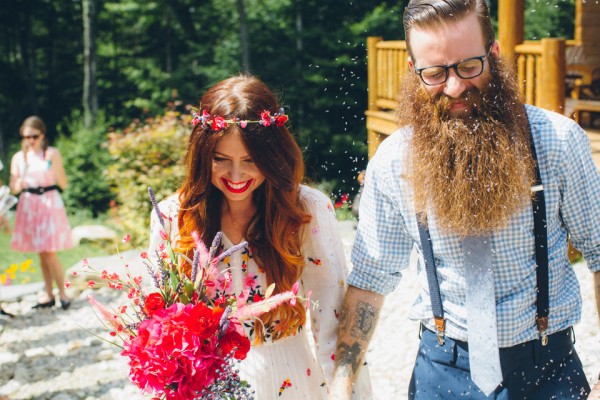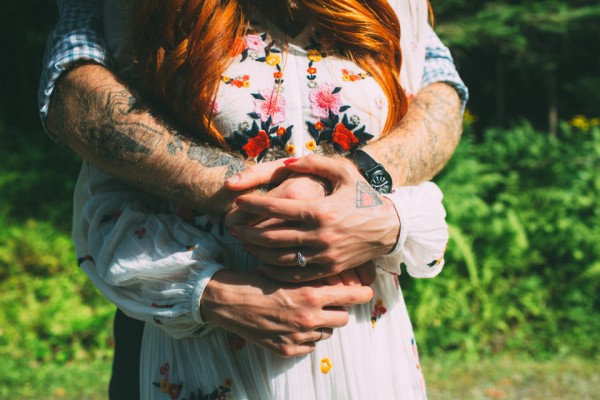 Working with our photographer was a dream! Martina connected with us immediately. She is a chic, creative, professional that has an aura of positivity around her. From the beginning, we were completely at ease as she captured every fleeting moment of our joyful day.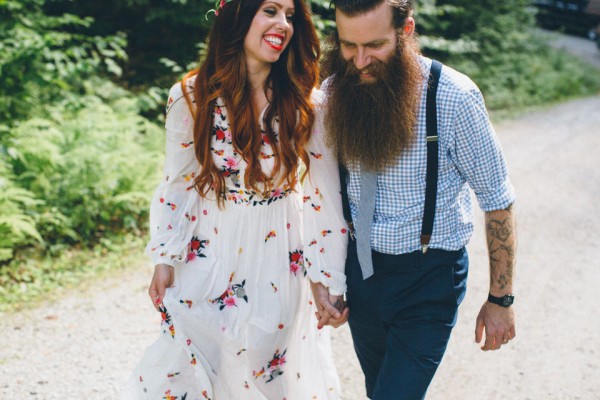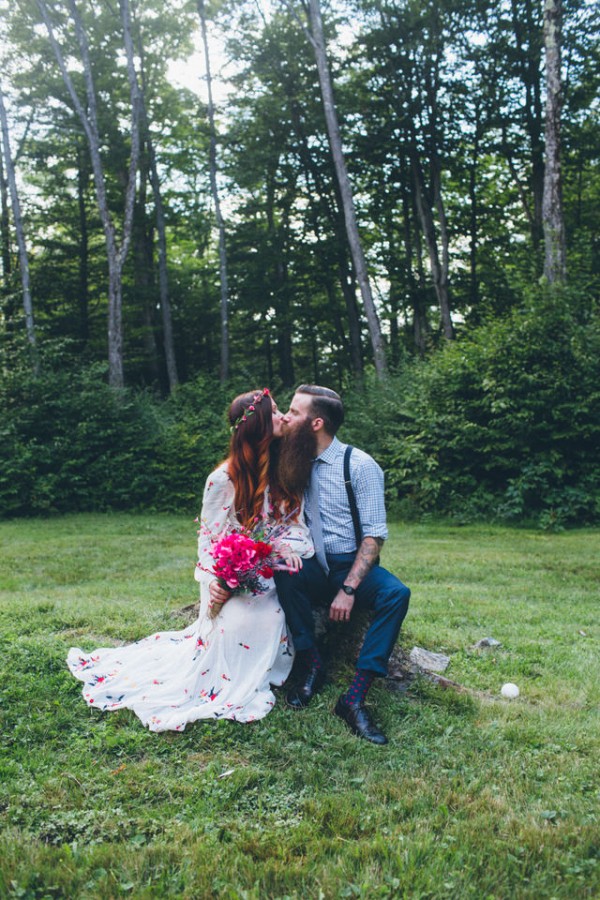 Ultimately, we wanted the beauty of our love and the natural surroundings to shine as we shared our unique point of view. For us this meant writing the ceremony script, the vows, the toast, being our own wedding designers and making the centerpieces, signage, etc. The year leading up to our wedding was a DIY extravaganza and we enjoyed every moment of it! Our seating chart was made from found birch branches, jute twine, tags and assorted décor like robin's eggs and paper flowers from Recollections.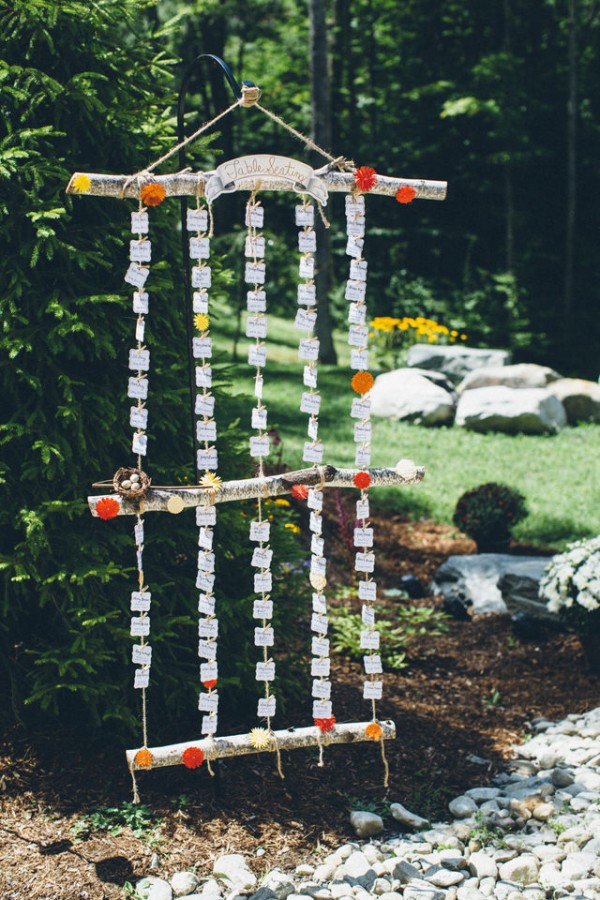 We constructed centerpieces with painted birdhouses, moss and foliage. From Joann's Craft Store, we gathered paint, pre-constructed bird houses and assorted greenery from Bloom Room and The Moss Collection. Everything was painted and fashioned together with glue and jute twine.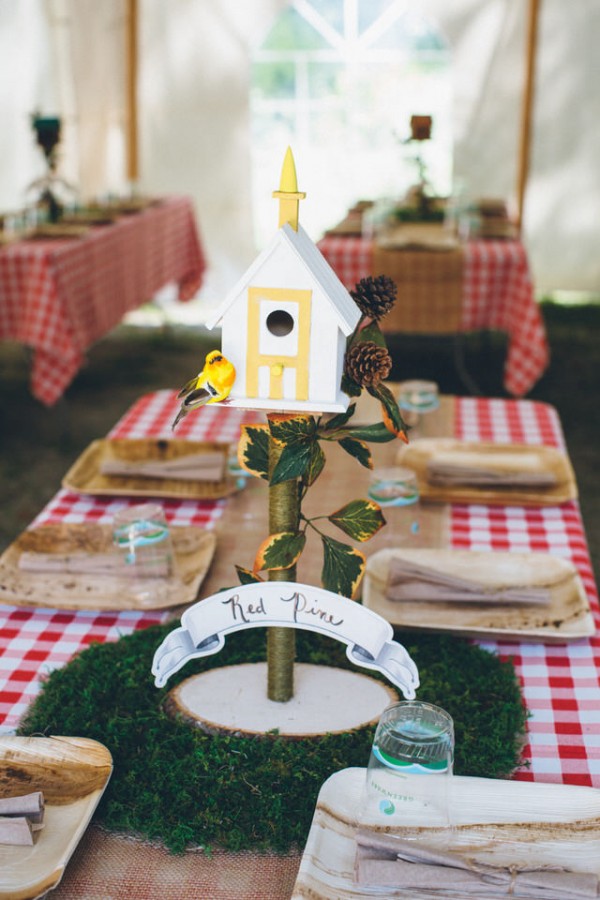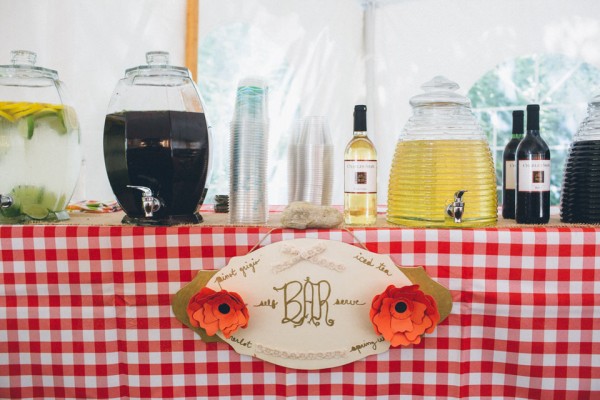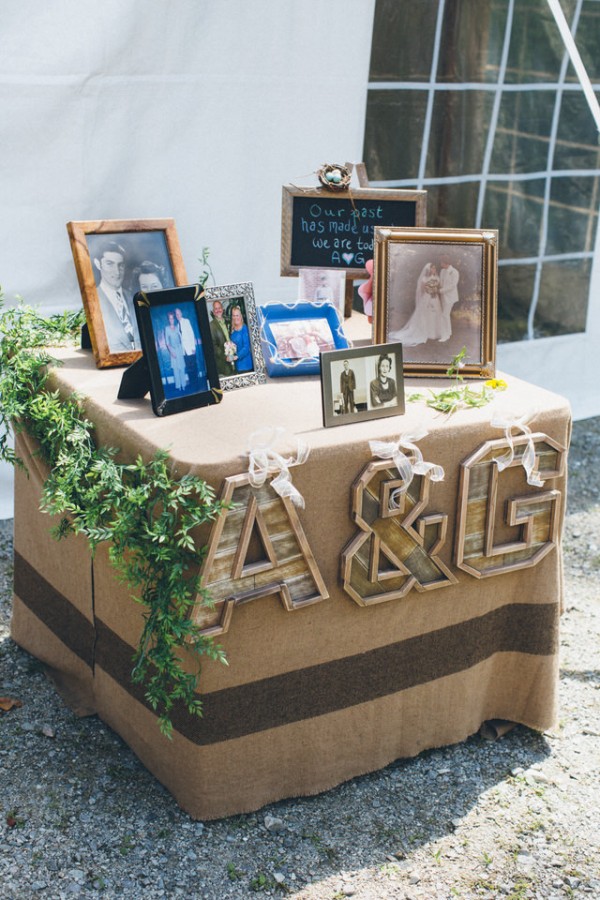 Our advice: A DIY wedding is an enormous amount of work! That being said, we really honored the planning process and loved being able to design each detail. We recommend writing a month by month agenda that outlines each project leading up to your wedding with your time frames. Lastly, you may want to hire a coordinator to do things you may not initially think of like receive deliveries, guide your catering staff, direct wedding guests to your first dance, etc.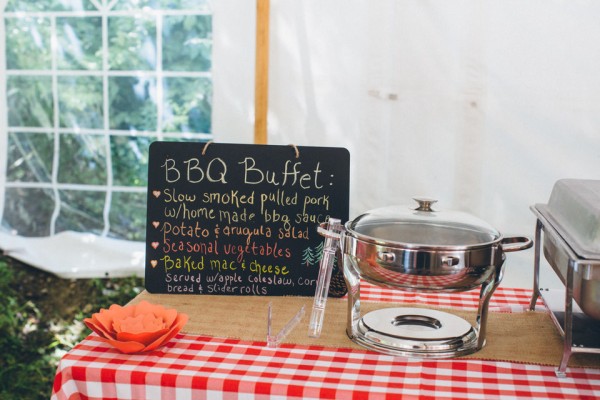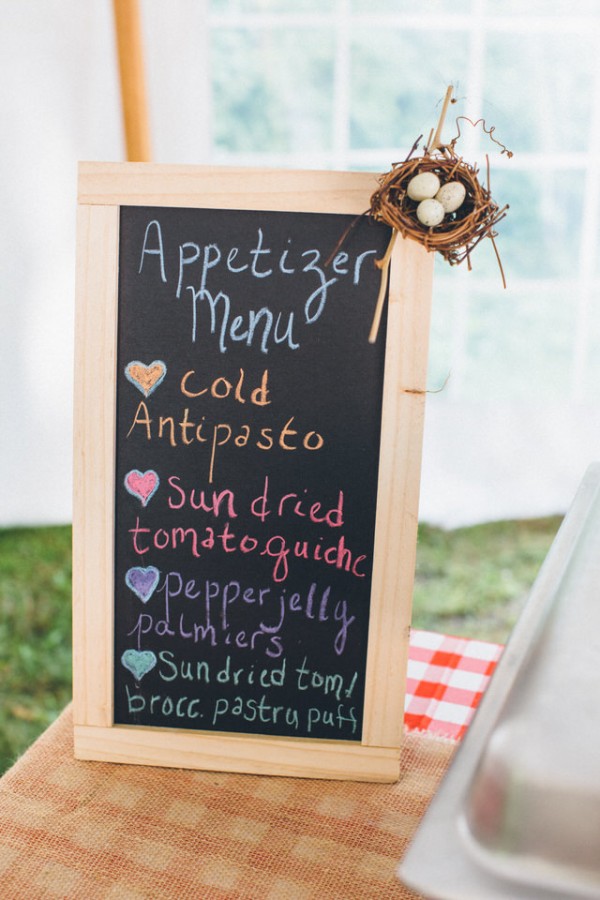 My most memorable part of the day happened during our first dance as husband and wife. As soon as we joined together and our song began, a butterfly flew overhead, swooped down and landed on my arm. The entire audience burst into tears! George and I just looked on in amazement as it stayed through the entire song.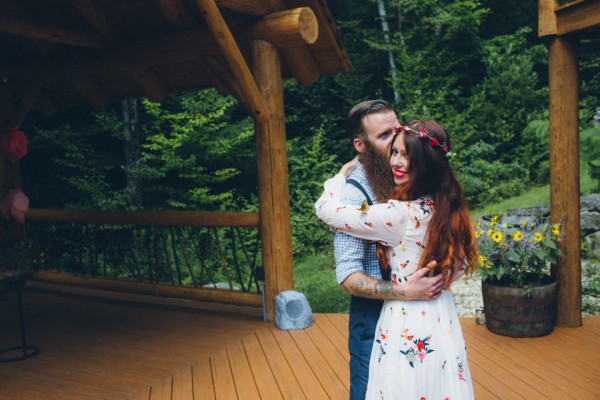 Processional: Tom Waits – Picture In A Frame
Recessional: Barry Louis Polisar – All I Want Is You
First Dance: Bob Dylan – Can't Help Falling In Love With You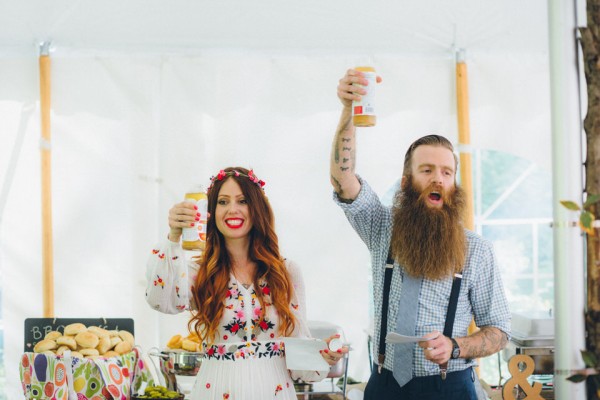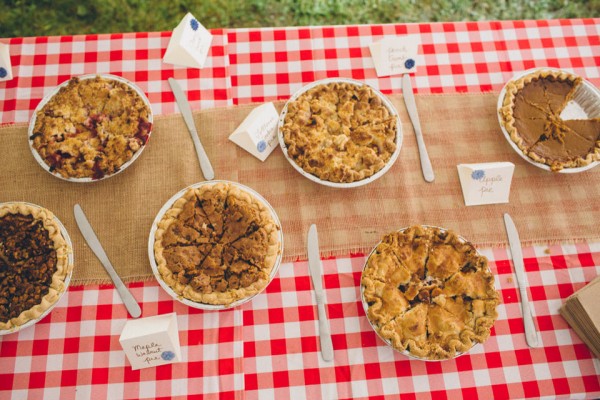 We tried to keep it "green" by incorporating compostable flatware, dinnerware and beverage cups, using upcycled wood for all of our projects and gifting reusable wedding favors. For our favors, we joked that we "treated our guests to breakfast." Everyone was traveling from out of state so they left our wedding with a superfood packed mason jar of steel cut oats, golden berries and coconut. We wanted to make their trips home a tiny bit easier.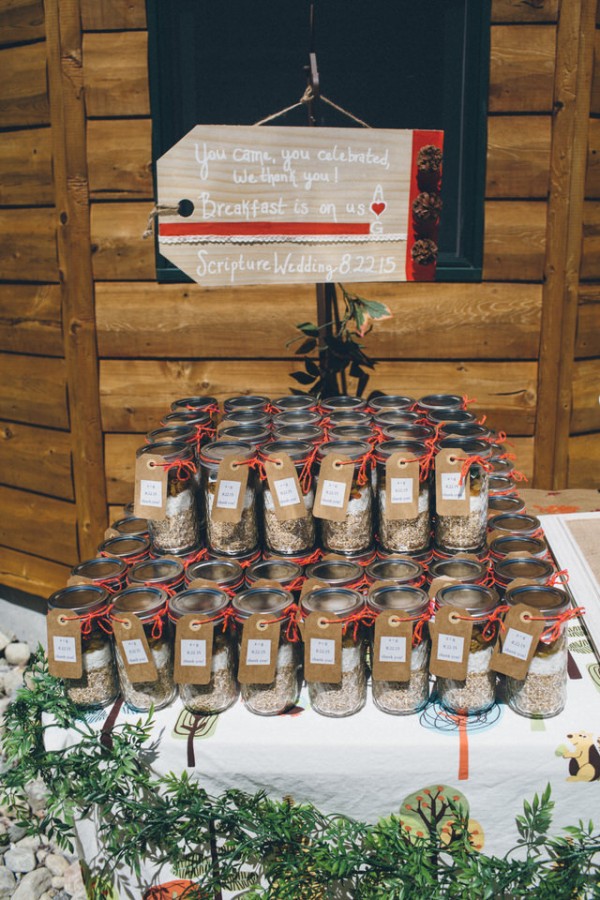 Congratulations to Ashley and George, and a huge thanks to Martina Micko Photography for sharing this wedding with us! Can't get enough of this wedding's boho glam vibe? Then you've got to see this lush bohemian Australian wedding!