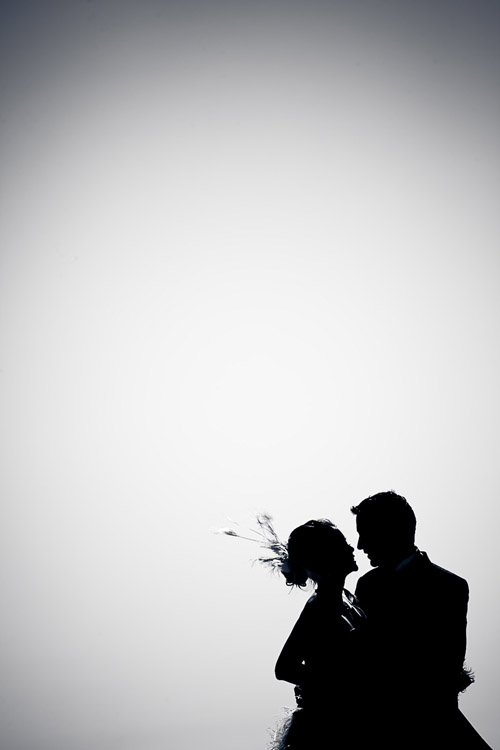 This week's Real Wedding is a treat for the eyes! Veronique and Yann's Newport Beach wedding, photographed by Judy Tran and Gavin Holt of Judy Photography, was a whimsical and imaginative French-inspired fete. Incorporating all of the things this couple sincerely loves and is passionate about in life, it's easy to see the thought that went into each and every detail of this stunning celebration.

The goals: Veronique and Yann wanted their special day last March to have a relaxed and easy-going atmosphere with a little bit of an unconventional edge. After an intimate engagement at the Chateau de Versailles in 2007, and a tradtional Vietnamese engagement ceremony with Veronique's family in 2008, the couple had a small civil ceremony right after Yann immigrated from France in 2009, and when it came time to actually start planning their real wedding for 2010, the couple was "all ceremonied out". They were ready to skip straight to the party and the pictures, so they decided to have only an evening reception preceded by a long and fun-filled photo session.

The look: The look of this wedding was perfectly orchestrated down to the smallest detail. "Baroque on the Beach" was the theme of the day, honoring Veronique's love affair with French Baroque style and their engagement at Versailles. Veronique blended unique antique accents with their color palette of silver, pink, purple and navy blue to create a one-of-a-kind wedding style. There were tissue paper poofs from Prost to the Host and bouquets of hyacinth, lilac, calla lilies and peacock and purple marabou feathers from Untamed Floral Designs.
After searching high and low for her perfect wedding dress, Veronique decided to go with a custom design by Debra Carruth Designs. Together they chose to use two-tone silver chiffon and silver tulle, with feathers and applique petals added on as embellishments. Veronique accessorized her exclusive dress with vintage jewelry, a pink and purple antique petticoat slip and a dramatic feather hair piece.
The bridesmaids chose their own dresses in varying shades of pink and wore beehive rockabilly-inspired hairstyles, bold makeup by Angelina of the All Made Up team, and matching parasols. The groom and groomsmen all wore traditional black tuxedos.

The moments: Music and dance played an important role in the couple's celebration as Veronique is an avid dancer and musician. After arriving at their reception to the music of Jean-Baptiste Lully, a court composer of Louis XIV, Veronique and Yann's first dance was a traditional folk dance. Later Veronique, her sister and a friend surprised guests by breaking into an Irish step-dance, and then the couple and their bridal party taught the guests a traditional French dance called Cercle Circassien.
The couple's cake was a Croquembouche (a cream puff tower) made by Au Coeur de Paris Boulangerie et Pâtisserie, but when it came time to cut it, the couple had no idea how! Traditionally, the couple is supposed to cut the top two puffs, but the tower was so tall, neither Veronique or Yann were able to reach them. Eventually, with help from their pastry chef, they were able to taste their unique treat.
The pros: To learn about all of the wedding professionals that helped to make this wedding a reality, please visit our Real Weddings section.
Thank you so much for sharing your inspiring wedding day with us Veronique and Yann!
If you're planning a Southern California or Seattle wedding of your own, don't miss our trusted Plan Your Wedding Hotlist!