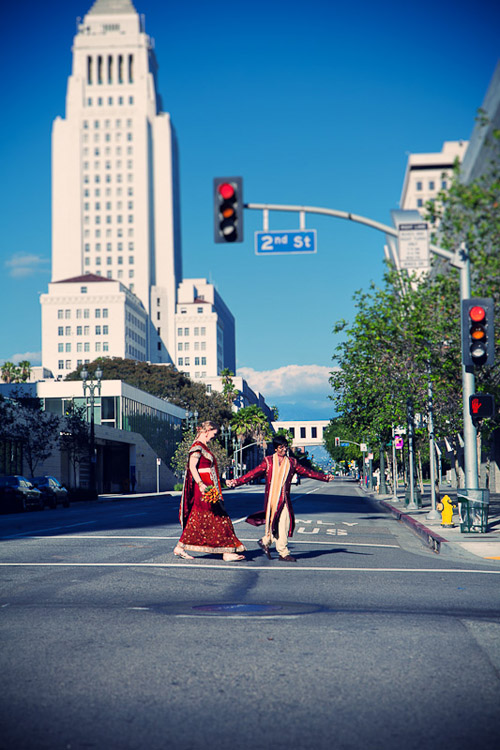 Joining families and celebrating cultures and backgrounds, histories and futures, is what getting married is all about, and today's Real Wedding couple, Abby and Sudeep, did this in the most modern way. They honored both of their family traditions, made them their own, and enjoyed every minute of it!

The Goals: Abby and Sudeep didn't always plan on having a large wedding, but the more they thought about it the more they realized that they may never again have the chance to bring together all the people they loved. For their event they chose the thoroughly unique downtown Los Angeles venue Vibiana and invited 150 of their nearest and dearest to celebrate with them, combining cultures, faiths and family traditions. The images from Callaway Gable Photography capture the joy of the day so well!

The Design: Abby and Sudeep chose a combination Hindu and Western wedding, and incorporated elements from each every step of the way. With the help of event planners and designers, Blue Lotus Insights, they combined warm, earthy autumn colors with the rich, vivid colors of Indian weddings. They also used the traditional Indian wedding flower – the marigold, along with olive branches from Abby's family grove as the main elements in their decor. Abby's mother is an artist and her creative influence was seen throughout the day, including on the invitations, menus, programs and wedding favors (bottles of olive oil also from Abby's family olive grove) where they featured one of her illustrations. "We wanted to use the traditional Indian wedding flower to tie together the different components, and my mom used one of her own drawings of a marigold flower. So, while we had an Indian symbol, the artwork was actually very western looking. We were combining both sides in every detail!"
The Look: Abby wore two different outfits – a sari and a white wedding dress. The sari, Sudeep's mom found in India in a rich red color to go with the wedding's autumn feel. The white dress was a simple short frock that Abby accessorized with vintage jewelry she had fun finding with her own mother and sister. Sudeep wore traditional Indian wedding garb and later a suit, and the wedding party wore beautiful traditional Indian clothes. Sudeep's mom brought a selection back from India and they all got to pick whatever colors they wanted.

The Moments: Abby and Sudeep chose a "fusion non-denominational-Western/Hindu-Indian wedding" since these were the two traditions that they came from. Since the traditional Hindu wedding can be very long, they found a great Hindu Priest who condensed it down to 45 minutes, but still maintained its most meaningful and essential elements. The Western ring ceremony was officiated by a very close family friend which was extremely special for Abby and her family.
The vows that Abby and Sudeep recited to each other created a moment that was especially emotional and important for the couple. "We both found ourselves completely forgetting that we were in a room full of people watching us at that moment. It was a truly special." For Sudeep, the most sentimental moment of the day was doing the traditional baraat procession with his family all around him, and for Abby it was listening to her father's speech.
After such an incredible ceremony, the reception was filled with fun. Along with all the wonderful music and dancing, Indian dancers came in to share some of the latest Bollywood dance moves. For dessert a cupcake tower and cake pops from Blue Cupcake were served and a photo booth from Cube the Moment was a huge hit with guests.
The Pros: To learn about all of the professionals who contributed to this wedding day, be sure to visit Abby and Sudeep's page in our Real Wedding Library.

Thank you so much for sharing your wedding day with us Abby and Sudeep!
To plan your own Southern California or Seattle area wedding, check out our Plan Your Wedding Hotlists, and to find a dream wedding photographer for your wedding anywhere in the world, don't miss our World's Best Wedding Photographers Hotlist!