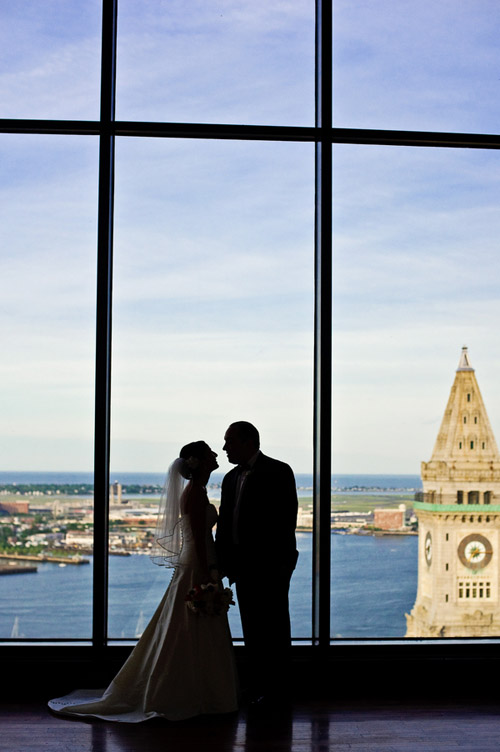 The couple: Karen and Phil
The Wedding: 5.30.2010 – The State Room, Boston, MA
What three adjectives that best describe your wedding? Intimate, Personal, Classic
What inspired your personal wedding style, and how were your personalities incorporated into your big day? I knew I wanted a classic wedding but beyond that I wasnt really too sure. After we got engaged people kept asking me what my theme and colors were…I had no idea…colors for what??? What really got everything going was choosing the location and the venue. We both had a lot of out-of-town family so we decided a city wedding was the way to go. We wanted our extended family to see Boston and love it the way we do. We picked Memorial Day weekend so our guests could make a nice trip out it and get to see the city. Once we decided on Boston we wanted to find a unique venue that felt like us. The State Room was perfect! It has amazing views of the city, great clean modern spaces, and the Harbor Side Room that we choose was the perfect size for our 100 person wedding. Because the space is so simple with a lot of neutral colors, I decided bold colors for the flowers and bridesmaids' dresses were the way to go. The fuchsia and oranges looked so great against the browns in the room. Our florist, Michele Bernard, did an amazing job making my vision come to life. Everything ending up coming together perfectly and we could not have been happier with our wedding day!

Looking back, what are the moments, decisions or memories that you love the most about your wedding? There were so many amazing things about our wedding day but what surprised me the most was the actual ceremony. Its sounds obvious, but in the craze of planning a wedding it is hard not to get caught up in all the other fun details. Our ceremony turned out to be so personal and special. We had an amazing Rabbi that really took the time to get to know both of us, and he helped create a ceremony that fit us perfectly. We are from different religious backgrounds and wanted to to make the ceremony about blending our beliefs together and creating new traditions as husband and wife. We also wanted to be sure both our families felt comfortable and included. The Rabbi read the text from our Ketubah, which we had chosen ourselves, and spoke about the two of us and why we love one another. We received so many compliments about the what a wonderful job the Rabbi did, and how touching the ceremony was!
Color Palette: Orange and fuchsia

The Wedding Team:
Photographer: Kate McElwee Photography
Event Planner: Vanessa Hoyle – The State Room
Floral Designer: Michele Bernard
Ceremony Venue: The State Room
Reception Venue: The State Room
DJ: Entertainment Specialists
Officiant: Rabbi Joseph Eiduson
Invitations: Cerise invitations by Checkerboard
Wedding dress: Paloma Blanca gown from Country Weddings
Bridesmaids apparel and accessories: Jasmine B2
Groom and groomsmen apparel and accessories: Classic Tuxedo
Hair and make-up: Cynthia Klocek – Make-up, Orestes Lopez – Hair
Transportation: Beantown Trolley
Rings: Barmakian Jewlers
Thank you Karen and Phil!
To find more inspiration for your our personal wedding style, don't miss our new wedding image gallery!
All images above by Kate McElwee Photography