Ladies and gents, whether you're the person who has planned a hundred perfect parties, or the one who has never hosted more than 3 people for dinner, understanding the ins and outs of wedding planning can feel like a daunting task, we know. So to shine a little light on one important (and very fun) part of wedding planning, we asked talented invitation designer Heidi Jimenez from Zenadia Design to walk us through her company's process for creating custom wedding invitations for a client. Great stuff from a true expert! Read on!
From Heidi: To most couples out there, the world of custom invitations is somewhat of a mystery. Why do they cost so much? Why does it take so long? Fear not, your questions are about to be answered. I am so thrilled to be able to share with you the process behind creating a custom invitation at Zenadia Design. Here we'll highlight one of our recent couples, Lauren and James, for whom we created a highly customized and very personal invitation. As you will see, the custom process takes time and effort, but the end result is something truly spectacular, that fits each individual couple to a tee.
Our first step to creating a creating a custom invitation is to schedule an initial consultation, either in person, via the phone or video conference. During this meeting, we want to get to know you, and hear all about the plans for your big day. I always sit with pen in hand taking notes on anything and everything I might find helpful later in the design process. Sometimes I will even start sketching out ideas as we're chatting. Pictures of the fashion, flowers, and any inspirational images you are using for the big day are always welcome.
At my first meeting with Lauren and James, I learned they wanted to have a traditional, vintage city-style wedding. Their color palette was a neutral scheme of navy, gold and blush so as not to compete with the interior of the Taj. James had proposed to Lauren in a vineyard in France, which I loved, and they also loved to travel together.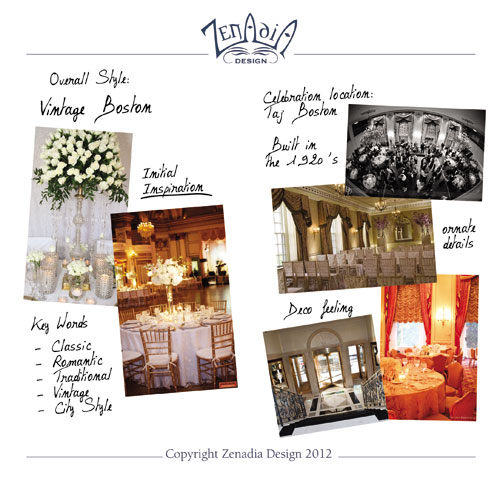 Once the initial consultation is over, we'll develop estimates for you based on what we chatted about for your wedding invitations. After we agree upon the estimate and design route we're going to take, a contract and deposit will be needed to secure the time in our schedule, and to initiate the design phase.

The second step to creating a custom invitation is the design portion. I always like to create an inspiration board for each couple I am working with to help me in the design process, and also help them visually see where I am coming from with the designs. Since Lauren and James wanted a vintage style wedding that reflected the feel of Boston, I went with a mood board of vintage images, as well as moody blues and soft pinks.
At this time, we start to develop designs, created from scratch specifically for you. In Lauren and James' case, there were several key elements I wanted to incorporate into their design to make it 100% their own.
#1 They love to travel, and James proposed to Lauren in a vineyard in France.
#2 They met in college, and this particular school was very special to them.
#3 They wanted a vintage style wedding with a city vibe.
#4 Lauren loves lace, and wanted that incorporated somehow into the invitation.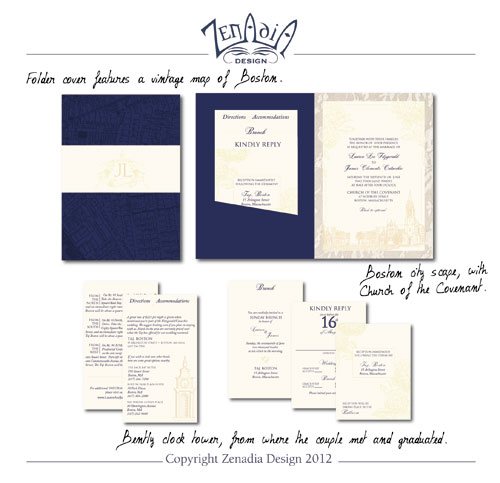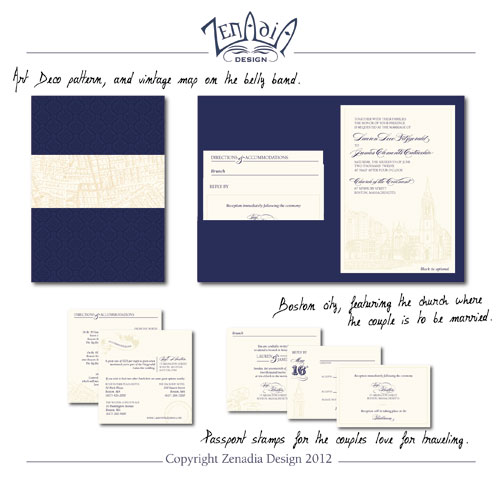 At Zenadia Design, we design up to 4 different options for you. Upon receiving the designs, you can combine any elements from any of the designs presented to make one design all your own. It's a creative collaborative process that can take time, but is well worth it in the end. After we work to create the perfect invitation suite you will receive a proof of the selected design, which will need to be signed off to initiate the production phase of the process. The entire design process can take up to 2 months, depending on how many revisions you require.

The third, and final step to creating a custom invitation is the printing and production process. We do all our production in-house, allowing us to oversee production and deliver you with a perfectly crafted work of art. We custom make all our pocket folders and invitations from scratch, which gives you unlimited options, as well as a one of a kind piece. Production takes generally 3-6 weeks, depending on the complexity of your order, if you are ordering addressing services, etc. Once the invitations are completed, we can either mail them directly to you, or we can mail them directly to your guests.
For Lauren and James, their final invitation was a combination of several design elements from all of their designs. Their final invitation featured a custom logo, complete with their initials, wedding date, grape vines (for their engagement in a French vineyard) and the clock tower from their alma mater, with the time set to 4:30, when they were scheduled to be married. Inside the invitation we incorporated lace, and Lauren and James chose to use the drawing of the church where they were to be married, instead of the entire Boston street scape.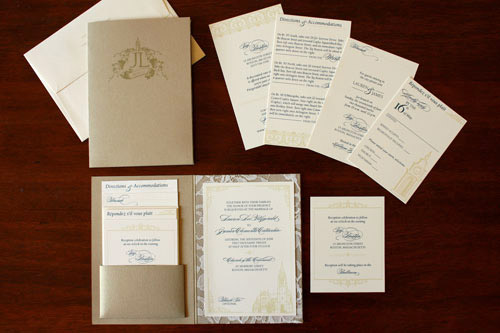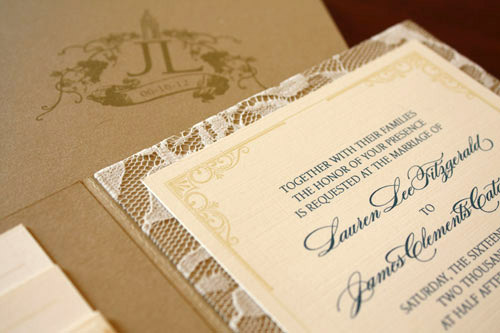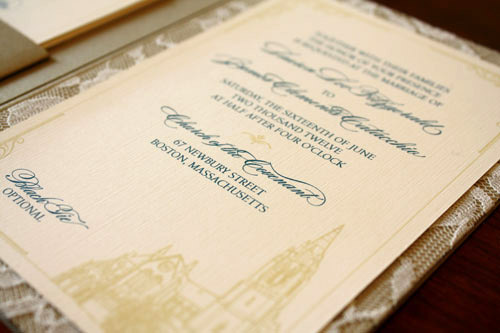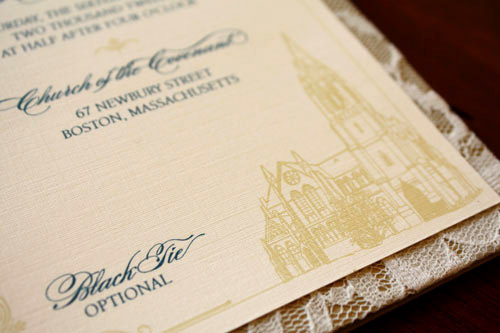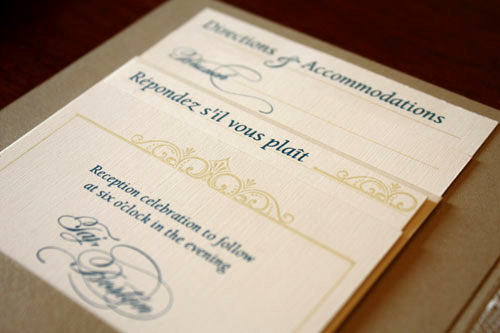 After the invitation designs are completed, we can start in on all the additional items for your wedding day to create a cohesive, well-branded look. You might consider table numbers, programs, menus, seating and place cards, thank you cards or cocktail napkins. Time frames for the entire custom process really depend on exactly what it is you are ordering. For save the dates and invitations, I'm working with couples 12-8 months before their wedding date. That said, as soon as you book your venue, book your stationer! The invitation process can take anywhere from 3-4 months too, and you send invitations out roughly 2 months before the wedding (although I'm seeing a 3 month mailing date more often than not now). That means you need to be working with your designer on invitations 5-7 months before your wedding. As I said, it's a process that takes time, which also explains why custom costs more than ordering out of a book.
There, now don't you feel more educated in the world of custom invitations? The process of planning a wedding can be stressful, but finding your wedding invitations doesn't have to be.
___________________________________________________________________________
Image Credits for Initial Consult Board:
Left Column: Chad Michael Peters, Person and Killian Photography
Right Column: Brian Phillips Photography, Taj Boston, Leah Haydock for Pink Orchid Weddings, Oyster
Image Credits for Mood Board:
Top Row: Champagne, Boston @ Night, Blue Chair and Wall
Middle Row: Vintage Map, Source Unknown, Vintage Girl
Bottom Row: Vintage Lady, Blue Drawers, Earrings
___________________________________________________________________________
Thanks so much for sharing your expertise, Heidi! This is great information for anyone planning a wedding!