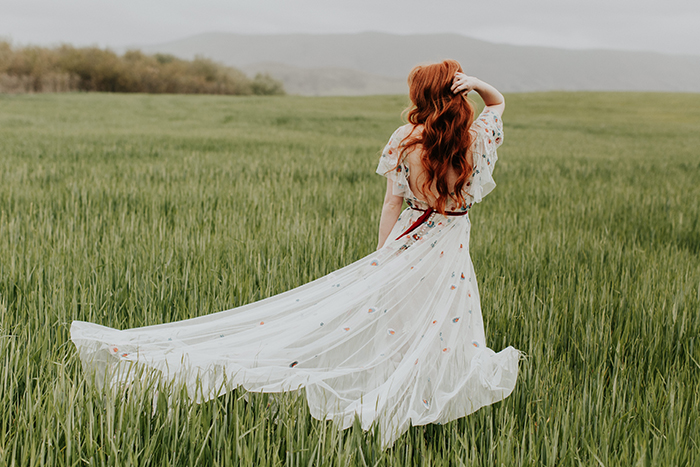 photo by Alexandra Wallace
Shopping for your wedding dress online has become more and more popular (and necessary — hello, social distancing!), but you deserve the same expert advice at home as you'd receive in the store! That's why shopping online with BHLDN includes the same incredible service and knowledgeable help as making an in-shop appointment! BHLDN's complimentary online styling service provides you with all the support you need from choosing a dress to accessorizing your wedding day look to styling your bridal party. Whether you're far from one of BHLDN's locations or you're practicing self-isolation in this uncertain time, you can expect a curated collection of gowns and guidance as you shop for your wedding dress online with the help of BHLDN's friendly, experienced stylists!
Before we dive into some expert styling advice from one of BHLDN's online stylists, we've got some COVID-19 updates from your favorite bridal shop:
We're super lucky to have brilliant BHLDN brand stylist Ariel here sharing her insight into the online styling service process along with a few styled looks straight from BHLDN's own collection.
Take it away, Ariel!
How it works: First, you'll fill out a quick form that tells us about your event, aesthetic, and styling needs. The online stylists have tried on all of the gowns on our website and know them inside and out — think of the stylists as your oh-so-chic BFFs who just happen to know every piece in our collection. Once our styling team has reviewed your survey, we'll email you with personalized product selections that suit your body type, budget, and style. You'll tell us what you love and what you'd like to tweak. Your stylist will make adjustments to your final look and ensure you get the fit just right with expert sizing guidance. Need more advice? We provide up to two rounds of complimentary feedback!
When you're ready, simply add the items you love to your cart and check out! In-stock items can arrive in as little as one week. (FYI: Our online stylists offer free shipping perks for domestic and international orders!). Missing your entourage? Grab some sweet treats and bubbly and host an in-person or virtual gown reveal at home to give your BFFs a sneak peek before the big day.
Take a peek at the looks below to see how our online stylists have styled brides, bridesmaids, and MOB's for their special day.
BHLDN Hyde Gown Styled Two Ways
For the first look, I began with a very simple airy veil. I pulled in notes of emerald for a pop of color consistent throughout. The look ties together with gold block heels that will let you feel comfortable as you dance the night away.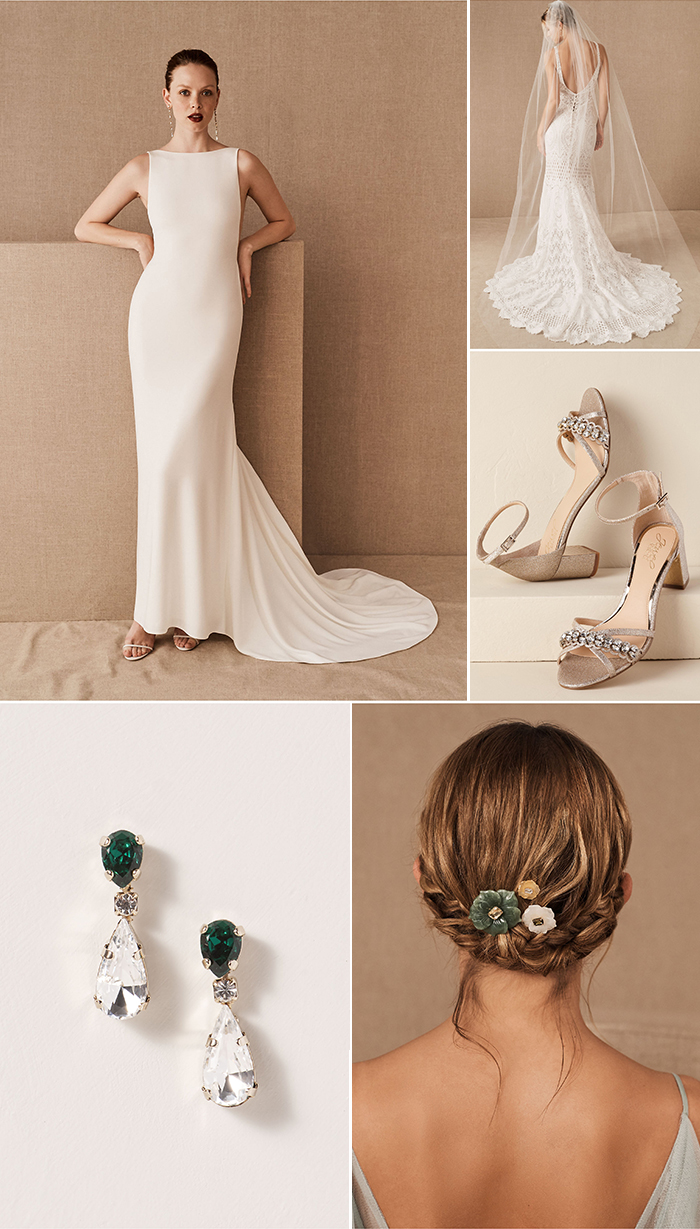 Shop the Hyde Gown, Montellier Cathedral Veil, Giona Block Heels, Petrie Hair Pin Set, and Verdell Drop Earrings
For the next look, I chose a simple veil with a subtle sparkle – a stunning "something extra" that won't compete with the rest of the look. I included modern pearl details with a twist and left the accessories delicate here. Last but not least, a modern strappy show with a textured heel for added interest.
Shop the Hyde Gown, Bowen Reverse Halo, Thalia Earrings, Nyx Veil and Dorinda Heels
Jewel-Tone Mismatched Bridesmaid Dresses
Planning a winter wedding? Jewel tones are always in style and what better way to complement your color palette than with a rich selection of bridesmaid dresses!

Shop the Montreal Dress, Brixen Dress, Logan Velvet Dress, Espen Dress, Delice Dress, Jones Dress, Alexia Dress, and Cortine Dress
Boho-Inspired Mix and Match Bridesmaids
Boho-inspired weddings are taking cues from desert views this year, and so are we! Whether you're getting married out west or not, your bridesmaids will look desert wedding ready in these mix and match bridesmaid dresses. (Pro-tip: The Dahlia Dress is perfect for your Maid of Honor!)

Shop the Charlotte Dress, Alexia Dress, Jones Dress, Dahlia Dress, Plymouth Dress, Espen Dress, Rosabel Dress, and Blaise Dress
Mother of the Bride in Blue Two Ways
No Mother of the Bride wants to clash with the bridal party, which is why I leaned into elegant sophistication with dusty blue. The gorgeous Santiago Dress is a standout in its own right giving mom the attention she deserves without competing with the bridesmaids.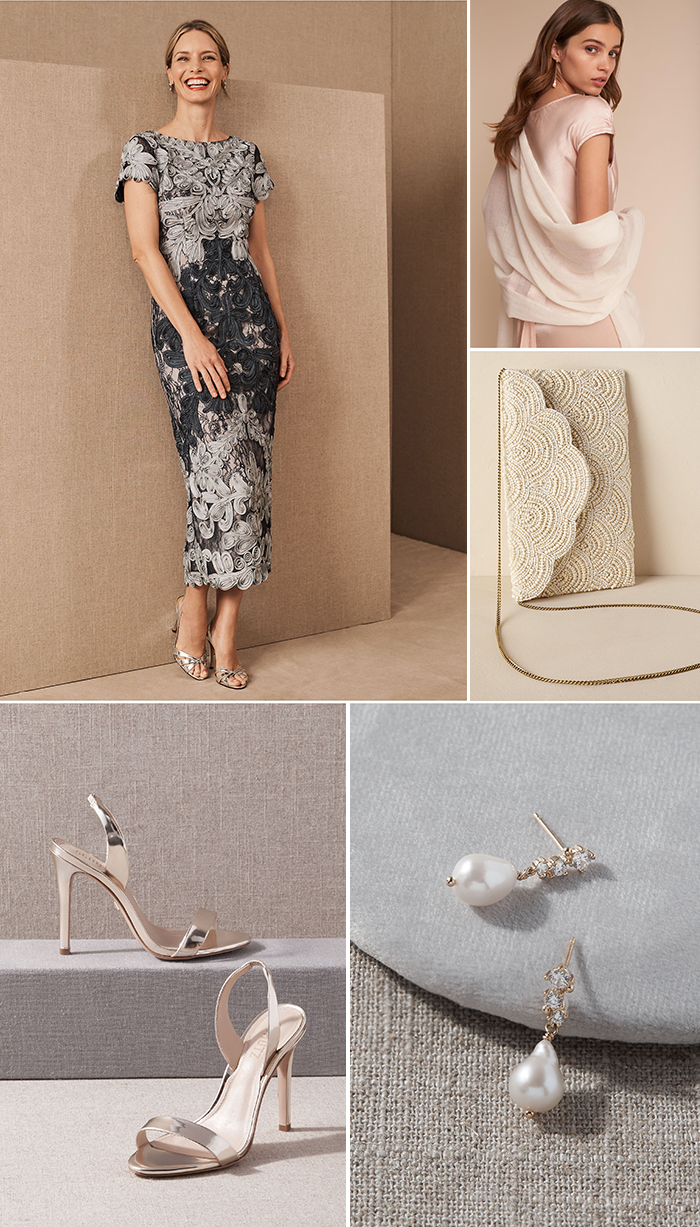 Shop the Santiago Dress, Rue Pashmina in Ivory, Paxton Clutch, Thalia Earrings, and Luriane Heels
For a little bit more of a formal vibe that still feels youthful and laid-back, opt for the Liliana Dress.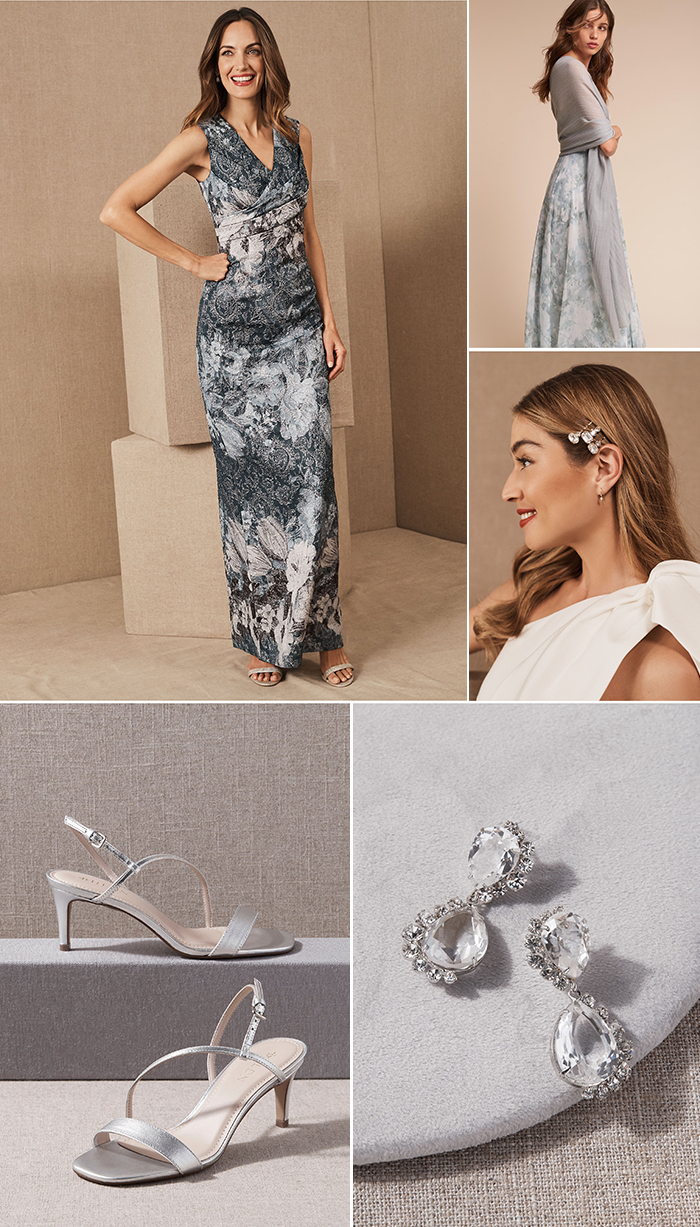 Shop the Liliana Dress, Rue Pashmina in Morning Mist, Phyllis Hair Pin Set, Herald Earrings, and Connere Heels
Ready to shop for your own wedding dress online? BHLDN's expert stylists are standing by and waiting to help you find The One without ever stepping foot in a store! Head over to BHLDN and get started!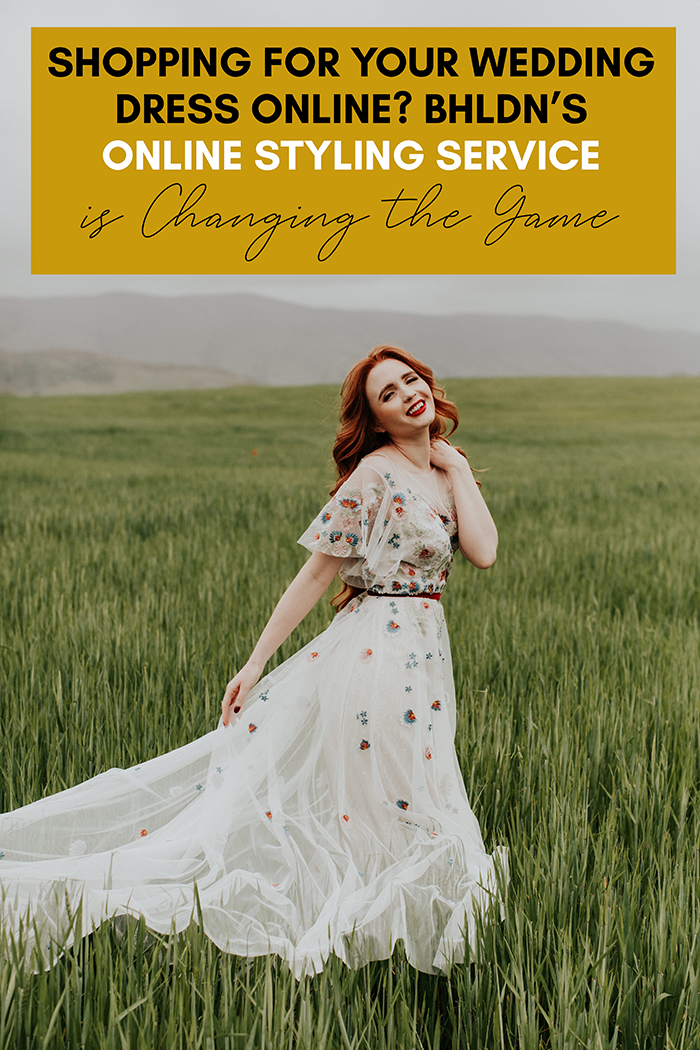 photo by Alexandra Wallace

This post is sponsored by BHLDN!