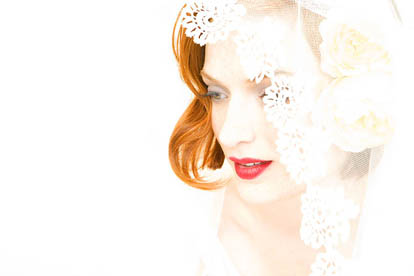 (Vintage inspired silk dresses by Isadora's from Junebug's "Vintage Fashion for a Modern Bride" Fashion Report, photos by Cheri Pearl Photography)
Last month I did a post on vintage wedding dresses, and got a great question from a reader asking how to find vintage wedding dresses that fit a modern body. I knew there had to be lots of solutions out there for lovers of vintage clothing, so I called in my resident vintage expert (and big sister) Chela to get some advice. She is a long time vintage lover herself and a former stylist and costume designer, so needless to say she knows tons about vintage clothing. Plus now she's an archivist and librarian, ie: professional researcher and question answerer, so I knew she'd be able to help! Here's what she had to say:
Finding vintage that fits if you are a size 6 or bigger can be a challenge. We are physically larger now than we were just a few decades ago: the average American women in 2000 was about 2 dress sizes larger than the average woman in the 1950s. But don't despair, just because it's a challenge doesn't mean it can't be done. If you are a size 10 and have your heart set on wearing vintage for your wedding day, you have more than one option to find the dress of your dreams!
Option #1: Hunt
There are vintage dresses out there in all shapes and sizes, you just need to track the right one down. If you are already a vintage shopper, you probably have a favorite store or two to find your treasures. Contact the owner or manager and tell them that you're looking for a wedding dress. Let them know the era you are looking for, your size and price range, and ask them to call you if something comes in that might fit your needs. If your favorite shop is an online store, don't let that deter you, email them! After you've asked your local favorite for help, widen your search. Go to that shop you have always wanted to check out, drive to the next city, and go online. The Frock has an amazing selection of higher end and couture wedding gowns from the 1890s forward. Enoki World is a super fun vintage site that reads like you're having cocktails with your girlfriend who happens to have a degree in costume history, and they have a bridal section. Isadora's has an amazing selection of vintage clothing, accessories and jewelry from the early to mid 20th century AND a beautiful line of 1930s inspired reproduction wedding gowns that come in a full range of sizes. If you are considering buying a dress online, be sure you ask tons of questions about condition, and that you are crystal clear on their return policy.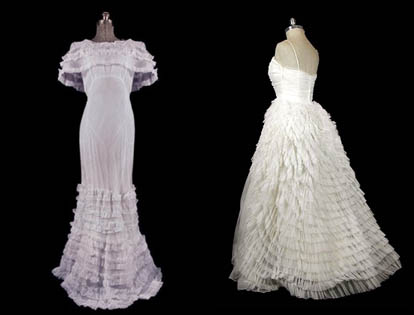 (1930s ruffled organdy dress and 1950s Christian Dior gown from The Frock)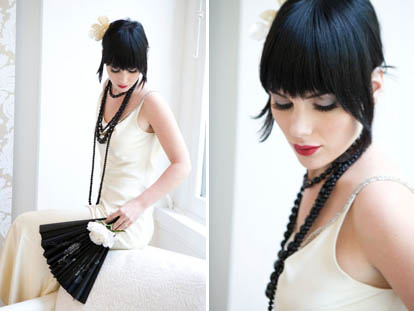 (Vintage inspired silk dresses by Isadora's from Junebug's "Vintage Fashion for a Modern Bride" Fashion Report, photos by Cheri Pearl Photography)
Option #2: Alter
If you can almost zip it up, if it's just a little too short, if it's close but not quite, there may be a way to work with it. The ways in which we're bigger than people were in the beginning of the 20th century are pretty consistent, so fit problems with vintage clothing are pretty consistent as well. Some fit issues are deal breakers, but some fit problems can be finessed in the right situation. One common fit issue with vintage is that it's short-waisted, that is, the waist line hits you higher than your actual waist line. If a dress is short waisted, you have two options: you can add a ribbon or piece of fabric as a waist band to give you a few extra inches, or you can turn it in to an empire waist dress by having the skirt re-attached even higher. Another common problem is that the dress is tight around the waist and rib cage. In this case, if there are large seam allowances (that's the extra fabric inside the garment) a seamstress may be able to let them out and give you a bit more breathing room. Be careful though: if the fabric is fragile or has faded or darkened over time, the lines of the old seams can be very obvious when let out. We must be getting more buff as we evolve too, because tight sleeves are also a common problem. If sleeves are tight around the bicep or the arms eye (this is the hole where the sleeve fits in to the bodice) a tailor may be able to add a gusset (a small diamond of fabric) in the seams under the arm to give you a bit more room. Keep in mind that these are all significant alterations; they should be performed by a tailor you trust and will cost more than just getting your jeans hemmed, so factor them into your wedding dress budget.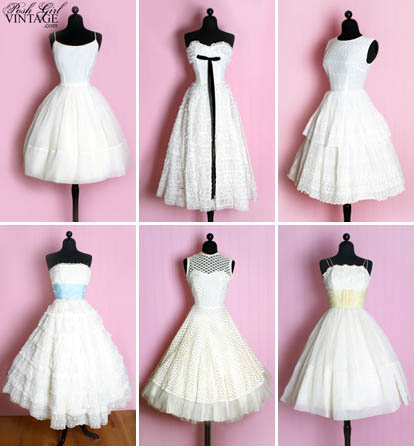 (Vintage wedding dresses from Posh Girl Vintage)
Option #3: Reproduce
Find a vintage pattern and a good dress maker (or get your DIY on), and have a dress made just for you! This is a great way to get everything you want– the silhouette, the fabric, the fit, without dealing with any of the issues of vintage– the must, the dust, the tininess. In many cases, vintage patterns have survived a lot better than vintage dresses, and the selection is better because you are not limited to using only the wedding dress patterns. You can chose any dress pattern you like and have it made in the fabric of your choice. There are a ton of great resources for vintage patterns on the internet. Paper Pursuits has a beautifully laid out and easy to navigate site with a nice selection of mid century and later Vogue patterns. Grandma's House has a fantastic array of bridal patterns from the 1940s forward, as well as great collection of patterns for veils and headpieces. The Vintage Pattern Lending Library has patterns from the 1840s – 1950s, and is particularly strong in 1930s options. They transfer vintage patterns to heavy weight paper that you can buy, or become a member of the library and borrow patterns. Some of their patterns have even been graded to a full range of sizes! If you go this route, make sure you or your dress maker builds a muslin mock-up of your dress before you cut into the expensive final fabric. This will let you fix any major fit issues with inexpensive fabric first, and give you an opportunity to see the dress on your body before you take the final plunge.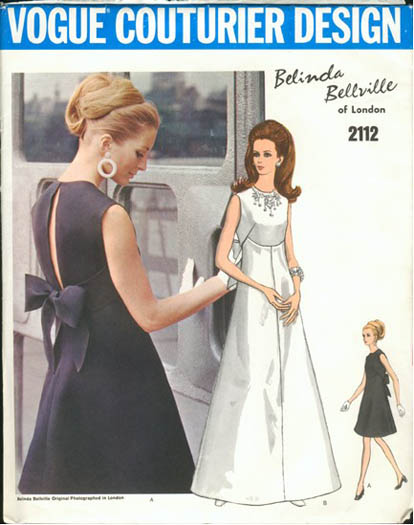 (1960s Belinda Bellville pattern from Paper Pursuits. I want to get married just so I can wear this dress.)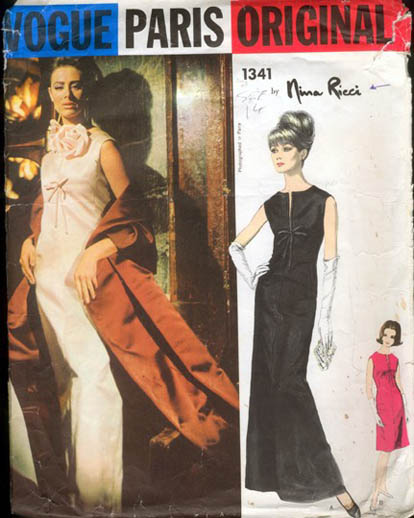 (1960s Nina Ricci pattern from Paper Pursuits. Hello, fabulous.)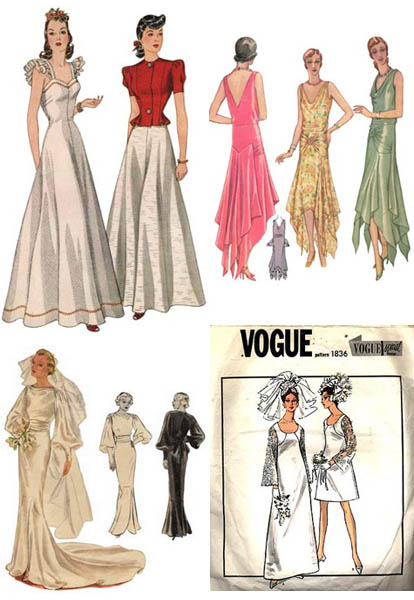 Top row left to right:
1940s dress pattern from Vintage Pattern Lending Library. So sweet for a summer garden wedding.
1930s dress pattern from Vintage Pattern Lending Library. Lovely in a champagne silk charmeuse.
Bottom row left to right:
1930s bridal gown pattern from Vintage Pattern Lending Library. Look at those sleeves!
1960s Vogue pattern from Grandma's House. How fantastic are those veils?
If you want more vintage wedding dress inspiration, check out Junebug's Vintage Wedding Dress Inspiration Gallery on Flickr. And when you find the vintage dress of your dreams, by all means, post pictures! We want to be able to congratulate you. Good luck, and happy vintage hunting!