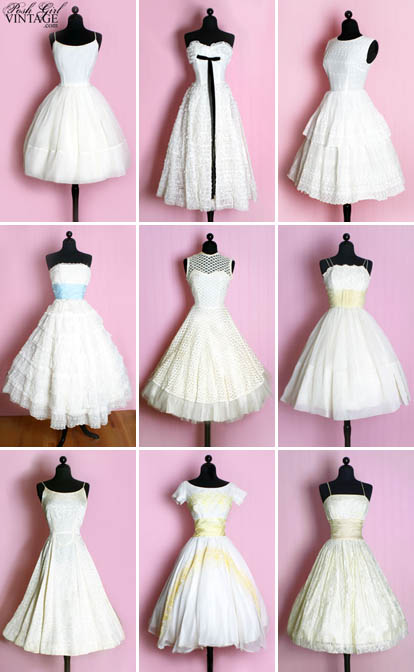 Continuing in Friday's theme of alternative wedding dresses, take a look at these gorgeous vintage wedding dresses from Posh Girl Vintage! So fun! Posh Girl Vintage is family owned and operated by ladies with a true love of vintage fashion, so their ever changing lineup is a treasure trove for fashionistas everywhere. Choosing a vintage dress is a great eco-friendly wedding fashion option, and is a personal favorite look of mine. It adds all kinds of personality to your wedding style that can be carried through to every aspect of your day, and just couldn't be a more darling look! Here are some ideas for a simple and sweet vintage inspired wedding, built around the all important wedding dress…

– Choose a cake that's inspired by the detailed fabric of your vintage dress, like this eyelet wedding cake from Martha Stewart.
– Set your tables with an eclectic mixture of vintage patterned china, like the Boho collection from Roseanna.
– Use vintage wallpaper to make DIY place cards, thanks you notes, and gifts for your wedding party, or buy these pretty vintage wallpaper pocket mirrors and notecards from Paperhill Studio's Etsy shop.
– Choose vintage themed invitations and a matching wedding website, like these from Izzy Girl and Nearlyweds.com.
– Rent the get-away car of your dreams, like this vintage Rolls Royce from British Motor Coach. (Photo by La Vie Photography)
– Collect vintage vases from thrift stores and estate sales in a single color from your your wedding color palette, like these hydrangea-blue vases from Matthew Mead Style. Have your florist include them in your table top and reception floral design.