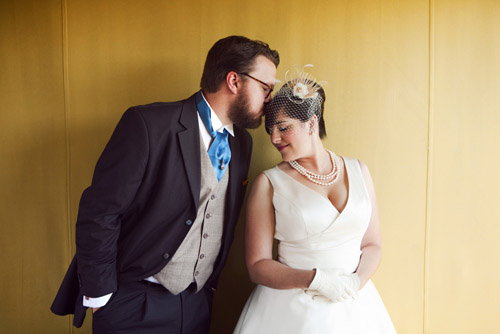 The Couple: Lauren and Charlie
The Wedding: 9.5.10 – Smog Shoppe – Los Angeles, California
What three adjectives that best describe your wedding? Fun, unique, handmade
What inspired your personal wedding style, and how did you incorporate your style and personalities into your big day? We both knew that we didnt want a traditional wedding, but Charlie wanted it to be a little more formal and I wanted it more casual, and we were able to strike a pretty good balance. The music was also really important, and Anthony did a great job. Brad Austin usually does gigantic formal affairs, but he really nailed the mood and look we were going for. When we saw each other for the first time, people said I looked like I was from the 1950s and Charlie looked like he was from the 1850s, but it worked!

Looking back, what are the moments, decisions or memories that you love the most about your wedding? Getting the Coolhaus truck to come in turned out to be incredible, although we were worried that it was going to be a disaster. Also, finding the Smog Shoppe and an amazing set of vendors all made the day really special. We were happy that we could do so much ourselves – Charlie made the beer and I did a lot of the decorations, and we did little touches like writing the seating assignments on old windows. Seeing Charlies parents do the horah is a standout memory. People still talk to us about how much they enjoyed the wedding, which is a really nice feeling.
What was your wedding color palette? Teal, yellow, magenta, and other bright colors.

The Wedding Team:
Photographer: Duke Photography
Event Planner: Amanda Auer – In the Now Weddings
Ceremony and Reception Venue: Smog Shoppe
Officiant: Deidra Gray-Breijo
Catering: Kensington Caterers
Florist: Brad Austin Cake: Lark
Cake Topper: Steph Claver – Hearts and Laserbeams
Wedding dress: Dolly Couture
Hair: Michael Leon Hair Studios
Make Up: Phoebe Ogan
DJ: Anthony Soike – Red Shoe DJs
Rings: Bridal Rings Company
Ice Cream: Coolhaus
Wine: Silverlake Wine and Carivintas Wine
Photo booth: Photobox
Thanks for sharing your LA wedding with us Lauren and Charlie!
Looking to plan your own Southern California or Seattle area wedding? Don't miss our Plan Your Wedding Hotlists!