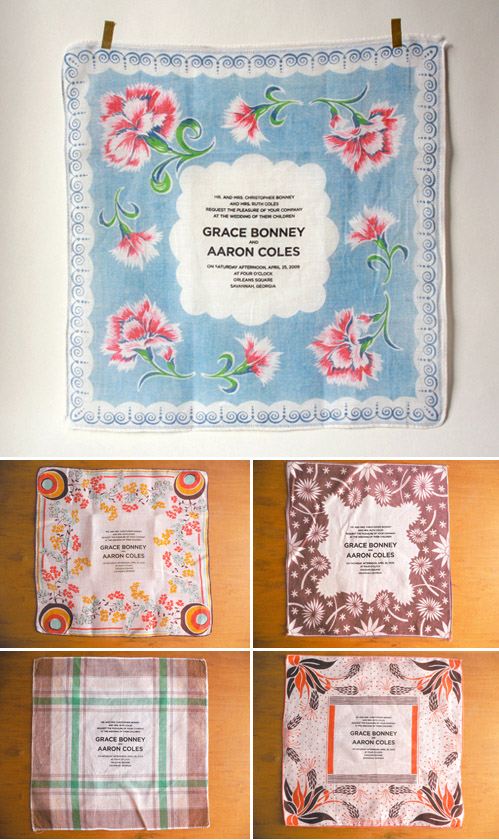 Wedding invitations these days are becoming more unique and more creative than ever before. Brides are no longer limited to paper choices for their invites and save the dates, they can choose from an array of different mediums, including vintage textiles.
We love this recent wedding project from Bird and Banner, made specially for Grace Bonney of design*sponge, for her recent nuptials. Each invitation was screen printed on a one-of-a-kind vintage handkerchief, including a few handkerchiefs from the family's personal collection. Grace and her fiance were able to personalize each invitation this way, by matching colors, patterns and styles to each couple's personalities and tastes. As an added personal touch, many of the male guests arrived at the wedding wearing their "invitations" as pocket squares!

In another collection of invites from Bird and Banner, the team based their designs on the bride's French flea market theme, printing her wedding invitations on vintage handkerchiefs as well, and finishing the look with a black silk ribbon and monogrammed tag.

These save the dates from Lucky Luxe, made for photographer Alisha Clark's wedding, are another great way to incorporate a unique vintage flair into your wedding. Mixing and matching vintage hankies instead of new ones ensures that every guest will get something unique in the mail.
Such pretty and creative ideas!