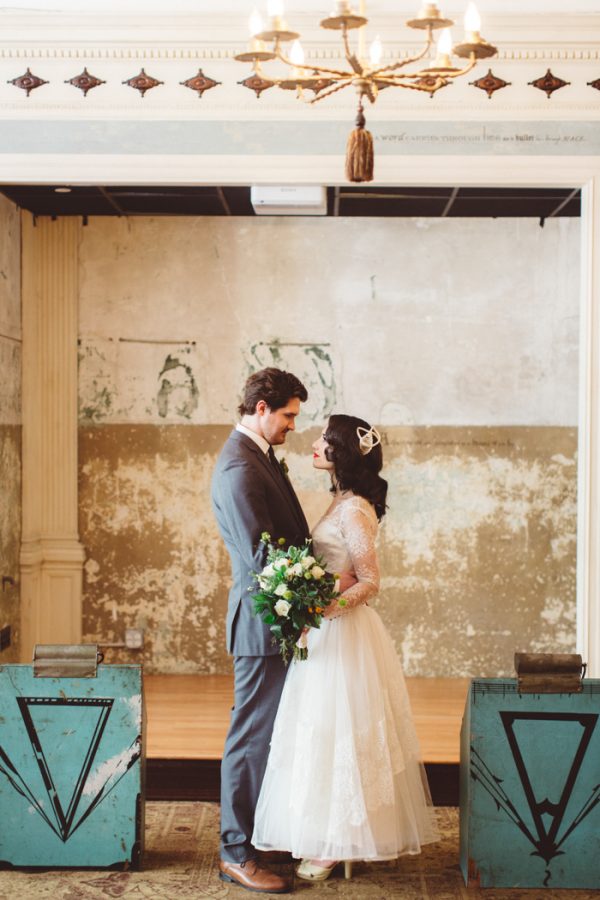 As if straight out of a movie, Alyssa and Jesse's love story began when they met each other while waiting in line for their favorite Disneyland ride. Years later, the couple decided to draw décor inspiration from that very theme park ride for their Los Angeles wedding! Every detail of Alyssa and Jesse's wedding at Clifton's was vintage Disney-inspired, from Alyssa's 1950s bridal style down to the couple's first dance song, Sleeping Beauty's Once Upon A Dream. As wedding favors, Alyssa and Jesse provided a personalized silhouette service as a throwback to the old school Disney aesthetic. We love the vibrance that Anna Delores Photography captured in her documentation of the couple's Disney-inspired wedding!
The Couple:
Alyssa and Jesse
The Wedding:
Clifton's, Los Angeles, California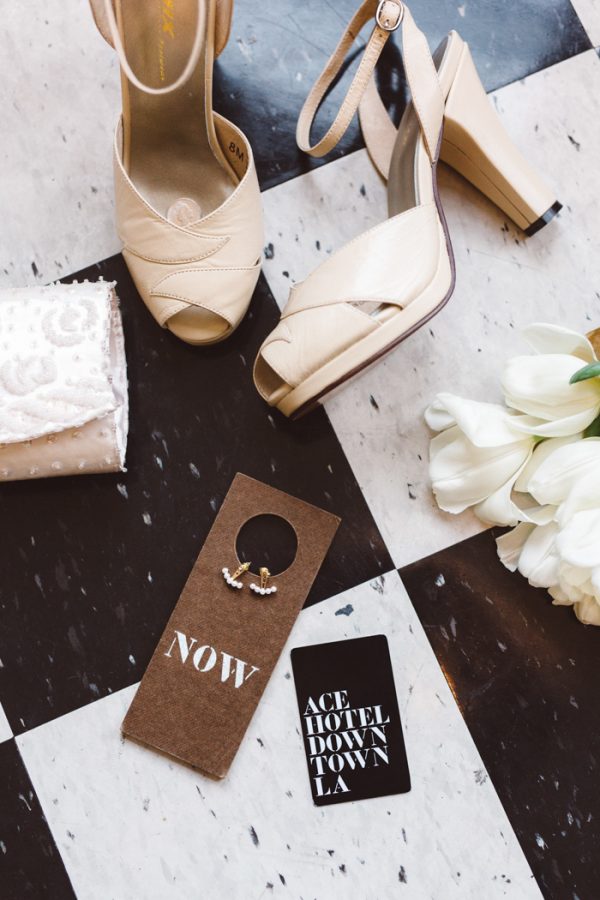 Collaboration, simplicity, and meaning were important to us. We wanted everything to be done together so our wedding truly represented both of us, and at the same time, wanted to focus more on what the day was about as opposed to how it looked (we just lucked out with the beautiful venue!). The details that we planned and brought in ourselves, from what we wore (Alyssa wore her Grandmother's wedding dress from the '50s), to how we decorated tables (with pine and orange as a nod to how we met, sourced from our family gardens as much as possible) all had purpose and meaning to us both.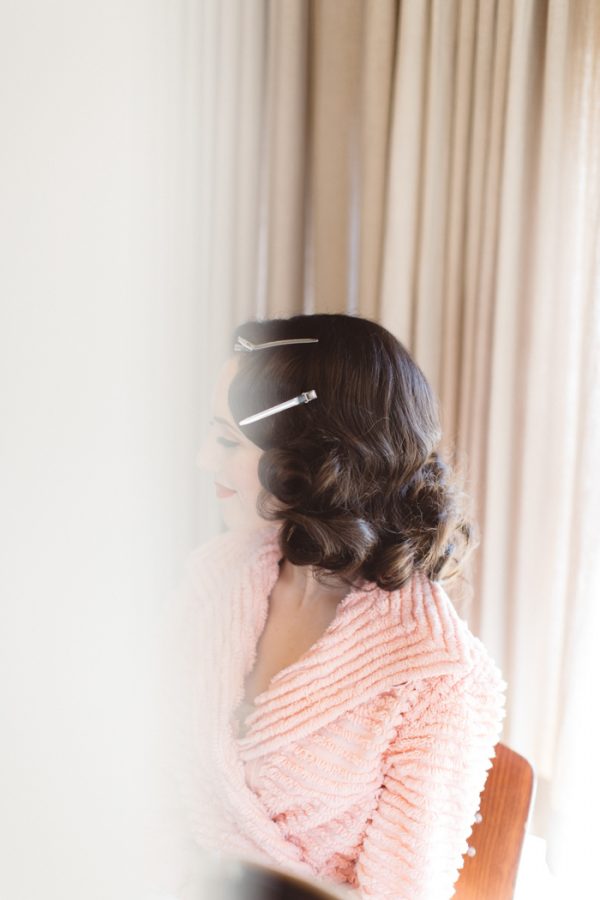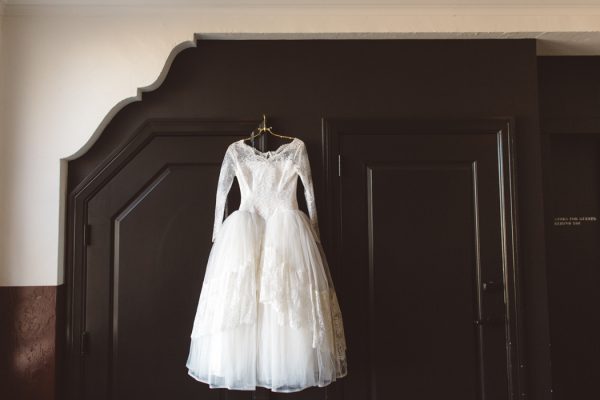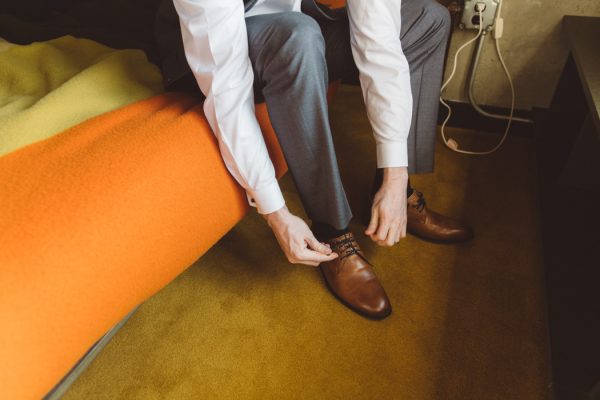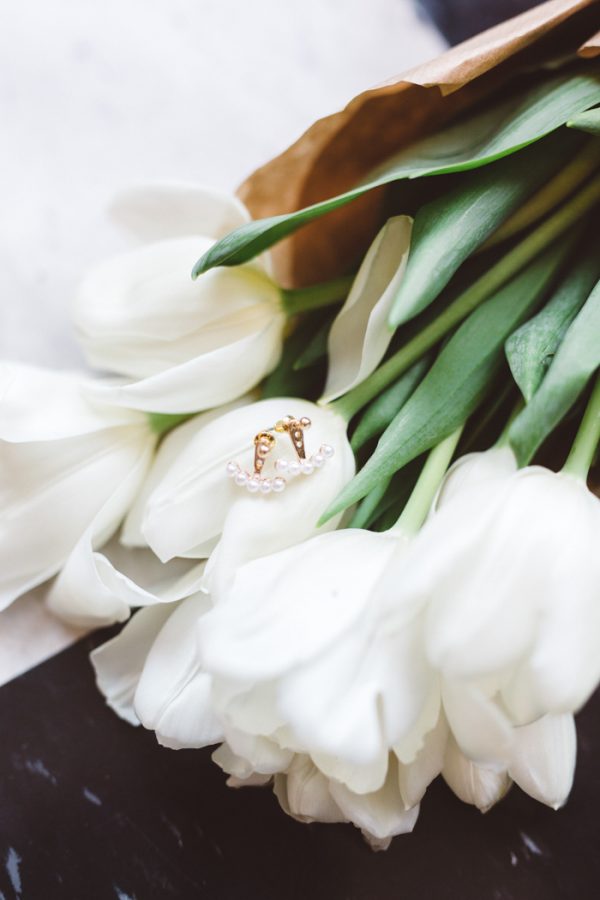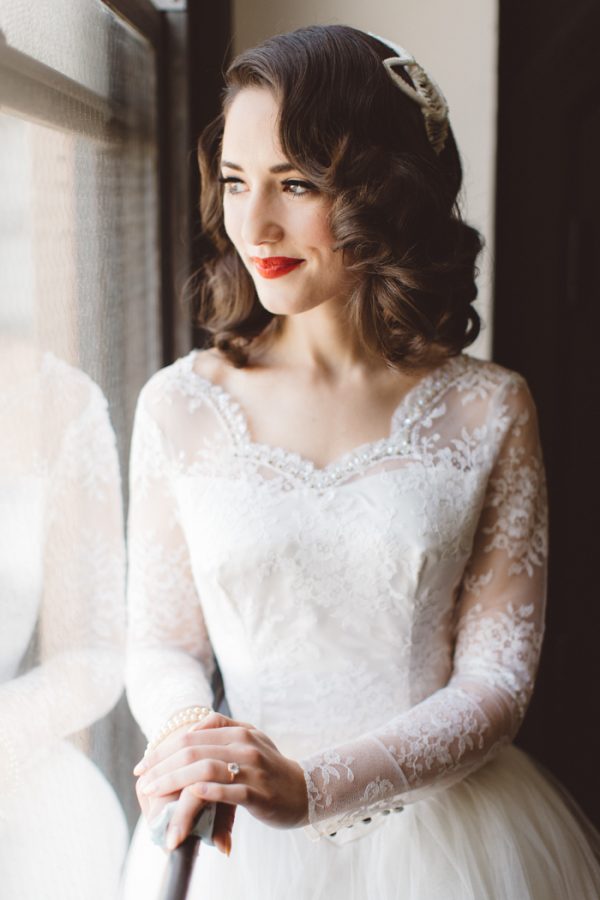 We pulled as much inspiration as we could from the 30s-50s, mainly focusing on the '50s as Alyssa's dress was from that era. She wore her grandmother's wedding dress and had it tailored to her measurements. Her Grandmother had kept it perfectly preserved, and it was incredibly meaningful to wear the dress she had donned as she and my grandfather began their marriage over 50 years ago. Alyssa also wore a little sequined hat that mimicked the one her Grandmother wore on her own wedding day, and wore pearls given to her by her mother. Alyssa wanted her hair and makeup to reflect that time period as well, while still staying on the simple side, with a touch of modern influence. Kat Thompson, our incredible hair & makeup artist, accomplished this perfectly.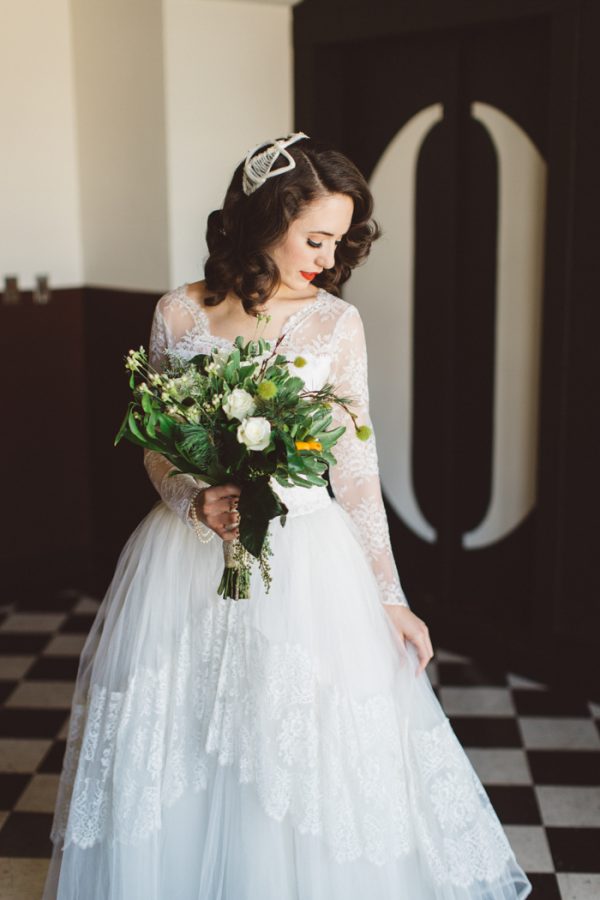 We loved the style and meaning behind Alyssa's whole outfit. She tries to wear as much of the '50s era as possible in her everyday wardrobe, so it felt like a nice extension of something she already would wear, but special. She normally wears red lipstick, as well, but switched the tint to more of an orange to fit with their color story.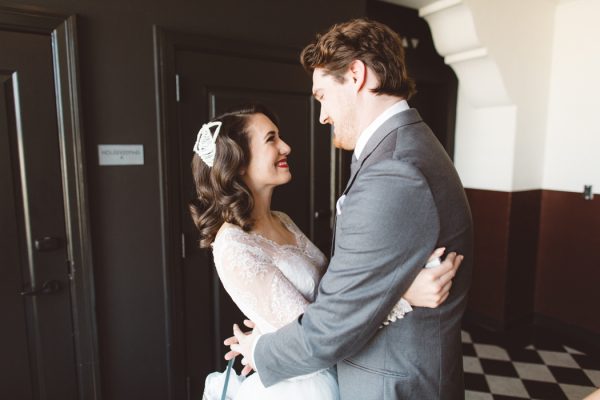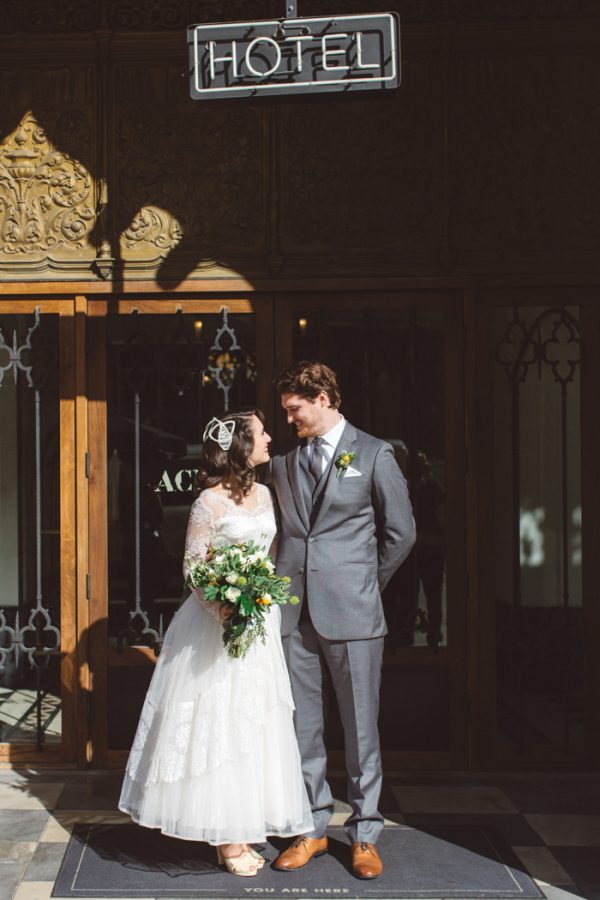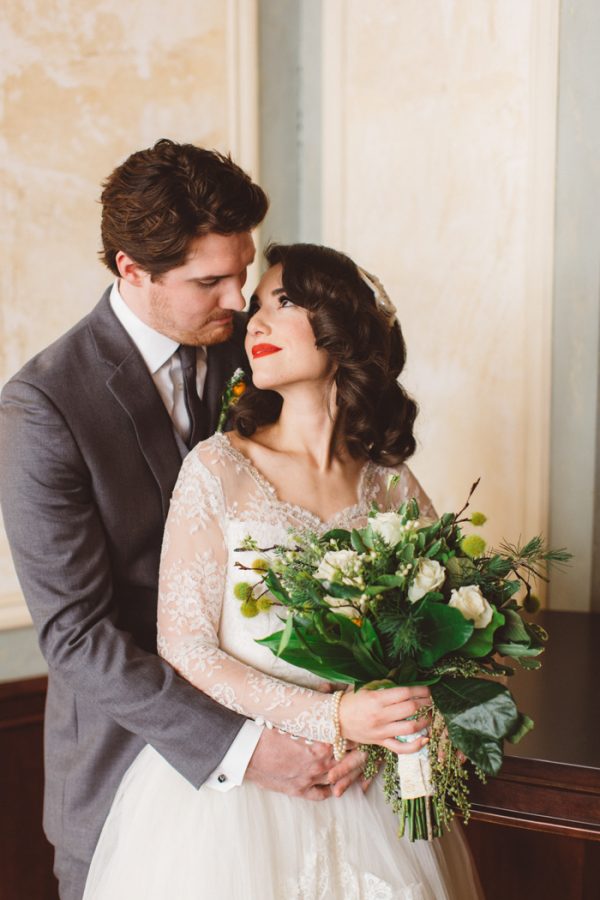 We actually chose our venue because it reminded us so much of how we met. We met by chance while waiting in line for Soarin' Over California at Disneyland/California Adventure, and felt like Clifton's seemed a really unique physical embodiment of an intangible experience. During the ride, you fly through different parts of California, including the redwoods and pine forest, where pine scents were sprayed out to add to the experience. It seemed perfectly fitting that we got married under a large fake pine tree! The rest of the space reminded us of a mix of the older attractions at Knotts Berry Farm and Disneyland. We're old souls, and ate it right up.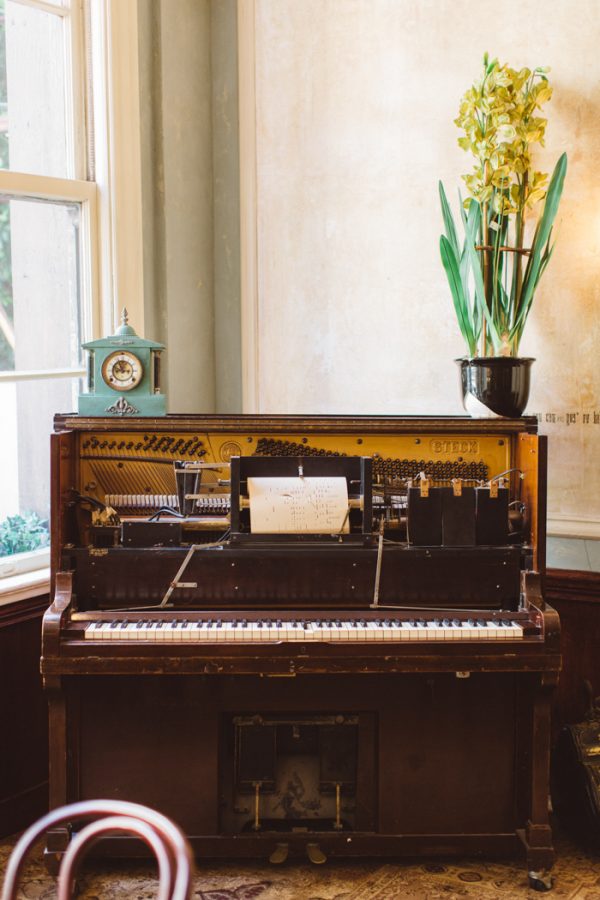 Since we wanted our wedding to be as simple as possible, we really liked that we did not have to add any of our own decor or bring much in for entertainment. Each floor of Clifton's is truly it's own curiosity for young and old alike, made for a beautiful backdrop, and built-in wonder. We knew we wanted everything to be as simple as it could be, with as much personal meaning, old fashioned details, and natural/artificial elements combined without completely throwing off the said simplicity. We ended up focusing the chosen elements on ourselves, and specifically, the way we met.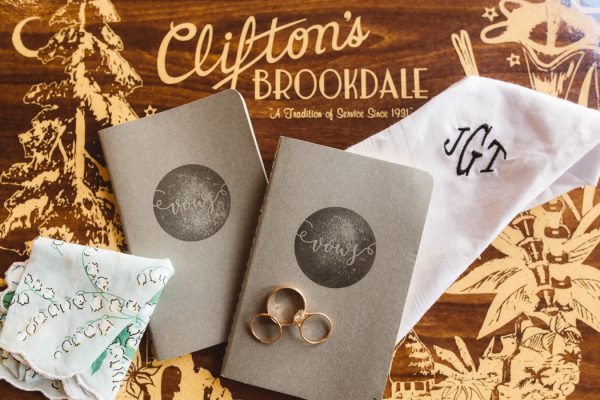 We wove natural greens and citrus fruits into as much as we could, and found that we really only used our colors on the flowers. Everything else we kept to neutrals like white, ivory, or black. Meaningful and simple was our focus!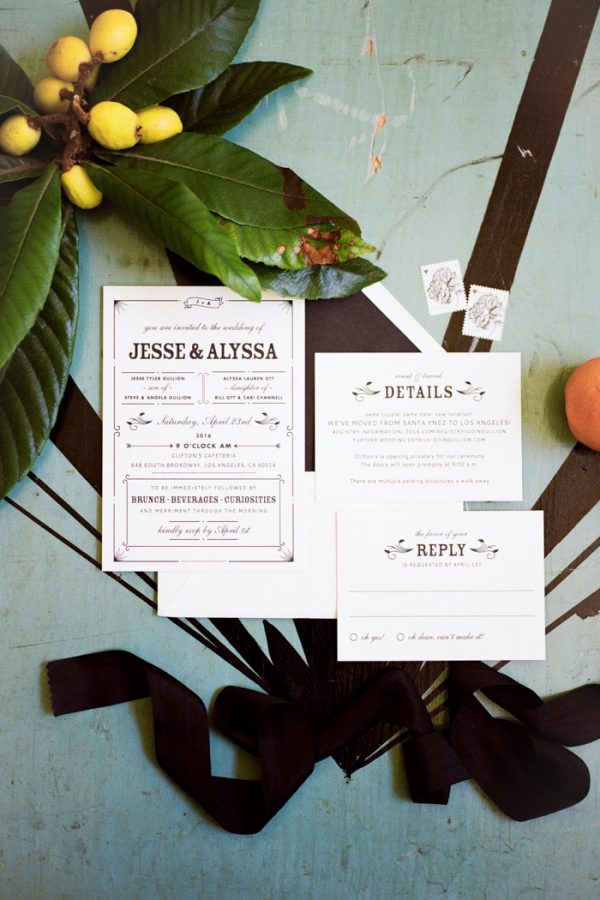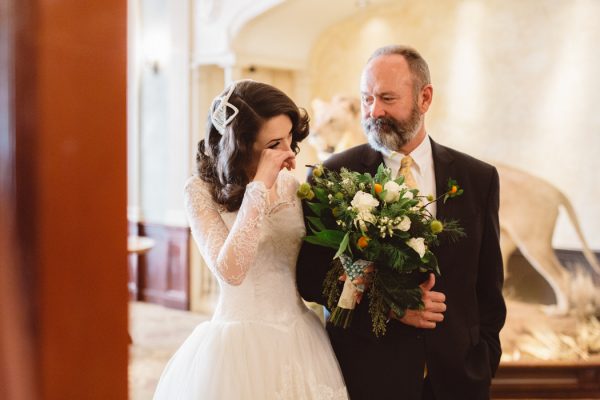 The most memorable part of the day was by far the ceremony itself. Feeling all the love surrounding us as we stood in front of the (not so) little fake tree, reading aloud the vows we wrote together with our hearts poured onto paper, and listening to the words our incredible officiant (The Rev. Millason Dailey) spoke as she talked about our lives and future together. It was a very powerful, albeit quick, experience, and we would live the ceremony itself over and over again if we could.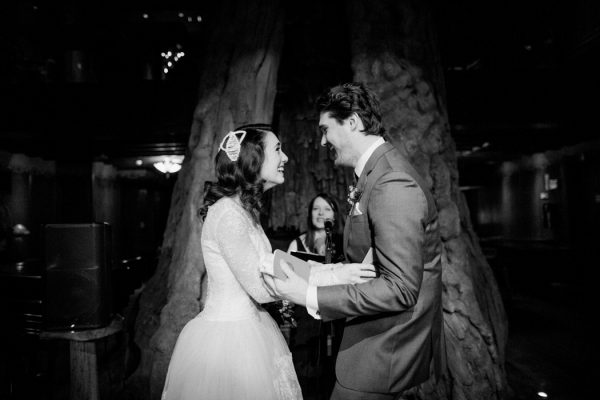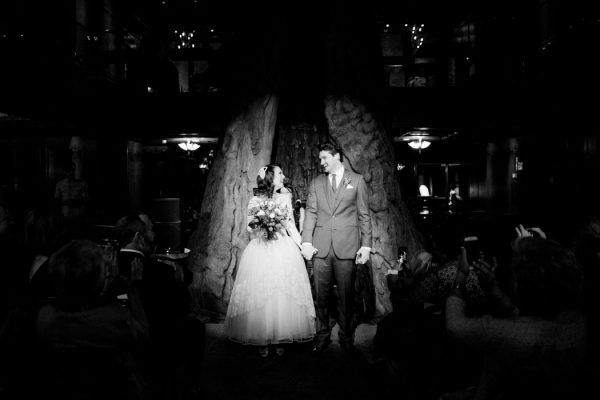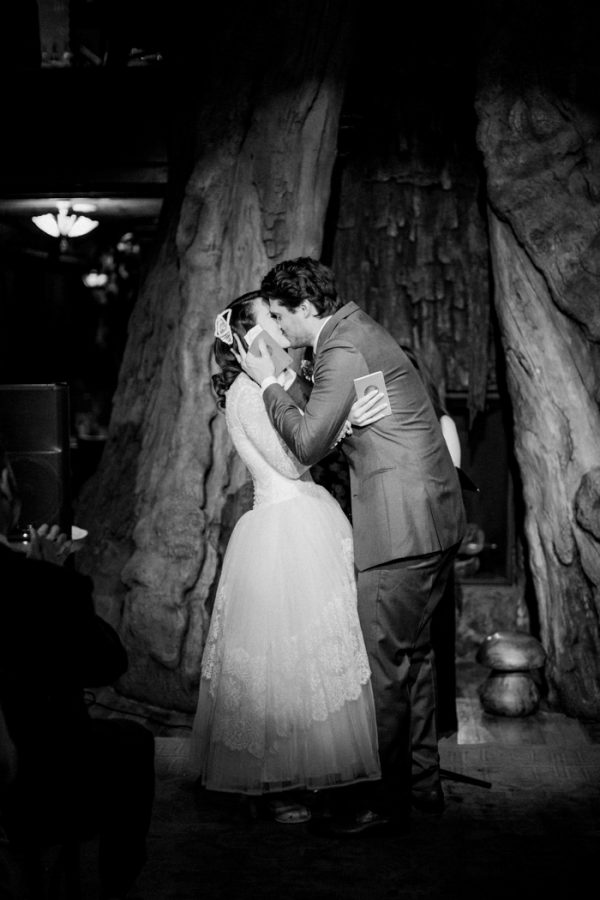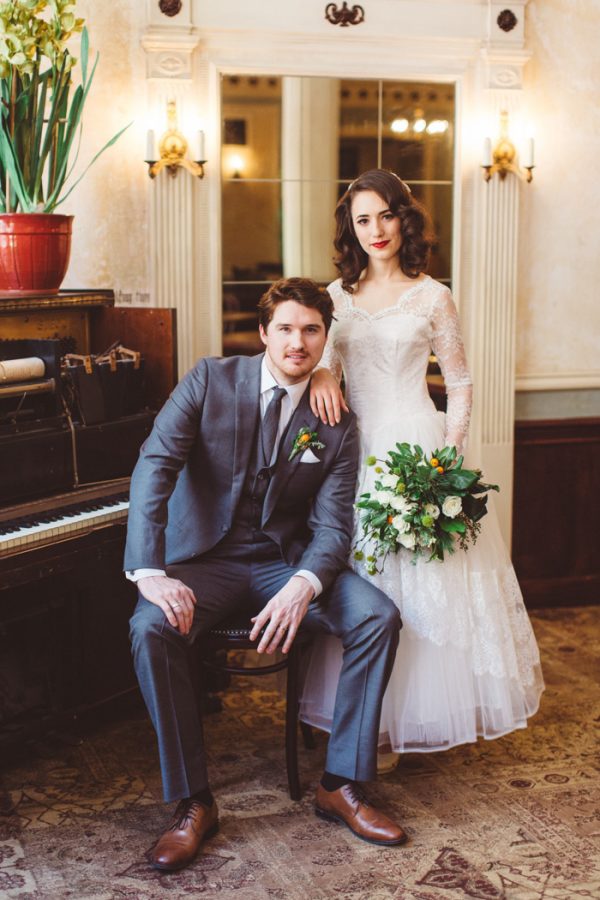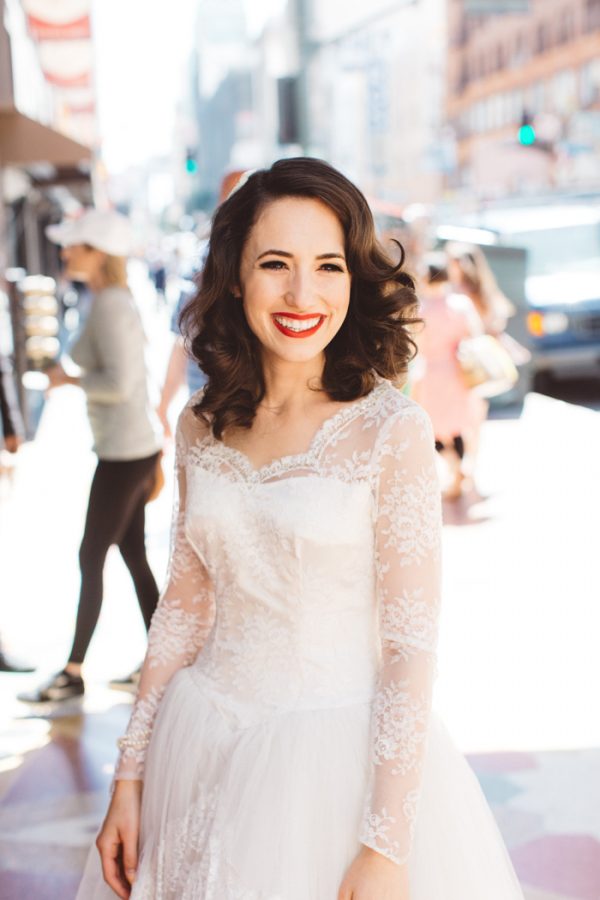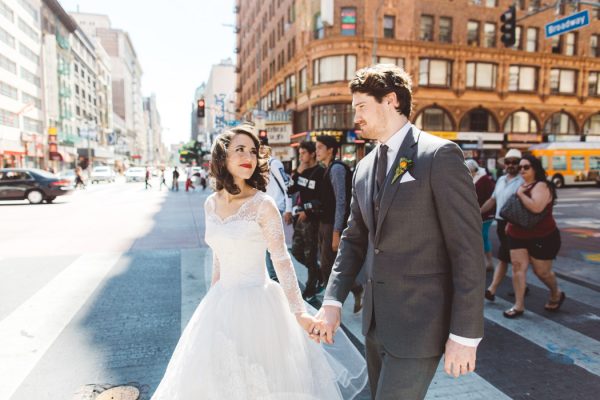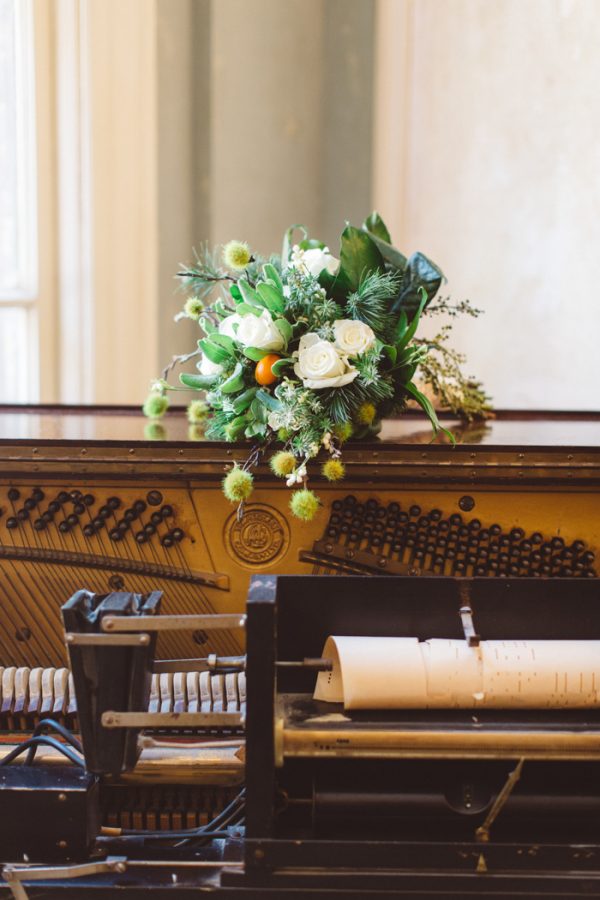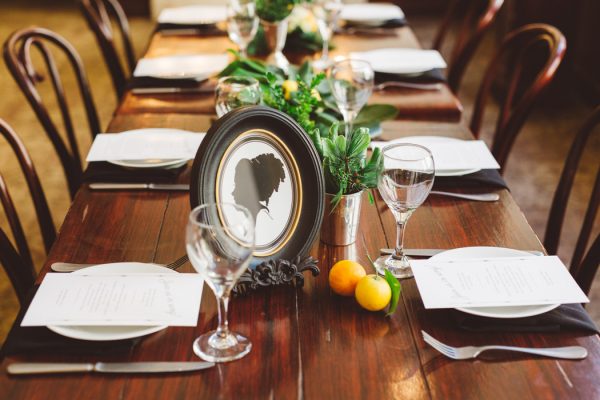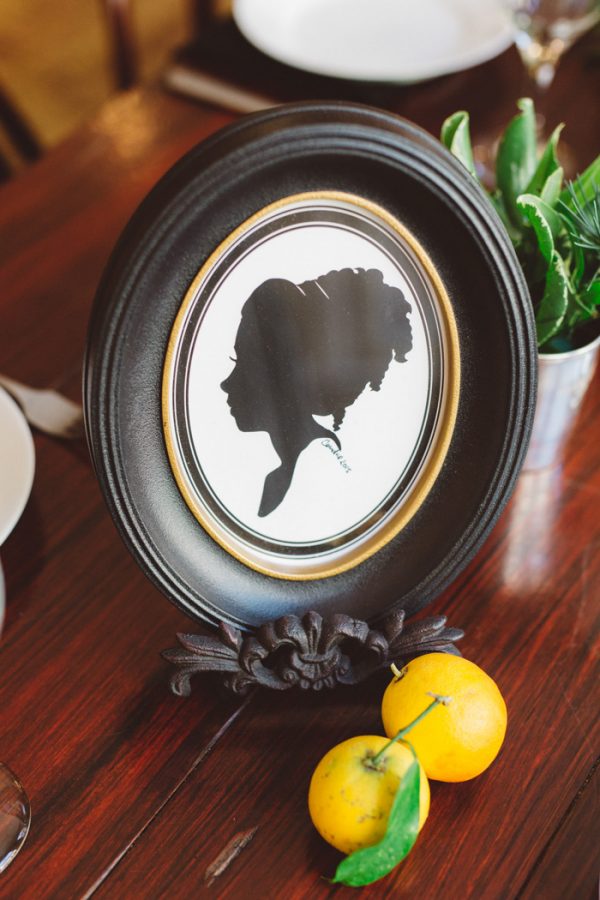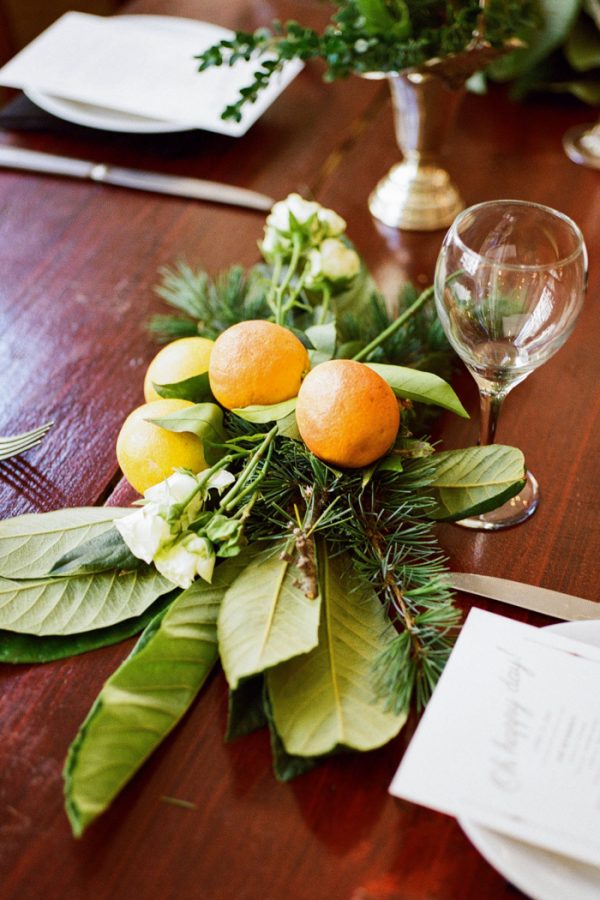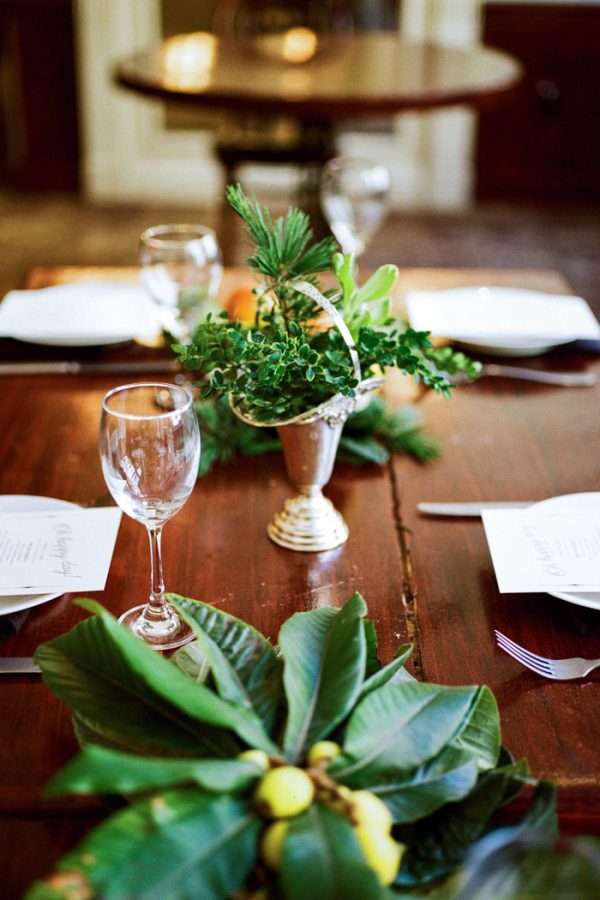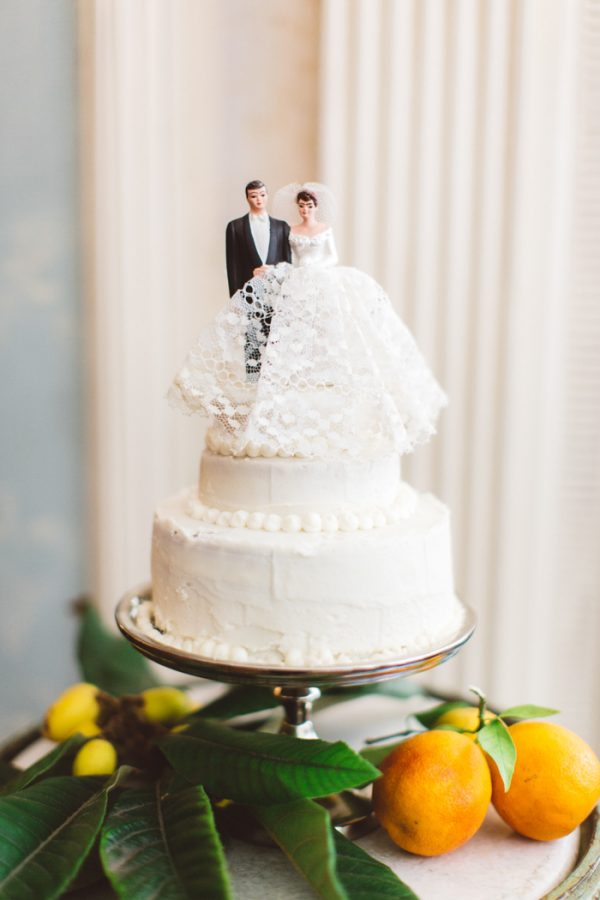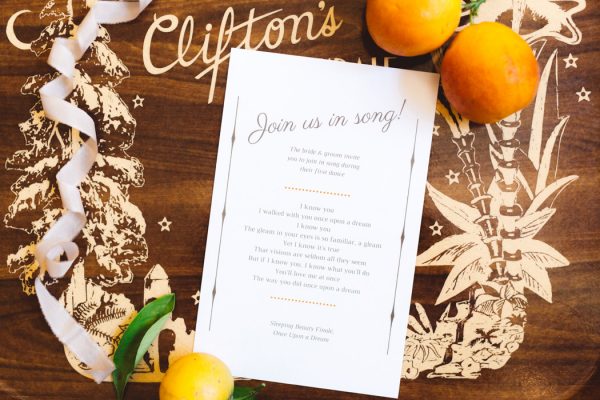 Our processional song was "My Blue Heaven" by Gene Austin. It reminded us of the life we had together, and envisioned for our future: heaven being found at home, with each other.
Our recessional song was the soundtrack to the ride "Soarin' Over California" (now a retired ride) at Disney's California Adventure themepark. We played this song because this was how we met: waiting in line for the ride, and ultimately riding it together! The boldness of the beginning of the song seemed a fitting way to announce our marriage.
Our first dance song was the "Finale" song from the original Sleeping Beauty Soundtrack. The chorus sang Once Upon a Dream, and we had our loved ones sing along to the sound as we danced. Magic!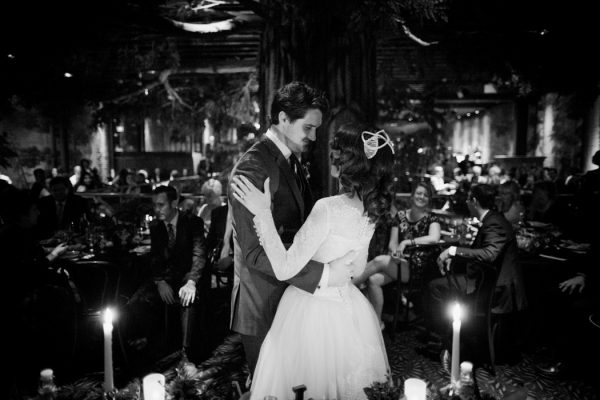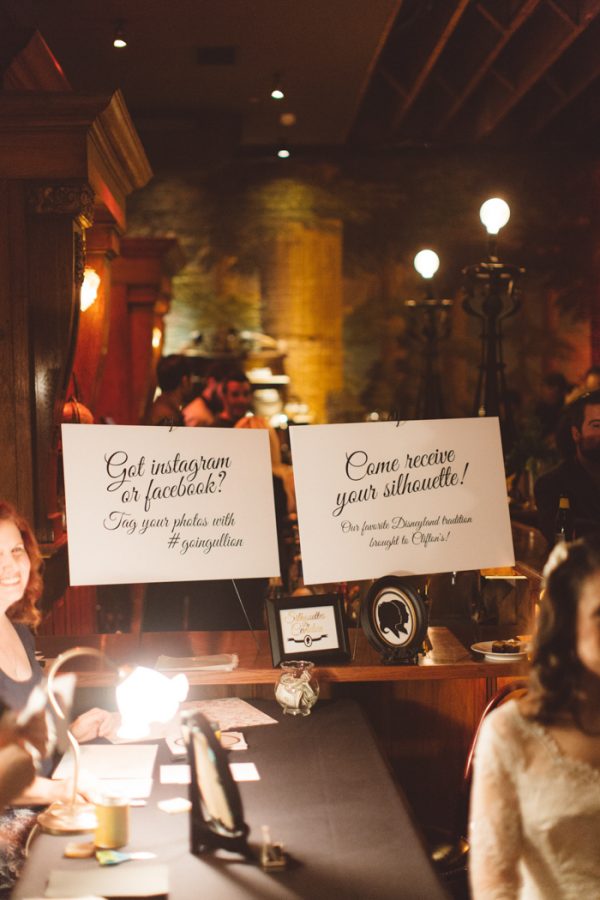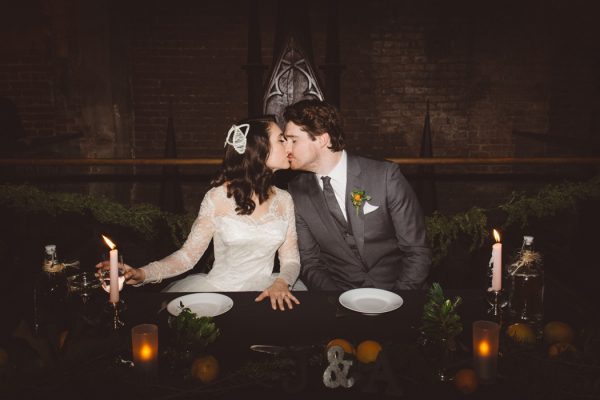 We were pretty insistent that we wanted to EAT during our reception, because that's what we hear people talk about the most that they regret not doing. But when we sat to eat, all we could think of was how special it was that so many people we loved were in this one place with us. We decided it was way more important to be with those people, and use the quick precious moments we had talking to as many of them as possible, instead of eating (other than a bite or two!). And we're so happy we did!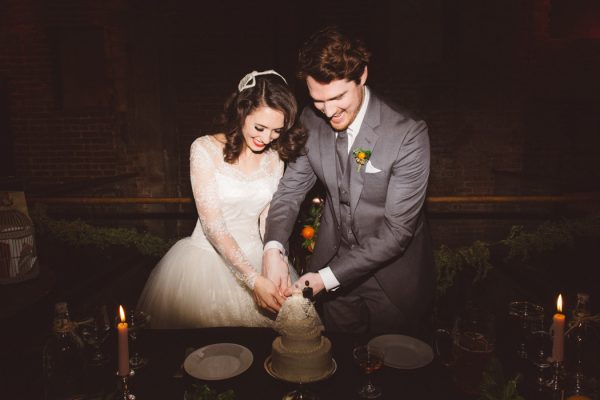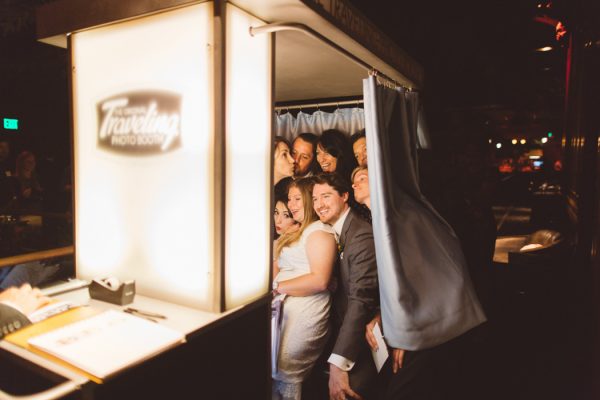 We decided on an alternative favor option. We offered a photo booth (The Traveling Photobooth) and personalized silhouettes (Silhouettes by Candice) that guests could take home and frame. We loved both, and so did our guests! We recommend both highly. And you get to keep copies of the photos and cutouts of your guests as well! We have heard nothing but rave reviews about both since the wedding.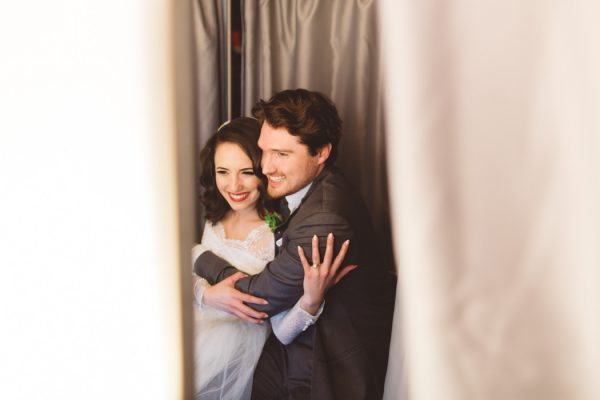 Our advice: Do your best to plan in advance, delegate as best as you can, and try (try! it's so hard) to let go of the rest. It's OK if it isn't perfect. It's life! And your wedding day, at its core, is a celebration of life and a relationship, not how perfect everything is. Easier said than done! Our other advice: plan as much as you can with your partner, and make it a collaborative experience. We grew a lot learning how to prioritize our time, goals, and budget for our wedding. We saw it as a special way to help strengthen our ability to problem solve together. And at the end, we felt like it was OUR wedding, not just the bride's.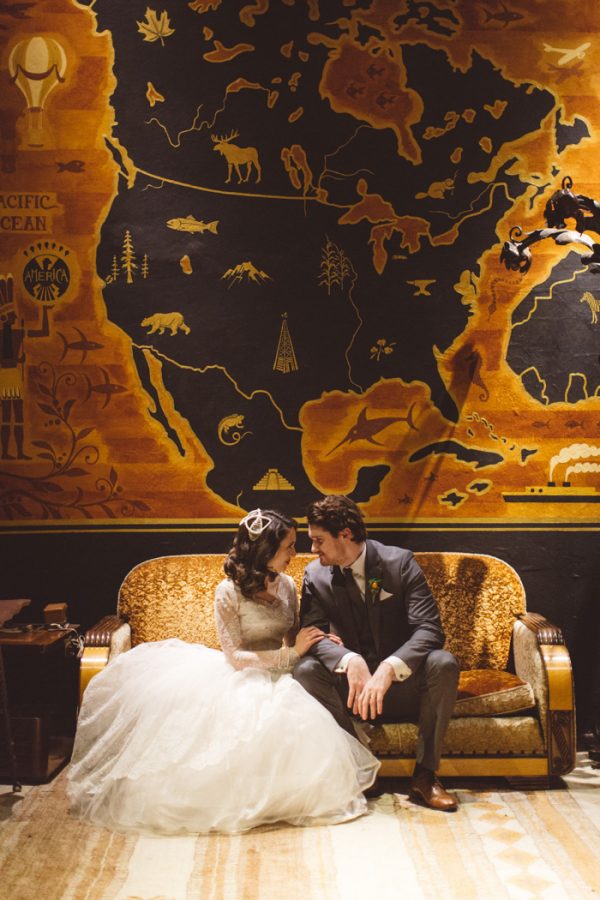 Congratulations to Alyssa and Jesse, and a special thanks to Anna Delores Photography for sharing their gorgeous wedding with us. Want more quirky wedding inspiration? Then you've got to see this quirky retro Banff wedding!