I'm thrilled to share Karen and Francesco's stunning wedding with you today, because not only do we get to look at Junebug member Cinzia Bruschini's dreamy images, but it means we get to take an Italian holiday! The couple's Verona, Italy celebration had all of the quintessential Italian touches…ancient stone buildings, manicured gardens, and urns overflowing with figs, fruit, and flowers. I also love that the couple carefully considered both of their cultures, and brought references to her Chinese heritage into their decor with magpies, representing great happiness, as a lovely repeating element. Enjoy!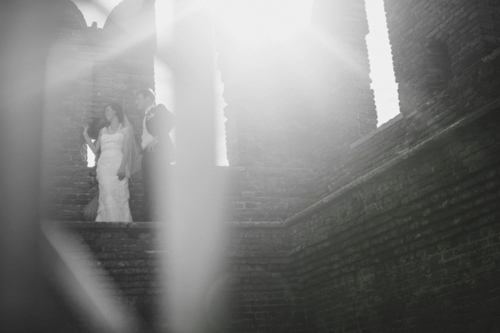 The Couple: Karen & Francesco
Their Verona Wedding: 9.9.12 – Relais La Magioca – Verona, Italy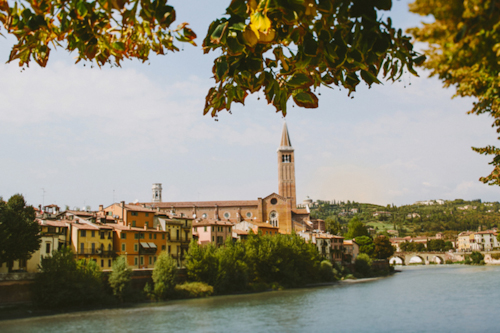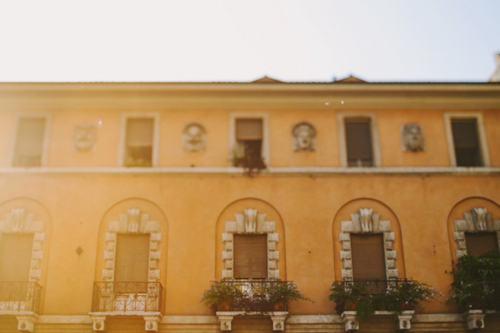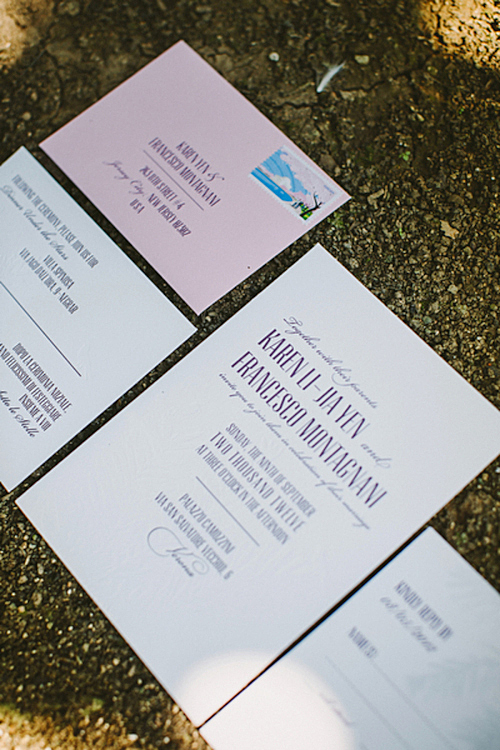 What three adjectives best describe your wedding? Dreamy, festive, personal
What was your wedding color palette? Pale pink, purple fig, and a touch a crimson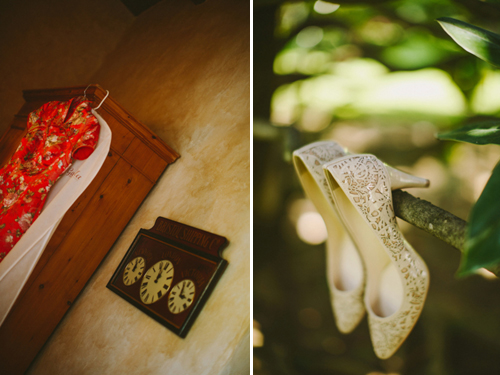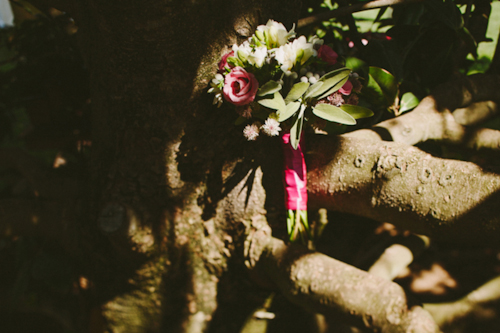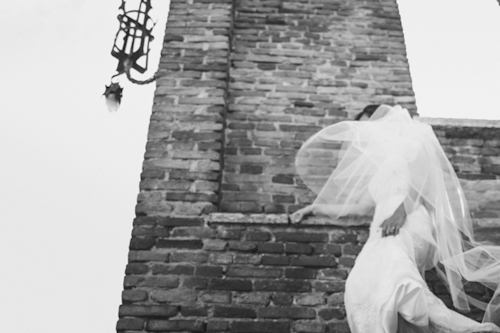 What inspired your personal wedding style, and how did you incorporate your style and personalities into your big day? We knew we did not want a big formal affair, but we went for a more "romantic country home" feel. We decided to get married in Italy, because Francesco's family is there and because we love to travel. We wanted the natural beauty of the setting (what is more beautiful than wine country in Italy?) to set the mood. La Magiocas gardens really didn't need any enhancement, so that made things easier.
Because both of our families love to eat, we spent a lot of time planning our dinner, in terms of the food served as well as the table setting. We went for long wood tables, like a big Italian family dinner. For the centerpieces, I wanted natural-looking centerpieces that incorporated local and seasonal fruits (figs and grapes) with lots of tall skinny candles. We put sprigs of herbs on each plate, which ended up being comically big, but still fit the overall lush garden feel. I have to thank our wedding coordinator, Irene Recupero, who put up with my schizophrenia and helped bring everything together just the way Id imagined.
It was very important to me to incorporate elements of my Chinese heritage into the day. The Chinese use a lot of animal symbolism, for example, magpies represent joy, unity and great happiness. Megan at Ruby the Fox took this idea and created our lovely bi-lingual (English and Italian) invitations, which incorporated the local botanicals and a magpie motif. Two magpies facing each other, mirroring the Chinese character for double happiness, sat atop our programs and menus. For the table numbers, I made miniature hanging scrolls with a traditional painting of two magpies (Double Happines, by Xu Beihong). A well-known poem from the Song Dynasty, Fairy of the Magpie Bridge, about two separated lovers united every year by a bridge of magpies, was pasted to the back of each scroll.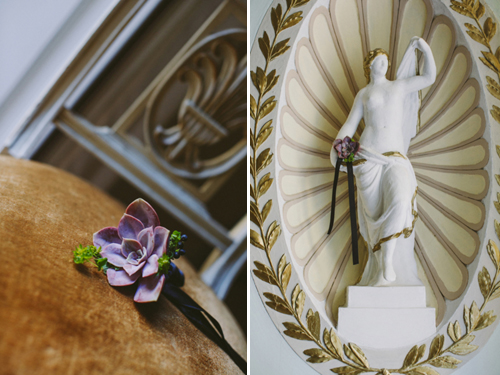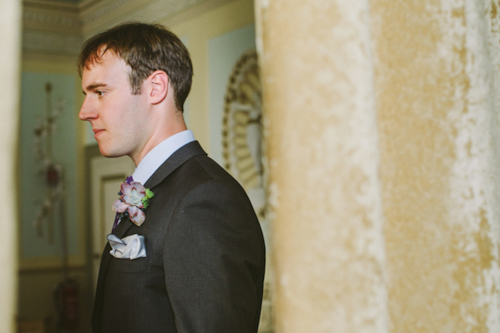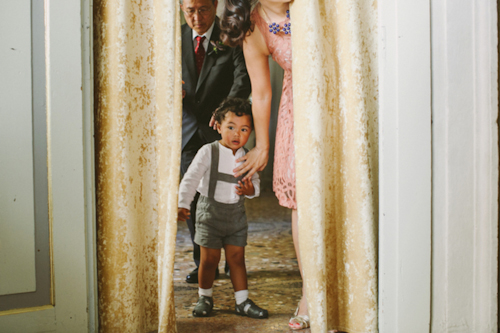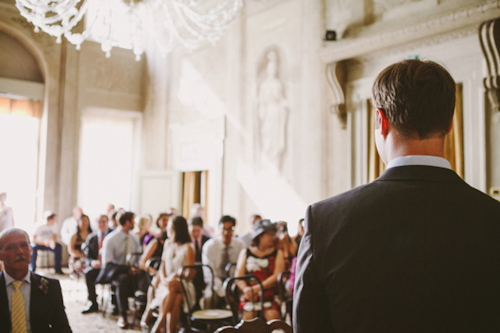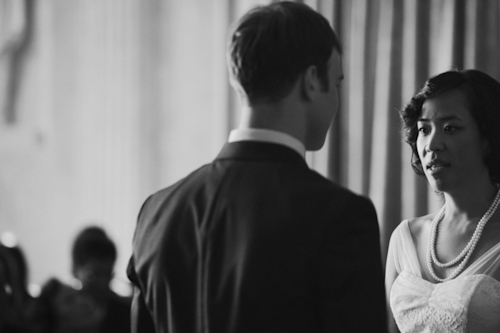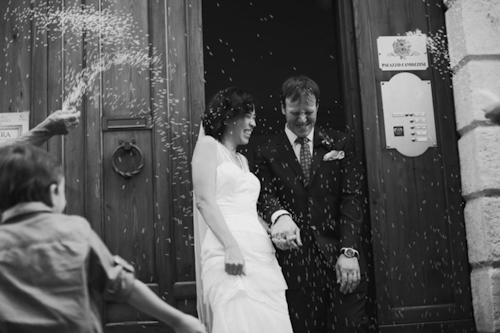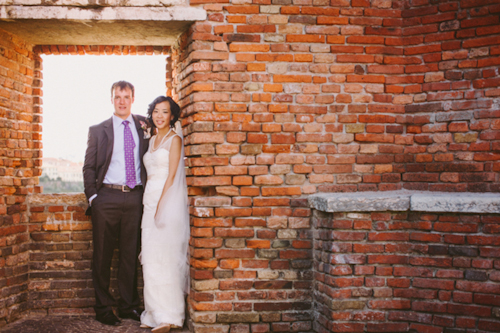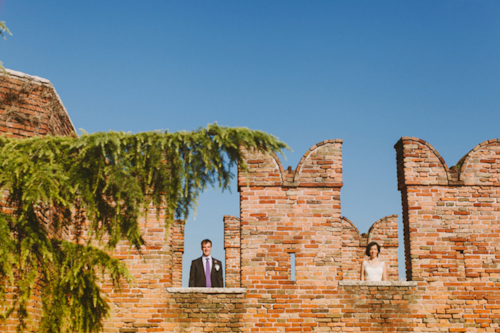 Looking back, what are the moments, decisions or memories that you love the most about your wedding? We were so happy that we ended up hosting the reception at La Magioca, after another venue fell through last minute. It was the perfect setting, truly magical. I knew our guests would appreciate the beauty of the garden, the views of the Valpolicella and the pool-side setting for cocktails and the dance party, all of which were captured brilliantly by our photographer Cinzia Bruschini. Thanks in large part to the hostess and the staff, La Magioca felt like a home away from home.
We were also thrilled to have the ceremony at Palazzo Camozzini. It was nice to have the ceremony away from the reception. I think our guests enjoyed walking (and getting lost) on the old marble streets of Verona. The Palazzo itself is beautifully maintained and has a wonderful historic feel to it. Were also happy that we did the ceremony and readings by our dear friends in English and Italian, so as to include all of our guests.
Another important aspect was the music – we were so honored to have Francesco's brother play the processional for us. I wish I hadn't walked so quickyl down the aisle! I created the playlist for the cocktail hour and dinner hour, and we closed the night with a terrific DJ who had guests of all ages tearing up the dance floor.
By far the most enduring memory we have is feeling incredibly lucky to have such generous and loving friends and family who traveled near and far to be with us. That made the day so special.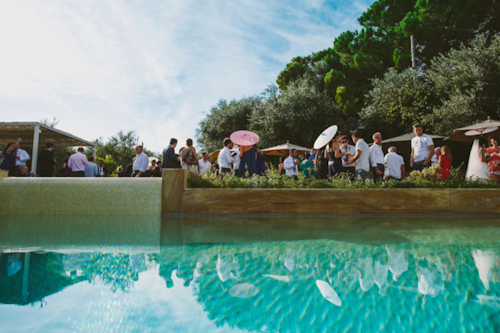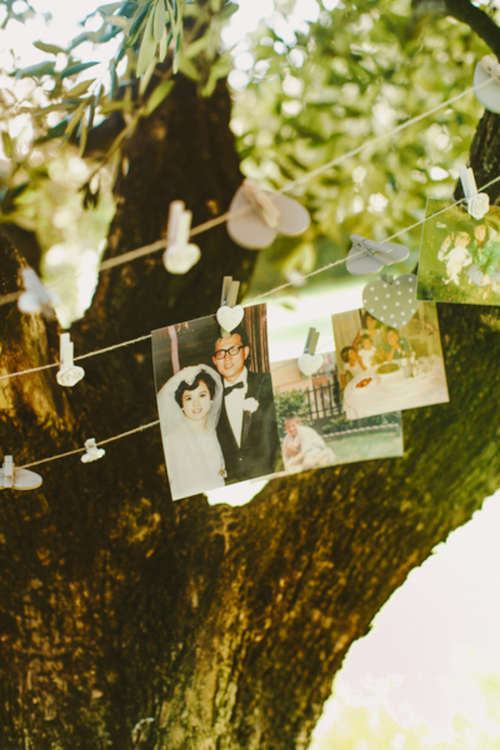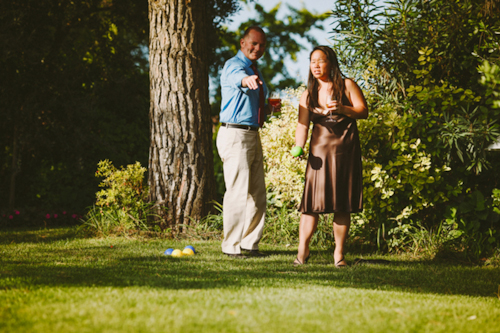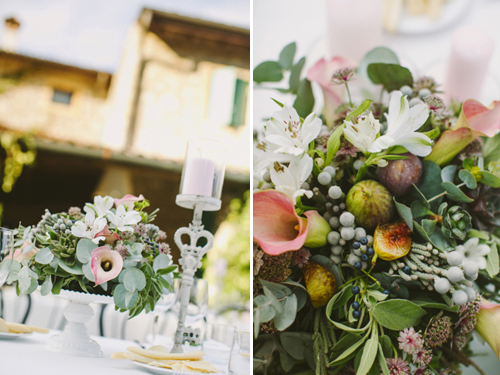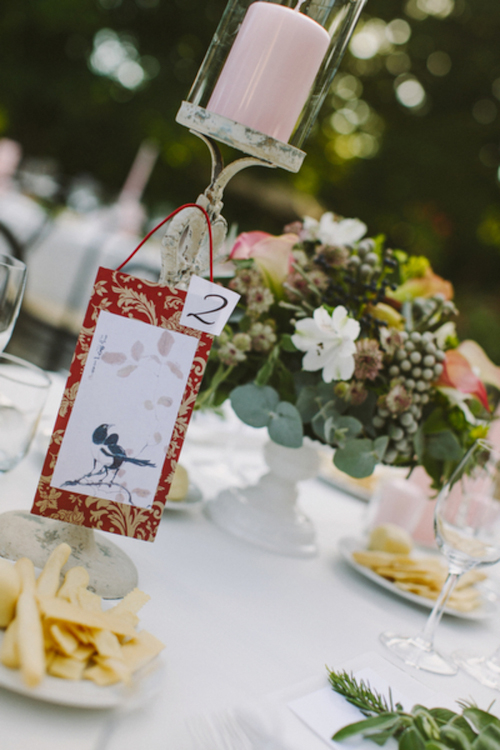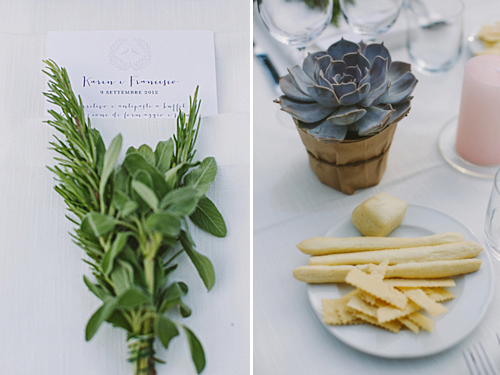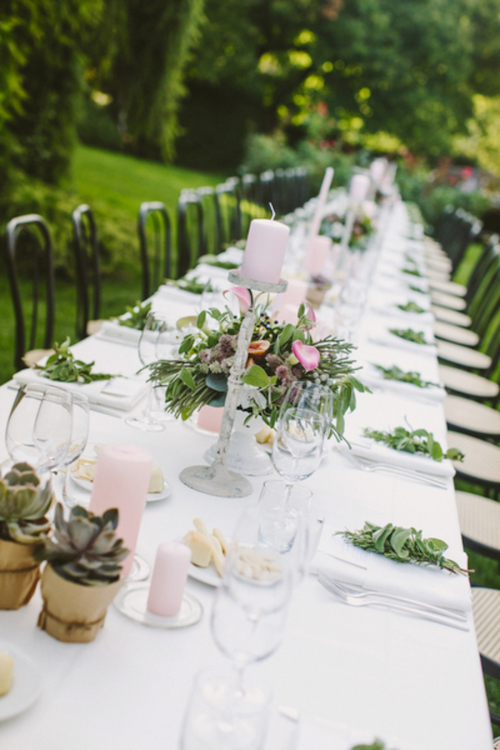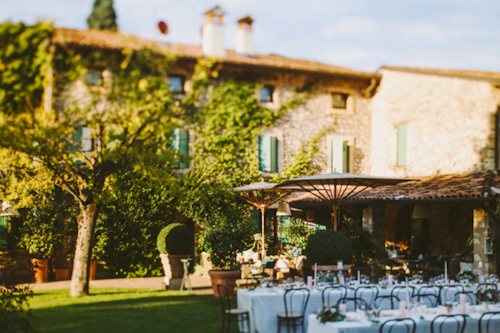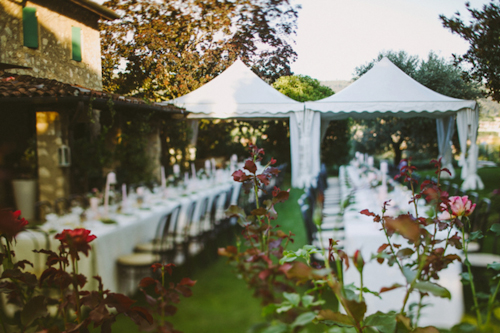 What piece of advice would you give to a bride planning her wedding today? Plan ahead but also take it easy. There are things I should have planned ahead, but when I didnt and the night arrived, I should have just let things go on their own. No bride should spend any minute fretting about details that no one else even notices.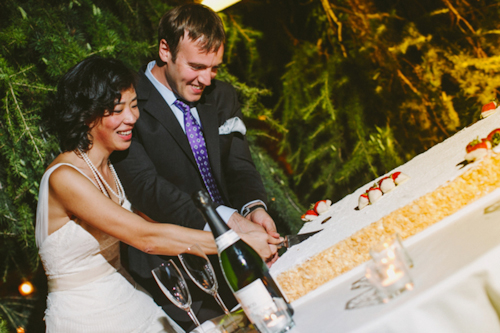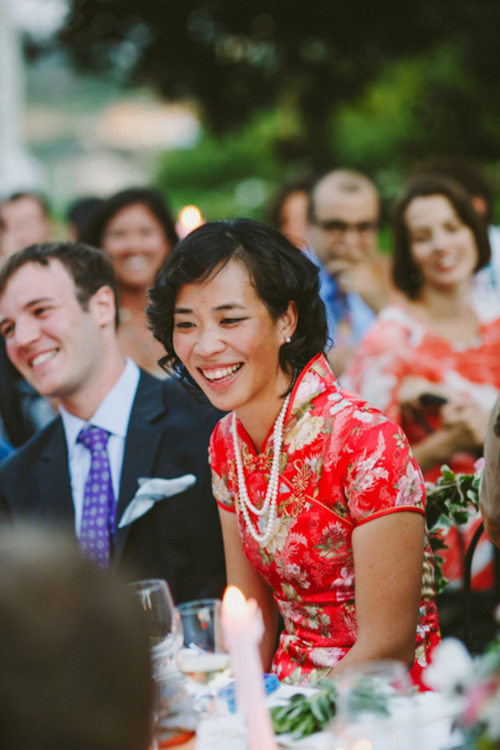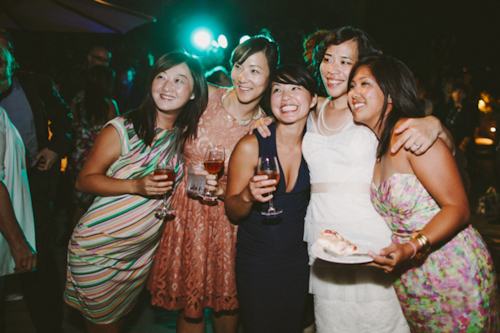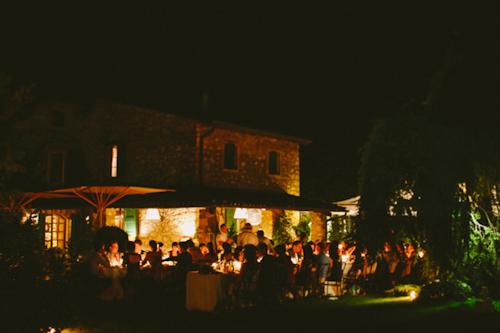 The Wedding Team:
Photographer: Cinzia Bruschini
Event Planner: Irene Recupero; Weddings in Italy
Ceremony Venue: Palazzo Camozzini
Reception Venue: Relais La Magioca
Paper Designer (invitations, programs, menus): Ruby the Fox
Catering: FuoriROSA
Florist: Alessandro; Il Fiore Allocchiello
Wedding Dress: Amy Kuschel; Gabriella New York Bridal Salon
Hair & Make-up: Giulia Bazzani Lucero
DJ: DJ Simone: Alma Project
Live Music: Cristian Montagnani
Favors: Pasticceria Perbellini
Rings: Doyle & Doyle
Thank you, Karen and Francesco, for sharing your stunning wedding story with us!