Blending two cultures seamlessly, Karen and Jorge fused their very different backgrounds into a beautifully cohesive wedding at Sodo Park, Seattle. Creative decor details, fun cultural traditions, and a fantastic toast full of love and support made this urban, Spanish-inspired wedding unforgettable!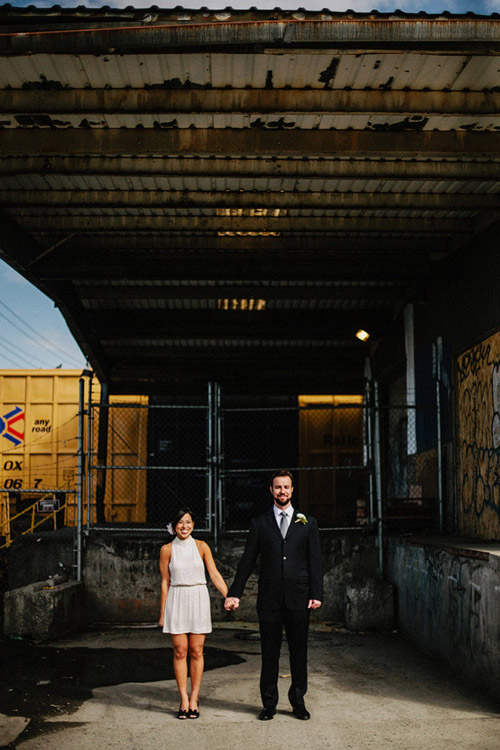 The Couple: Karen and Jorge
The Wedding: 3.24.12 – Sodo Park – Seattle, WA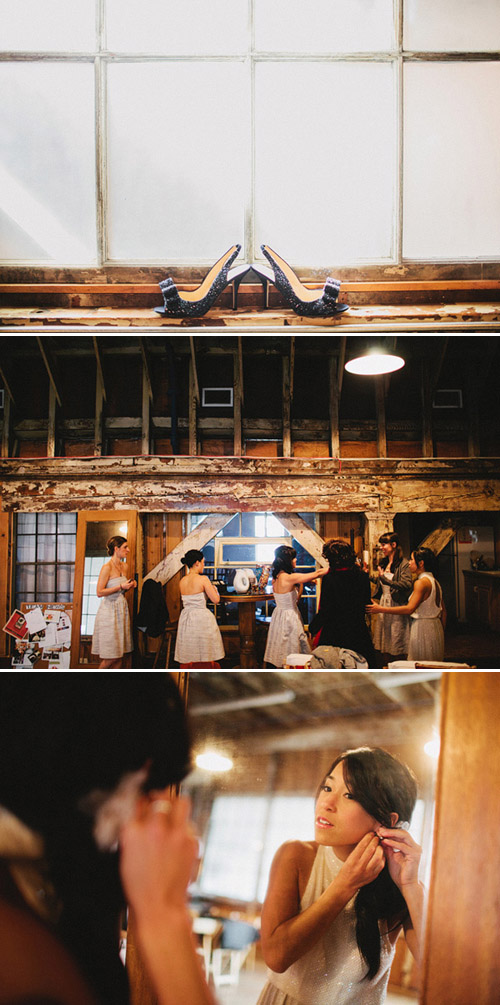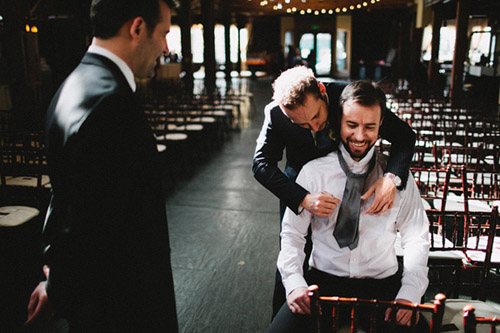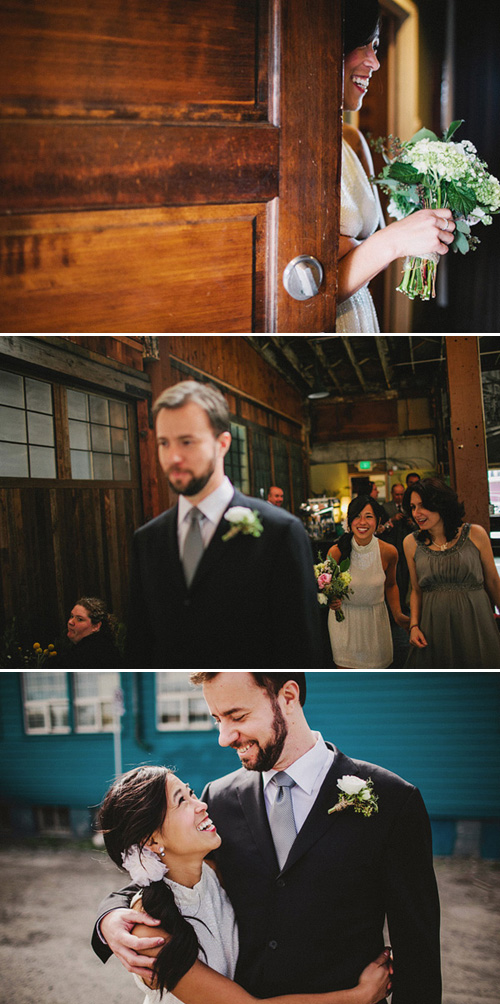 What were the top three priorities for you in planning your wedding? Food, drinks and atmosphere. We focused a lot on the food. Jorge is from Spain and we love the simplicity of Spanish food. Our caterer, Herban Feast, even used one of Jorges recipes for one of the appetizers and found an Iberico ham. It was a hit at our wedding, particularly when the Spanish family had to show the meat cutter how to cut the ham correctly! As for drinks, there was no way we could have a wedding without unlimited beverage options! Also, we wanted our wedding to give our families the opportunity to connect and talk. I have friends from all over and many of them had not met each other. Even our families come from different parts of the world, so giving them the chance to interact was very important to us. We had a buffet to make the serving simple, and to cut down on the "sit down" structure and focus on interacting with other people.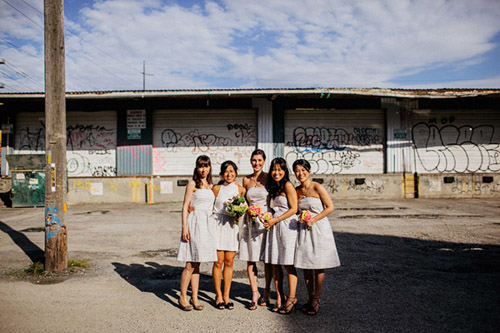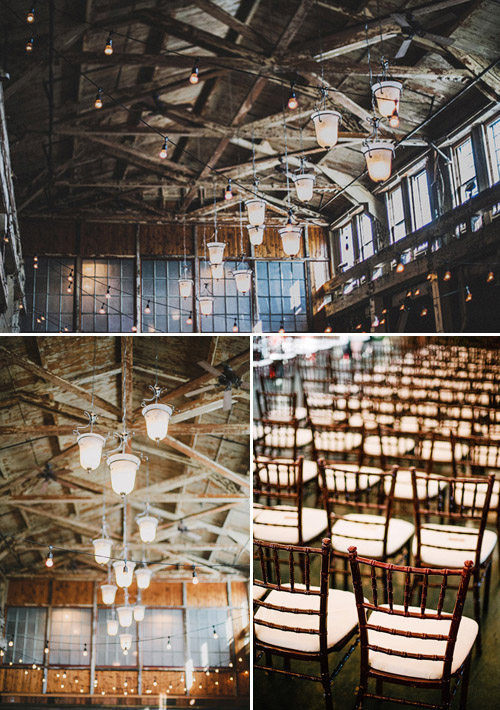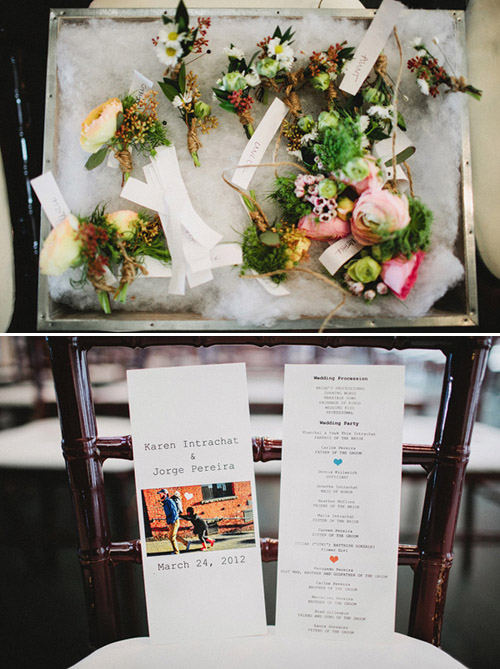 What wedding traditions or cultural traditions did you incorporated into your wedding and what did they mean to you? We did one that was a bit different. In Spain, people often get married when they are younger and need money. Traditionally, they cut the grooms tie and the brides garter belt into pieces and sell them. Money is collected in an empty wine bottle. Since the neck is so narrow, you can only put in dollar bills. We got $100 for a triangle section of his tie!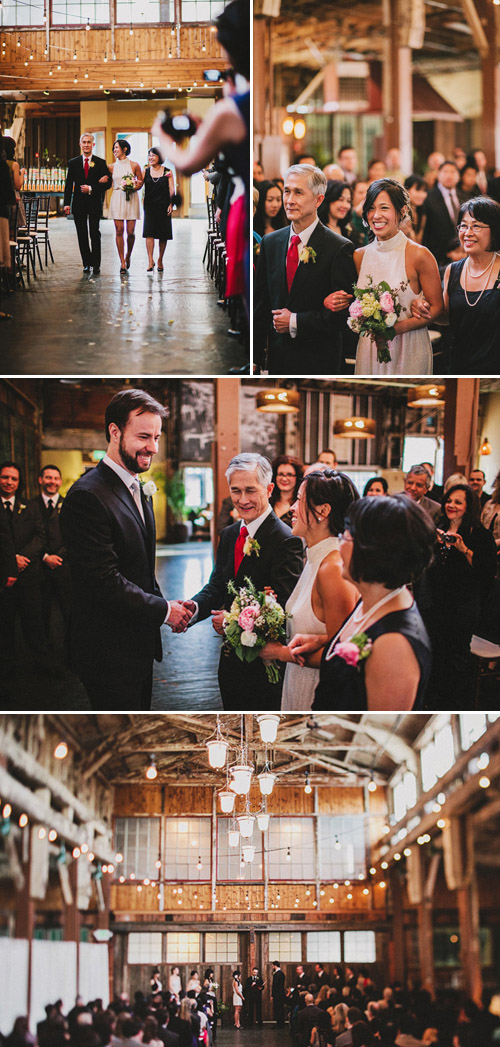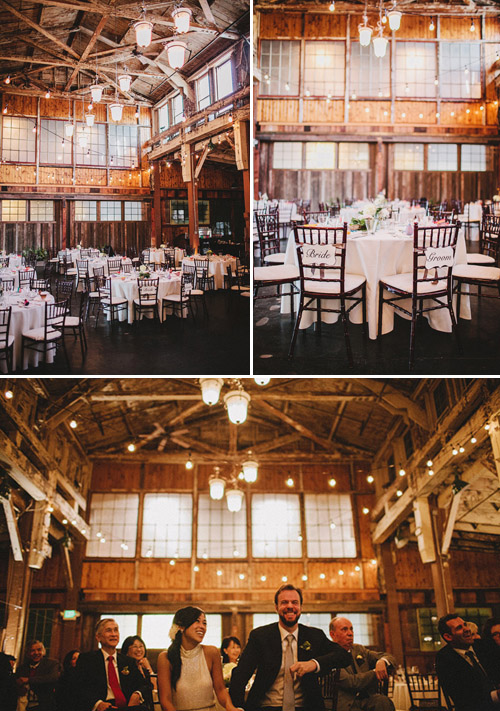 What was your biggest wedding planning success? Our wedding invitations and cake topper. I loved the process! I didnt want a typical wedding invitation and thought of a comic strip book theme. We had about four pages that contained cartoons, which were drawn by Jorge, of the story of how we met to the point where we got engaged. We both made our cake topper, and it matched the cartoon theme. I'm not artistic but this was the first time I felt creative!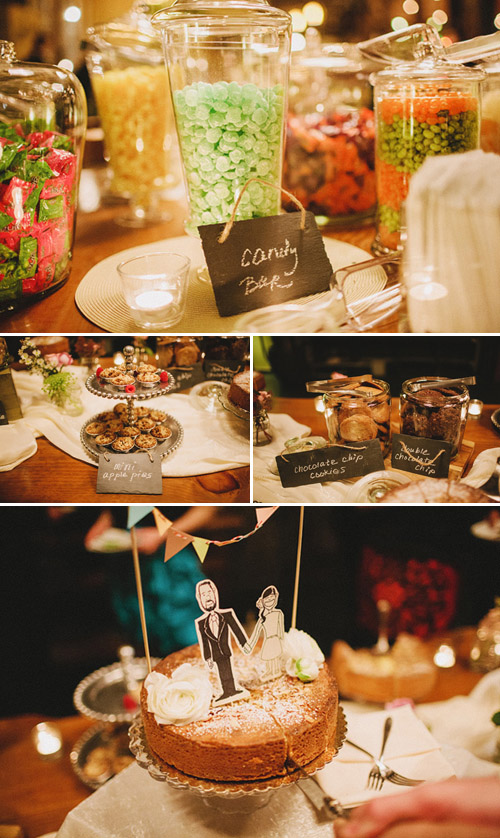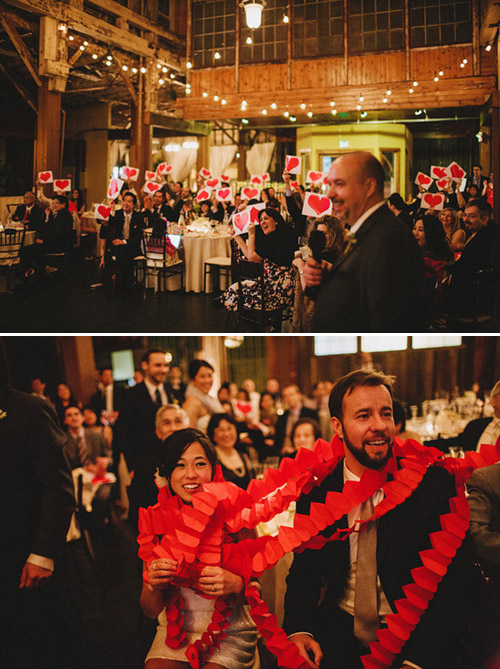 One of the couple's favorite moments of the day was the sweet toast that Jorge's brother, Fernando, put together for them. He involved all of the guests in the surprise, and shared the details with us. From Fernando – Jorge asked me to make a toast and I wanted to do something special for them. I decided to show photos that I got from their families as I was giving my speech, and prepared a video showing congratulations messages from their family and friends. This took more more than 2 months and 250 emails back and forth, contacting family and friends in Spain, Thailand and the US! I also wanted to create an atmosphere of love around them, involving everybody. After the video, I had the wedding party stand in front and lip sync "All You Need is Love" from the The Beatles, while the rest of the guests waved red hearts that we had secretly distributed a few minutes before the wedding. Every table received a pack of hearts with the instruction to waving them at the chorus of the song that would be played later. They even didnt know what was to happen! Then, as a finish, we opened six streamers of hearts and surrounded the couple with them. They were absolutely surrounded by love from all angles! I think they enjoyed it as much as I enjoyed preparing it.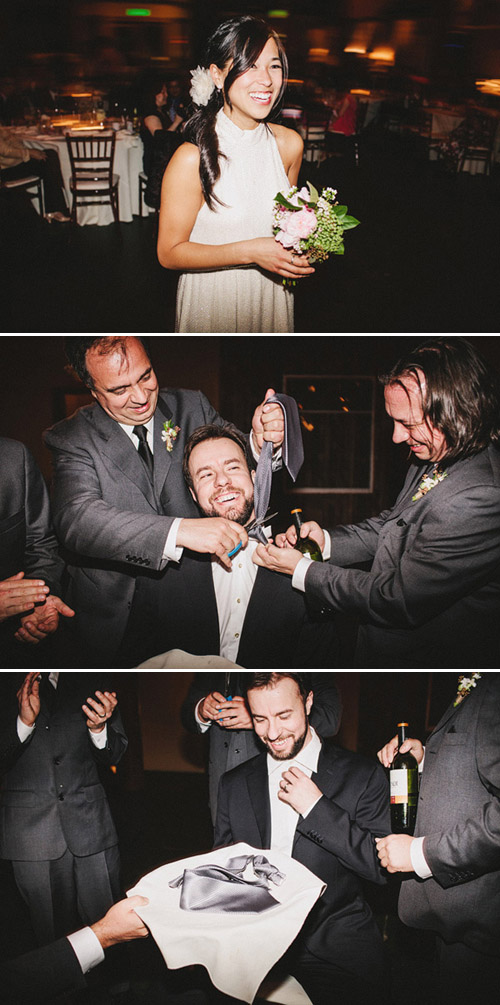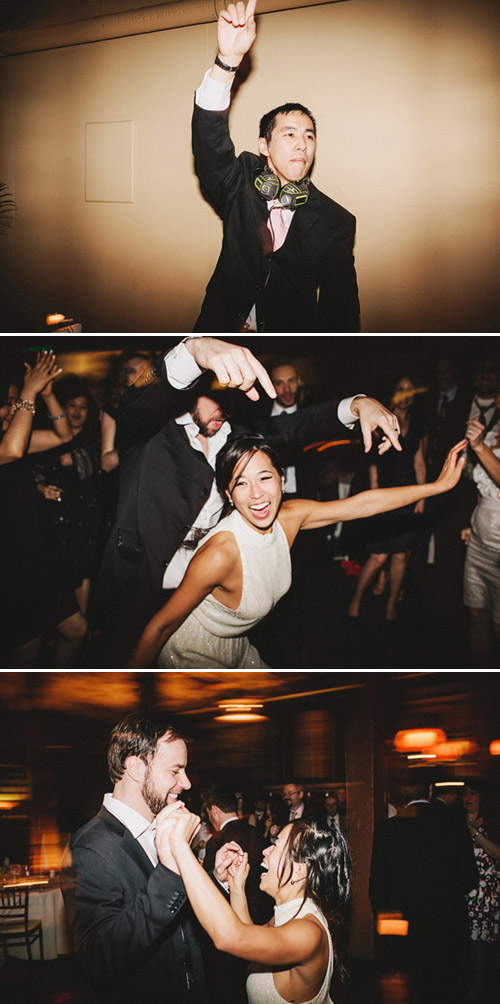 The Wedding Team:
The Photographer: Benj Haisch
Event Planner: Alison Lum
Ceremony/Reception Venue: Sodo Park
Catering: Herban Feast
Florist: Flora Noelle
Wedding Cake: Karen Kros – Ba-Bar
Wedding Dress: Alice + Olivia
Bridesmaids' Apparel and Accessories: Banana Republic
Men's Apparel and Accessories: Groom – Mario's, Groomsmen – Tuxedo Club
Hair and Make-up: Ann Nguyen – Le Salon Rouge
DJ: Chris Lum
Favors: Handwoven satchels filled with candy from Thailand
Wedding Rings: Groom – Turgeon Raine, Bride – Cathy Waterman
Thank you so much Karen and Jorge! What great memories and moments!
Planning a wedding? Check out all the incredible wedding planning experts on our World's Best Planners & Designers Hotlist.