With more and more brides seeking out unique handcrafted engagement rings, we decided it was time to share our favorite spot for handmade and sustainably-made, conflict-free fine jewelry by emerging and established jewelers from around the world. If you've never heard of ESQUELETO, you're going to want to listen up because everything from the designs they carry to the ethos behind their brand is positively stellar.
Whether you're hunting for platinum, silver, or gold, or have your eye set on a colored or classic diamond or even a gemstone ring, ESQUELETO's wide range of talented jewelry designers have created something incredible and unique for every style and price point. We tend to get a little starry-eyed looking through so many beautiful designs so we've rounded up our favorite handcrafted engagement rings by ESQUELETO designers for you!
Handcrafted Engagement Rings from Our Favorite Designers
About the Designer: Adeline Jewelry is handcrafted in designer Lindsay Olson's hometown of Oakland, California. Inspired by the ever-evolving urban landscape, Lindsay's designs embody a rough, geometric aesthetic that is both elegant and timeless. Lindsay named her collection after her great-grandmother, Adele, as a nod to the familial practice of passing down cherished heirlooms. Her intent is to create jewelry that will endure, collecting history as it is worn and loved. Every piece is made in the USA from start to finish using socially and environmentally ethical techniques.
Row 1: Orion Ring | Diamond Kite Ring
Row 2: Rose Gold Saturn Ring | True North Diamond Ring
Row 3: Corona Eternity Ring | Corona V Ring
About the Designer: L.A. native Jennie Kwon launched her namesake line after the birth of her twins, inspired by their perfect innocence and beauty. Her designs reflect the art, natural beauty and southern California style that surround her daily. Each piece is thoughtfully designed to be graceful, balanced and wearable. All of Jennie's pieces are meticulously made by hand in her Los Angeles studio from the finest materials.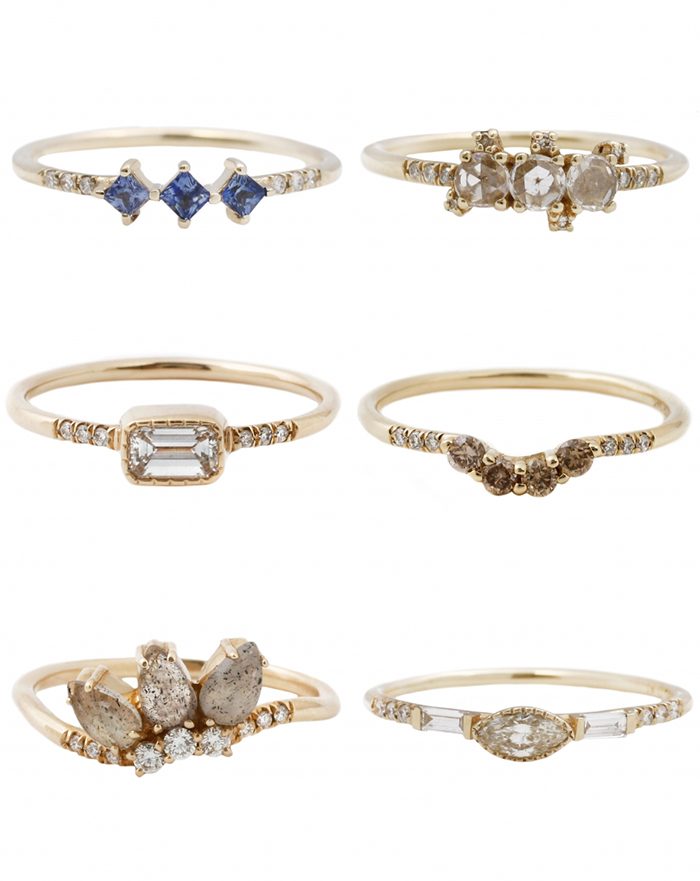 Row 1: Sapphire Harmony Ring | Diamond Equilibrium Ring
Row 2: Emerald Cut Diamond Ring | Arched Champagne Diamond Band
Row 3: Labradorite Fan Ring | Equilibrium Ring
About the Designer: Johnny Ninos received his BFA from the New York State College of Ceramics at Alfred University. Creating jewelry as intimate, wearable sculpture, Johnny is inspired by the delicate and complicated connections and systems found in nature. His current collection, Barnacle, is informed by explorations of intertidal formations and ecosystems found along the California coast. In this series, Johnny explores composition organically and uses his pieces to create simplified examples of the forms, textures, and relationships he observes while on location. All work is handmade using recycled metals and conflict-free diamonds in his Los Olivos, CA studio.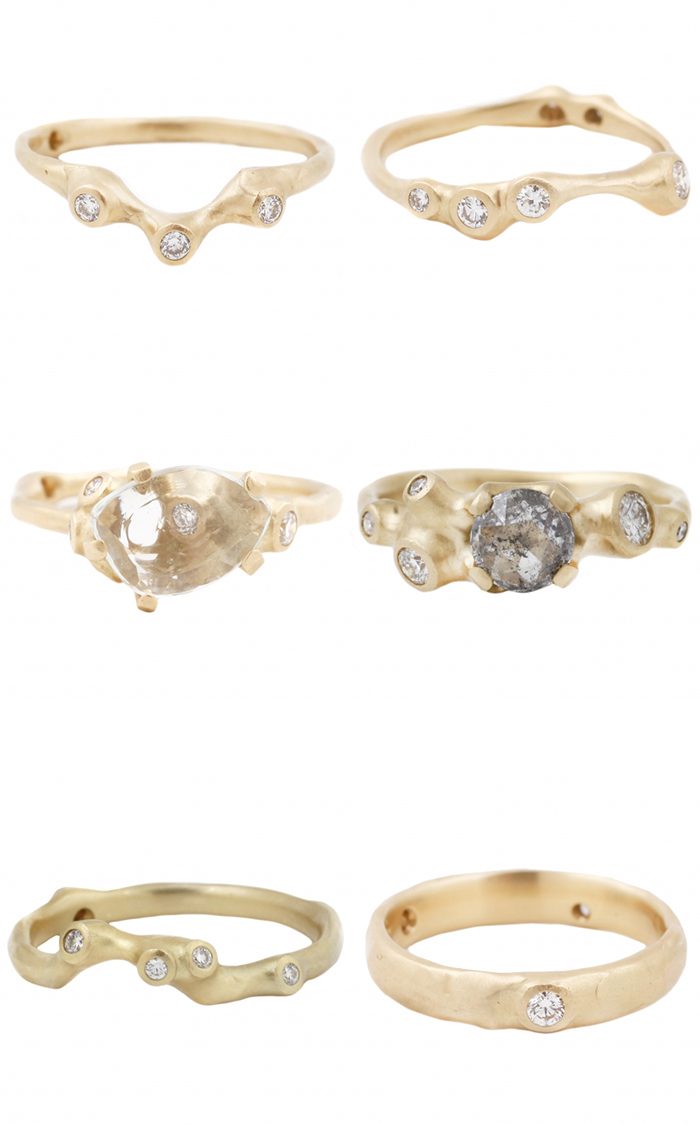 Row 1: White Diamond Barnacle Ring | White Diamond Barnacle Ring
Row 2: Sapphire Slice Barnacle Ring | Stormy Diamond Ring
Row 3: Diamond Barnacle Contour Ring | Mens Organic Diamond Band
About the Designer: Lauren Wolf honed her skills as a jeweler in the mountains of Mexico before launching her namesake line in New York City. In 2010 Lauren relocated to Oakland, CA, where she currently runs her studio and storefront, ESQUELETO. Her work has been featured in W, Elle, BlackBook, Lucky, and Interview, and worn by the likes of Penelope Cruz, Brooke Shields, Debra Messing, and Karolina Kurkova. The collection is carried in over 60 boutiques nationwide. Lauren's love of travel, curiosities, and the natural world continue to play out in her design process.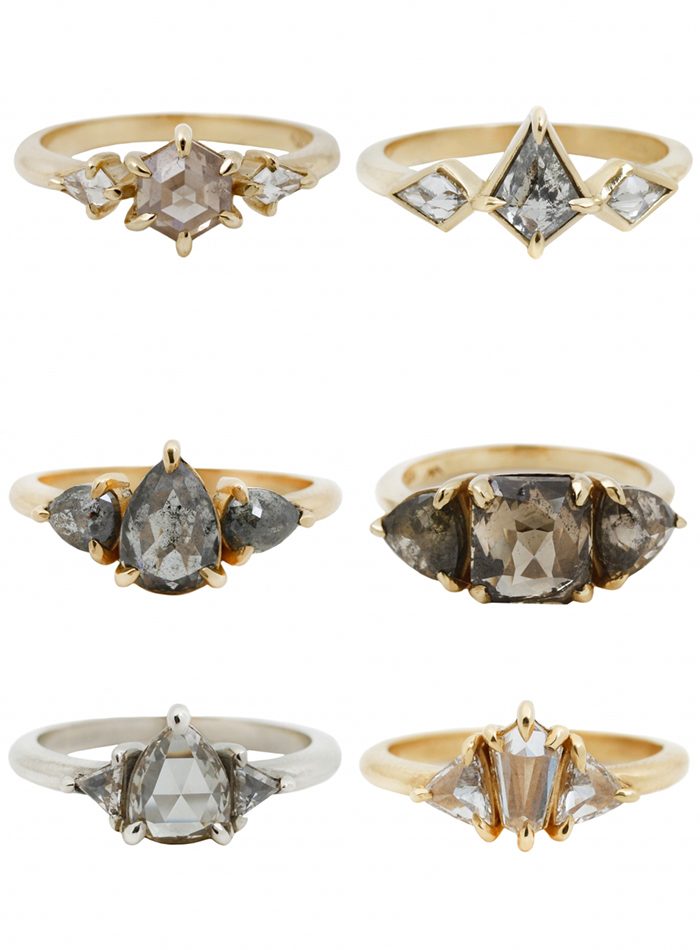 Row 1: Champagne Three Diamond Ring | Kite Cut Three Diamond Ring
Row 2: Three Pear Salt and Pepper Pear Diamond Ring | Cushion Cut Three Diamond Ring
Row 3: Pear Shaped Champagne Three Diamond Ring | Elongated Kite White Three Diamond Ring
About the Designer: Australian natives Melanie Kamsler and Tamila Purvis have been handcrafting dreamy, dramatic pieces as ManiaMania since 2009. Made in New York, the IMMORTALIA collection's delectable champagne and white diamond rings harken to Georgian and Victorian heirlooms while remaining distinctly contemporary. Aptly described as "mystical adornment for modern times," each piece has a story and character all its own.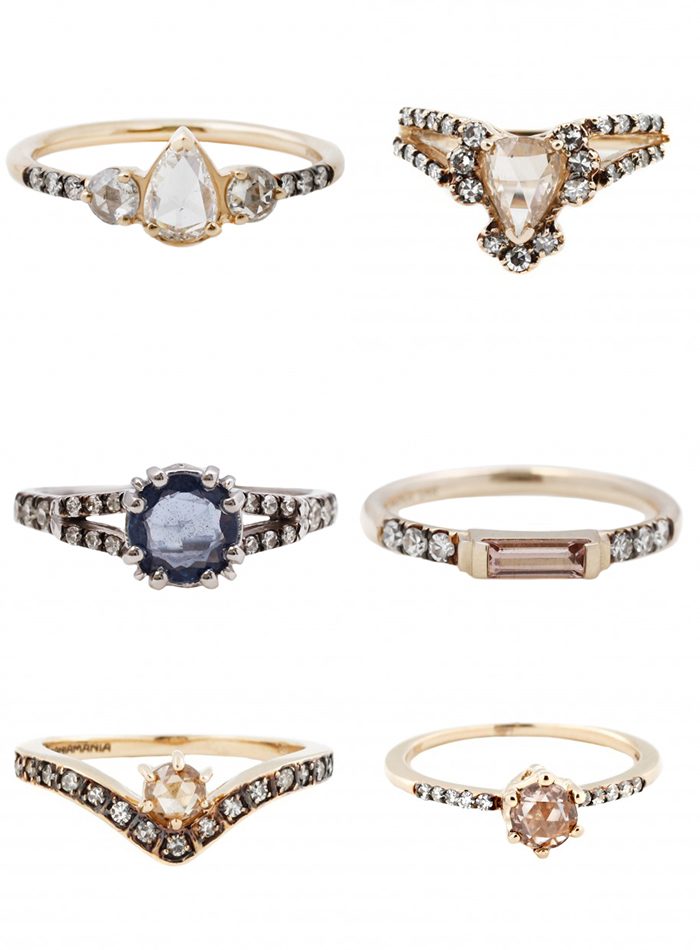 Row 1: Radiance Ring | Ritual Ring
Row 2: Beloved Sapphire Solitaire | Peach Tourmaline Illumination Ring
Row 3: Gold Universe Ring | Entity Solitaire Ring
About the Designer: UK-based artist Polly Wales studied Fine Art and Jewellery at Royal College of Art in London. She creates one-of-a-kind pieces by using a serendipitous approach to lost wax casting techniques, married with the rich colours and beautiful cuts of fine gems. This unorthodox process is unique to Polly and has become her signature style, gaining her international recognition both in major exhibitions and in craft and jewelry galleries.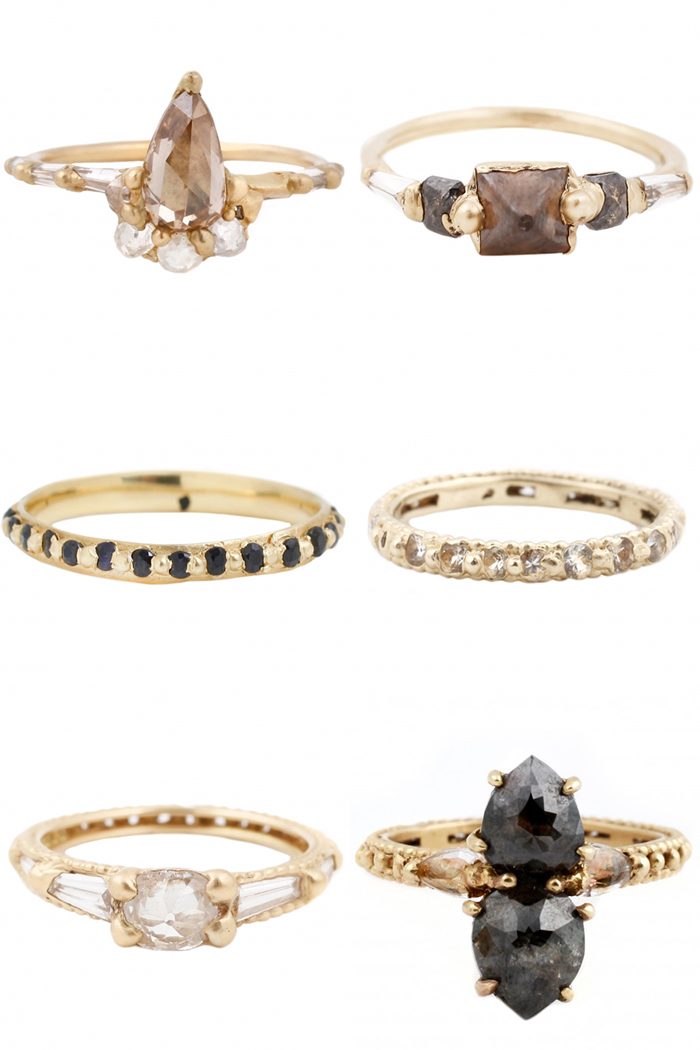 Row 1: Teardrop Halo Ring | Fancy Cognac Pyramid Halo Ring
Row 2: Black Sapphire Eternity Band | Sapphire Rapunzel Ring
Row 3: Coco Royale Ring | Large Black Diamond Beetle Ring
About the Designer: Influenced by natural forms and subtle movements, Rebecca Overmann creates jewelry that expresses clarity, simplicity, and elegance. Her work features striking pairings of yellow gold, rose gold and oxidized silver, with a generous sprinkling of raw, rose cut and fancy diamonds. Each piece is flawlessly crafted and guided by the mindset that less is more.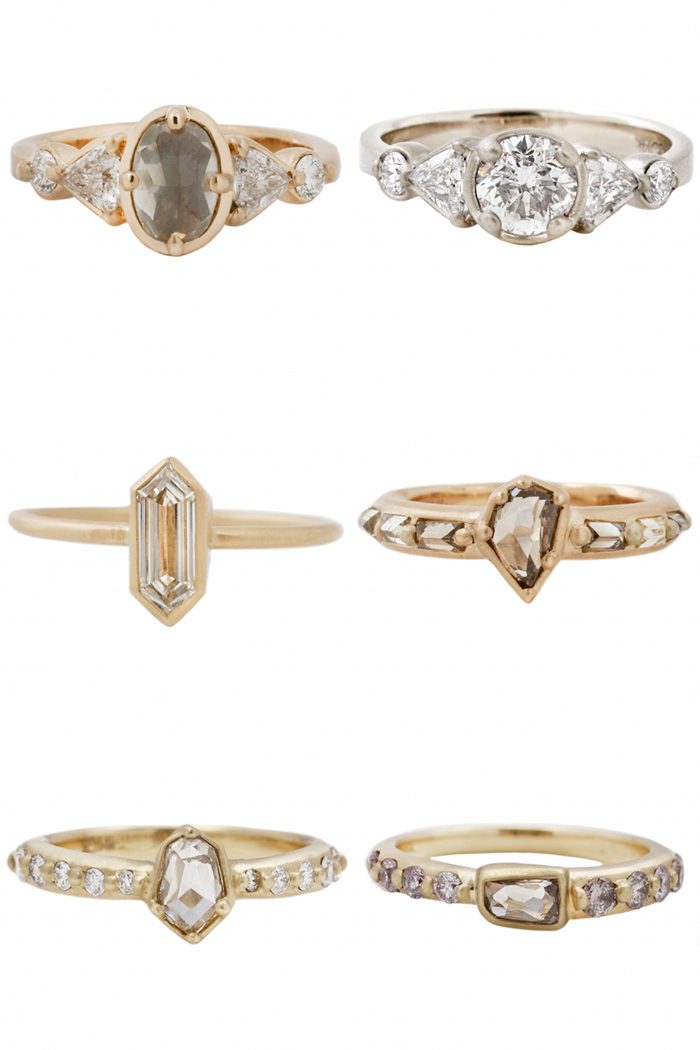 Row 1: 5 Diamond Ring | Six Point Totem Ring
Row 2: White Diamond Solitaire | Rock Diamond Baguette Ring
Row 3: Pavé Bullet Ring | Fancy Purple Diamonds Ring
About the Designer: Since graduating with an MA from London's Royal College of Art in 2005, Ruth Tomlinson continues to investigate the unpredictable and push boundaries of perceived preciousness in her critically acclaimed jewellery collections. She is considered by industry experts as one of the leading influences in the current generation of UK jewellery designers, and her unique designs and luxuriously wearable adornments are conceived with the notion of being treasured forever.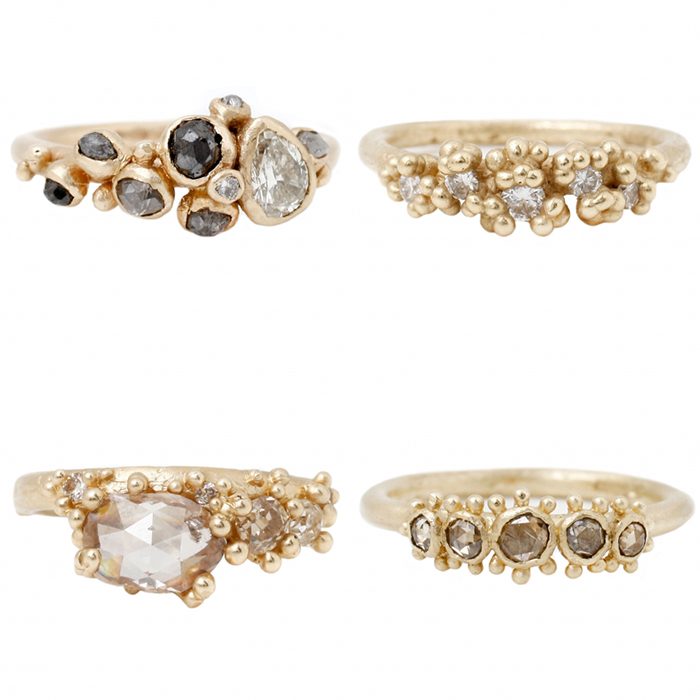 Row 1: Cluster Ring | Five Stone Ring with Granules
Row 2: Champagne Diamond Cluster Ring | Five Stone Diamond Ring
About the Designer: Satomi Kawakita is a jewelry designer and master diamond setter living and working in New York City. Born and raised in Japan, she studied at Saga Art College in Kyoto before moving to the U.S., where she went on to study jewelry making at Studio Jewelers in New York. Satomi found early inspiration in her mother, a dressmaker, and has been drawn to design and the creative process since childhood. In 2008 she launched her first jewelry collection in New York and received almost instant recognition for her unusual sense of beauty and excellent craftsmanship, which is displayed in all of her work.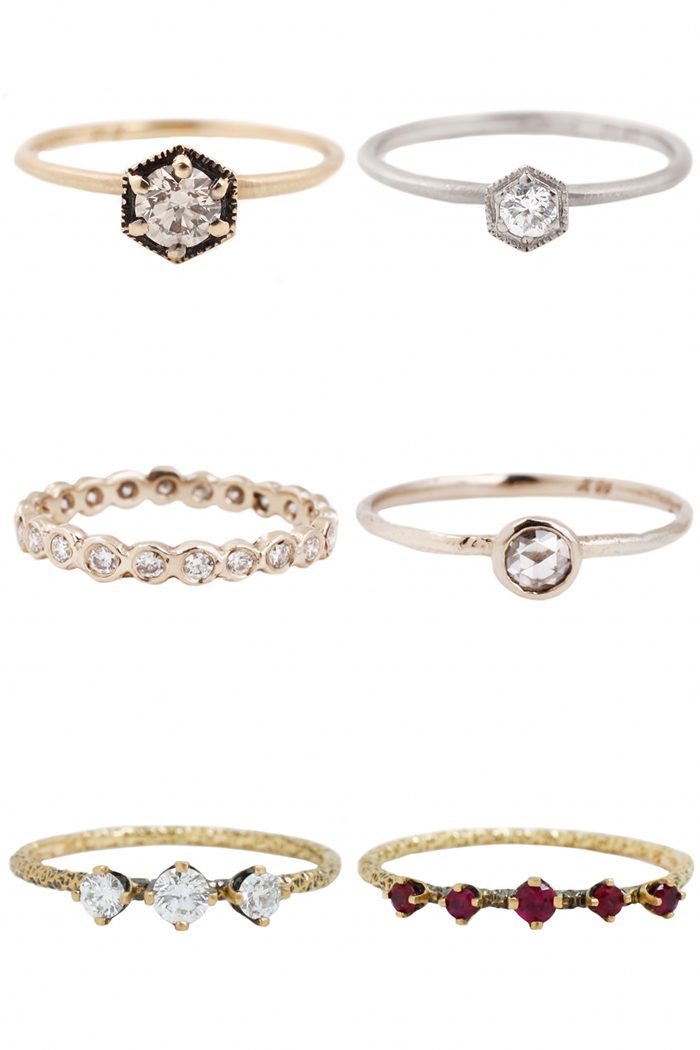 Row 1: Hexagon Brown Diamond Ring | Platinum Hexagon Ring
Row 2: White Diamond Circle Eternity Band | Diamond Circle Ring
Row 3: Homespun White Diamond Ring | Homespun Ruby Ring
Love the idea of handcrafted engagement rings but want something one-of-a-kind? ESQUELETO will work with you through a collaborative process to create a custom engagement ring that brings your wildest dreams to life!