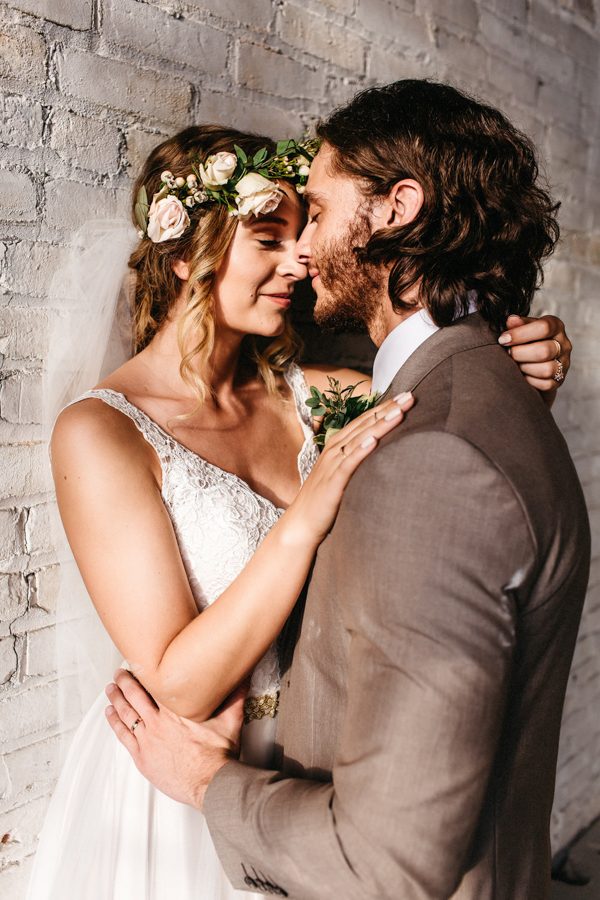 With the help of whimsical décor, an industrial venue, and a seriously gorgeous flower crown, Samantha and Kyle's Toledo wedding was the modern woodland event of their dreams! The couple wanted to keep their wedding's vibes relaxed and casual, so they hosted their low-key day at Rustbelt Coffee, a coffee shop that doubles as the perfect industrial event venue for weddings. Samantha's tulle gown with a crochet top and elegant flower crown were the perfect complements to her ethereal woodland style. We love the creative first look that photographer Eastlyn Bright captured at this stunning wedding!
The Couple:
Samantha and Kyle
The Wedding:
Rustbelt Coffee, Toledo, Ohio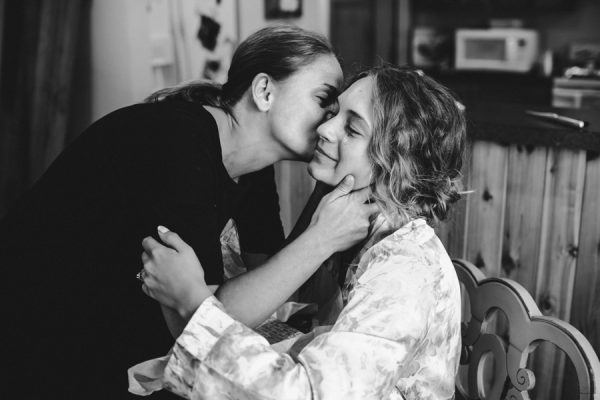 On the morning of the wedding one of my best friends and bridesmaids came upstairs to wake me up. In her hand she held an envelope which had "you make my heart smile" written on it and her computer. All she said was, "I have a delivery," then set both objects down in front of me and walked out. First I decided to open the envelope and in it was a good morning letter from Kyle. Tears began to flood my eyes as I then played the video titled "428 days and counting.." The video started with the day that Kyle and I officially started dating – throughout our relationship Kyle and I loved to record videos of one another as a way to keep the moment alive in our memories. So here I was on the morning of our wedding watching all of the special memories we have made together up to this day – my happiness couldn't be contained and it came out through lots and lots of tears.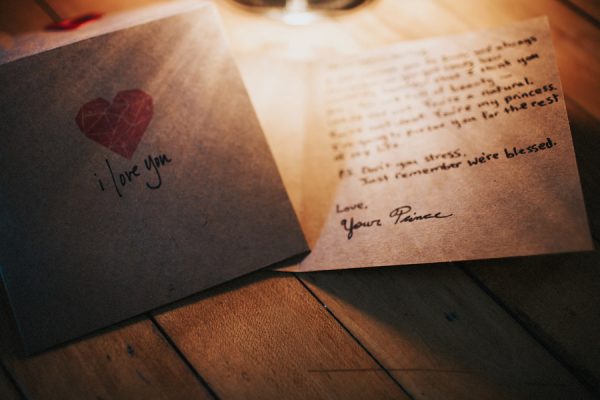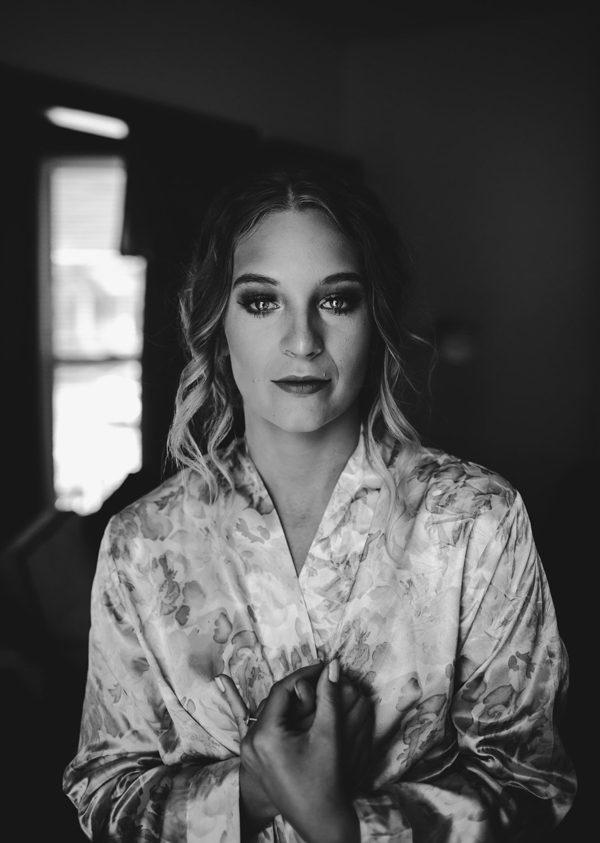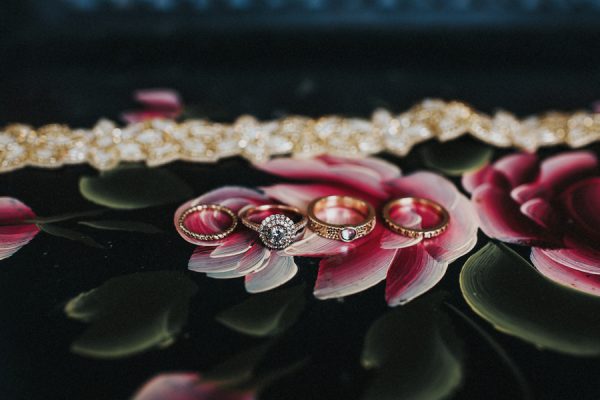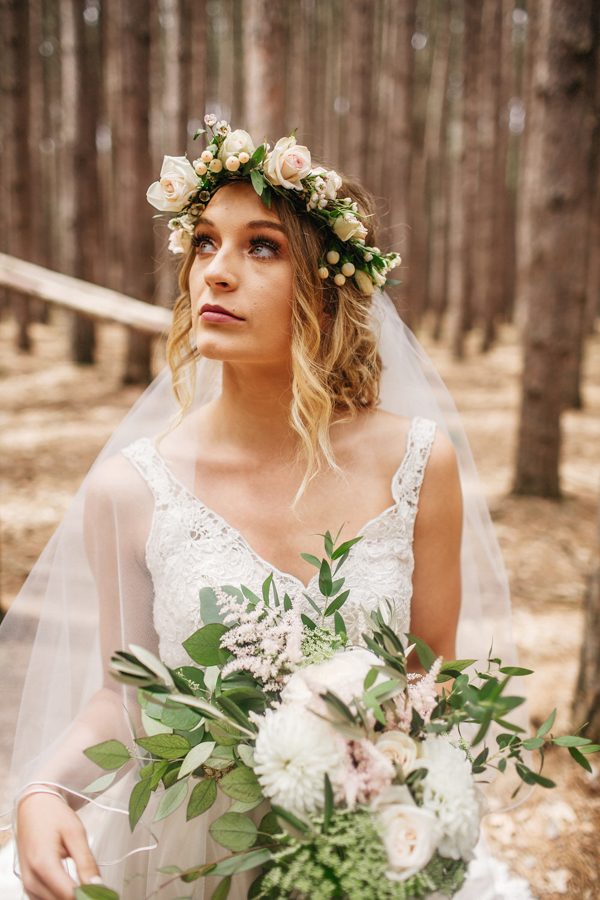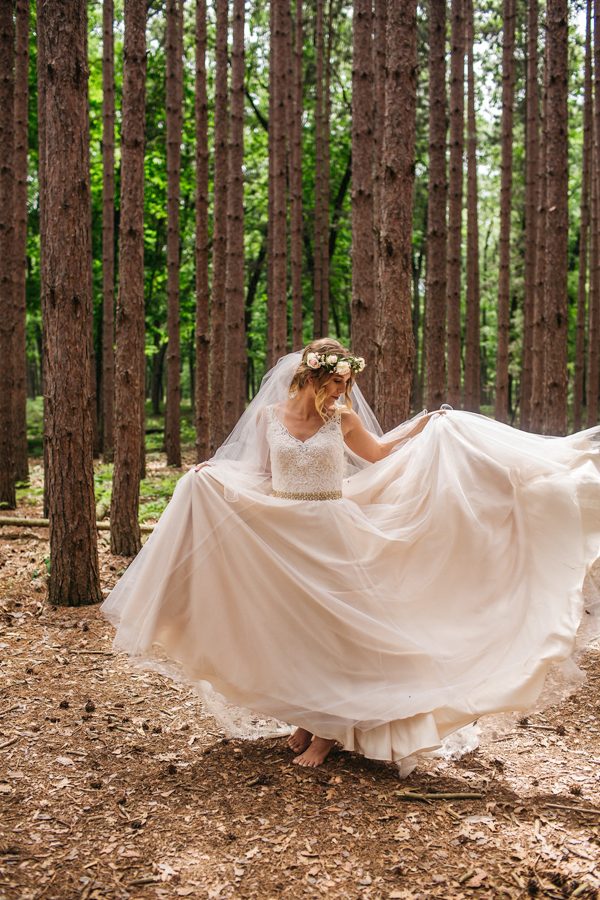 For both of us, the most memorable part of our day was seeing one another for the first time. Before the wedding we agreed that we didn't want Kyle to see me until I walked down the aisle; however, we still wanted to get pictures before the ceremony in the same spot he asked me to be his girlfriend and his wife. In order to do so, we had Kyle's best man lead him into the woods where I stood there waiting to see my groom for the first time.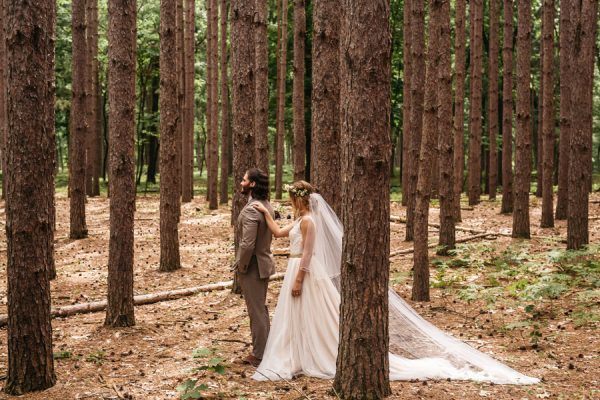 They turned Kyle's back towards me so that I could see him, but he couldn't see me. The moment became so surreal as I stood there facing my husband to be for the first time on our wedding day. All of the nerves faded away and the only thing I could thing I could think about was my excitement to spend the rest of my life with him.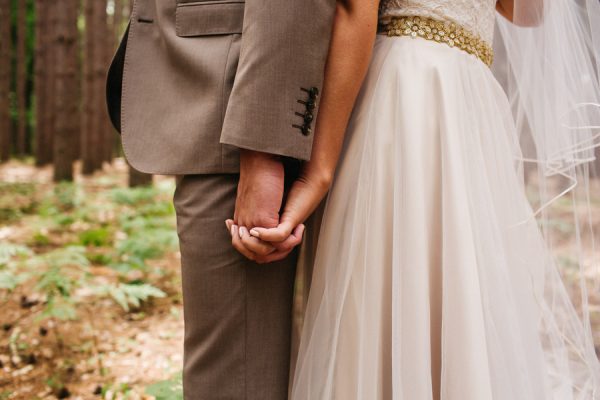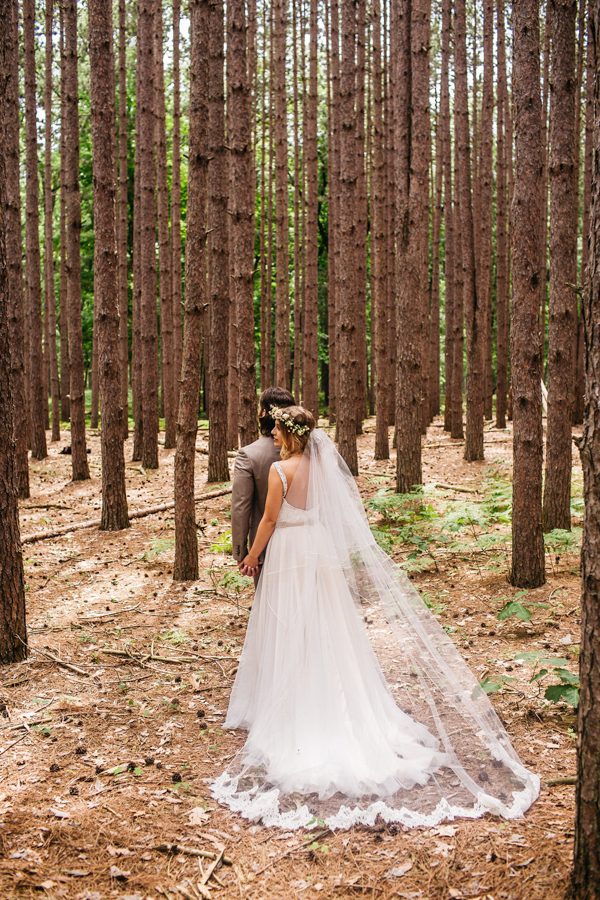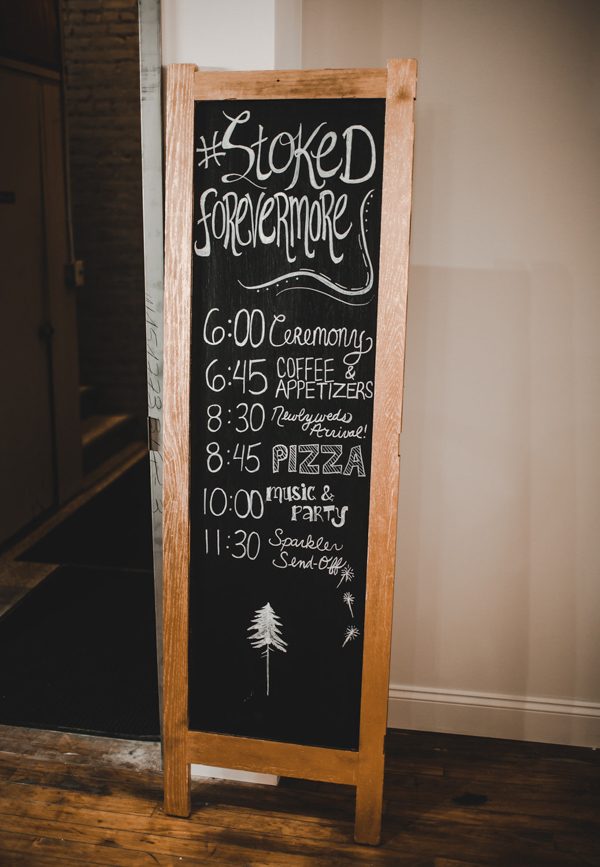 We wanted everything about our wedding to be unique and true to who we are. Getting married in a traditional church is great, but it's just not our style. It just so happened that our ceremony and reception were in the same building, but different floors. The building was an old warehouse and the first floor was turned into a beautiful coffee shop, "Rustbelt Coffee and Cream Living", while the second and third floors remained vacant. Everything about the second floor was what we wanted for our ceremony: the wooden floors, the shabby windows, the industrial atmosphere – it was a dream! This was the perfect place to have our ceremony because not much work needed to be done to make it beautiful, all of the beauty came from the imperfections of this building.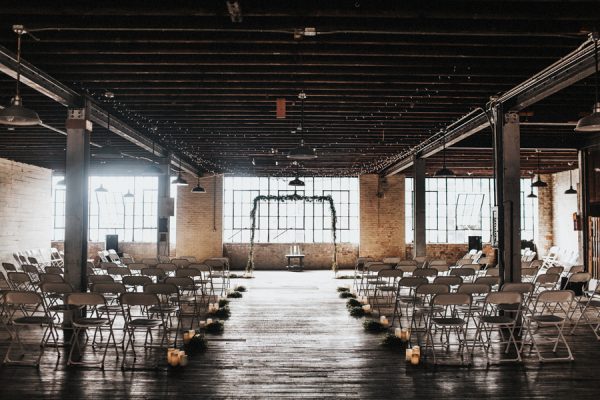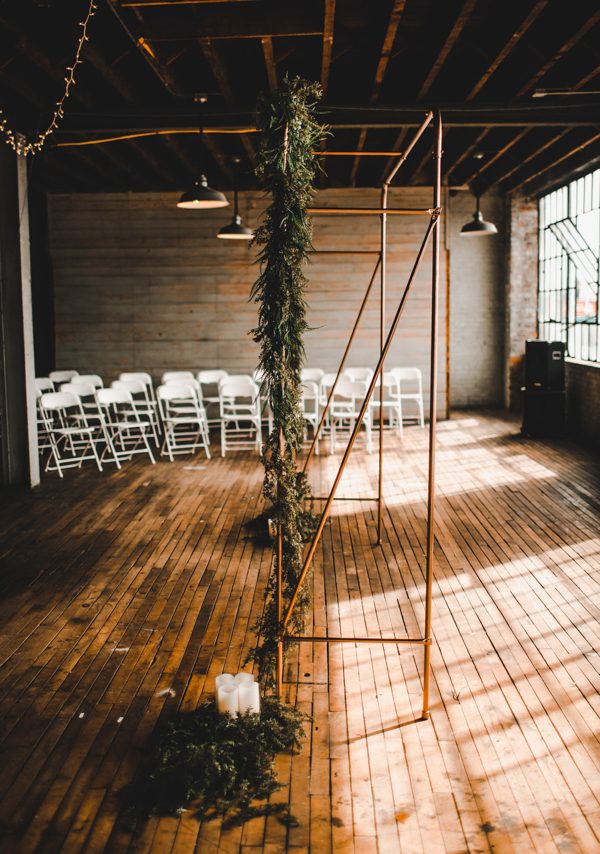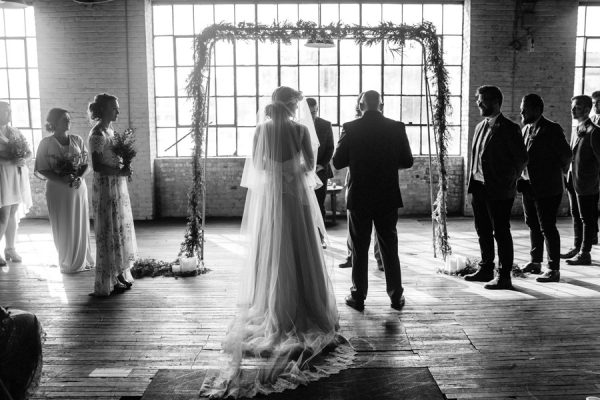 As I turned the corner to walk down the aisle we made eye contact for the first time on our wedding day and an overwhelming joy captivated us. Looking into the eyes of the one you most dearly love on that special day is like nothing else, it will forever be in our minds.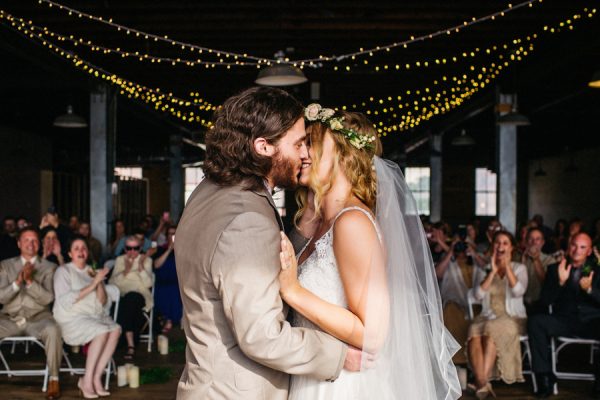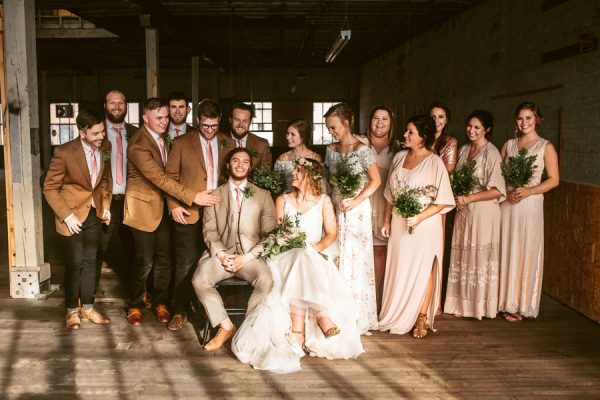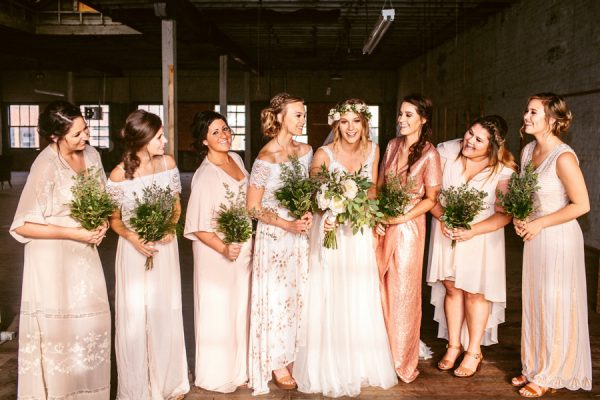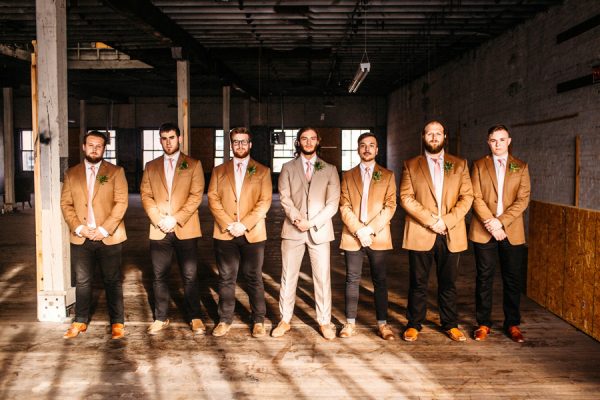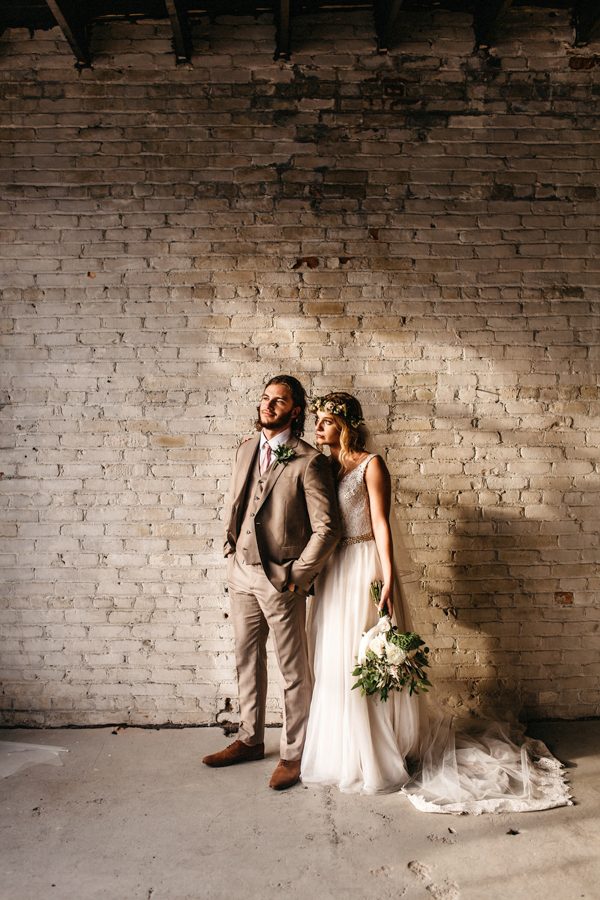 Our advice: Be true to who you are as a couple and incorporate those things into your special day. Remember: the most expensive thing isn't always the best thing! Don't allow yourself to be stressed out over the little details that most people may not even notice, but keep the bigger picture at the forefront of your mind. This day will be about your journey together hand in hand and side by side – the last thing you want is to look back on this day and only remember the amount of time you wasted being stressed. Also, don't be afraid to let go of tradition on your wedding day; because the wedding isn't about what everyone else has done, it's about what you want to do.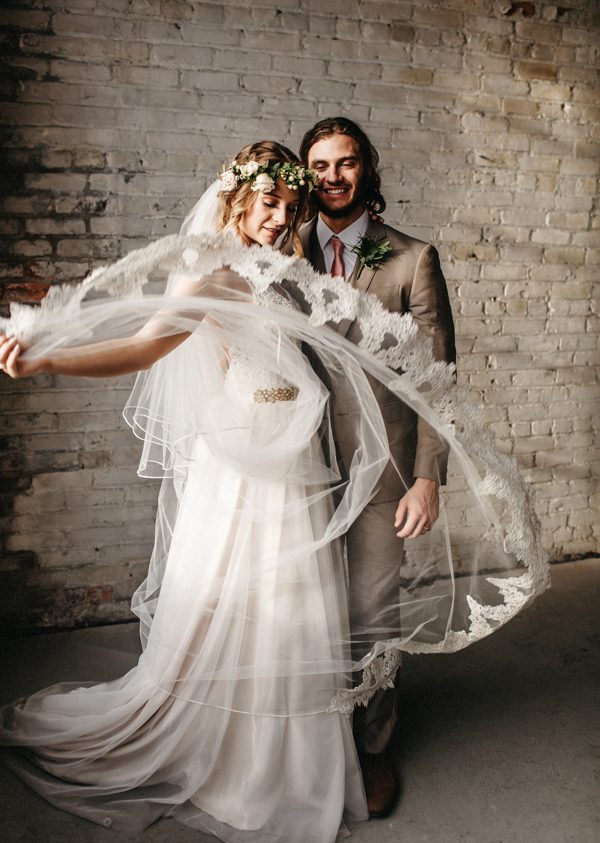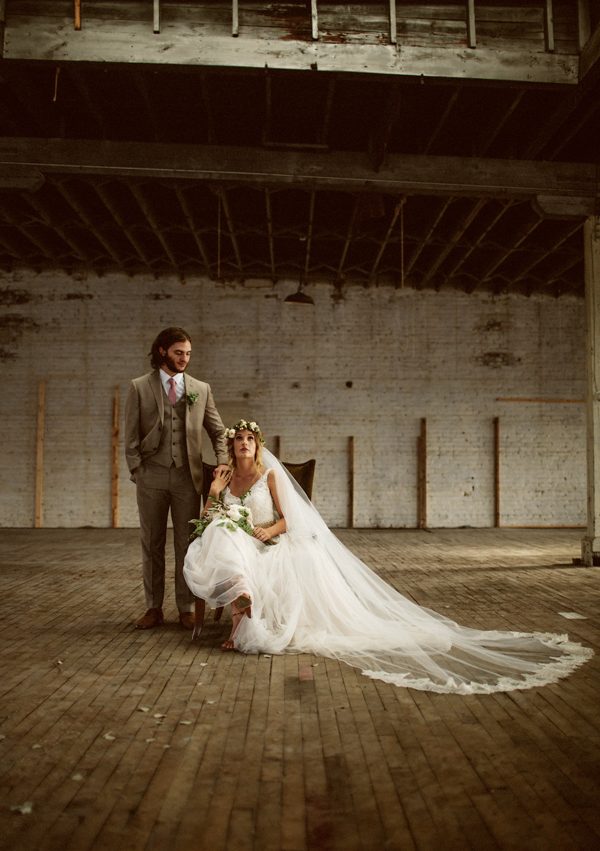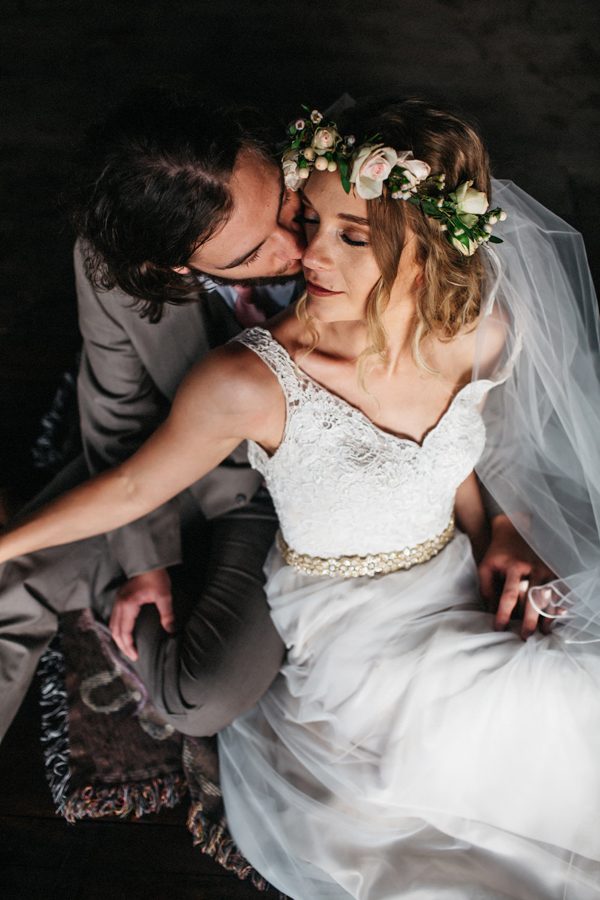 We chose to have the reception in Rustbelt (on the first floor) because everything about it was unique. It continued our industrial vibe, while at the same time gave our guests a relaxed atmosphere to mingle and celebrate this day with Kyle and I. We wanted the reception to resemble a cocktail party, but instead of cocktails we had coffee! This venue gave us the wedding of our dreams!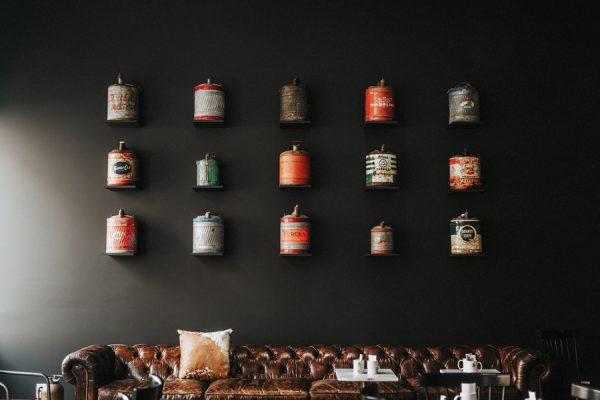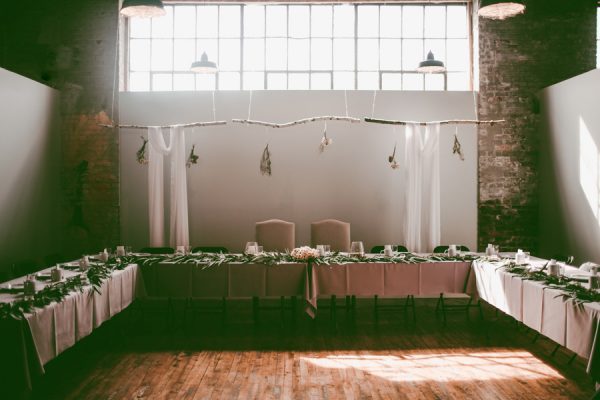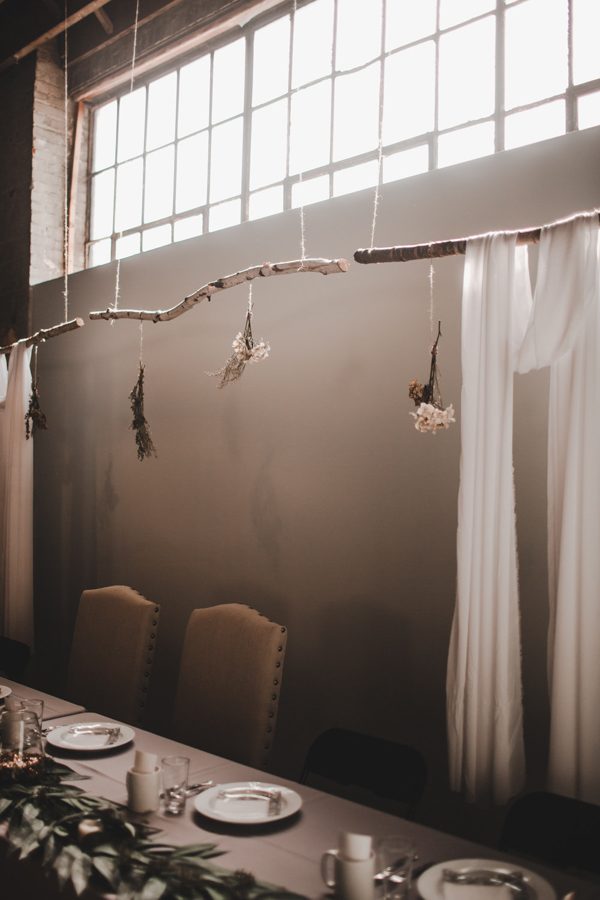 As stated before, our desire was to have a relaxed wedding. We didn't want to have "formal dining", so we chose to have pizza at our wedding. Everyone loved it and said it was one of the best meals they've ever had at a wedding! Who doesn't LOVE pizza?!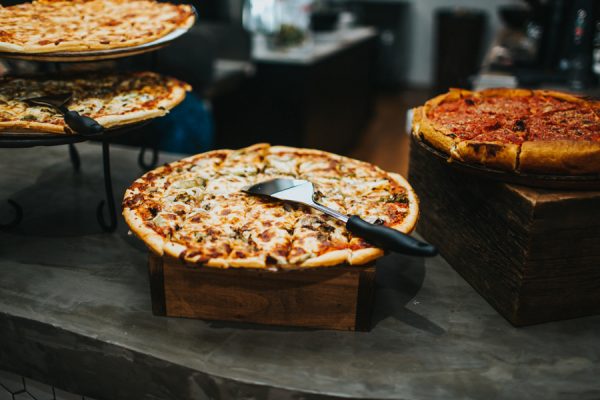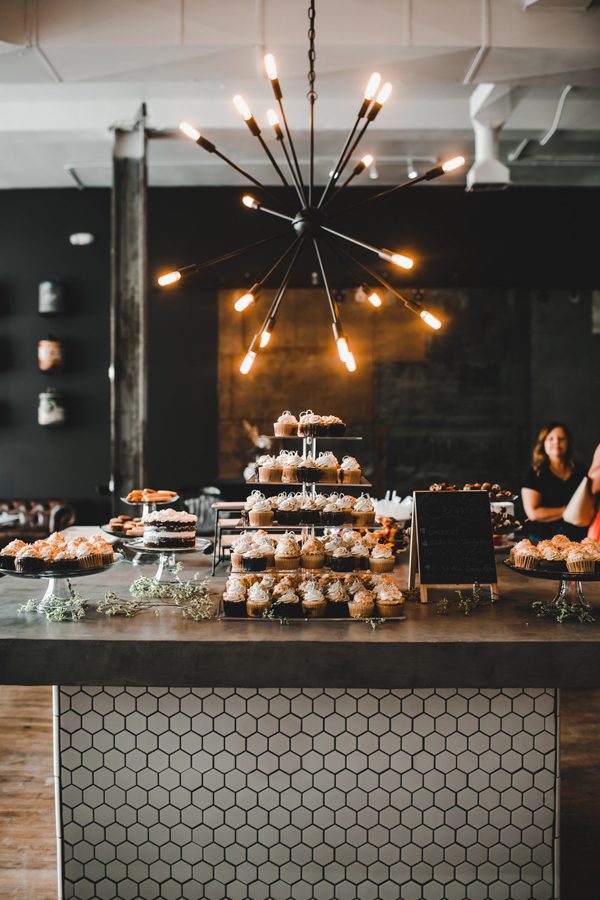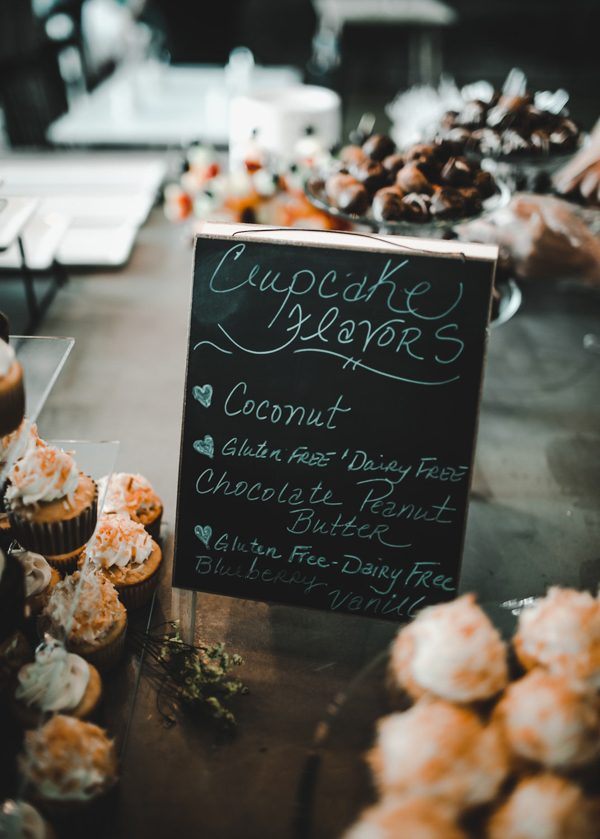 While planning our wedding it was so easy to get caught up in what's popular and feel societal pressure to have the biggest, best wedding there is; however, we fought to keep our wedding true to who we are. Our desire was to keep the "big picture" in mind and realize that the wedding isn't just about the amazing floral designs and the perfect color palette, but it is about the bond of love we are committing to one another for the rest of our lives. We wanted this day to be a celebration of the life we have decided to start together, and in agreement we decided that the day of our wedding was only the beginning.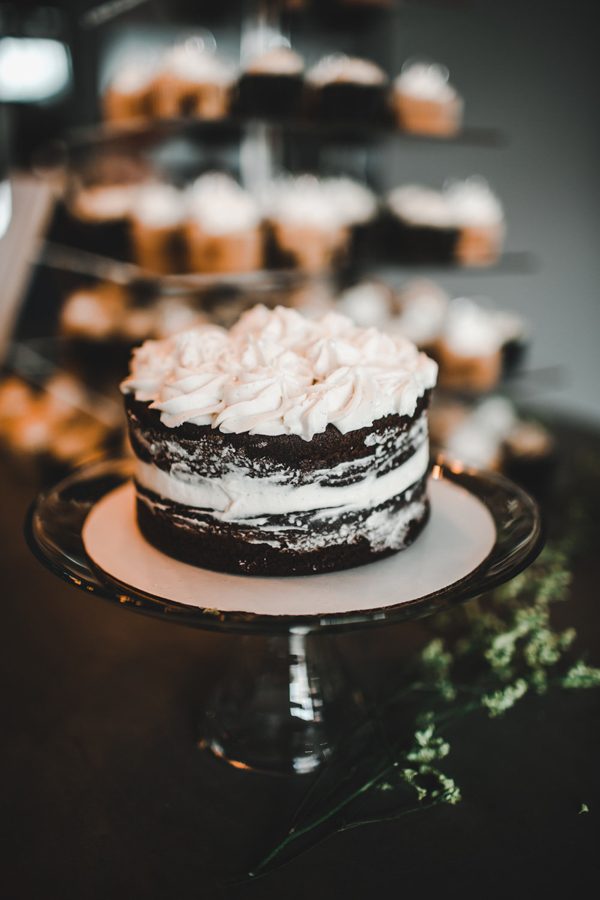 Every person who worked to make my wedding special did an amazing job. However, the one that stands out in my mind is Eastlyn, our photographer. Not only is the way that she runs her business incredible, but the person that she is is exactly the type of person you'd want to work with on the day of your wedding. She is creative and was always willing to go out of her way to capture our wedding the way we wanted it to be captured. The style of her photos are unique, but captivating and I would recommend her to anybody who is searching for a wedding photographer.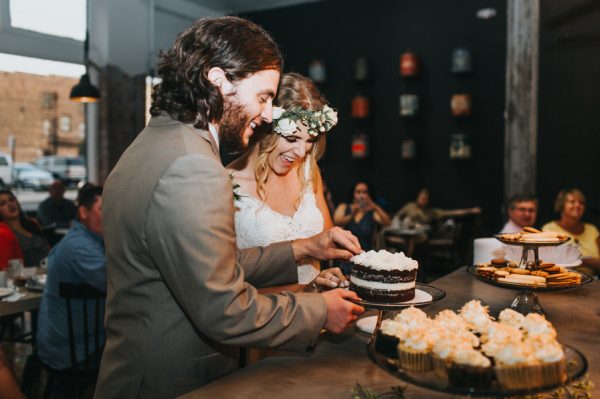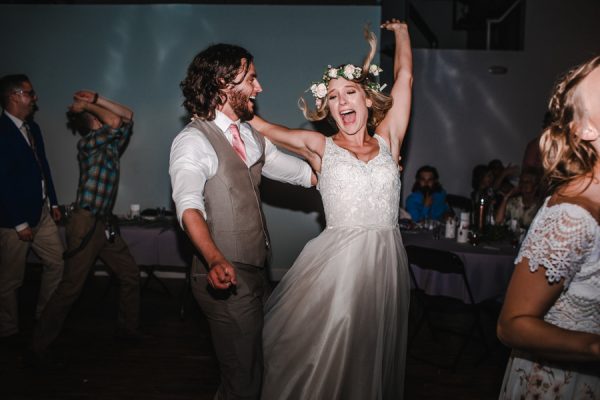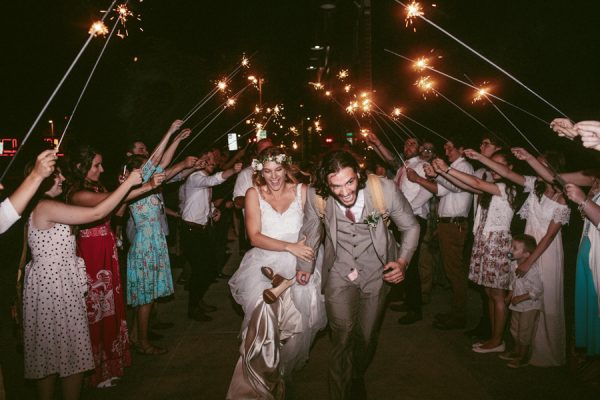 Congratulations to Samantha and Kyle, and a huge thanks to Eastlyn Bright for sharing this wedding with us! Love the casual vibes of this industrial venue? Then you've got to see this industrial NYC wedding at The Foundry that gets modern romance so right!