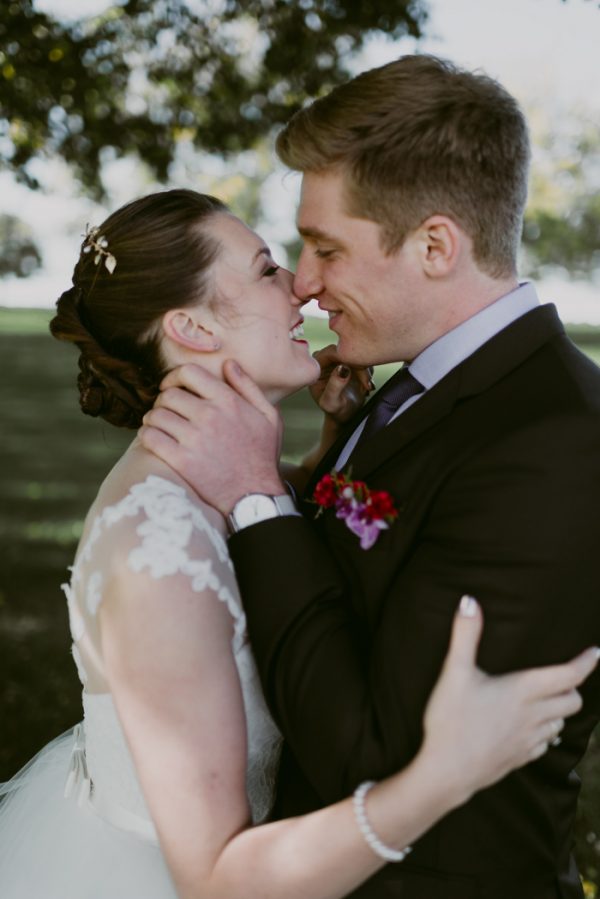 Lisa and Jakob's wedding at RED Space brought the drama with DIY projects and opulent industrial venue details alike! The couple decked out their Cleveland venue with Thai marbleized paper projects, copper accents, and a deep crimson, magenta, and purple floral design. From handmade needle felted table markers to a surprise throwback processional song, we love how Lisa and Jakob personalized their wedding. Photographers Mallory + Justin captured every moment of this couple's gorgeous wedding, including their mind-blowing reception décor!
The Couple:
Lisa and Jakob
The Wedding:
RED Space, Cleveland, Ohio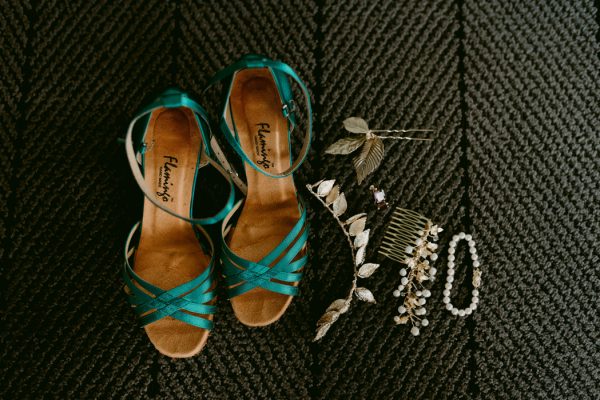 We got engaged while I was directing opera in Italy and we seriously considered returning to Italy for an elopement. But then the more and more we thought about how we wanted to celebrate and who we wanted to celebrate with we realized we were talking about a big 'ole wedding, not an elopement.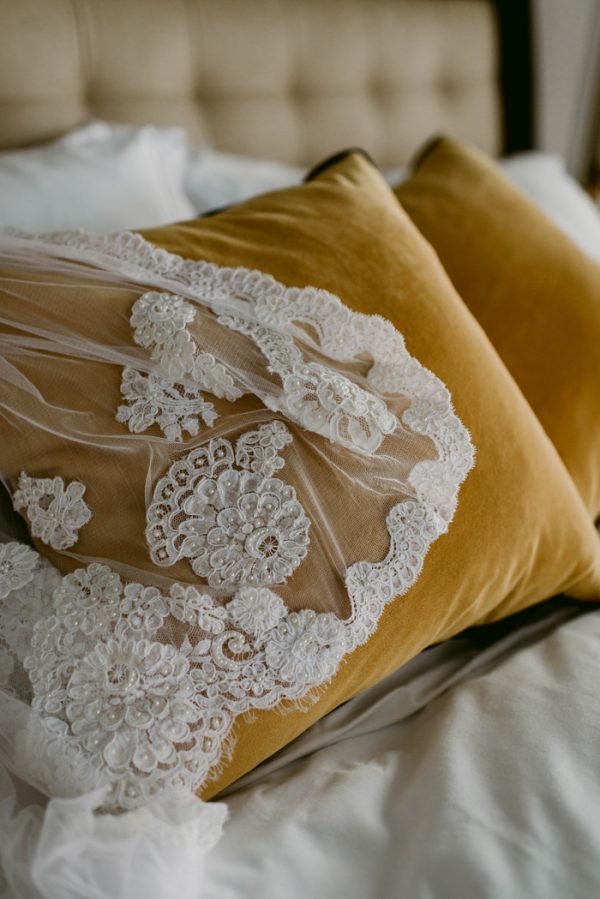 We live in Cleveland but the vast majority of our friends and relatives are out of town, out of state and even out of the country. We wanted a wedding that brought everyone together and felt like we were throwing a fabulous, eclectic dinner party. Music, food and atmosphere were very important to us. We were really intentional about every detail so that it reflected who we are, how we host and how much we adored sharing the day with our guests.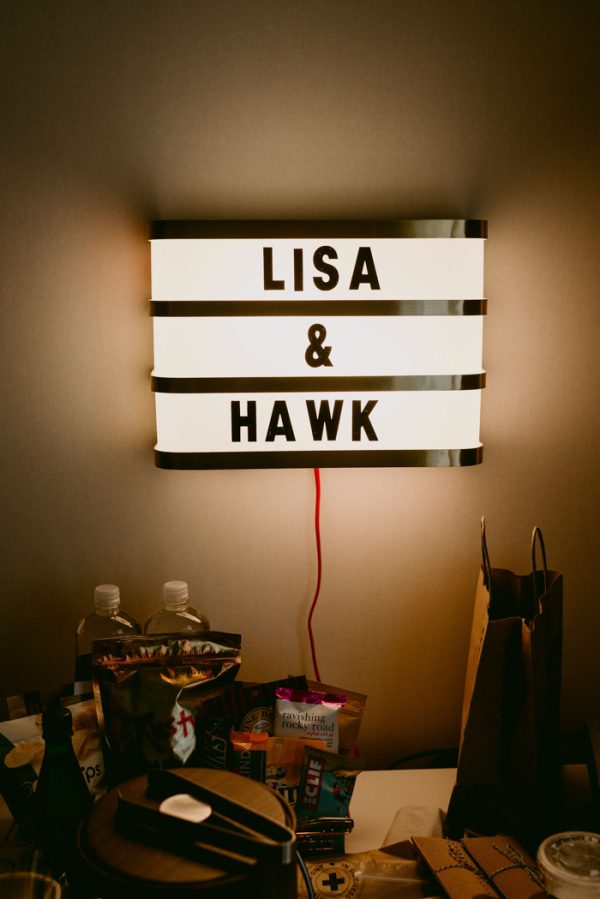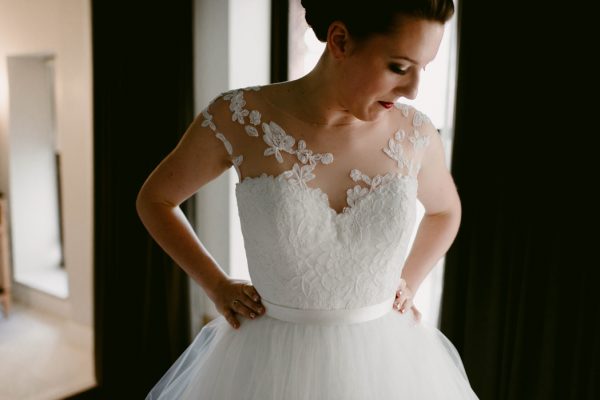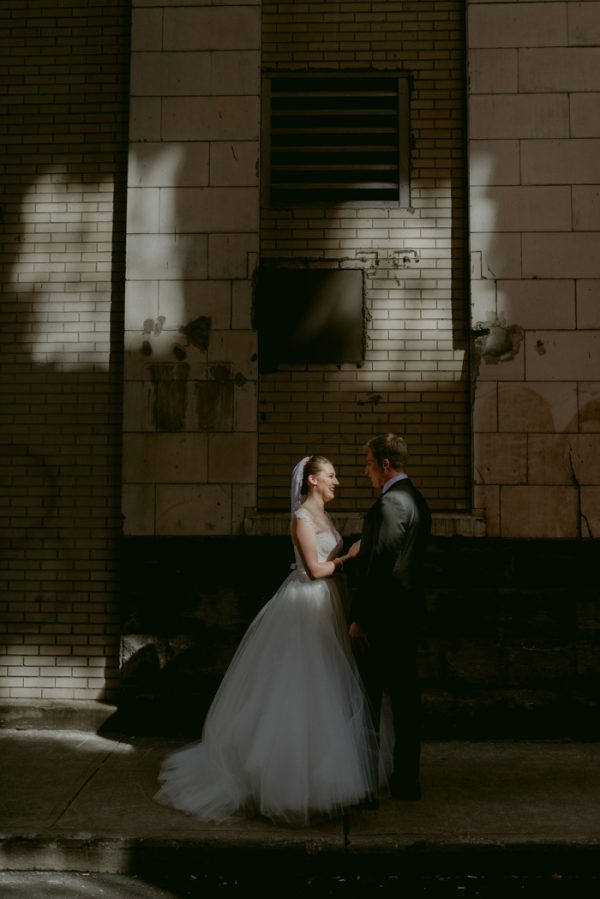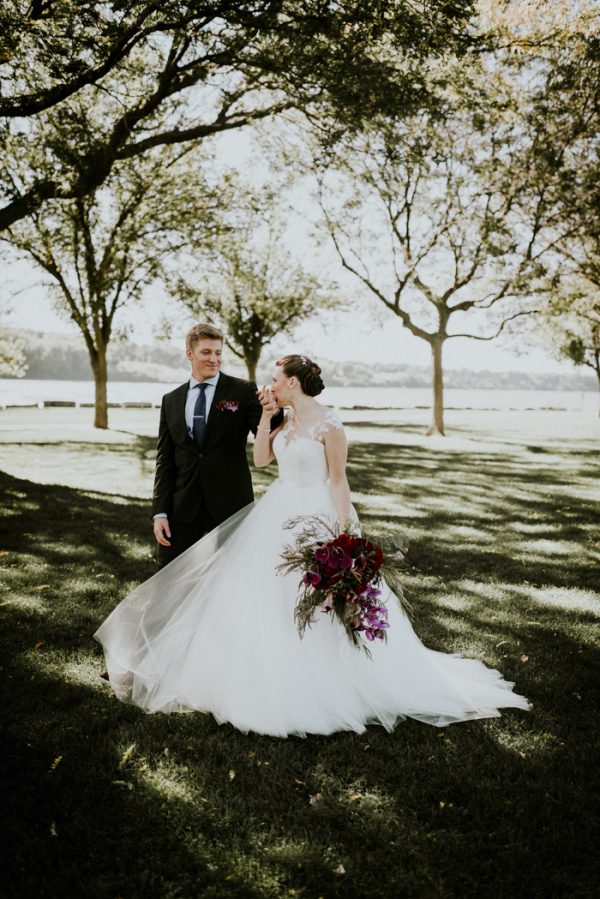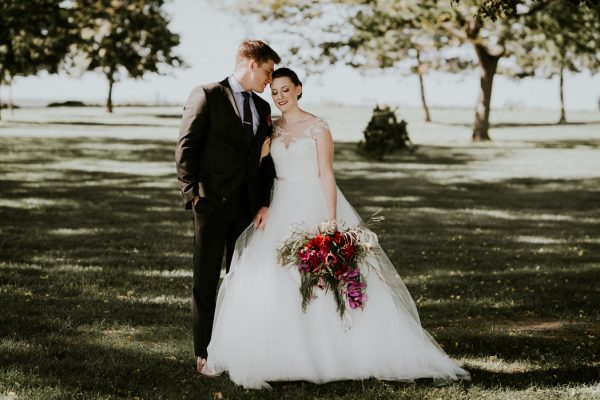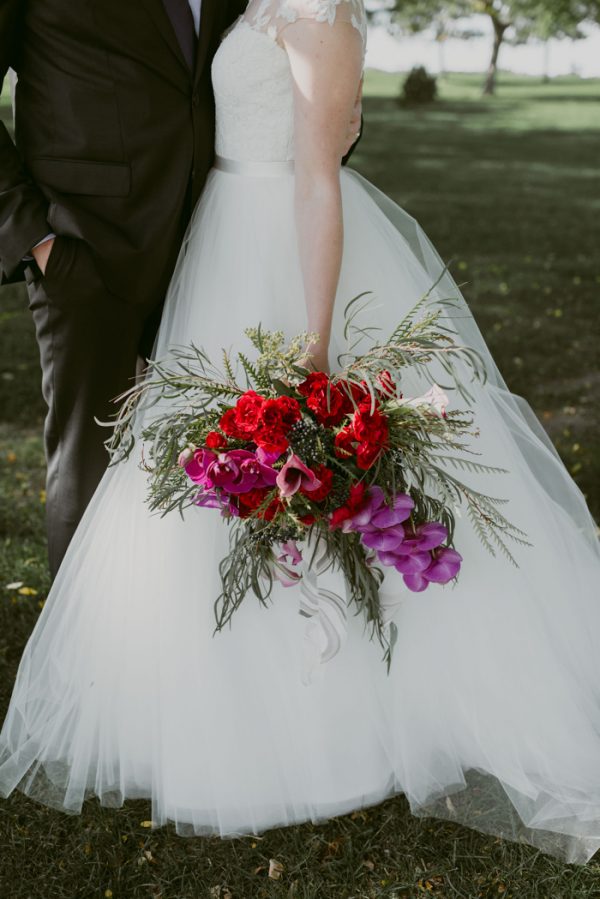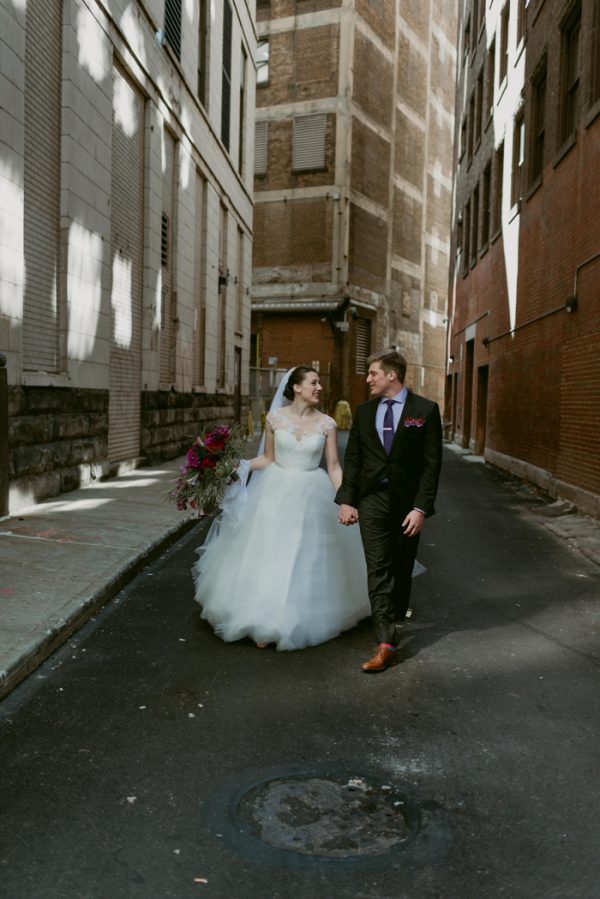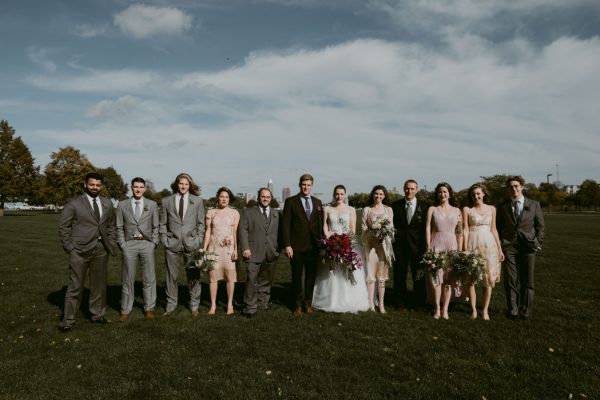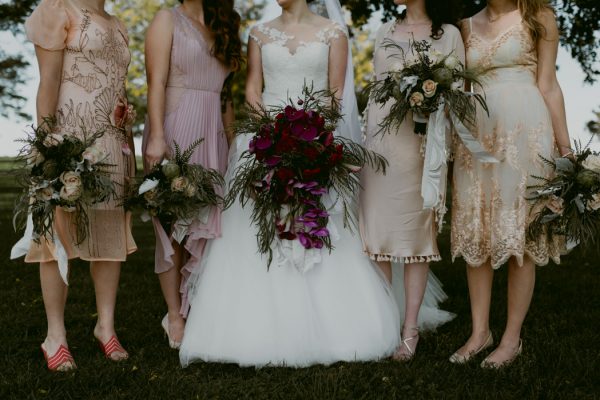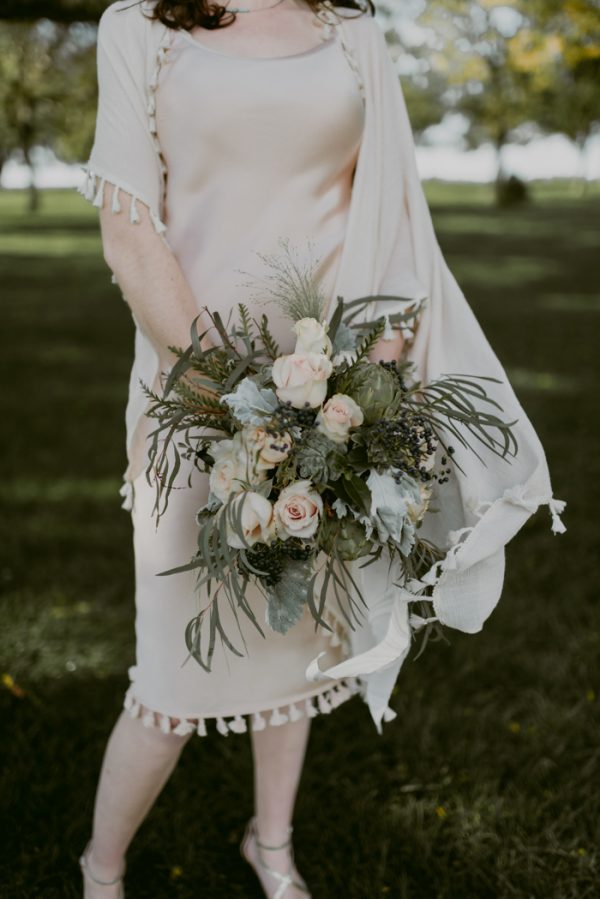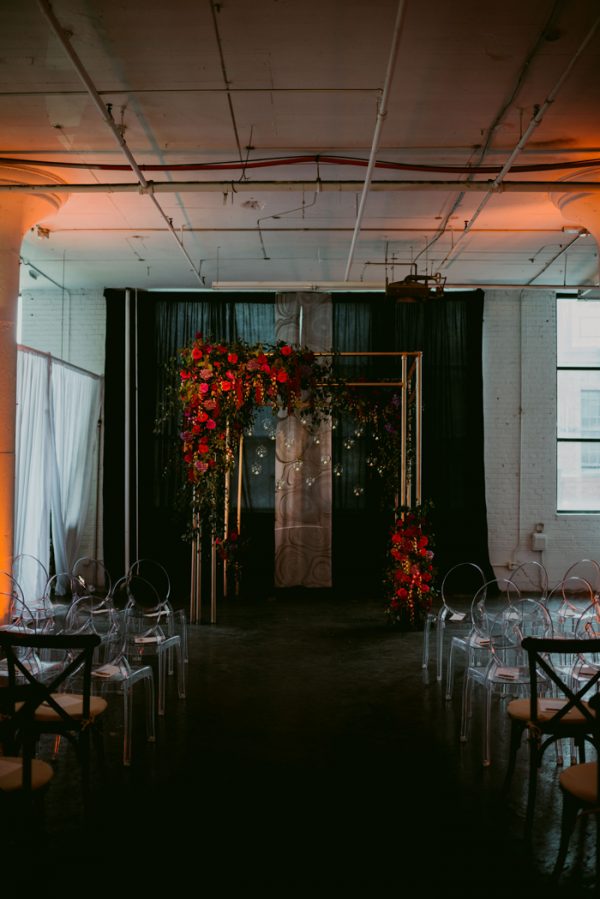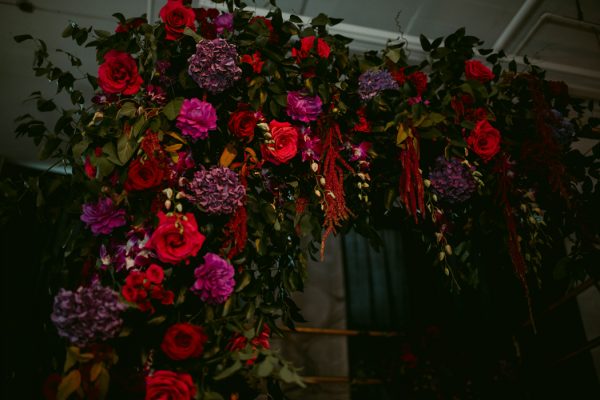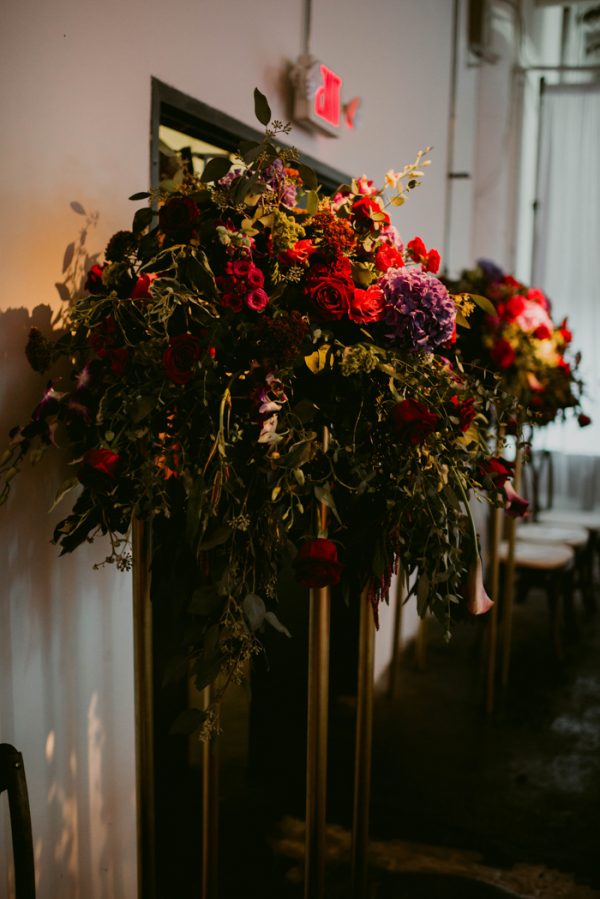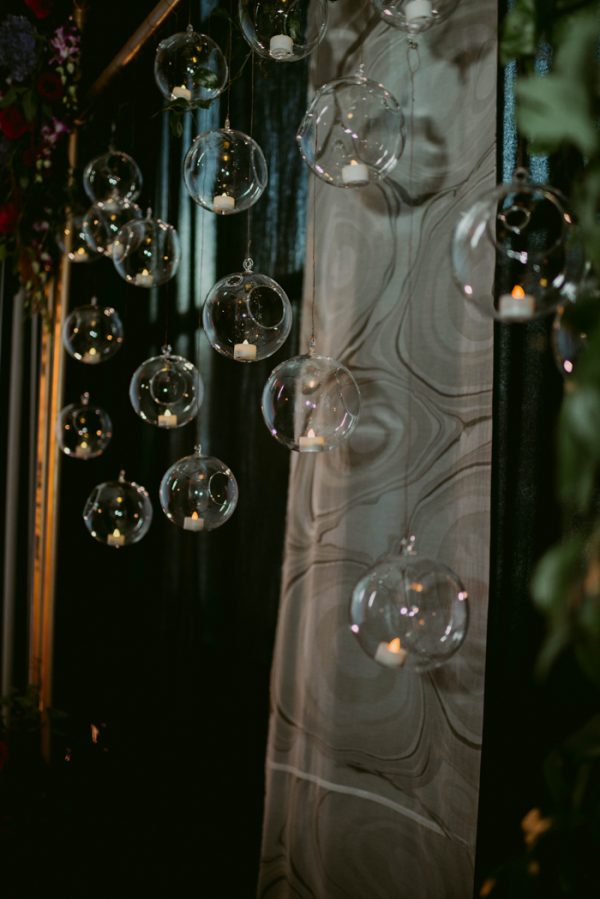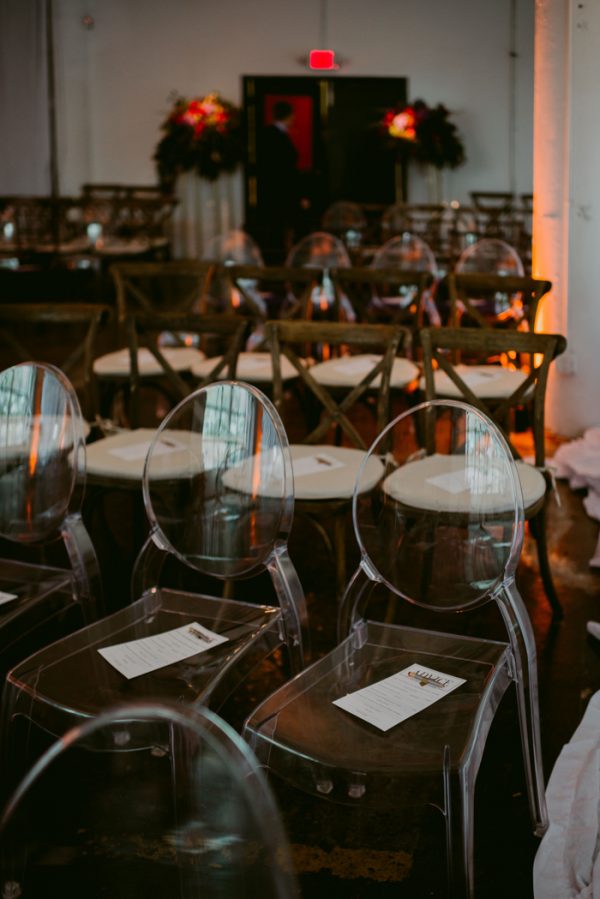 Lisa wrote and designed wedding mad libs for guests to fill out before the ceremony and during cocktail hour.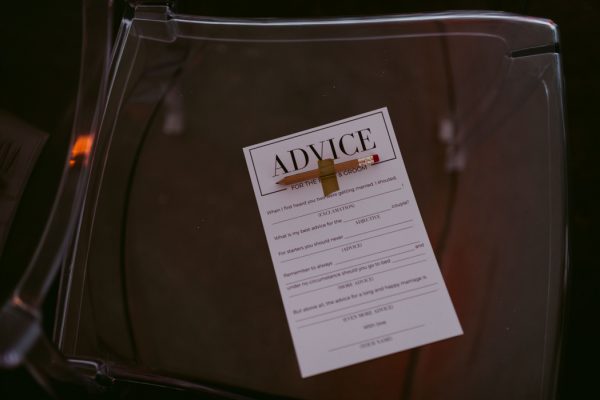 When we gathered for toasts during our rehearsal dinner, I surprised Jake by singing to him (I was trained as an opera singer but I rarely perform any more, even though Jake is always encouraging me). I sang 'Til There Was You, and told Jake and and our friends and family that tomorrow I'd be walking down the aisle to that same song. The next day, when the doors to the ceremony opened, getting to see the look of recognition on my loved ones' faces and on Jake's face as they heard the song playing was incredible. For Jake and I, seeing each other in that context, with that song being played was absolutely magical. We'll never forget that moment.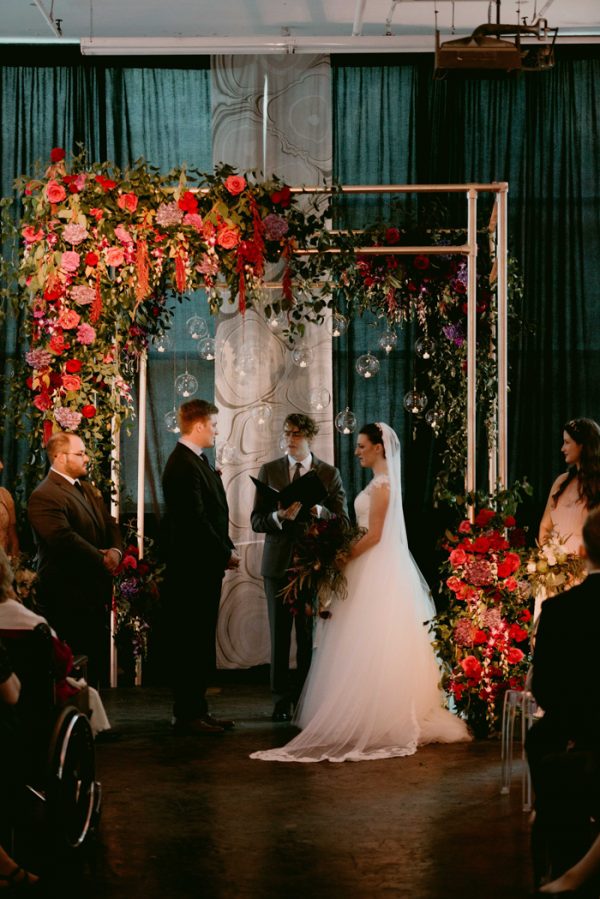 We structured the ceremony similarly to a Jewish wedding and it ended with the traditional seven blessings except my brother had asked each of the four parents to compose a blessing for us, and he wrote the remaining three. Then Jake smashed the glass! Having the ceremony grow from our structure into something of my brother's creation with additions from our parents felt deeply personal. Having the ceremony be a bit of a surprise was wonderful and it really kept us completely in the moment as we hung on his every word.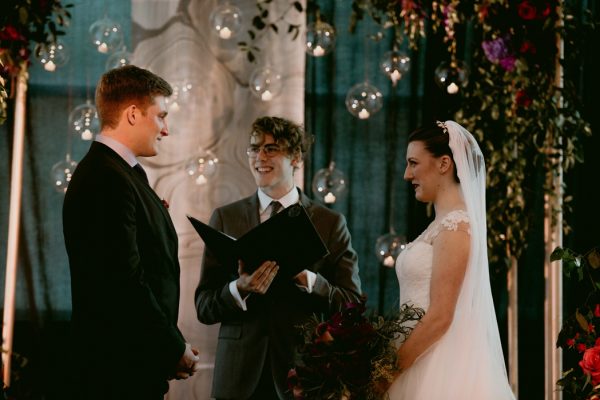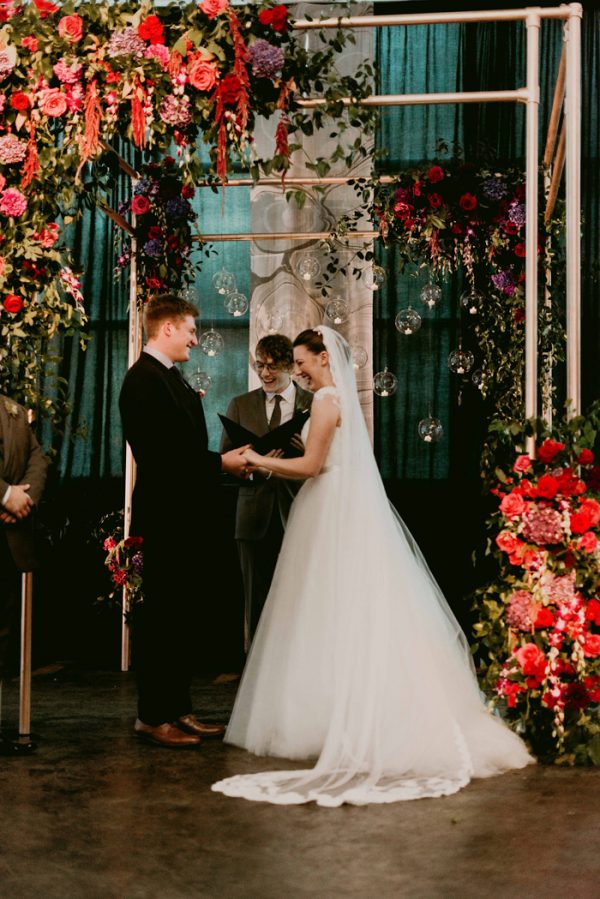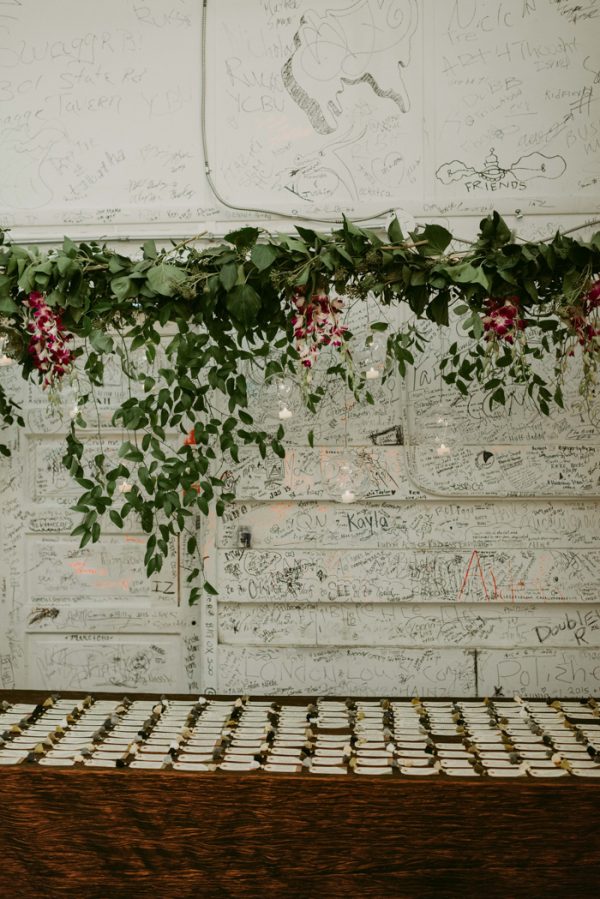 I made the escort cards using kraft paper hand tags sourced from a bulk commercial packaging company. She used printable rub-on transfers to add the text to each tag, heat embossed metallic shapes onto each card and then attached a handmade Indian cotton tassel using a jump ring.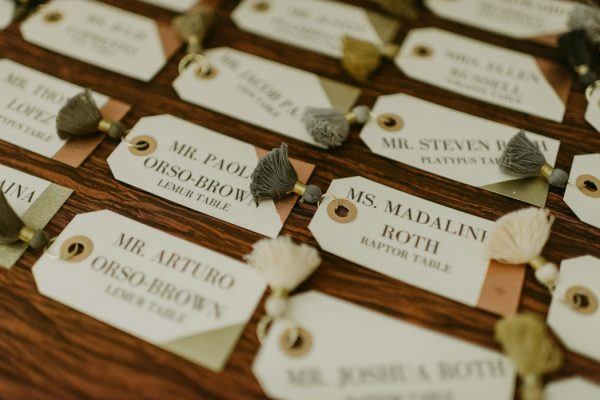 Our wedding planning advice: Ask yourself a lot of questions. Wedding traditions can happen by default, by asking yourself what matters to you and why it matters you'll get to the heart of the traditions that have meaning for you. Oh, and unplug! Unplug from Pinterest, social media and blogs once your decisions have been made. There's no use fretting over the florals in somebody's styled shoot when you've happily already settled on your own.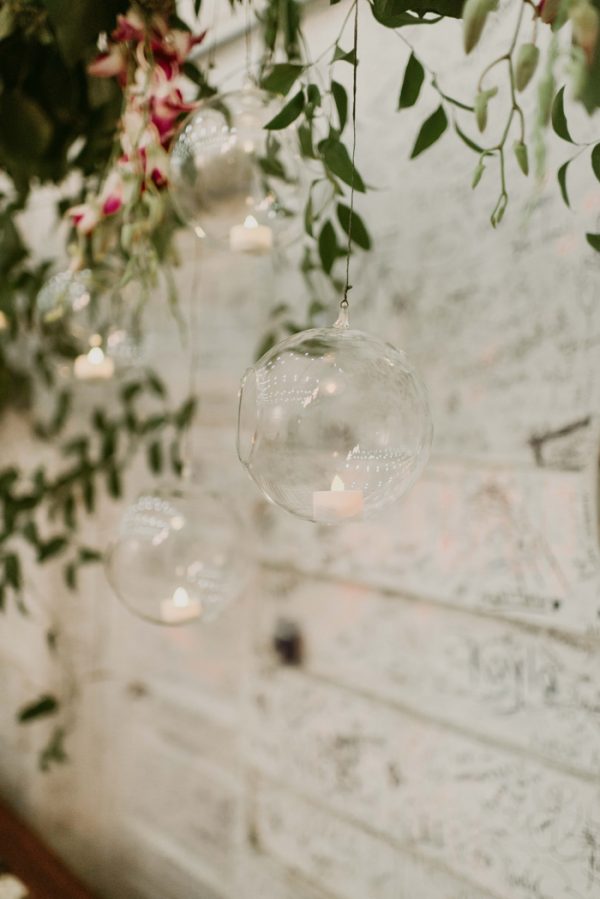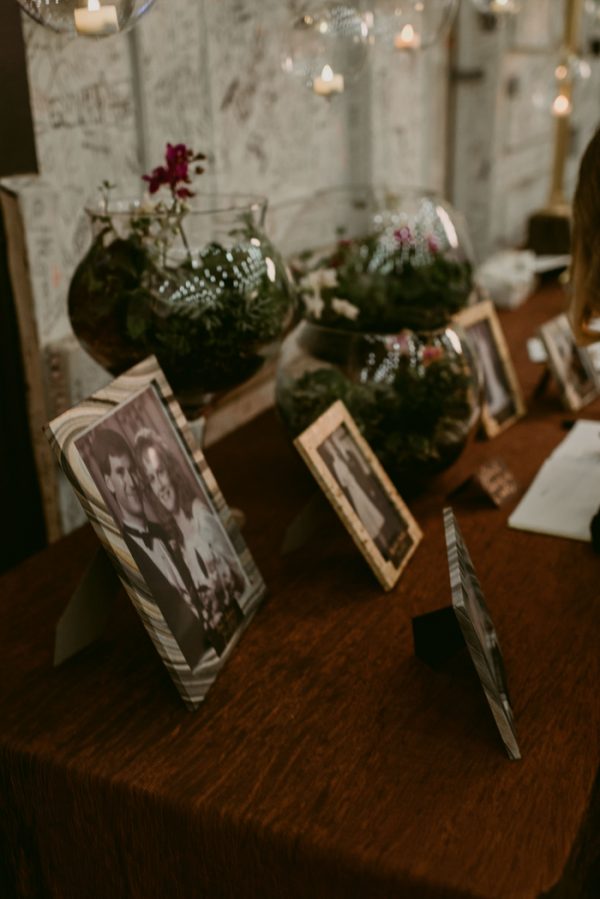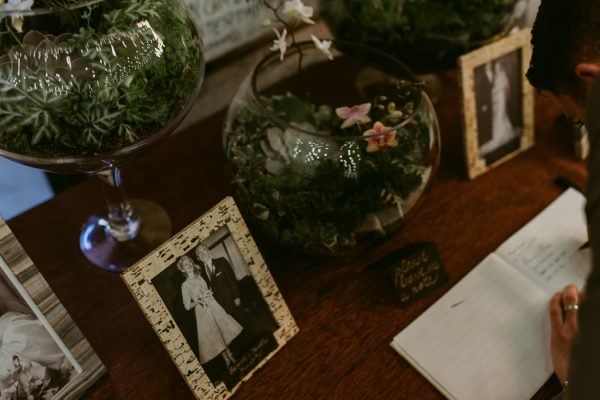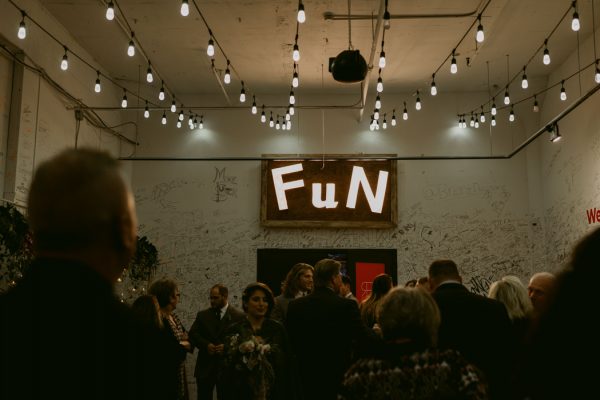 The vibe was the first decision we really made. We loved the idea of creating a romantic, eclectic setting inside a warehouse so we just started getting inspired. Lisa loves flowers and Jake loves lots of color so we decided on a deep red and purple color palette right away (with pops of green since it's both of our favorite color). We wanted the environment to feel a bit bohemian and a bit dramatic so we gathered materials that spoke to us – the gold gridded cubes, the Thai marbleized paper, etc., which is how we ended up mixing brass, gold and copper tones subtly throughout.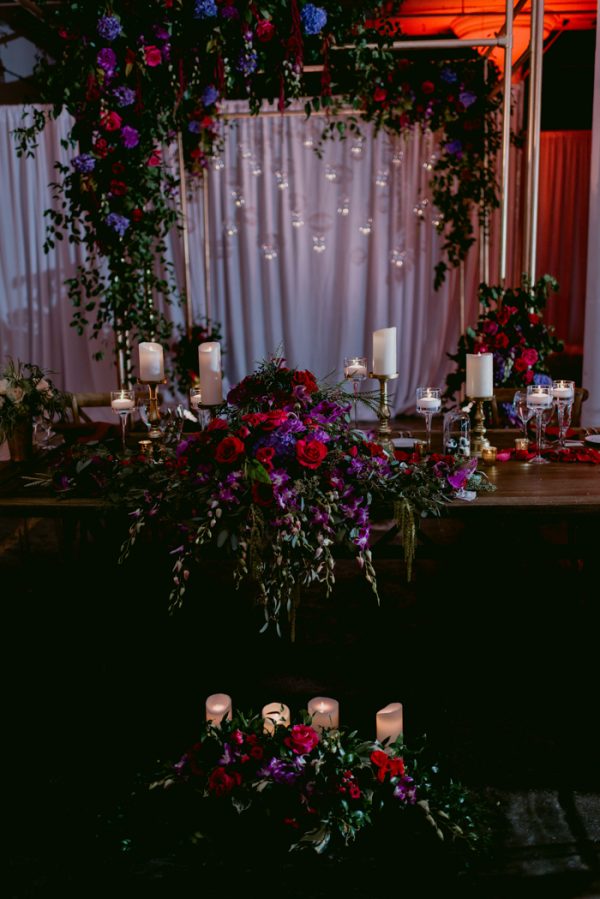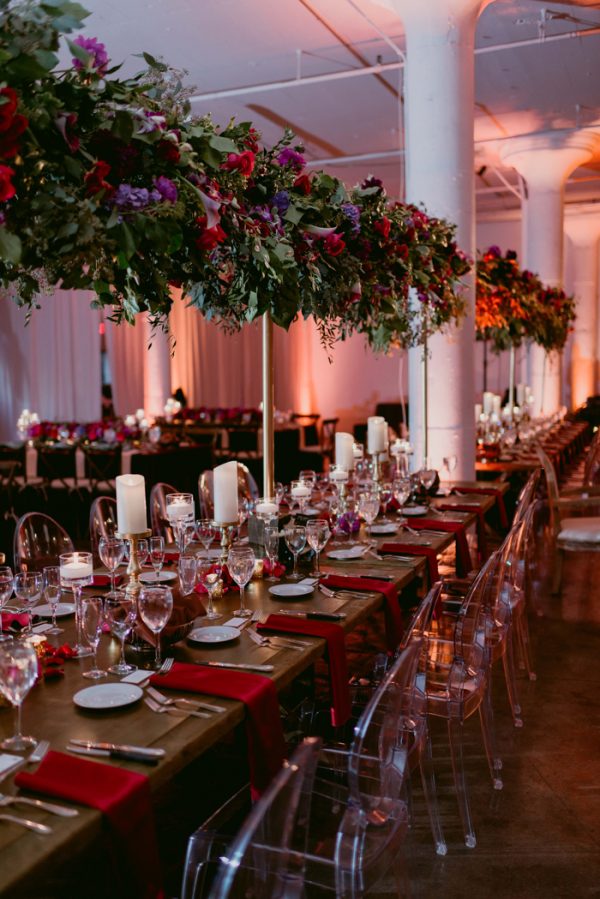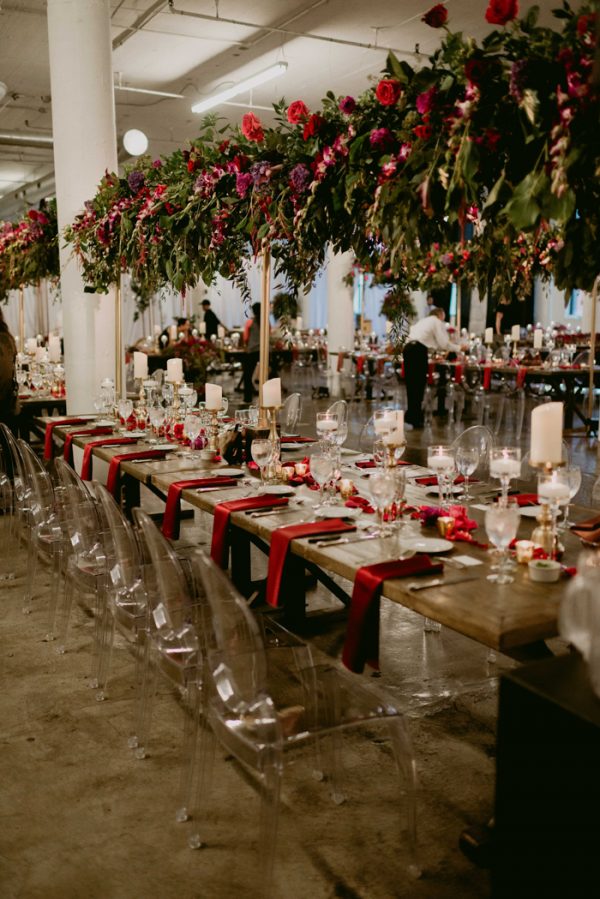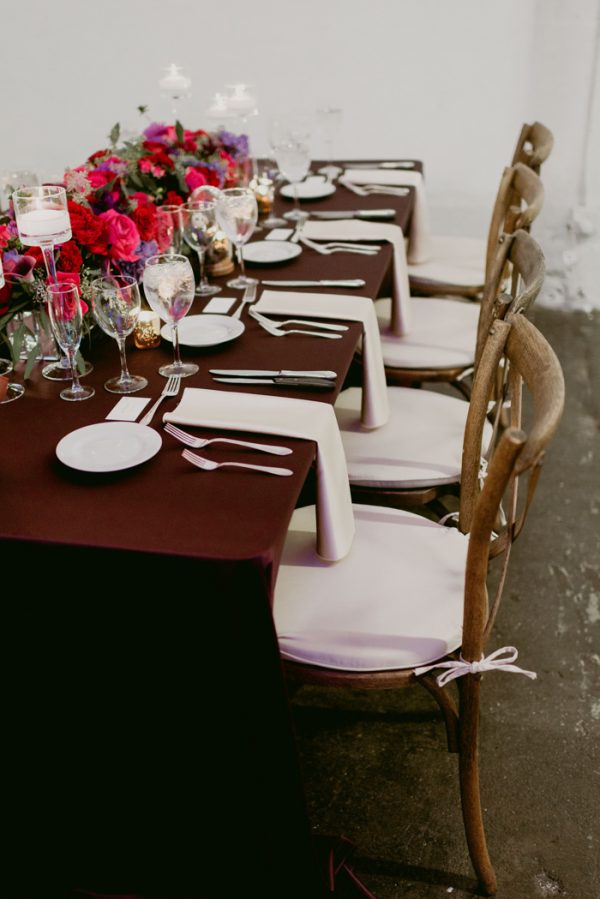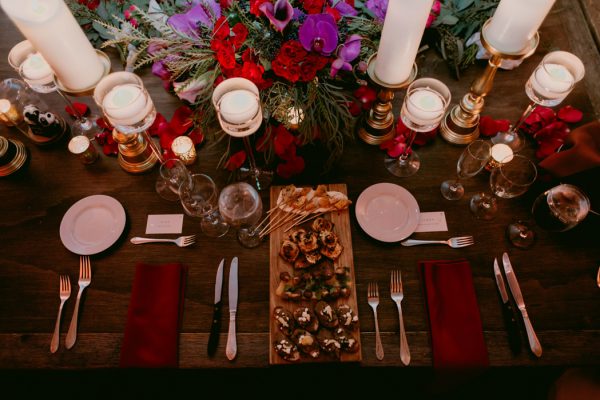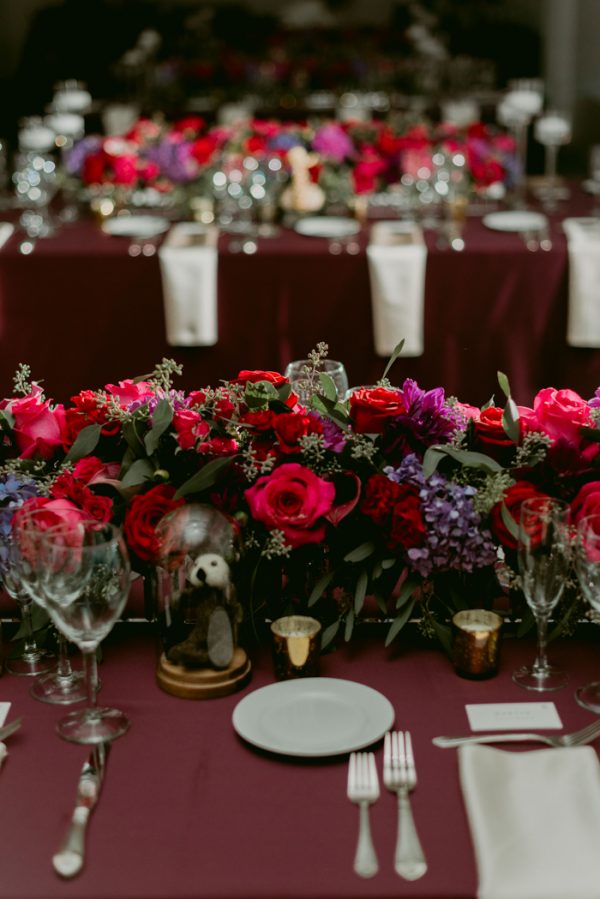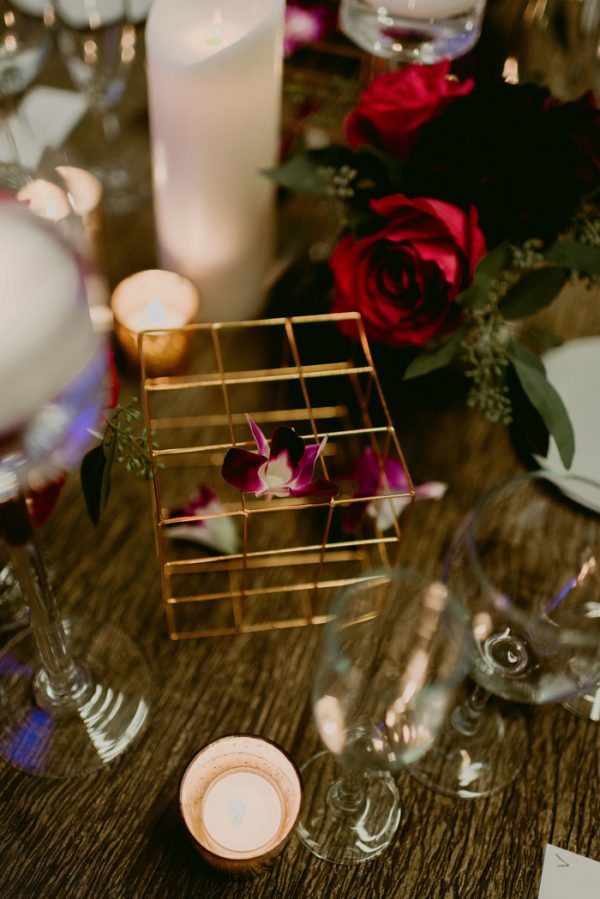 We run a small needle felting business together so we needle felted animals to use instead of table numbers and sourced glass bell jars to display the animals in.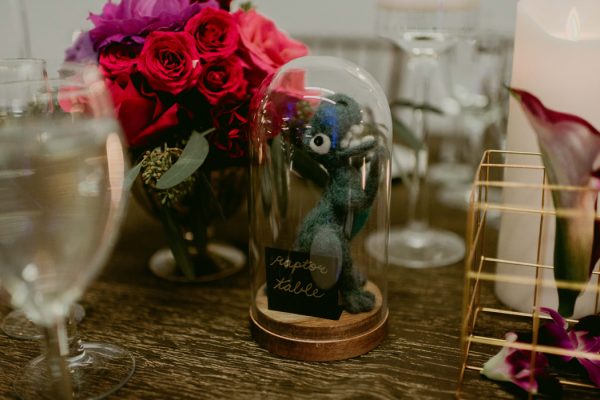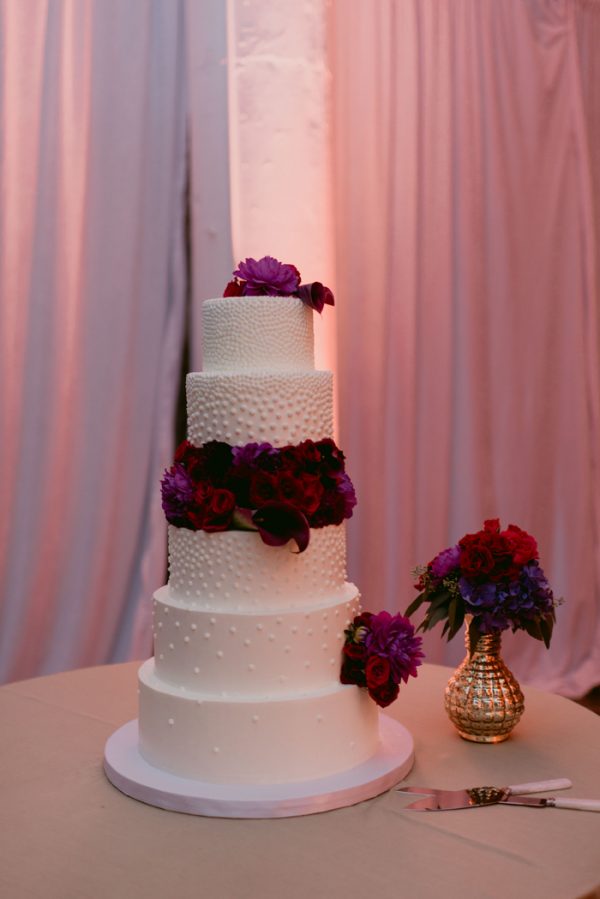 Congratulations to Lisa and Jakob, and a huge thanks to Junebug member Mallory + Justin for sharing their wedding with us. Love this wedding's play on industrial romance? Then you've got to see this industrial NYC wedding at The Foundry that gets modern romance so right!