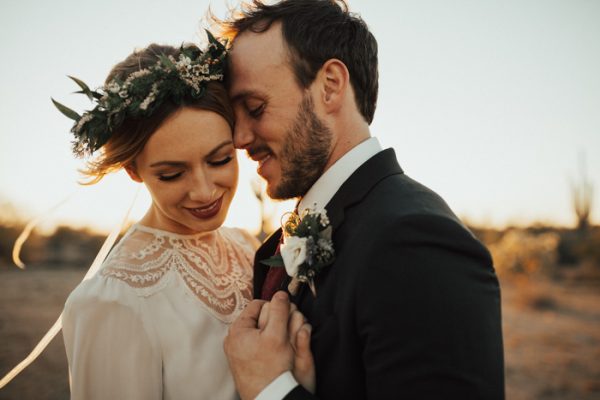 Meg and Matt work together for a wilderness therapy nonprofit in Arizona, so they spend the majority of their lives outdoors. When they were in the process of choosing a wedding venue, they immediately knew they wanted a space that would reflect their love for the Arizona desert. Enter: The Paseo! This adventurous couple decked out The Paseo's naturally comfortable event space with found objects from thrift store trips and foraged items from the desert to reflect their love for sustainable desert-inspired goods. We can't get enough of Teresa Jack Photography's documentation of Meg and Matt's day, including breathtaking bridal portraits featuring Meg's two vintage wedding gowns!
The Couple:
Meg and Matt
The Wedding:
Superstition Wilderness & The Paseo, Apache Junction, Arizona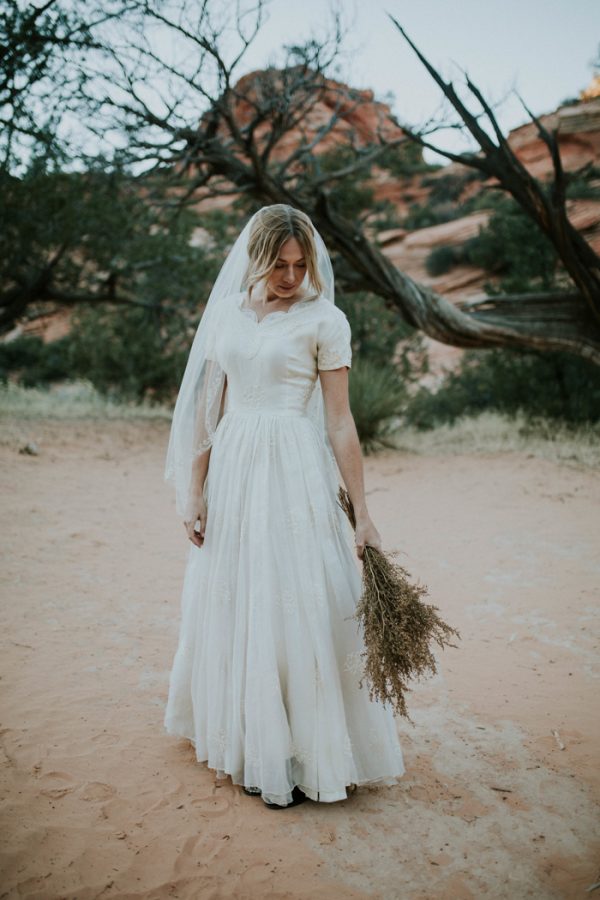 In planning our wedding, the most important aspect was to ensure our families could attend in their entirety. The Warner's and Evans have been friends for over 30 years, so getting everyone together was like a huge friendship reunion for multiple generations. In choosing a date that worked for everyone, our many siblings were able to come from across the nation and world, including Africa and Italy. It was a really special event; overflowing with joy, love, support, and deep rooted friendship.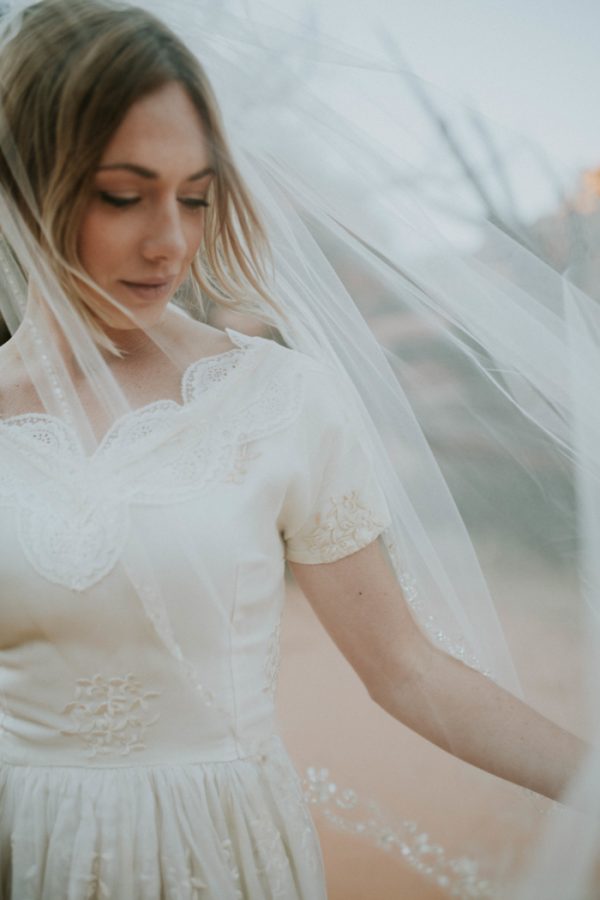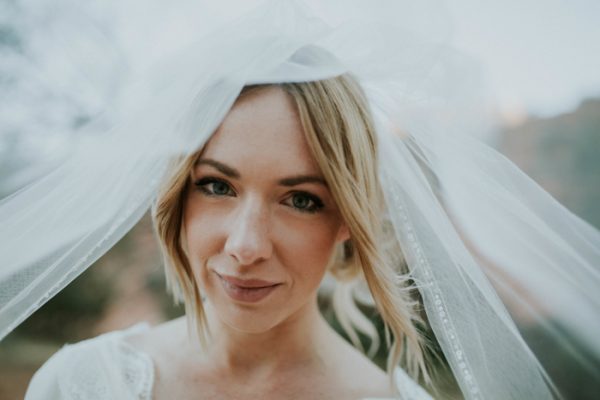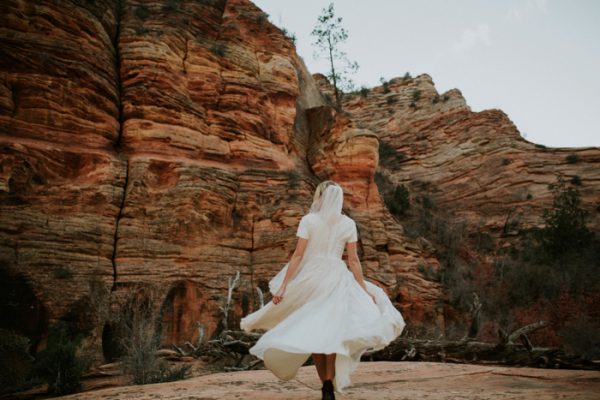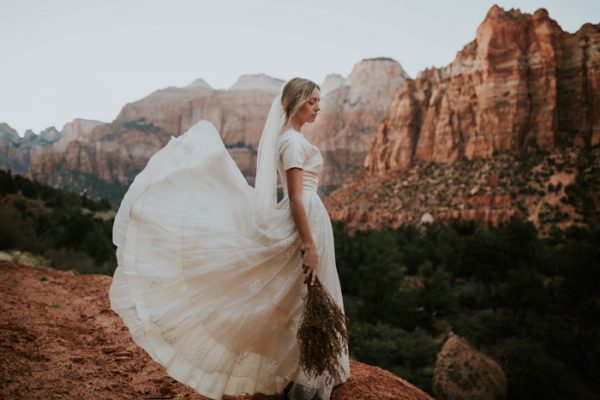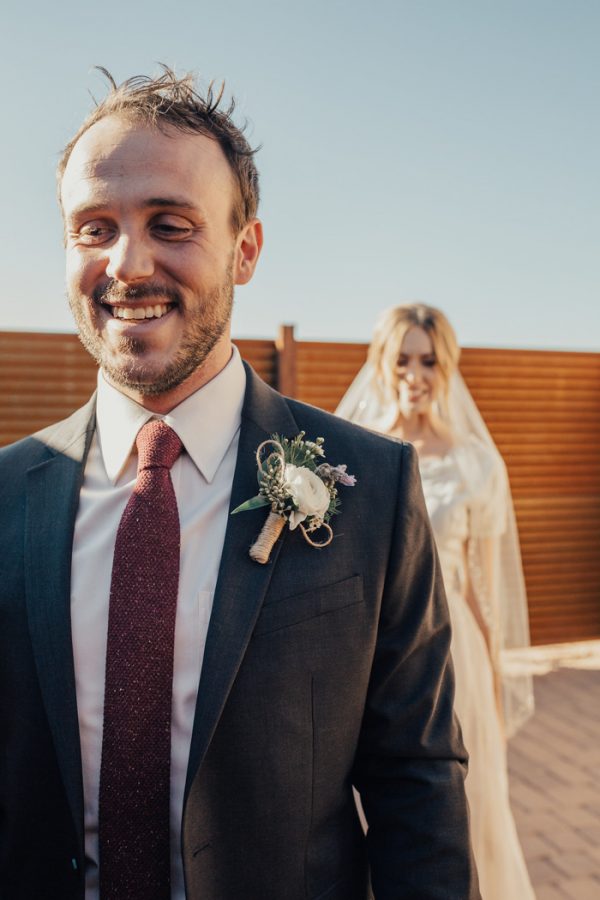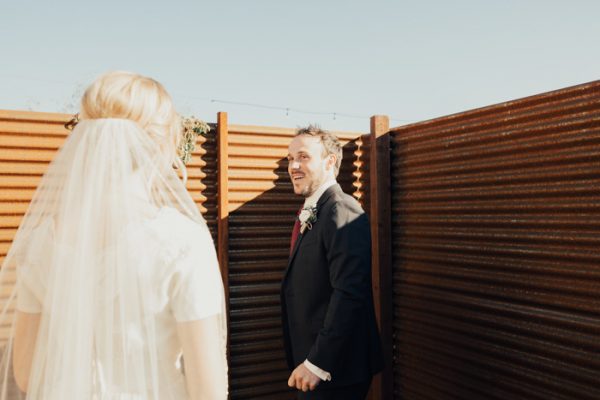 The ceremony was incredible. Our closest friends and family generously sacrificed to join us in the Arizona desert and support our union. Our dear friend Dan officiated, the beautiful music was provided by 3 talented and wonderful friends, the cliffs in the background were stunning, and our families were bursting with happiness. With so many of our dear one's involved, every detail was full of meaning. We have never felt such overwhelming love and support, for each other and for our families.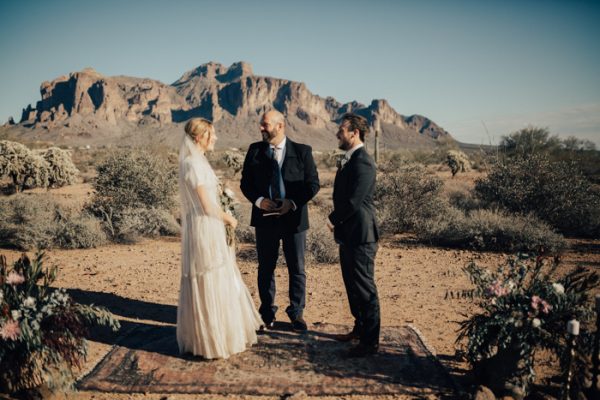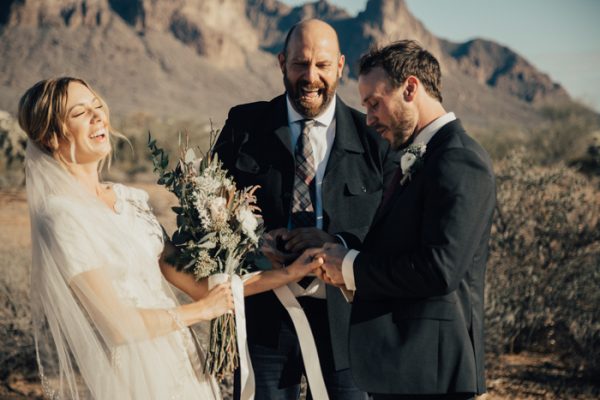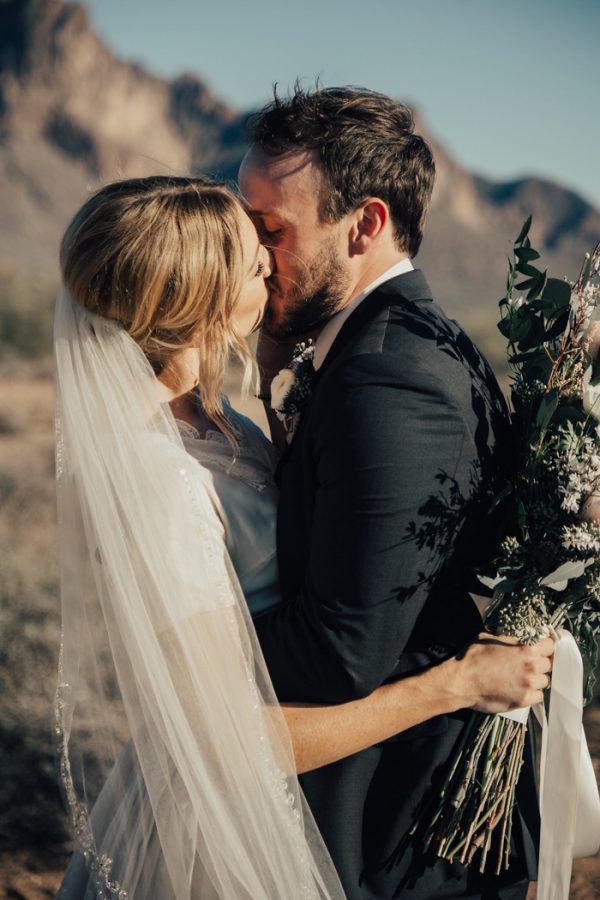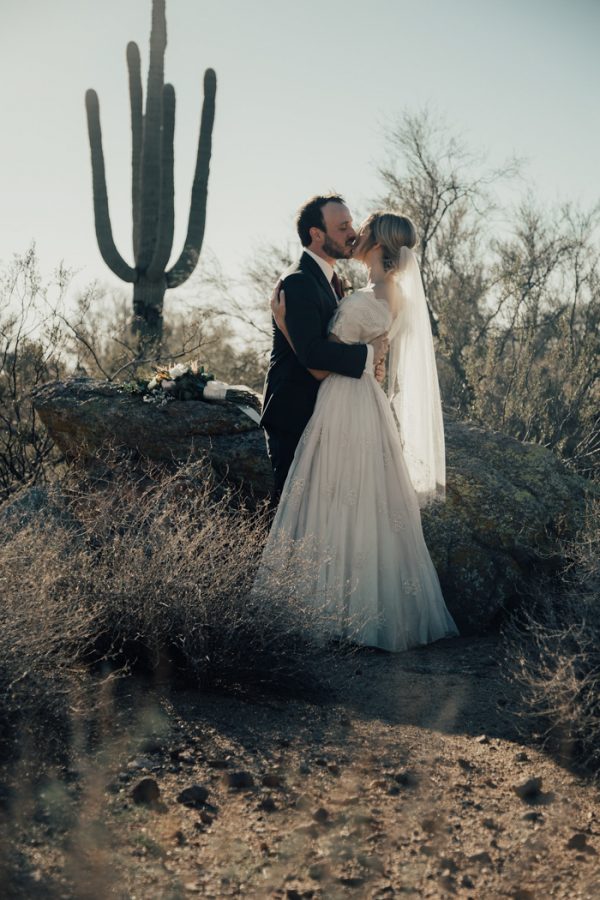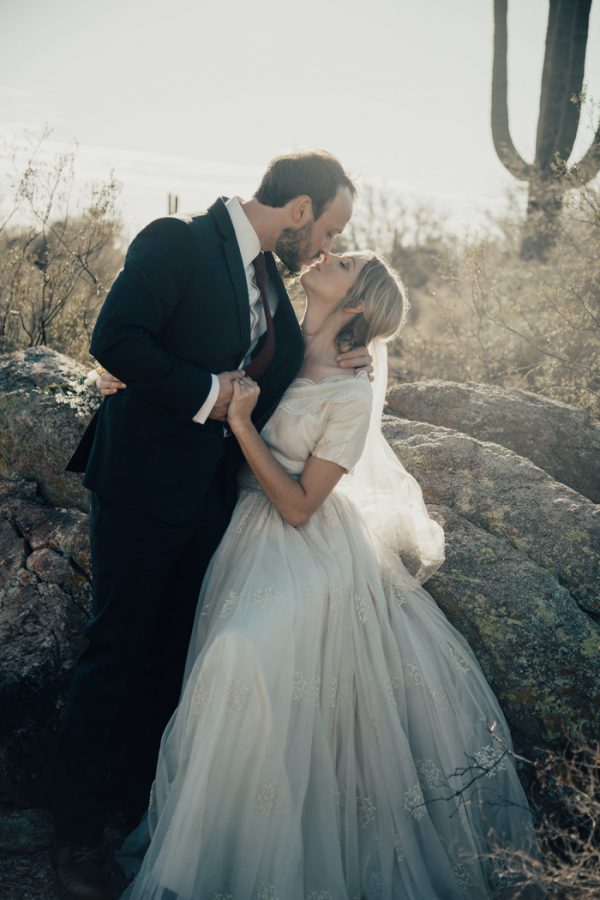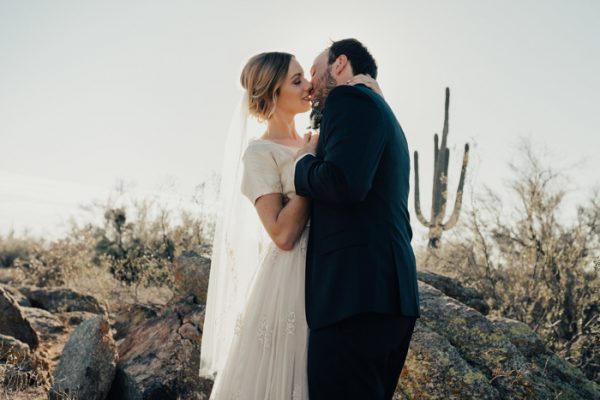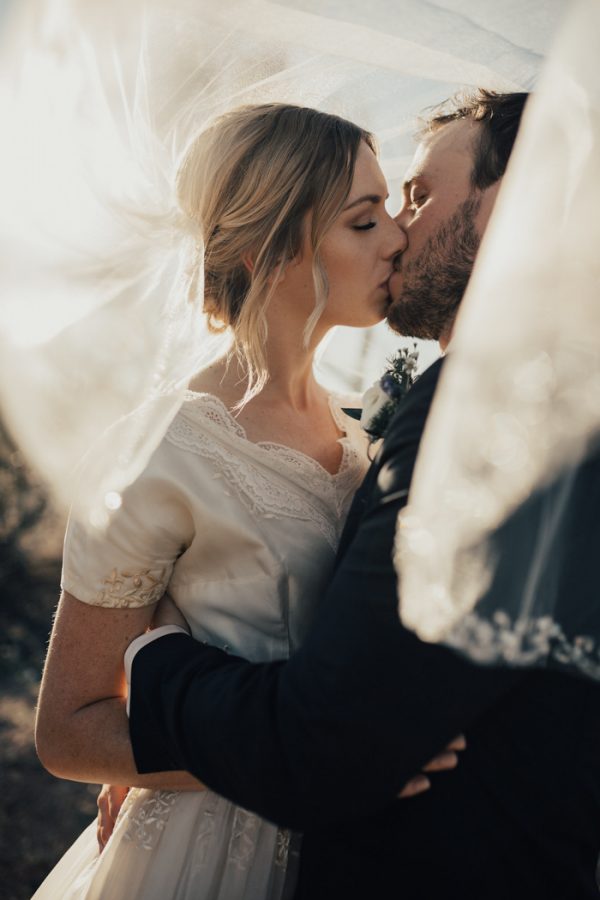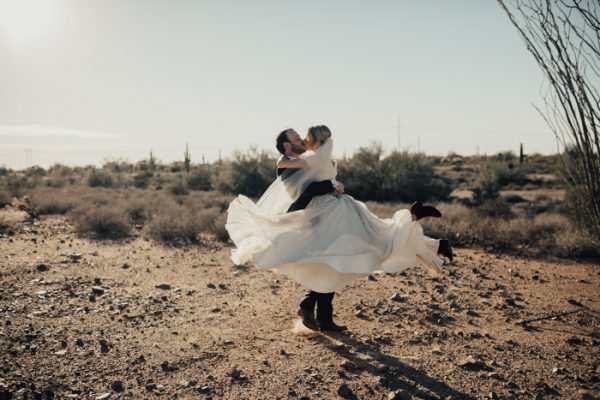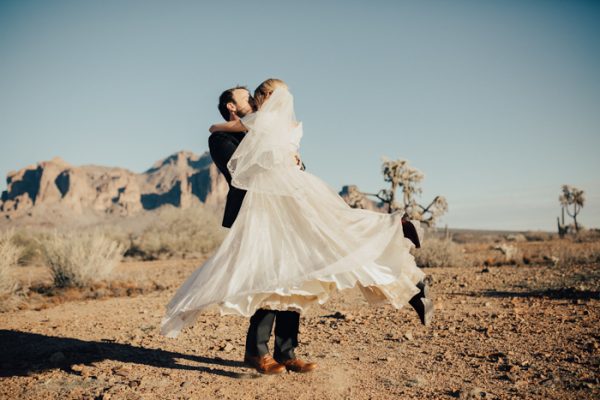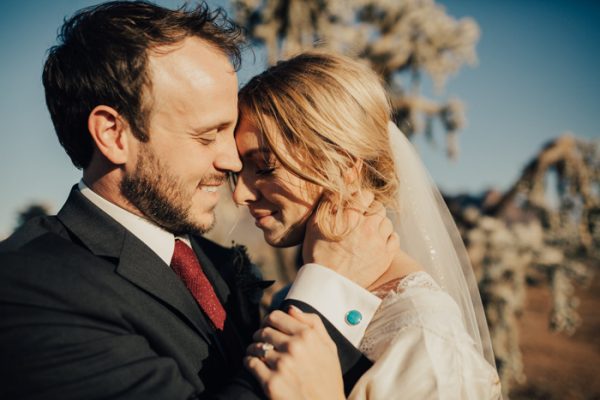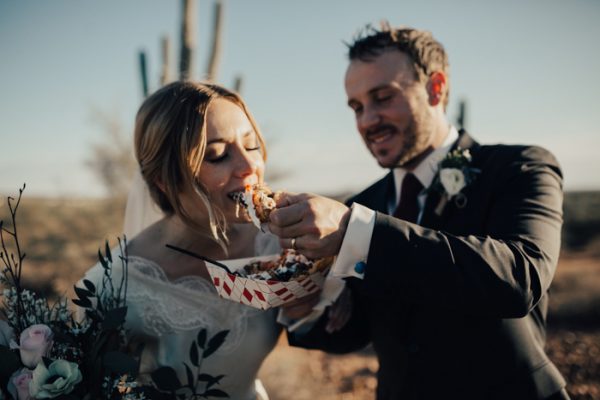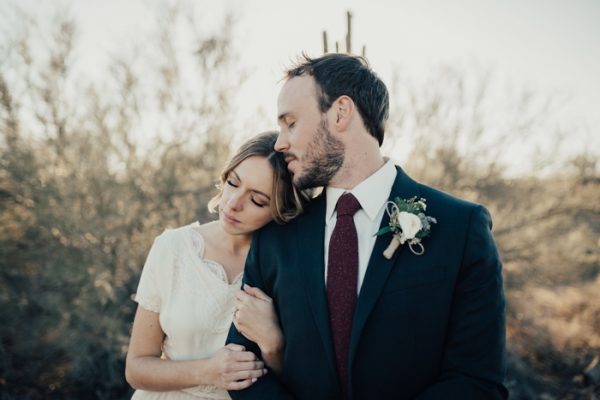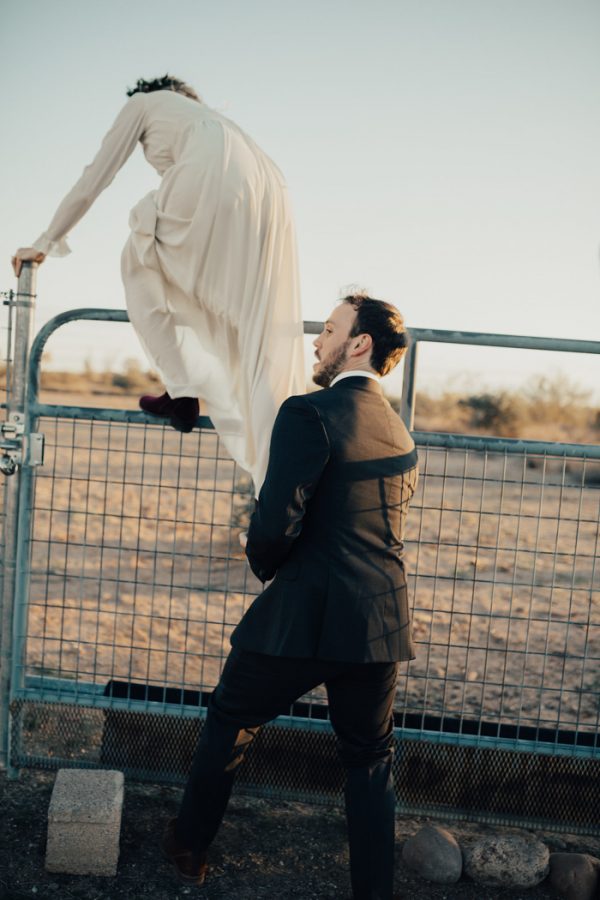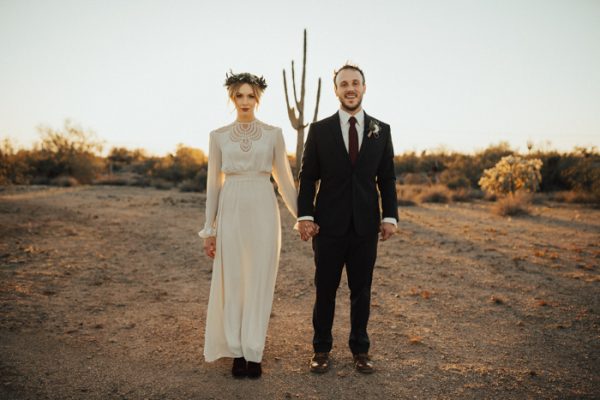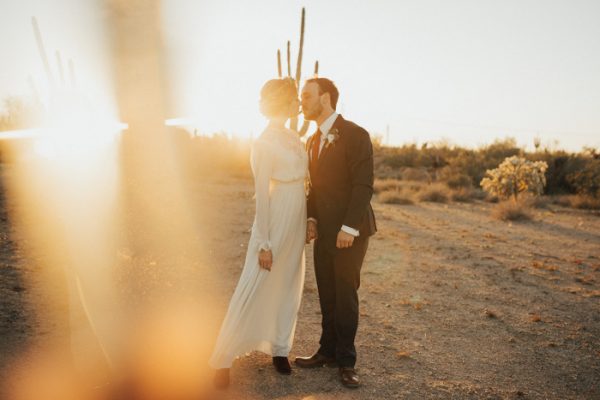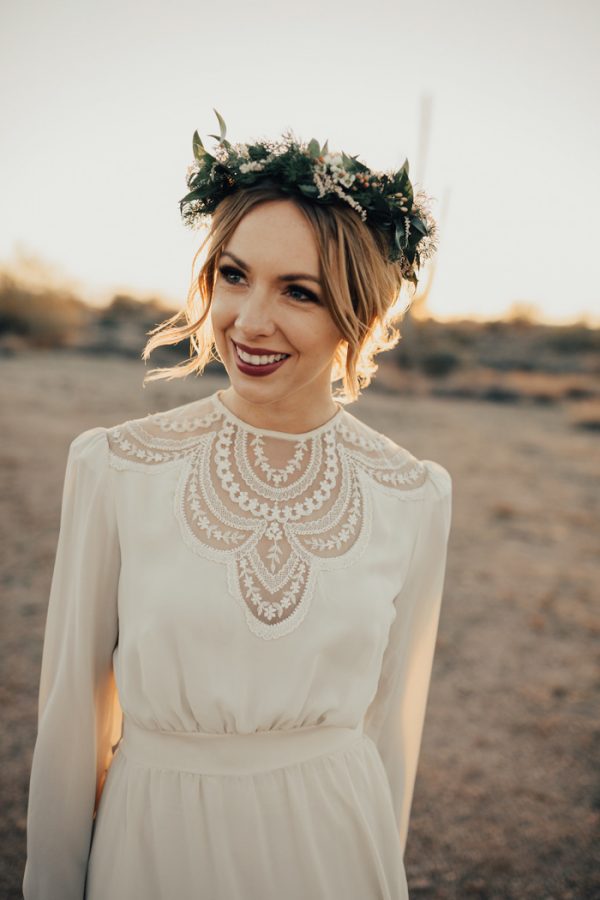 During the ceremony, I had the great honor of wearing my Grandmother's gown, handmade by my Great-Grandmother. It was a powerful experience for me to wear a dress handed down from such amazing women- full of love, selflessness, and dedication to their families. My second dress was also vintage, from Gossamer.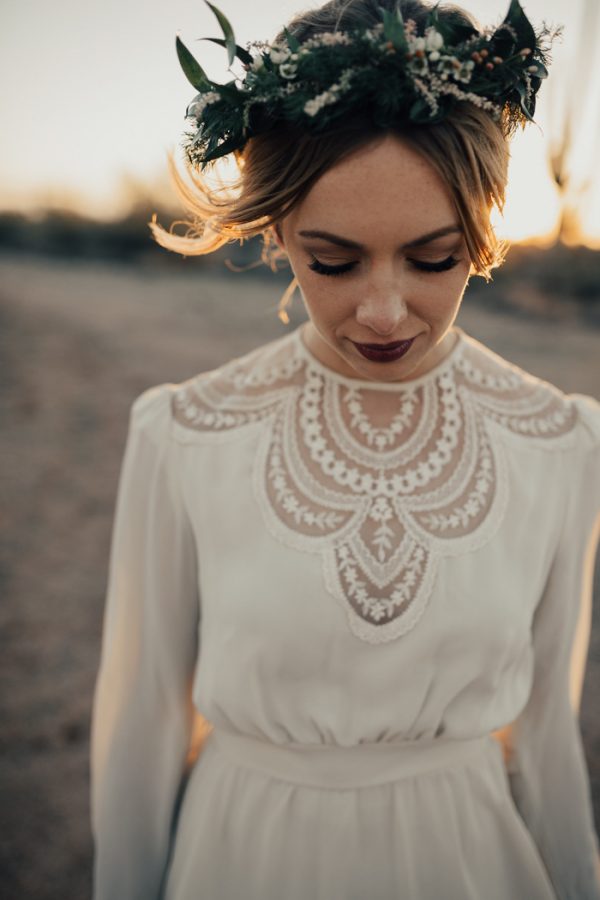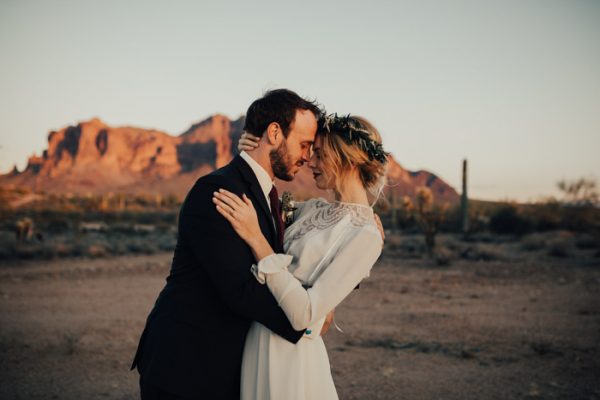 After working together for a wilderness therapy nonprofit located in Arizona, we knew we wanted to get married in the desert in which we fell in love. We also wanted our grandparents and siblings with young children to feel comfortable and close to amenities they needed. The Paseo allowed for us to hold the ceremony in the open desert, while the reception was in a beautiful, comfortable space just a short walk away.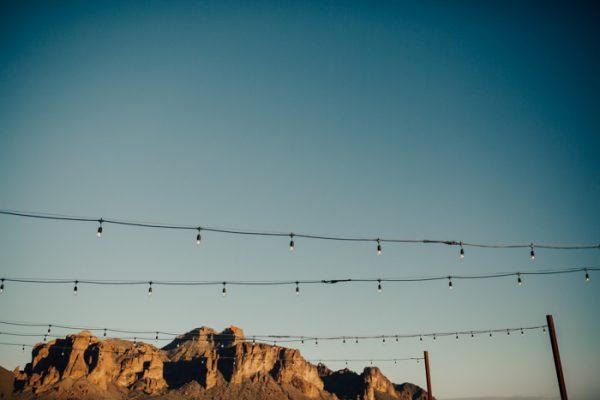 I can't say we ever chose a wedding vibe.. we just did what felt right to us and our lifestyle. We live outside half the year, hiking through the desert with 'at risk youth', so we feel very inspired and in love with the abundant beauty around us. Gathering inspiration from the desert in which we live was the only thing that made sense!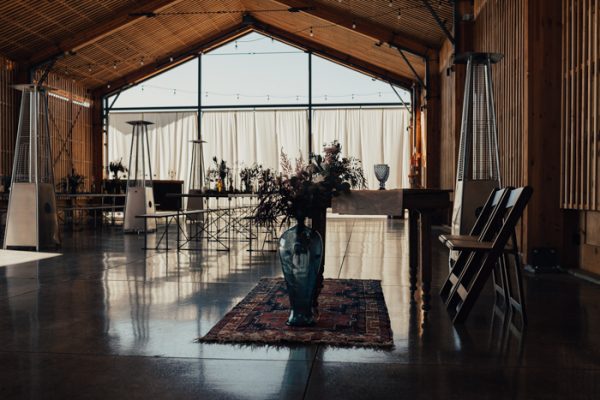 We spent many days out in the desert gathering simple inspiration and decorations like rocks, driftwood, and dead and downed cactus. I thrifted all the glassware and brass candlesticks which lined the tables. My family and friends graciously arranged the bundles of loose flowers I chose from a flower warehouse in downtown Phoenix. Everything at our wedding had a special history and meaning to us. It was a beautiful reflection of our connection to our families and our deep appreciation for the Earth.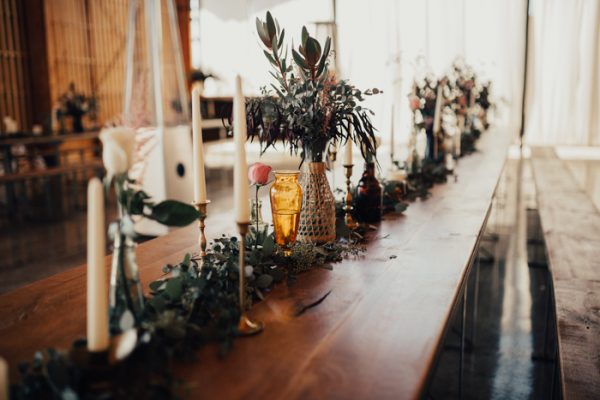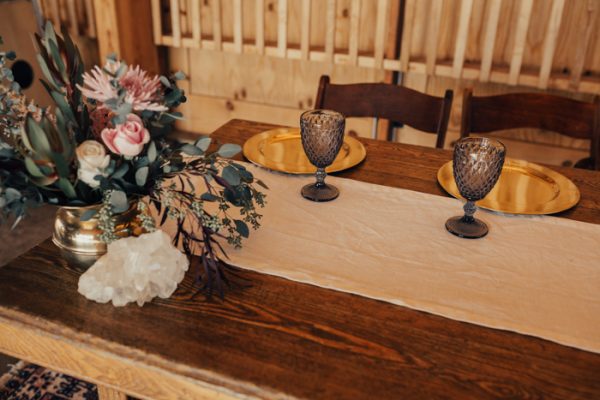 My whole life I have been obsessed with thrift shopping, so it was my great pleasure to hunt for all the glassware, vases, candlesticks, rugs, and frames. 90% of our wedding was from a thrift store, and we loved it. Also, to keep costs down, we chose and arranged the flowers ourselves. Matthew's mother made us our delicious cake. DIY is not always the easiest option; but everything at our wedding had so much history and meaning to us, and that made it all the more special.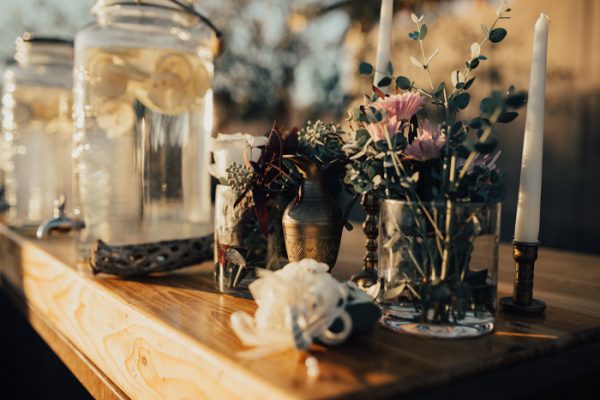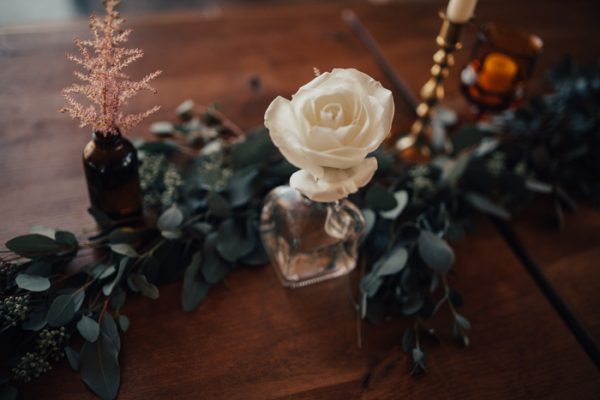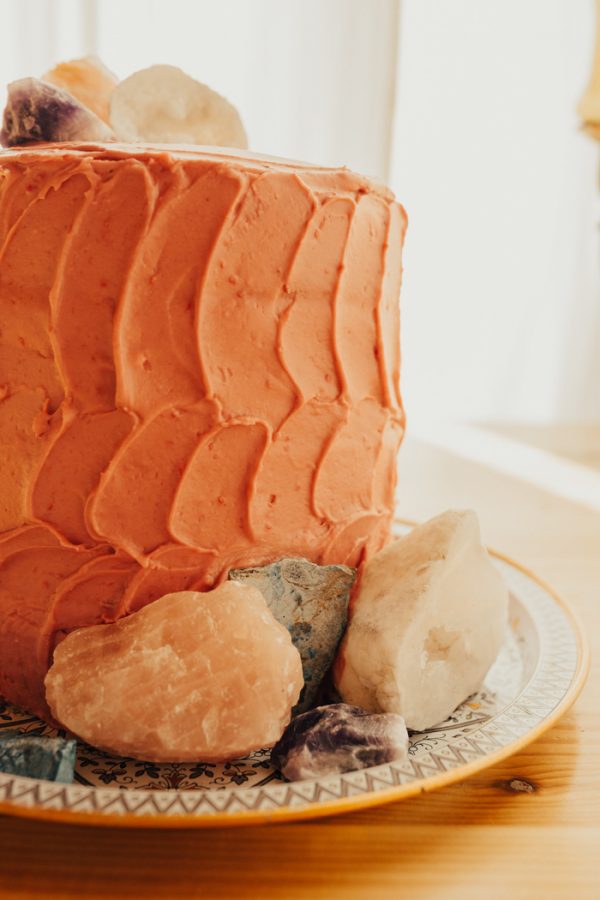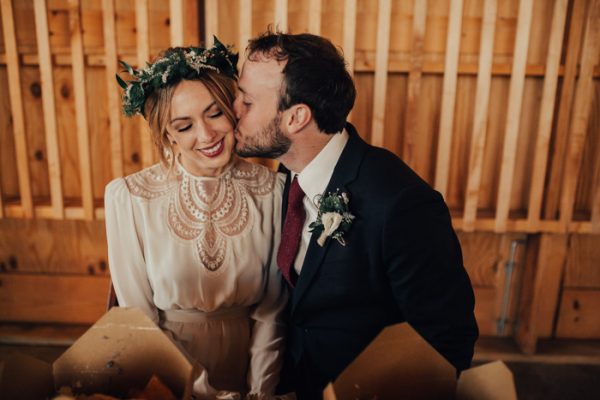 Don't be too strung out on perfectionism. With so many beautiful weddings bouncing around on the internet, it was easy for me to compare myself and get down about certain limitations or shortcomings. It was useless! The day was beautiful because our hearts were full of love for each other and excitement about our future together. In the beginning, middle, and end- that is all that matters.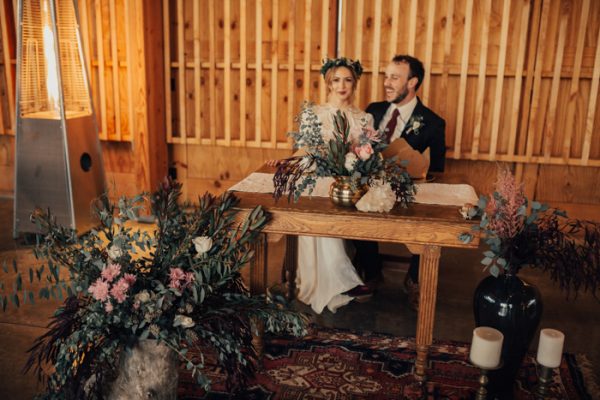 Processional: Gregory Alan Isakov – The Stable Song
First Dance: Langhorne Slim – Sea of Love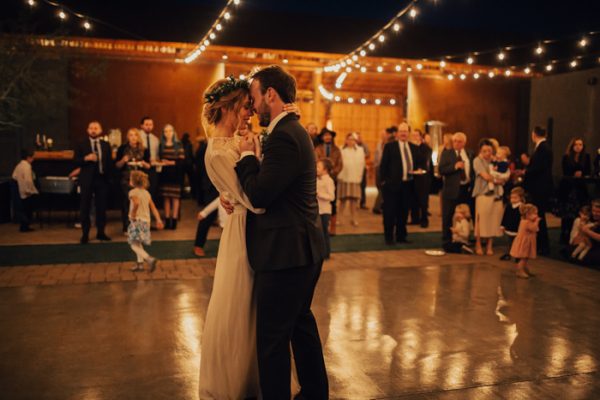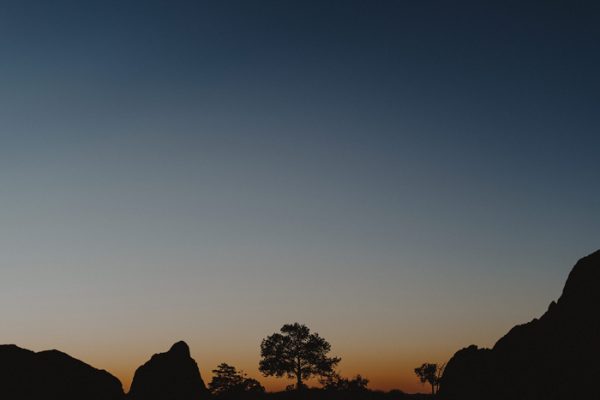 Congratulations to Meg and Matt, and a huge thanks to Teresa Jack Photography for sharing their special day with us! Love this wedding's laid-back desert vibes? Then you've got to see this artistic industrial desert wedding at The Doyle Las Vegas!