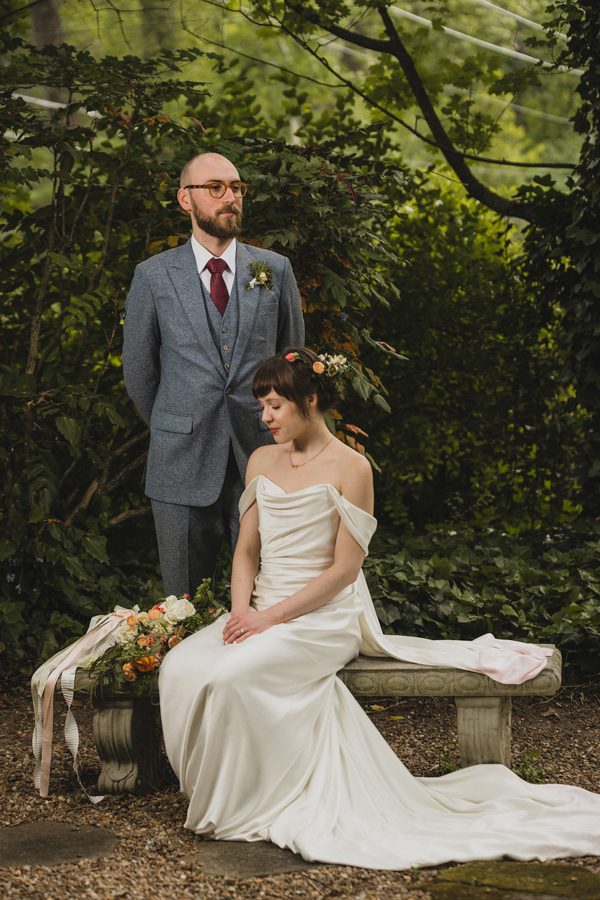 We can not get enough of the vintage details in Clare and Alex's garden party wedding! The couple honored their Australian, New Zealand, and Martha's Vineyard roots by incorporating florals, décor, and dinner items native to all three locales in their Georgia wedding. After the wedding guests attended two spectacular ceremonies to represent the families' two faiths, they were treated to a vintage garden reception complete with amazing DIY projects and personalized signature scents for each guest. Jason Hales Photography beautifully captured every detail of the couple's special day, including Clare's John Singer Sargeant inspired bridal look!
The Couple:
Clare and Alex
The Wedding:
The Basilica of the Sacred Heart & Private Residence, Atlanta, Georgia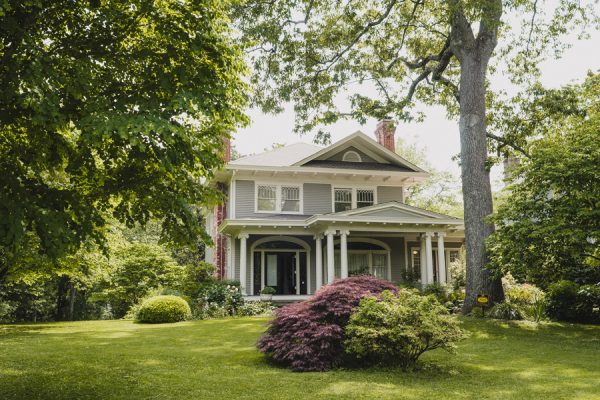 The most important thing about our wedding was that it reflected who we are and where we came from. I'm of an Australian & New Zealand background through my mum and dad, and Alex's family home is on Martha's Vineyard, so we wanted the decor and stationery to reflect those places. We incorporated lots of eucalyptus (from Australia) and green fern (from New Zealand) and blueberries & hummingbirds, which are all over the Vineyard.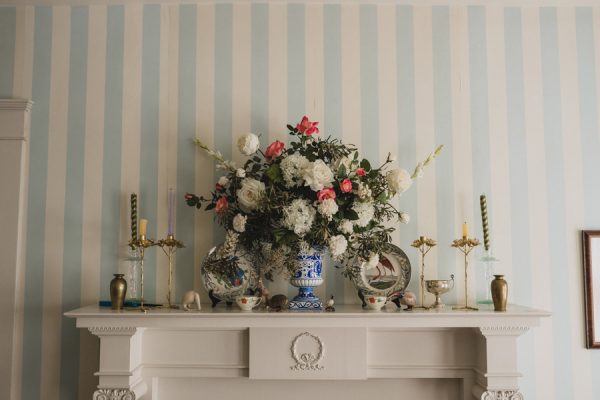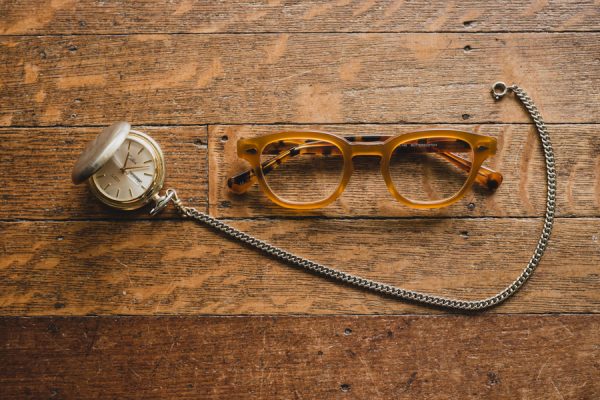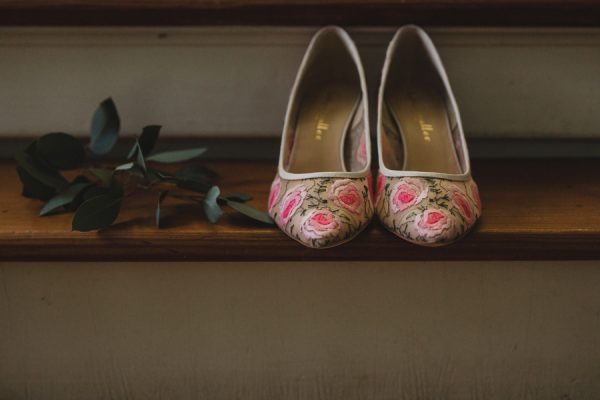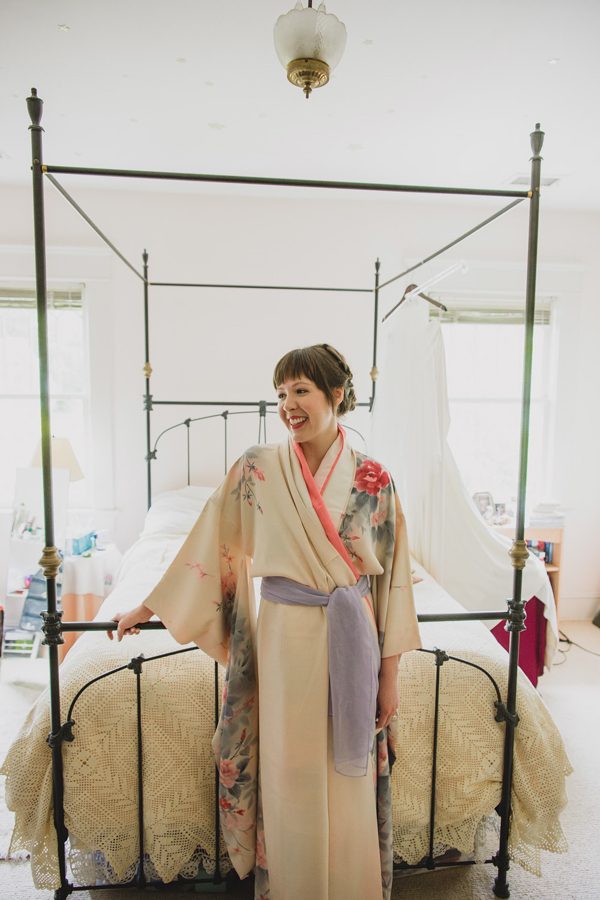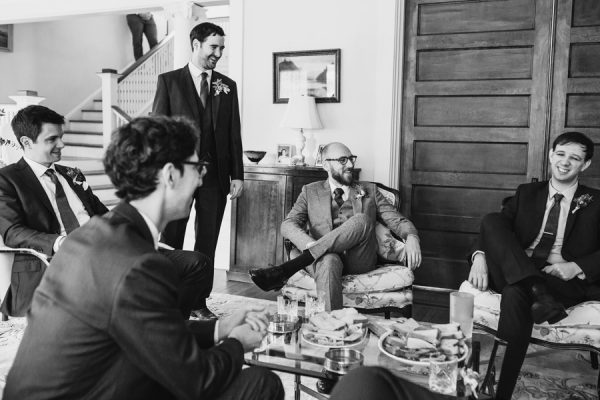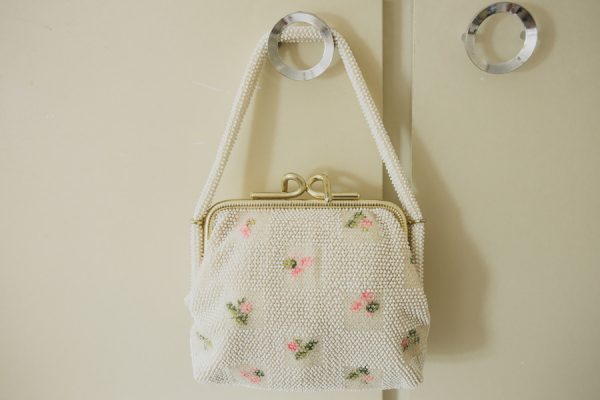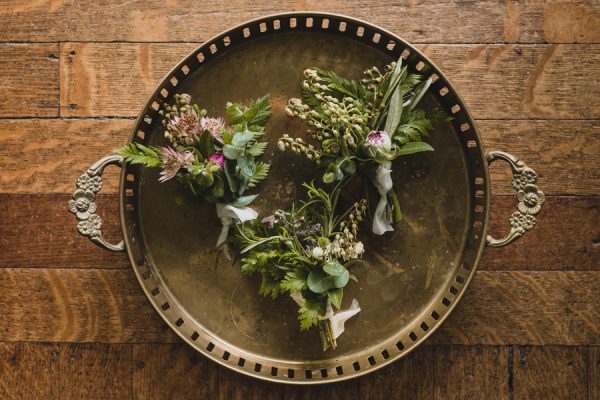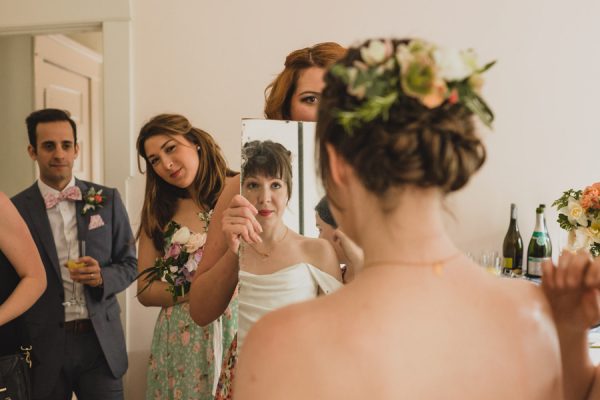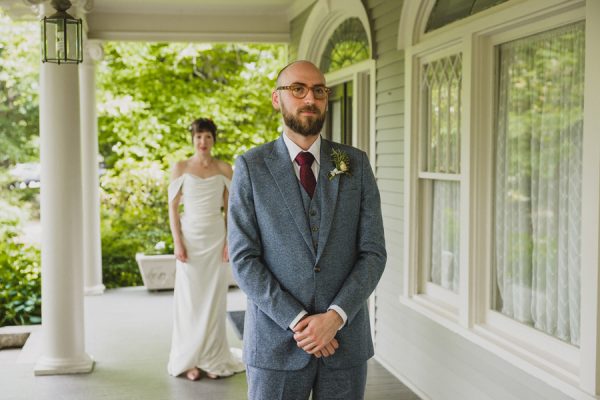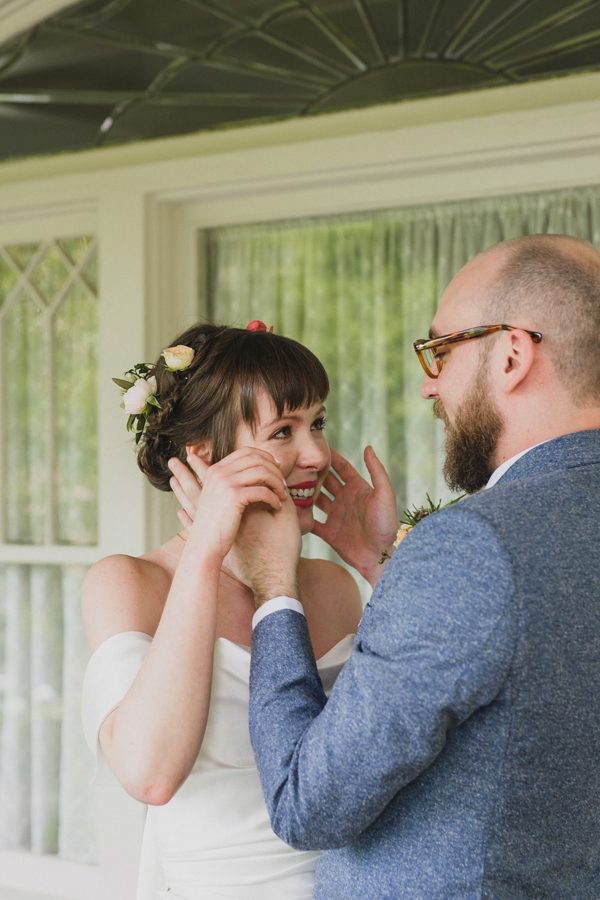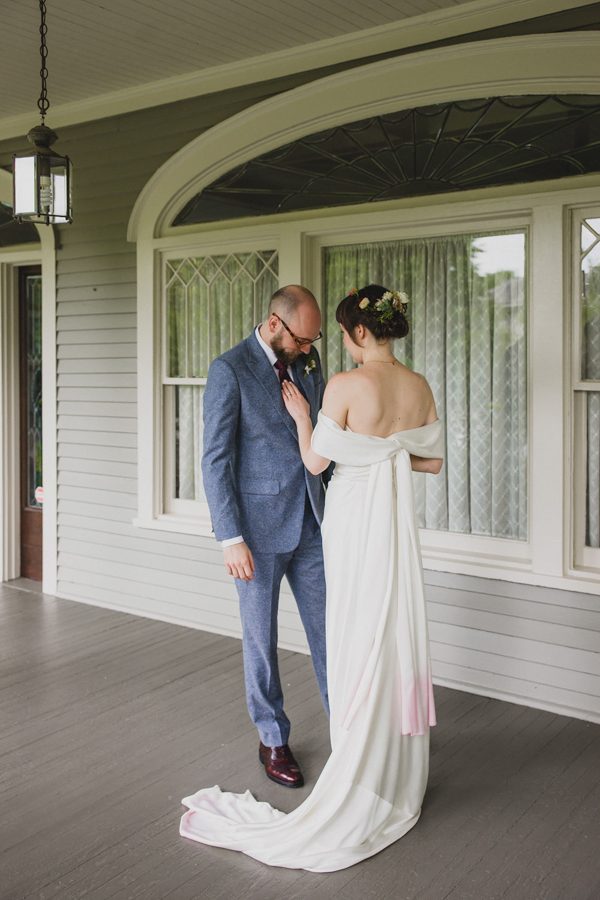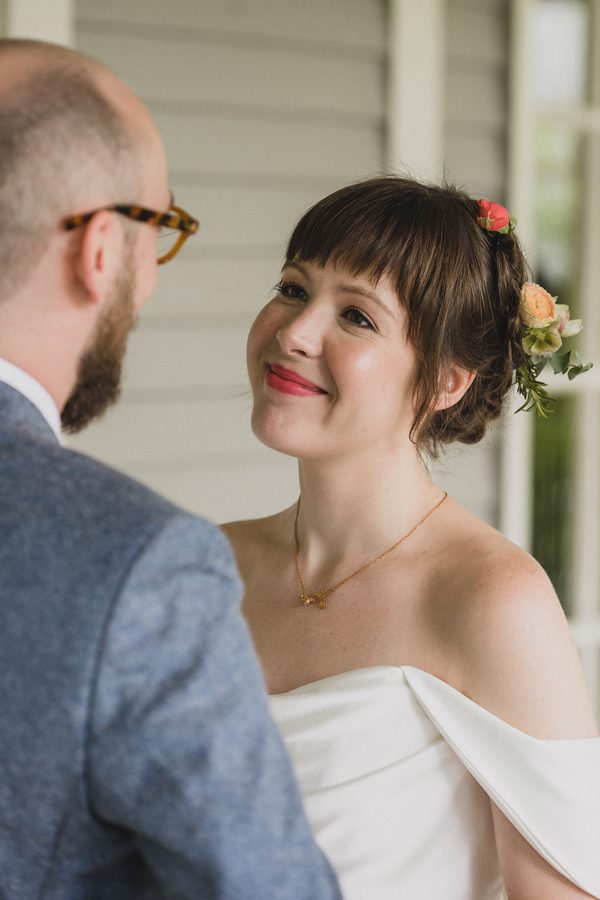 The bridesmaids wore mismatched floral dresses, which they picked the pattern of, and the bridesmates (my 2 male bridal party members) found lovely floral bowties with matching pocket squares! They also all ended up wearing different gemstone necklaces & cufflinks that were gifts from me the day before.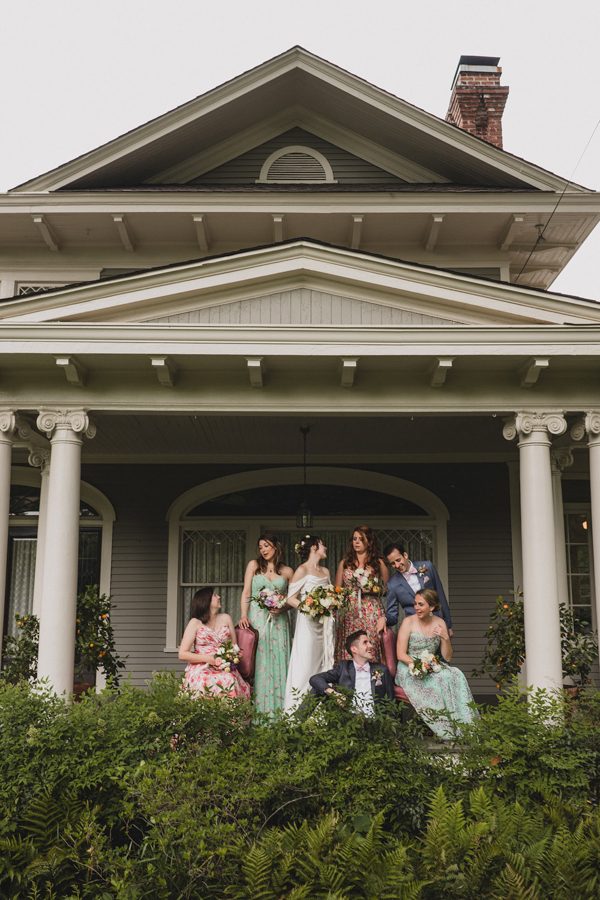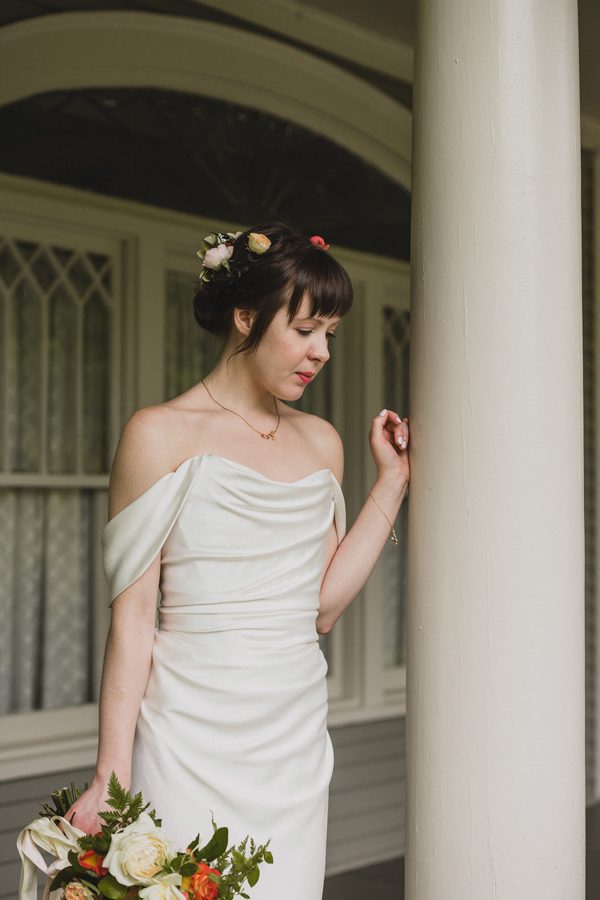 I wanted my dress to be elegant & romantic, but whimsical and a little unpredictable. I think I tried on just about every dress ever made trying to find the one! I ended up going bespoke, with a sand-washed silk satin dress with a corset base. The draping and sashes on it were just heavenly, I felt like a John Singer Sargent painting. The satin was so lusciously soft too–it was so comfortable! We also dip-dyed the end of the sashes and end of my train a blush pink, for that bit of whimsy.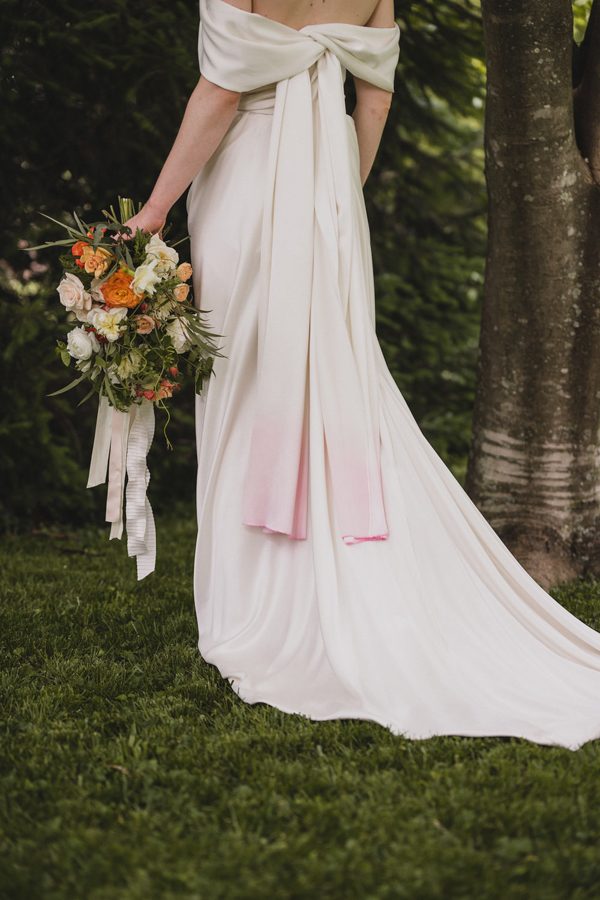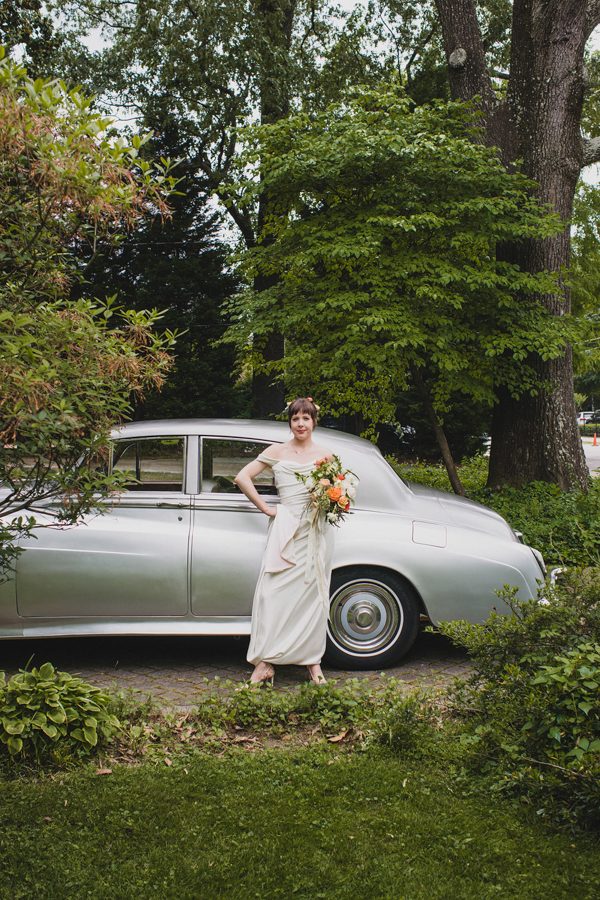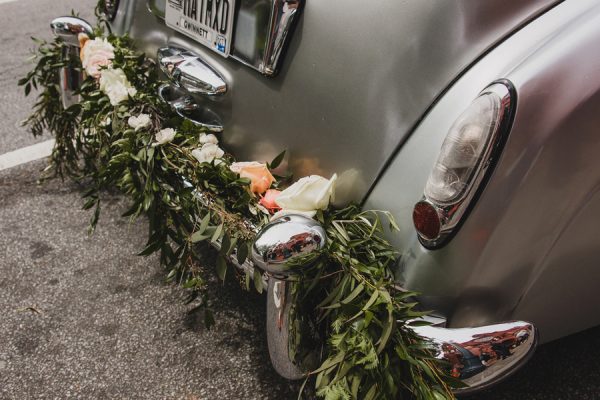 We decided early on that friends and family members wanting to be involved could take care of one aspect of the wedding that was important to them, and it was important to us that everyone felt apart of this day, which was also about them. My dad did the invitation suite, for example, as his background is in branding & advertising, and he's an incredibly creative & visual person–everyone was totally blown away by how beautiful the invites were!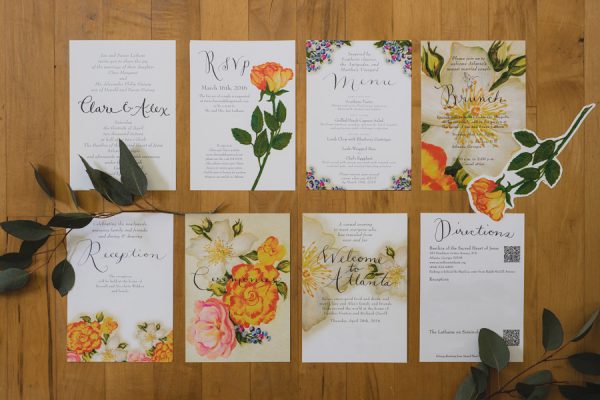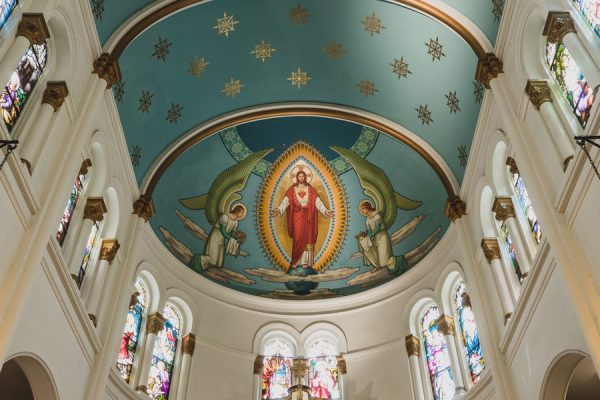 We wanted both our families to feel this day was also about them coming together as one family. We also come from families of two faiths–Catholic & Jewish–and we wanted our marriage to be officiated in both religions. So we had a Catholic ceremony in the Basilica in Atlanta where I was baptized, and then had a Jewish ceremony under a chuppah built into a tree in the garden of our reception venue.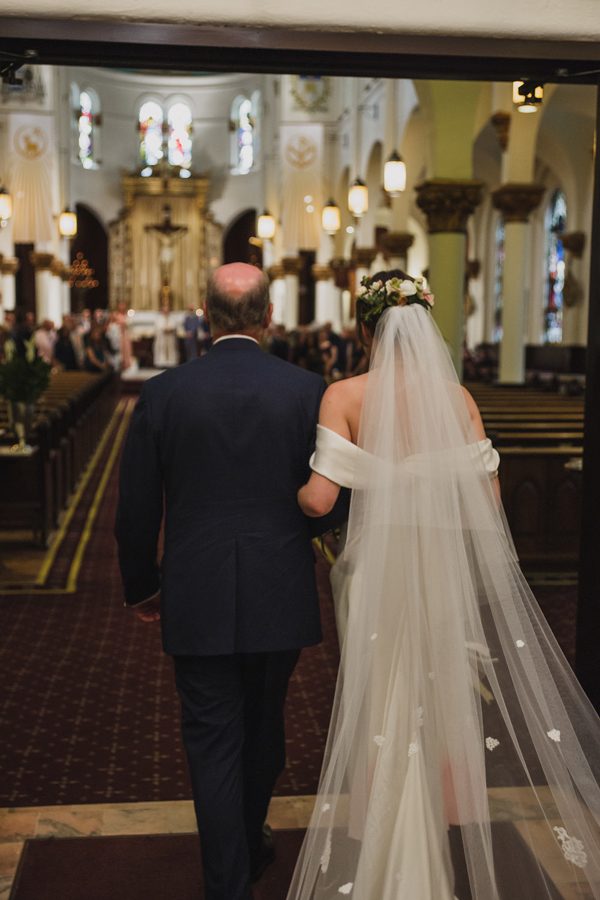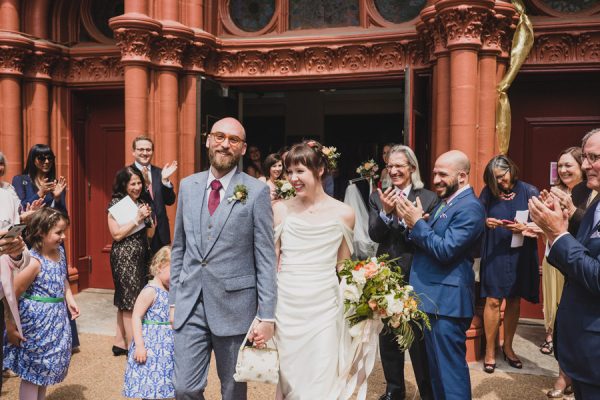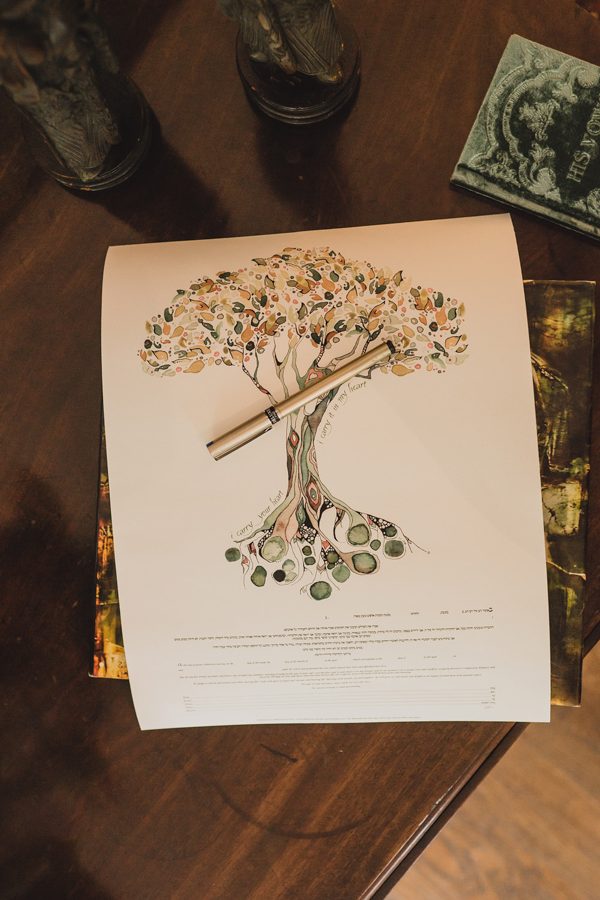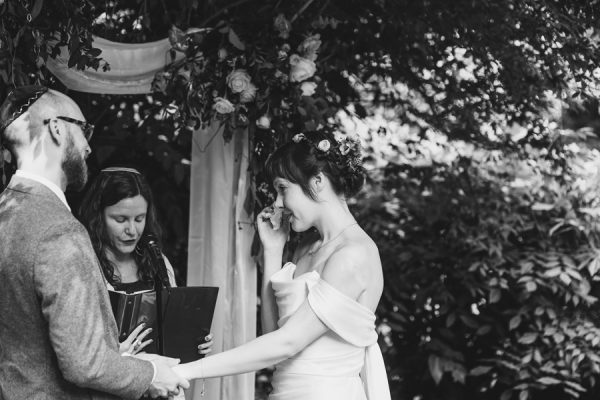 Before our Jewish Ceremony outside in the garden, where all the guests were uncovered, the sky suddenly went from sunny to dark grey with rolling thunder. It lasted for the first 10 minutes of the ceremony–Alex, the Rabbi, and I were pretty nervous it would pour at any second! But in the middle of our Rabbi's speech about the two of us, the clouds parted and the most beautiful sunshine came down. Everybody laughed with relief, and it was this incredible moment, it felt like a real blessing.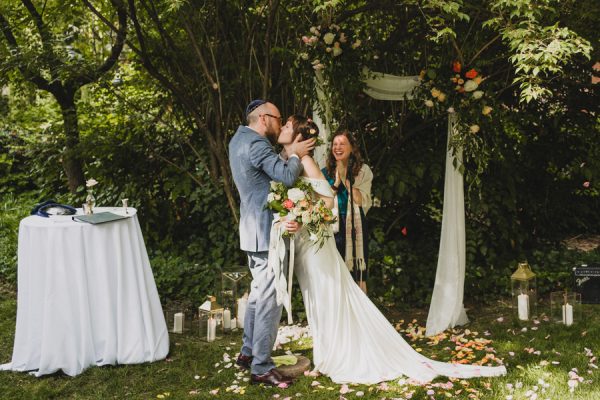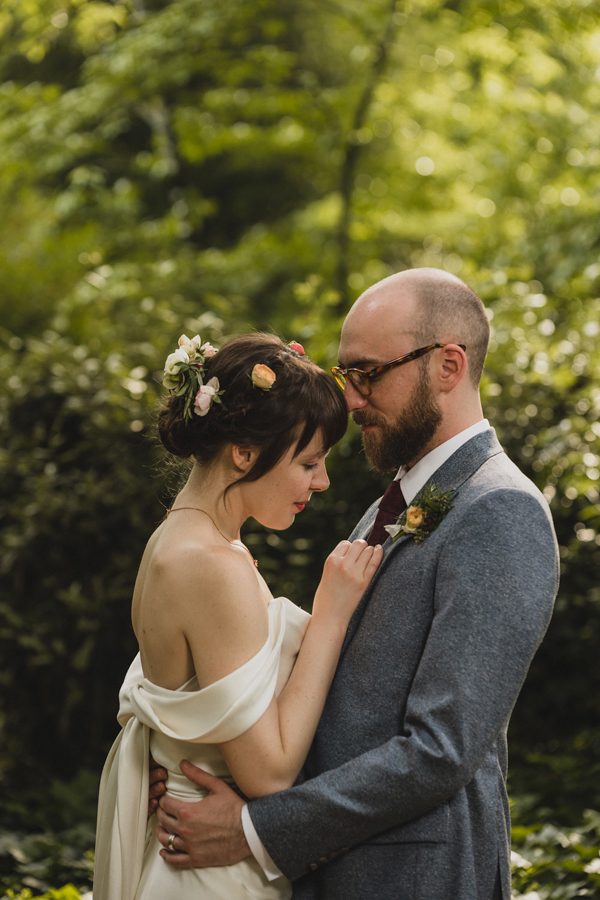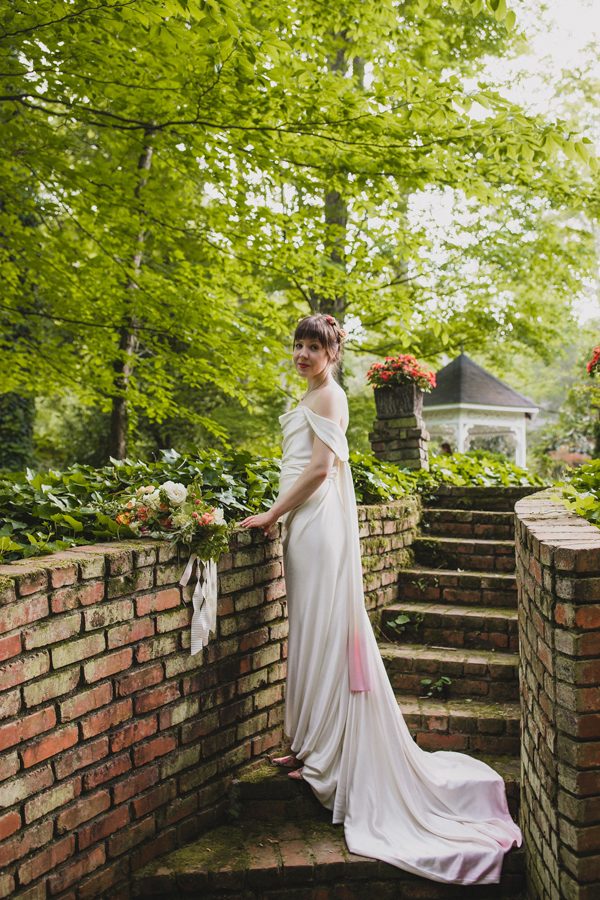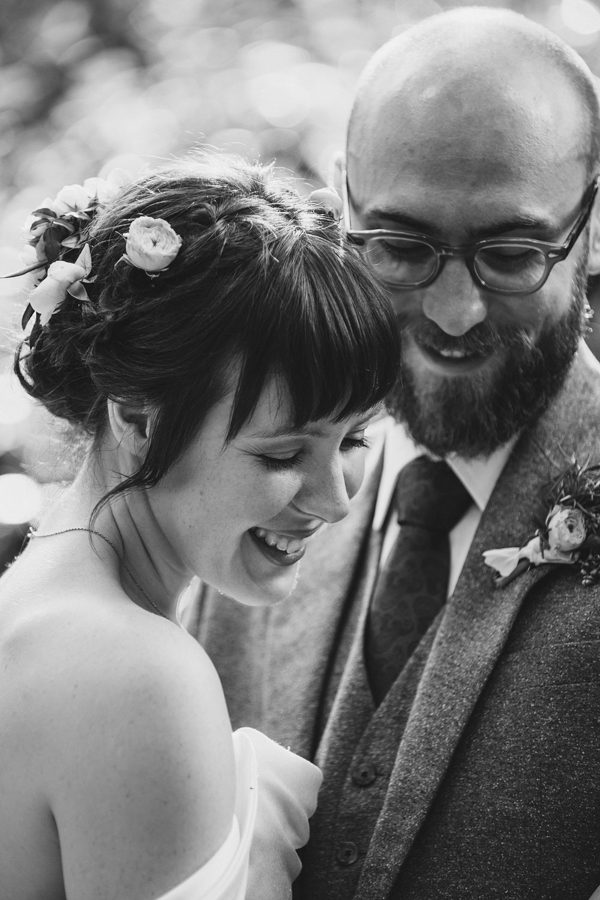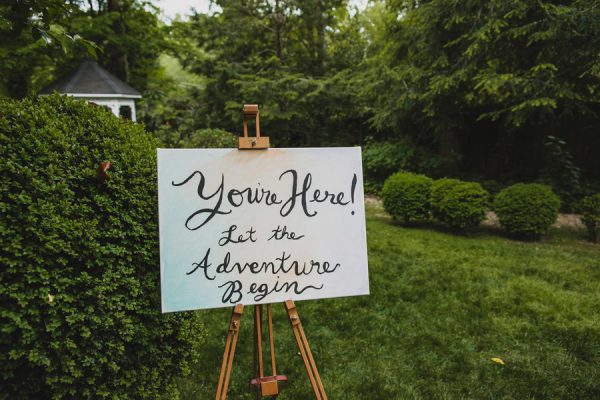 Originally we wanted to have the reception in the garden of my family home, but it wasn't quite structurally sound to host a dance floor and tables. So family friends of ours with this stunning Italian-style garden & courtyard offered to have it at theirs! It was so generous and amazing of them, and it was the perfect setting for the kind of romantic & natural feel we wanted to create.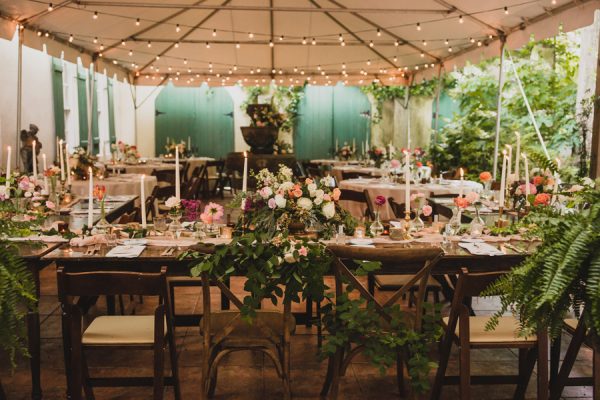 We worked with Arylessence, a brilliant fragrance company my dad works with, to create two signature scents that reflected Alex and I individually. The 'Alex' male fragrance was spicy, with ginger and sandalwood–like a Vineyard beach bonfire. The 'Clare' female fragrance was heavy magnolia, with peach & neroli–nicknamed 'Georgia Secret Garden'. The guests each had one waiting for them at their seat. We have guests asking us months later how they can get some more!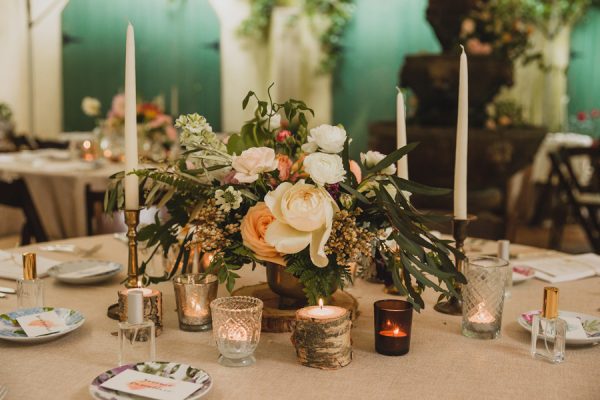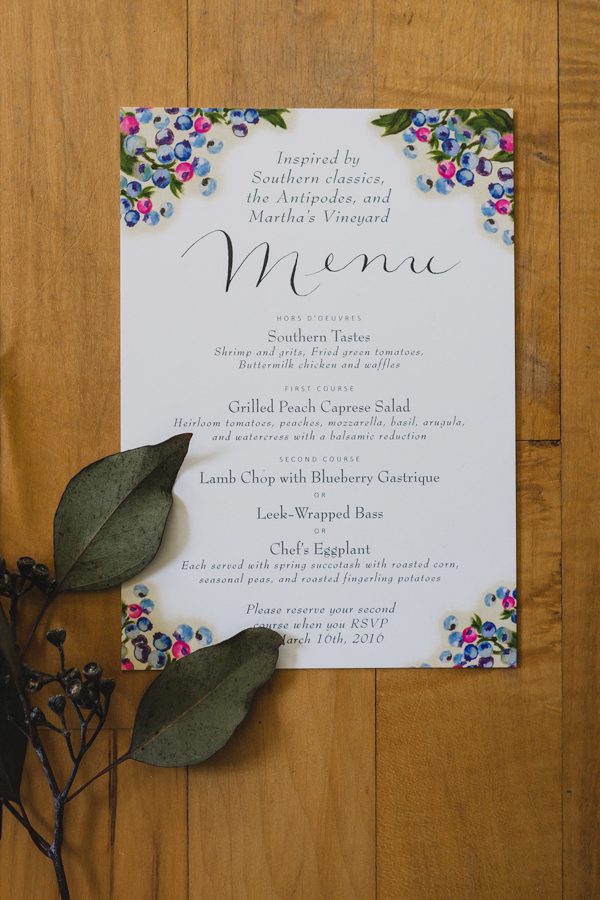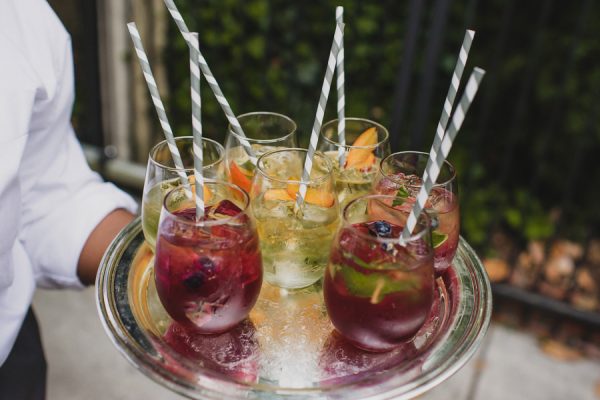 We are both actors with big imaginations and love being outside, so we knew we wanted to create a magical, natural, and lush environment. Sort of A Midsummer Night's Dream meets Big Fish meets Secret Garden (with a little Anthropologie catalogue thrown in).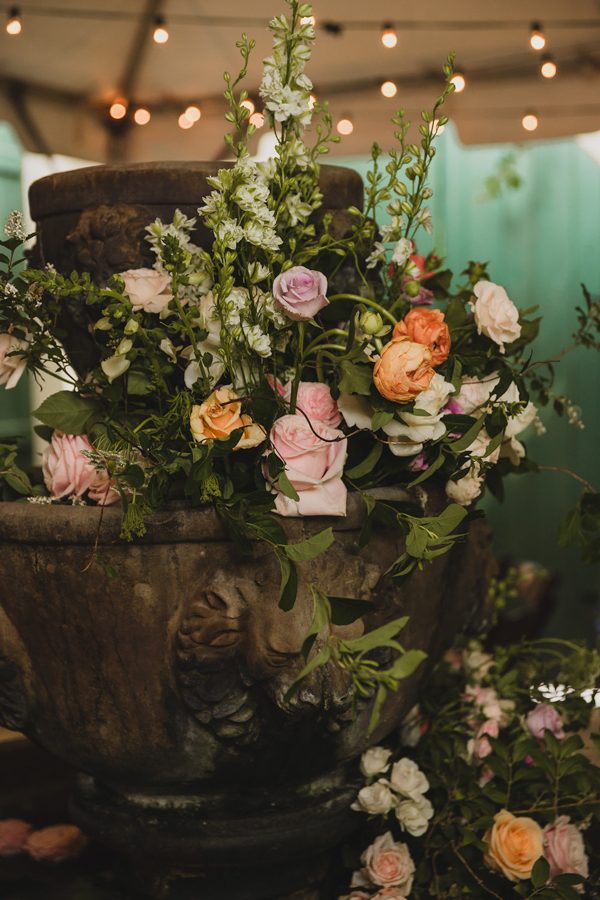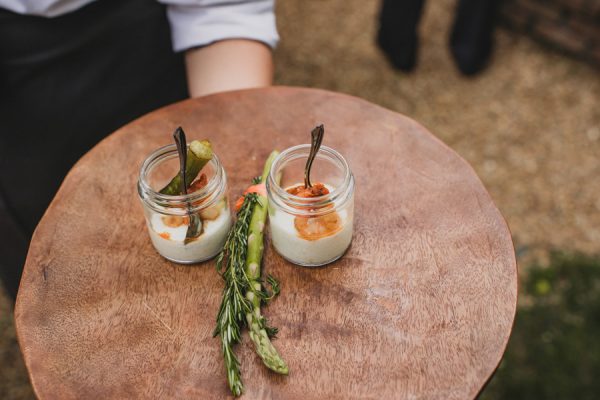 Processional: Pietro Mascagni – Intermezzo from Cavalleria Rusticana
Recessional: J.S. Bach – Orchestral Suite No. 3 in D Major
First Dance: Jeff Buckley – Sweet Thing (Live Cover)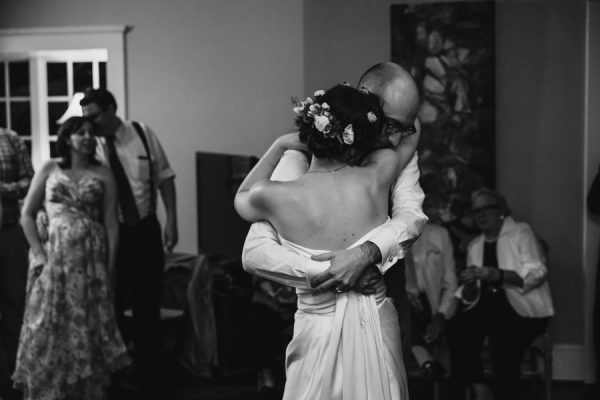 My dad felled a tree from our farm and used the wood for bases for the centrepieces at each table, as well as making an incredible cake stand & cupcake tower!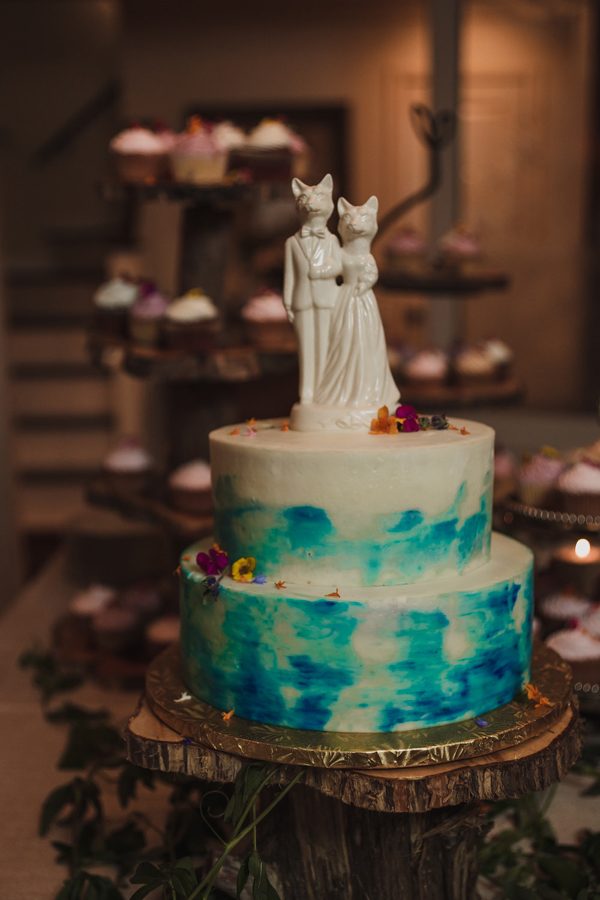 Congratulations to Clare and Alex, and a huge thanks to Jason Hales Photography for sharing this wedding with us! Want more garden party wedding inspiration? Then you've got to see this al fresco Summer wedding in the Tanglebank Gardens!