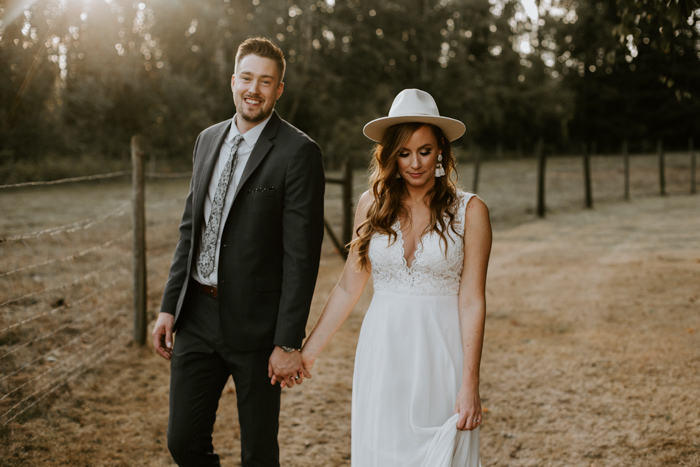 We're honestly not sure what we loved most about this Vedder River elopement: the private vow exchange on the river bank, the backyard pizza party, or the bride's modern-boho style! Acacia and Matt chose to have just a couple of witnesses present for their ceremony, which made the whole event feel natural and spontaneous, and made their cozy post-ceremony picnic even sweeter! One month later, it was time to celebrate with all their friends and family, pizza, charcuterie boards, and all the warmth of a casual backyard party. Photographer Angela Ruscheinski did an incredible job capturing both parts of this amazing celebration and all the nuance that goes into an elopement, especially one with two distinct yet equally charming parts!
The Couple:
Acacia and Matt
The Wedding:
Vedder River and Private Residence, British Columbia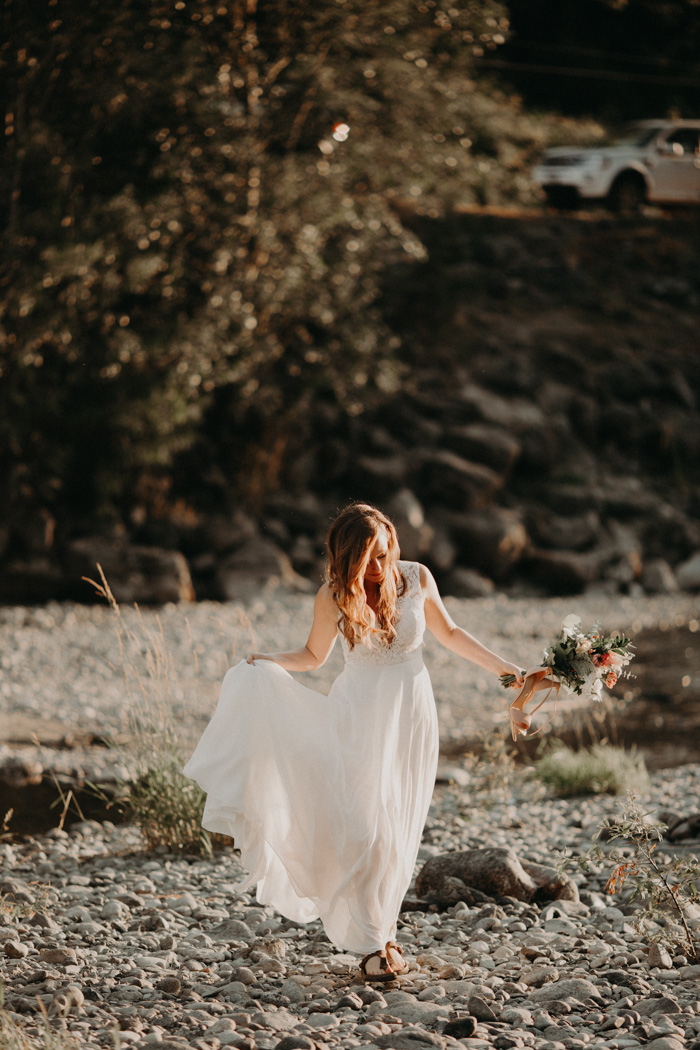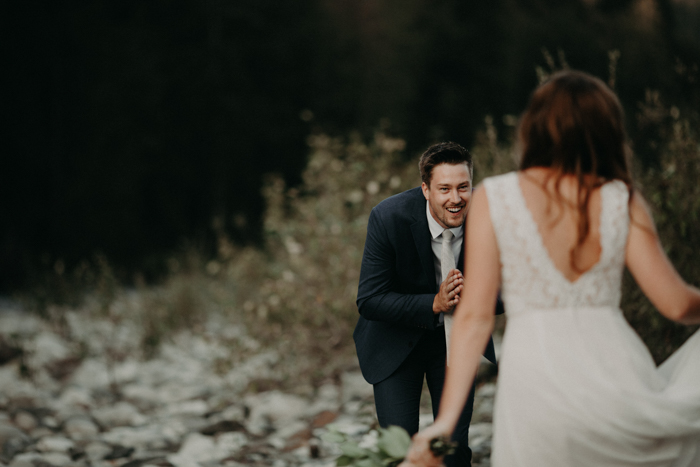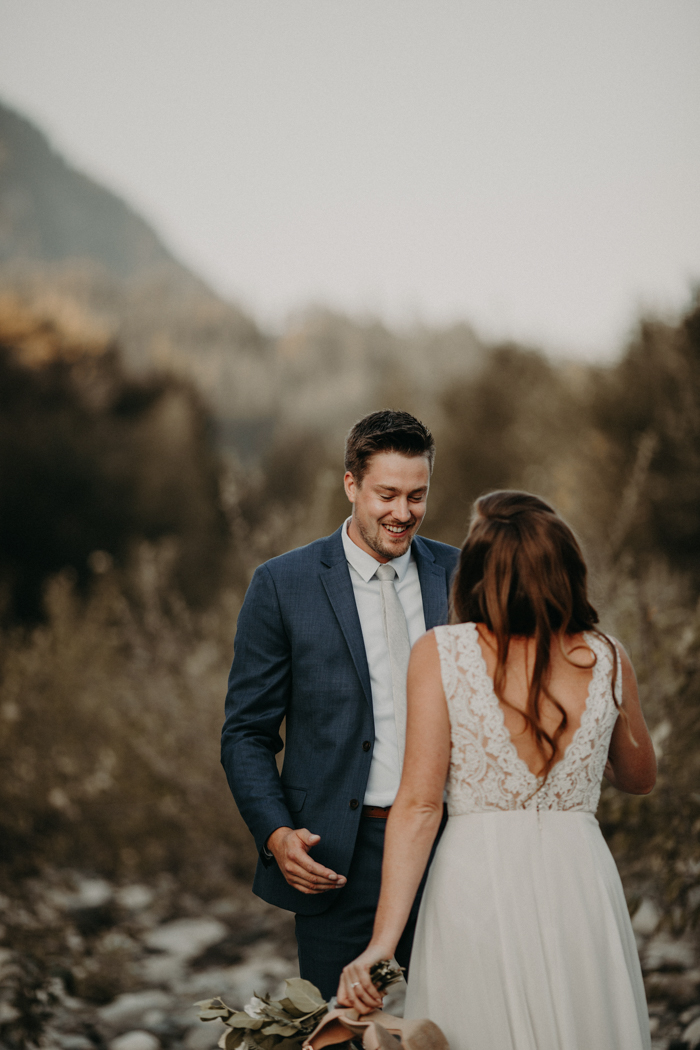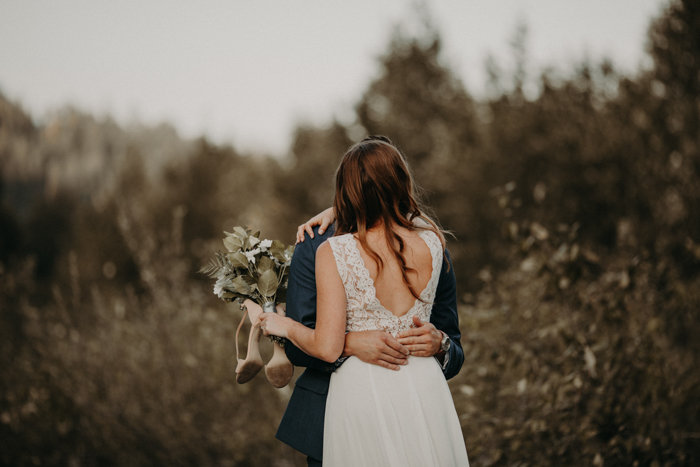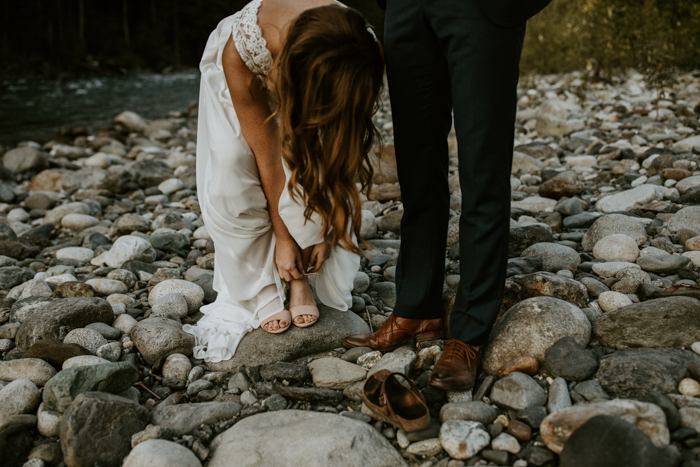 Choosing our elopement venue was a challenge. First, we live in an absolutely beautiful, natural area and we considered the elements: water, mountain, forest, field. I grew up in the prairies and that seemed like a natural choice…I also grew up on a river and, in the end, that is where we were drawn. We spent a day driving to a few locations, scoping it out, we found a place that was decent enough. Nothing spectacular…. definitely not perfect. On our elopement day, we drove to the spot and there was a family having a picnic! We drove literally 10 feet further and stumbled upon the most perfect spot! We had our first look (after hiking down in my wedding dress) and got married with our two best friends beside the river at sunset. It couldn't have been a more perfect day, we were truly blessed.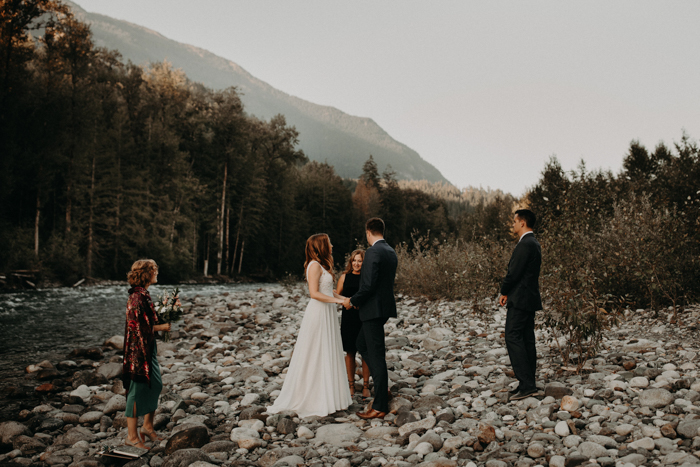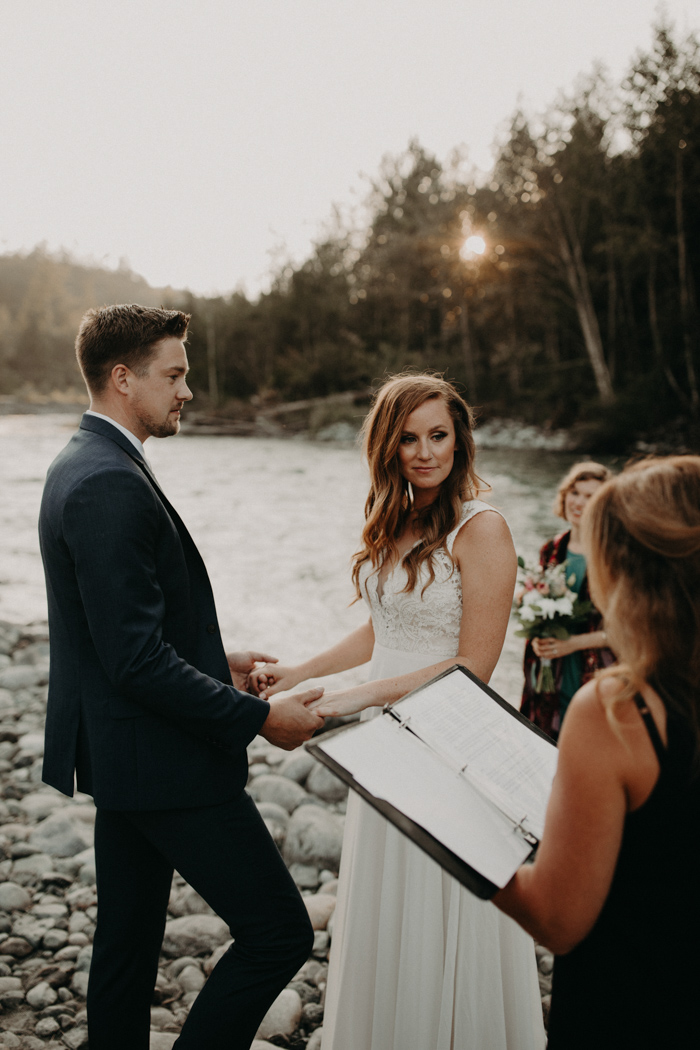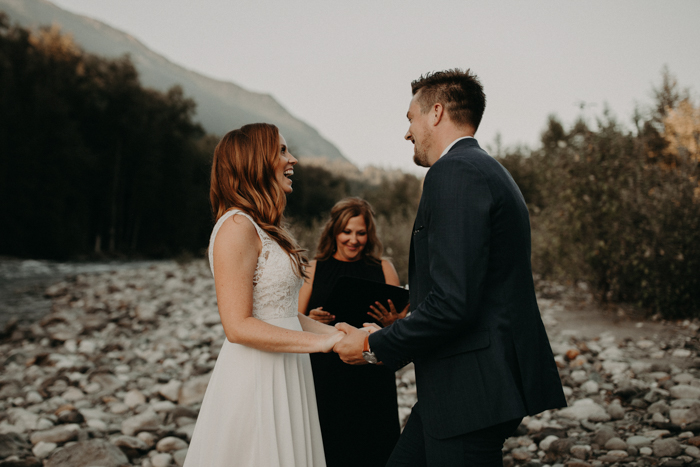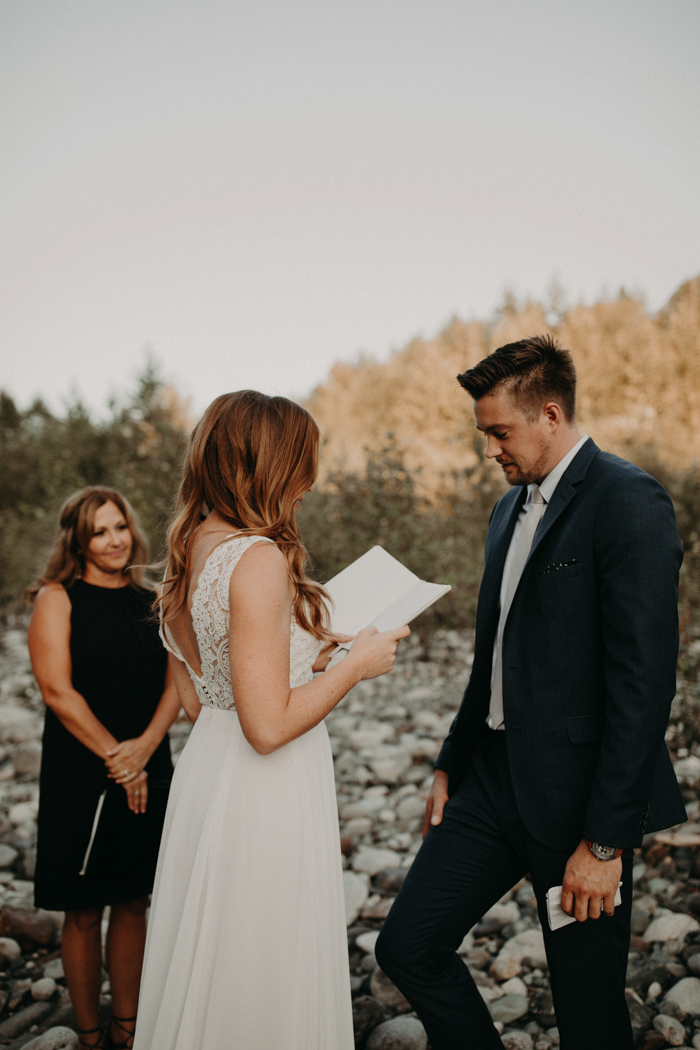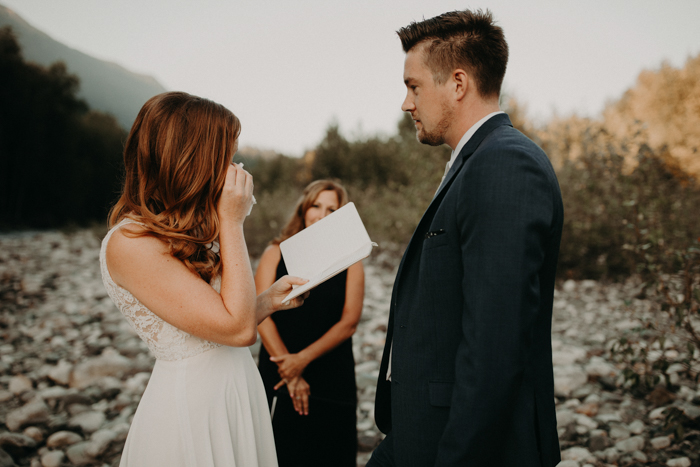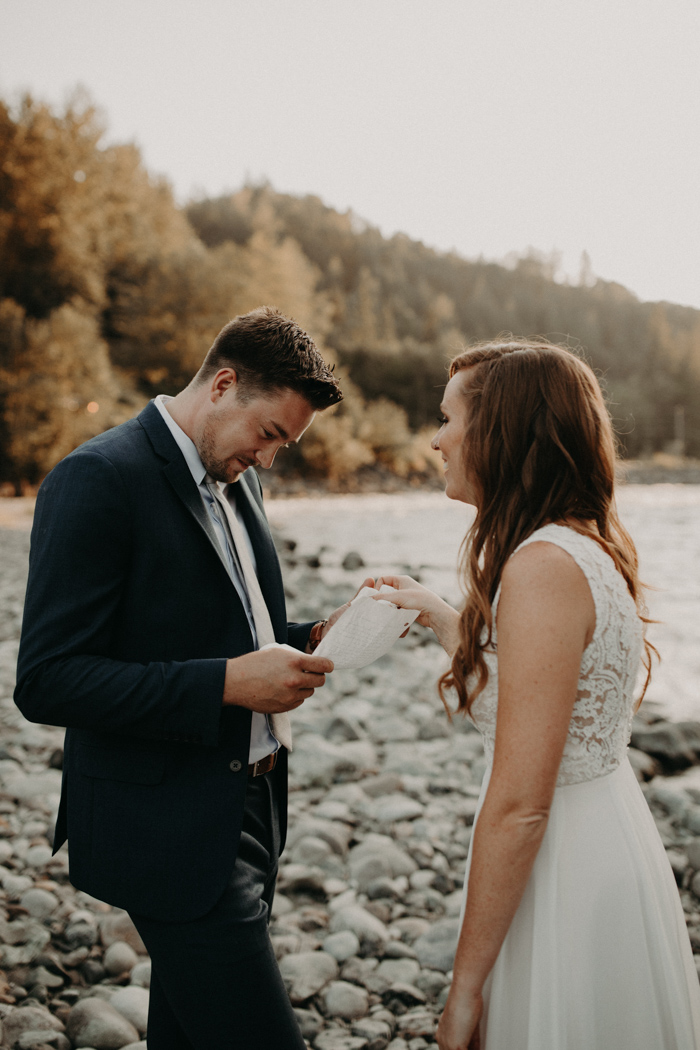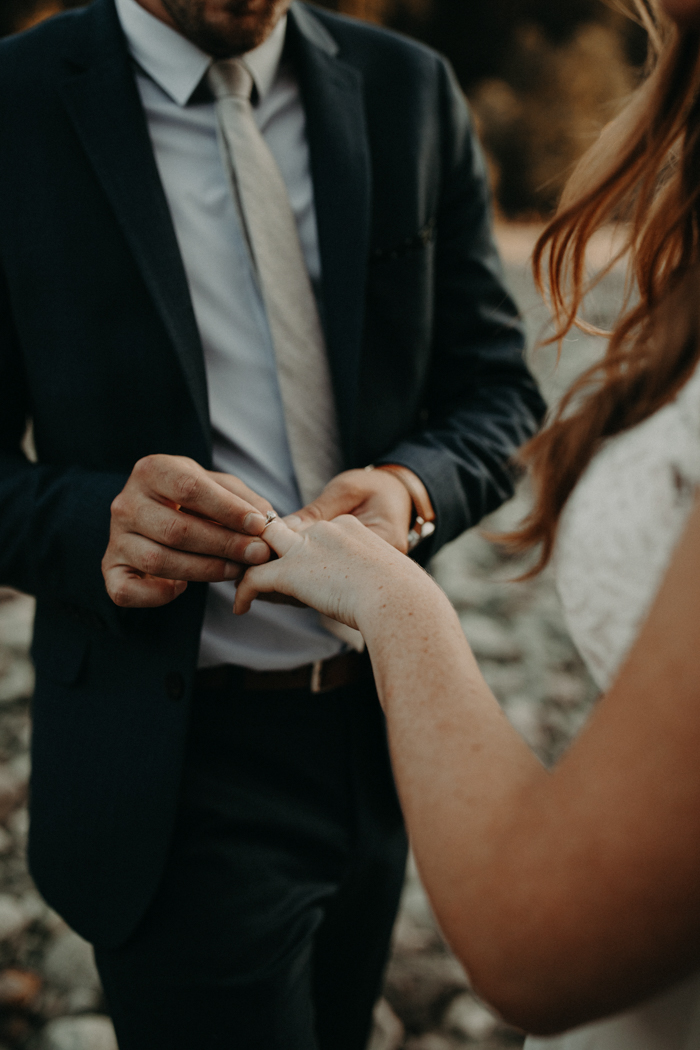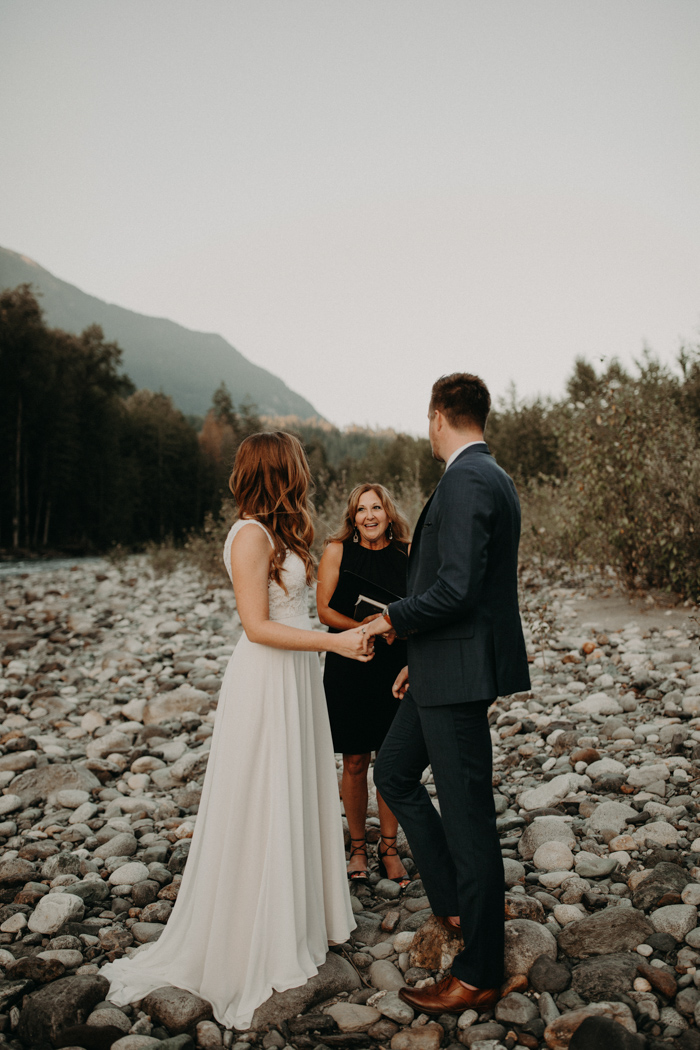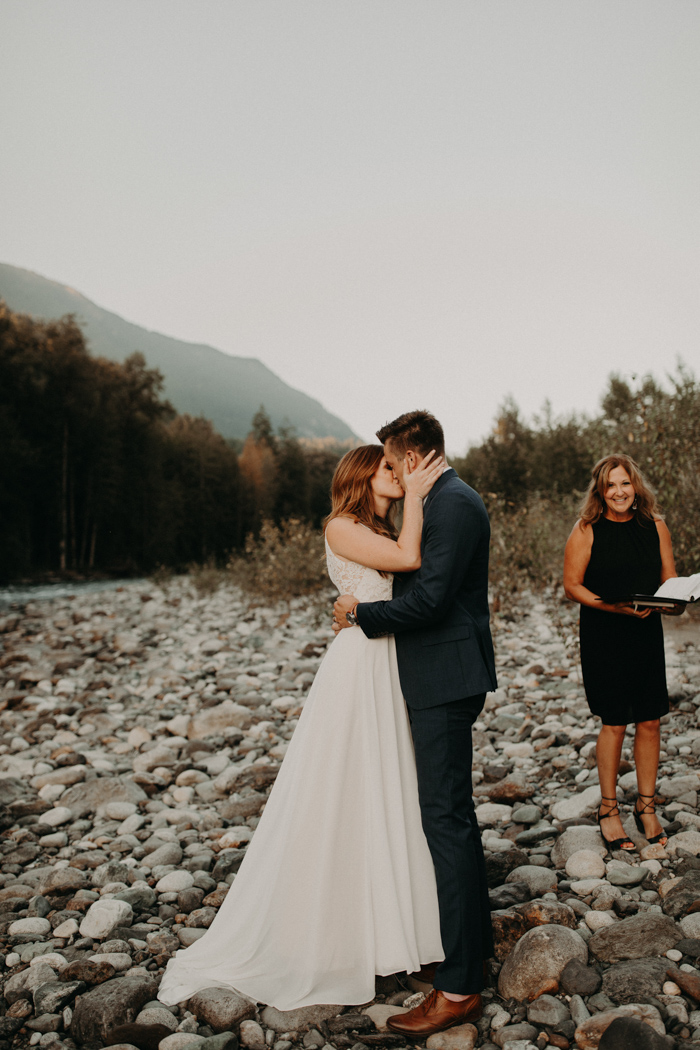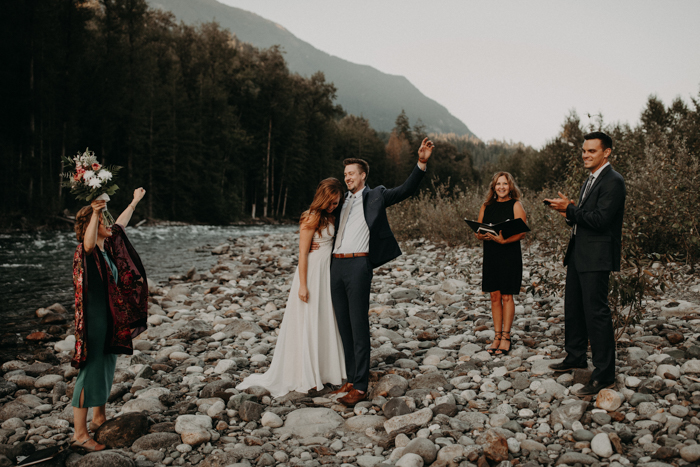 The beautiful thing about eloping and having a reception one month later is that there is time for everything to soak in, lots can get lost in the craziness of a wedding day! The best part of our elopement was the announcement of us being married. For the whole "ceremony" (which was quite short) we were both smiling uncontrollably. It was an incredible feeling to be husband and wife.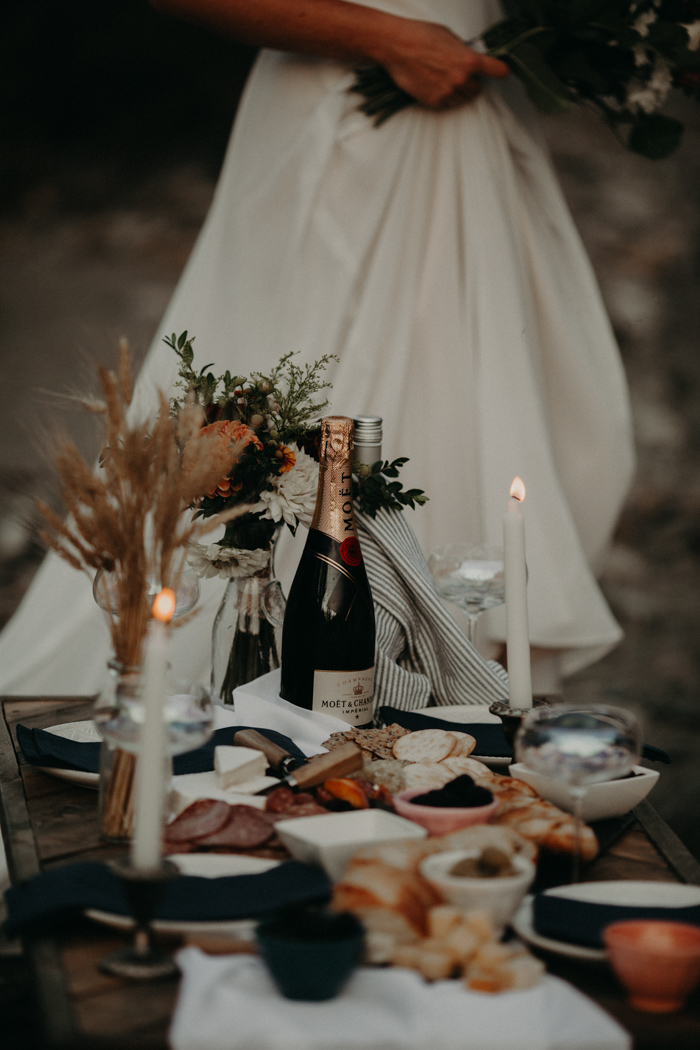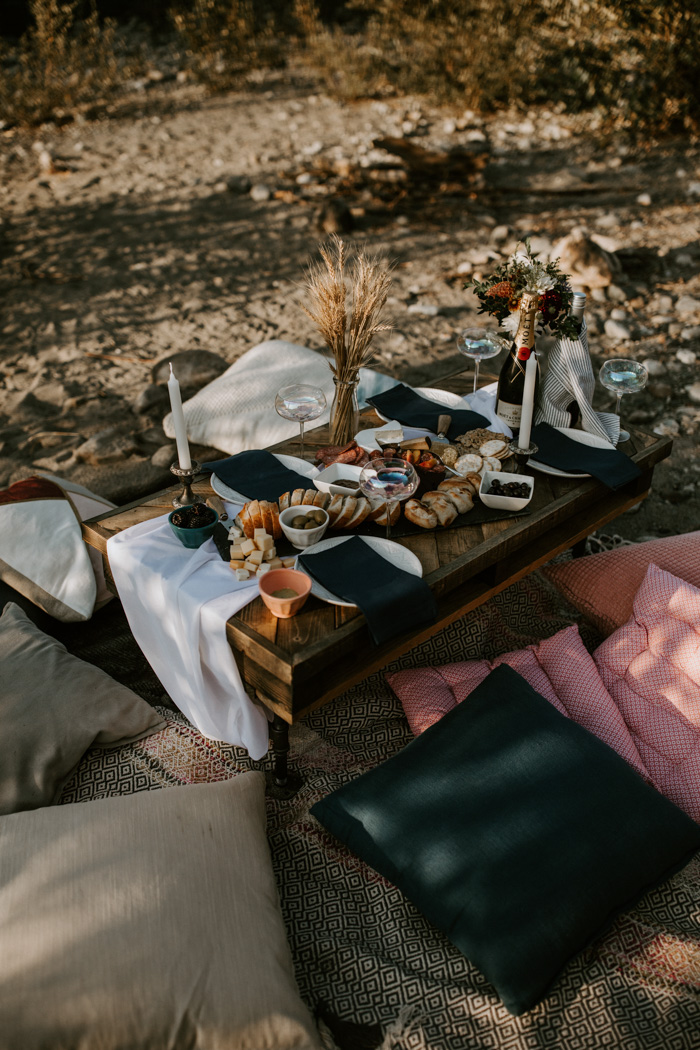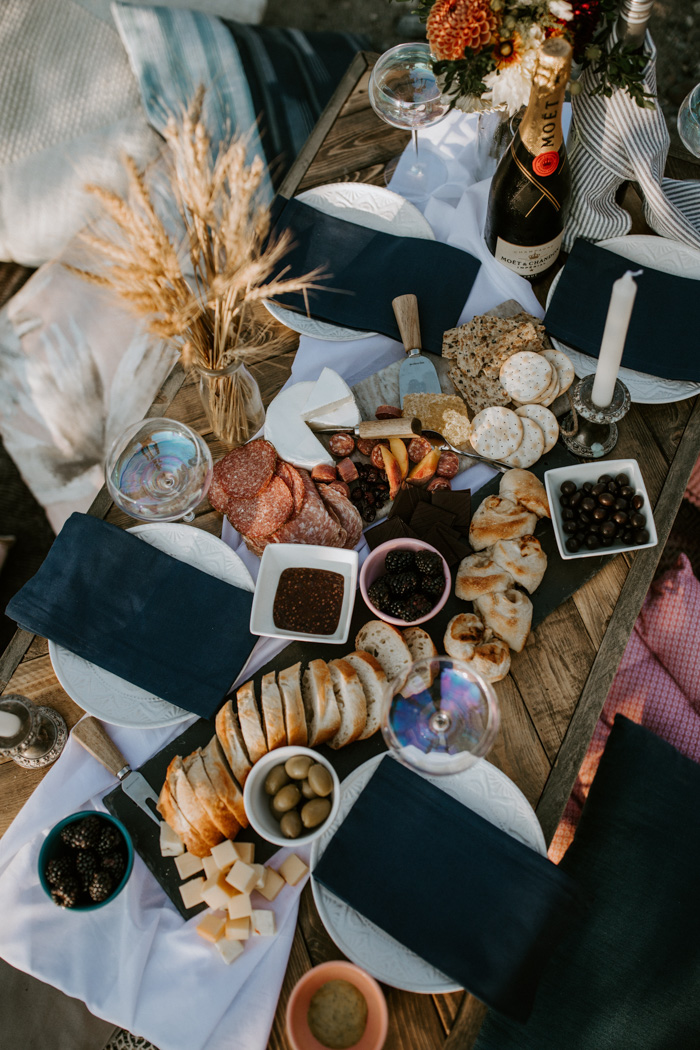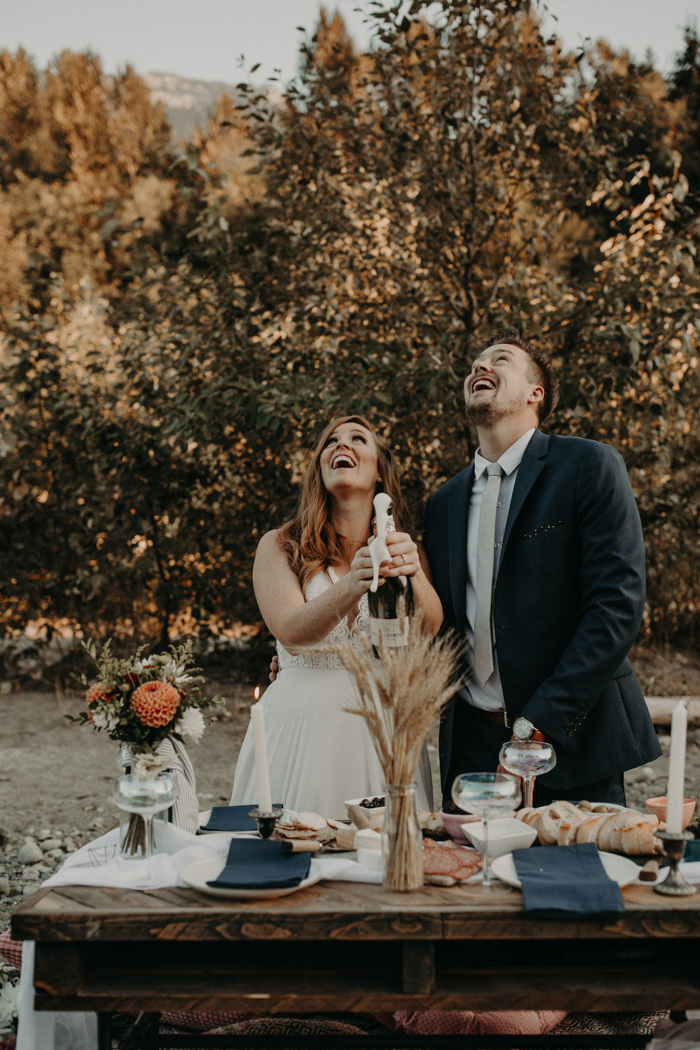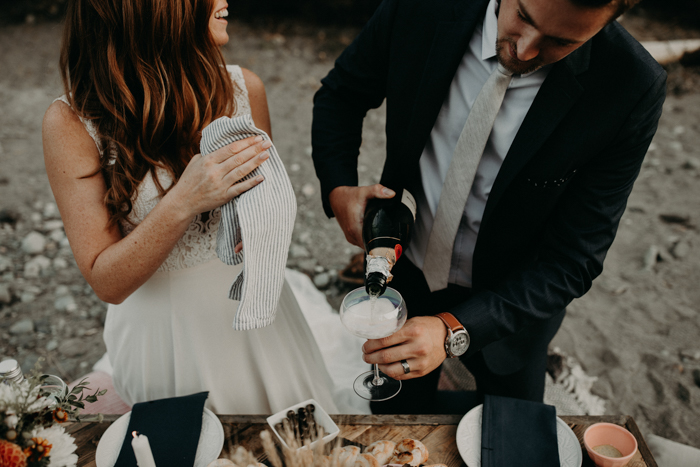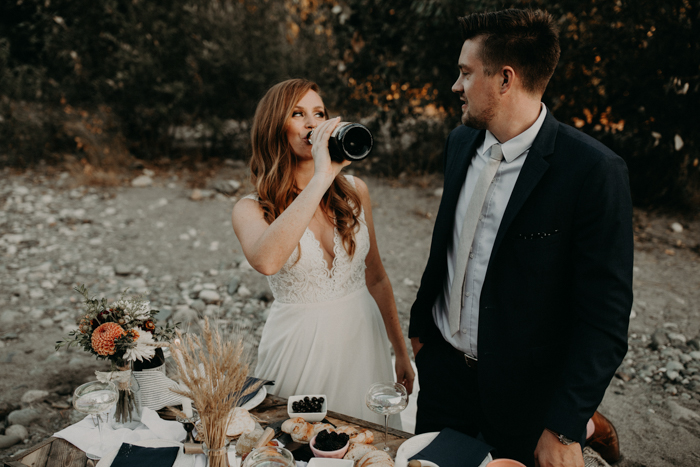 Our wedding vibe was just a natural outcome of Matt and I planning it. I don't know if we set a style in our heads, it just sort of happened. Everything was very free-spirited, relaxed, and easy-going. We just made it what we wanted it to be. Lots of natural elements. Our elopement was spontaneous and it ended up being perfect. We could have invited friends and family who would have happily hiked down to the water's edge but we wanted it to be simple and we wanted it to be just us.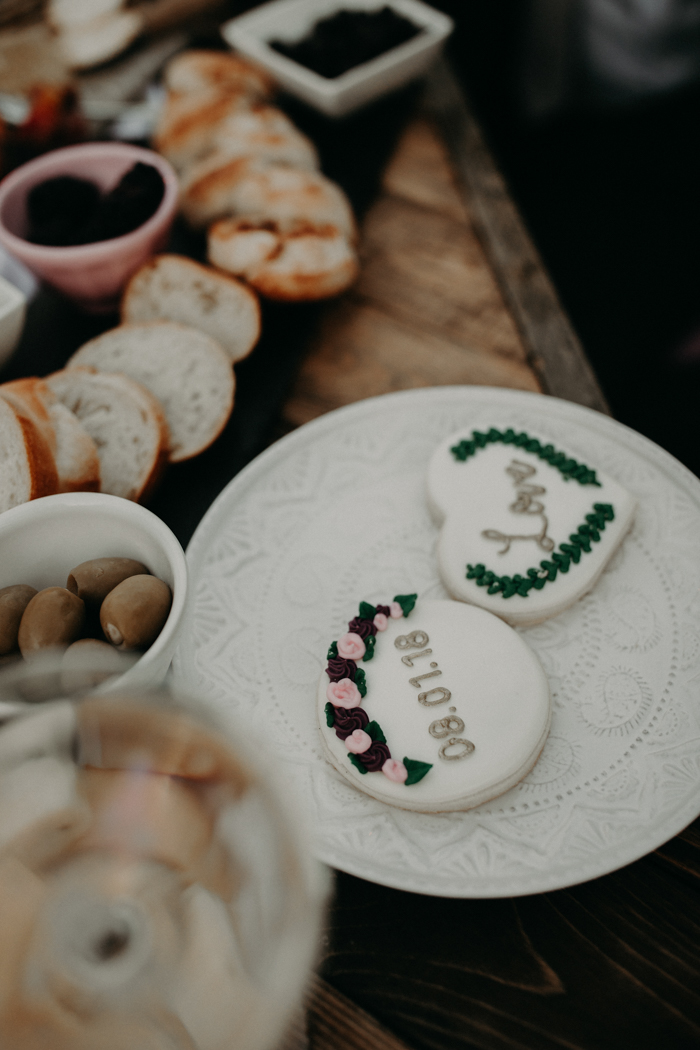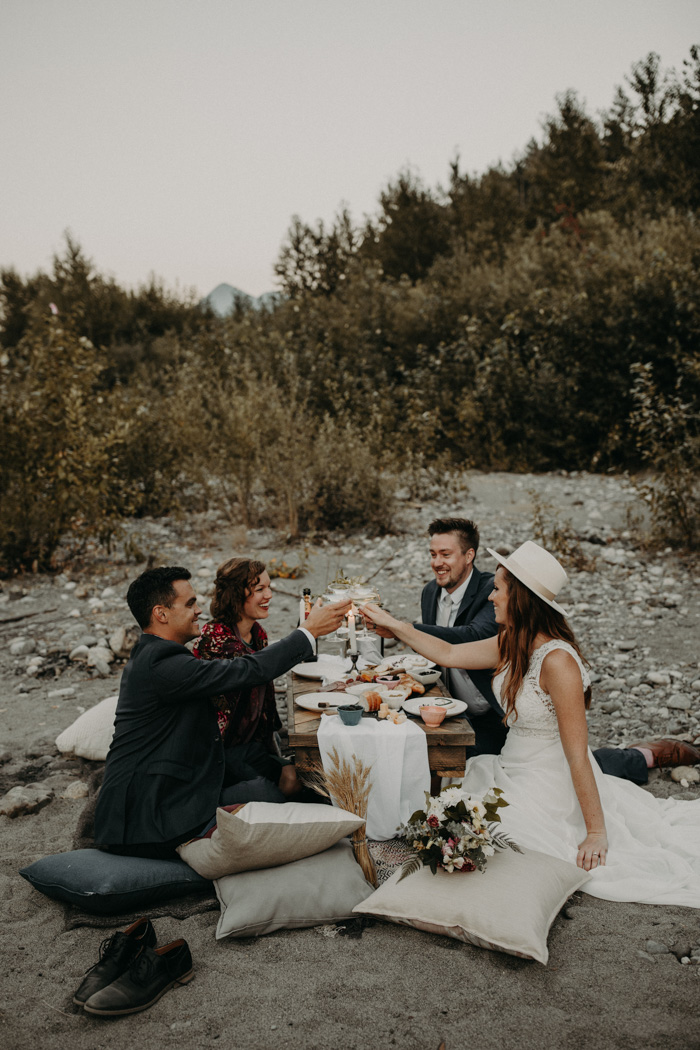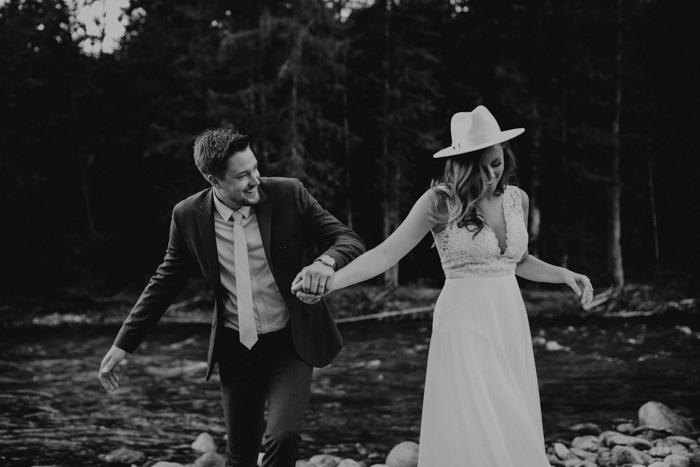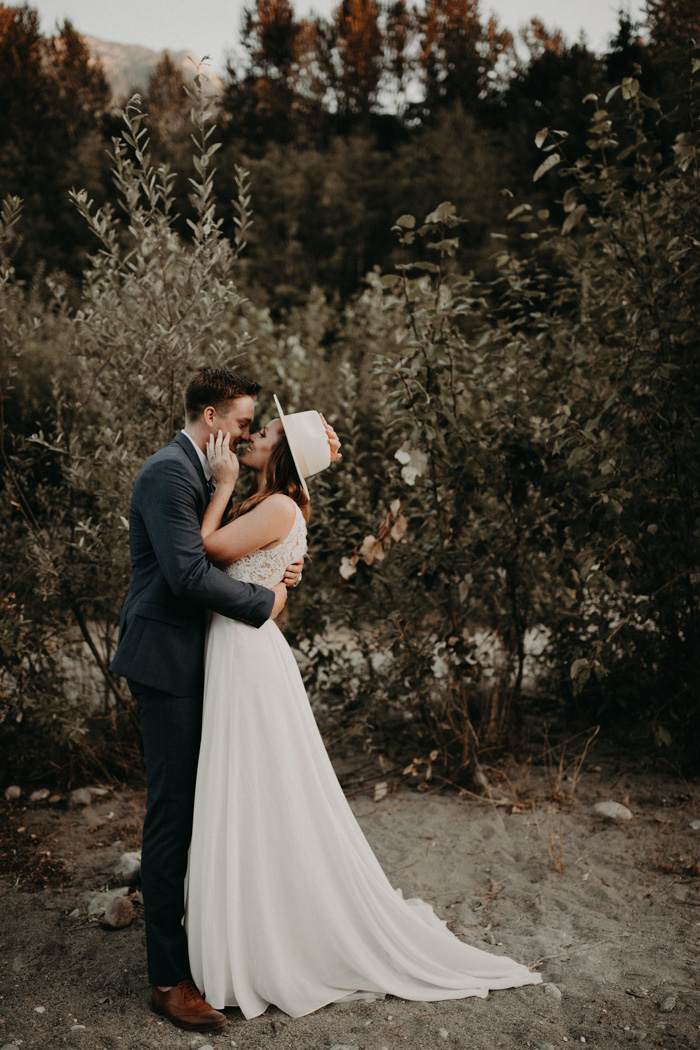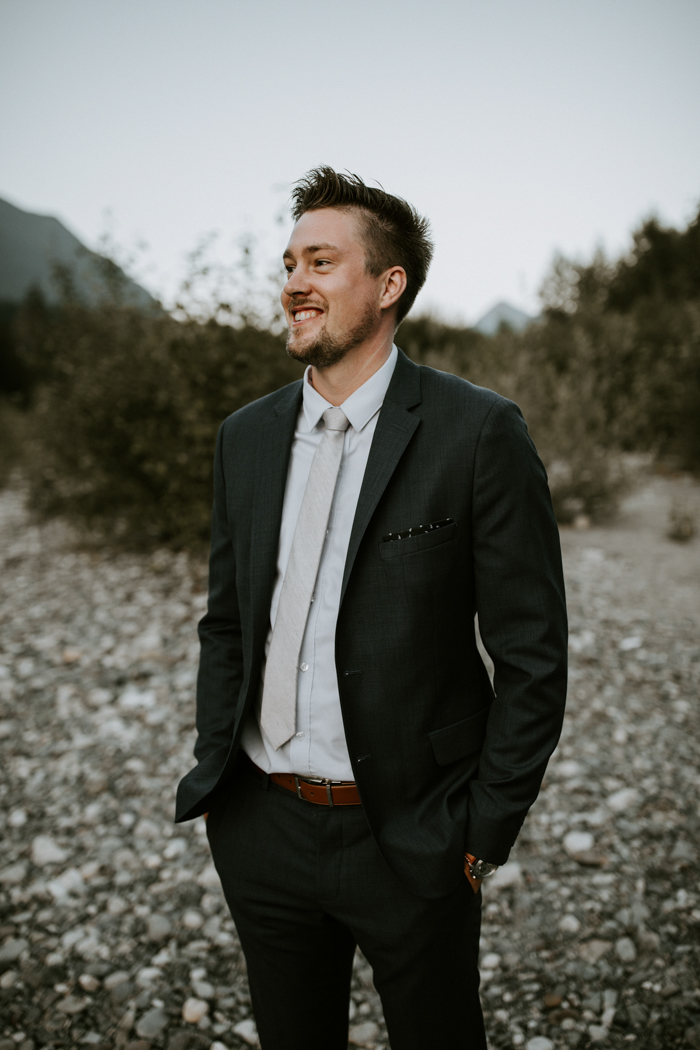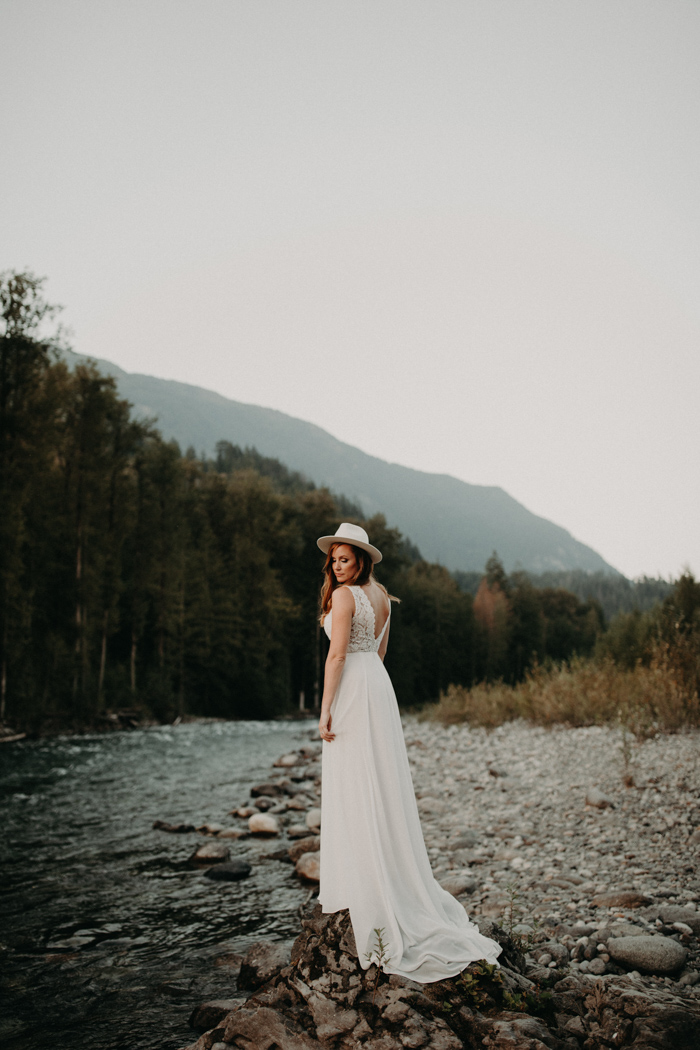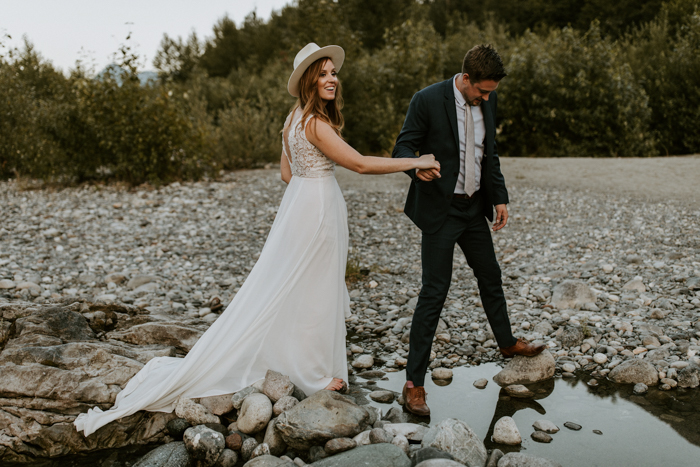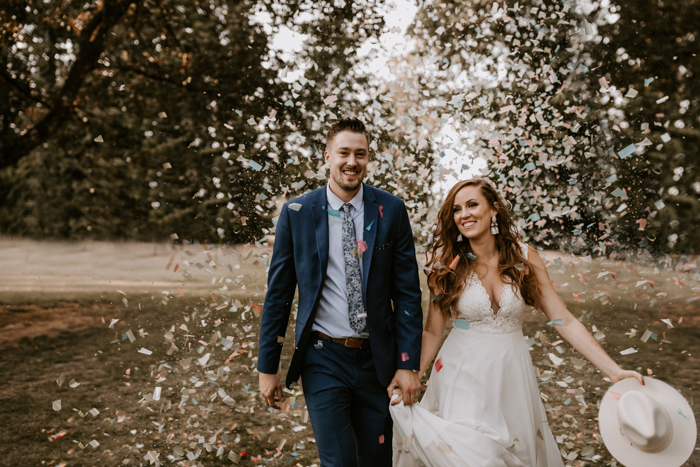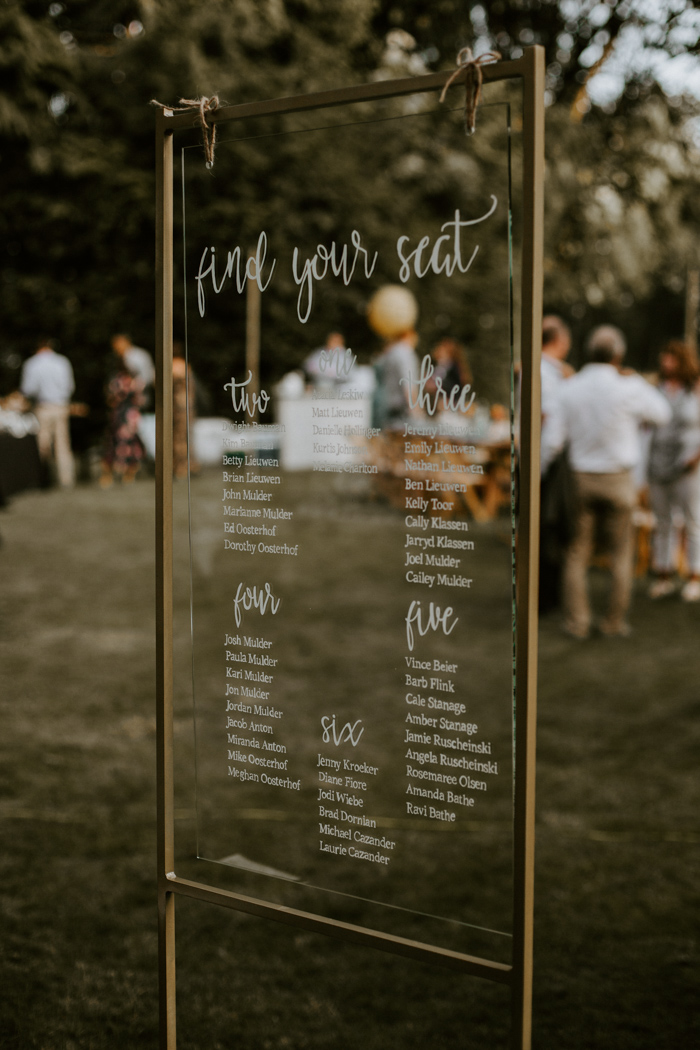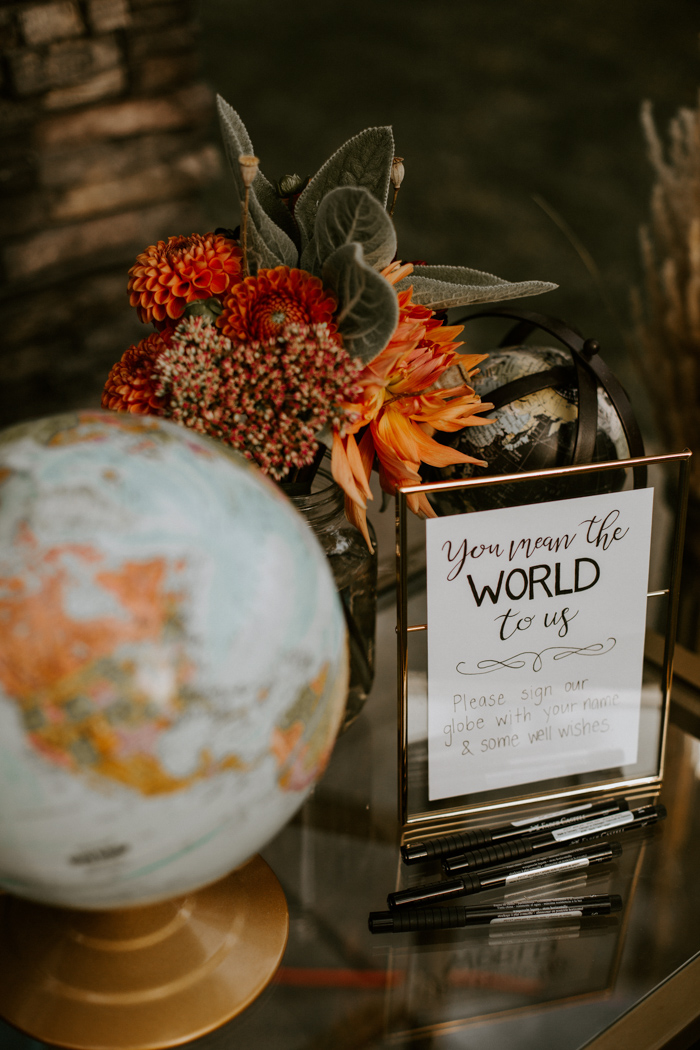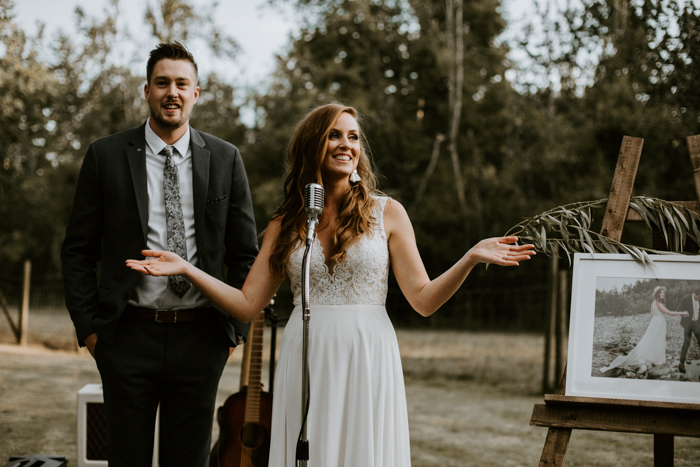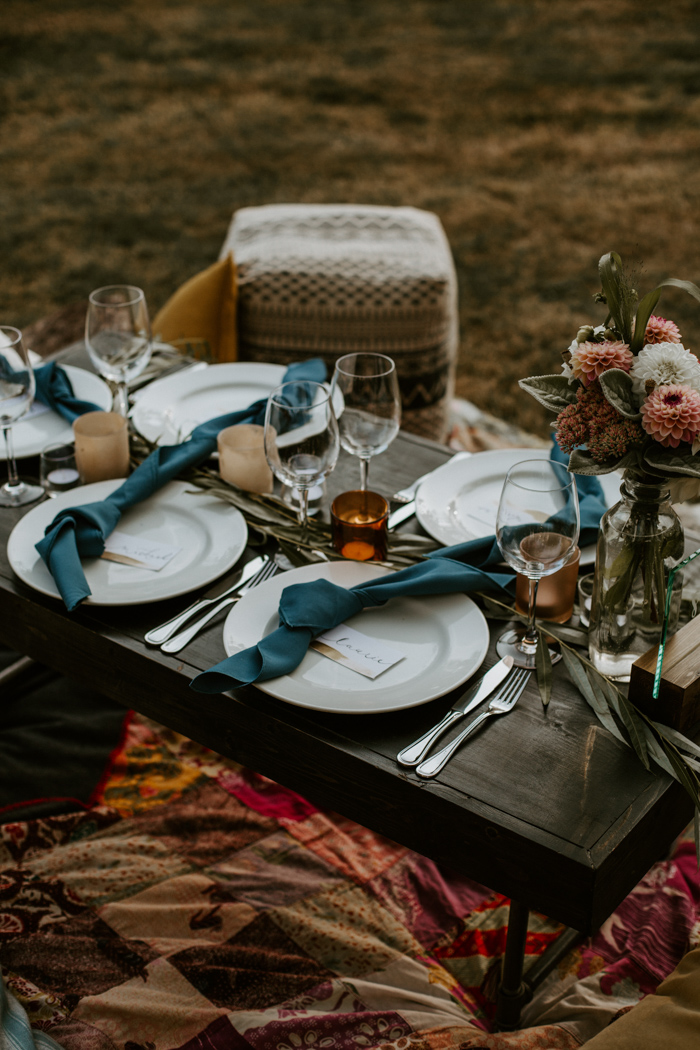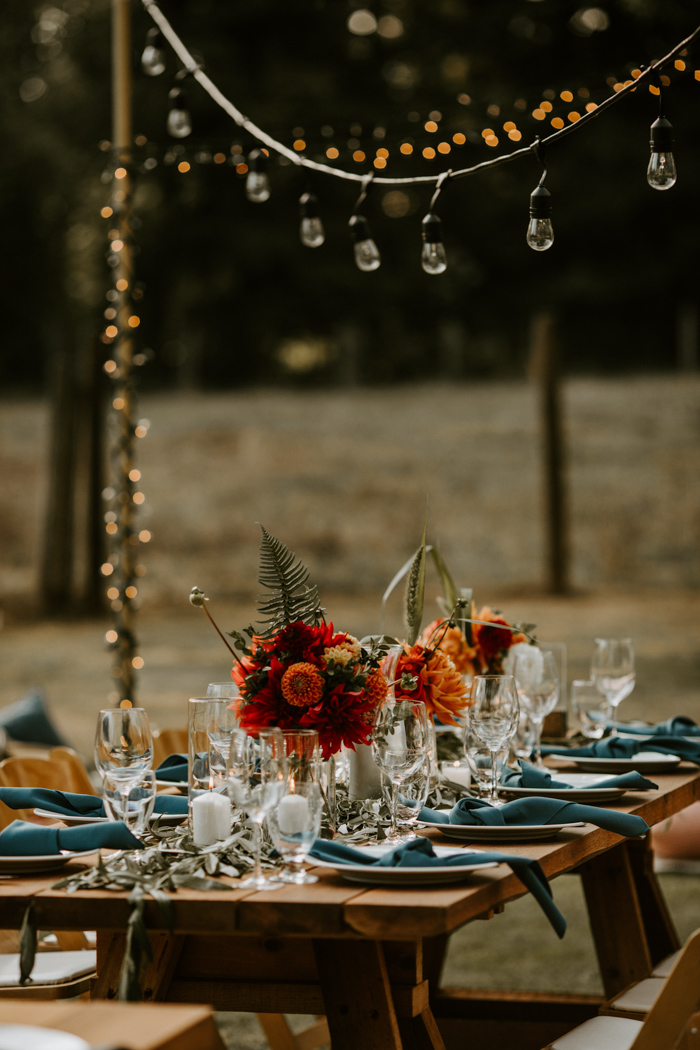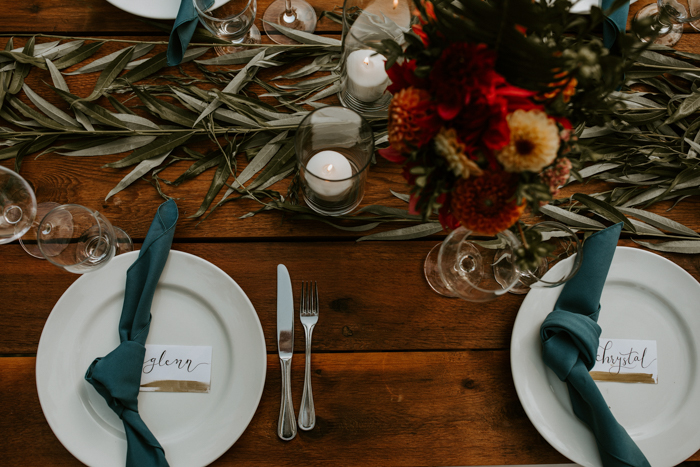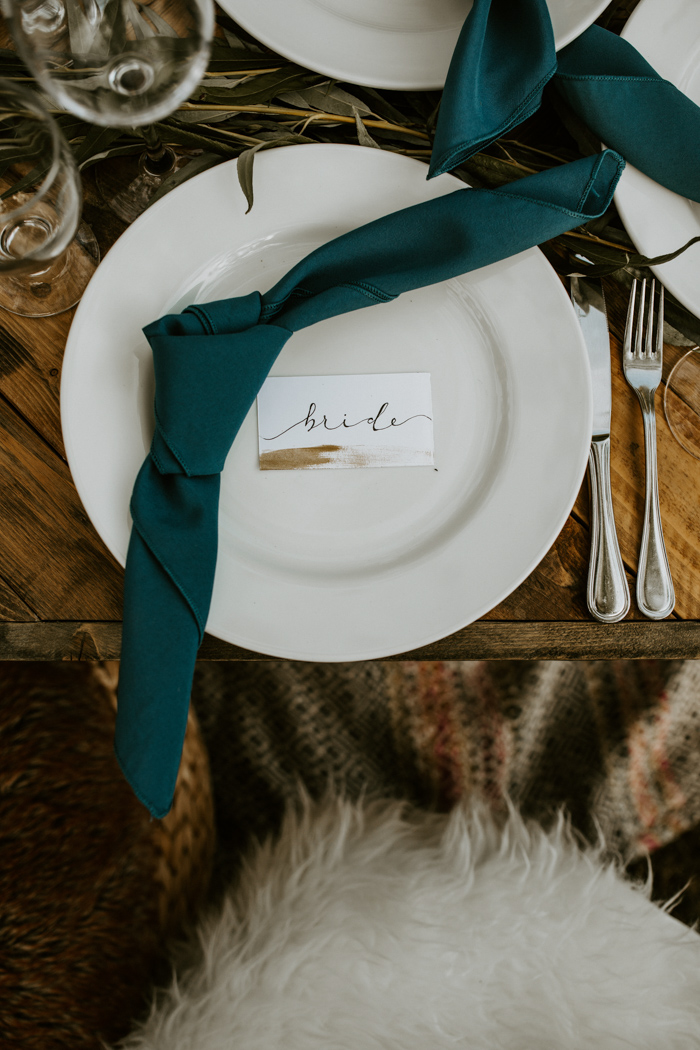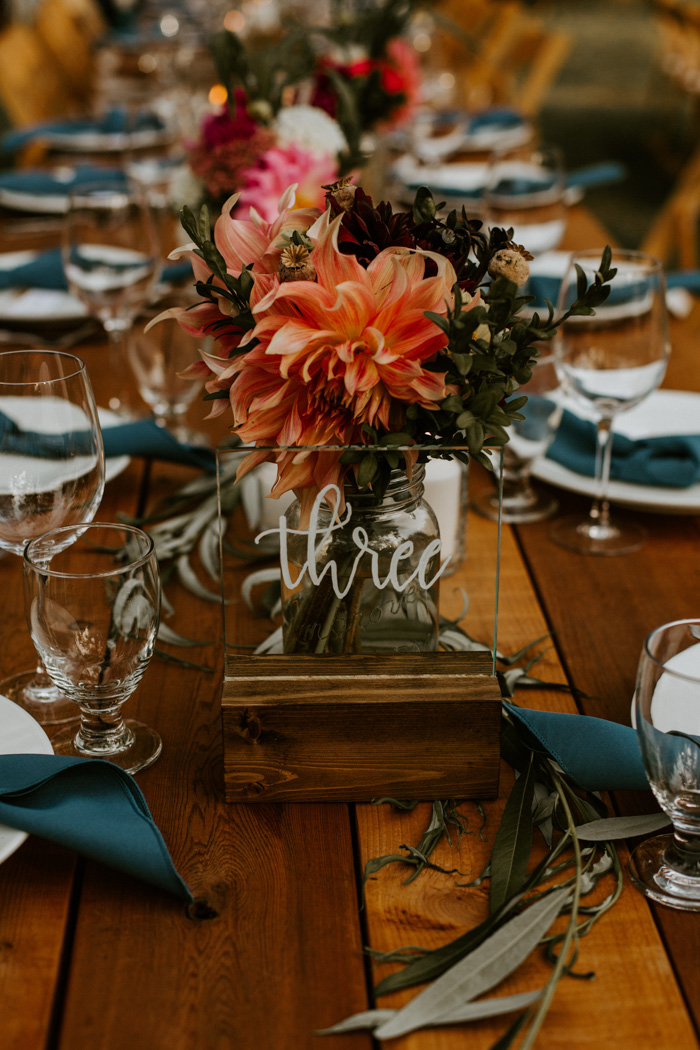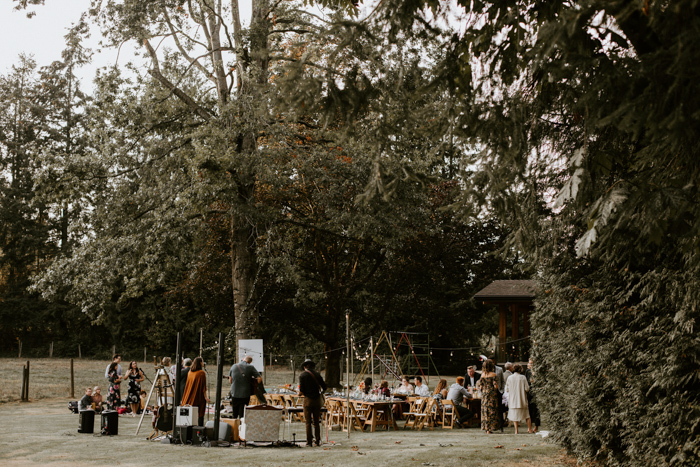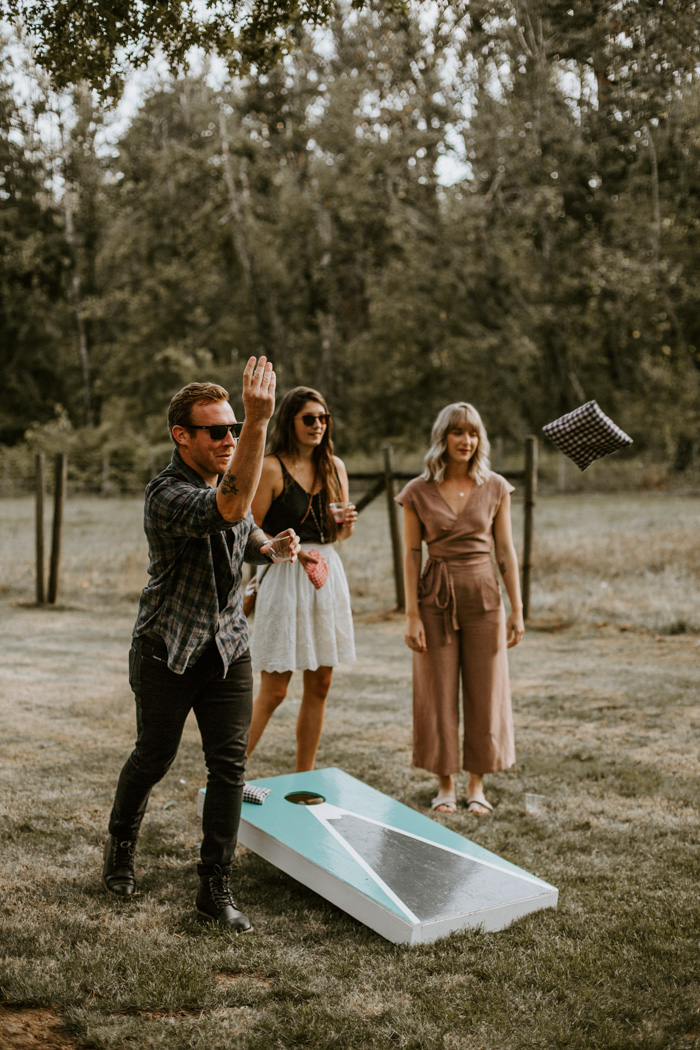 We love pizza…doesn't everyone? I made a giant charcuterie board and we served signature cocktails. We had pizza, salads made by friends, and for dessert a milk and cookie bar. We love to host parties and dinners and we just wanted our friends to be happy, enjoy delicious food and drinks and share our love. "People who love to eat are always the best people," as Julia Child says, and we couldn't agree more!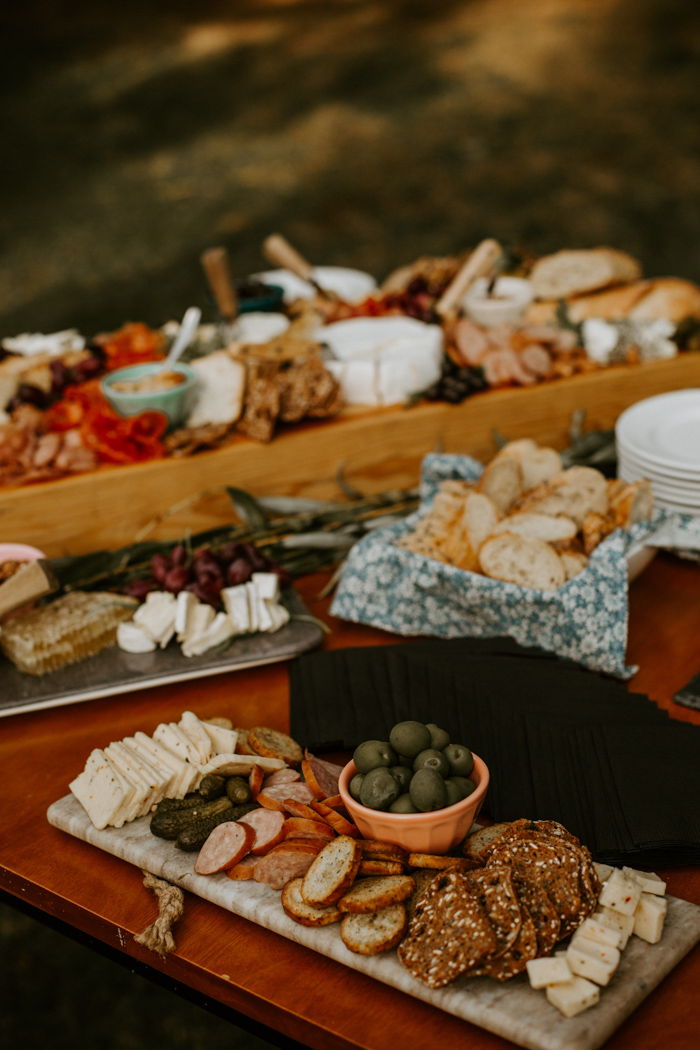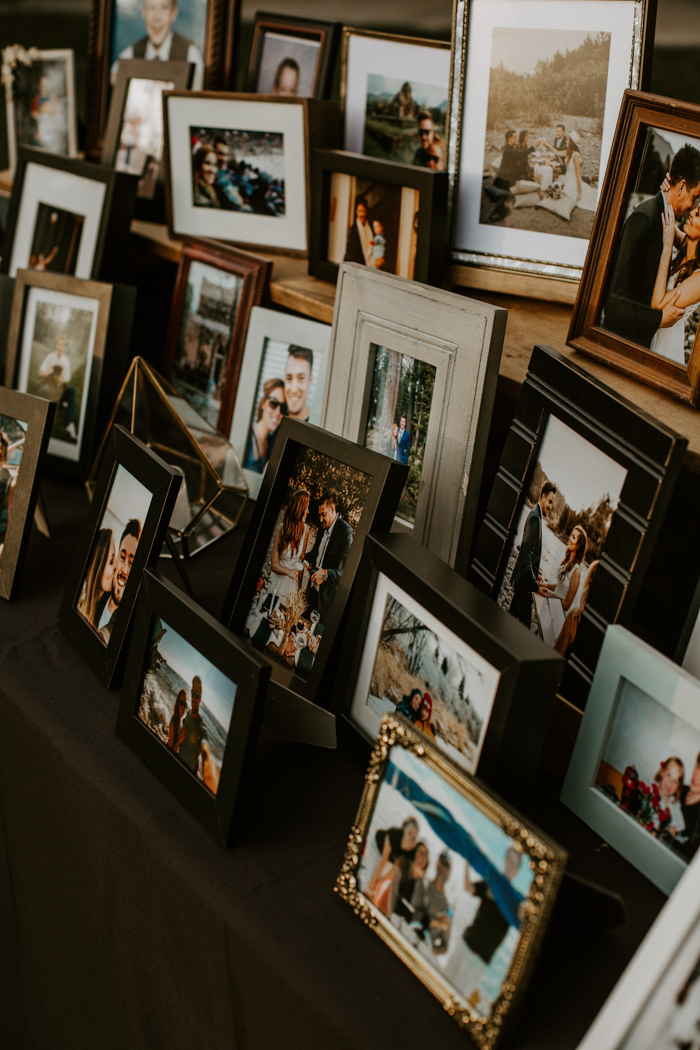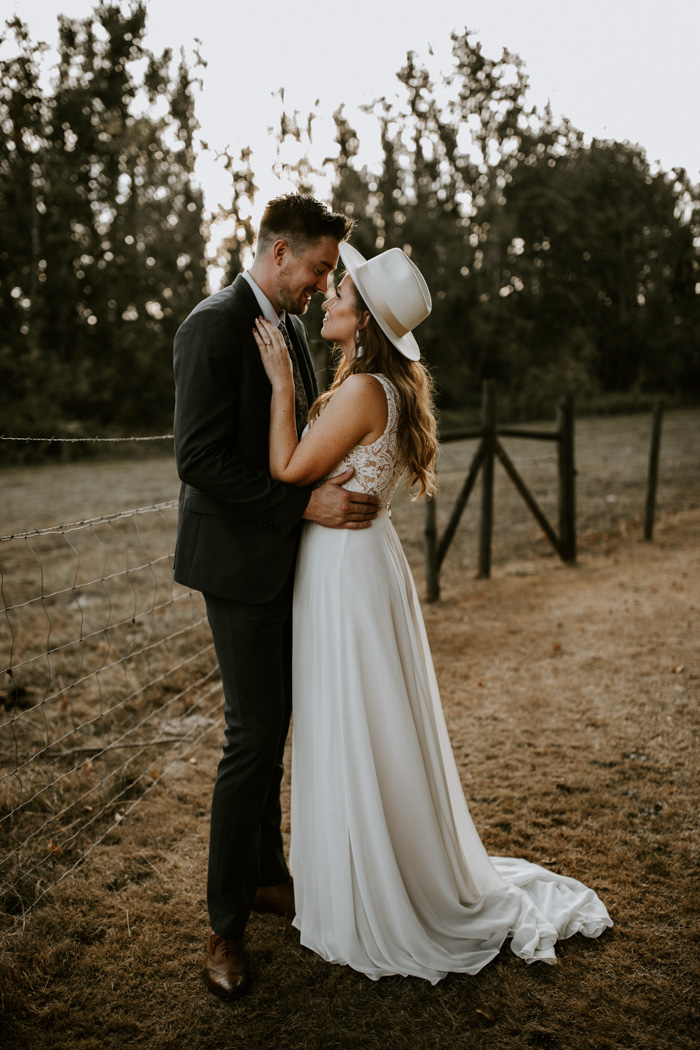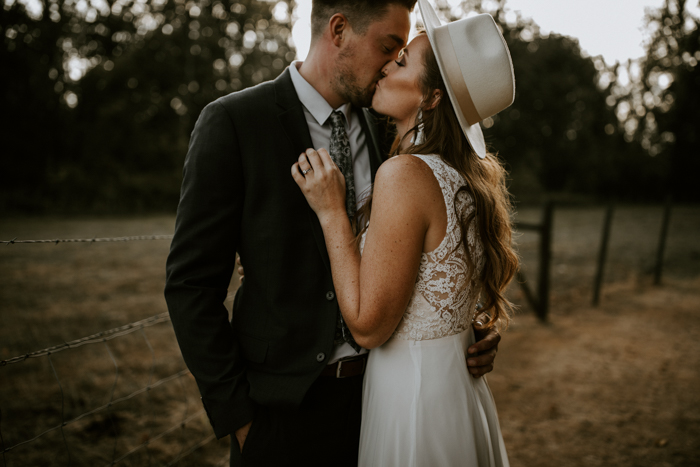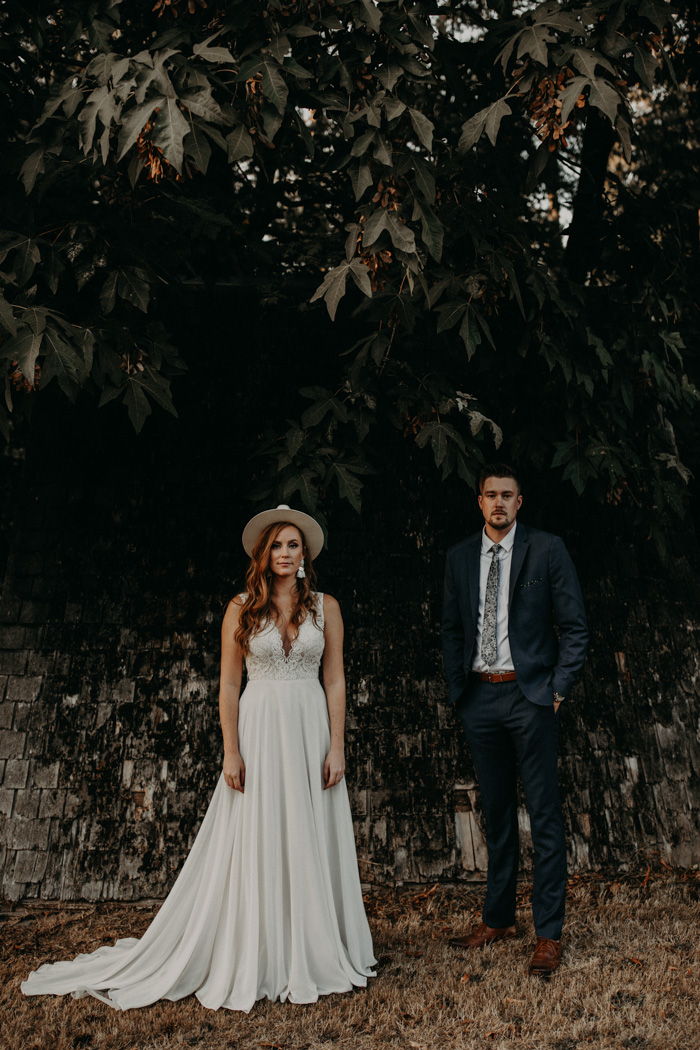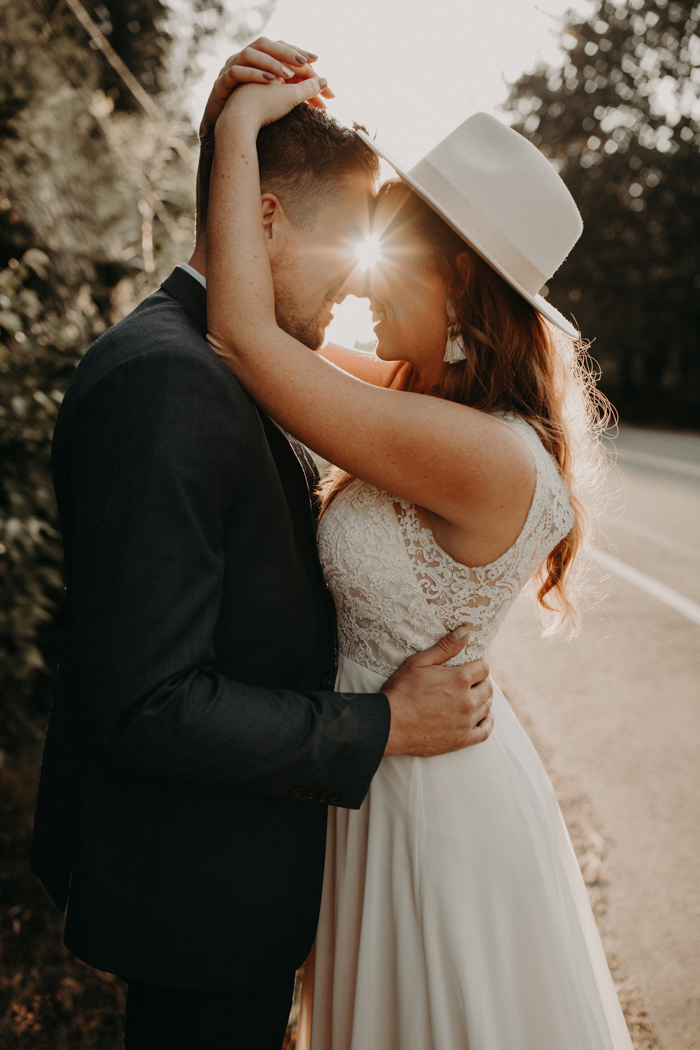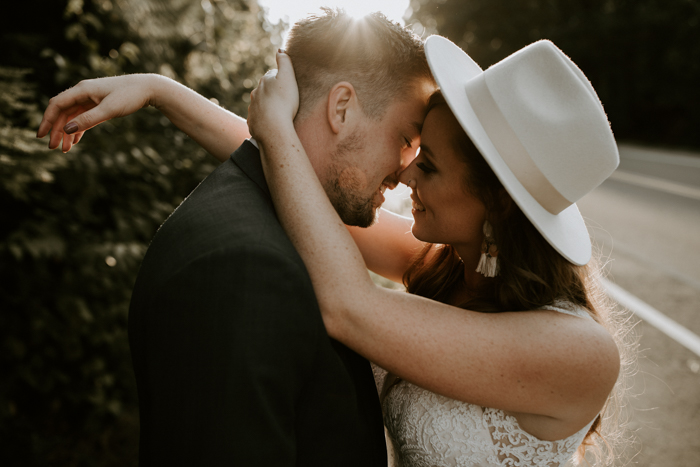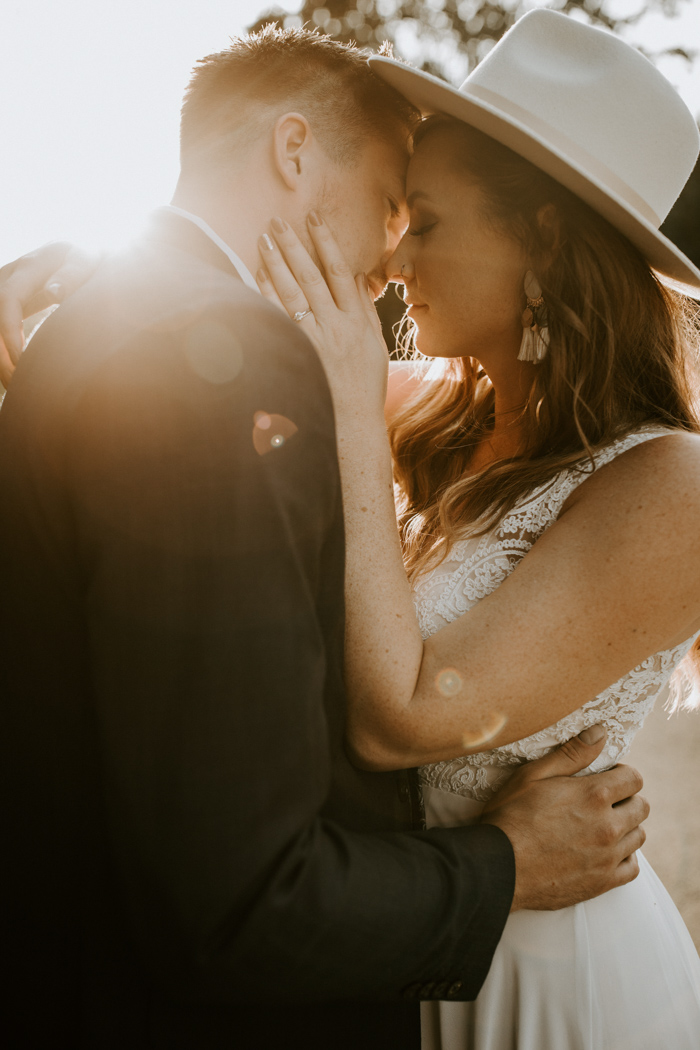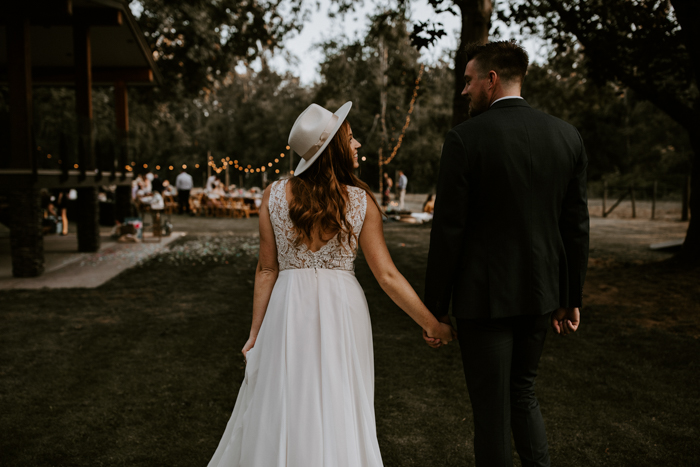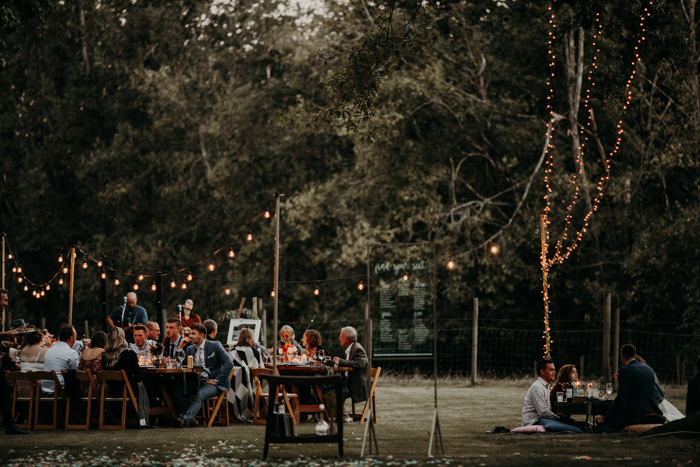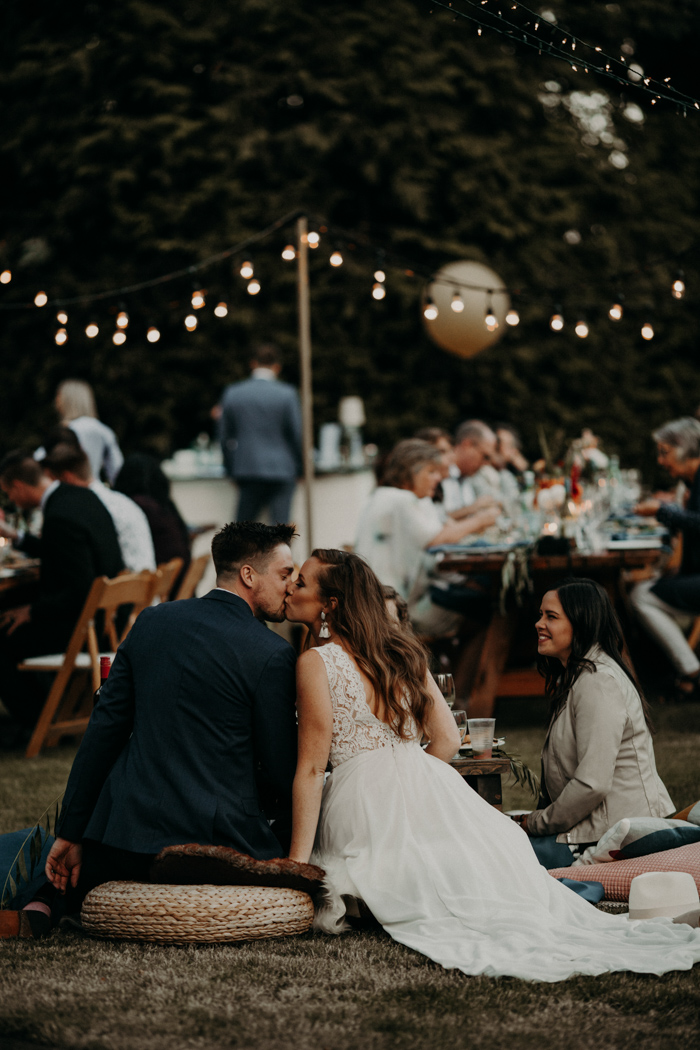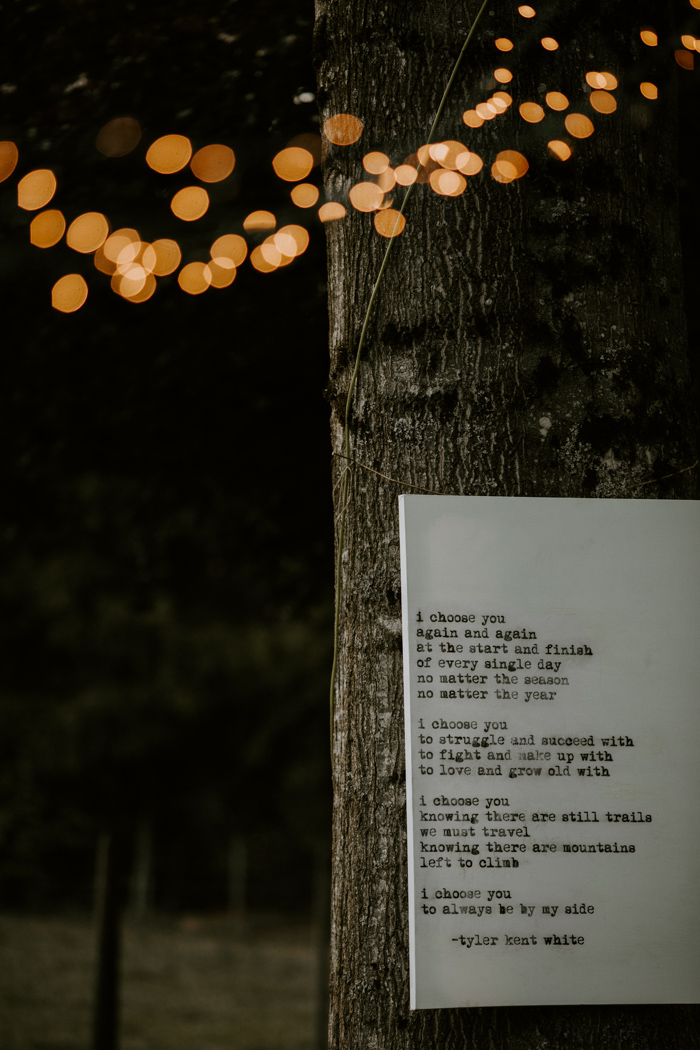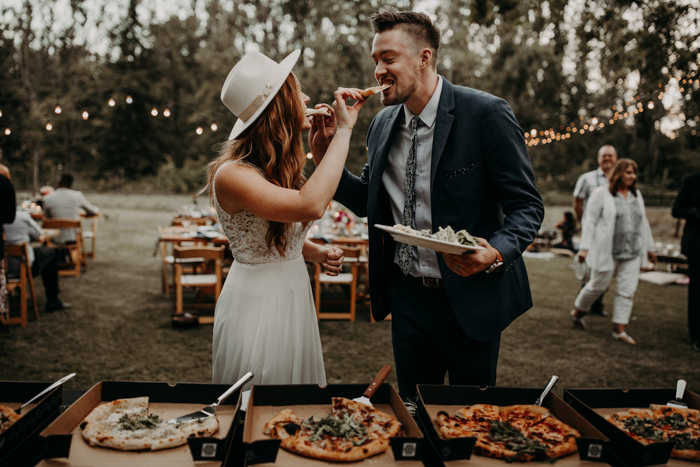 Congratulations to Acacia and Matt, and a special thanks to Junebug member Angela Ruscheinski for sharing this unforgettable Vedder River elopement! Planning an elopement? Check out these 14 cozy elopement picnic ideas to celebrate saying "I do" in style!