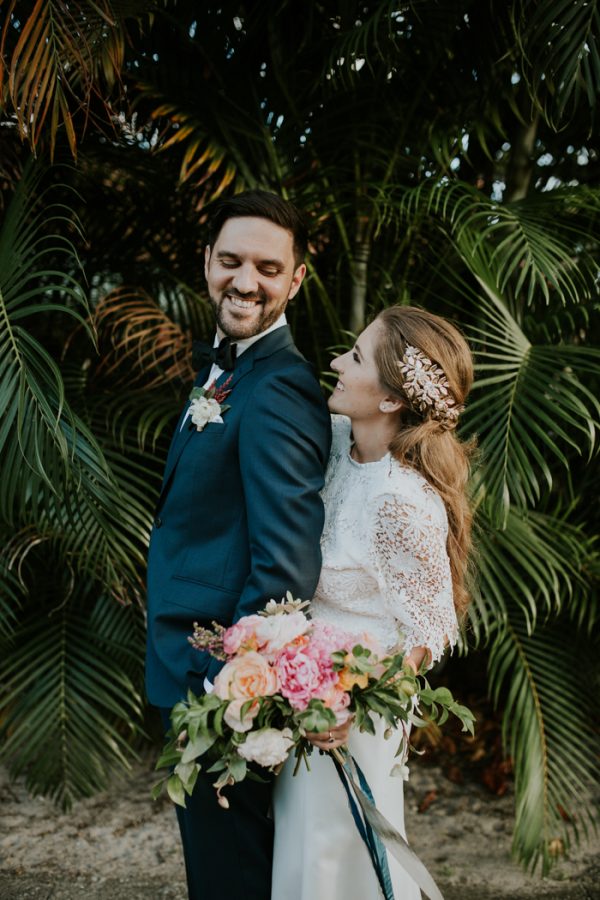 If you needed any more reasons to be convinced to have a first look, look no further than Melissa and Chris's first moments together on their special day! The couple's first look took place on top of a deserted parking garage, which allowed their raw emotion and love to truly shine under Florida's big blue sky. Lauren Louise Collective beautifully captured every amazing detail of their first look, tropical couple portraits, and greenery-inspired wedding décor at minimal Lake Worth venue, Social House.
The Couple:
Melissa and Chris
The Wedding:
Social House, Lake Worth, Florida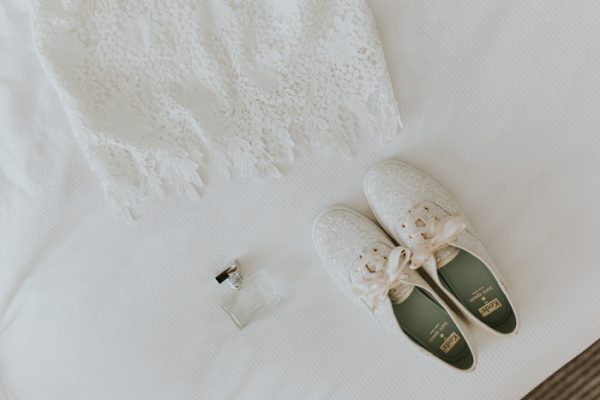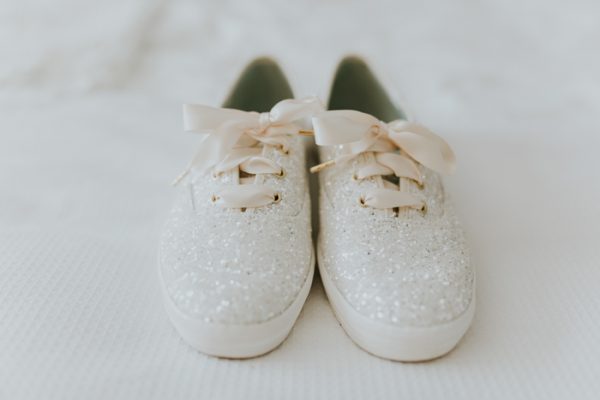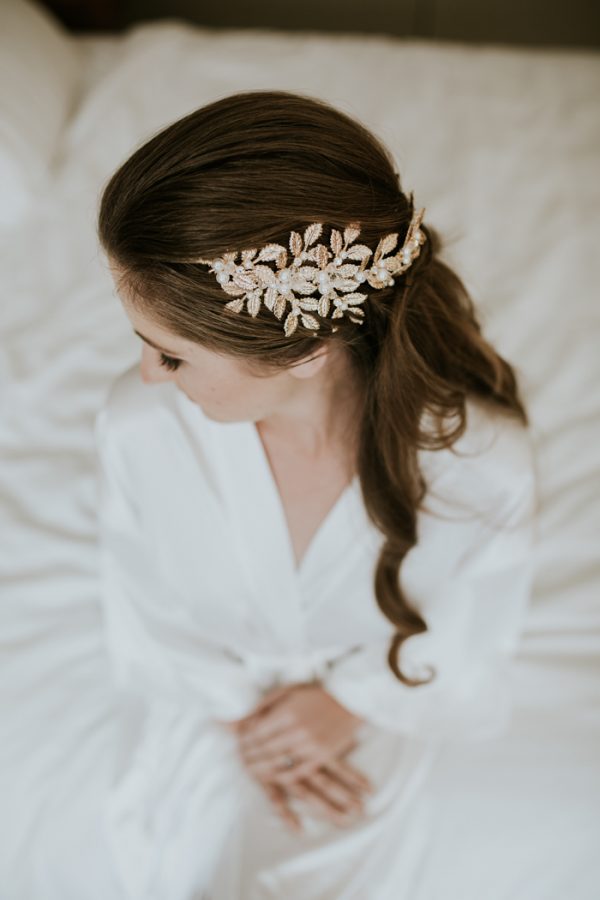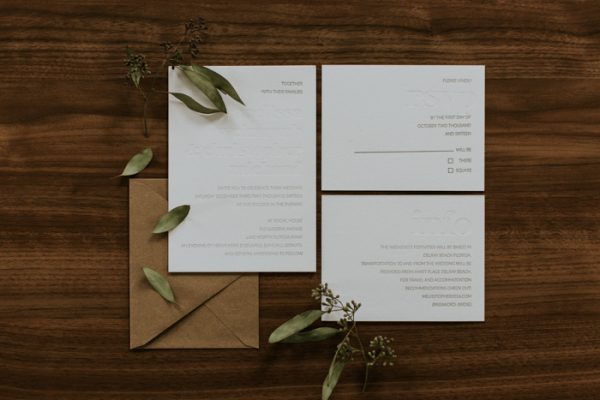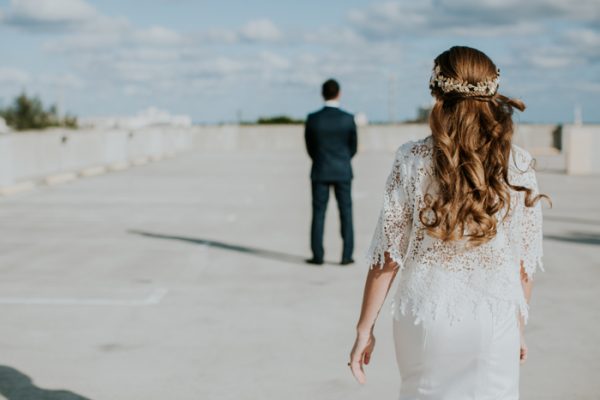 Chris and I both agree the most memorable part of the day would be the first look and vows. For the first look we went to the top of a deserted parking garage in Delray Beach and saw each other for the first time, that moment will forever be engraved in my mind.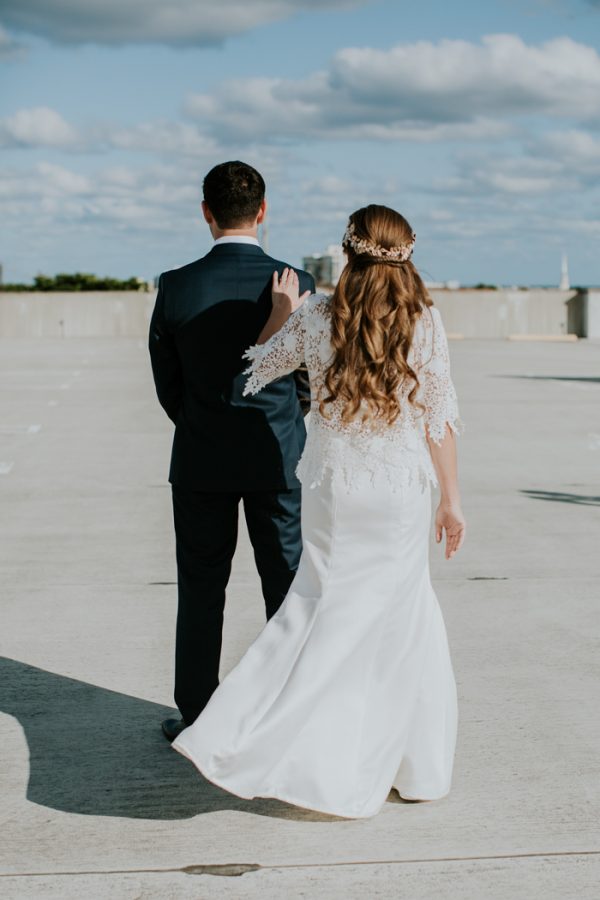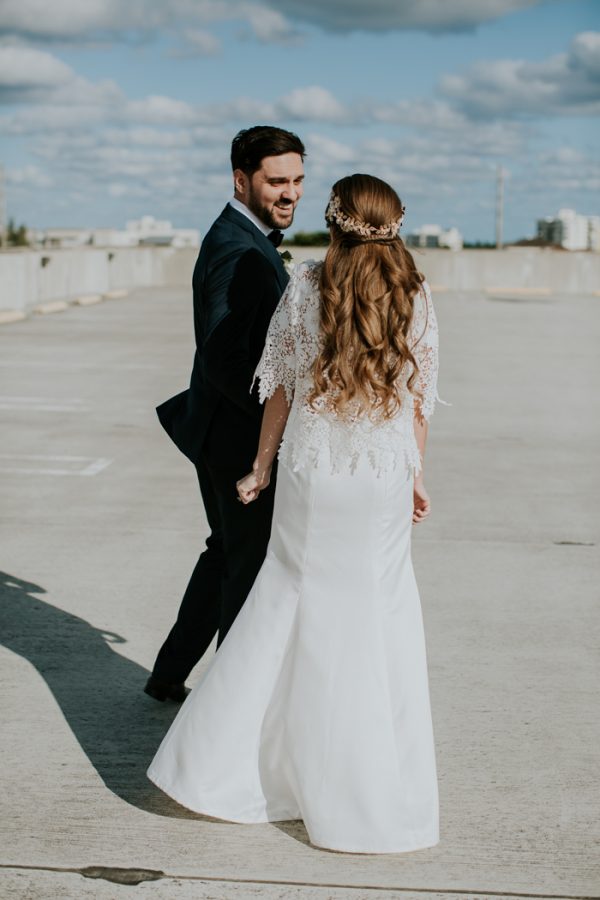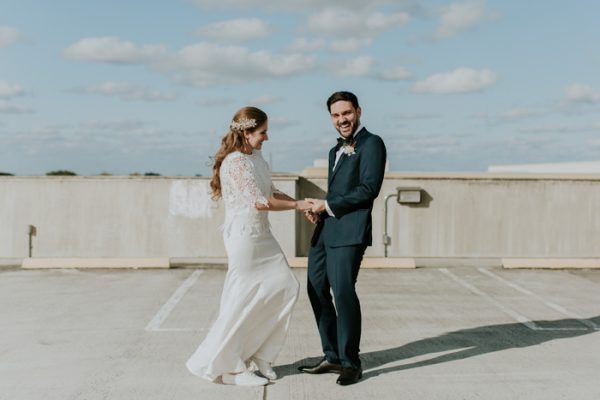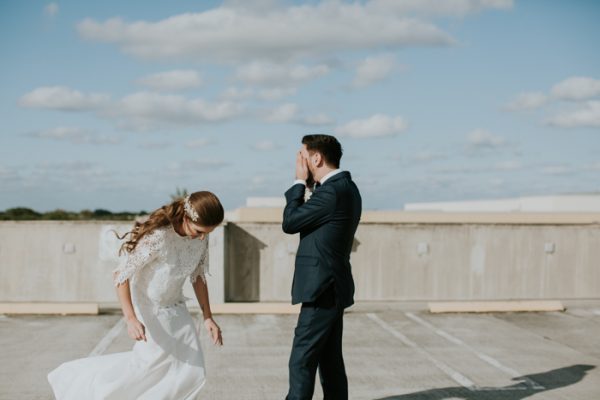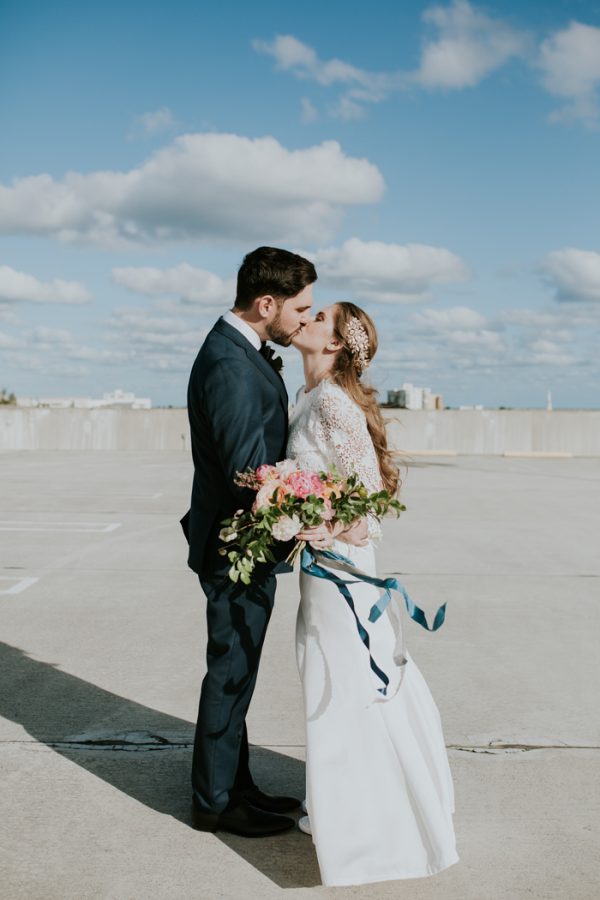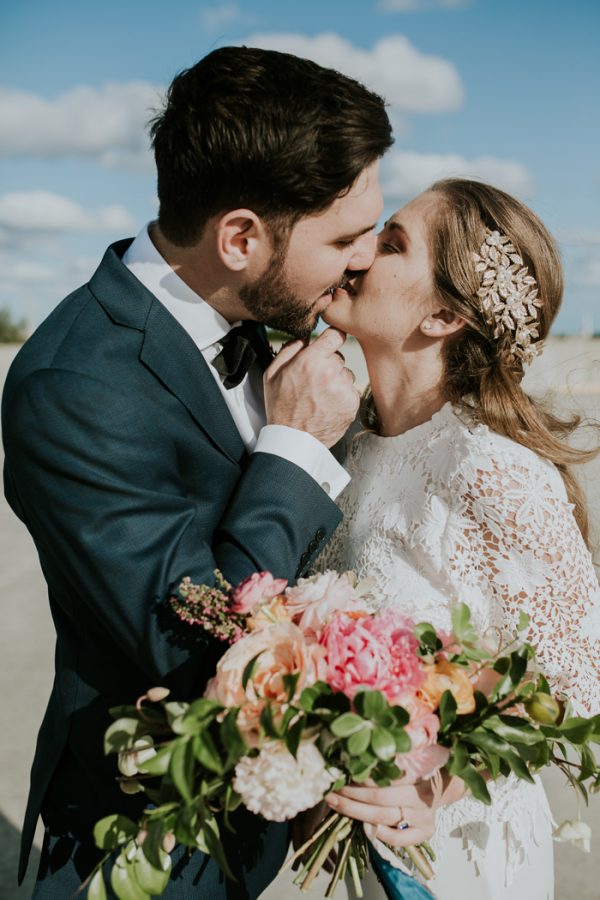 My two-piece wedding dress was handmade. The skirt by my grandma and the top by my good friend/designer Rachel Marie Hurst. Having people that mean a lot to me create something special for my wedding made the day that much more meaningful and unforgettable.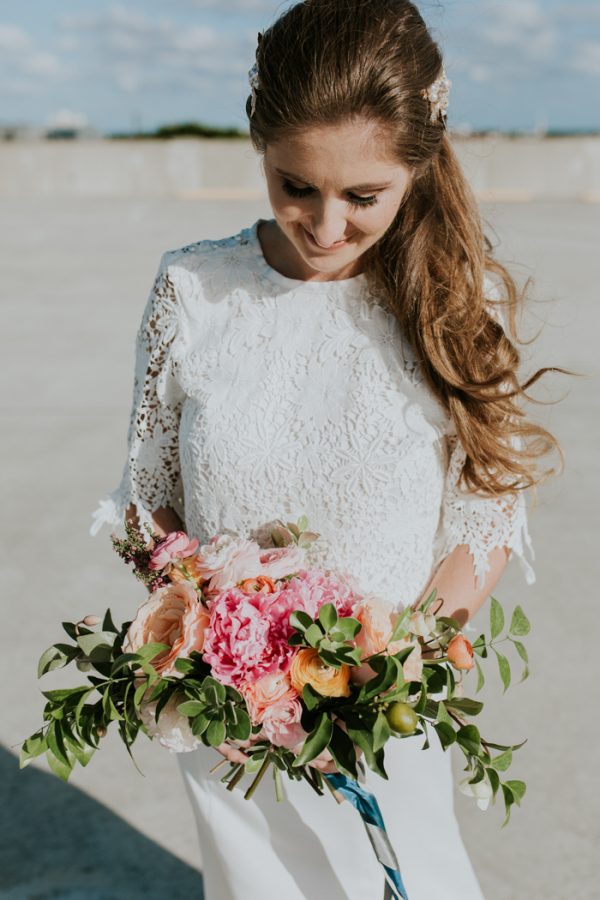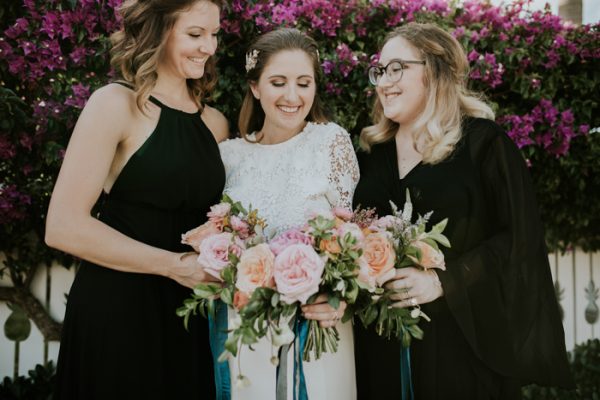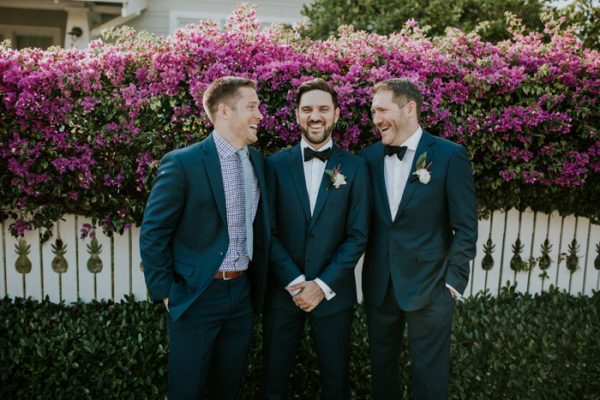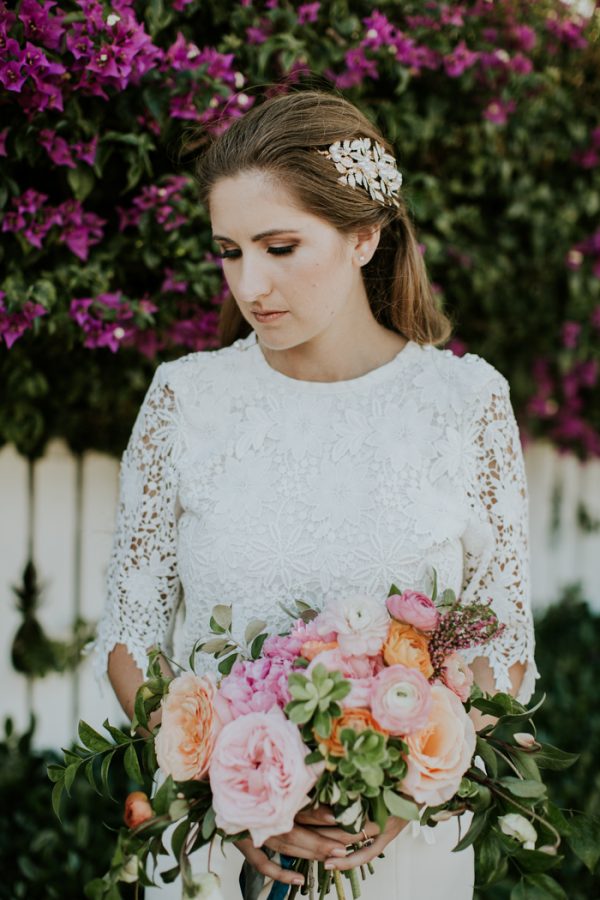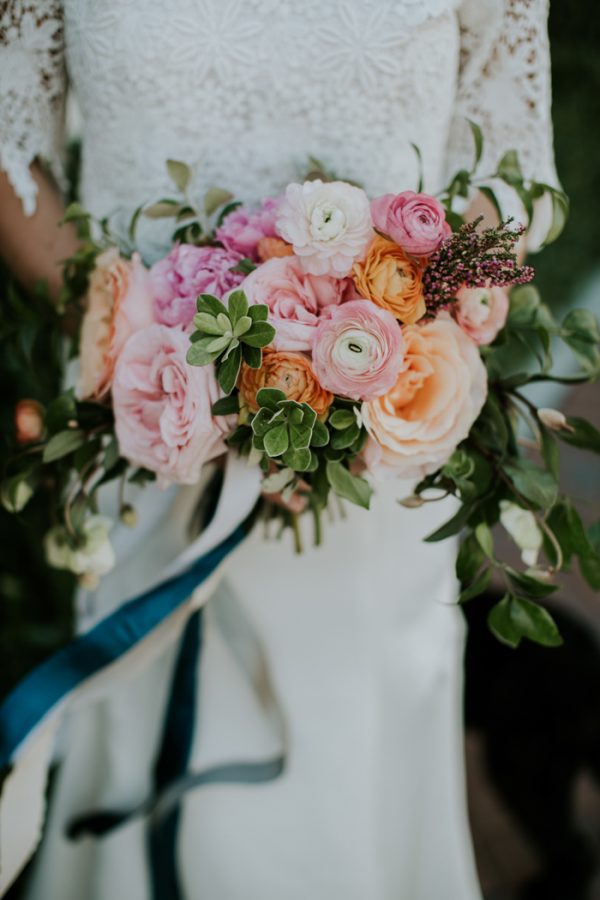 Working with our photographers was a dream. They know how to capture the moments in life rather than rigid, posed photos. The ease of the day showed in our final photos and we love them!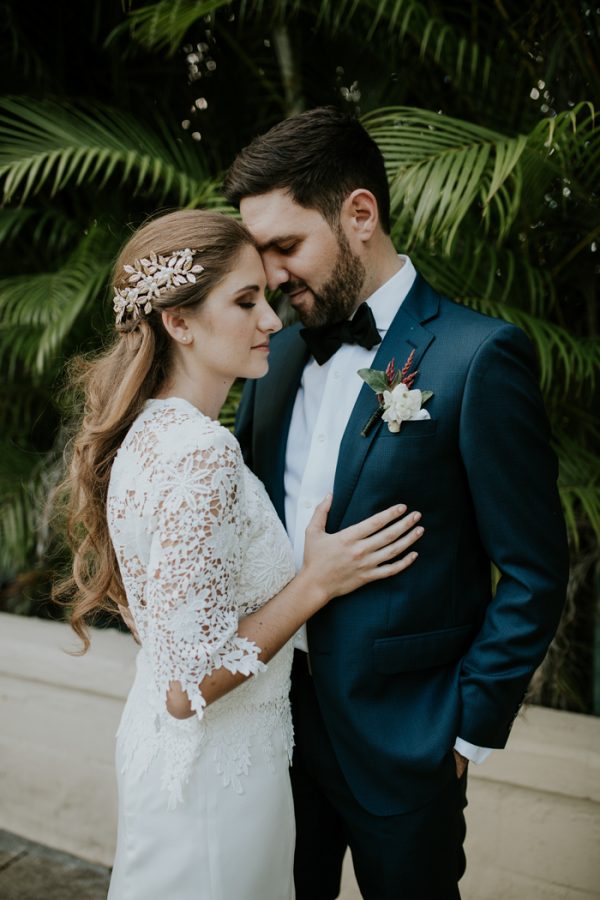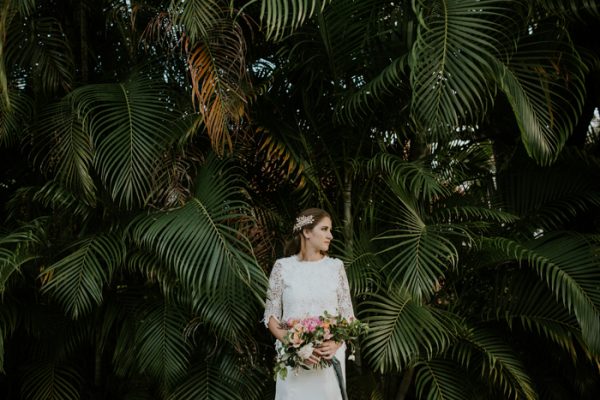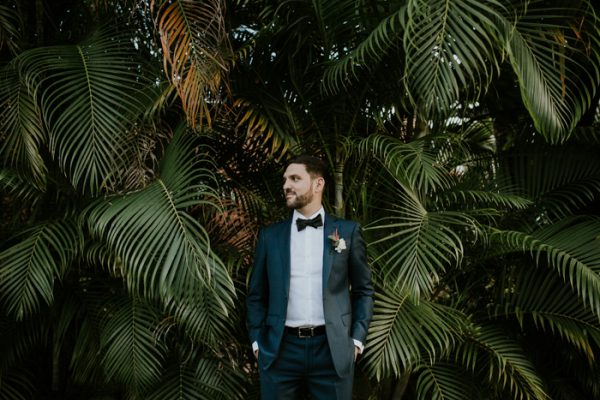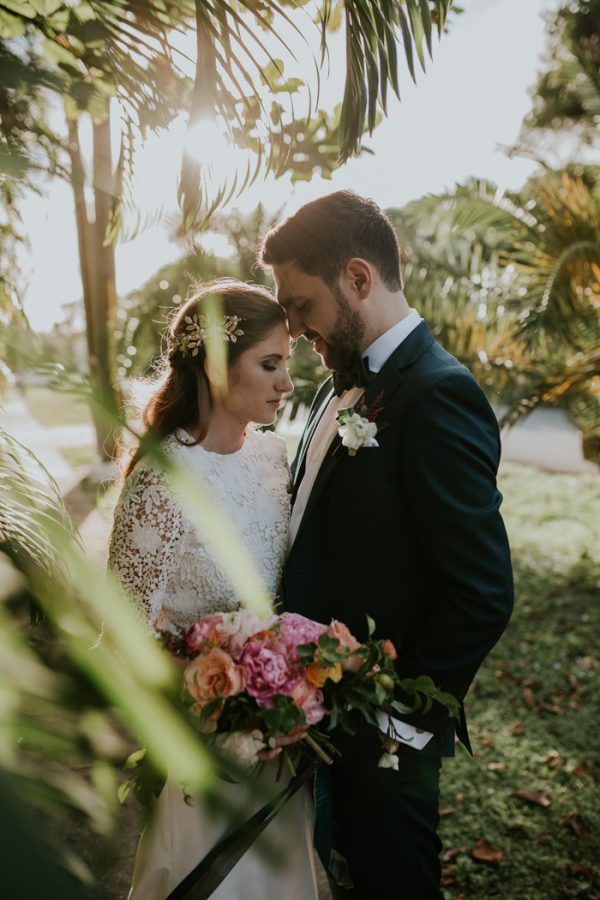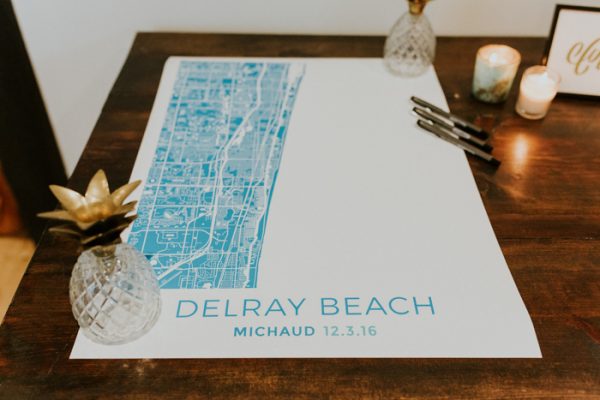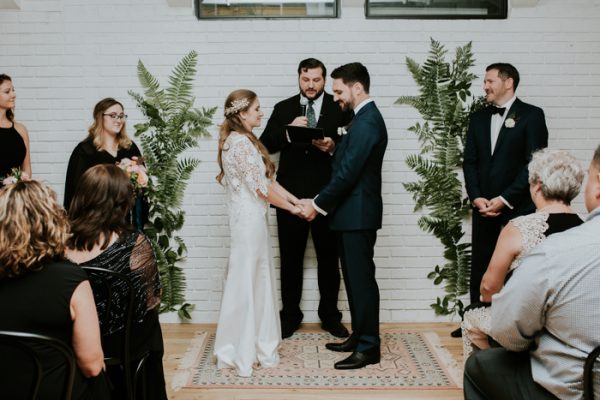 Our vows were extra special because we wrote them ourselves and the amount of love that was in the room (small 75 person wedding) was overwhelming.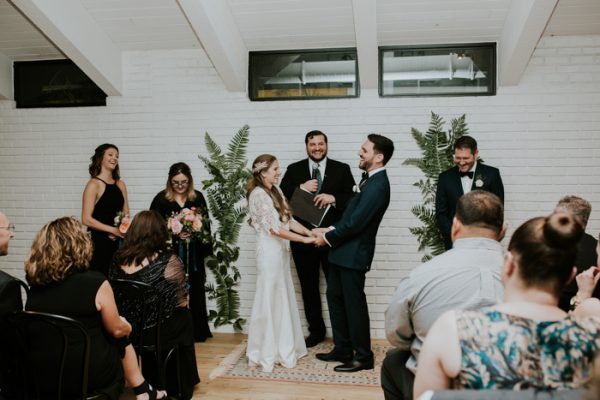 Remember at the end of the day, it's just a party. The most important thing that will happen that day are the vows, and the actual 'getting married' part. Everything else (the food, dancing, drinks) is all fluff, make it fun but don't stress yourself out about the little things.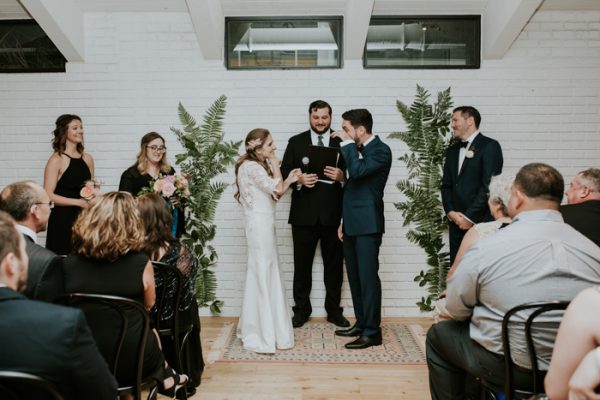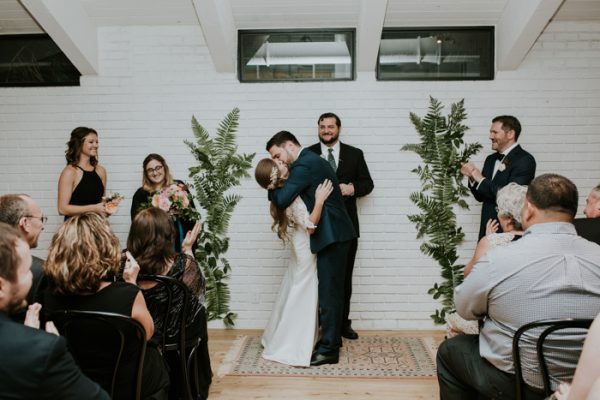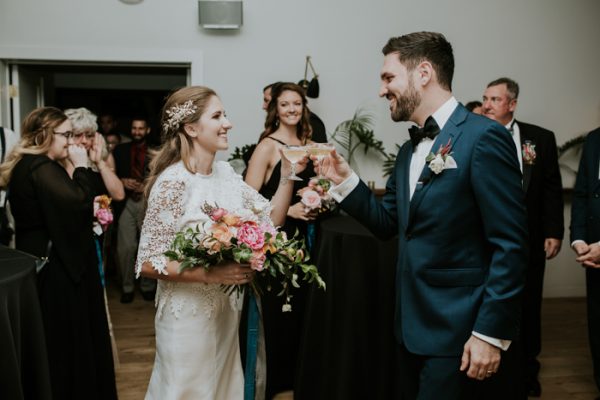 Both Chris and I are very involved in the local art/music scene in South Florida. Social House, a creative co-working studio, is a staple in that community, bringing together some of the most creative people I know. After we got engaged there wasn't a question in our minds where we were going to get married… it was hands down Social House.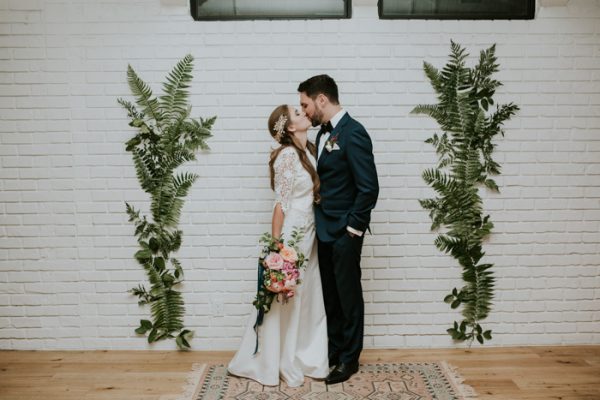 Having a wedding that solely reflected us as a couple was the most important part of planning. We didnt stress about the small stuff and thought about what would make a wedding fun for not only us but our closest family and friends… naturally good music (huge motown, funk, soul fans), great food (we didnt want a sit down wedding because we loved the idea of just an extend cocktail hour so everyone could mingle), and an open bar (our favorite bartenders from Delray Beach donated their time and made the night even that much more enjoyable).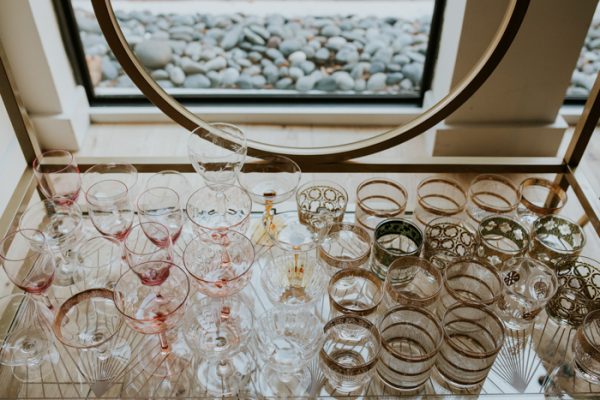 Our wedding vibes were minimal & green. Our wedding venue/reception is very bright and clean with beautiful white brick walls and simple decor that speaks for itself. We didn't want to take away from the space so we went with a minimalist vibe with lots of green plants and palms (which saved on the overall floral cost).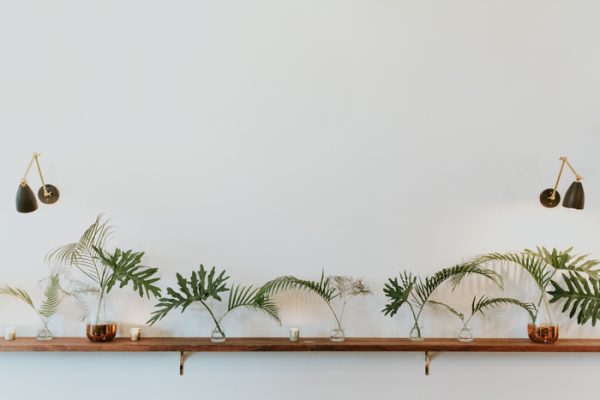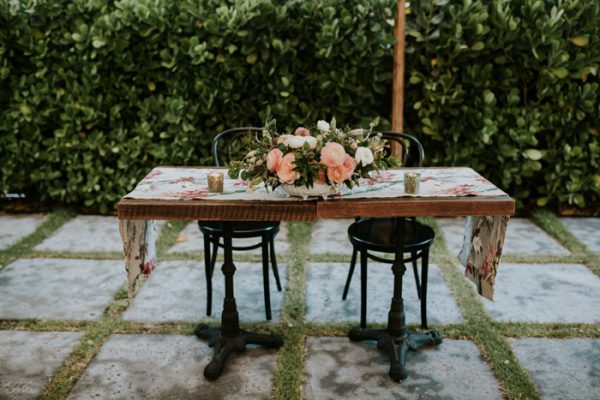 We didn't have any distinct wedding colors which led to some beautiful inspiration from our floral/rental/planner Jenny (Port+Palm Co.). The flowers that she picked for the bouquets were seasonal and had lots of different colors.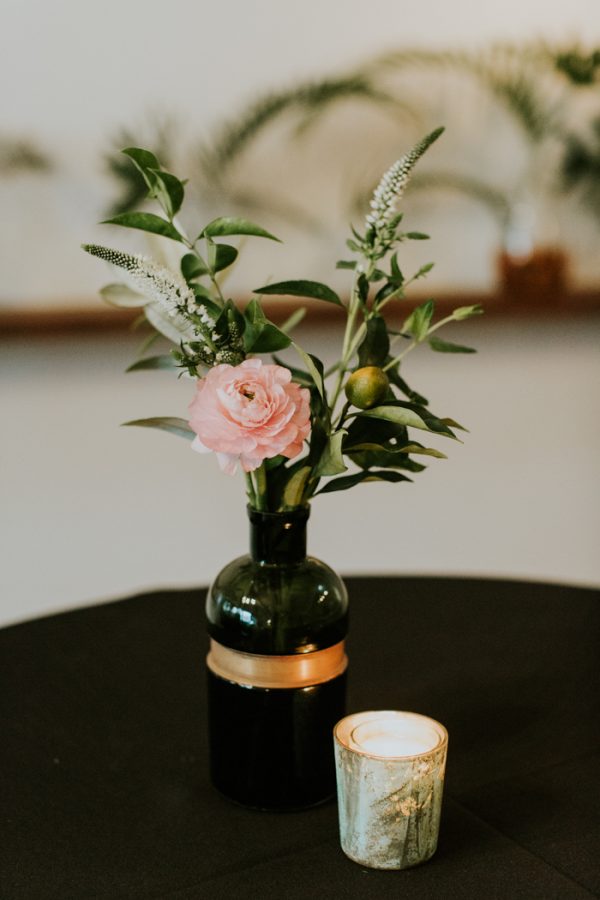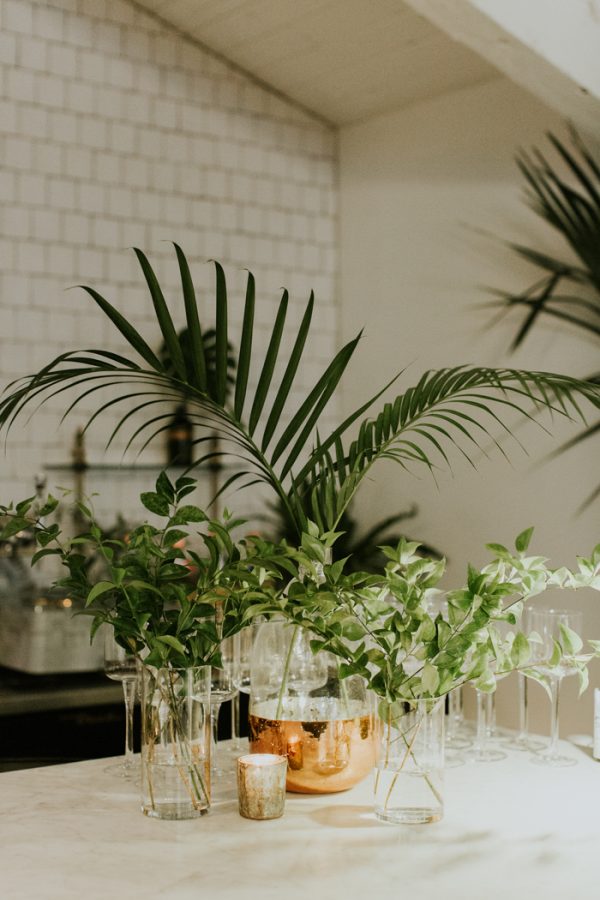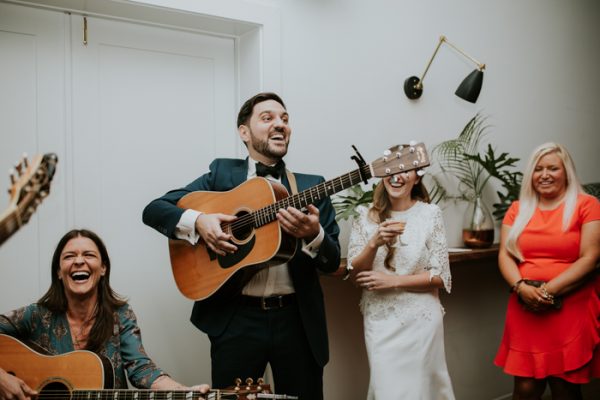 Chris's band Hillside Spirit Revival played a mini set right before we got into the first dances.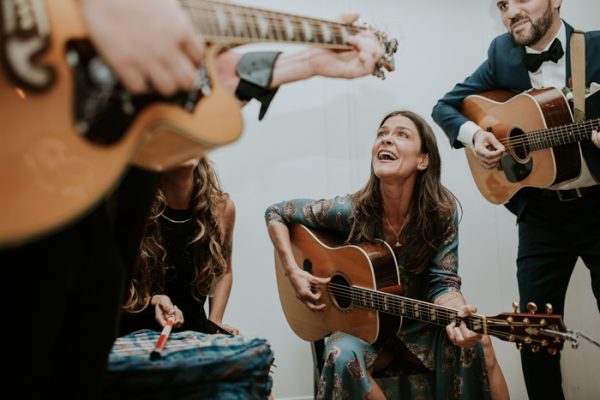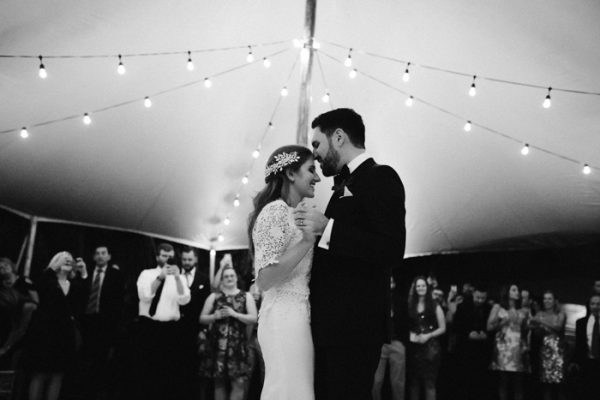 Processional: Into the Mystic – Van Morrison
Recessional: That's What's Up – Edward Sharpe & The Magnetic Zeros
First Dance: Florida Key – The New Basement Tapes
Father-Daughter Dance: Wild World – Cat Stevens
Mother-Son Dance: In My Life – Beatles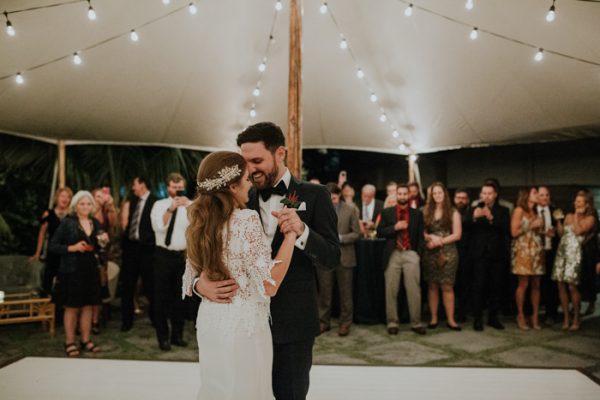 Congratulations to Melissa and Chris, and a huge thanks to Lauren Louise Collective for sharing their wedding with us. Love this wedding's minimal greenery vibes? Then you've got to see this Reading Art Works wedding that takes modern minimalism to the next level!