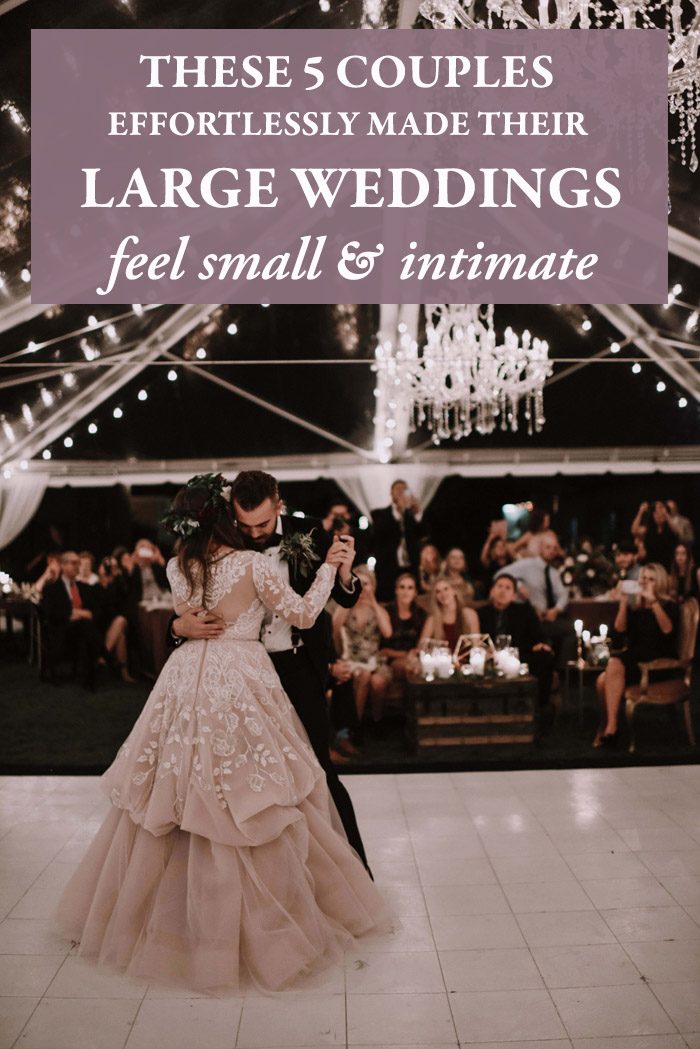 photo by a sea of love
When you think of large weddings, the word "intimate" probably doesn't come to mind, which is why a lot of couples shy away from them. But, we're here to tell you, those two things don't have to be mutually exclusive. These 5 couples proved that you can create an intimate wedding even if your guest list includes 400 people! It's all about creating heartfelt moments, setting up cozy spaces within your venue, and focusing on the details so that your guests feel welcome and love. If you haven't already read our ways to craft an intimate wedding even with a large guest list, we highly recommend you start there and then get inspired by these gorgeous, large weddings that felt totally intimate and wildly romantic.
Hannah & Mitchell
It's no easy feat to create an intimate wedding with a guest list larger than 50 people, but Hannah and Mitchell pulled it off in their Castaway Portland wedding that included 200 of their closest friends and family! They warmed up the industrial ceremony space with rustic aisle markers and an asymmetrical floral backdrop that added a fresh, subtle layer of color to balance out the black chairs and concrete floors. Their reception featured a mix of elegant, linen-covered tables and rustic, farmhouse tables, which gave the space a cozy feel while also providing enough space for guests to move, dance, and enjoy the night. If you can't get enough of these beautiful details, be sure to check out their full wedding here!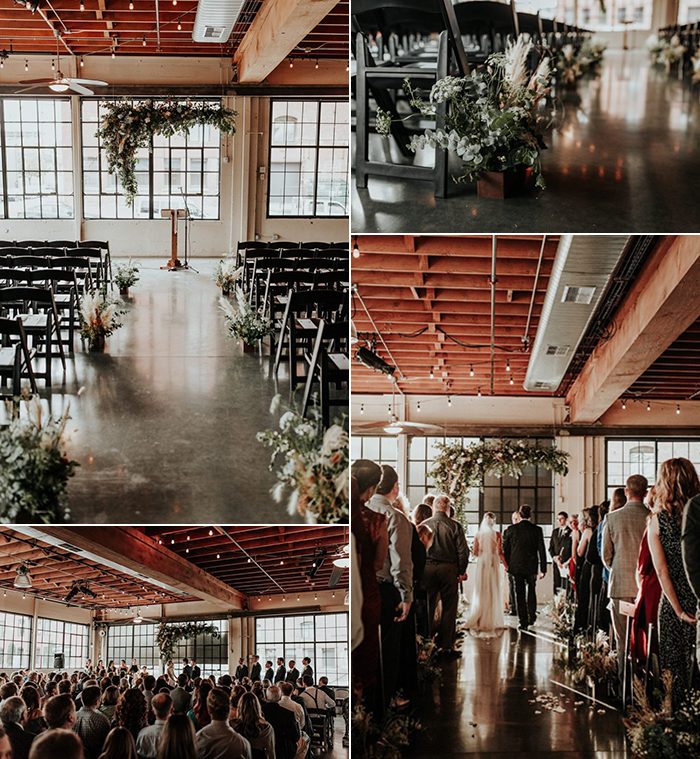 One of the most important parts of our wedding to us was our guests. We opted for a larger wedding of about 200 guests. We feel we are a direct reflection of the amazing community we surround ourselves with, and we wanted our people an intimate part of our wedding. Ensuring our guests were welcomed, comfortable, and had a unique, fun wedding experience was so important to us. We would not be us without them and throwing a party was a way to thank our support system for their unwavering love throughout our lives and kick off this new chapter.
See Hannah and Mitchell's full wedding feature here!
Perlita & Samuel
Perlita and Samuel's California wedding at Empire Polo Grounds was a true celebration of Mexican culture that was bursting with color and elegance from beginning to end. Although their guest list included 230 people, the feeling of the day was as intimate as could be. By focusing on meaningful details, from the hand-picked clay cups, tiles, and shot glasses from Mexico to the fruit in the floral design, they were able to create a small dinner-party vibe that made each guest feel appreciated and welcome. This wedding is truly exquisite, so be sure to check out every moment here after reading more about it below.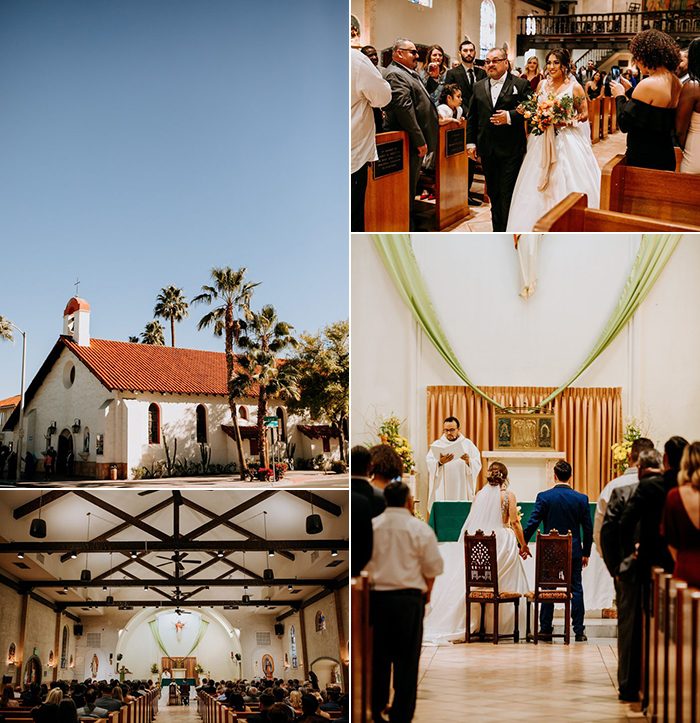 We wanted to make sure our wedding day felt like "us" and wanted all 230 of our guests to have a memorable day. We're super close to our families and friends, we love to host, and we love a good celebration. It was also super important that our Mexican heritage was represented throughout the day. We incorporated a Mariachi for cocktail hour, Mexican tiles and clay cups that we handpicked in Rosarito, MX, and served both Mexican and American dishes throughout the evening.

See Perlita and Samuel's full wedding feature here!
Elise & Erik
With 400 people on their guest list, Elise and Erik's wedding is one of the largest we've seen but also one of the most intimate! They transformed 16th Street Station into the Hobbiton party of their dreams. Inspired by the summer party that Bilbo Baggins throws for his 111th birthday, Elise and Erik chose a color-scheme and vibe to carry out through their wedding day. The tables were full of florals, fruits, and vegetables, which filled the space with rich colors. The celebration continued in Hobbit style with a delicious spread of various drinks and dishes for their guests to indulge in. Even though the venue itself was massive and grand, the farm-to-table feel of the tablescapes and cafe lights strung above them gave it the coziest feel. See just how magical the entire day was here!

The most memorable part of the day for both of us was entering into the ceremony and looking out from the stage to see the 400 people who have invested in us, have loved us, and prayed over us. Of course, we had our immediate families there, but we also included on our guest list the baristas that have served us coffee every day for years. It was an amazing moment to look out at the array of guests we had.

See Elise and Erik's full wedding feature here!
Helise & Rizky
Helise and Rizky's wedding at Khayangan Estate was as epic as they come but also totally intimate and heartfelt. The ceremony took place at the waterfront, where they lined an aisle with white rose petals and had a stunning backdrop covered in the pink roses. For their reception, they created mini vignettes decorated with sentimental pieces, set up multiple lounge areas with different seating options, and hung tons of romantic lighting to make their expansive venue feel personal, warm, and inviting. It's no easy feat to create such an intimate feel in such a large venue and with so many guests, but they pulled it off flawlessly. You can find every dreamy detail in their full wedding feature here!

Our song is "Magic" by Coldplay and it was the inspiration for our wedding day – lots of lighting and vintage feel. I've always wanted to get married outdoors, as well. It all just fell into place.

See Helise and Rizky full wedding feature here!
Jenelle & Johnny
Jenelle and Johnny combined the grandeur of a fairytale ball with the intimate feel of an at-home wedding for a day that was beyond beautiful. The couple kept their ceremony sweet and simple by setting up a canopy and chairs near the lake. For their reception, they rented an incredible clear tent, complete with crystal chandeliers, a variety of rustic and vintage seating options, and some seriously impressive cascading floral arrangements. They set up lounge areas, used vintage-inspired furniture and décor, and kept the palette subtle yet elegant, all of which gave their reception an approached elegant that still felt like a home away from home. You can find their entire fairytale wedding here!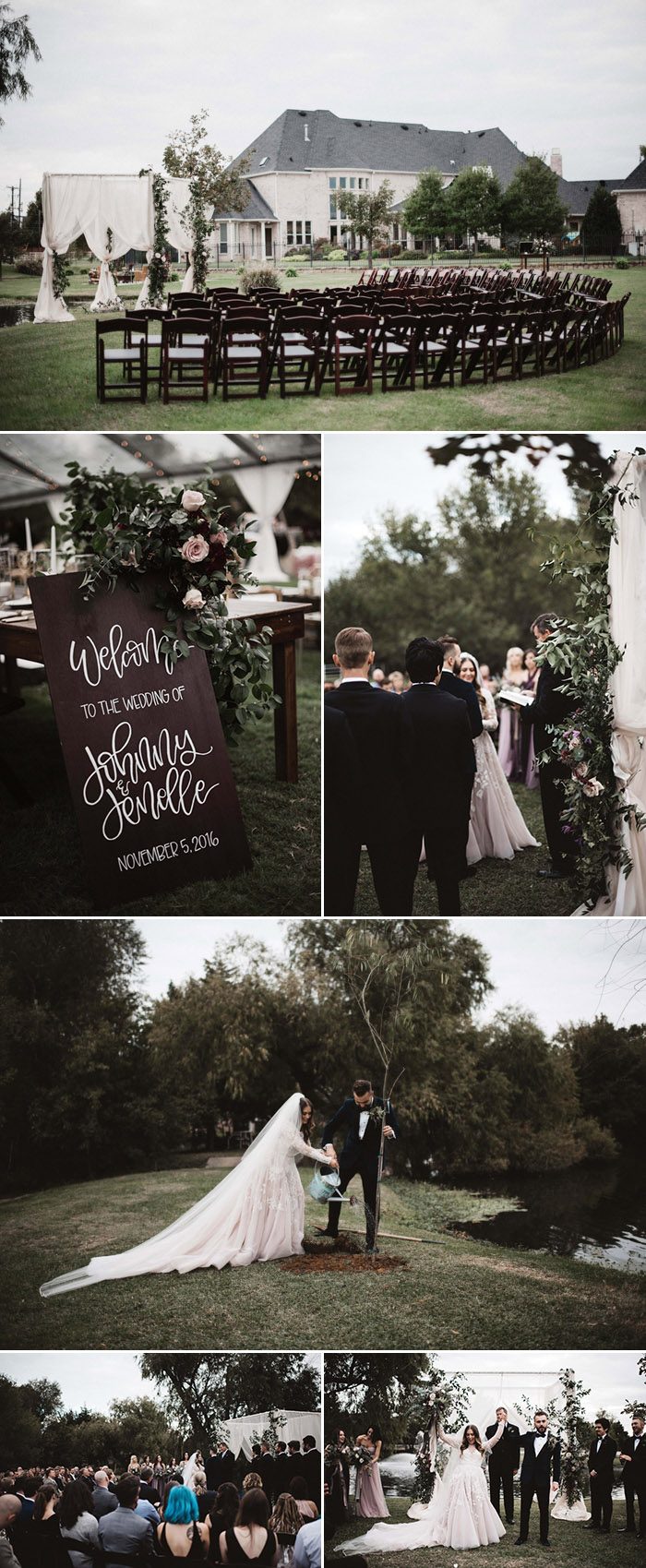 We only had about 7 and a half months to plan the wedding. A lot of the venues we looked at were booked out for a year. So, I started looking at outdoor weddings that had clear tents and fell in love. My parents live on 7 acres in the middle of Southlake, Texas and I convinced my parents that it was perfect. It turned out to be a lot more than just throwing a tent up in the backyard. We had to bring everything to the house, from generators to fancy outdoor bathrooms. It was all worth it though because I got to get married at home, where I grew up. There was something special about getting ready in my family room and walking out the front door to marry my love. I'd do it again in a heartbeat.

See Jenelle and Johnny's full wedding feature here!
Feeling inspired by these gorgeous weddings and thinking about having a large ballroom wedding? Use our essential guide to styling a ballroom wedding to help you with all the details!