If you're a regular Junebug reader, you may have noticed over the past few months that we've had a bit of an obsession with Southern California and its amazing wedding professionals! We've been spending an awful lot of time traveling down to LA and Orange County, and after I tell you about a couple more of the fabulous So Cal businesses we've gotten to know, I'll fill you in on the full Junebug scoop! Read on!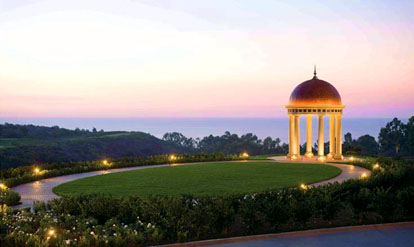 The Resort at Pelican Hill is a lush, gorgeous, and delightful surprise and we were so honored to get the full tour. As you turn into this Orange County property, youre hit by the beauty that unfolds in front of you, and you're graciously welcomed by a team of professionals who put you right at ease with their extaordinary customer service. Hearkening back to the Hollywood glamour days of Audrey Hepburn and Grace Kelly, youd never guess that the resort opened just three months ago!
Perched high above Newports coastline, the wedding ceremony facilities here include a lovely Italian rotunda with an expansive ocean view, and the reception ballrooms and banquet halls shine with warm inviting décor that is both stunning, and comfortable. The lovely bridal suite is seriously any stylish brides dream come true. With floor to ceiling mirrors you'll get to take in all of your fabulous wedding day fashion in its full glory! The culinary options at Pelican Hill are designed by world-class Executive Chef, Jean Pierre Dubray, and the honeymoon villas leave absolutely nothing to be desired when it comes to pure indulgence. No doubt, Pelican Hill is one of the few places on the planet where perfection is truly possible. A luxurious and breathtaking option for a wedding, reception, or honeymoon!

Ask anyone down in the LA area where they love to find yummy, yummy cupcakes, and 9 times out of 10 the answer is going to be the Vanilla Bake Shop in Santa Monica!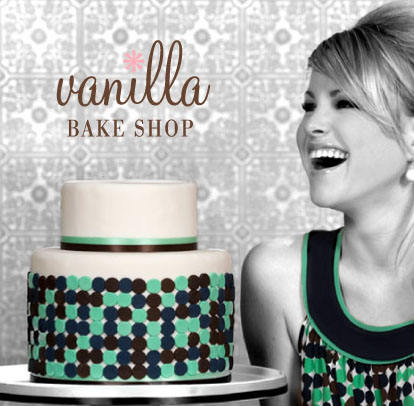 Owned by husband and wife team, Amy and Jeremy, and inspired by the flavors that came from their mother's kitchens, these two have created a bakery that inspires love and devotion with each sweet bite. Widely known for their cupcakes and mini cupcakes, their wedding cakes are stunners too! They are filled with the very best fresh ingredients and designed with a modern flair. My sweet tooth is calling just thinking about it! Check out their website for photo galleries, cake options, directions and a cupcake flavor menu of the day.

And now for the scoop on what Junebug's been up to…
We're officially expanding to Southern California! Waa-hoo! Launching June 1st, our Plan Your Wedding Top-Ten Hotlist will include the very best wedding professionals and venues from Santa Barbara down to San Diego, and we can't begin to tell you how excited we are to introduce you to all of these phenomenal businesses!
When Blair, Kim and I began Junebug Weddings back in 2006, we were determined to connect the incredibly talented wedding professionals that we worked with, admired and trusted, with all the lovely Seattle area couples who were looking to plan their weddings without stress. It was kind of like match-making really, because we're great big romantics, and because we just knew it would be a win-win situation for every person who got involved. And you know what? It worked perfectly! Now we're bringing that same level of careful selection, passion for customer service and love for what we do to California readers in the form of our trusted recommendations list. We've been going slow, getting to know businesses face-to-face, and checking out their bridal and professional references thoroughly. In order to keep each of our new Plan Your Wedding categories useful and manageable, we'll recommend only ten outstanding vendors so you don't get overwhelmed with an endless list of options. We feel confident about creating a truly useful Southern California resource that is unlike any other directory, blog or magazine!
We just started welcoming new members a couple of weeks ago, and our categories are filling up quickly with amazing A-list professionals (think Mindy Weiss, Elizabeth Messina, R. Jack Balthazar…) and dozens of rising stars too. Of course your opinion is what matter most to us, so we'd love to know about the wedding professionals in LA, Orange County and San Diego who are helping you create the wedding of your dreams. If you have recommendations and ideas to share, please visit our "Recommend a Professional" page and let us know who you love! Our team, and thousands of brides and grooms will be grateful that you shared your experience. (Talented, passionate and wildly fabulous Southern California wedding professionals may apply to join our network through the application process found on our Join Us page.)
Stay tuned for more information and updates as we move along toward the launch, we're bursting at the seams to share this exciting wedding goodness!