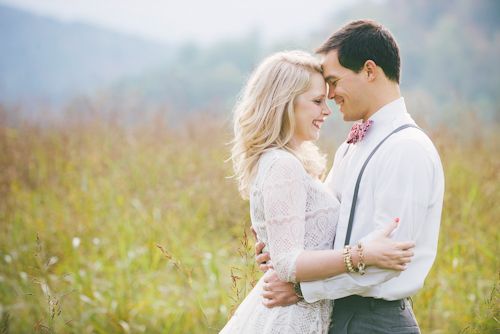 I think most couples probably feel pretty romantic during their engagement shoot, but Morgen and Chris decided to shout it from the rooftops! Or from the teepee I should say. Morgen loves Valentine's Day more than your average girl, and Chris was completely on board with celebrating her favorite holiday during their shoot with Jessie Holloway. From that lace teepee to the huge red heart, frilly balloon, and vintage red farm truck, the only thing missing is cupid!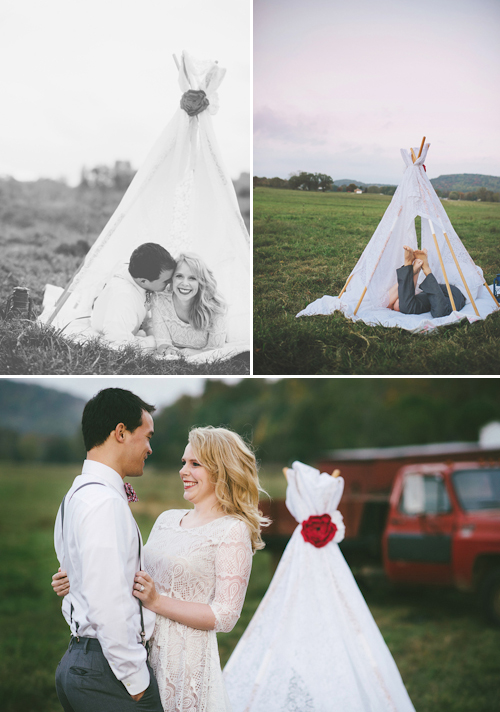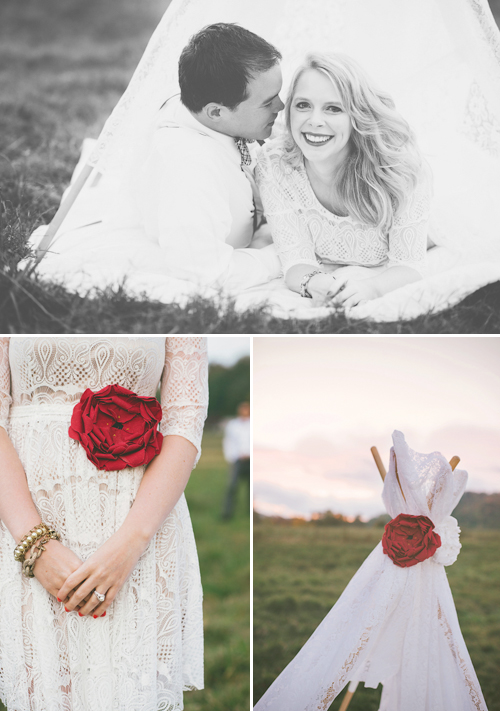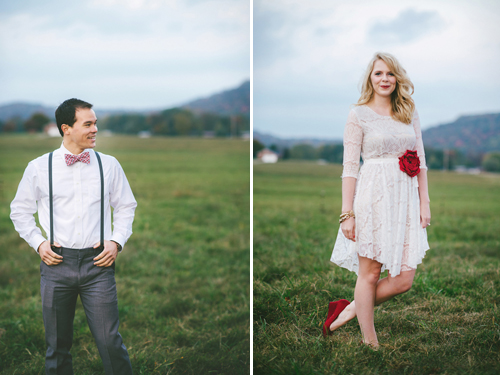 From bride, Morgen: Chris and I met and fell in love while we were both students at the University of Tennessee. Very quickly into our relationship, Chris discovered my deep-rooted affection for Valentines Day. My mother and I have always celebrated this day by making valentines for our dearest friends and family, and ever since Chris received his very first valentine from me, he has come to appreciate (and even enjoy) February 14th just as much as I do! We make it a point to celebrate Valentines Day in a big way every year. It was only natural for us to choose a Valentines Day theme for our engagement photos! Jessie did a fantastic job of portraying our true love, romance, and whimsy. We owe special thanks to our friends who lent us their farm for the morning, and to my mother and brother who were in the background helping with props and styling. We could not have asked for a better experience, or a better outcome! My favorite part of our pictures is our giant red heart. Every time I see it, I am reminded of the E.E. Cummings quote, I carry your heart with me (I carry it in my heart) I am never without it (anywhere I go you go, my dear).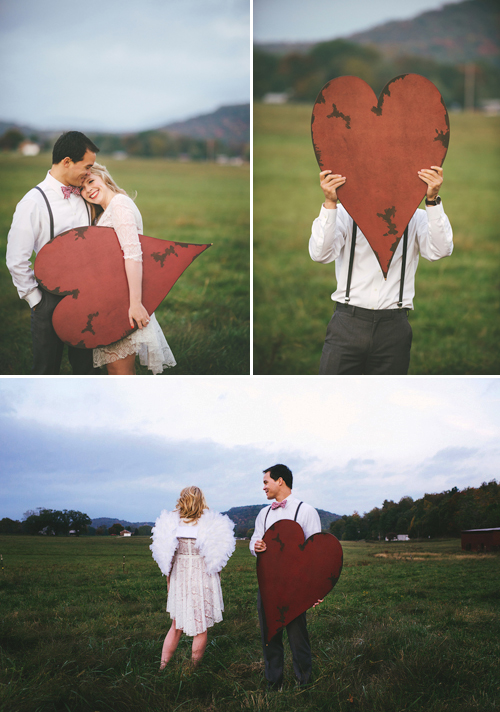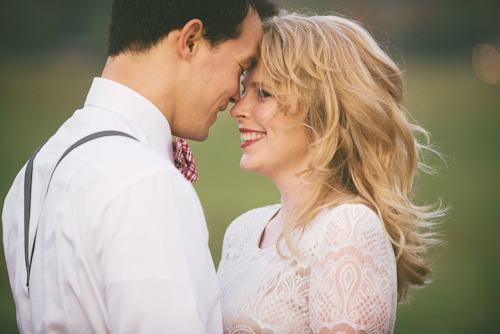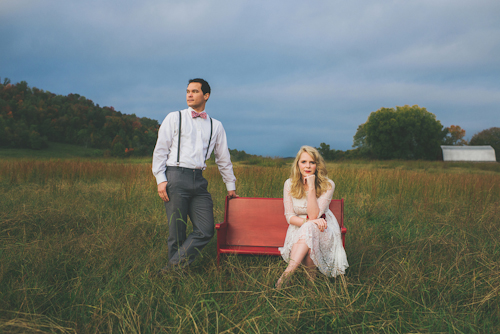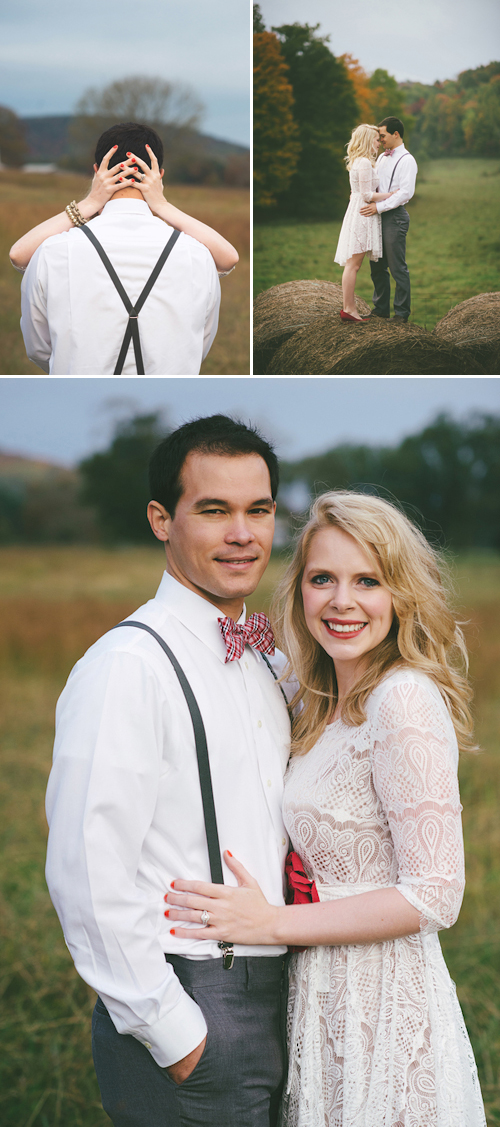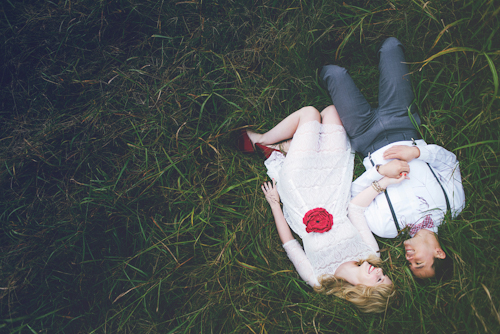 From photographer Jessie Holloway: I think when childhood friends call me to shoot their engagements and weddings, it just pulls at my heart strings. And this wasn't just any childhood friend, this was my Girl Scout's best friend. Seriously. It doesn't go back farther than that. We were selling cookies and earning pins on what seems like yesterday, and now here we are shooting her with her husband-to-be! My mind gets blown by things like this.
Going into it, I knew Morgen was the creative type- she pins regularly and often finds inspiration in imagery that she would like to use for her own photographs. She's so creatively proactive that I knew that with our forces combined, her photo shoot would rock. Morgen and Chris approached me with the Valentine's theme and I was beyond excited. These two lovebirds brought many of the props you see in the photos, and I added in the wings from a previous children's shoot I had done.
As for working with the two of them – it really doesn't get any better. Even at sunrise, these two were having a blast; laughing and joking with each other as if they hadn't been up since 3 a.m. getting ready. It tickled me to pieces because their excitement about the session and about their upcoming nuptials was contagious. My face hurt after shooting because I was seriously perma-grinning the whole time. Morgen and Chris are a match made in Valentine's heaven, and I can't wait until their October wedding!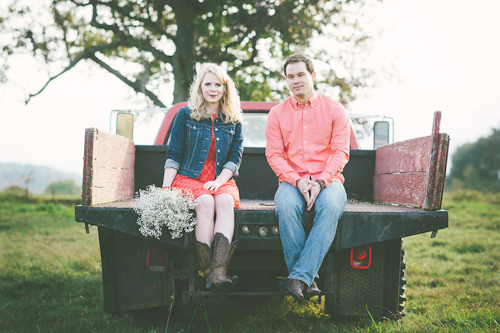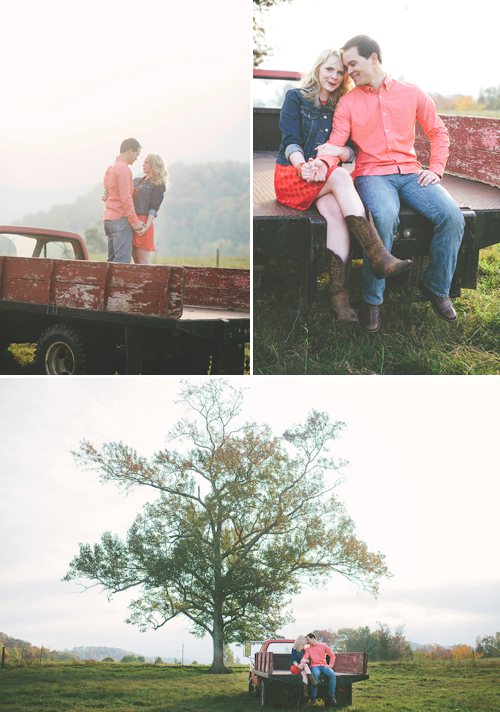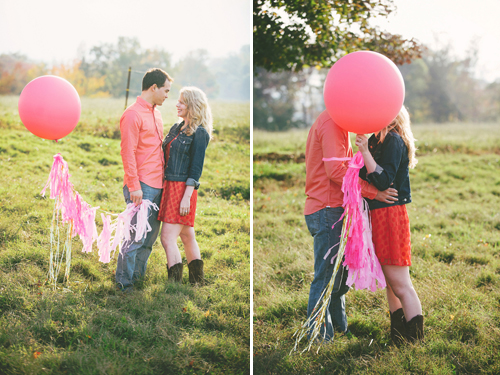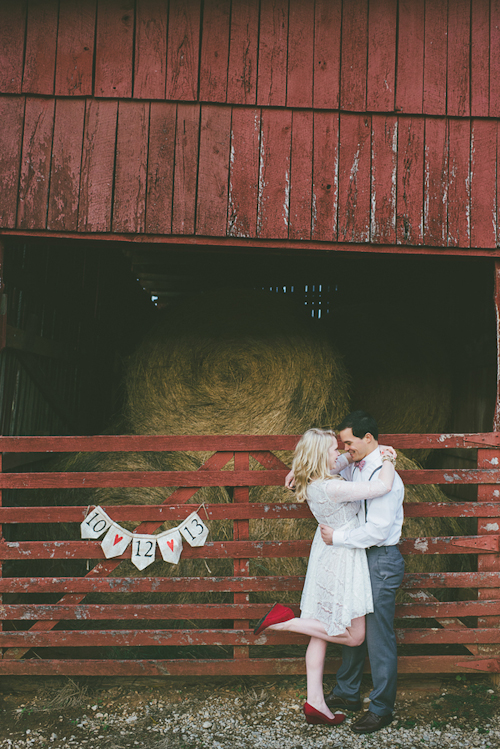 Thank you so much for sharing your super romantic Valentine's theme engagement shoot with us, Morgen and Chris! Your timing is impeccable! And a big thanks to Jessie Holloway for the beautiful images!
Readers, for more gorgeous red inspiration, be sure to check out our Image Gallery (did you know you can search it by color?) and our red Pinterest board!