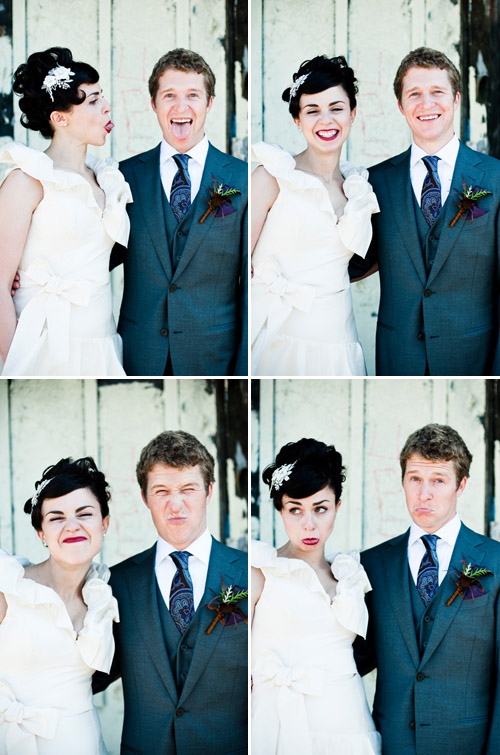 We are so excited to bring you today's Real Wedding from our brilliant Seattle Junebug members, Laurel McConnell and Chambers and Company. Rae and Rob's wedding, held just a few short weeks ago at SODO Park by Herban Feast, was an utterly stylish and dramatic celebration – from the bride's incredible dress and feathered bouquet, to the incredible towering wedding cake, no detail was left undone.

The Goals: In the beginning, Rae wasn't even sure she wanted a big wedding, but since her easy-going fiance did, she decided to dive into the wedding planning, whole-heartedly. Says Rae, "when I do something, I generally go all out, or I don't do it at all. So, we decided to make it fabulous and I think we achieved that." At the top of their priority list, was to provide a great party centered around what would be the most fun for their guests. For Rae and Rob, that meant creating an atmosphere of energy and fun, focused on amazing music, delicious food, and an open bar. "So much of what I planned was primarily based on what would make for the best party possible."
The Design: The couple chose SODO Park for both their ceremony and reception, and included lots of their siblings in the wedding party, to make it a big, enjoyable, family affair. Their lighthearted vows contributed to the day's high-energy ambiance, and after the Jewish ceremony, the bride and groom ran back down the aisle to "Come Go With Me" by the Beach Boys.
Rae describes their wedding as a funky, spunky, rockin' day, with a dash of Hollywood glam. We couldn't agree more! With expert guidance from Lisa Chambers and her team at Chambers and Company , and using a color palette of eggplant, copper and light blue, the space was filled with unique floral arrangements from Willow and Bloom, and gauzy panels of fabric were draped across the lofted ceiling. Large copper letter Rs, for Rae and Rob, stationed throughout the rustic venue added a personal touch to the decor.
Favors were given to the guests in the form of donations to Reading Tree and Children's Reading Foundation, in honor of the bride's late mother.
The wedding cake, whipped up by the talented Bonnie Lyons at New Renaissance Cakes, was a combination of two different cakes the bride had seen in a magazine, a look that was both fun and whimsical.

The Look: Rae designed her own show-stopping wedding gown, based on a dress worn by Katharine Hepburn in The Philadelphia Story. "I just thought it was one of the most fabulous dresses I had ever seen – the way it moved, everything." Luly Yang custom-made the dress and Rae absolutely loved the final product, especially the more modern collar, which, when combined with her hairstyle by the amazing Erin Skipley, "was perfectly dramatic and fabulous." For shoes, Rae chose a comfortable eggplant-colored peep toe from Chie Mihara.
Bridesmaids wore matching eggplant Jim Hjelm dresses with fun hats made by the groom's sister. "I sent her feathers, fabric and flowers, and said 'do your thing'", says Rae. The groomsmen wore matching suits and ties from Mario's, and Rob was especially handsome in a three piece gray suit with a pocket-square. Keeping with the stylish and funky theme, even the two ring bearers wore little top hats and coats with tails!

The Moments: Rae fondly remembers the couple's first look, because of Rob's reaction when he first laid eyes on his bride-to-be. "Rob looked at me and started laughing. I don't think he thought I would be so over the top." Things only got better from there, with a rockin' and rollin' reception where The Dusty 45's played live music all night long. Rae says the hora was crazy, "I was hysterical and it was like the best amusement ride of my life and all my friends and family were smiling up at at me."
During the last song of the evening, Rae was pulled up on stage to light the singer's trumpet on fire – while he kept playing it! "It was totally, unbelievably, rad." What could be more fun?
The Pros: To learn about all of the incredible wedding professionals who helped to make this wedding a reality, please visit our Real Weddings section.

Thank you so much for sharing your stylishly unique wedding with us Rae and Rob – congrats!
If you're planning a wedding in Southern California or Seattle, don't miss our trusted Plan Your Wedding Hotlist, and to find your dream wedding photographer for weddings anywhere in the world, be sure to visit our World's Best Wedding Photographers Hotlist!