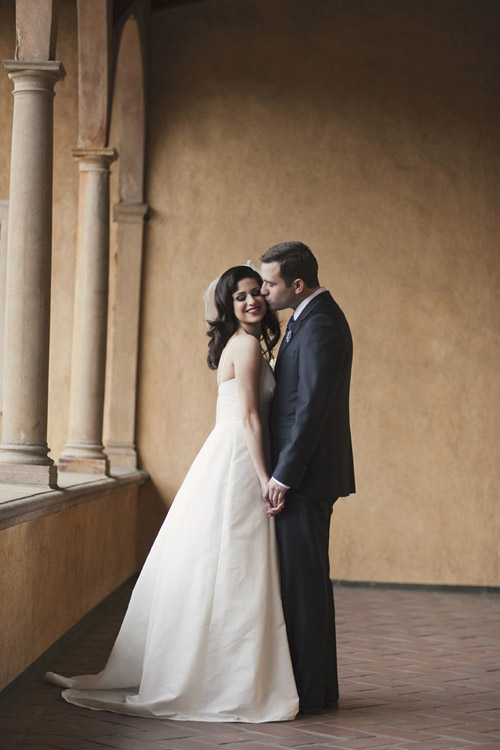 We are simply smitten with this week's beautiful Real Wedding photographed by Stephanie Williams Photography. Ava and Jordan's two day celebration had not one, but two stunning ceremonies. The first was a traditional Persian wedding "aghd," followed by a secular ceremony the next day, and both were filled with sweet personal touches that truly melt our hearts.
The Goals: Ava and Jordan wanted their wedding day to be an intimate celebration that was unique and personal to them. Throughout their planning, they tried to remind each other that it was a once-in-a-lifetime special day and that they should create an event that was exactly what they envisioned. With this in mind, the couple chose the Villa del Sol D'Oro, in Sierra Madre, an old-fashioned Italian-style palazzo, for their nuptials.

The Design: Since Ava's favorite color is blue, the planning began there. A color palette of navy blue and dusty pink with silver and fuchsia accents was chosen, and the space was illuminated with dozens and dozens of sparkling votive candles. Although the plan had originally been to have an outdoor wedding, when the big day arrived it proceeded to pour rain all day long. Ava and Jordan were happy to go with the flow, and they simply moved the event inside at the last minute. "It made everything more romantic and cozy."
The couple's invitations were custom made by a graphic designer from a combination of five designs. One was a symbol of a gramophone, chosen for the couple's love of music and its vintage feel, and they tried to tie those themes into all of their wedding details.

The Look: After trying on dozens of dresses, the bride found her perfect match in a gown from David's Bridal, accessorized with a feathered birdcage veil and blue shoes. Jordan and his groomsmen wore vests from John Varvatos and suits from Theory, all tied together with brooches in place of traditional boutonnieres, a unique and stylish fashion idea courtesy of the groom himself! The bridesmaids looked amazing in blue cocktail dresses from BCBG.

The Moments: Ava and Jordan's first ceremony, a Persian aghd, was held at the bride's mothers house in the late afternoon, in keeping with Persian tradition that the ceremony must occur before sunset. Performed by Ava's grandfather, it was filled with meaningful symbolism for the couple. Throughout the aghd, the women in the family ground two cones of white sugar above the heads of the bride and groom, ensuring that they will have a sweet marriage. After Ava's grandmother read a poem written specially for the occasion, the rest of the evening was filled with an amazing feast, much laughter, and plenty of gifts.
The next day, following a second ceremony where the couple wrote their own vows, Jordan says, "Ava and I were the first to exit the room. Rather than returning to the preparation room with the remainder of the wedding party, we locked ourselves in the bathroom. There we spent several minutes crying and holding each other. Regardless of everything else that was going on, we had just gone through the process of certifying a union that is intended to last a lifetime. Being able to share in the significance of that moment is indicative of the relationship we have created."
The celebration continued with a father-daughter swing dance to "Just a Gigolo" by Louis Prima, and Jordan then surprised his new bride by singing one of Ava's favorite songs, "Something About the Way You Look Tonight" by Elton John.

The Details: Ava and Jordan say that one of their best decisions of the night was having a photo booth with props, provided by Photoboof, because it added such a fun element to the celebration and provided them with a wonderful scrapbook after the festivities were over. As the bride and groom made their way home at the end of the night, Ava announced she was hungry and that she wanted to go to McDonald's. Jordan said it was actually one of the most romantic moments of the day for him, because "no matter how much money was spent or what we had planned, Ava was Ava always hungry." So funny, and so sweet.
The Pros: To learn about all of the incredible wedding professionals who helped to make this wedding a reality, please visit our Real Weddings section.
Thank you so much for sharing your unique wedding with us Ava and Jordan! What a wonderful event!
If you're planning your own wedding in Southern California or Seattle, don't miss our trusted Plan Your Wedding Hotlist!