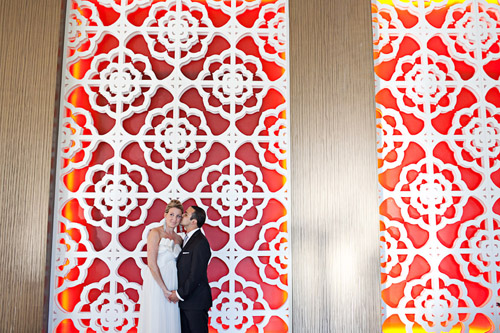 Surrounded by a breathtaking desert landscape, Karen and David were married at the ultra-stylish Riviera Resort & Spa in Palm Springs, California. Photographer Mary McHenry was on hand to capture the couple and their guests, as well as the amazing mid-century modern design that the area is so well-known for. I love the modern look of this wedding!

The Goals: Karen and David chose to host their destination in Palm Springs, California to take advantage of its sophisticated yet relaxed feel. Beautiful bride Karen explained that the locations mid-century modern architecture is one of the couples favorite styles, and they absolutely adored the friendliness of everyone there. Karen and David wanted their wedding weekend, spent at the Riviera Resort & Spa in Palm Springs, to be remembered as a fun, casual and relaxing get-away in sunny southern California. Having a wedding away from where we live was great, and we were able to spend the weekend with everyone in one spot. Plus, we had a ton of kids there and it was fantastic to see them all frolicking about in the pool. Walking out to the pool area and visiting with friends and family lazing about in the sun was the best!

The Design: Karen and David loved their amazing invitation designer, Elise Ho from Sweet Penelope in the Bay Area. The couple worked with Elise to design an invite that featured Palm Springs beloved retro design, all the while maintaining the soft, muted colors and streamlined aesthetic used throughout the entire wedding. Karens white and pewter wedding color palette reflected her desire to keep her wedding style clean and minimal.
The couple opted to have a traditional ceremony honoring their shared Jewish faiths. Karens grandfather's talit and David's grandmothers beautiful, hand-crocheted cloth were used to fashion the chuppah. They chose to keep the ceremony simple, leaving out personalized vows in favor of a few carefully chosen stanzas from an E.E. Cummings poem. During the recessional, guests joyfully and respectfully threw candy at the newlyweds, a nod to Davids Persian culture. Dave got pegged! Karen remembered.
Afterward, the couples 185 guests ventured to the Grand Ballroom at the Riviera for a warm, lively reception. David and Karen shared their first dance as husband and wife to Echo and the Bunnymans Lips like Sugar. "We did not want it to be too slow or too fast and we wanted it to be from the 80s for some reasonwe held a few dance practices in the kitchen. Next, those in attendance were treated to a delicious vanilla and chocolate cake layered with decadent Bavarian crème and fresh strawberries from Juliette's Bakery. Karen gushed, It was insanely good.
The Look: Because Karen works in fashion, it was very important to her that she stay true to her own personal style with her wedding dress. This modern bride ordered all of the dresses she was considering online and brought the gowns to her cubicle at work where she hosted daily fashion shows with costume changes in the conference room. Ultimately, she chose a ready-to-wear piece by Marchesa available at Neiman Marcus and had it altered into her perfect wedding gown. For her hair, makeup and accessories, Karen was going for a 1960s look – she wore a fabulous updo, pale lips and shoulder-grazing statement earrings by Dannijo. She also customized a dazzling pair of Manolo Blahniks by sewing on her own vintage shoe clips – her something old! Karens three best girlfriends gave her a necklace with an "S" on it on the day of her wedding, symbolic of the brides new last name. Also, my in laws gave me the most insanely gorgeous antique shawl studded with gold that they bought about 20 years ago and had saved for the time that David found his wife.

The Moments: Speeches delivered later in the night marked some the most memorable moments of the celebration. Karen surprised her husband with a speech she had written for him, and Karens mother-in-law also delivered a tender, loving speech that left everyone in awe. Throughout the wedding, Karen and David were careful to stay connected. We made sure to squeeze each other's hands a lot, it always makes me feel safe and loved.
After the wedding when we got back to our room I just sat and had tears streaming down my face, marrying David meant the world to me and it was the most real and raw moment.
The Pros: To learn about all of the wedding professionals who were a part of this wonderful wedding, please visit Karen and David's page in our Real Wedding Library.

Thank you Karen and David for sharing your amazing wedding with us!
To plan your own Southern California or Seattle area wedding, browse our Plan Your Wedding Hotlists! And to find a dream wedding photographer for your wedding anywhere in the world, be sure to check out Junebug's World's Best Wedding Photographers Hotlist!