Set atop of cliff overlooking the Pacific Ocean in Santa Barbara, California, the gorgeous grounds, classic old world Italian architecture and spectacular view provided the perfect backdrop for Kathryn and Michael's private estate wedding. Under a brilliant blue sky, Santa Barbara based photographer Melissa Musgrove Photography captured each flawlessly executed detail, the luxurious fashion and every sweet moment between the bride and groom.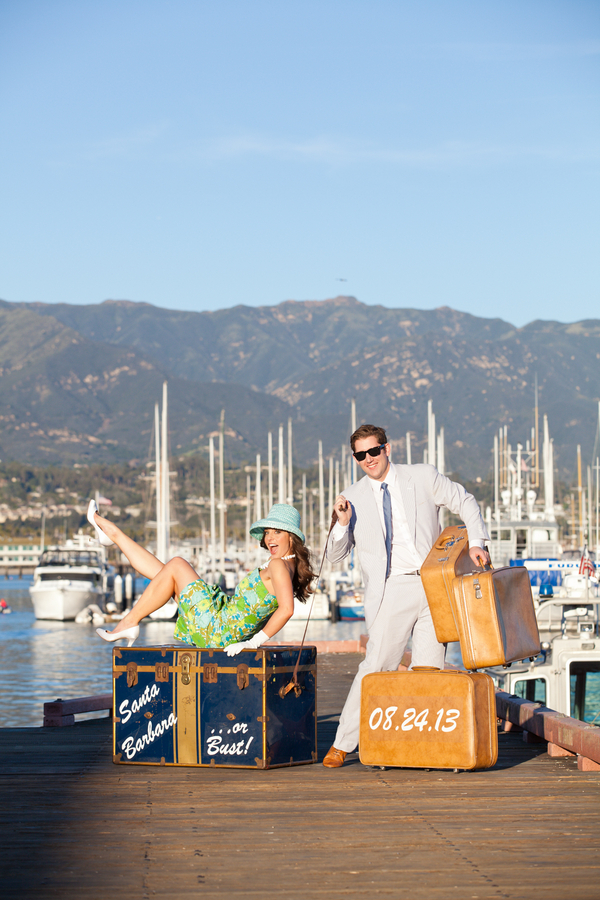 The Couple: Kathryn and Michael
The Wedding: 8.24.2013 – Private Estate, Santa Barbara, California
The Goals: I wanted to have a spectacular day oozing with romance on the California coast–there is nothing in the world like it! We wanted a venue that allowed for both the ceremony and reception to be outside so we could savor the views as long as possible. Additionally, it was important to create a personal, private ambiance for our guests. Therefore, an ocean-front estate was the perfect choice for our venue. And Santa Barbara is the ideal town, because you have some of the best weather there, and almost no chance of rain. We didn't even have a plan B! My groom's top priority was to be able to have all of his friends and family there, and since he is from Northern California, Santa Barbara was more accessible for his guests. My family and friends are all over the country, so what I like to call a "domestic destination wedding" seemed a logical choice for my side, too.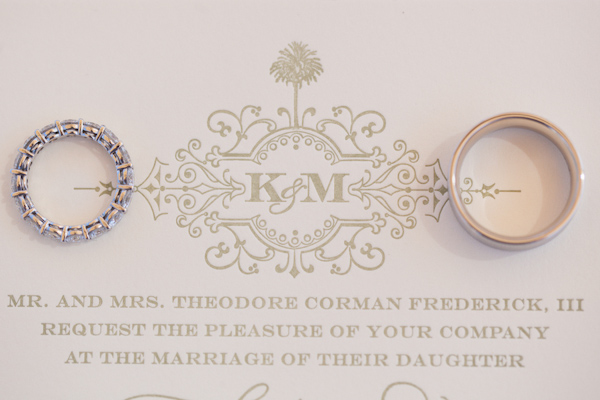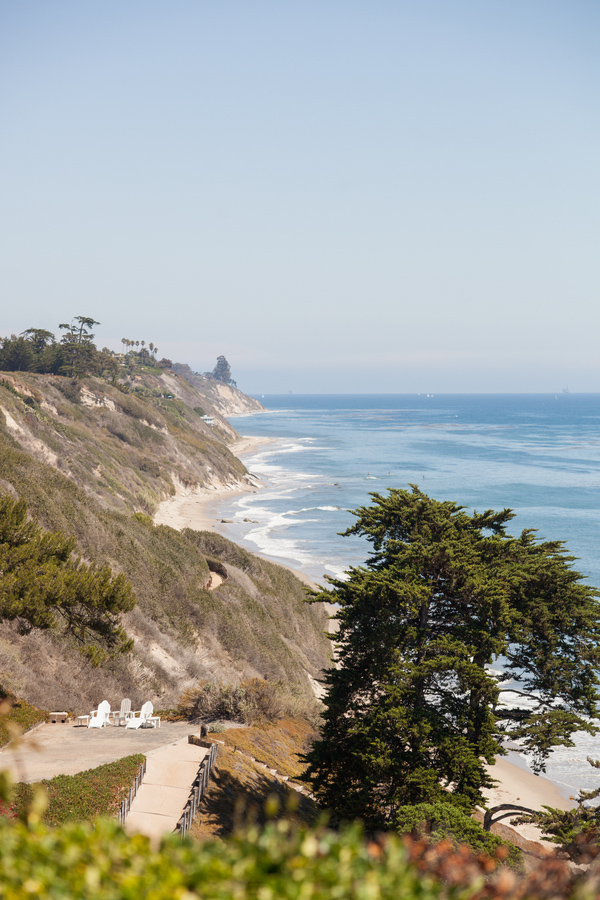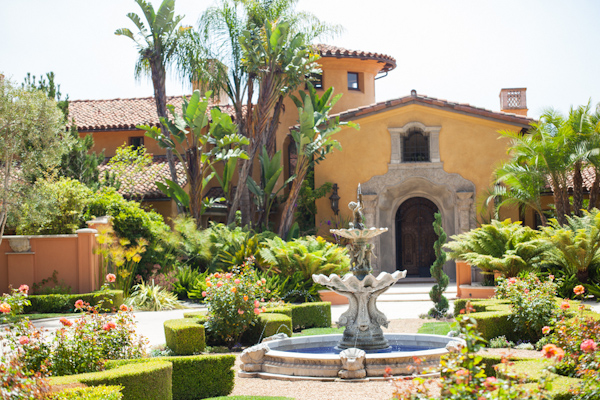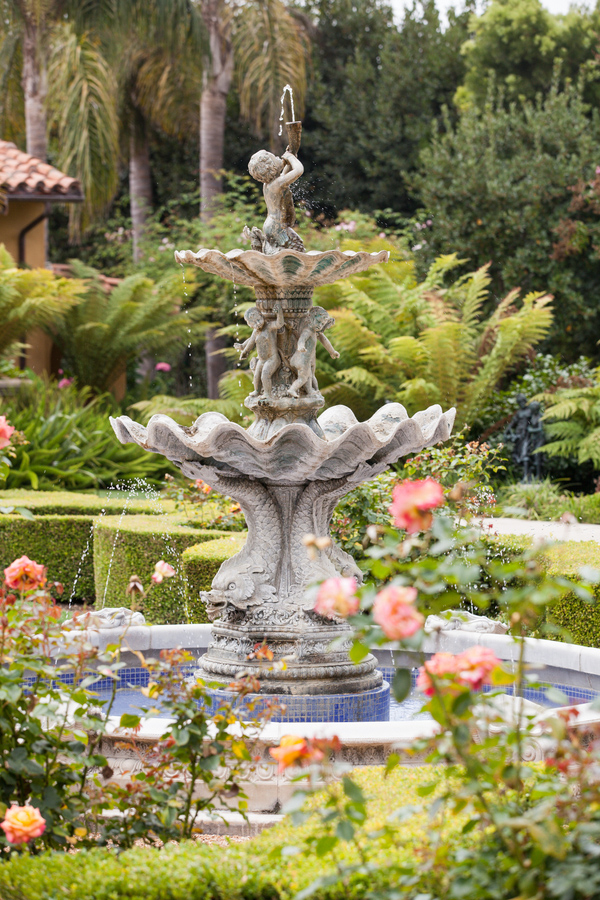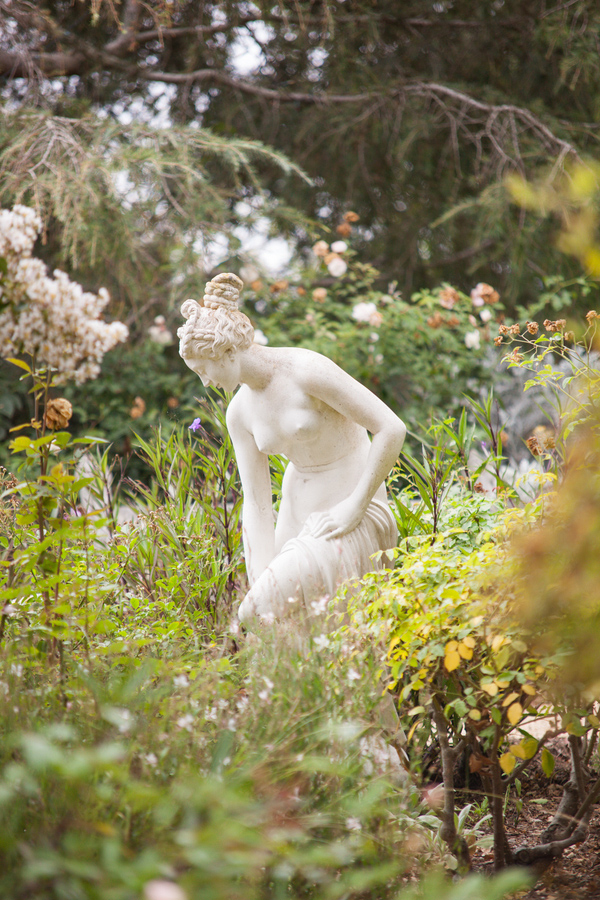 The Design: I've dabbled in art a bit, and gained so much inspiration from designs I'd seen in other weddings, so I definitely owned the entire creative aspect. It was really important for me to have a cohesive feel to the day without it being too theme-y, you know? I just started with my vision: luxe romance on the California coast. Then, let the creativity flow when deciding on the details of the day. I also believe it is critical to plan the design concept around the venue. For example, I love modern design and bright colors, but that wouldn't have gone well with the venue, which was designed in an old-world, opulent Italian style. The estate has beautiful gardens, an elaborate pool, and a lot going on in terms of colors and scenery. Therefore, I chose a muted color palette, so we could distinguish the event while letting the backdrop shine. We didn't have any decor at all for the ceremony, aside from a rose petal aisle, and nothing was missed when we exchanged vows in front of the stunning cliff-top ocean view. However, the tables got a lot of attention. We went back and forth on the flowers and linens several times, taking samples to the estate to see what would work best in the bright sunlight. My groom actually selected the final linen from a few I shortlisted. It was so great to have him involved! I also wanted to figure out how I would work into the wedding the cute things he always tells me. For example, he always says "I love you like…you like chocolate…like a kitten loves milk", etc. These expressions ended up accompanying the table numbers, written in calligraphy and placed in matching frames. And I love the specialty cocktail trend. This was an easy choice for us since we met while I was holding a few Greyhounds at a bar, so we used the same drink but renamed it "love at first sight." I also wanted a unique and elaborate wedding invitation, so I worked with a custom stationer who was able to execute my vision but also allowed me to do the assembly myself to save on costs. Some of the details of the day were built around practicality and putting our guests' needs first. I knew it might get hot during the ceremony, so the programs were actual fans our guests used to cool off and shade themselves. We also had a "comfy and cozy!" lounge area with pashminas and flip flops for the women. They were gone in a heartbeat! My groom, sister, and especially my mom were all instrumental in helping to make decisions and offering opinions. Every detail was thoughtfully considered and executed, and I like to believe it all paid off!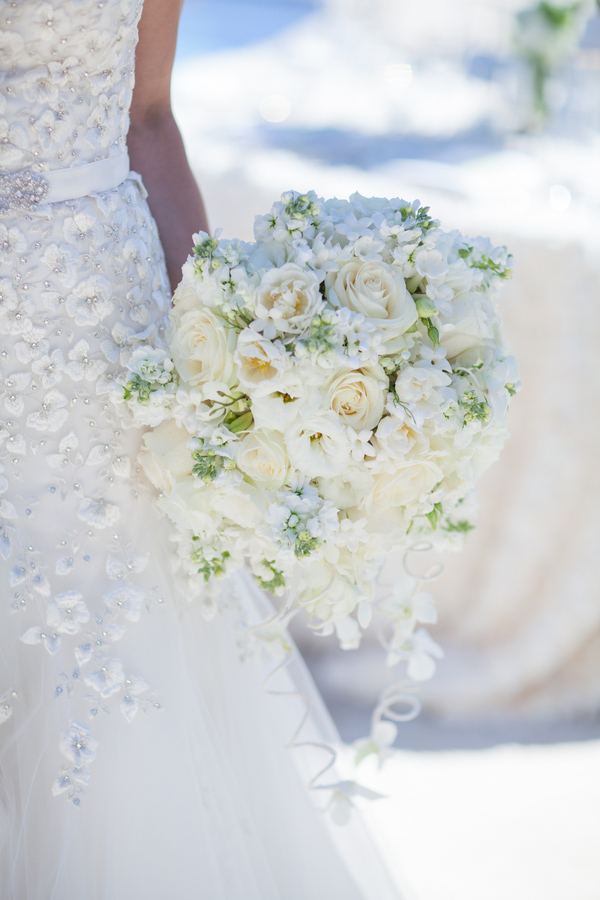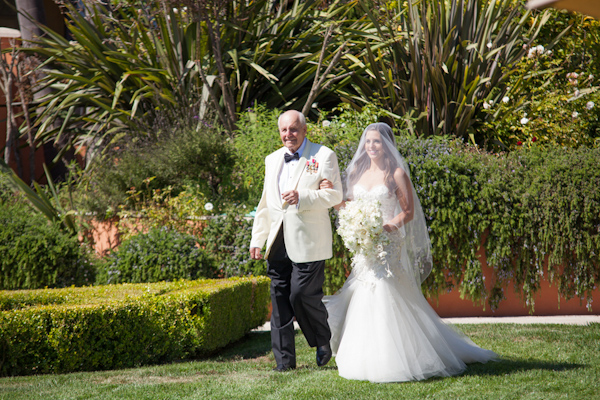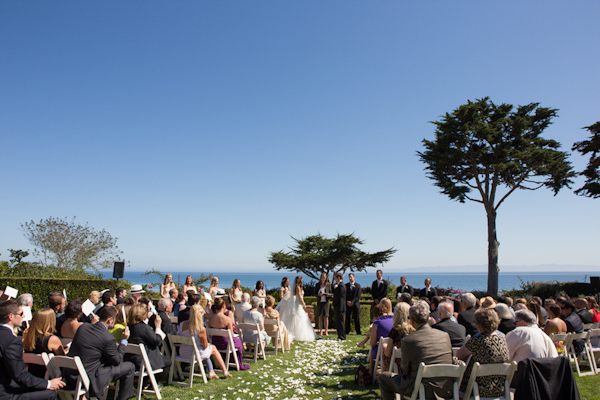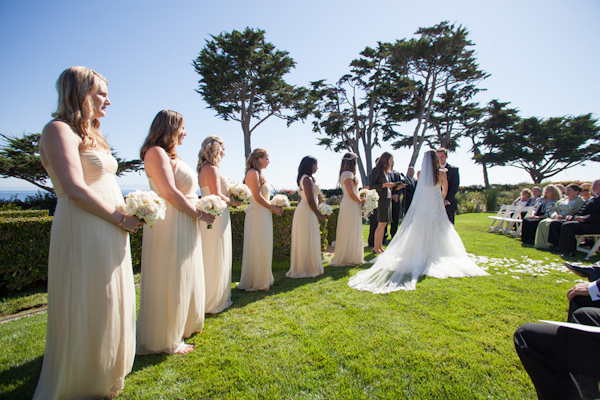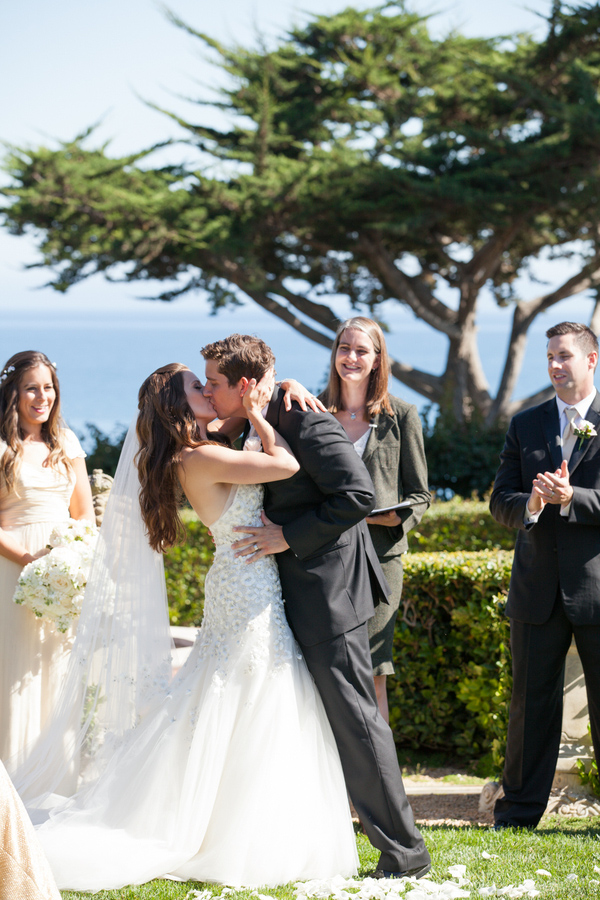 The Look: I tried to go into dress shopping with an open mind, hoping that the perfect gown would find me. And it's a good thing I did, because of course you change your mind once you try a dress on. I originally thought I wanted the biggest skirt possible, but those gowns were so heavy and felt ridiculous once I had them on. So I just tried everything, which was a little overwhelming…but I eventually decided on a fit 'n flare embroidered Liancarlo gown for his attention to detail, exquisite couture design, and lightweight fabric. I think my dress had some 70 yards of tulle in it, and that was my favorite part (in addition to the crystals and embroidered flowers). It was not a beaded gown but because high quality crystals were used, and only selectively, it had a lot of sparkle. And of course, I HAD to have the matching veil for added drama!
In fitting with the theme, I wanted the bridesmaids to wear long chiffon gowns. Chiffon just screams romance! I decided to be a diplomatic bride and let them each chose their own style gown, in the same vanilla color. Every bride should do this! Not only is the identical bridesmaid look outdated, but my girls all had different body types, and what looks good on one girl won't work on another. They all looked and felt fantastic!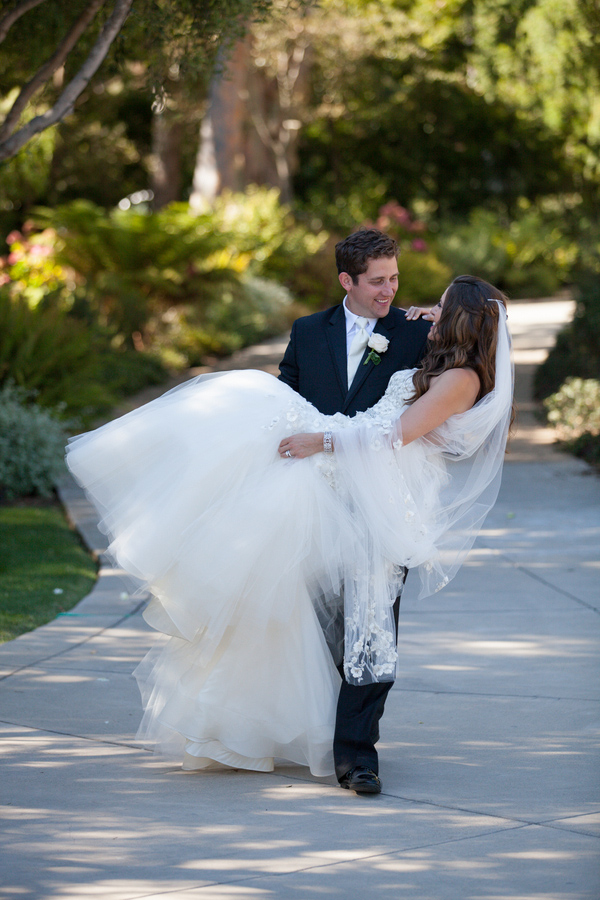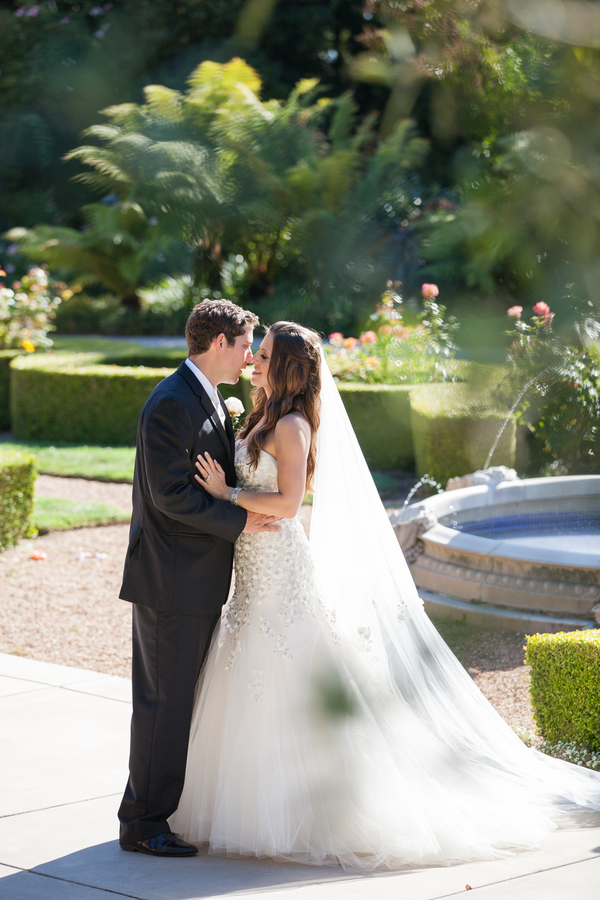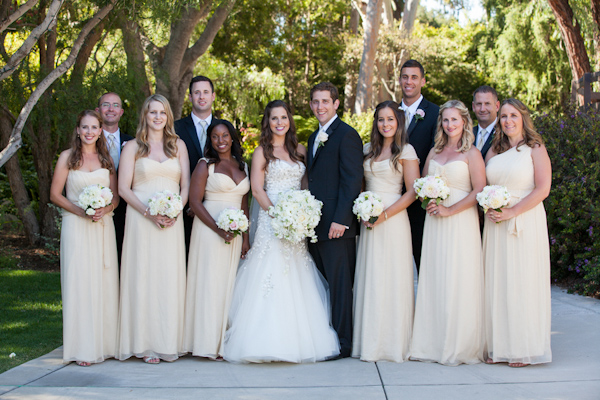 The Moments: The most special part of the day was the ceremony….when we looked into each other's eyes it was like, "finally, we're doing this!" and it was the happiest moment of our lives. We customized the entire ceremony and wrote our own vows, so it was really special to hear what each had written for the other. It's an indescribable joy. The other top moments were the speeches and the dancing. We love to dance and had an awesome band so it ended up being a great party.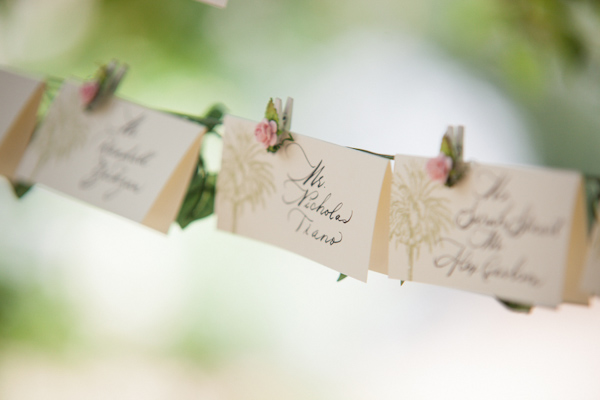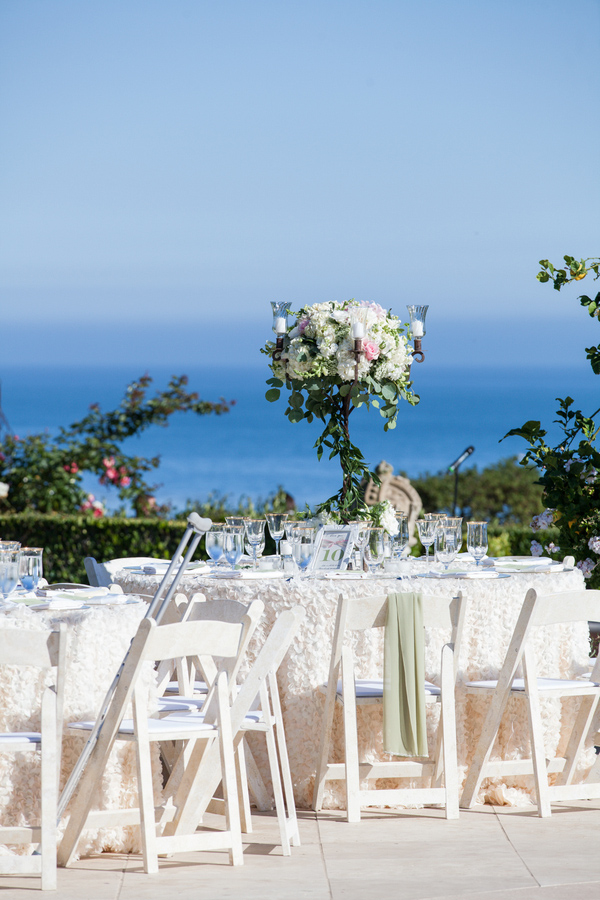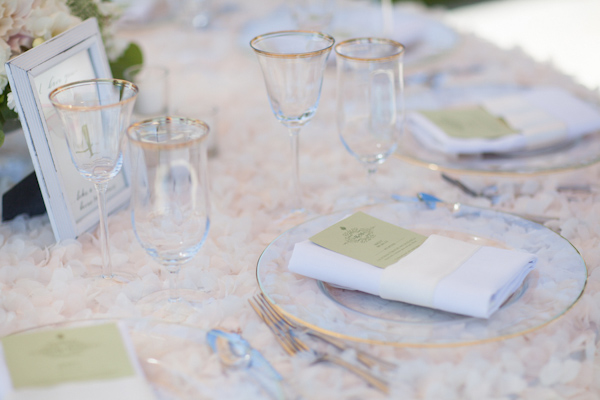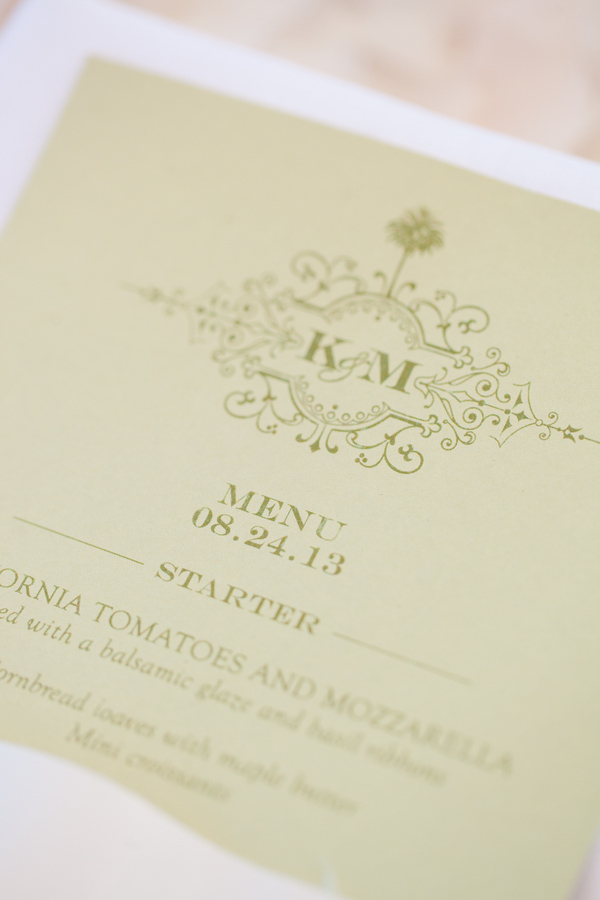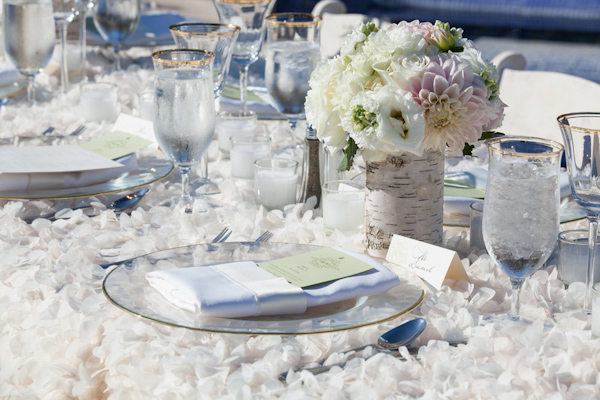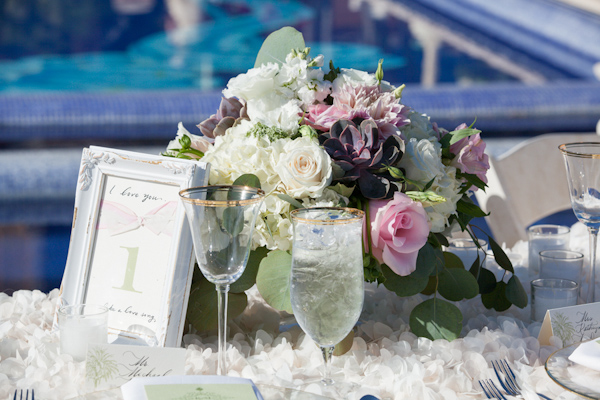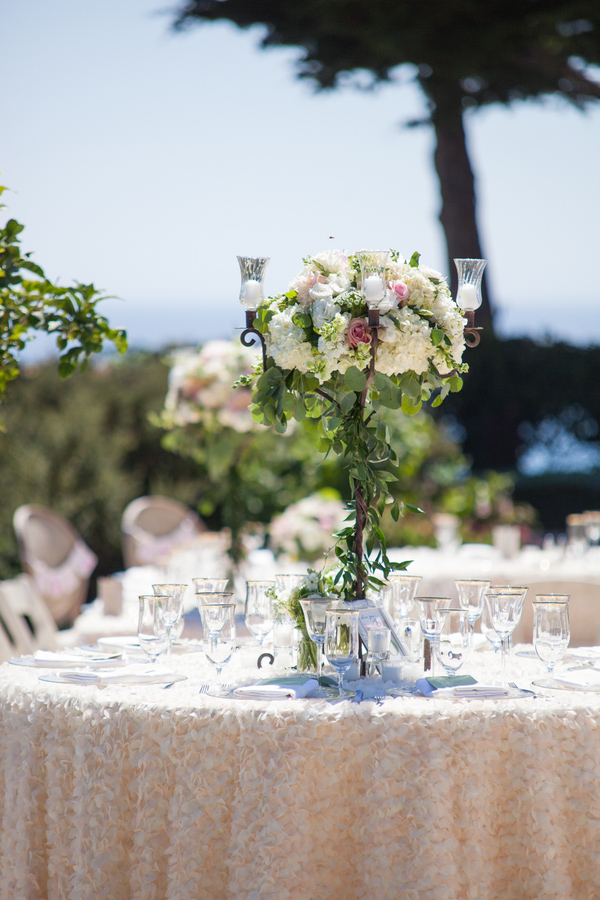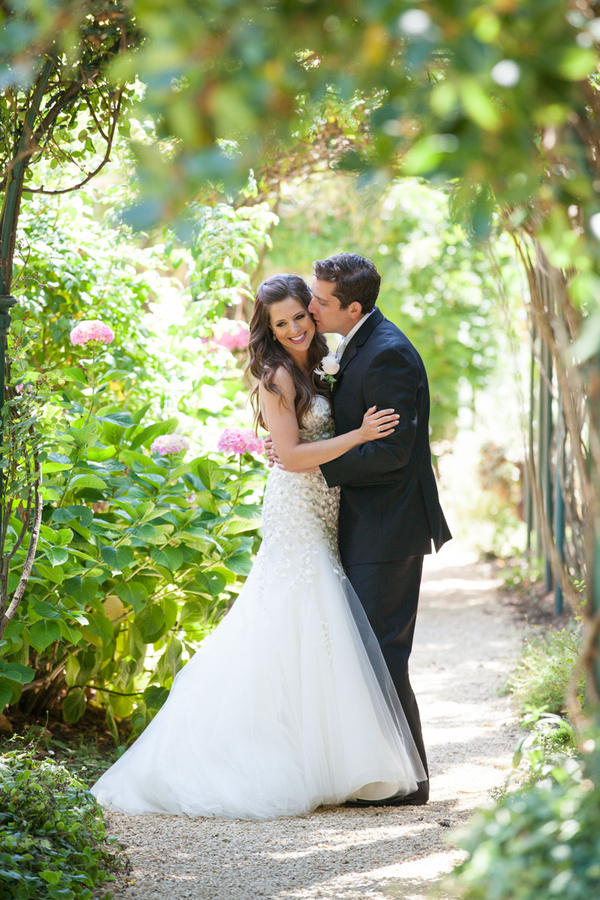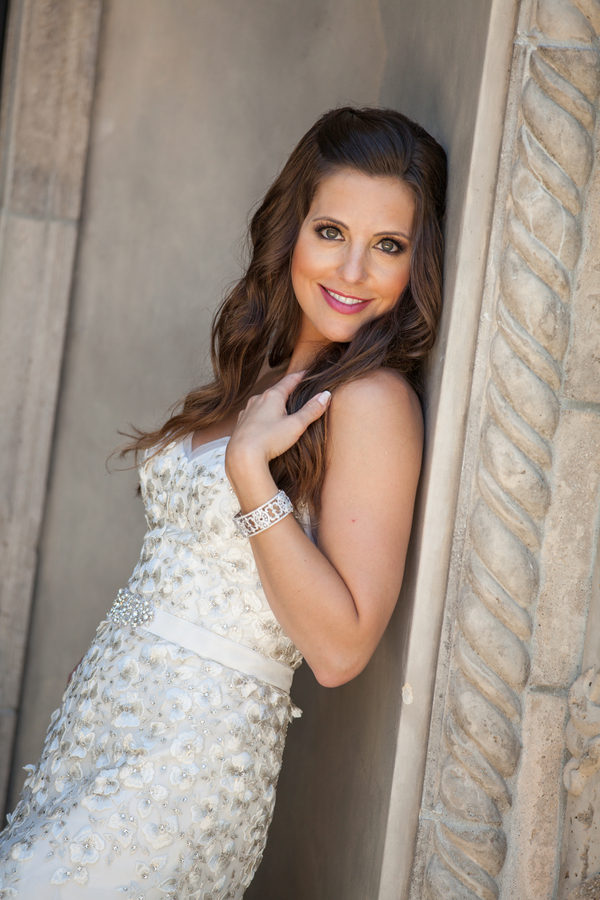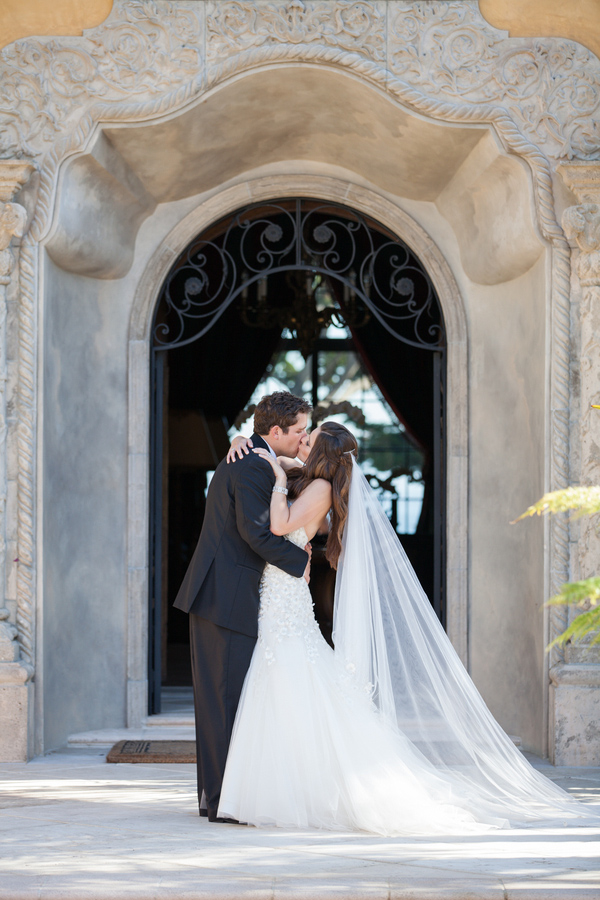 The Advice: Start with your guest list and headcount first, compare that with your budget and then select a venue. I don't understand why all the wedding guides tell you the opposite…we learned this the hard way. There are so many different alternatives for venues these days, and different costs per person based on where you have your reception. So, if you have a large guest list, that you absolutely cannot reduce, you may be limited in venue options and it's definitely better to figure this out before you have the venue booked. Furthermore, there are likely to be some or even many things that just go wrong . Not all brides or even planners are forthcoming with this fact! You've got to delegate responsibility for each aspect of the day so that you don't have the burden of dealing with mishaps. And if something does go awry, try not to let it spoil the day. As my best friend says, the bride and groom set the tone for the event, and if you are having the time of your lives, the guests will, too. Our biggest wedding planning success was due to delegating responsibilities and having help from family and friends. My mom is super organized and was a huge help in keeping me on track throughout the process, helping to research and select vendors, reminding me when things needed to be booked, accompanying me to all the dress shopping, etc. It was really a collaboration.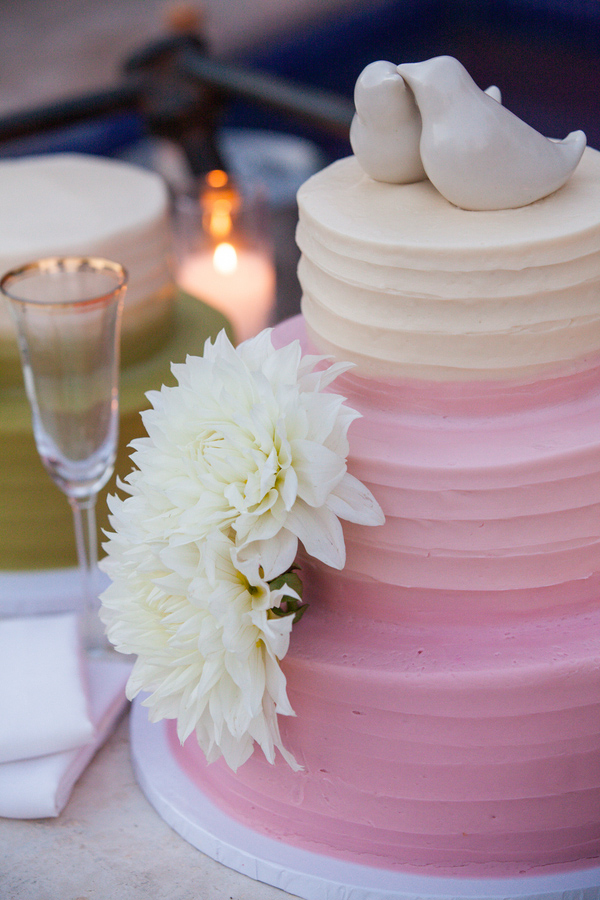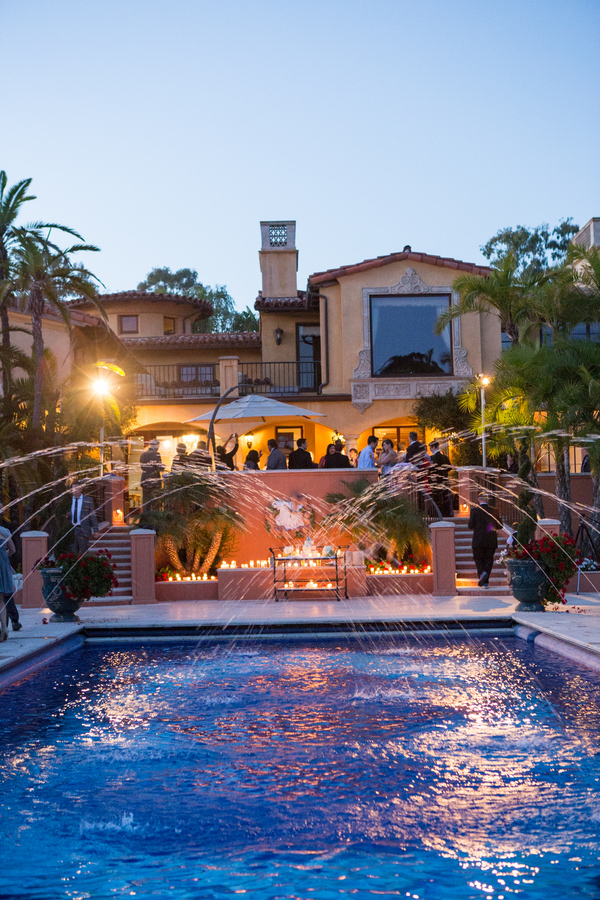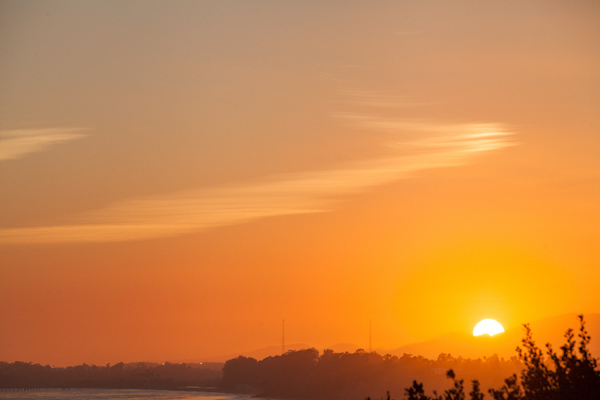 The Wedding Team:
Photographer: Melissa Musgrove Photography
Ceremony and Reception Venue: Private Estate in Santa Barbara, California
Wedding Planner: Bride, Mother of the Bride, Sister of the Bride
Videographer/Film Maker: All Because He Asked
Invitation Designer: The Paper Guppy
Catering: Events Unlimited
Florist: Grassroots Floral
Cake: Susie Cakes
Wedding Dress: Liancarlo via The Little White Dress Bridal Shop
Bridal Accessories: Adorn
Bridesmaids' Apparel & Accessories: Bella Bridesmaid
Groom Groomsmen's Apparel & Accessories: Mission Tuxedos
Hair & Makeup: TEAM Hair & Makeup
Live Music: Vanity Fair
Rentals: La Tavola, The Tent Merchant
A big thank you to Kathryn and Michael for sharing their incredible wedding day with us!
Looking to plan your wedding in the Santa Barbara area? Check out the Santa Barbara plan your wedding hotlist!