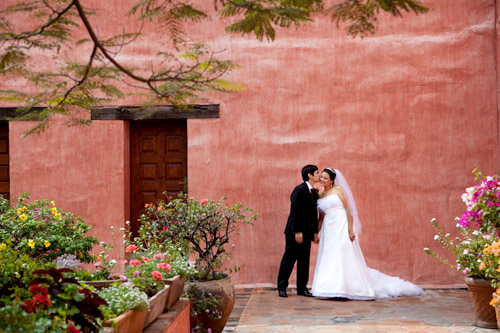 Marcy and Danny's October 31st wedding in Oaxaca, Mexico, combined a spirited wedding celebration with unique Day of the Dead traditions to create an incredibly fun and personal event. Photographed by Roberto Valenzuela, this intimate destination wedding, with just 32 guests, captured our hearts and our attention with its rich colors and meaningful style.
The goals: More than anything, Marcy and Danny wanted their wedding to be unique and for their guests to have fun. They hoped for a day filled with love, laughter and dancing, and the chance for their friends and family who had traveled so far to experience the beauty of Oaxaca and an authentic celebration of Dia De Los Muertos. A few months after the wedding, as a Valentine's Day gift, Danny gave Marcy a CD with pictures from the big day. When she saw the photos, Marcy said, she knew they had met their goals!

The moments: Following Oaxacan tradition, the bride was welcomed to her Catholic ceremony by a brass band that played as she arrived at the church. Once inside there was a slight change to the couple's original plan. The bilingual priest who was supposed to officiate had become ill, and the entire ceremony had to be performed in Spanish. Since Danny doesn't speak Spanish, Marcy was a little worried, but says, "he did beautifully," and hearing him say his vows in Spanish became one of her most treasured memories from the day. At the end of the ceremony, the band began to play once again, and as they accompanied the couple through the town to the reception, family, locals and tourists cheered as they all passed by.

The look: Marcy didn't want to use a traditional Halloween theme so instead she chose black and red as her main wedding colors and incorporated elements of Dia De Los Muertos into the decor. There were traditional skulls, deep red and pink flowers with pops of bright orange, and even a wedding cake that was a black and red. Along the way polka-dots also became part of the wedding look, in Danny's tie, one the wedding cake and in the pearls that adorned Marcy's shoes and veil.

The memories: The reception began with the first dance, because for Marcy and Danny this was more than their first dance as a married couple. This was their first dance together, ever! In fourteen years as a couple, they had never before danced together, making that first twirl around the dance floor all the more memorable.
The pros: To learn about all of the wedding professionals that helped to make this wedding a reality, be sure to visit our Real Weddings section.

Thank you so much Marcy and Danny! We loved learning about your celebration!
Planning a Seattle or Southern California wedding? Don't miss our trusted Plan Your Wedding Hotlist where you'll find the most talented and passionate wedding pros around!