From the sparkling gold and pink wedding color palette, to the bride's incredible sari-inspired wedding dress, to the ultra cool Nashville venue, OZ, Shruthi and Peter's wedding has got our hearts racing! Check out their story and unique approach to including all the things they love into their big day…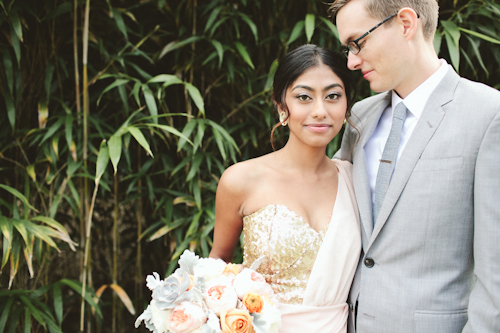 The Goals: My husband and I wanted our wedding day to be all about celebrating our new life together as husband and wife, with dear friends and family. As cliche as it may sound, we would definitely say our love was our inspiration. We really wanted our wedding to reflect both of us!
The Look: My wedding dress was custom made for me by Adela Saldana, a seamstress at VIP Occasions (a bridal boutique in Chicagoland). Before I even started trying on dresses, I was watching a Bhairava Jaikishan runway show and it happened. I saw this sari, and that was that. I absolutely loved it and how elegant the draping over the shoulder was. I knew it was exactly what I wanted.
After trying on numerous dresses, I began to realize that I wasnt finding anything similar to the Jaikishan sari. I didn't have that moment where you just know that its the dress for you. I decided to sit down and try to draw out exactly what my dream dress would be like. Incredibly, Adela was able to construct my wedding dress from my sketch. Since she was all the way in Chicago (and I was in Nashville), it was an extremely big risk but I decided to go through with it anyway. I had just one measurement session with her, gave her the sketch, and explained what I envisioned. Approximately two weeks before the wedding, I went to Adelas home to see the dress and to do my one and only fitting. It was terrifying. My MOH brought the dress down with her the week of the wedding and that was the first time I saw the finished dress. I tried it on and didnt want to take it off. It was absolutely perfect and I would not have done anything differently!
The Design: The various placement of maps (the sign on the welcome table, bridesmaids pinwheels, wrapping of the favors, cupcake toppers) was inspired by our love for travel. We both want to do lots and lots of traveling together! There was even a very small private airport across the way, which was fitting because my husband and I were dating long distance for a little more than 5 years so we took lots of trips to the airport. It was amazing to have an airport involved on a day that bonded us together forever!
We love music/clothing/films from the 1960s and all things vintage, which really influenced the music that was played, the bridesmaid dresses, my makeup, hair and shoes. The term vintage modern has often been used by friends and family to describe the look and feel of our wedding. Peters suit was certainly vintage inspired due to its fitted look and slim fit.
Lastly, I was born in south India (100% Indian, yeah!) so I definitely wanted to tie my heritage in. Gold is a very common color in Indian décor and Indian weddings which is why I incorporated so much gold and sparkle into the styling of our wedding. My dress was designed to be a fusion of a wedding gown and a sari. The jewelry in my hair and the bindi on my forehead that I wore for part of the wedding is also traditional for Indian brides to wear.
The Moments: Shruthi: My favorite memory of the day was being hidden away from everyone while drinking our absolutely delicious signature cocktail before we made our entrance as husband and wife (and danced the night away)!
Peter: My favorite memory was getting out on the dance floor with my new woman! It was all a favorite memory.
The Pros: To learn all about the many wedding professionals who contributed to Shruthi and Peter's wedding day, but sure to visit their page in our Real Weddings Library!
Thank you so much Shruthi and Peter!