Danielle and Juan were married beneath majestic oak trees at the Legare Waring House in Charleston, South Carolina in a celebration that incorporated Juan's Panamanian background and Danielle's Southern spirit. The pink and gold decor was glamorous, yet relaxed and personal. Big thanks to Paige Winn Photo for capturing all the sweetness of this southern wedding!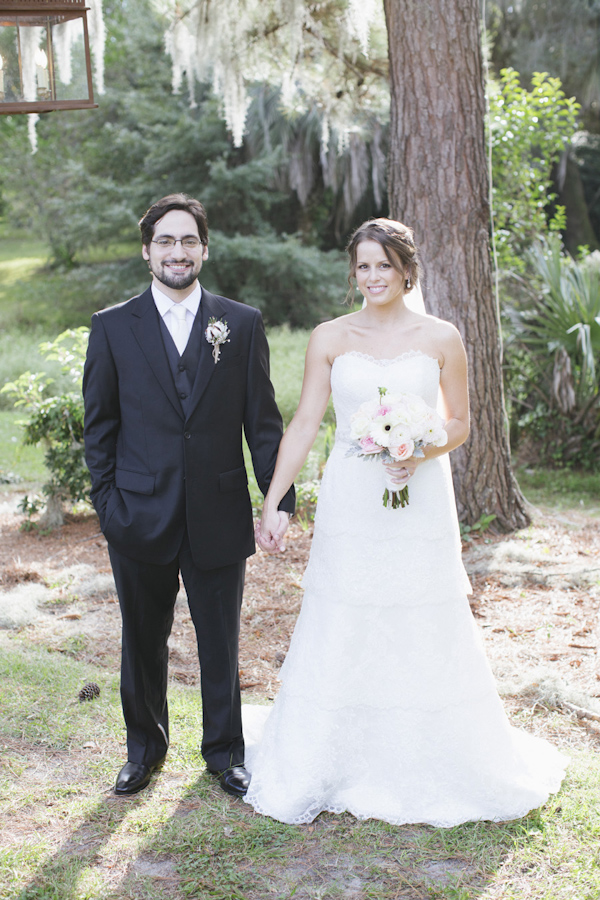 The Couple: Danielle and Juan
The Wedding: 10.4.13 – Legare Waring House, Charleston, SC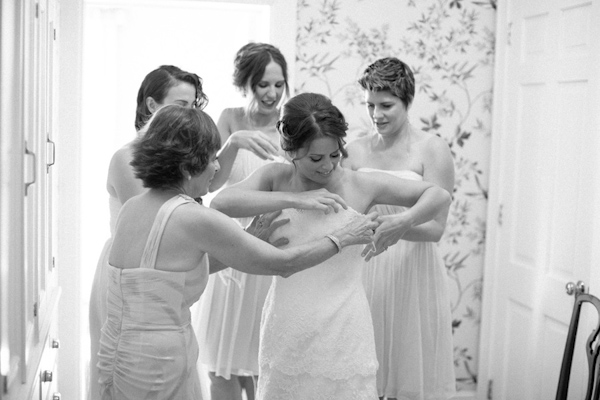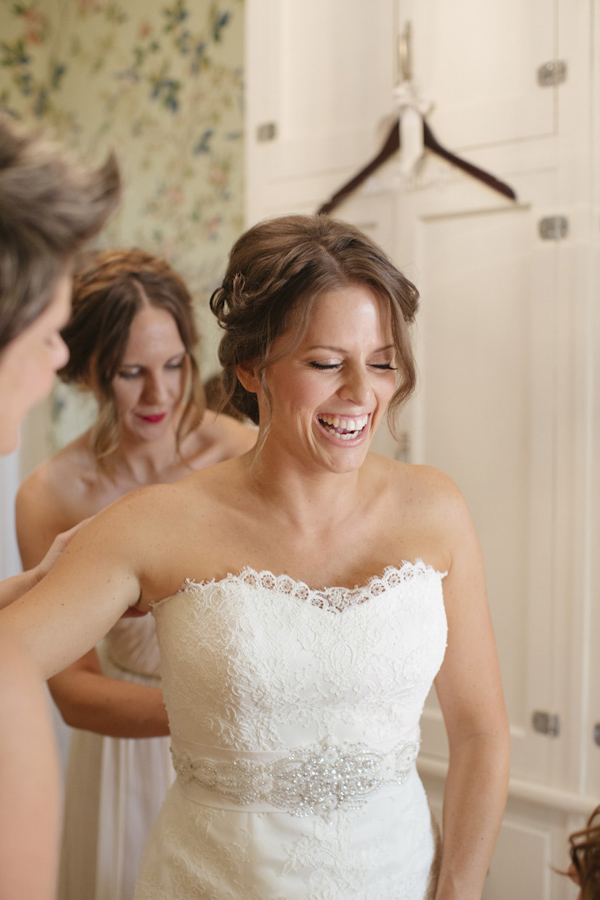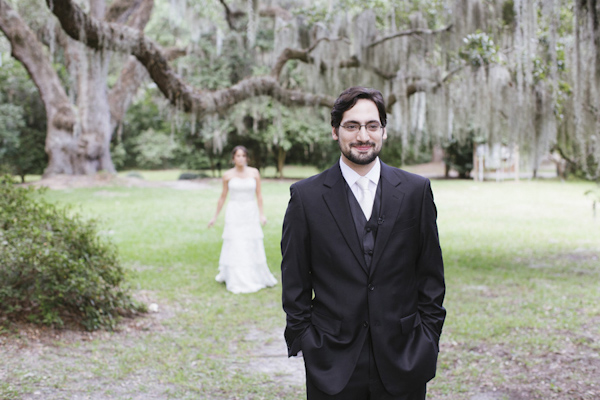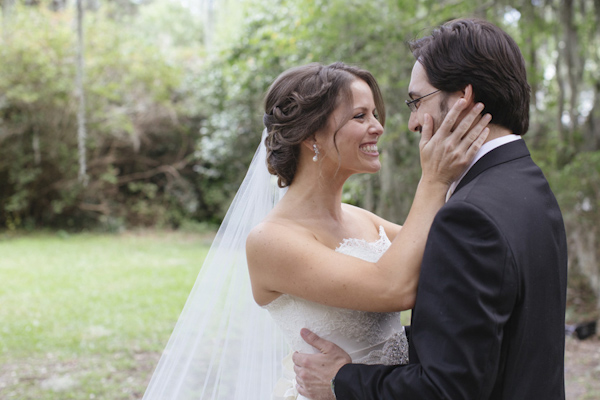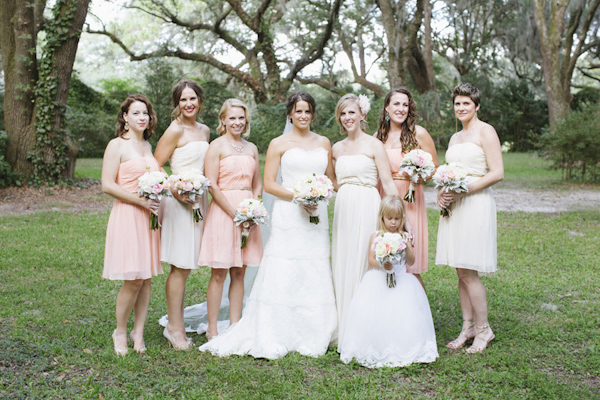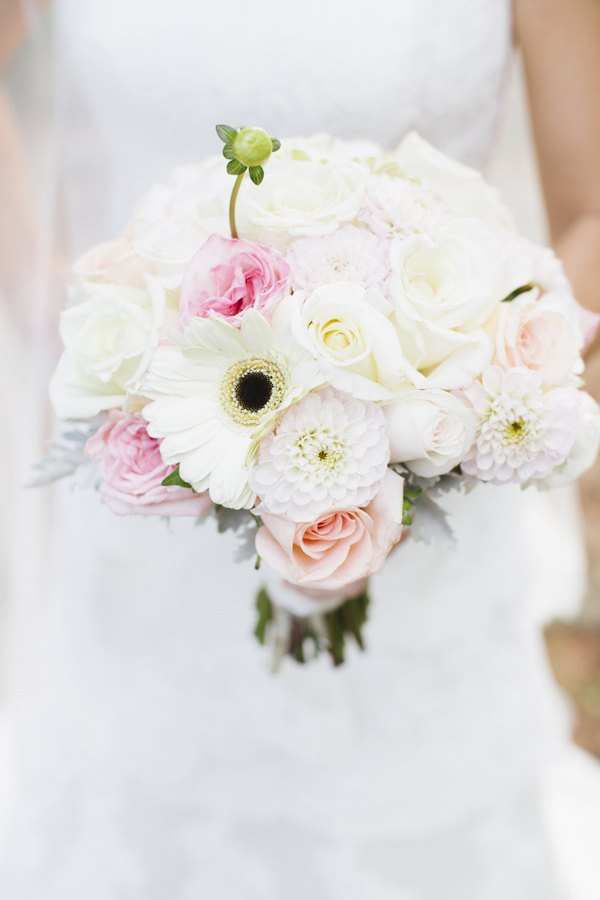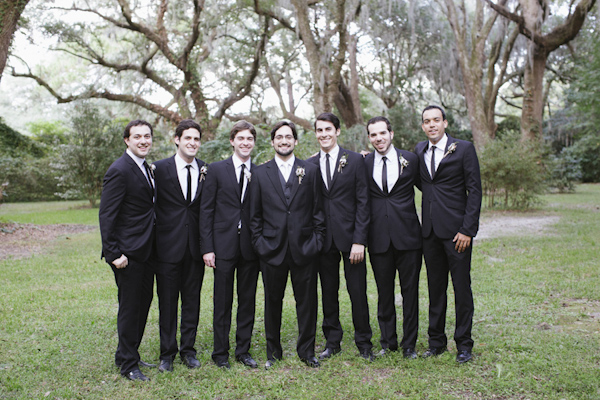 The Goals: Juan is Panamanian and I'm from Charleston, SC, so I think our main goal was to perfectly fuse our two cultures into one beautiful and cohesive event. So for example, we incorporated a Pablo Neruda poem and arras coins into the ceremony, then served spiked sweet tea in mason jars at the reception. We're also both very creative and family-oriented people, so we wanted to keep everything DIY, intimate and warm — but yet take advantage of Charleston's grandiose charm and beauty.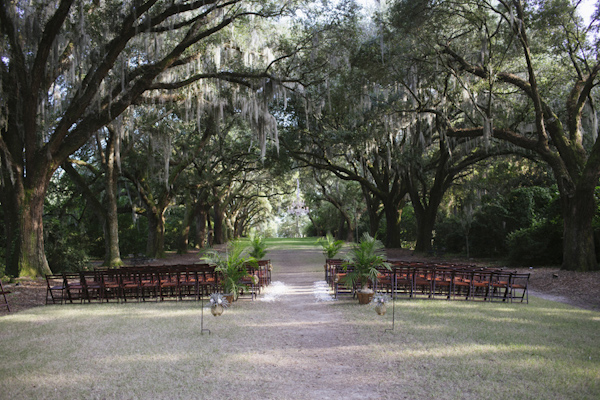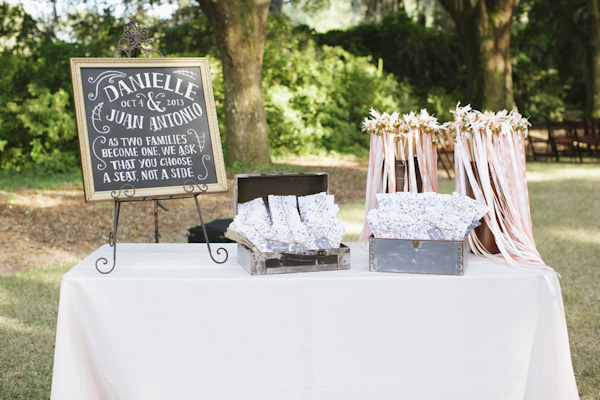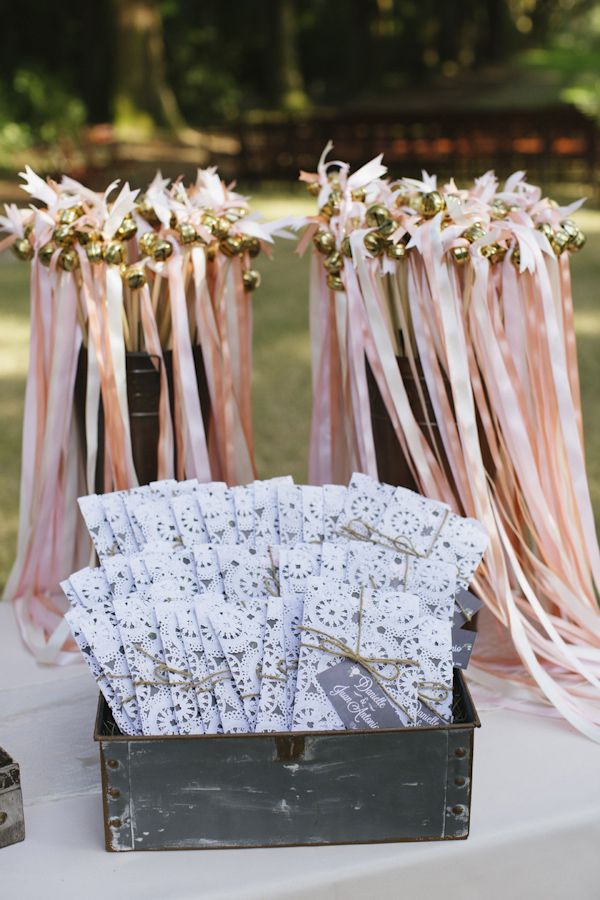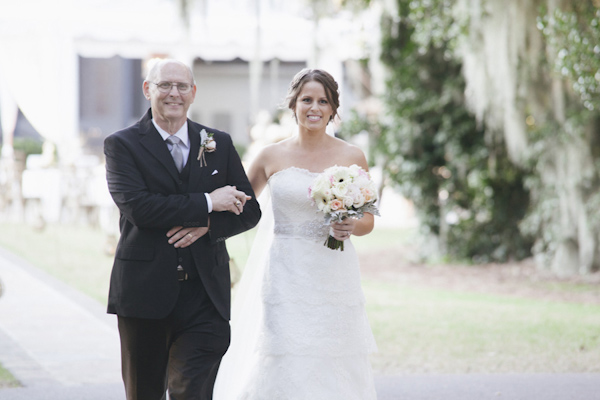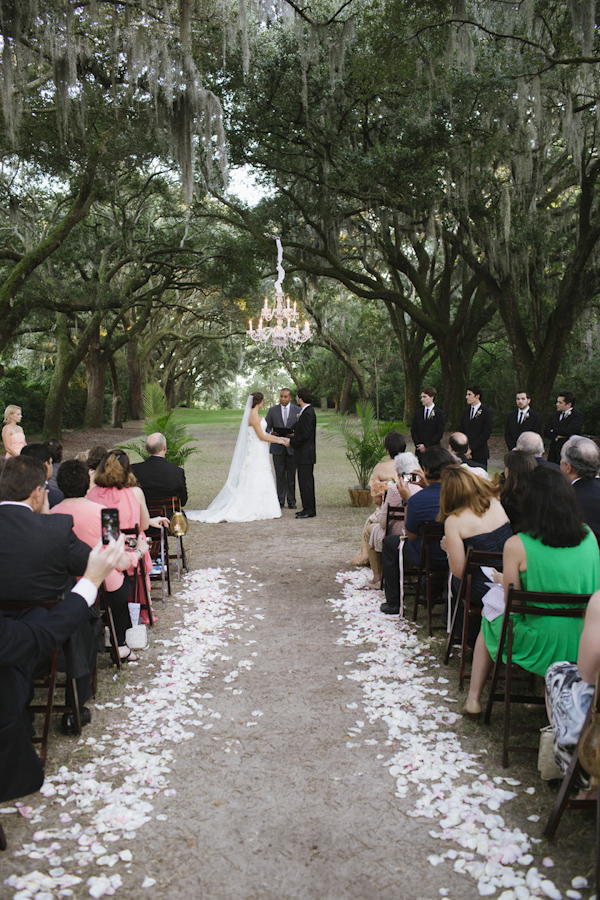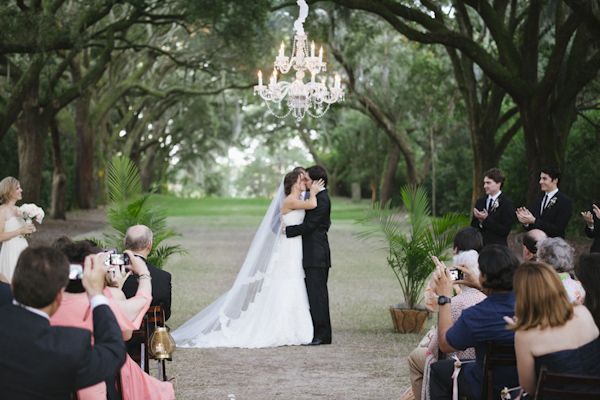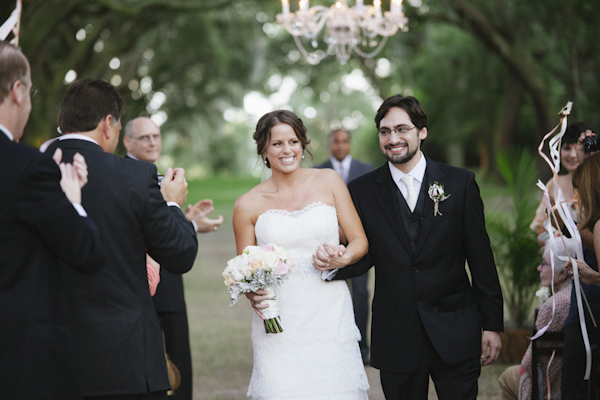 The Design: I think the venue really set the stage for everything. We absolutely fell in love with the Legare Waring House and the avenue of oaks from the moment we laid eyes on it. It's that perfect juxtaposition of big and small, with these majestic ancient oak trees creating a very intimate and private setting. All of the details sort of fell out of that decision, and it was very much a community effort. I'm very lucky to have some incredibly talented friends and family — everyone pitched in and offered their unique talents to make the whole affair so personal and special.
Throughout the planning I referred to the overall theme as "glamourustic." For every rustic detail, I would try to throw in something romantic or sparkly. In the end, I'm very proud of the balance we achieved.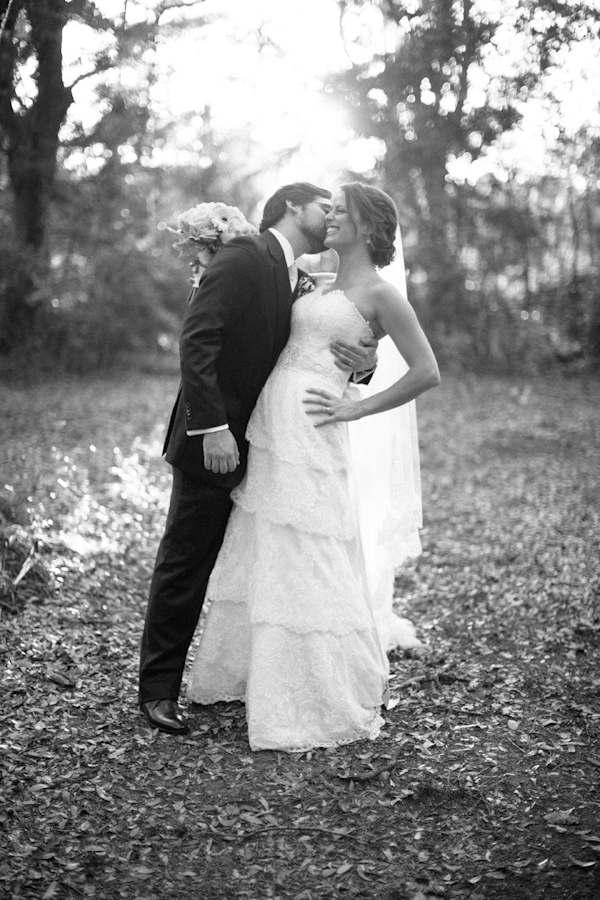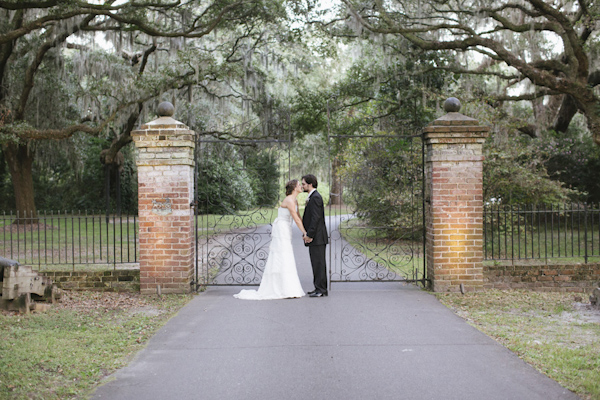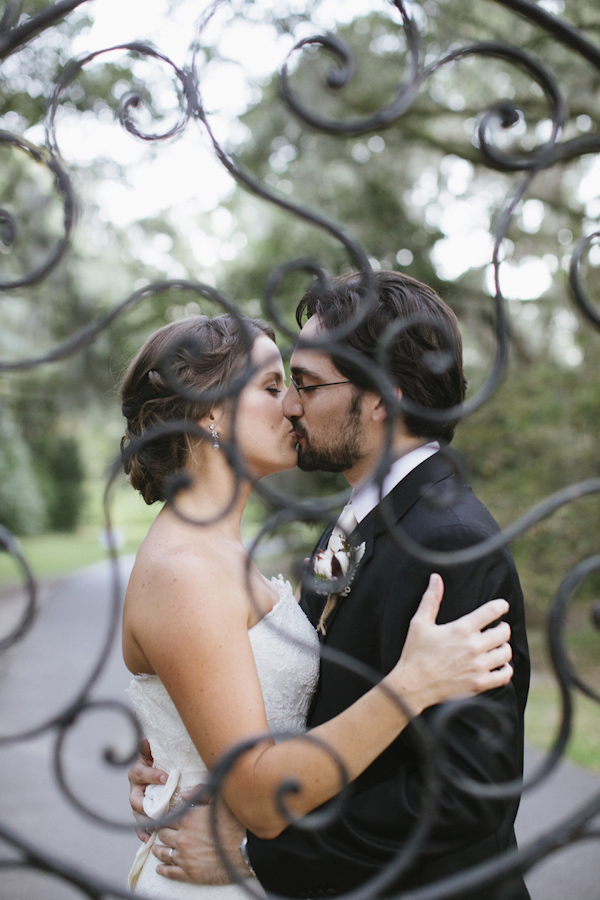 The Look: When it came to wedding day fashion and beauty I tried to keep it simple. I wanted to be able to move and dance, laugh and cry. Ultimately to feel like a bride but not a cake topper. I tried on some really showpiece-style gowns, and I realized that wasn't for me. I absolutely loved the tiered lace on my gown and the scalloped lace edges on my veil – those small details were so lovely. And my gown had the most amazing corseting. I'll never again question the benefits of good dress construction! For hair and makeup, Ash & Co. hit it out of the park. I loved how Ash managed to accomplish a look that was romantic and ethereal yet classic at the same time. My girls all wore Donna Morgan dresses in alternating colors.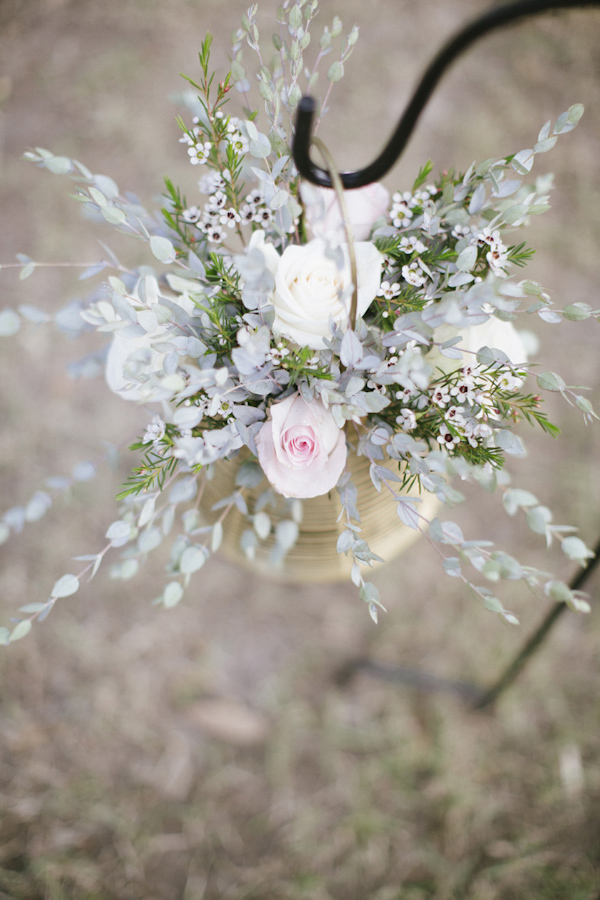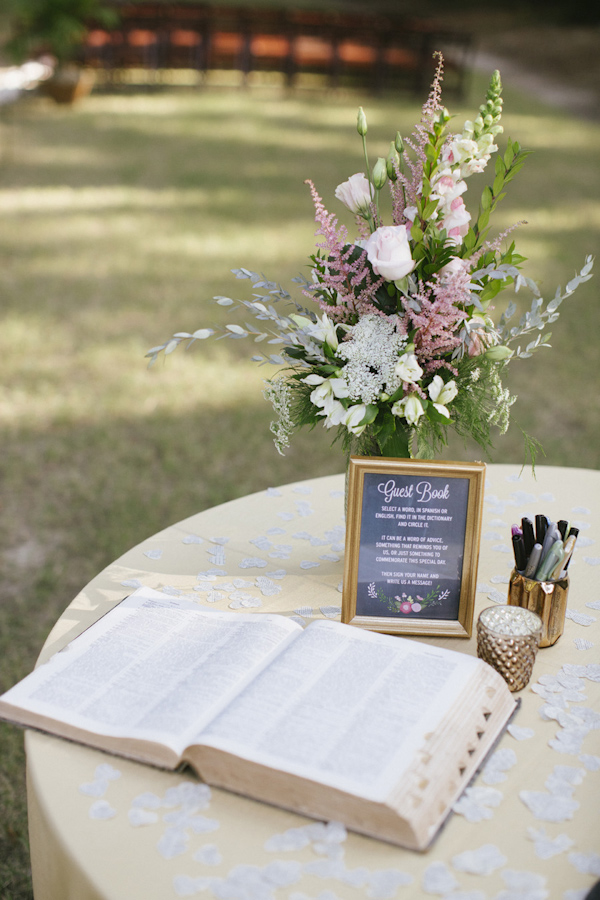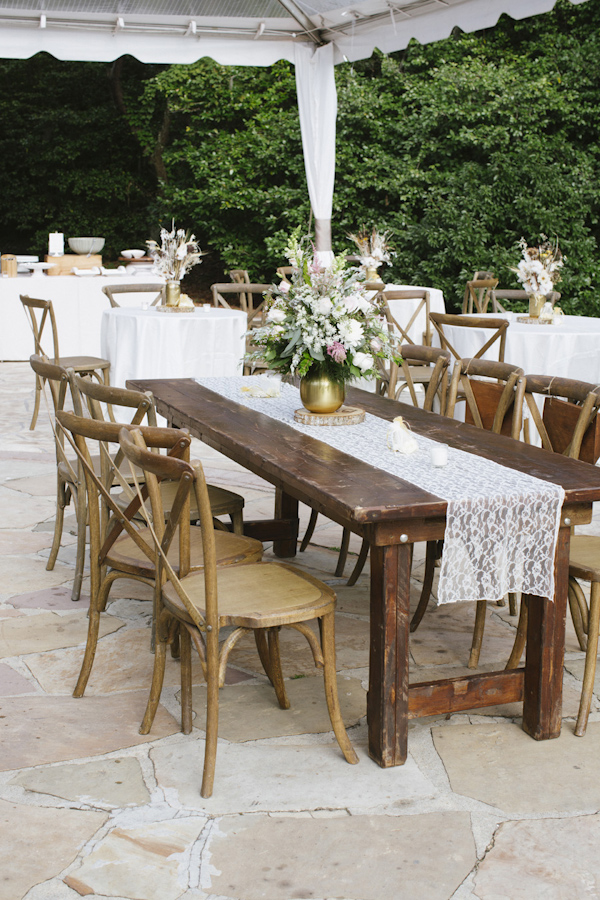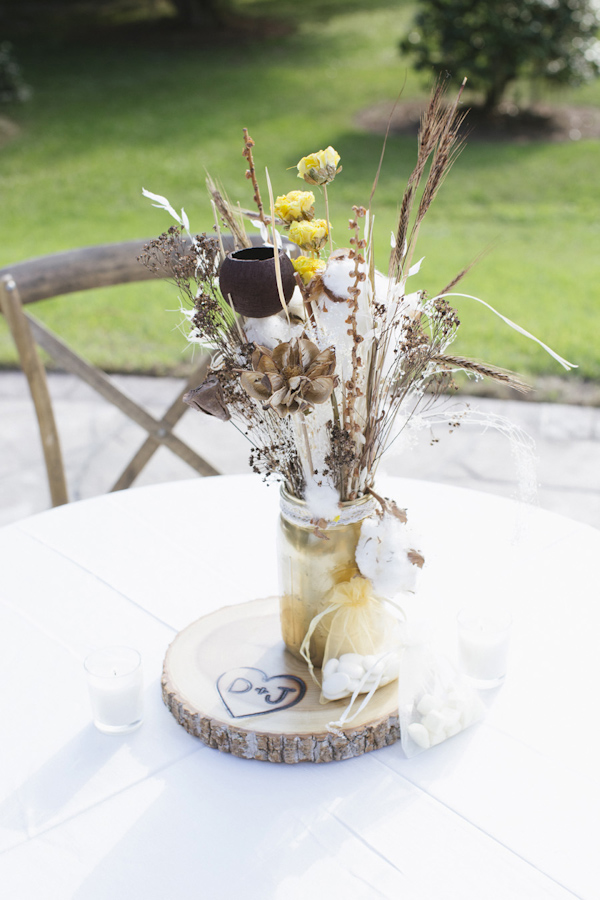 The Moments: My favorite part of the day was definitely when I saw Juan for the first time. We had debated whether or not to do a "First Look" and in the end I'm glad we did. It gave me a sense of calm and joy for the rest of the day, and it meant that we got to get some amazing post-ceremony photos courtesy of the genius Paige Winn. I also really enjoyed getting ready with my bridesmaids in the bridal suite all morning, and of course seeing my dad's face as he walked me down the aisle.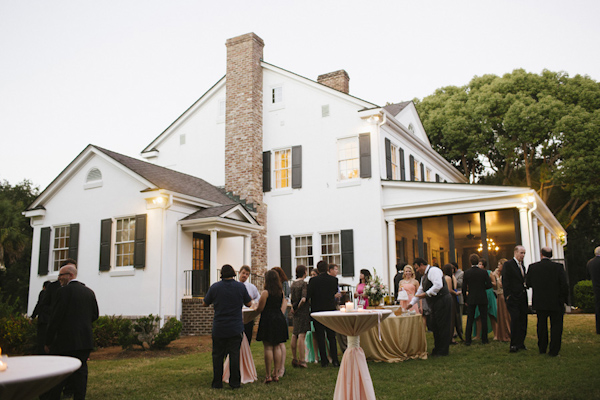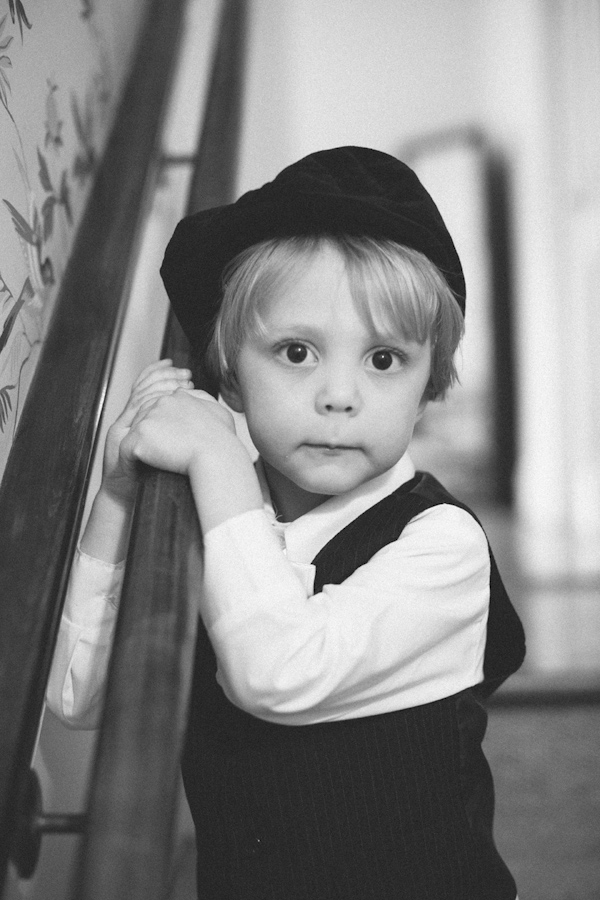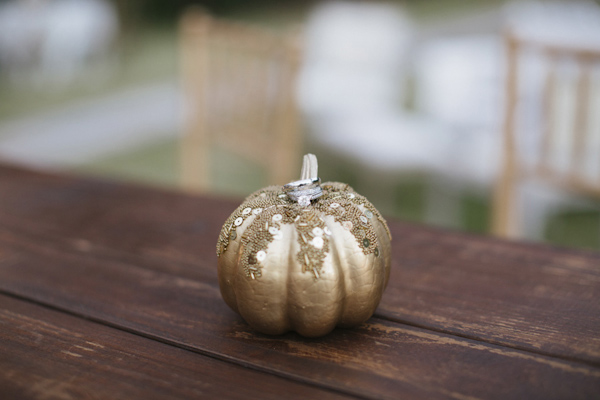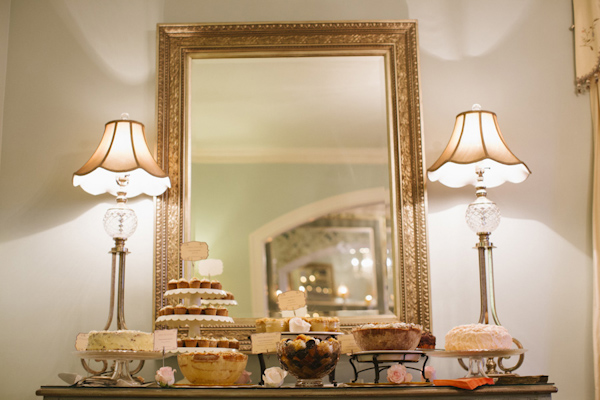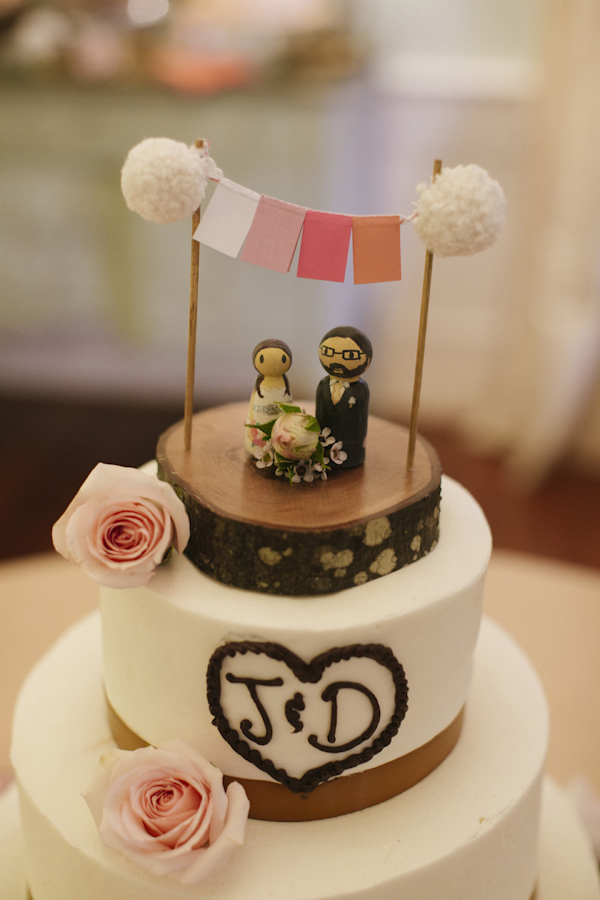 The Advice: My biggest piece of advice would be to stay true to yourself as a couple and the vision you have for your wedding. There are so many trends and so many people involved that it's easy to get overwhelmed by it all. Also, go easy on yourself a little. With weddings, there are so many moving parts and pieces — the chances that everything is going to go 100% perfectly and smoothly are infinitesimal. Accept that it's a perfectly imperfect event and try to have fun. And it's so true when they say that it goes by in the blink of an eye. So hire a good photographer/videographer!
I'd say our biggest wedding planning success was pulling the whole thing off in less than 5 months, while living abroad. It was no easy feat!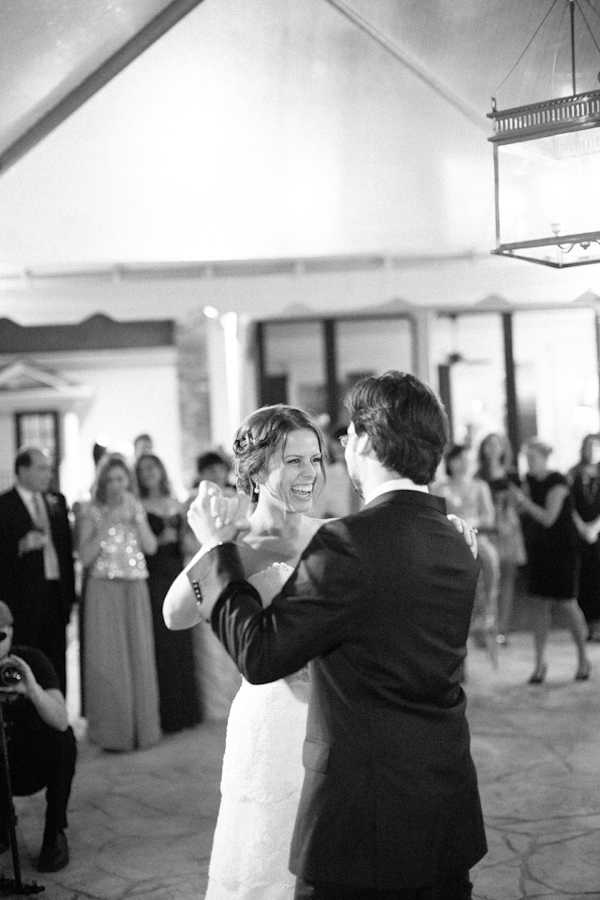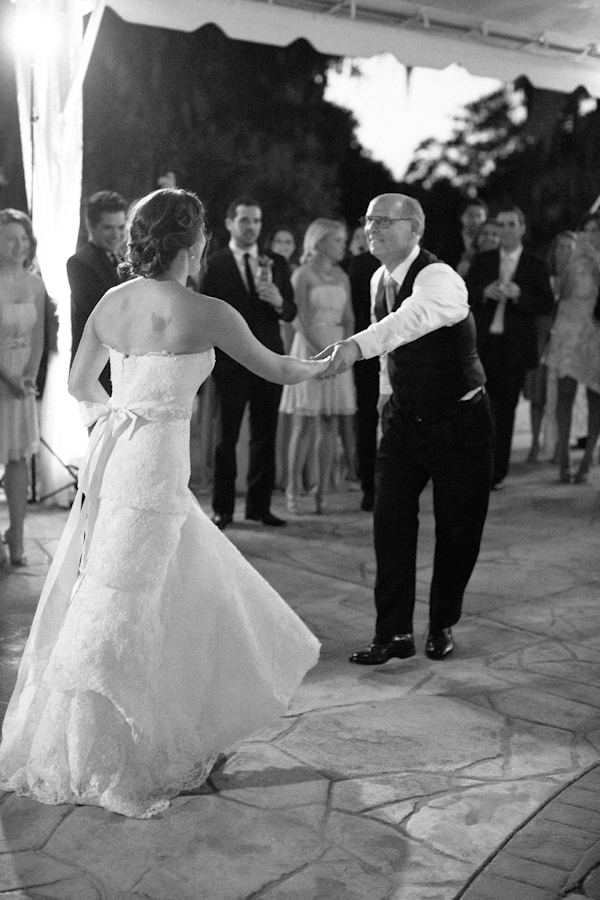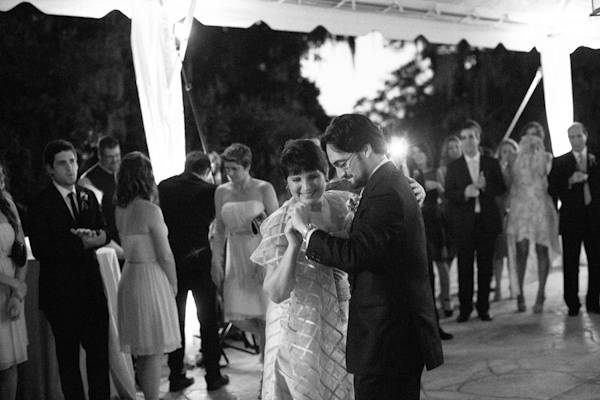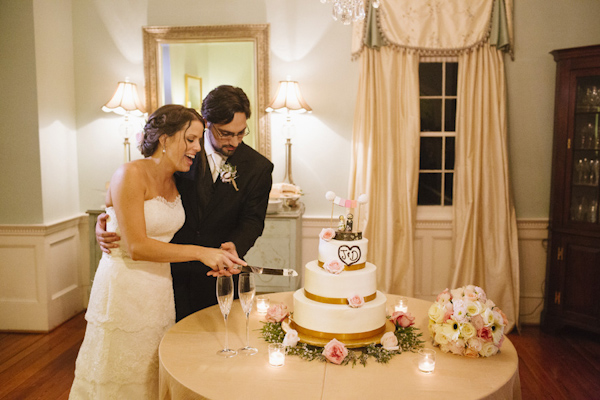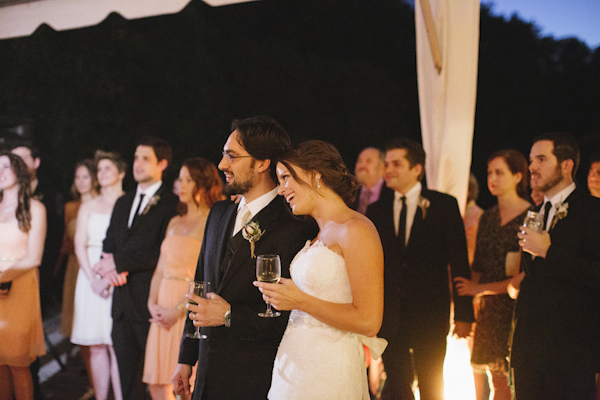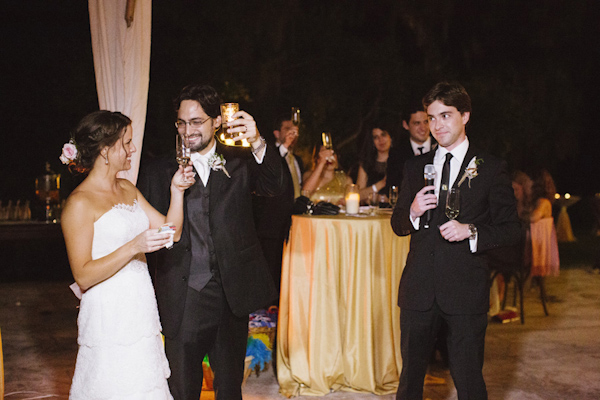 Thanks for sharing your beautiful day with us, Danielle and Juan!
The Wedding Team:
Photographer: Paige Winn Photo
Event Planner: Mac & B Events
Ceremony & Reception Venue: Legare Waring House
Videographer/Film Maker: Hart to Heart Media
Officiant: Russell McCray
Invitation Designer: Somsara Rielly Art Direction & Design
Catering: Charlestons Cafe Catering
Florist: Lillie Gaillard with Frederick's Weddings & Events
Cake: Publix Bakery
Wedding Dress: Augusta Jones from Gown Boutique
Bridal Accessories: Sash and Veil from Gown Boutique
Bridesmaids' Apparel & Accessories: Donna Morgan
Groom's Apparel & Accessories: Purchased in Panama
Groomsmen's Apparel & Accessories: Rented in Panama
Hair & Makeup: Ash & Co.
DJ: Bill West with Bride's First Dance
Live Music: String duo Palmetto Strings
Dance Instruction: Melanie Lee
Rentals: Event DRS and Connie Duglin Linens
Rings: Purchased in Panama