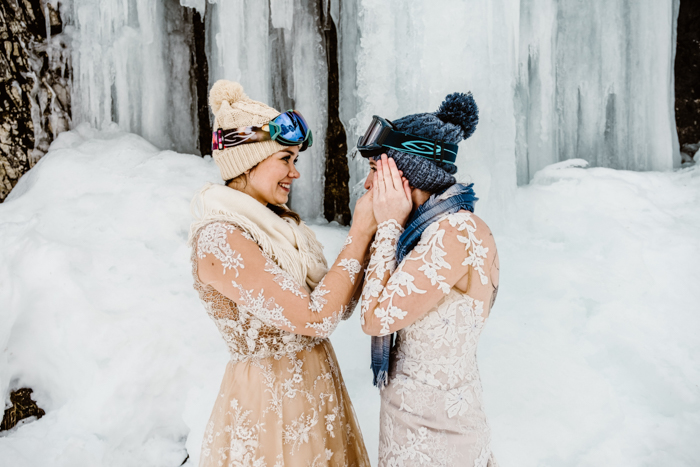 Jamie and Liz got engaged at a Christmas market in Germany, so they wanted to return for an intimate destination wedding in Germany! We are inspired by all of the little touches they included to make their day totally them. As an English teacher and literature lover, Jamie wanted to include her love for books in their wedding day. The couple said their "I do's" surrounded by their closest loved ones and hundreds of books at the library at St Mang's Abbey. After their ceremony, the couple explored around the iconic Neuschwanstein Castle with their incredible photographer, Wild Connections Photography. Adventurous couples will enjoy that they also headed to the Austrian Alps for their honeymoon and couldn't resist putting on their dresses one more time for wedding pictures in the snow and on the ski slopes!
The Couple:
Jamie & Liz
The Wedding:
Füssen, Bavaria, Germany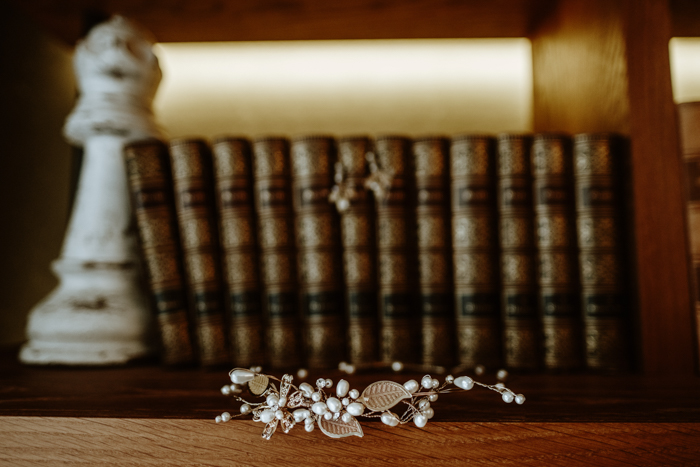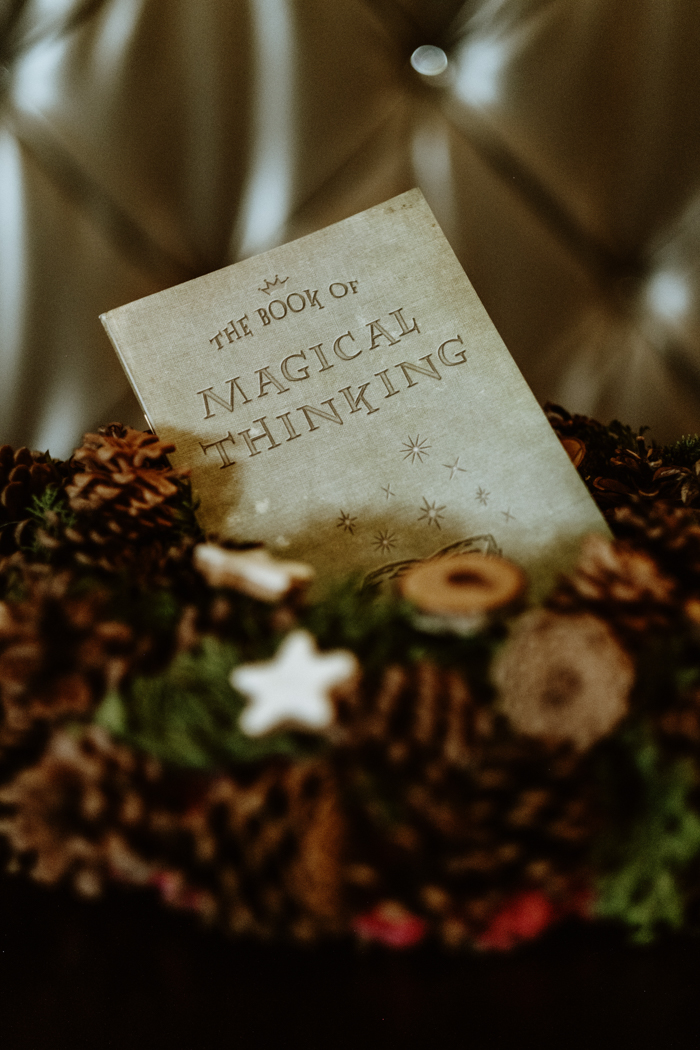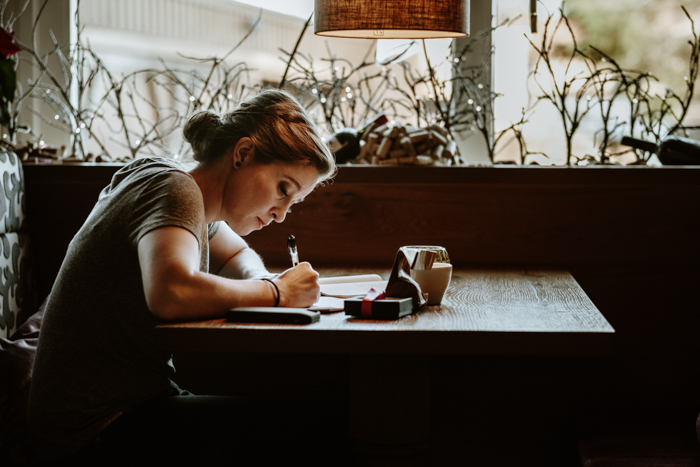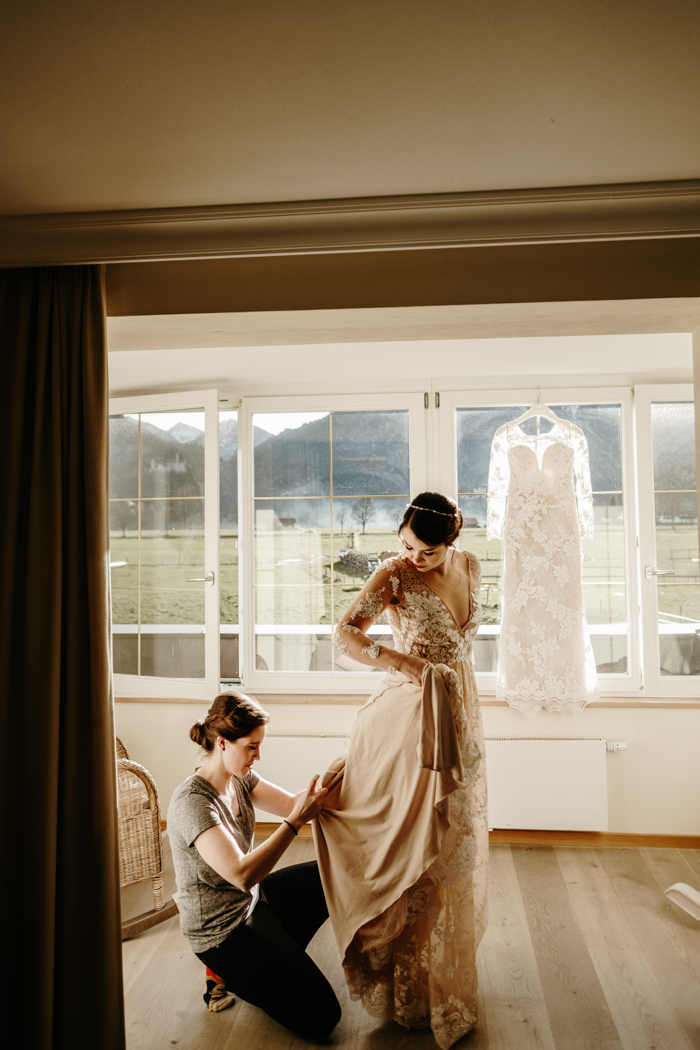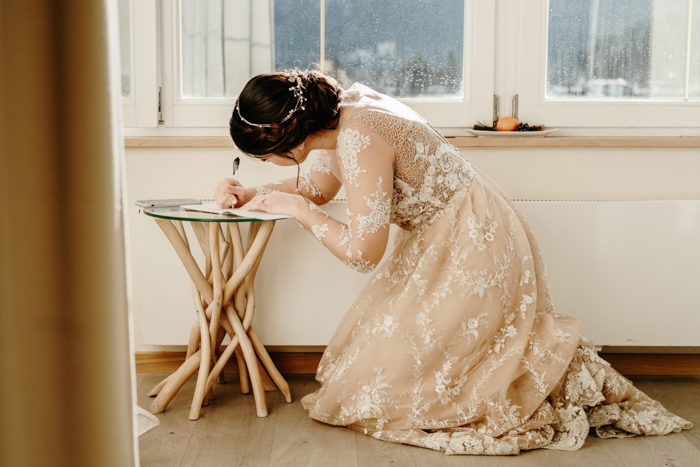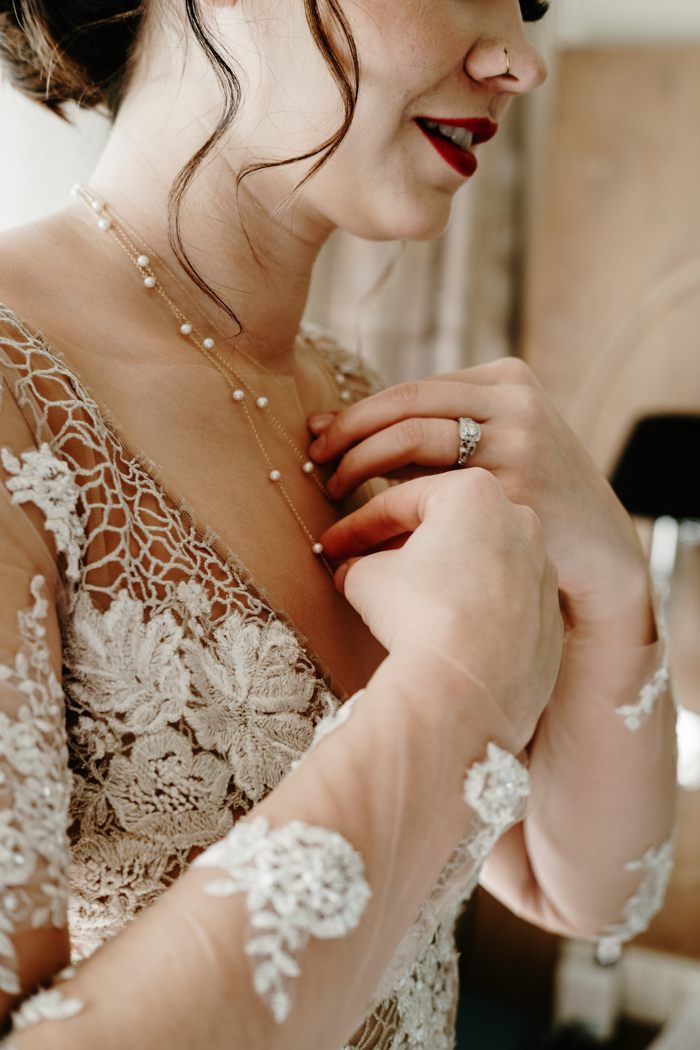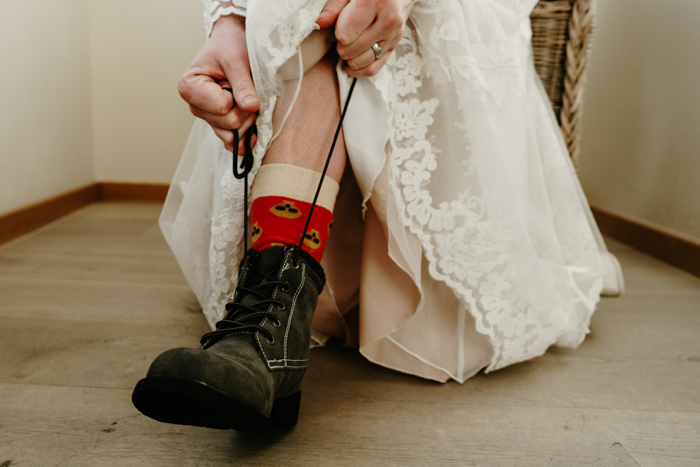 RECOMMENDED READING: 50 Cute Wedding Boots for Fall and Winter Brides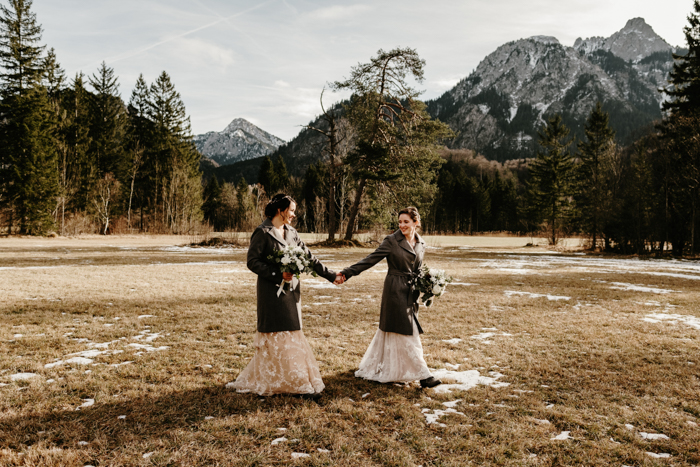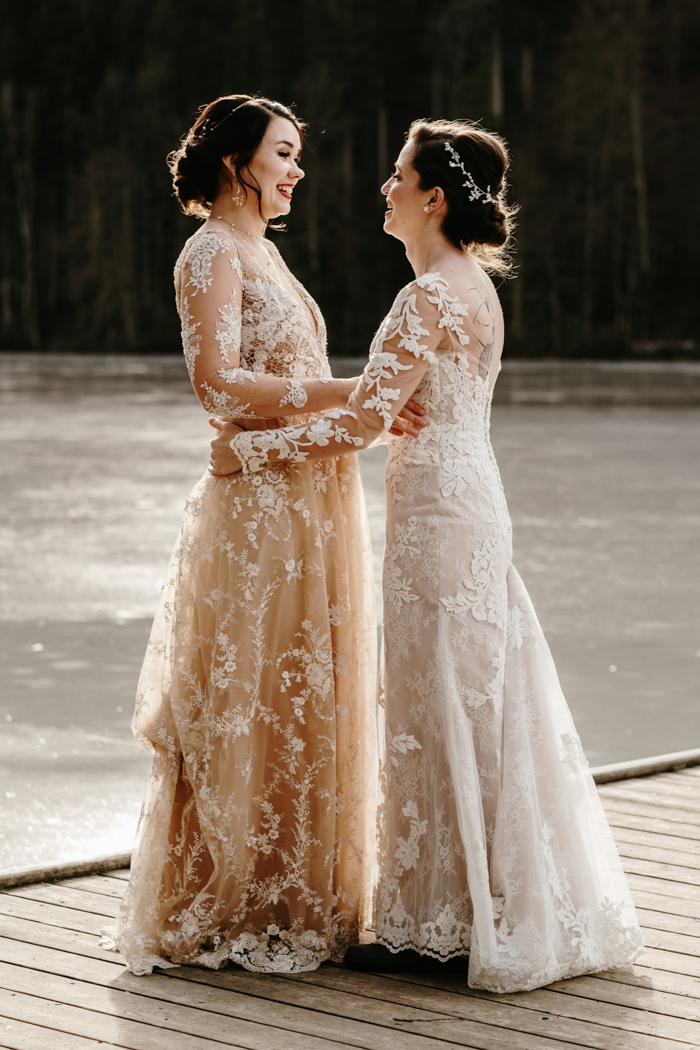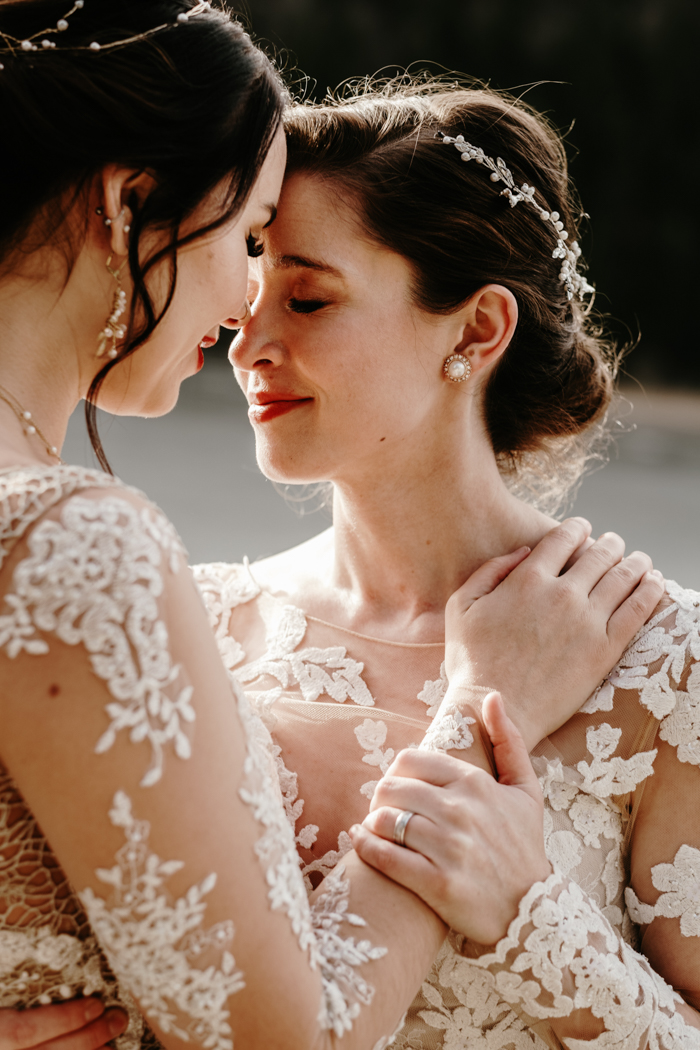 The most memorable part of the day was getting into Cat's car before the ceremony to take some photos. The minutes leading up to your wedding are already exciting and stressful, but the added worry about being two women in public seemed to hit me a little bit harder than expected. I remember sitting in the back of the car and thinking how thankful I was to marry the only girl on earth that made me feel confident in that moment.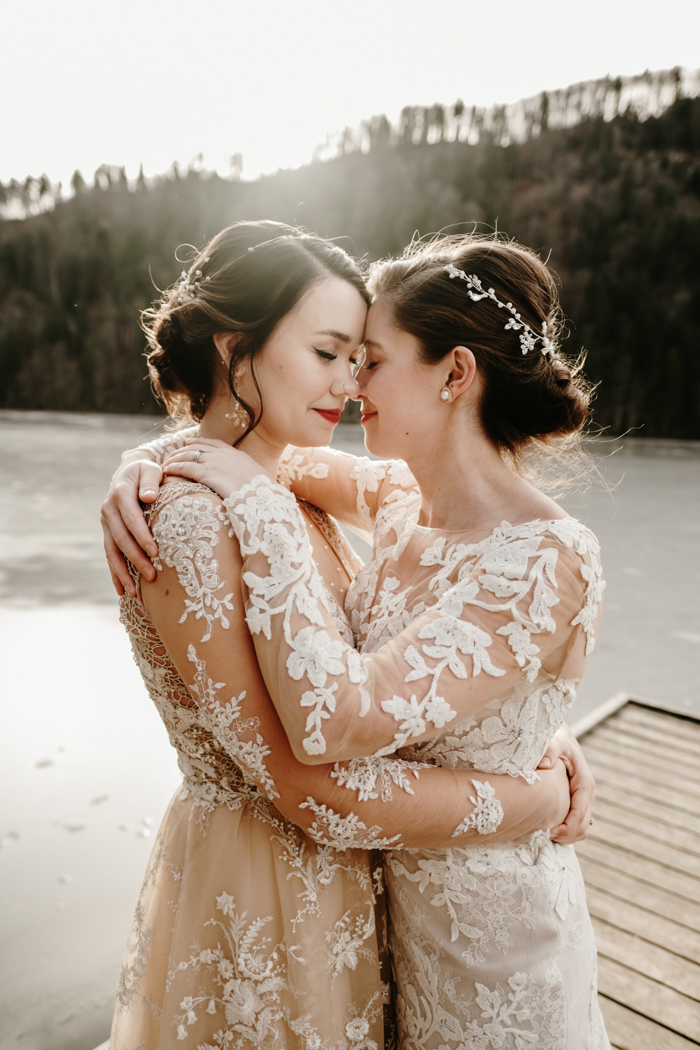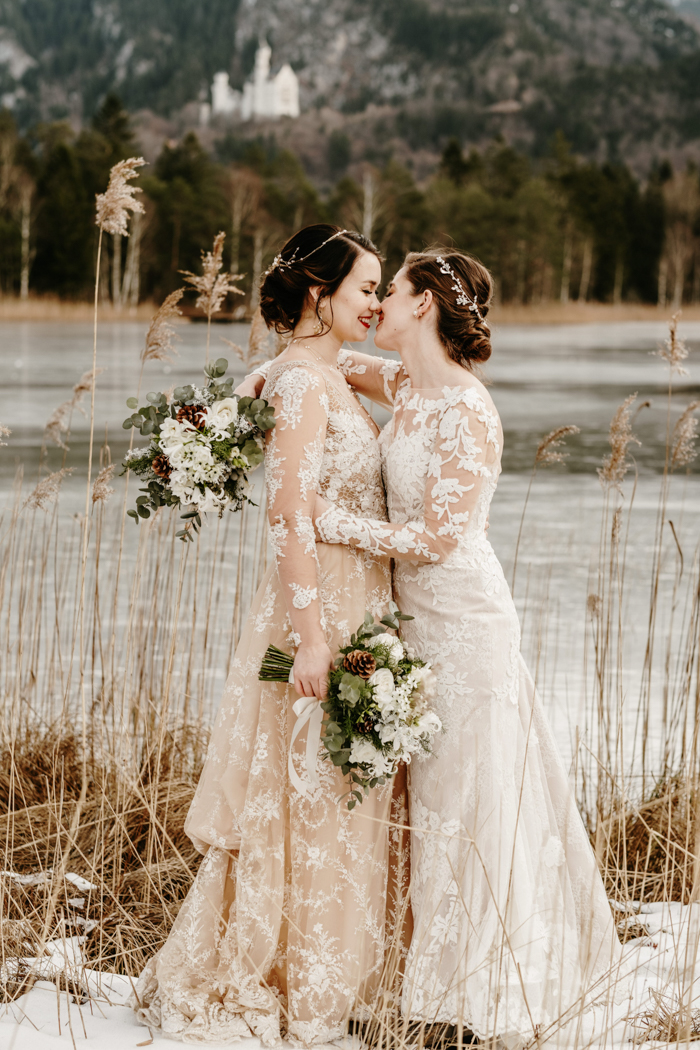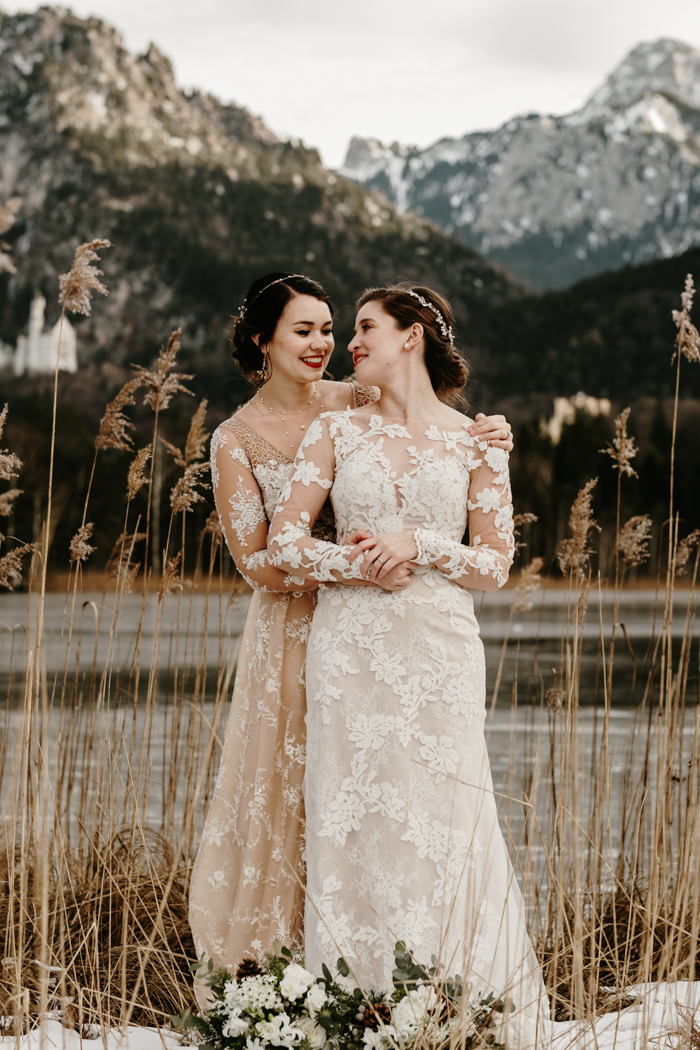 From the very beginning, we knew we wanted our wedding to reflect who we are as individuals and as a couple. The very first thing this meant was that it had to be small; we're both introverted people who avoid large crowds, so a giant wedding wasn't anything we wanted. Travel is a huge part of our relationship, so getting married abroad was also a no-brainer, and from there, we just wanted to find a venue that would allow us to get married surrounded by books. When our wedding planner found the library inside the Füssen Monastery, every other aspect of our wedding fell into place.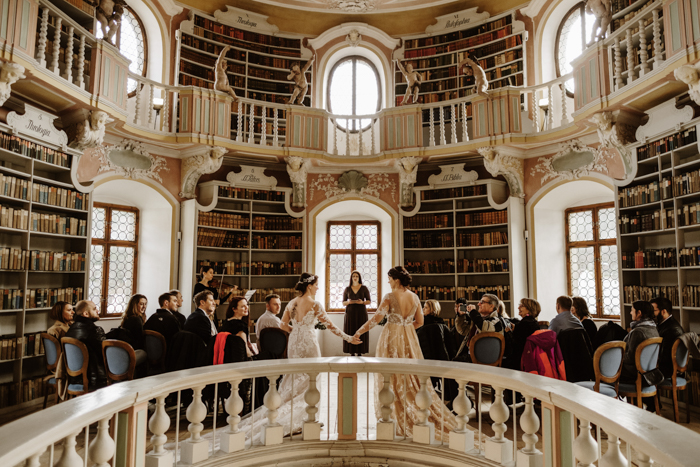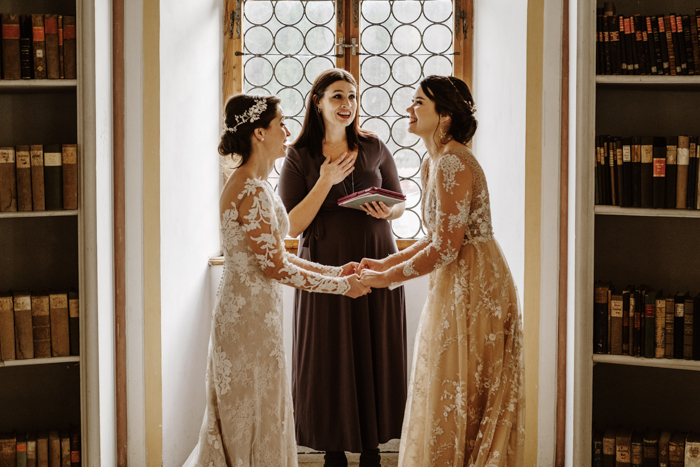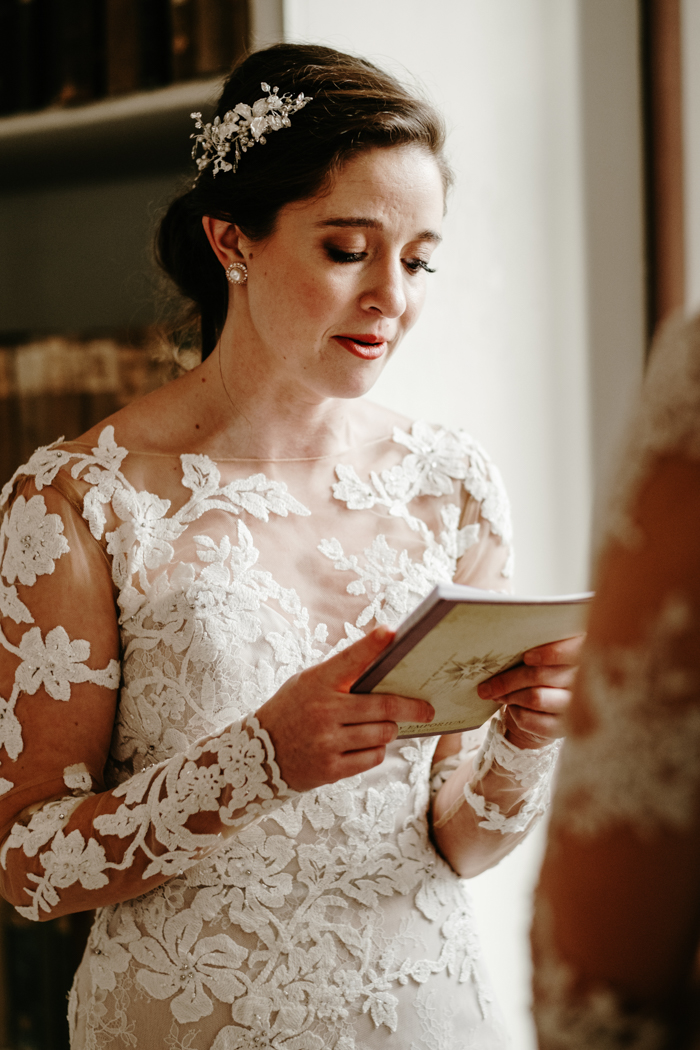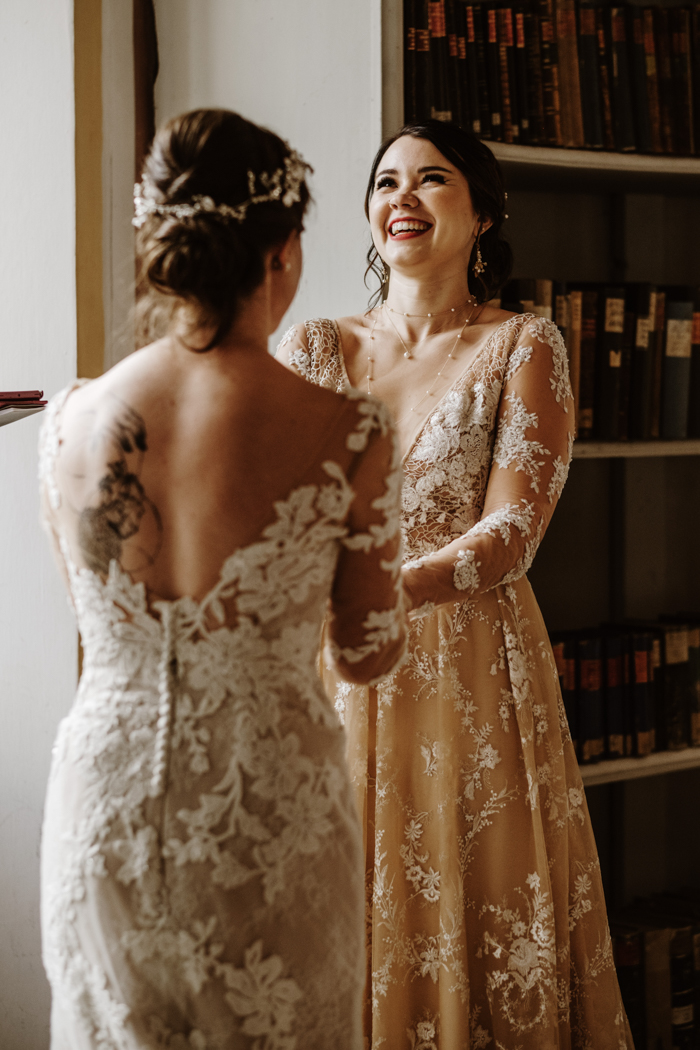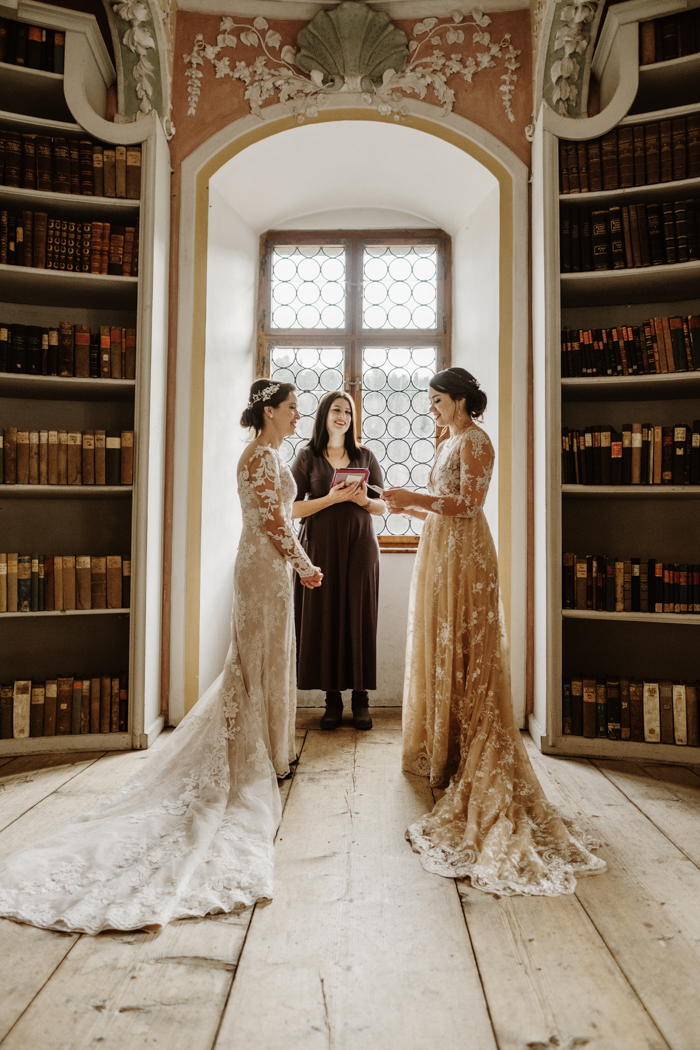 The most memorable part of the day was the ceremony itself. Somehow, it felt like it went by too quickly, but at the same time, it lasted an eternity. I had been really nervous about standing in front of people and sharing my intimate thoughts, but once we were there, everything was so much more fun than I expected. Our best friend officiated our wedding, and having her as part of our ceremony was such a cool experience and really put me at ease.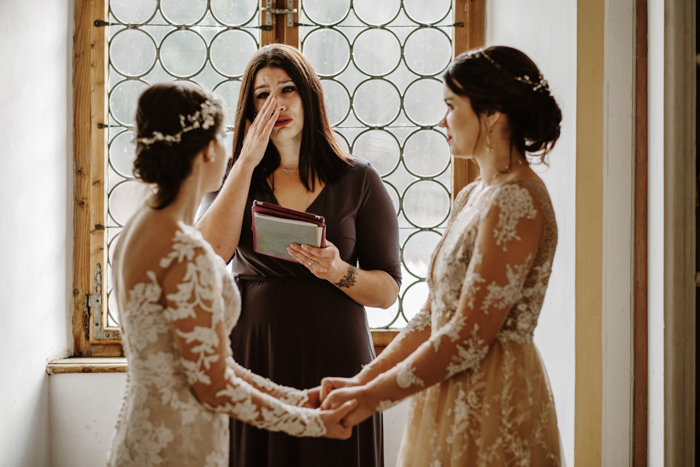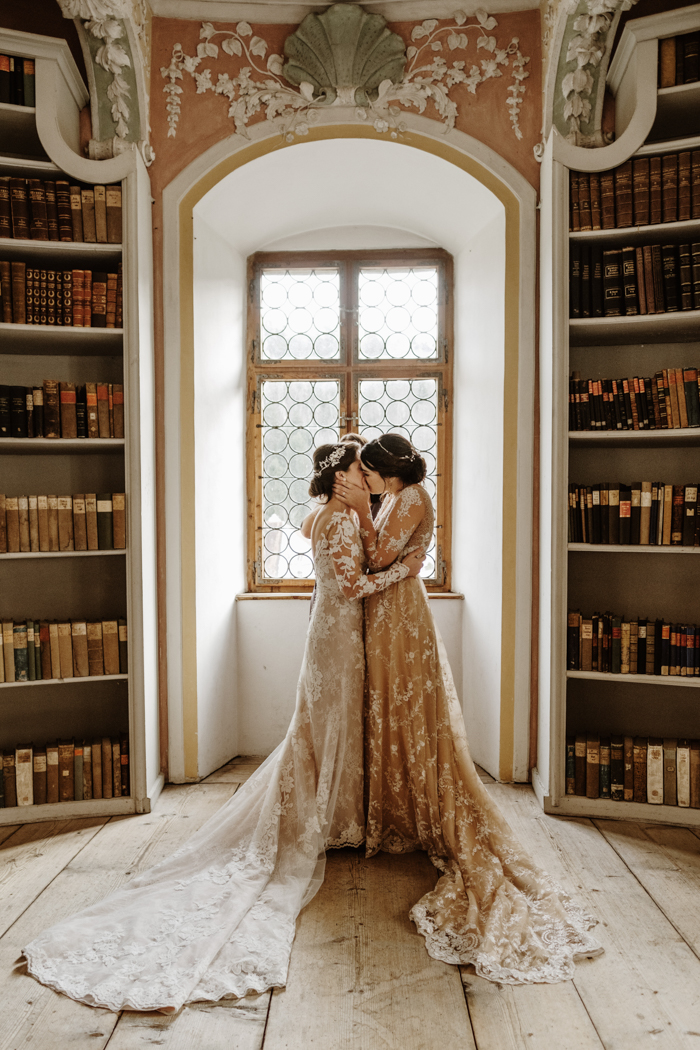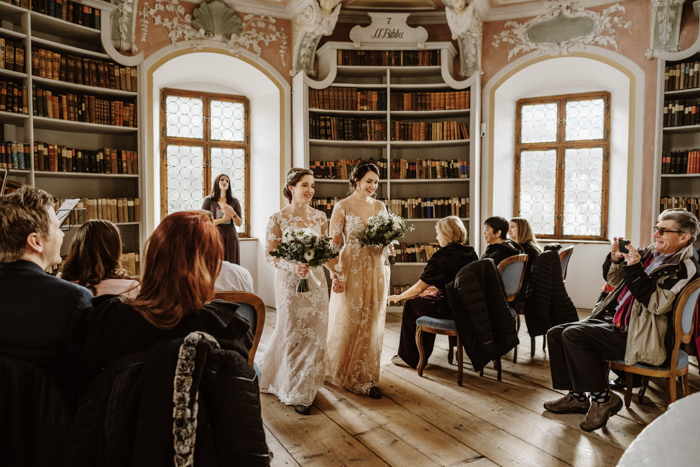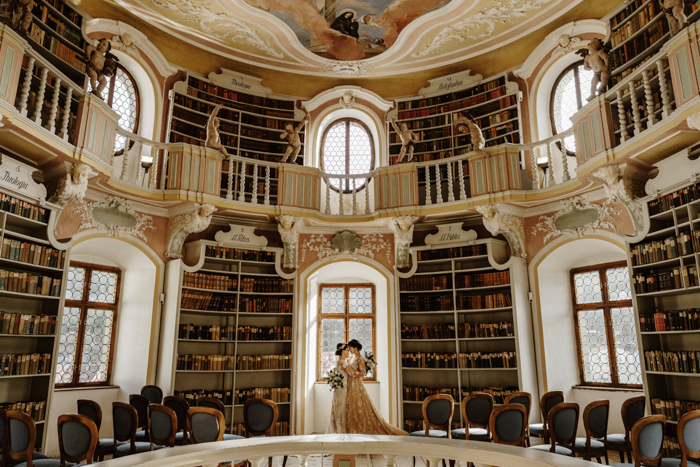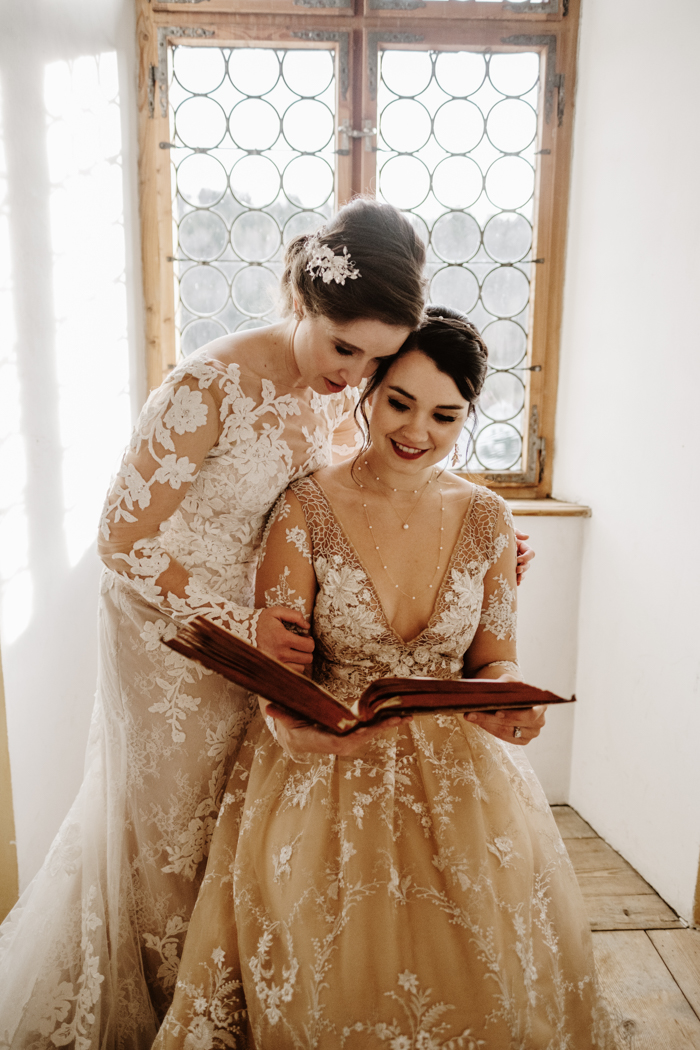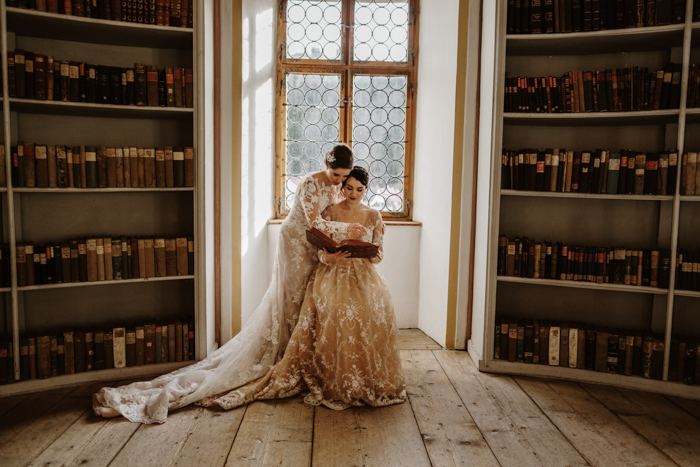 Working with our photographer was a dream come true. Somehow, it felt like reconnecting with an old friend, even though we had never met in person before our wedding day. She communicated with us from across the world, beginning nearly two years before our wedding. She took the time to get to know us beforehand, so when she showed up the morning of the wedding, it was more like greeting a friend and less like meeting a stranger. She thought of so many things we had never considered, took care of both of us, and put us at ease. We cannot thank her enough for the fantastic pictures and making our wedding perfect.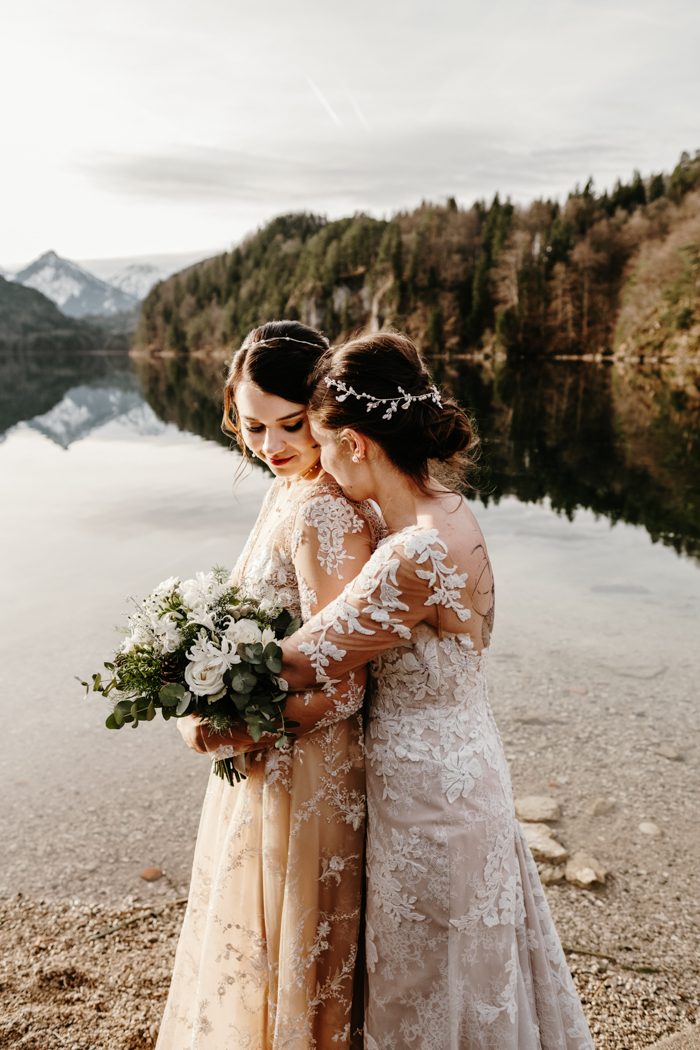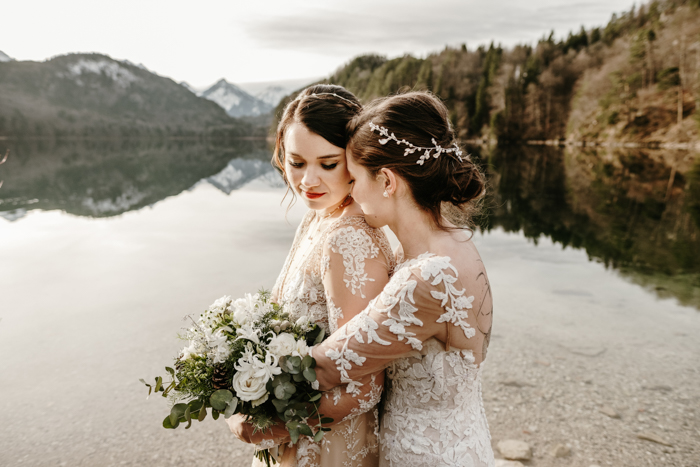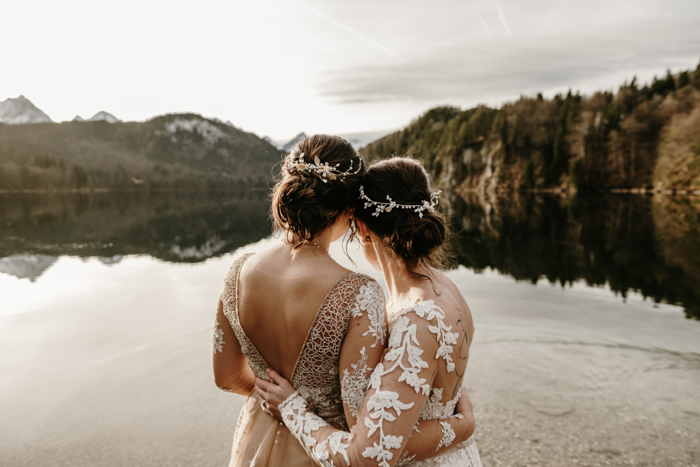 About a month after we returned from Germany, I found a Facebook message that I had received the day after our wedding but never read. It was from a woman from Switzerland who saw us in our dresses while we were taking pictures at Neuschwanstein Castle and happened to be having dinner at the same time and in the same place as our reception dinner. She wrote about how beautiful and happy we looked, and she shared her own personal story–she is also in a relationship with a woman, and she explained how she kept picturing her own wedding day when she saw ours. She was so honest in her message, and she shared some of her own personal struggles with being in an openly-gay relationship and heading toward marriage with another woman. This was just a beautiful reminder that, even when you're just going about your own life, there can be people who are inspired in ways you'd never imagine.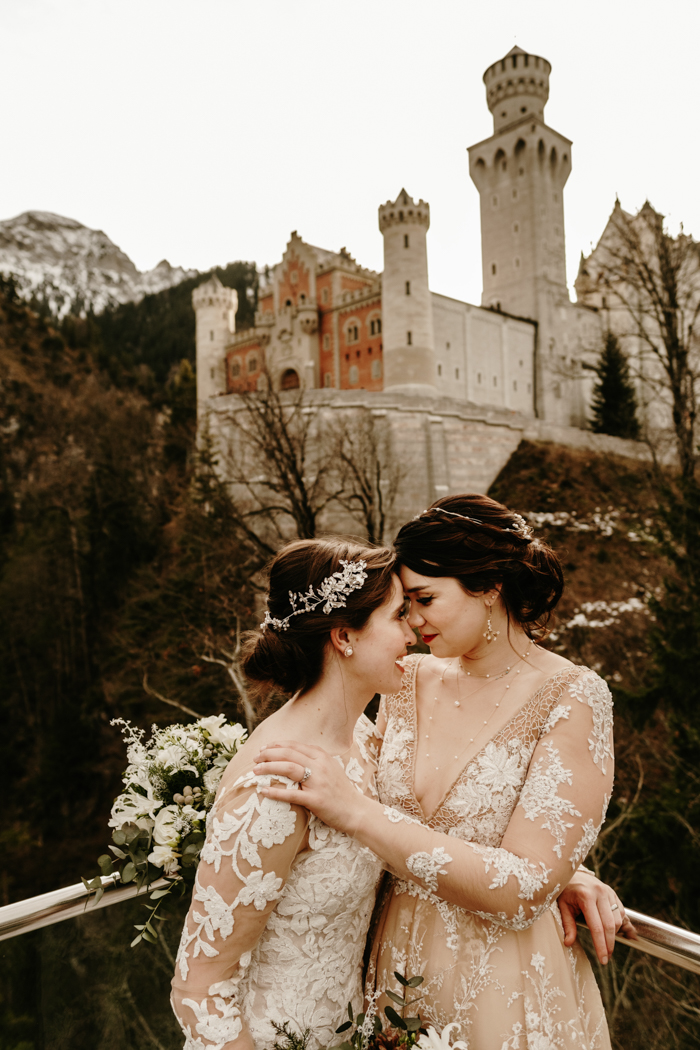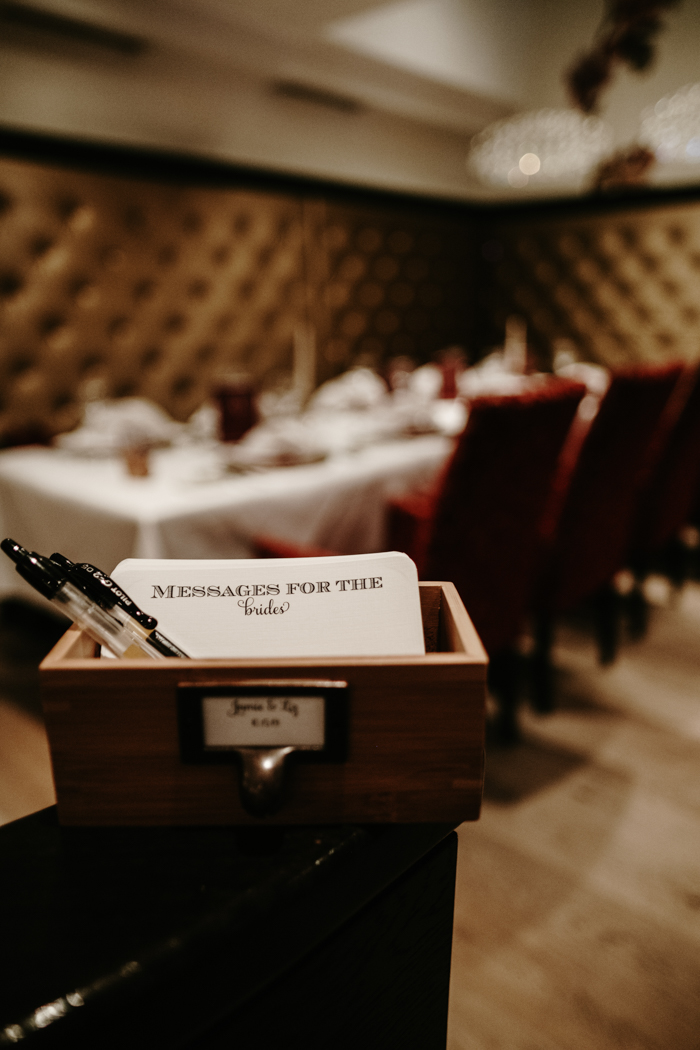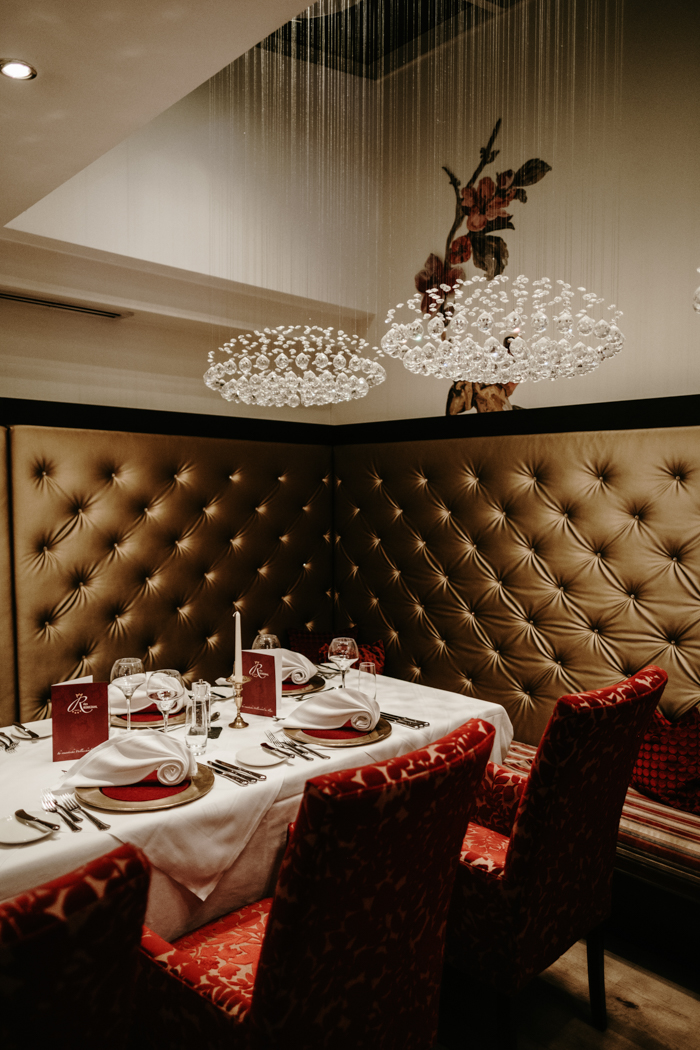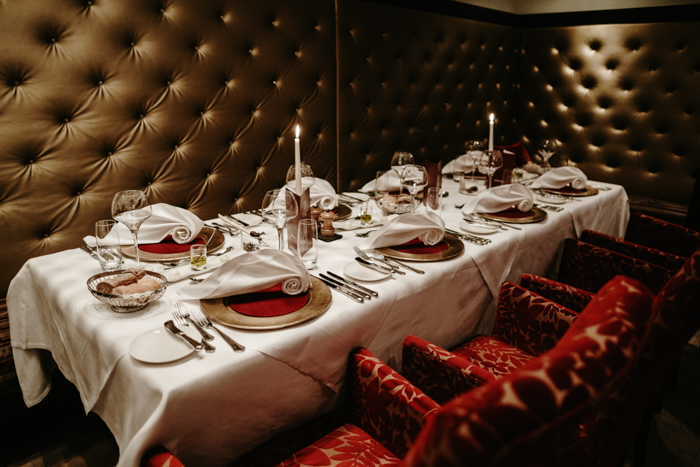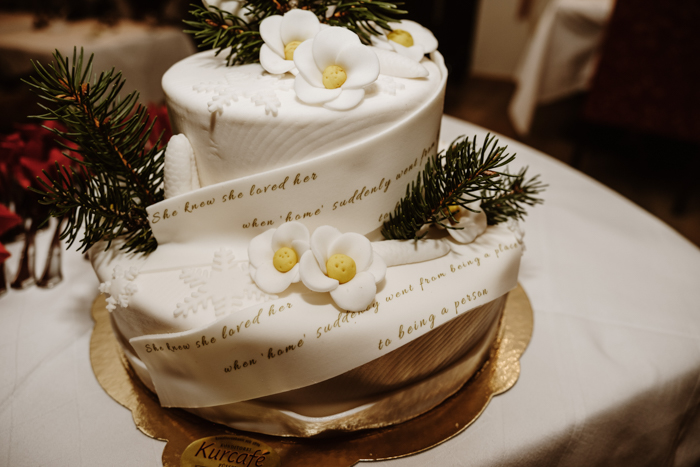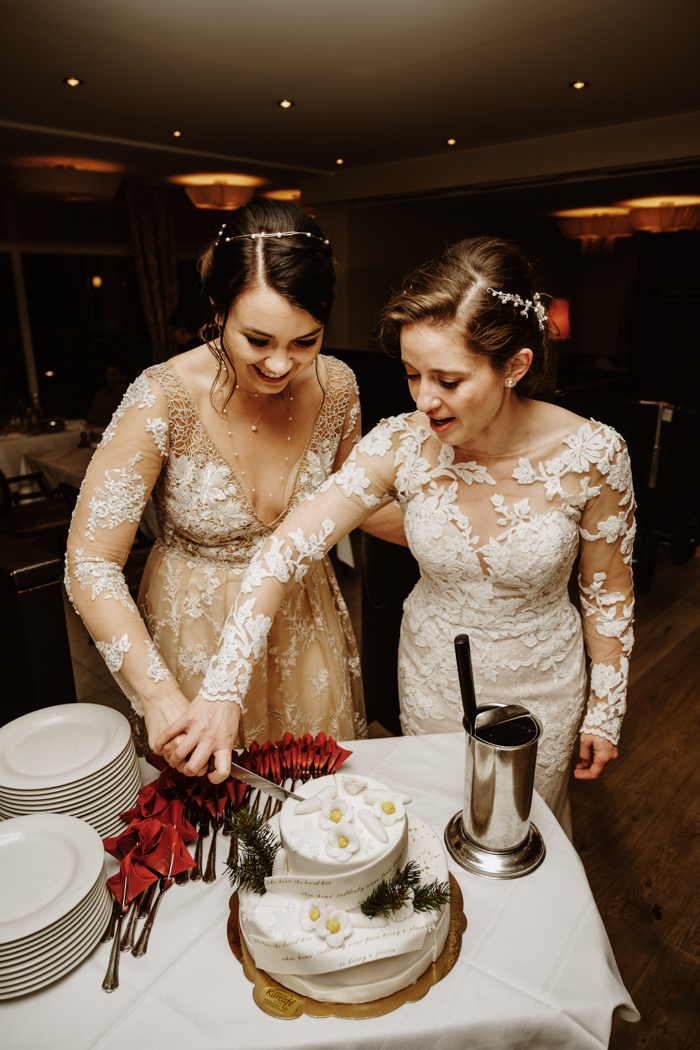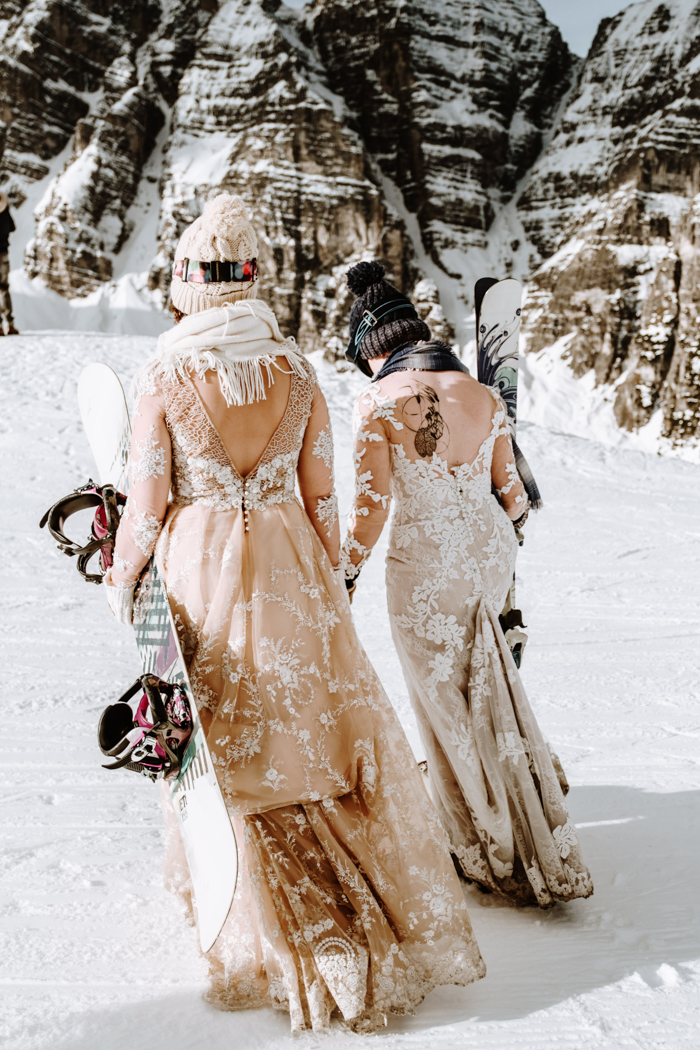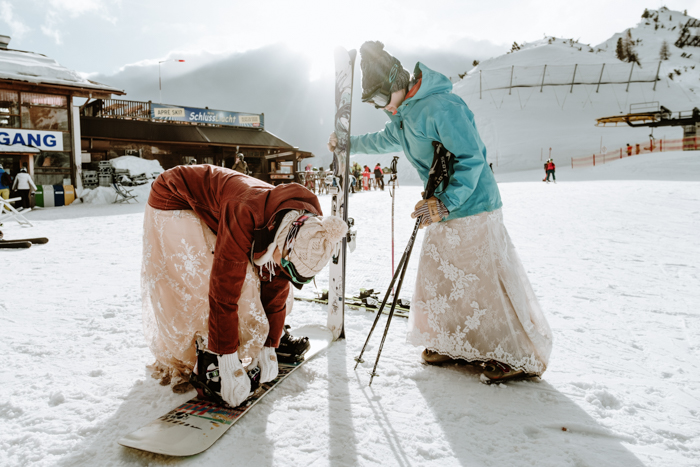 We knew that we were going to be skiing and snowboarding in our dresses, so we specifically looked for ones that would allow movement. We're also very non-traditional people, so we were drawn more toward dresses in off-white colors; in the end, we found the perfect dresses that complemented each other well. We stayed simple with our jewelry and hair accessories so as not to detract from our dresses, and we wore boots because we knew we'd be hiking around lakes and up to the Castle Neuschwanstein after our ceremony.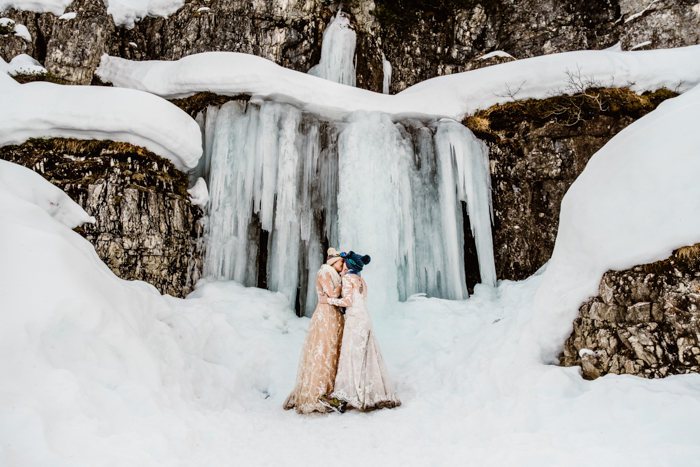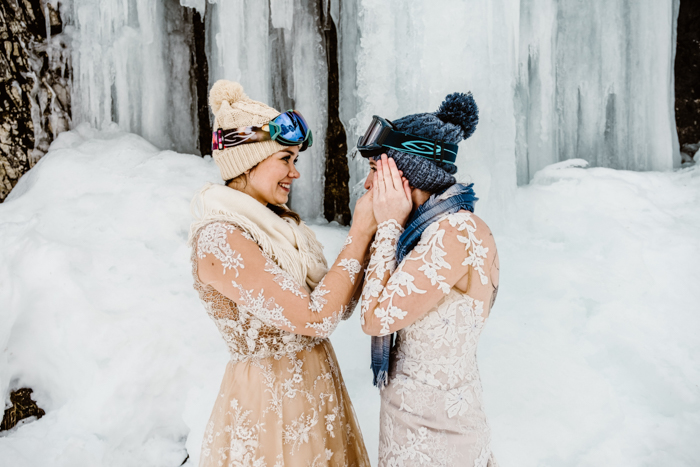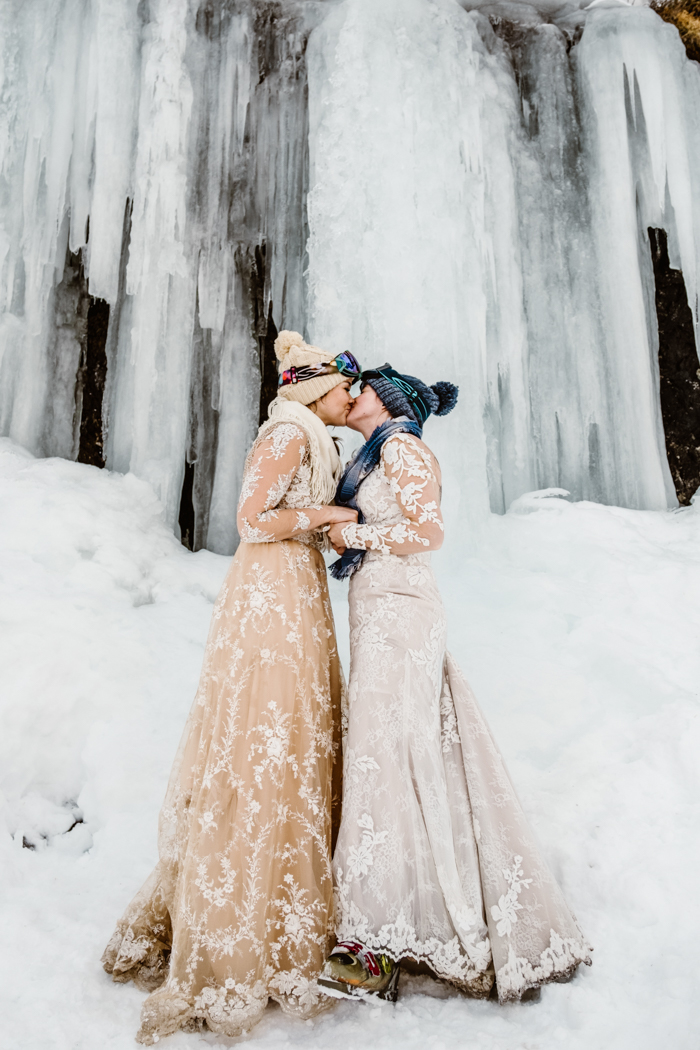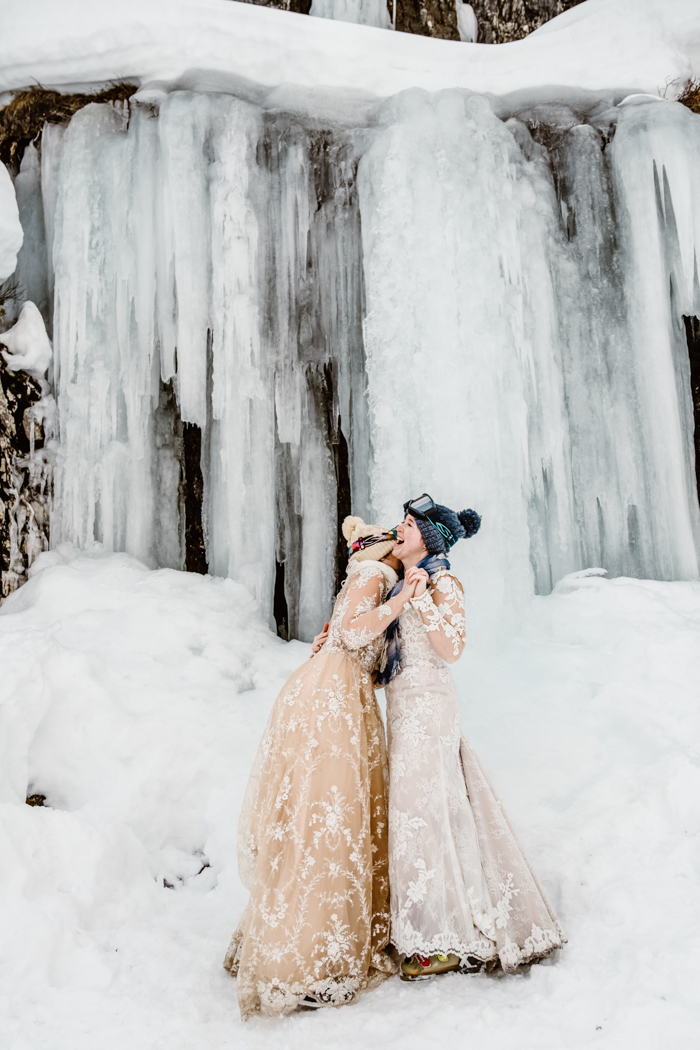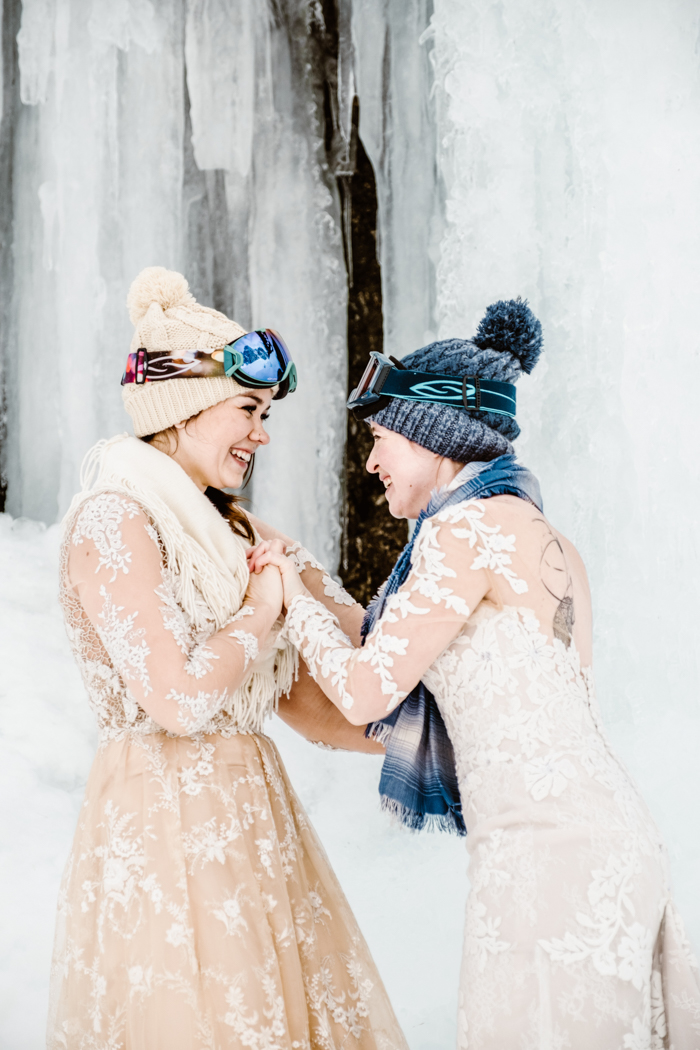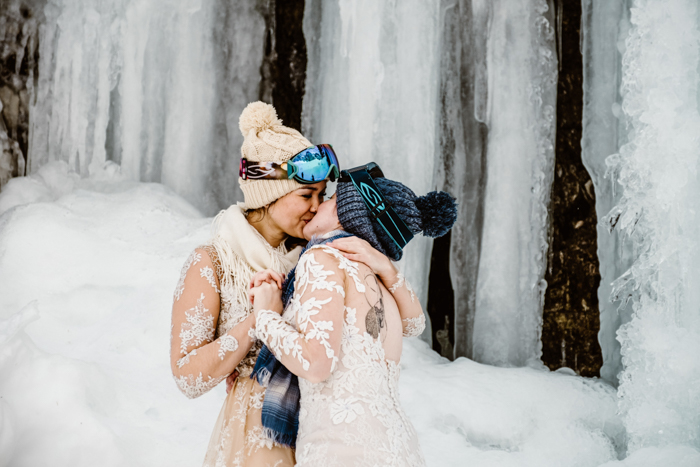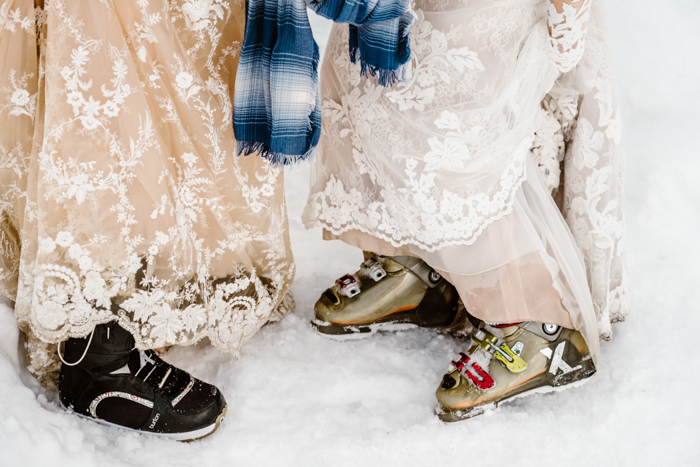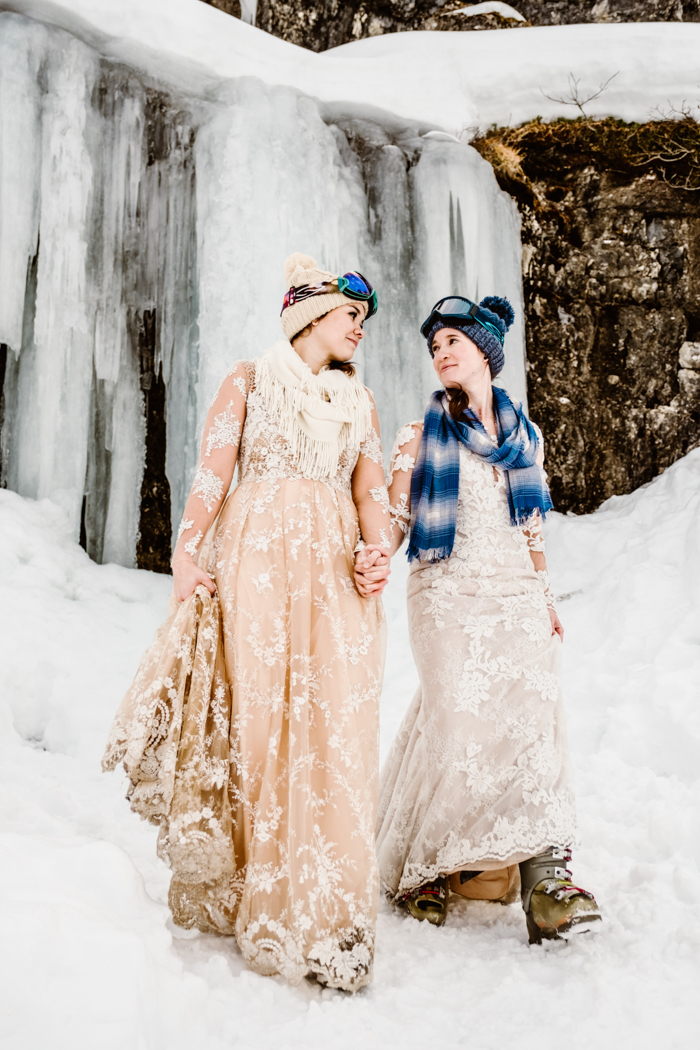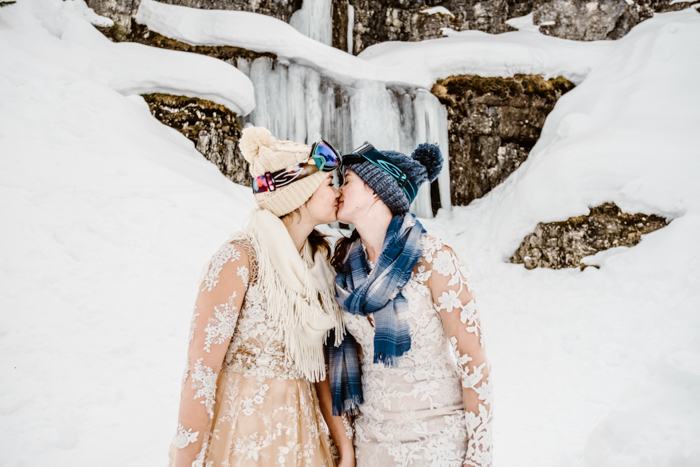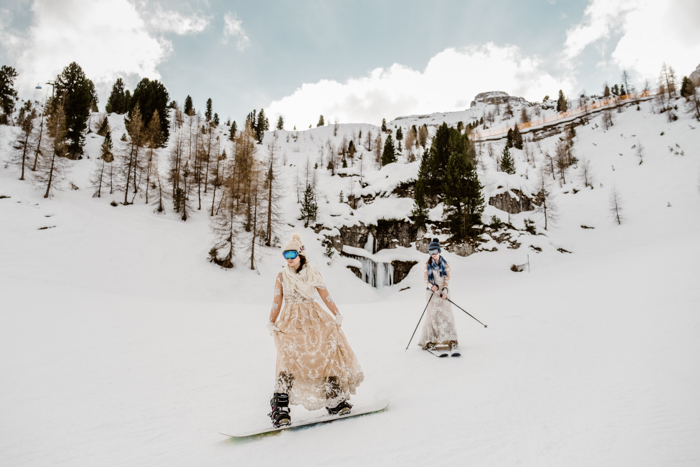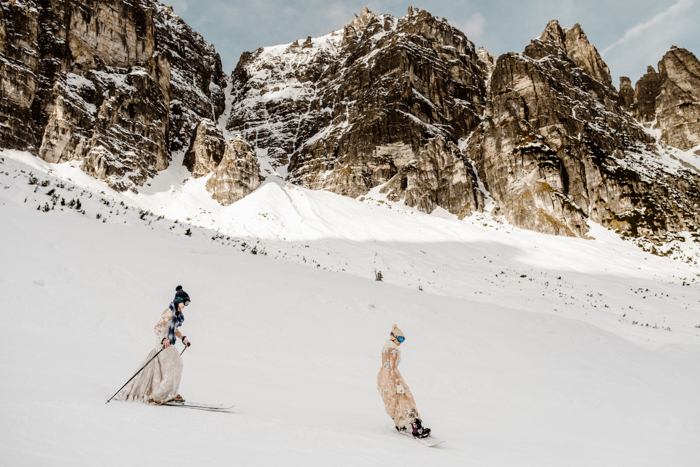 Congratulations, Jamie and Liz, and many thanks to Junebug member Wild Connections Photography for sharing their destination wedding in Germany with us! For more of Wild Connections Photography's work, be sure to check out her page in our directory of the world's best wedding photographers.