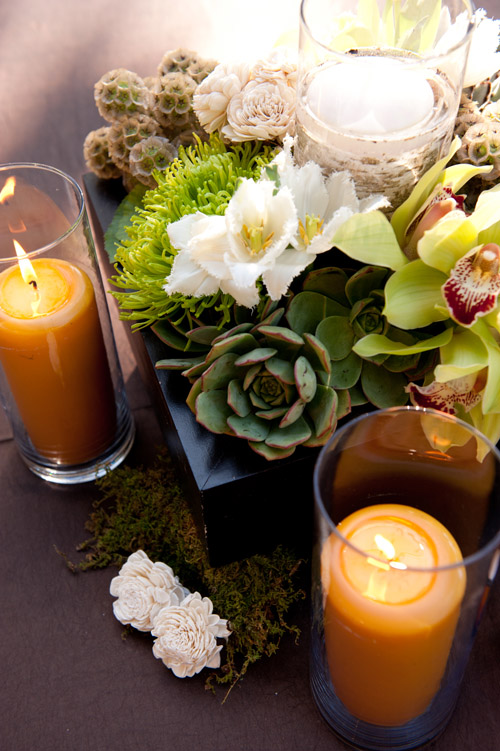 We recently received these images of a rustic woodland garden party planned and designed by the talented team at Exquisite Events and we simply had to share them with you. What an incredible pre-wedding celebration this was and how fun it must have been to attend!

This garden party, held at the groom's parents house in Los Angeles, was a pre-party to the wedding celebration that happened in the bride's hometown of Montreal a few weeks later. The couple is very organic, outdoorsy, and environmentally friendly and they wanted this event to reflect that. The groom's parents have a huge rolling lawn that backs up onto a private lake, which was the perfect backdrop to this evening. We immediately came up with the Garden Party theme so it would feel fun and informal yet elegant. The color palette was green, khaki and ivory which are very earthy tones, and we used them in the vignettes of coffee tables, sofas, and wooden elements. As guests entered the party from the valet, they were greeted by a Motown quartet which was a wonderful way to set the tone for what was to come. Amazing appetizers from Tres LA were passed around during the cocktail hour, and the groom is a big cigar fan so we created a separate cigar and cognac lounge that guests could hang out in towards the end of the night.
There were food stations in hand-made cabanas draped with moss and burlap and the lighting was perfect with big globes hanging from the trees. The stage that held the dance floor and band took our team four days to build! The flowers were mostly succulents placed in various pieces of drift wood and birch, and the gift giveaways were pine tree saplings wrapped in burlap that could be taken home and planted in each guest's garden.

Event Planner/Designer: Exquisite Events
Photography: John Solano Photography
Design/Decor: Revelry Inc.
Florist: Hidden Garden Flowers
Rentals: Classic Party Rentals
Catering/Waitstaff: Tres LA
Valet: Crystal Valet
Band/Motown Quartet: West Coast Music
Lighting: Images Lighting
DJ: Kumba
Restrooms: Andy Gump