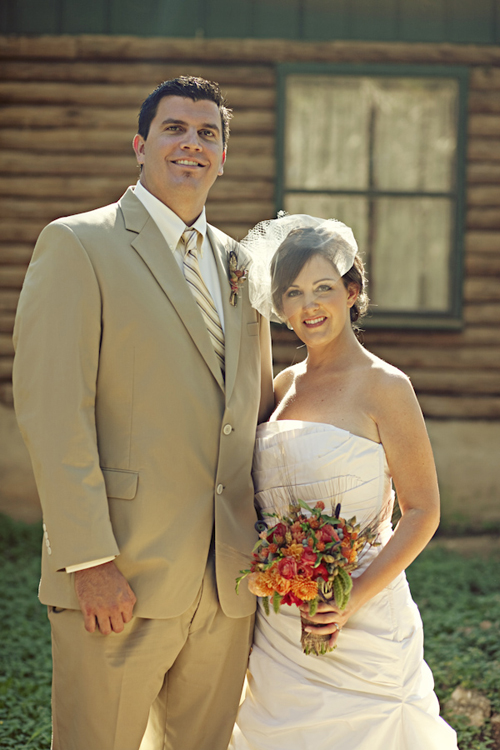 Carrie and David's Texas ranch wedding was a full-on mini destination wedding with fun and creativity packed into every wonderful moment. As you saw in our blog post this morning, their Thursday night rehearsal dinner and Friday night BBQ allowed everyone to spend loads of quality time together, which made the wedding day itself that much more fun. Read on to learn about all the many special moments, details and ideas that Carrie, David and their talented team of wedding professionals brought to life…

The Goals: As a bride, Carrie really wanted a rustic wedding in the heart of Texas Hill Country that felt welcoming and relaxing like a family reunion. As a designer and wedding professional herself, she wanted the whole weekend to have a very cohesive and detailed look. Along with the theme of "tying the knot" she used wedding colors of burnt orange and charcoal gray with accents of natural fibers and wood grain in all the design elements, as well as a sweet illustration of their initials carved into a tree.

The Design: One of the best decisions Carrie and David feel they made was to surround themselves with wedding professionals they trusted 100%, like the planners at Sweet Pea Events and Lavender Joy Events and the photographers at ee Photography. Another was to hold all of the wedding events in one beautiful location, the T Bar M Resort. "All of our family was able to stay there on property in great condos. The food was amazing and the scenery perfect. Plus, the resort staff took such great care of us!!" The ceremony was held in a picturesque setting in front of one of the cabins and the reception was held in the Sanctuary – a large, open-air log structure with wood-planked floors and an incredible long porch.
Carrie and David's creative design elements filled the wedding from beginning to end, and incorporated the work of so many local wedding professionals, family members and friends. The table runners were cut from burlap and stitched at the ends with their wedding logo. Felt placemats were hand cut with pinking shears and then an orange border was stitched around each one. The dinner tables were set family style and the napkins were folded to fit the custom menus Carrie designed and then wrapped with orange twine – a signature detail throughout the wedding. To bring in real rustic ranch atmosphere, escort cards were hung from an old farmhouse screen door, hay bales covered with muslin were used for ceremony seating, and the bar was made from salvaged barn wood. I love the way the fall inspired floral designs from Kate Foley Designs fit so perfectly into this look as well!
Carrie, an invitation designer with The Event Messenger, designed their invitations, paper goods and favors, of course. "I wanted the invitation to be a gift so I constructed it to open layer by layer. I wanted people to be excited about the weekend – wanted it to be a real representation of the casual, fun-filled, family-oriented weekend we had planned. For our favors I bought little muslin draw-string bags and stamped them with a custom-made stamp of our wedding "logo." I filled them with homemade cocoa and trail mix that my friends helped me stir up in our kitchen."
For their wedding cake from Frosted Pink they chose a 3 tier cake with ivory fondant and orange stripes, and Carrie constructed their cake topper (the letter "A") with twigs tied with orange twine. The Groom's cake was designed to look like a snorkel and mask tossed on the sand, with a little cooler filled with David's favorite beer. Additionally, they had 5 cakes made of all their favorite flavors placed on cake stands that their families contributed. "We wanted it to be like our guests walked up to our grandmother's table and picked out their favorite piece of homemade cake!"

The Look: Carrie went for a casual approach to her bridal look, and she especially loved her Watters wedding dress and the burlap, silk and tulle hair flower she crafted herself. David wore a tan poplin suit with an ivory tie which coordinated with his groomsmen in their tan suits and orange striped ties. Carrie's bridesmaids wore short charcoal gray strapless dresses and chunky burnt orange necklaces that tied closed with ribbon.

The Moments: So many moments of the weekend stood out to Carrie and David, but on their wedding day they especially loved seeing each other for the first time all dressed in their wedding finery, hearing the speeches given at their reception and dancing together all night long. Says Carrie, "I loved dancing with my husband – he's never really like dancing before, but that night he never left the dance floor."

For even more wedding inspiration, we have a great film from Elle Films with a look at all the events of the weekend…
The Pros: To learn about all of the wedding professionals who contributed to this wedding day please visit Carrie and David's page in our Real Wedding Library.
Thank you for sharing your wedding weekend with us Carrie and David! We loved every detail!
Readers, to plan your own Southern California or Seattle area wedding, check out our Plan Your Wedding Hotlists, and to find a dream wedding photographer for your wedding anywhere in the world, don't miss our World's Best Wedding Photographers Hotlist!