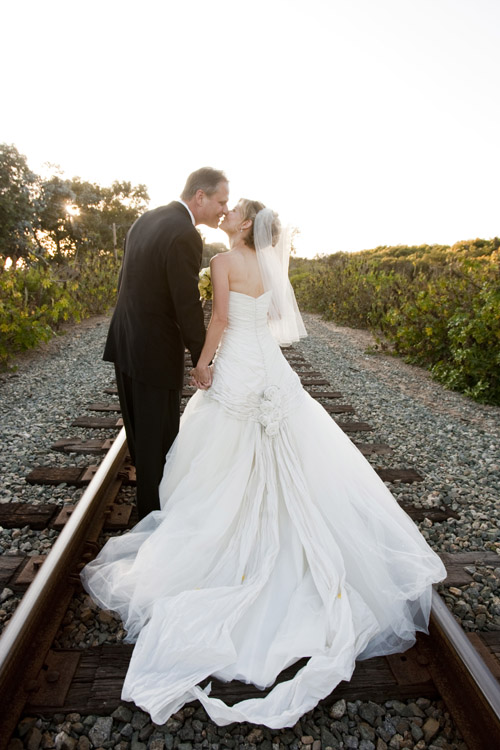 Ready for a little sunshine and rustic romance today? Victoria and Jeff's Santa Barbara real wedding has both in spades. With the design and planning of Kelly Oshiro and the lovely photos of Halberg Photographers, this sweet couple's wedding is sure to brighten your day!

The Goals: Victoria and Jeff's goal was to have a wedding that was true to who they were, in design as well as in feeling. They chose Santa Barbara's Rancho Dos Pueblos as their ceremony and reception site to lend its natural beauty to their theme of rustic elegance.

The Design: The ceremony was officiated by Victoria's brother and Jeff's sister, and took place on a bluff framed by hills and train tracks on one side and overlooking the ocean (wow!) on the other. They were hoping that a train would go through at some point during the ceremony to make it all the more real, and sure enough, it did! I love seeing the celebratory photos during the ceremony above as everyone cheered.
The reception was set up beneath towering, up lit, two hundred year old Morton Bay fig trees, and was filled with dark wood tables topped with delicate yellow silk runners, mercury glass vases and flower arrangements of calla lilies, hydrangea and orchid from Collage Floral Design. Each table was named after an unlikely romance – pig and tiger, elephant and dog, pigeon and monkey – for Victoria's love of fairytale animal love stories.
An elegant wedding cake from Christine Dahl Pastries, delicate favors of French macaroons from Paulette Macarons and place cards with calligraphy by Laura Hooper Calligraphy lent elegant touches to the decor while organic and rustic feeling was brought out in their wedding color palette of green, brown and pale yellow, menus printed on velum and thin pieces of wood, and wedding invitations from Megan van den Bergh for Kelly Oshiro Paper that included drawings of Rancho's fig trees.
The Look: Victoria fell in love with her Ian Stuart wedding dress and even after trying on many, many other she came back to it as "the one" time and time again. Her bridesmaids wore flowing full-length pale yellow dresses from the Vineyard Collection at Bella Bridesmaid. Jeff wore his own tuxedo and his groomsmen wore tuxes from Men's Wearhouse.

The Moments: Victoria and Jeff loved seeing their beautiful outdoor reception all lit up, and listening to the heartfelt and hilarious speeches given by her dad and and his brother. Victoria has one hands-down favorite moment though, "The best moment of the entire event? When Jeff saw me for the first time. When I turned the corner and locked eyes with Jeff it was the most romantic moment of my life." So sweet!
The Pros: There are many more talented wedding professionals who helped make this wedding day a reality. To learn about all of them please visit our Real Wedding section!

Thank you for sharing your wedding with us Victoria and Jeff!
To plan your own Southern California or Seattle area wedding, check out our Plan Your Wedding Hotlists, and to find a dream wedding photographer for your wedding anywhere in the world, don't miss our World's Best Wedding Photographers Hotlist!