Jen and Chris's gorgeous rustic wedding day was filled with sunshine, beautiful vistas, chic decor, and poignant moments. The couple planned touches that were both stylish and full of special meaning – from the robes made by Chris's grandmother, to thoughtful remembrances that made Jen feel like her late mother was right there with her. The sunny yellow and gray color palette was the perfect compliment to Maravilla Gardens, and Christine Bentley beautifully captured it all!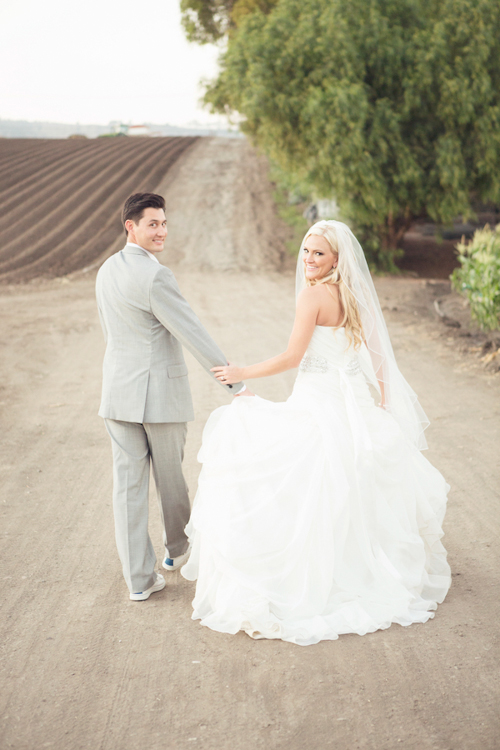 The Couple: Jen and Chris
The Wedding: 9.16.12 – Maravilla Gardens – Santa Rose Valley, CA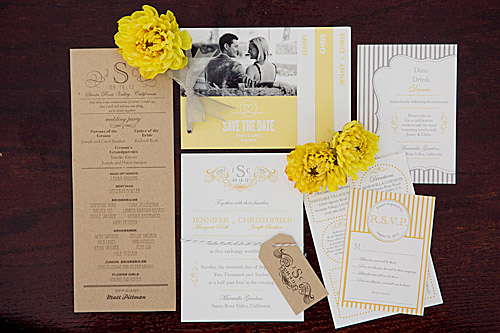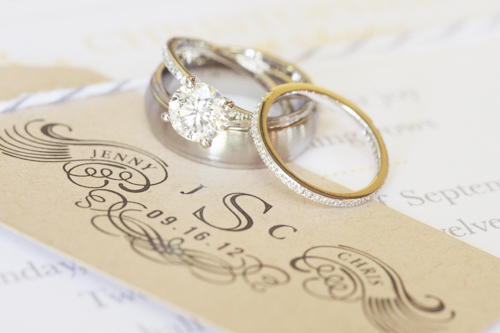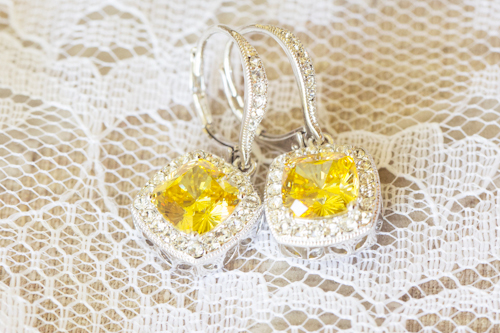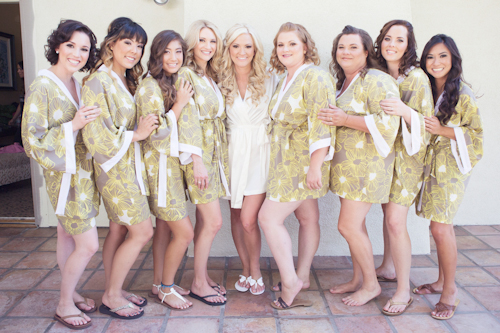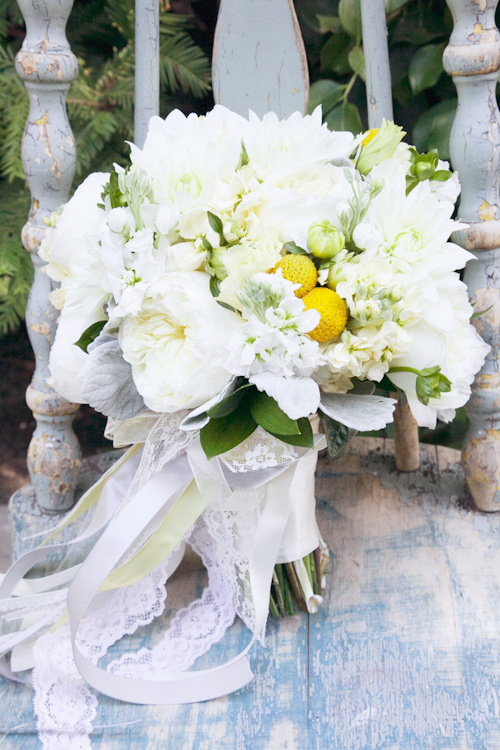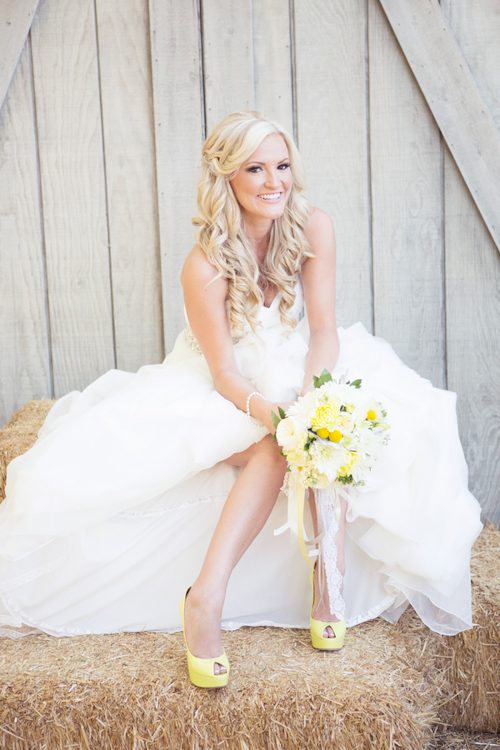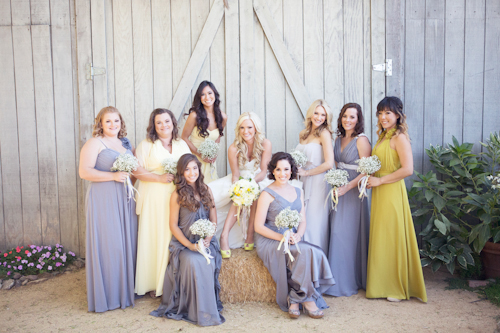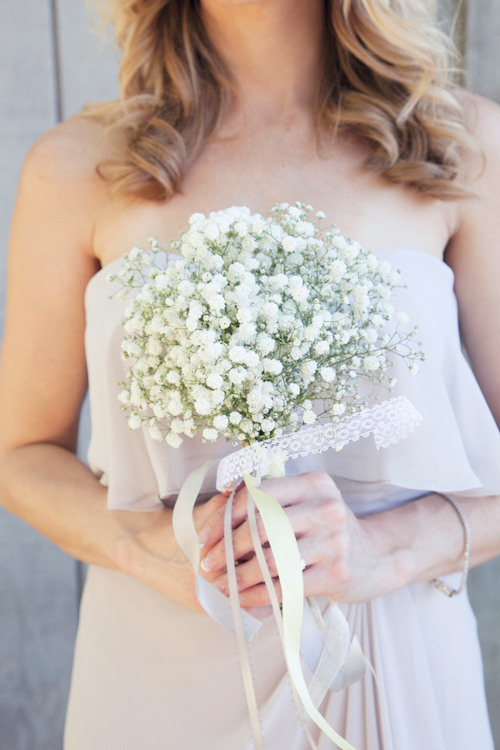 What are some adjectives best describe your wedding? Rustic, chic, and casual elegance
What was your wedding color palette? Yellow and gray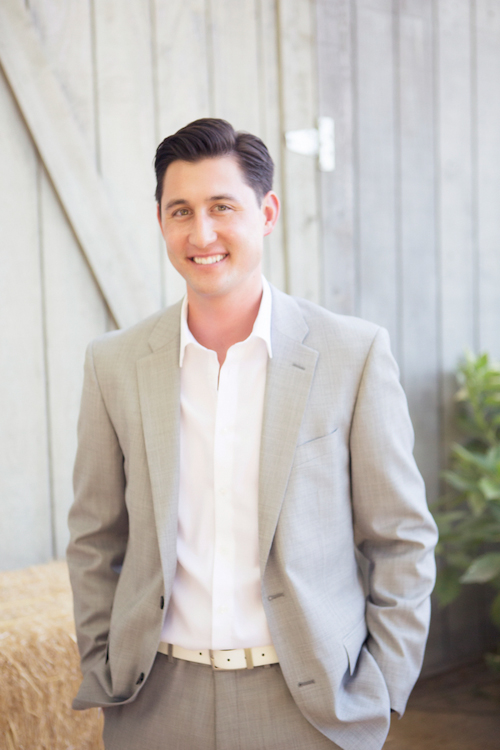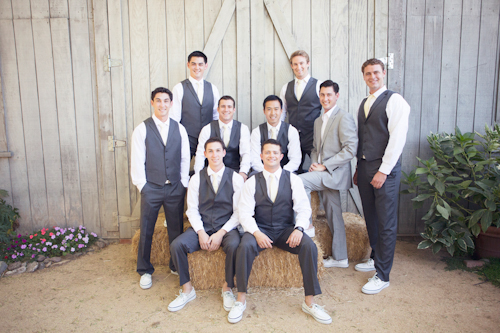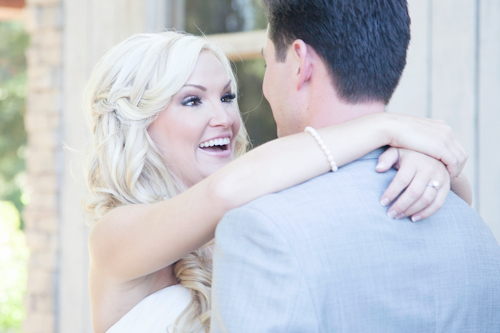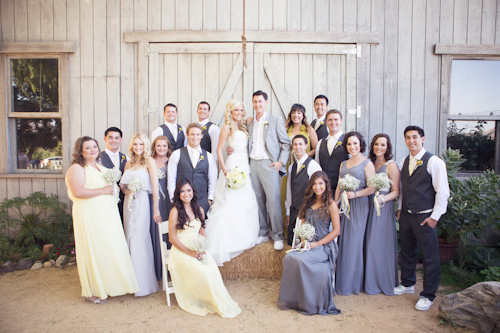 What inspired your personal wedding style, and how did you incorporate your style and personalities into your big day? One of Chriss only requests was to have a completely outdoor venue for both our ceremony and reception. I loved the idea of having a casually elegant wedding and as soon as we set foot onto Maravilla Gardens property, we both instantly knew this was our wedding venue. We selected the yellow and gray palette before choosing our venue and allowed the rustic charm of Maravilla Gardens barn, corn fields and flowers set the tone for the rest of the wedding style. We purchased our first home a few months before the wedding and it was important to us to make use of the personalized details for both our wedding and new home, which fostered the personalized and subtle chic ambiance we were looking to create.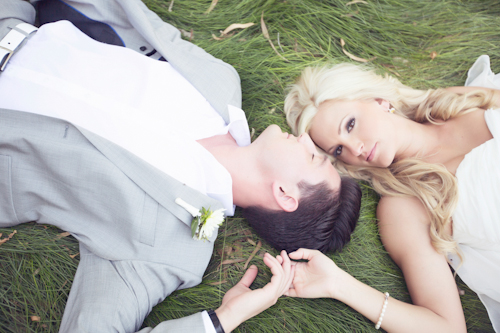 Looking back, what are the moments, decisions or memories that you love the most about your wedding? I loved the handmade bridesmaid gifts that Chris's Japanese grandmother, made. They were beautiful kimonos that she created to match my Victorias Secret Bride robe. Chris found the perfect yellow and gray fabric. The best part is that I jokingly told her that we should go into business and make personalized kimonos, but we would have to create tags for them. She surprised me and made tags for the kimonos with hand-stitched Japanese characters, reading love and happiness.'
The other decision that meant a lot to Chris and I was incorporating my late mother in every detail possible. She was a florist, so the flowers were a huge element to me. Hannah with Modern Bouquet was so patient with my ever-changing vision and quest for floral perfection. Our family likened my mom to a hummingbird, and I found the perfect homage in the form of a rhinestone hummingbird that was included in my bouquet. One of our favorite musicals was Wicked, which we had the fortune to see at the Pantages Theatre together. I absolutely felt the lyrics from For Good beautifully described our mother-daughter relationship. Therefore, it was only appropriate to dedicate our ceremony to her with the lyrics at the bottom of our program reading So much of me is made from what I learned from you. You'll be with me like a handprint on my heart. And now whatever way our stories end, I know you have re-written mine. My sisters also read a poem about love that my mom had written years ago, which I had never seen until the night before our wedding in an amazing gift of letters and pictures my bridesmaids put together for me. Lastly, I had a heart cut out of her yellow robe and placed on the inside of my wedding dress, directly over my heart.
Favorite moments – I was so giddy and nervous that I tried kissing Chris before the official Mr. and Mrs.s kiss and he pulled back, everyone had a good laugh which broke-up the seriousness of the ceremony. I also loved the sunset pictures that Christine Bentley suggested. I thought breaking away from the party might not be ideal, but it was nice to have that time with my new husband. I had the opportunity to showcase my beautiful veil that I forgot to wear for the ceremony, and the cornfield pictures are some of my absolute favorite memories.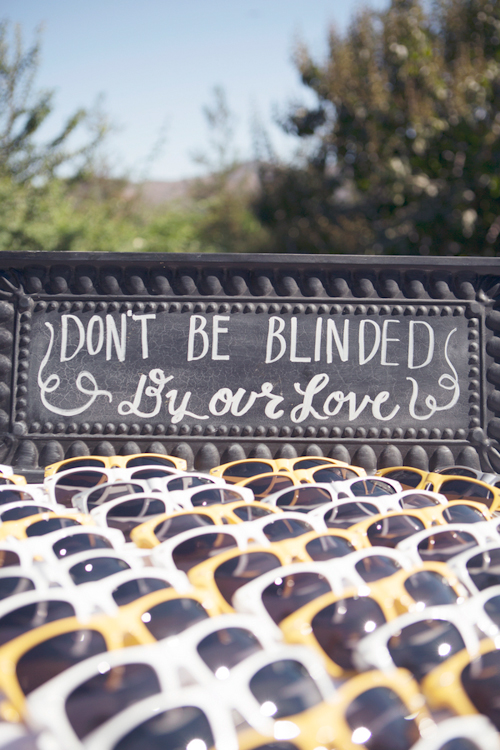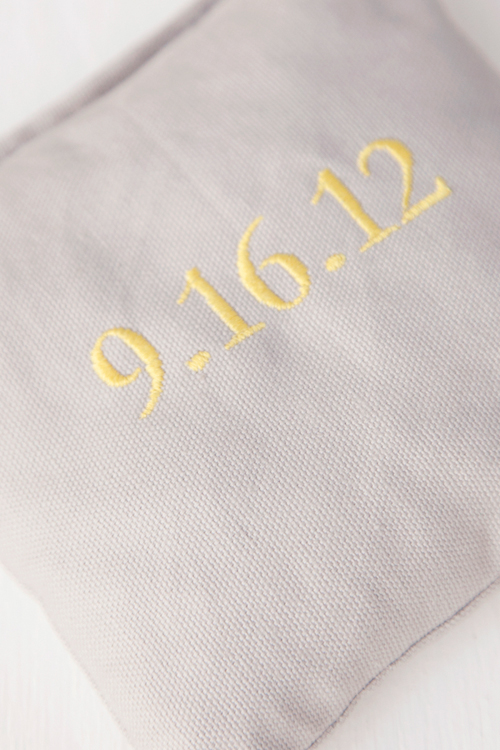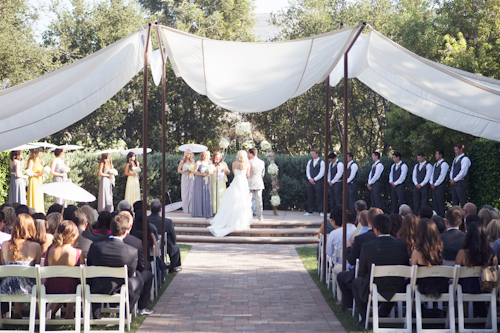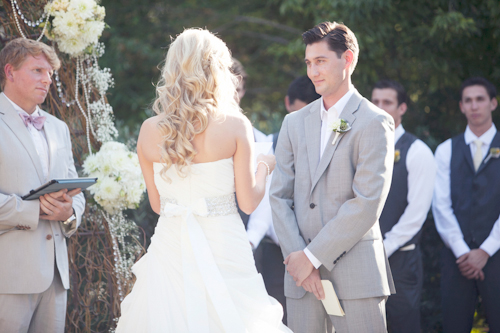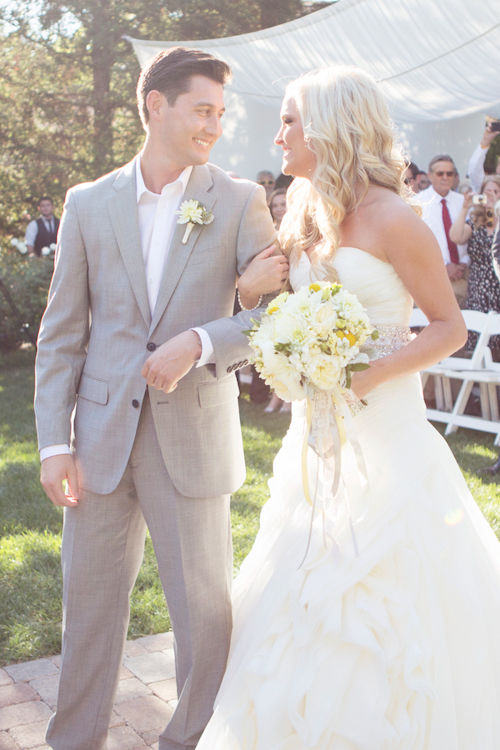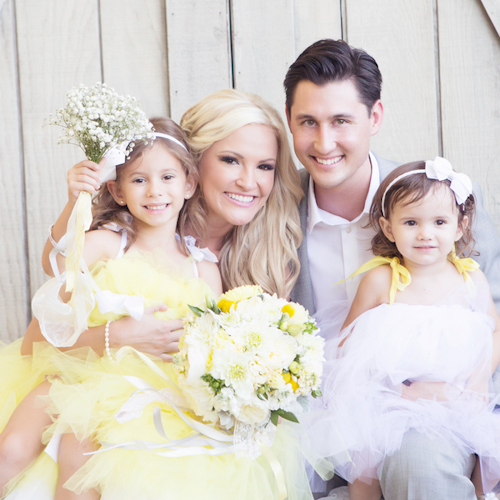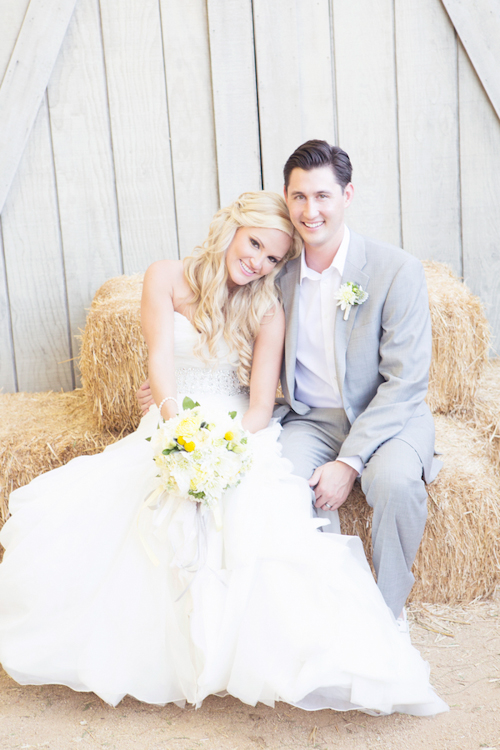 What piece of advice would you give to a bride planning her wedding today? Dont let anyone tell you that the details dont matter. If they matter to you, they are important and make your wedding your own. I did not have a wedding planner but had a lot of experience in event planning due to the nature of my moms profession. I solicited the help of Pinterest, family, friends, and an amazing day-of coordinator (Jen Loller with Maravilla Gardens). I was attending medical school at the time of my wedding and wouldnt have been able to pull-off such a personalized event without a lot of help from loved ones. Dont be afraid to ask for help – your family and friends are wonderful sources of support! Also, weigh the cost-benefit ratio of renting versus purchasing wedding items. I was able to save a lot of money by purchasing decor for the wedding and reusing it in our new home!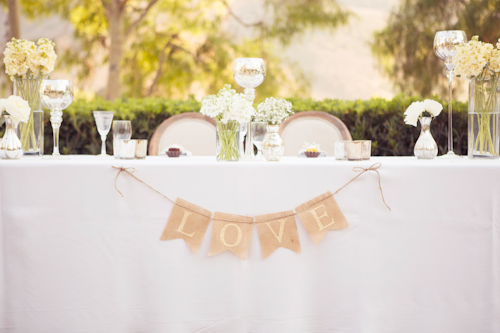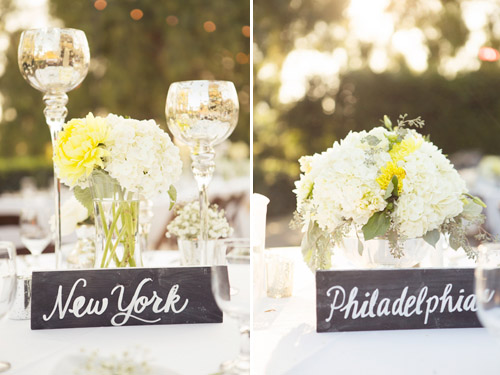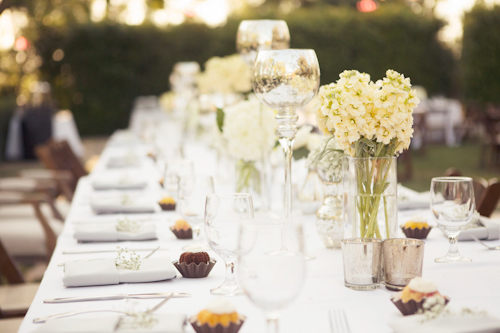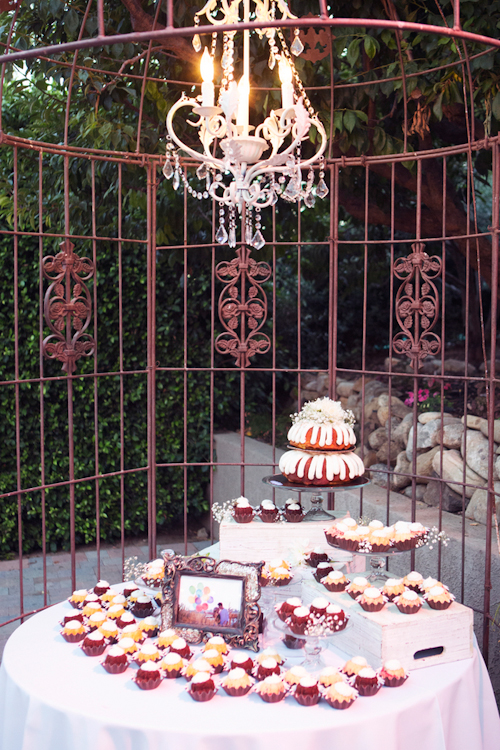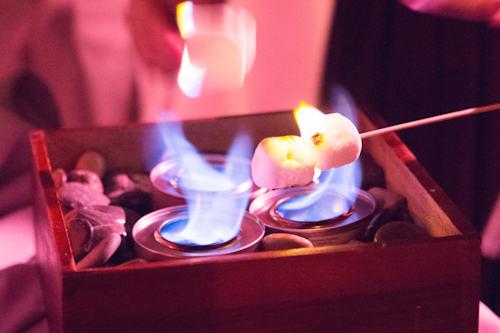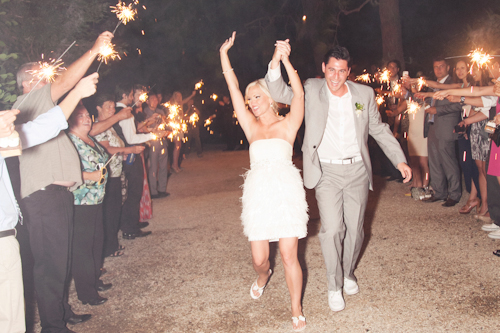 The Wedding Team:
Photographer: Christine Bentley Photography
Day-of Coordinator: Jen Loller, Maravilla Gardens
Ceremony & Reception Venue: Maravilla Gardens
Videographer/Film Maker: Heather Productions
Officiant: Matt Pittman
Invitation Designer: By Invitation Only
Catering: Command Performance Catering
Florist: Modern Bouquet
Cake: Nothing Bundt Cakes
Grooms Cake: Jennifer Rodriguez Hutson – Simply Cake
Wedding Dress: Enzoani Fabi; Blush Bridal Couture
Bridal Accessories: Veil – Blush Bridal Couture; Earrings – Nadri; Shoes – Christian Dior; Garter – Emily Riggs Bridal
Bridesmaids Apparel: Bari Jay
Groom & Groomsmen Apparel & Accessories: Pants and Vests – Alfani Red by Macys; Shoes – Sperry Topsider; Ties: J. Crew; Belts – Kenneth Cole
Hair & Make-up: Privé Beauty Group
DJ: Elegant Events
Musician: Jason Sulkin
Transportation: American Luxury Limousine and Road Runner Shuttle
Favors: Sunglasses from 4imprint
Rentals: Maravilla Gardens and Command Performance Catering
Signs/Chalkboard art/table names: Jo Meyers; Dogwood Party Rentals
Rings: Hers – Robbins Brothers, His – Jewels by Joseph
Ceremony Programs: Design the Details
Flower Girl Dresses: Atutudes
Thank you, Jen and Chris, for sharing the details of your sunny, oh-so-happy wedding!
For more California wedding planning resources, don't miss the professional recommendations in our Plan Your Wedding section!