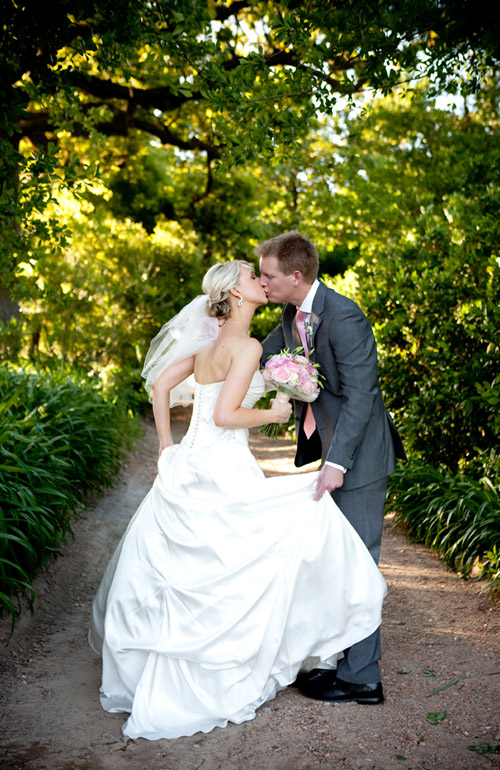 This week's Real Wedding, from one of our fabulous Junebug member photographers, Christine Meintjes, is simply beautiful and filled with soft, romantic touches. Held at Vrede en Lust in Franshhoek, South Africa, Lisa and Richard's outdoor wedding has us feeling positively giddy over its stylish elegance.

The Goals: Above all else, Lisa and Richard wanted their wedding day to be a true reflection of their personalities and style, but it was also important to the couple to simply have fun and to enjoy spending time with their close family and friends that they don't often get to see. For their special day, Lisa and Richard chose an outdoor ceremony on a lawn beside a breathtaking vineyard, with a full view of the mountains of South Africa. A positively magnificent setting!

The Design: Lisa chose a wedding color palette of white, ivory and shades of pink for the wedding, a choice that surprised no one as pink is widely known to be her favorite color. The use of pink was largely featured in the floral arrangements, including the bride's stunning bouquet of roses, as well as in the attire of the bridal party, both bridesmaids and groomsmen. Tabletops were dressed in dusty rose linens, and held centerpieces of white and cream roses, white candles and mirrored glass.
A vintage inspired design was chosen for the invitations, with an image of interlocking initials forming a crest. It was a look Lisa had fallen in love with months earlier in a wedding magazine.

The Look: Lisa wore a strapless corseted ballgown from Alan Hannah with a short veil and Jimmy Choo shoes, while her groom was clad in gray suit and pink tie.
The Moments: Lisa and Richard made sure to find private moments to sneak away together throughout their hectic day. During their photo shoot in the vineyard with Christine, they were able to grab a few minutes to sip champagne and nibble on canapes at a little table in the midst of the vines. During the dinner hubbub, they slipped away once again, to stand together under an exceptionally large and bright moon in the night sky, simply taking it all in.
One of Lisa's favorite moments was during the reception, when Richard gave a speech that included a poem he had written especially for her. We hear there wasn't a dry eye in the house!
The Pros: To learn about all of the incredible team of wedding professionals who helped to make this wedding a reality, please visit our Real Weddings section.

Thank you so much for sharing your lovely wedding with us Lisa and Richard! Best wishes!
If you're planning your own wedding in Southern California or Seattle, don't miss our trusted Plan Your Wedding Hotlist, and for incredible photographers around the world, be sure to check out our World's Best Wedding Photographers Hotlist!