I've been noticing flower crowns blossoming on both the runway and in real weddings this spring, and can't think of a better way to add a little romance and whimsy to your wedding day look! I had the pleasure of talking with the oh-so-talented Addison Searles of Twigss Floral Studio about the beautiful floral head wreaths they've been making for their brides and how flowers are the perfect way to top off your wedding style!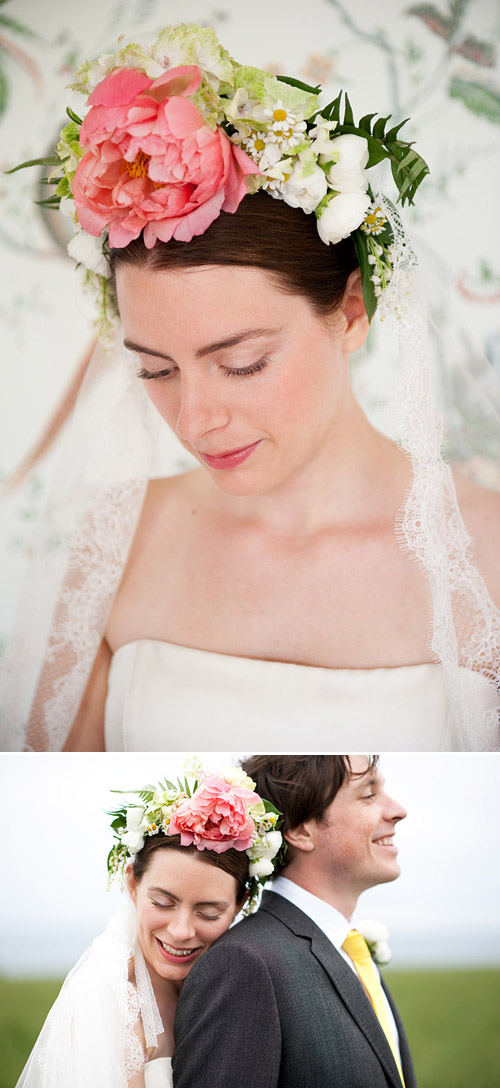 Pink peony flower crown by George Mackay Flowers, Photos by Dominique Bader Photography
Why should brides consider a floral head crown? Tell us about why you suggest floral head wreaths to your clients. We love that head wreaths are an old custom. They represent honor, virtue and the changing of seasons, which we think is really cool. And although they are an older custom and have some deeper meanings, we believe they add a new, fun and fresh spin to a bride's overall look on her wedding day. They are something that we encourage our brides to wear because we love crafting them, each on is so unique and special. There is a lot of detail and time that goes into making these special pieces – they arent your average daisy chain! we also tell brides that its the perfect excuse to wear flowers in your hair! Think about it…how often do you have a good excuse to do that?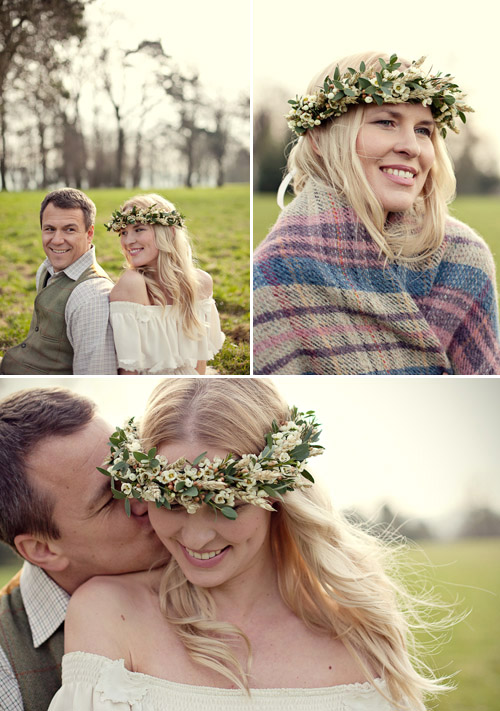 White wax flower, wheat, and eucalyptus flower crown from UK floral designer fairy nuff flowers, Photos by Marianne Taylor Photography
Can you still carry a bouquet when you have a head wreath? Totally! In fact we recommend it because the more flowers the better in our opinion. Another great thing about a head wreath is that if you love flowers (like we do) then during your reception you can be hands free and still be rockin some amazing blooms. But for those brides that dont want to go flower crazy, they could totally just wear the head wreath and not fuss with a bouquet.


Floral head wreaths of passionflower, anemones, roses, and chocolate cosmos by Twigss Floral Studio, Photos by Danielle Capito Photography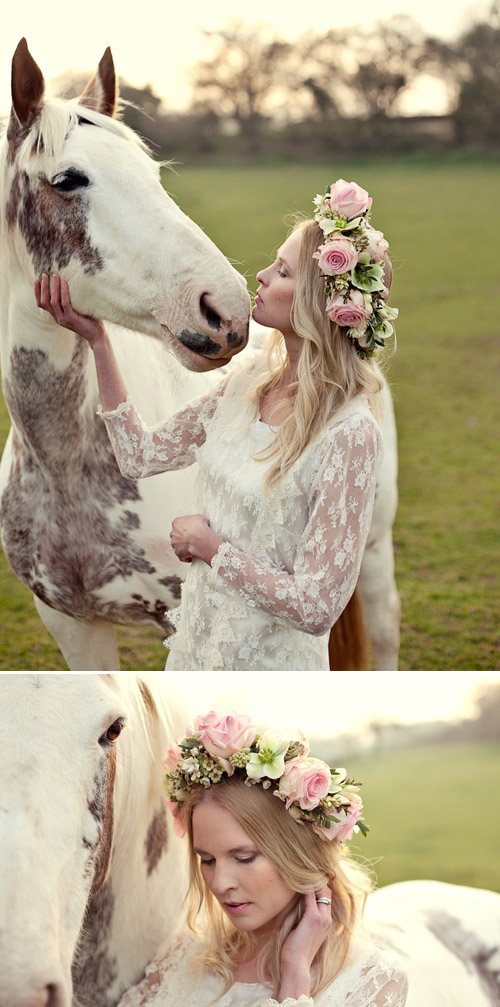 Head wreath by fairy nuff flowers, Photos by Marianne Taylor Photography
Do brides usually wear a veil with the head crown? Not with the head wreaths weve been making. I think that it really depends on the bride and her style though. Veils would be a beautiful touch and add more of a vintage look to a head wreath. We are always open to whatever is special or sentimental to the bride!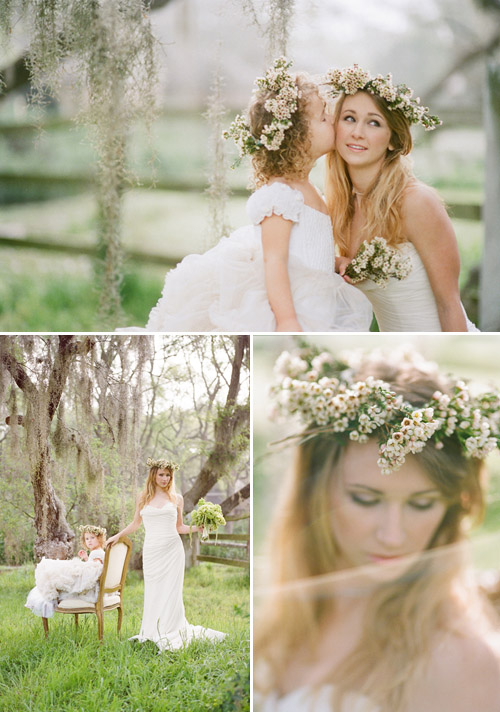 Hair Crowns of white waxflower by Pizzini Designs, Photos by J Wilkinson Co
Are there different looks you can create with a floral head wreath, besides the typical sweet, romantic vibe? Are there ways that you can make the head wreath elegant or modern? Oh yes! That is our favorite part; there are so many options! Weve made an amazingly cool hippy-chic one, with daisy, clover hops, bachelor buttons and wild sweet peas. Weve made a beachy one, with sword ferns, sea shells, and garden roses; and an elegant one with ostrich feathers, rhinestones and roses. The possibilities are truly endless!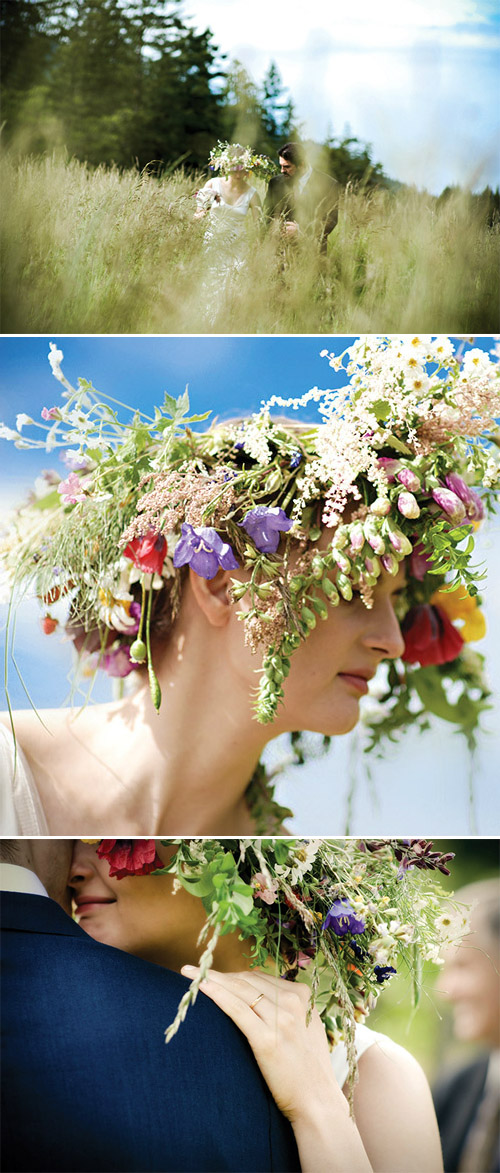 Gorgeous summer wildflower crown, Photos by Michèle Waite.
Addison, thank you so much for the great flower crown traditions and ideas! Readers, are you wearing one this summer? We'd love to hear about it!