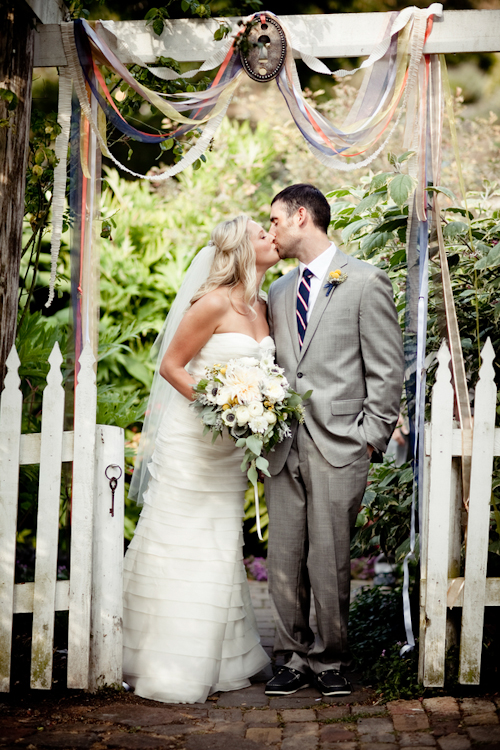 Oooooh, this is such a good one today! We love everything about Lindsay and Abe's gorgeous San Juan Island wedding, from their team of talented wedding pros filled with some of our beloved Junebug members, to their fresh, preppy decor, the gorgeous scenery at Roche Harbor, and their romantic engagement story that inspired all their details. It's just the epitome of sweet summer perfection, and Laurel McConnell's beautiful photos captured it all!
The Goals: Our main goal was for everyone to have fun and enjoy themselves, but we also wanted the wedding to be representative of the two of us. Im big on details, so the little touches were definitely important to me as well.
The Vision: We wanted the overall look of the wedding to feel very Nantucket/Cape Cod, chic, and just a touch nautical.
We were engaged in Paris when Abe surprised me on the Pont des Arts bridge. I was there visiting a friend, and had no idea that he was coming! According to tradition, visitors attach padlocks on the bridge as a sign of undying love. Once I said YES, we left our padlock! To represent our engagement, we decided to give our reception a secret garden feel with locks and keys. Vintage keys were scattered amongst the cobblestone pathway to the aisle (for guests to take as they pleased) and a large decorative lock was placed on the entry to the garden. The locks and keys were also incorporated into some of the paper goods.
My mom and I also wanted to be sure and incorporate ribbons in the wedding (as were a little ribbon crazy). Ribbons hung from the back of each of the ceremony chairs, from shepherds hooks with lanterns that lined the walkway to the reception, and so on.
The Look: Keeping with the theme of the wedding, our attire was chic and classic. My wedding dress was simple with delicately layered fabric, but the Swarovski crystal sash I wore provided a rich, elegant touch. That day, my husband gave me a beautiful silver necklace with an anchor on it, and I gave him silver and navy cufflinks. The bridesmaids wore navy dresses, and all of the men wore Sperry Topsiders.
The Moments: Our first dance definitely stands out in my mind as one of the most special aspects of our wedding. We chose a fun, new song that hadnt become popular yet – Ho Hey by the Lumineers. Now, whenever our friends and family hear it, they tell us it reminds them of our wedding, which always brings a smile to our faces.
We also loved our food and beverages. Our guests quickly sucked down Roche Harbors amazing mojitos! And, I still remember entering our cocktail reception and seeing the fabulous oyster display on ice. From the get go, we decided to provide ice cream (from a local food truck) at the wedding instead of cake, as well as a custom toppings bar. We later decided to incorporate cake as well, but the ice cream was a huge hit!
Its hard to pinpoint one aspect of the wedding that surpassed the rest. Whether it be the stunning florals, paper goods, or other details; the ideal weather and scenery; or just having all of our friends and family with us to celebrate with us, we felt very blessed and loved everything about our wedding day.
The Pros: For all the details on Lindsay and Abe's talented wedding team, please visit their page in our Real Wedding Library!
Thank you Lindsay and Abe, and a huge congrats!