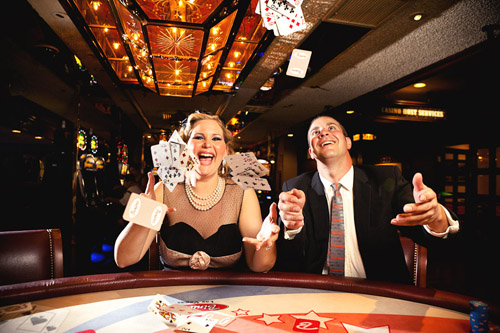 Encouraging each and every couple to embrace their own personal style is our editorial mission here at Junebug, so I love when a shoot like this comes along and goes all the way, 100%, over-the-top to showcase the look and personality that a soon-to-be-married couple loves to embody. Wedding planner extraordinaire Alexandra Rembac of Sterling Engagements and her fiance Jonathan had a retro Vegas vision for their engagement photos, and who better to bring it to life than the team at Callaway Gable Photography? What fun!

From photographers, Brian and Allie of Callaway Gable Photography:
Our close friend and wedding client, Alexandra Rembac of Sterling Engagements, has always dreamt of a glamorous old-Hollywood inspired engagement session in Las Vegas. Hello! This is what Allie and I live for.
Our first challenge was to figure out where in Vegas to shoot. Much of Las Vegas is new and does not fit with a vintage 1940s photo shoot, except for downtown Las Vegas. Perfect! Now, how do we get access to a casino? My good friend Paul Vato owns a cigar shop in the world famous Binions Casino (former home of the World Poker Tour). Its called Vato Cigars, and he rolls and makes his own cigars! Somehow he managed to get the owners to give us unprecedented access to photograph all over the casino. One of Jonathans best friends and groomsmen works in Hollywood, styling for television and movies. In fact, his family owns Western Costume Company the worlds oldest and largest costume company. Alex and Jonathan grabbed several outifts from the 1940s and Alex had her hair styled in the same time period too. This shoot is a great example of what can be done when a client really takes the time and effort to plan their engagement shoot. It also represents what Allie and I are all about: Going above and beyond to make our clients personal and poignant images that they and their family will enjoy for years. ENJOY!




The Photoshoot Team:
Paul Vato of Vato Cigars
Location: Binion's Casino
Costumes: Western Costume Company
Makeup: Your Beauty Call in Las Vegas
Wardrobe Stylist: Branden Marks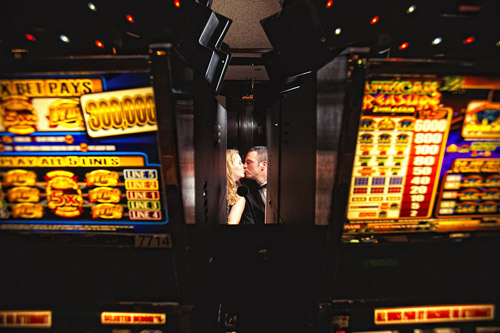 Thank you so much for sharing your beautiful engagement photos with us Alexandra and Johnathan! To read more about this engagement shoot visit the Callaway Gable blog!