Here at Junebug, one of the things that makes us fall head-over-heels for a wedding is great personality! We love to see a bride and groom's personal style and interests incorporated into their wedding day celebration. For Dallas and Brian, this meant a wedding filled with retro-style, musical references, and to top it all off (literally) a little cameo by a T-Rex and a flamingo! Read on for bride Dallas's description of their wonderful day!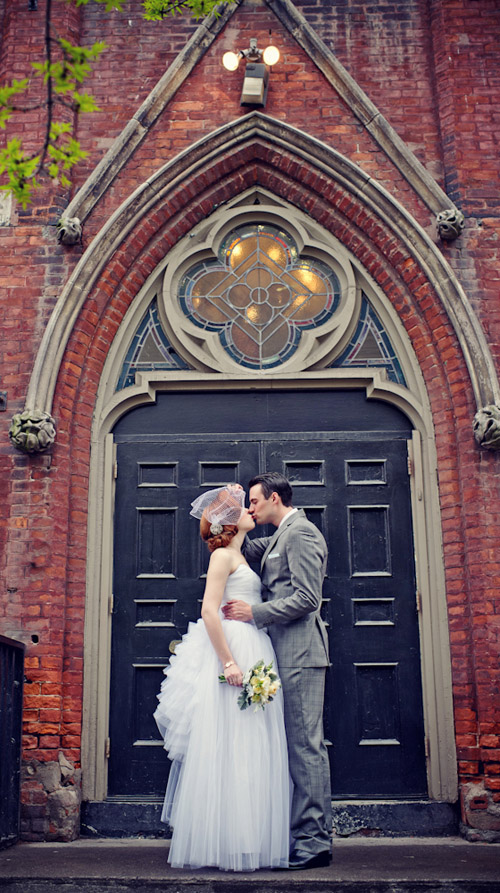 The Couple: Dallas and Brian
The Wedding: 5.14.11 – The Berkeley Church – Toronto, Canada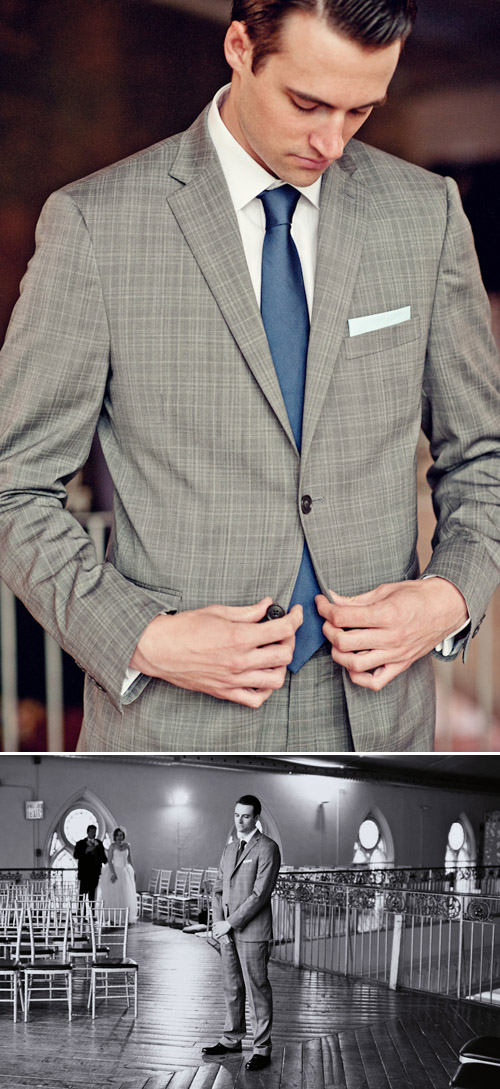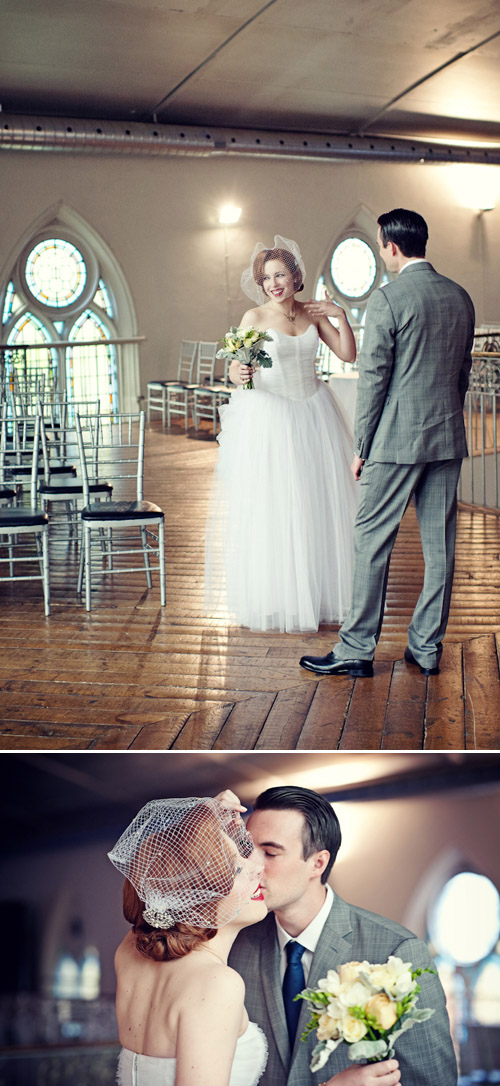 The day after we got engaged, Brian and I were driving to our hometown for the weekend to share the great news with our families. During the six hour drive, we talked non-stop about what our wedding could be like. We started by thinking of all our shared interests and everything we collectively love. We are both photographers and writers, and love hosting parties. We're also both musicians and big fans of music and movies, and the particular styles tied to the rise of Hollywood and popular music in North America. Technicolor films, rock and roll, classic cocktails, Motown – we love it all. We decided that the theme of our wedding would be inspired by the movies and music of the late 1950s and early 1960s.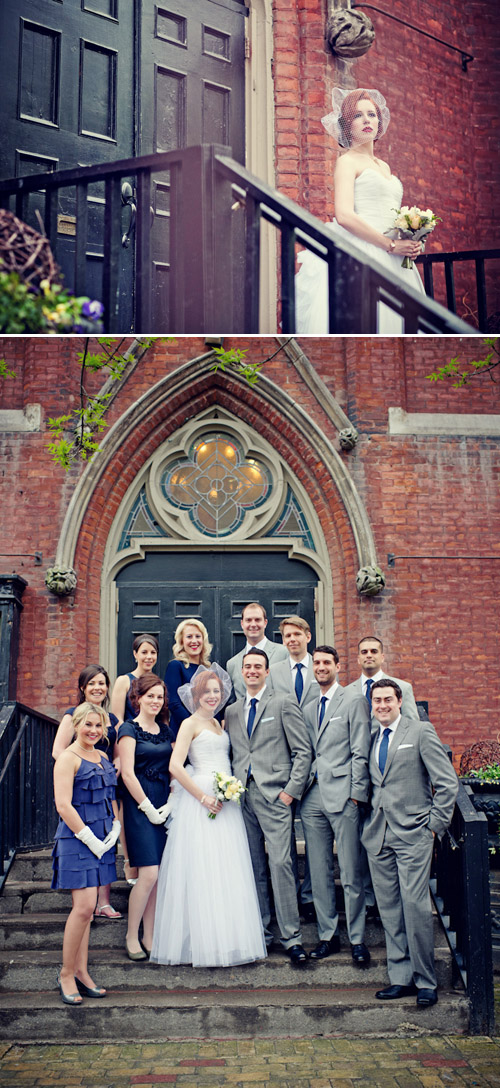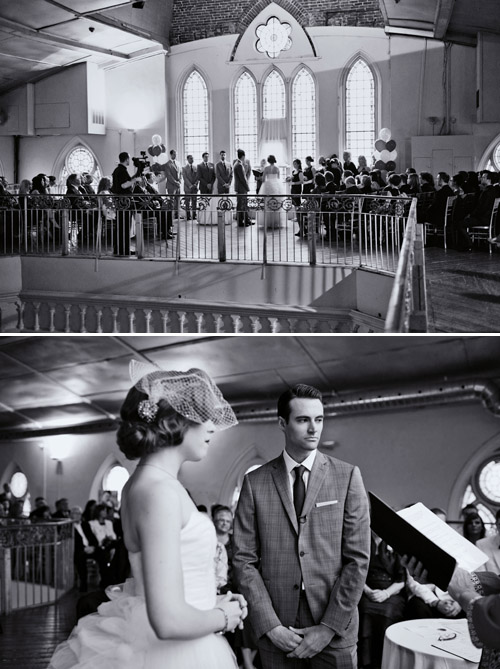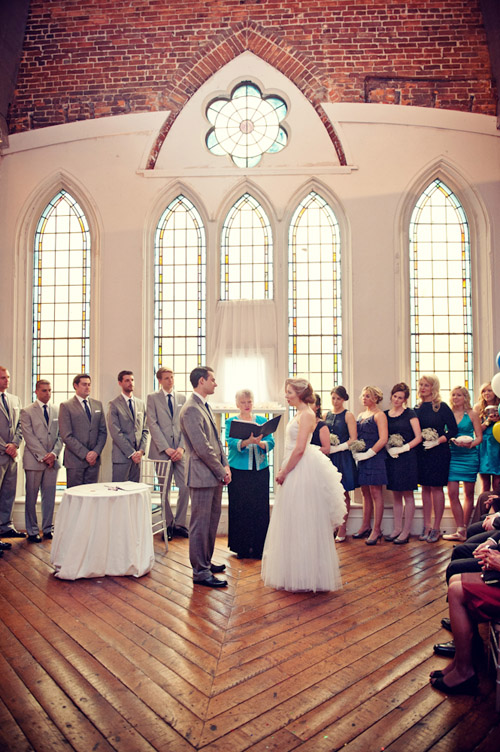 We held our big day in Toronto's beautiful and historic Berkeley Church, which was wonderful for all our out-of-town guests as it allowed us to host the ceremony, cocktail hour and reception in three different rooms within one gorgeous building. We settled on a color palette of navy, grey, turquoise and yellow, bringing in as many vintage and technicolor-inspired elements as possible. We chose to keep the decor rather simple in order to let the beauty of the venue speak for itself. My parents visited auctions and antique stores to collect dozens of vases, which were filled with lovely, simple arrangements by our florist, Coriander Girl. They were set upon layers of lace doilies over navy linens. Our seating plan was displayed on vintage records, and our table numbers were marked on 45s (small records) dug up from my parents' basement. The tables were illuminated by vintage jars wrapped in antique lace.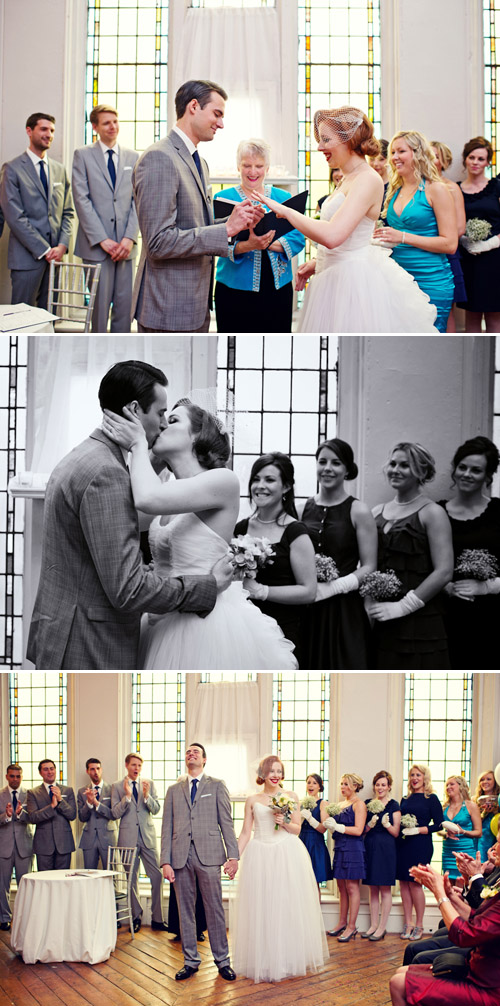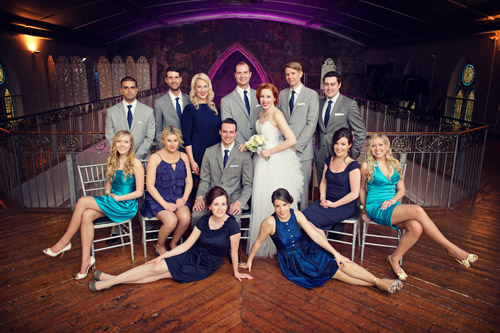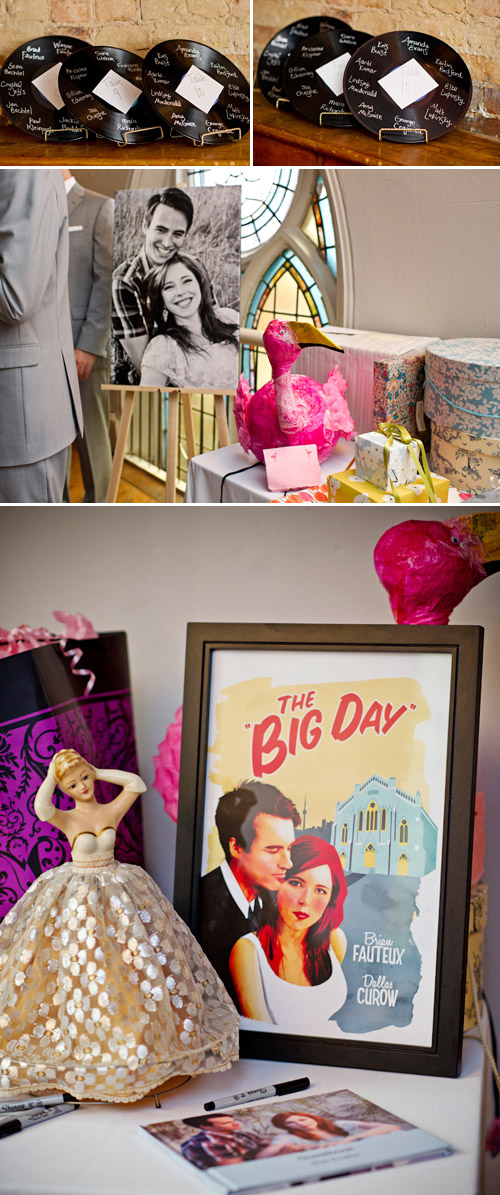 My cousin Tara made our beautiful cake, which was adorned with a T-Rex and a flamingo, my husband's and my favorite animals, respectively. Our invitations and welcome poster were designed by our best men (both artists) to look like a vintage movie poster, and was created with one of our engagement photos and some Photoshop wizardry. We couldn't have chosen a better photographer; Lisa Mark did an absolutely stupendous job with our photos, and we will treasure her work forever. Our day was absolutely perfect. Highlights included laughing as one of our groomsmen serenaded our guests dressed as Elvis, and tossing my bouquet so hard that it smashed a bunch of candles and soaked my groom in hot wax! Mostly, it was wonderful to be with the love of my life, encircled by all the family and friends whom we treasure most.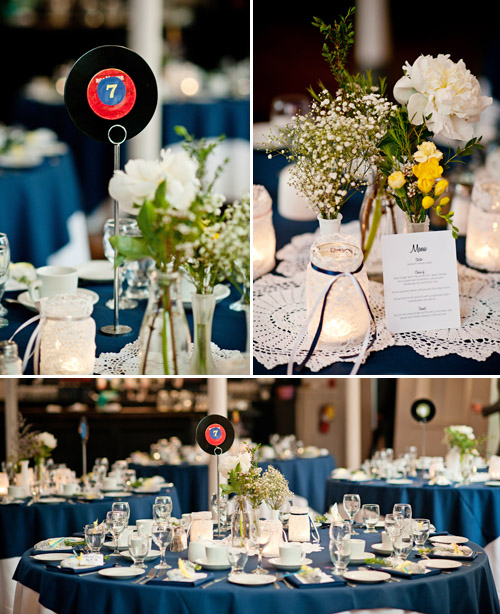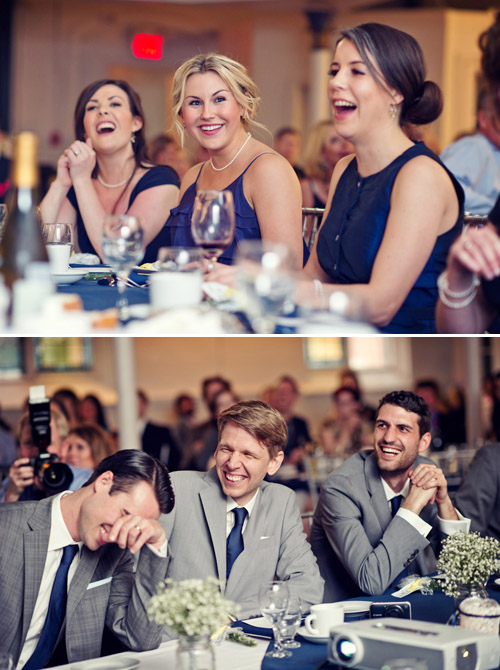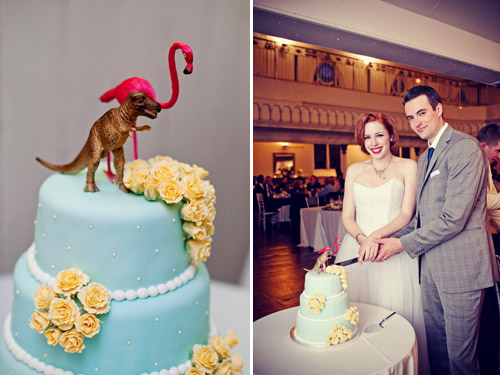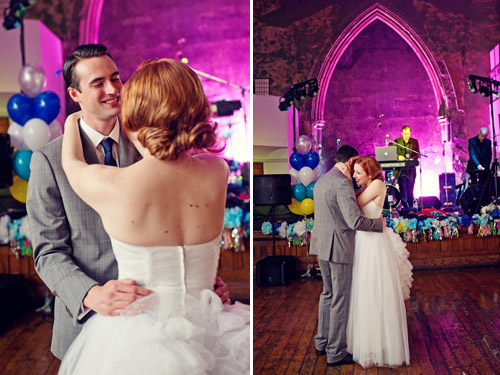 For anyone planning a wedding now, I'd suggest you try your very best to enjoy every moment of the planning process. Incorporate as many things you both love as possible, so that your partner can enjoy and be equally invested in the process. Most importantly, don't stress yourself out by thinking of your wedding as the "most important day of your life," but rather as an awesome party with all your favorite people, and the beginning of an incredible new adventure.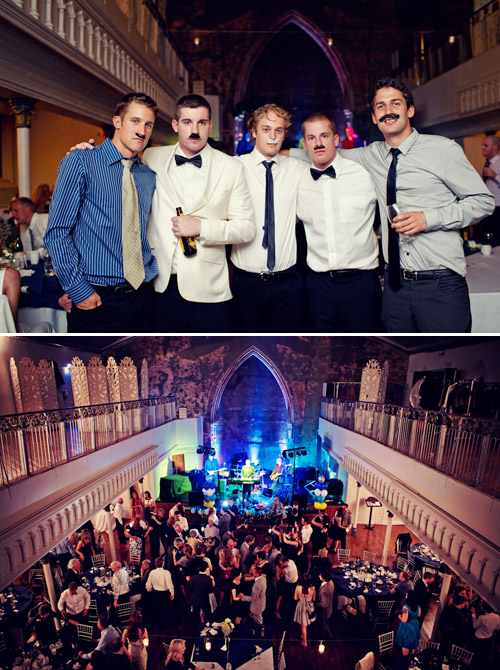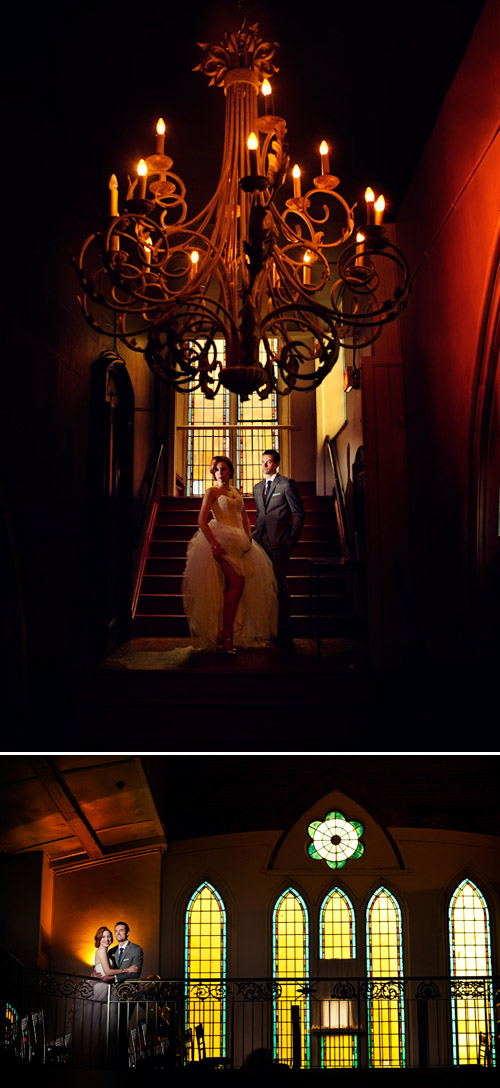 The Wedding Team:
Photographer: Lisa Mark Photography
Wedding and Reception Venue: The Berkeley Church
Florist: Coriander Girl
Bride's Dress: Betsey Johnson; Vintage gown from Ragtime in Ottawa
Bride's Shoes: Jimmy Choo and Toms
Bride's Necklace and engagement ring: Vintage
Wedding Rings: Lydia Lukidis
Veil: Jennifer Laoun Rubenstein
Decor: Leslie Curow
Groom's Suit: Kenneth Cole
Groom's Shoes: Cole Haan
Band: The Dave Murphy Band
Officiant: Mary McCandless
Invitations and Welcome Poster: Jordan Puoplo and Dan Cantelon
Wedding Cake: Tara Lloyd
Dallas and Brian, thank you so much for telling us about your wedding day! We love all of the personal touches and personality you infused the celebration with!
For more real wedding inspiration, be sure to visit our Real Weddings Library!