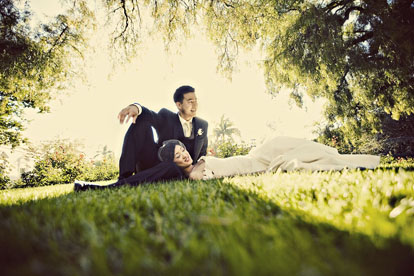 Today's Real Wedding is a beauty! Theresa and Dan are a truly lovely and stylish couple and their wedding day was filled with fun for their family and friends and thousands of beautiful moments that were all spectacularly captured by the talented Amelia Lyon Photography. Using a pink and black color palette for their early June wedding, they sweetened up the look of their already fantastic reception location, the Richard Nixon Library and Birthplace in Yorba Linda, California. Theresa and Dan were thrilled with this venue and all that it brought to the day. Theresa looked absolutely amazing in her wedding dress from the Vineyard Collection paired with a birdcage veil and flower pin in her swept back hair, and her bridesmaid's playful pink and black dresses were the perfect compliment!

I am wild about all the creative portraits that photographers Amelia and Justin Lyon took of this darling couple. They really utilized all the different spaces and backdrops at their disposal, and created so many distinct and beautiful compositions. It's so cool to see Theresa and Dan happy and in love from every angle!

A few days before the event, when Theresa and Dan realized that the hot weather would not subside, they ordered large umbrellas to use as shade for their guests during the outdoor ceremony. I think it really adds to the sweet garden decor look as well! Though Theresa says their wedding felt more "fun" than "romantic", when they looked each other in the eyes and said their vows during the ceremony, the romance arrived! "I have to admit that there were some tears and choked words on my part." During the reception they adored dancing with their parents, and dancing with each other to Robin Thickes Lost Without You". Guests also got on the dance floor, and had a blast playing around in the photobooth, creating their own memorable wedding favors.



Thank you so much for sharing your wedding day with us Theresa and Dan! For the full scoop on this wedding and many, many more, be sure to visit our Real Weddings library!