Jeff and Michelle's gorgeous September 1st wedding, coordinated by Shannon from Sublime Wedding and Event Planning, and photographed by our own Kim and Adam Bamberg of La Vie Photography, took place on a bright and shining late summer day. This perfectly matched couple filled their celebration with classic elegance and tradition as well as lots of modern and personal touches to make their friends and family feel completely welcomed and loved. Their color palette of chocolate brown and teal with splashes of red added vibrancy to every aspect of the day, and even the bright blue sky cooperated in adding to the look! Love it!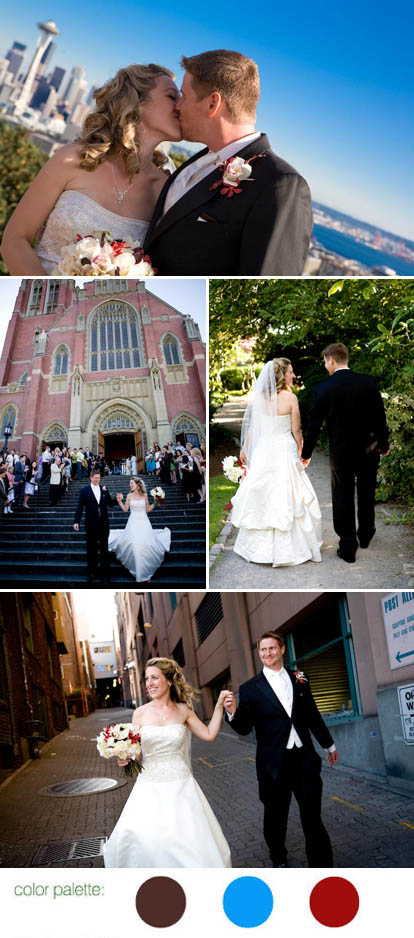 The fabulous floral arrangements designed by Flora Nova blew everyone away. At the church there were thick piles of petals lining the isle and candles covering the alter, Michelle and her bridesmaids had intricate bouquets with small splashes of color (I love the thick red ribbon around the stems of Michelle's bouquet!) and at the reception the tables had lush centerpieces overflowing with blooms. Amazing!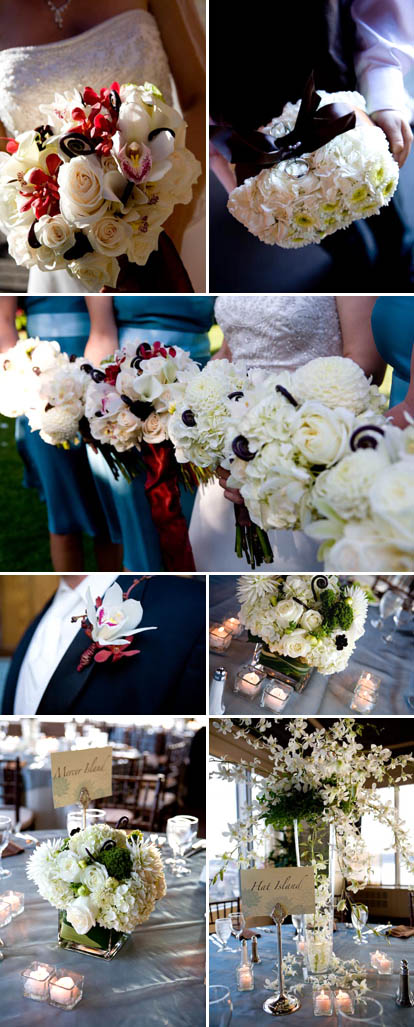 Welcoming and involving their guests, especially since many had traveled from across the country to be there, was the main priority for Michelle and Jeff, so they got creative and had fun with it! Out of town guests received welcome bags that included an umbrella in case of Seattle rain, and they sent everyone home at the end of the night with a midnight snack box filled with chocolate milk and Top Pot Doughnuts. Yum! During the celebration they surprised their guests by performing a choreographed fox-trot to L-O-V-E by Michael Buble, and by inviting all the married men to catch the bouquet so (after they battled it out) the winner could present the beautiful flowers to his wife. What a fun idea.

For more photos and all the information about who else worked to create this stunning wedding day be sure to check out our Real Weddings section. Thanks for sharing your wedding Michelle and Jeff!