Today's Real Wedding comes to us from the lovely ladies at Belathee Photography, and a pair of ultra creative and adorably in love newlyweds, Lisa and Todd. Their wedding was a relaxed day filled with sweetness and love, and more gorgeous details than I can even count, you're in for a real treat!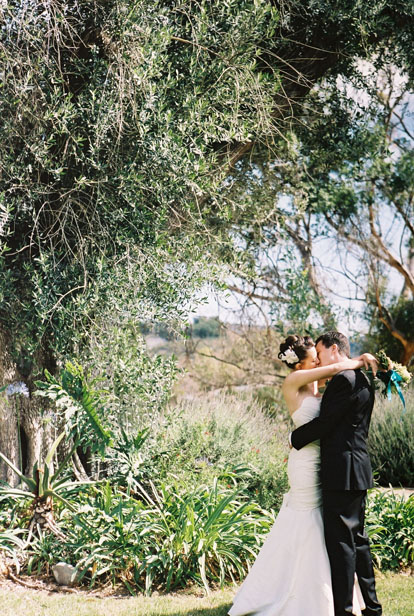 One of the main goals that Lisa and Todd had was an absolutely genius one that often gets overlooked. They wanted to be sure they had fun while planning their wedding, not just on the big day itself. How smart to put that at the top of their priority list! Lisa says that one way they did that was to attend loads of catering tastings together. Yum! (It's a fantastic date night idea we at Junebug adore and actually recommend in our upcoming wedding planning book!) I think it shows through in the photos that these two really know how to have a blast together.

Another big priority for Lisa and Todd was their wedding location. They wanted a place that was dramatic, relaxed, and beautiful, some place where they could have both the ceremony and reception outside, where their money would go toward nature conservation and that they could return to year after year, so they chose the vast 2,650-acre Upper Las Virgenes Open Space Preserve in the Simi Hills of Calabasas, California. "Now that weve discovered this park, we go hike and bike there all the time" says Lisa.
After a fun morning of getting ready with their wedding parties and enjoying their romantic first look, the group had all kinds of fun running around the park's hills, taking pictures with Annabel and Dorothee, and feeling like movie stars!

The details of the day were creative and thoughtful, and make such a big impact, even in their natural simplicity. The invitations were hand made by Todd's sister, and the wedding favors they gave to guests were Mexican wedding cookies and delicate origami. Lisa and Todd collected cake stands from local thrift stores and used them to serve a whole collection of traditional (and delicious!) "tres leches" wedding cakes from Portos Bakery. I'm in love with the flowers from Flower Power LA, the greens and the lush looking succulents add such a richness to the arrangements and fit in perfectly with the park's surroundings. Peacock blue and lime green were woven throughout the decor and ivory and gold tones completed their wedding color palette to blend beautifully with the golden grasses that surrounded the event. Lisa was so glad to have hired a coordinator, Mimi Flowers from Mimi Events, to help bring it all together.

The weather in the morning was stormy and dramatic, but right on time the sun came out for their ceremony. It was short and sweet and full of laughter and tears as they read each other the vows they wrote themselves. A dear friend played "Buckets of Rain" by Bob Dylan on the acoustic guitar, and their mountain top ceremony was, in Lisa's words, "perfect!" The reception was filled with laughter, dancing, hilariously heartwarming toasts and a delicious BBQ dinner from BBQ Express. Before they made their grand entrance at the reception as husband and wife, Lisa and Todd drank a little whiskey together and joyously stole a peek at the party. "We couldnt believe this beautiful event was all for us! Our cheeks ached from smiling." It just doesn't get any sweeter than that!

Thank you Lisa and Todd for sharing your photos and your wedding story with all of us! What a day!
For more info on Lisa and Todd's weddng and their team of talented professional, please visit our Real Weddings section.