This beautiful Real Wedding, of Kasey and Nick, is one we gave you a quick peek of back in October. It got picked up by our colleagues at Inside Weddings magazine on the same day, so in order to keep things simple we decided to postpone posting it for a while and allow Kasey, Nick and all the incredibly talented professionals involved an opportunity to have their hard work showcased in multiple ways. We love seeing our friends receive the recognition they deserve, in print, online, or shouted from the rooftops! Today we're bringing it back for everyone to enjoy once again- it's the perfect springtime wedding to get you inspired and excited for the season.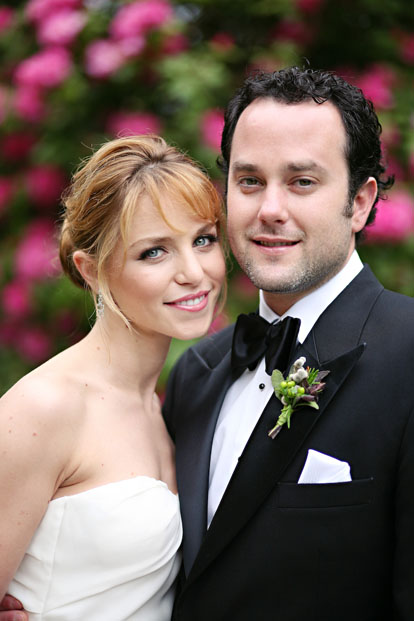 Kasey is a dear friend of mine and one of the loveliest creatures I've ever met, both inside and out. She radiates a sweetness that comes straight from the heart, and Nick is her perfect match. Growing up together in the same community, Nick was the longtime best friend of Kasey's brother, and when these two reconnected as grown-ups, there was no denying their connection. Totally in love and full of joy, Kasey and Nick created a wedding that was all about treating their family and friends to a gorgeous, relaxing and intimate weekend retreat. I was lucky enough to attend the celebration and it just couldn't have been more beautiful! These gorgeous photographs from Jasmine Star Photography totally capture the mood of the day.

Kasey and Nick searched high and low for the perfect wedding location, and finally found what they had been looking for in Carnation Farms (sorry readers, it's no longer in operation as an event venue, it's now a camp for children with serious illnesses and disabilities). With lodging for their guests on the property as well as at the nearby luxury hotel The Salish Lodge and Spa, they were able to spend quality time throughout the weekend with all the people that they loved. Kasey stayed in a house at the Farm with her mom and 12 of her girlfriends, and on the day of the wedding they walked and hiked together while the guys went hiking and fishing in the lush Northwest countryside.

Once they got all dolled up for the big event, the wedding party looked stunning in their modern black tie style. The bridesmaids wore the most chic and fabulous little black dresses from Black Halo, and the groomsmen were decked out in classic black tuxes from Wall Street Clothiers. Kasey's dress was designed by Monique Lhuillier and fit her like a glove. It was simple yet sculptural, and Kasey's additions of delicate diamond accessories, a beaded ribbon belt, a vintage wrap and loosely pulled back hair completed her look to perfection. If you can't tell by the photos, Kasey is a true and brilliant fashionista!

The wedding was coordinated by Lisa Chambers of Chambers and Co. who truly thought of every last detail to make guests feel pampered and taken care of. In the unexpectedly chilly June weather, light purple pashminas were given out as favors and warm drinks were waiting for each guest as they arrived. Tiny candles and spring flower arrangements of peonies, lily of the valley, sweet peas and hydrangeas designed by the amazing Bella Rugosa filled the large rustic refurbished barn space, and gave the event an organic and fresh feel.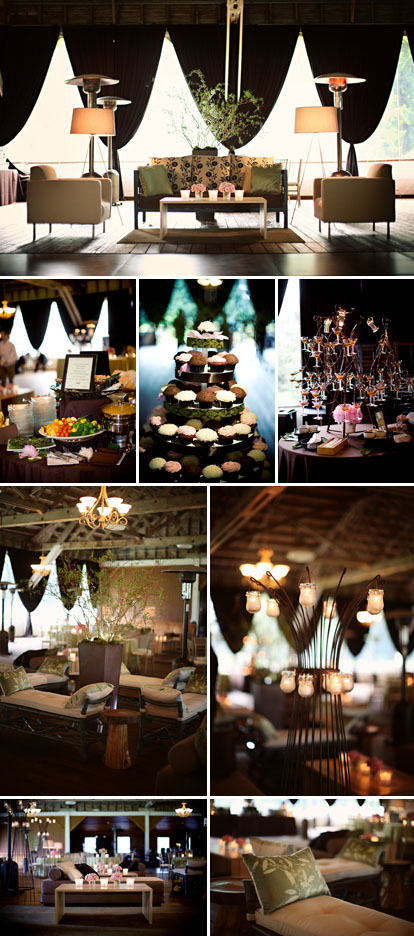 Part of the large space was set up for the ceremony and the rest was filled with intimate lounge areas of couches, benches, pillows, chairs and small tables. The wedding ceremony itself was officiated by Kasey's brother, and had been created jointly with Kasey and Nick. They incorporated traditions from many different cultures that they found meaningful and they really made it their own sacred event. Immediately following the ceremony, the newlyweds snuck away to spend a few minutes alone together to revel in the emotion of being married, and then joined the party and celebrated whole heartedly, late into the night.

During the reception, organic food from Herban Feast (yum!) was set up at stations around the room so guests could mingle freely and snack on the delectable dishes throughout the evening. Cupcakes from Trophy Cupcakes were the sweet treats that finished off the meal, but then later after the dance party was well under way, mini burgers and fries were served up as late night snacks, and guests couldn't get enough of them! We all danced and danced until it was time to say good night, and then Kasey and Nick were whisked away in a vintage Rolls Royce from British Motor Coach to a luxurious evening at the Salish Lodge, before meeting back up with their family and friends for a post wedding brunch the next day.
Thanks so much for sharing your wedding with us Kasey and Nick! It was an absolutely incredible event! For more images and information about Kasey and Nick's wedding, be sure to visit our Real Weddings section.